Chewy Trail Mix Cookies (Vegan & Gluten Free)
These chewy trail mix cookies are protein packed and so easy to make! They're perfect for hikes, quick breakfasts, snacks and are vegan!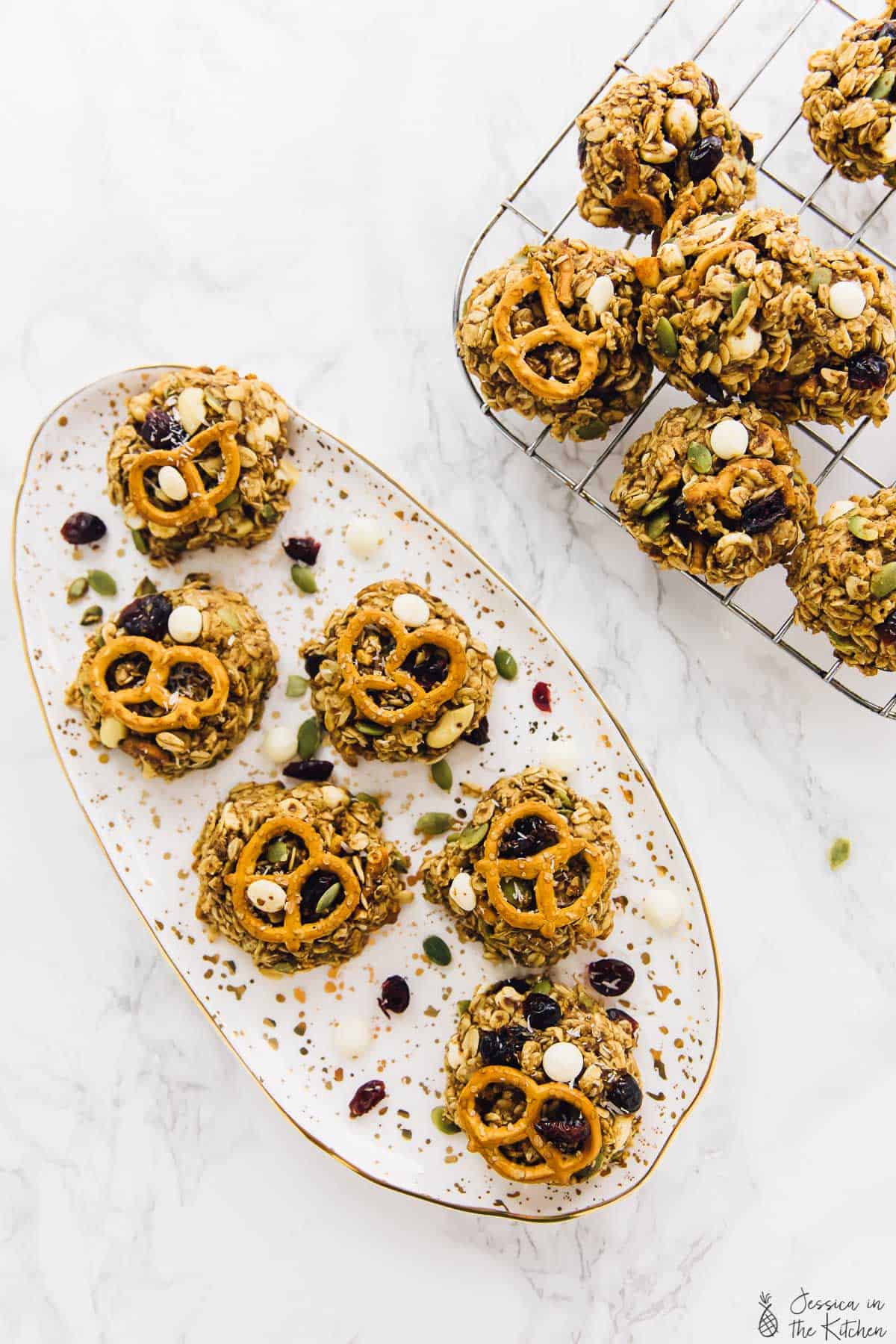 I found hiking in California to be so many different things all at once. Challenging, especially on really steep hills, yet so absolutely rewarding when finished. That cool breeze, the warming sun, the cold water, and that accomplished feeling really went hand in hand. This ended up being one of my favourite activities while I was there. These trail mix cookies helped to power us before, through and during those hikes. It was so easy to make and great for so many other reasons (hi quick breakfast) that I knew I needed to share this recipe with you!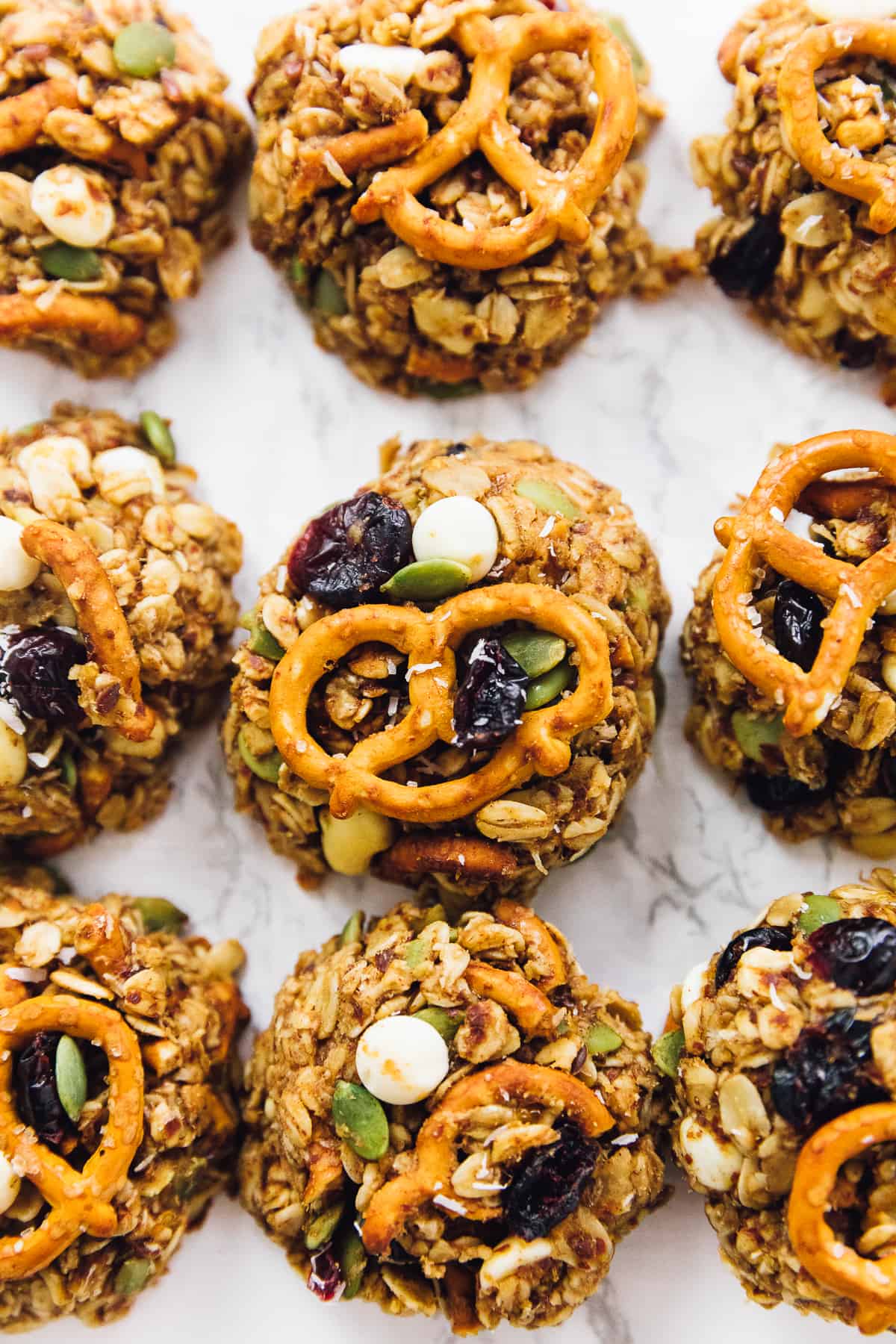 These weren't my only go to hiking needs. Lots of water (so much water), granola bars, and
energy bites
were also among my favourites. You want something healthy with not too much sugar that'll power you in the perfect way. With a mix of peanut butter, flaxseeds, bananas and some of your favourite trail mix additions, these cookies really do the job.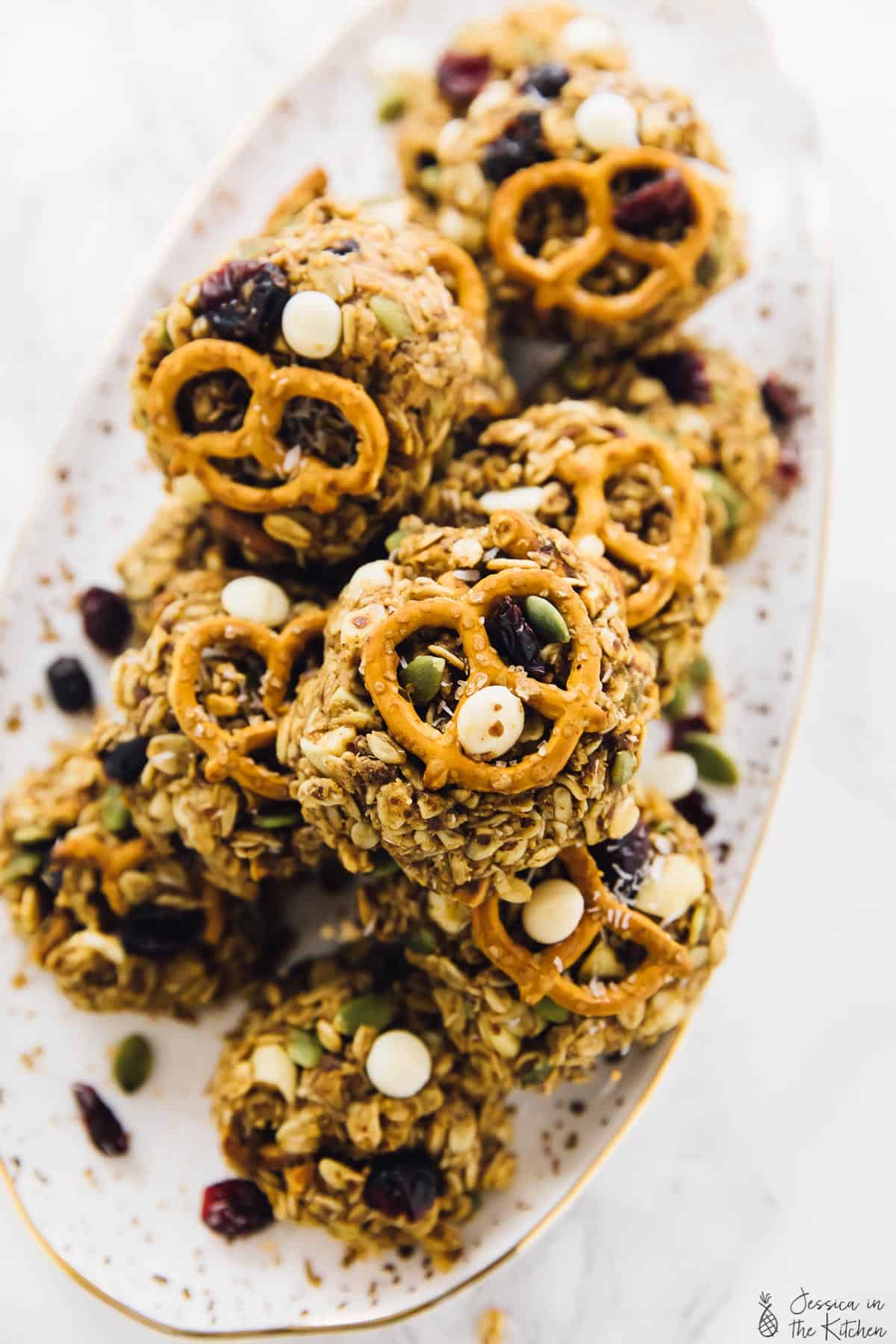 I included some of my favourite ingredients, such as above, plus oats, because they add a kind of chewiness reminiscent in oatmeal cookies. Also, colour me excited because I remixed my breakfast cookies to make these. I love that they are healthy and nutritious enough for breakfast, but thanks to the natural sweetness of the banana and some maple syrup, they get to be called cookies. Win, win.
Other great things to use these for:
Your snack
Your kid's snack
On the go breakfasts
To fix a sweet tooth craving
A light dessert!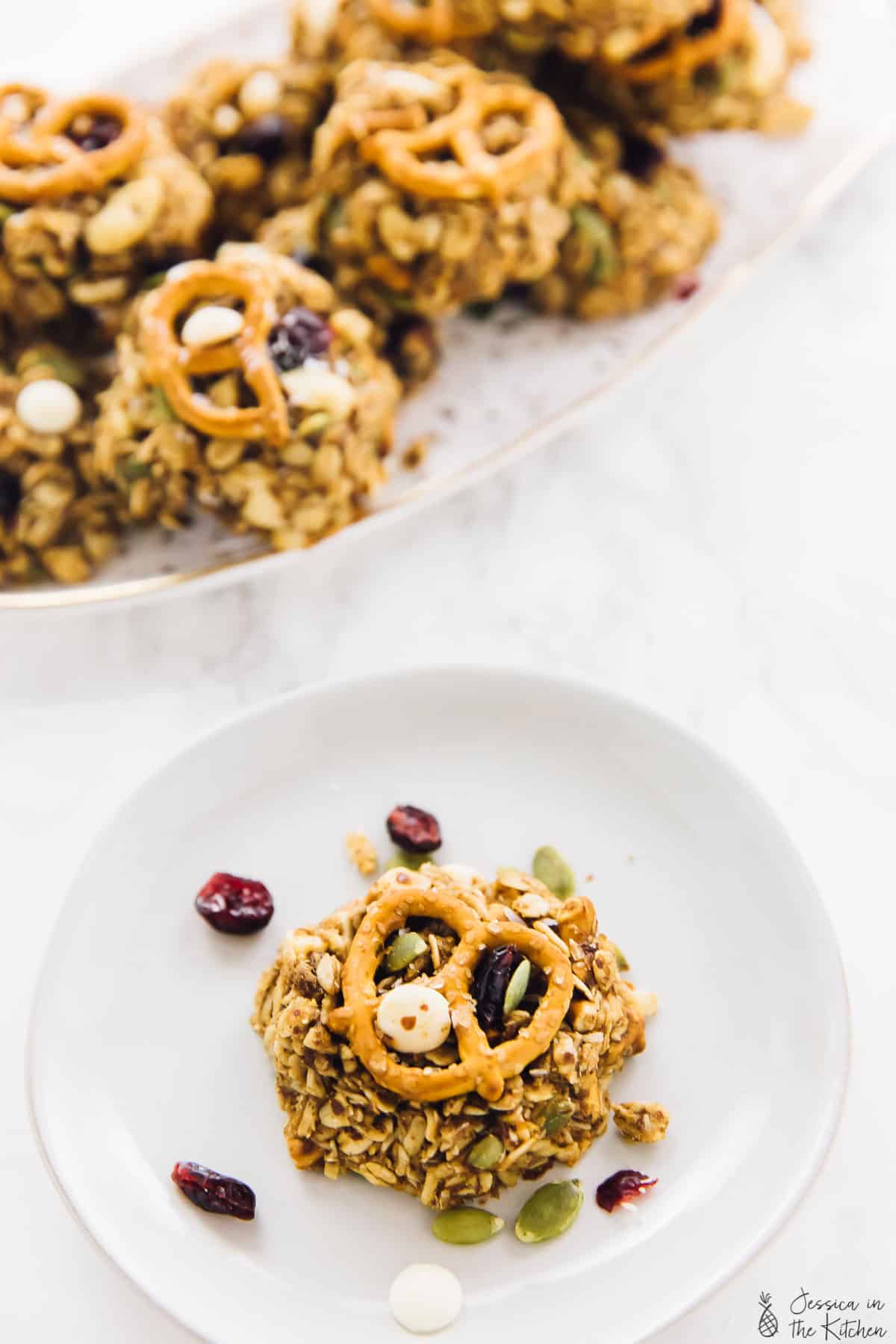 Related Recipes
Also, they are completely customisable so feel free switch up the trail mix ingredients! I really wanted a crunchy salty and sweet flavour here, hence the dried cranberries, white chocolate chips, pepitas and PRETZELS!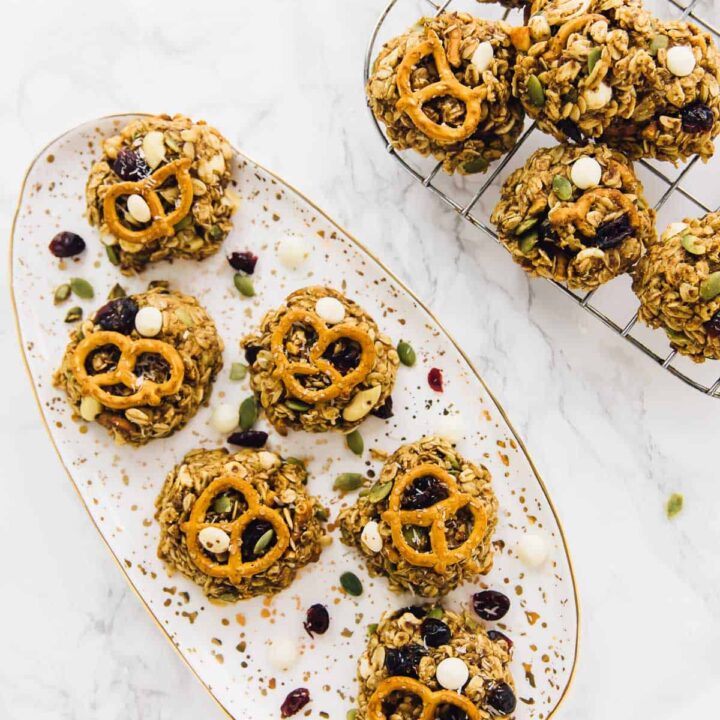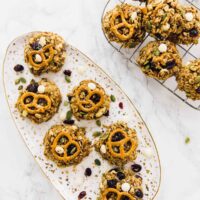 Chewy Trail Mix Cookies (Vegan & Gluten Free)
These chewy trail mix cookies are protein packed and so easy to make! They're perfect for hikes, quick breakfasts, snacks and are vegan!
Ingredients
2 ¼ cups gluten free certified old fashioned oats or rolled quick oats
1/2 teaspoon sea salt
1 teaspoon baking powder
1/2 teaspoon cinnamon
1/2 teaspoon nutmeg
1/4 cup ground flaxseeds
1/2 cup mashed bananas
1/4 cup + 2 tablespoons organic peanut butter, microwaved for 30 seconds
1/4 cup maple syrup
2 tablespoons vegan white chocolate chips
2 tablespoons dried cranberries
2 tablespoons chopped pretzels, plus extra whole ones for the top
2 tablespoons pepitas/pumpkin seeds, or other seeds such as sunflower seeds
Instructions
Preheat the oven to 325 ° F/ 165° C.

Line a baking sheet with a SILPAT or other silicone baking mat.

Mix all the dry ingredients together, then add in the wet ingredients in order.

Use a wooden spoon or spatula and stir together until together, stirring for about 30 seconds so as to incorporate everything but not over mix. The batter should be sticky and thick.

Using a little less than 3 tablespoons for each cookie, form dough firmly into cookies, and place on baking mat. Leave a little space between each cookie (they won't spread out while baking but will puff up just a little bit).

Bake for 12-15 minutes on the top rack of your oven until tops are golden brown.

Allow to cool for 5 minutes on baking mat then transfer to a wire rack to cool completely. Enjoy!
Calories: 190kcal, Carbohydrates: 28g, Protein: 6g, Fat: 7g, Saturated Fat: 1g, Sodium: 229mg, Potassium: 217mg, Fiber: 4g, Sugar: 9g, Vitamin A: 7IU, Vitamin C: 1mg, Calcium: 54mg, Iron: 2mg
Disclaimer: Although jessicainthekitchen.com attempts to provide accurate nutritional information, kindly note that these are only estimates. Nutritional information may be affected based on the product type, the brand that was purchased, and in other unforeseeable ways. Jessicainthekitchen.com will not be held liable for any loss or damage resulting for your reliance on nutritional information. If you need to follow a specific caloric regimen, please consult your doctor first.