Stuffed Mushrooms with Coconut Bacon
These stuffed mushrooms with coconut bacon are a rich, savory, mouth-watering side dish. They're easy to make, and they're vegan and gluten-free!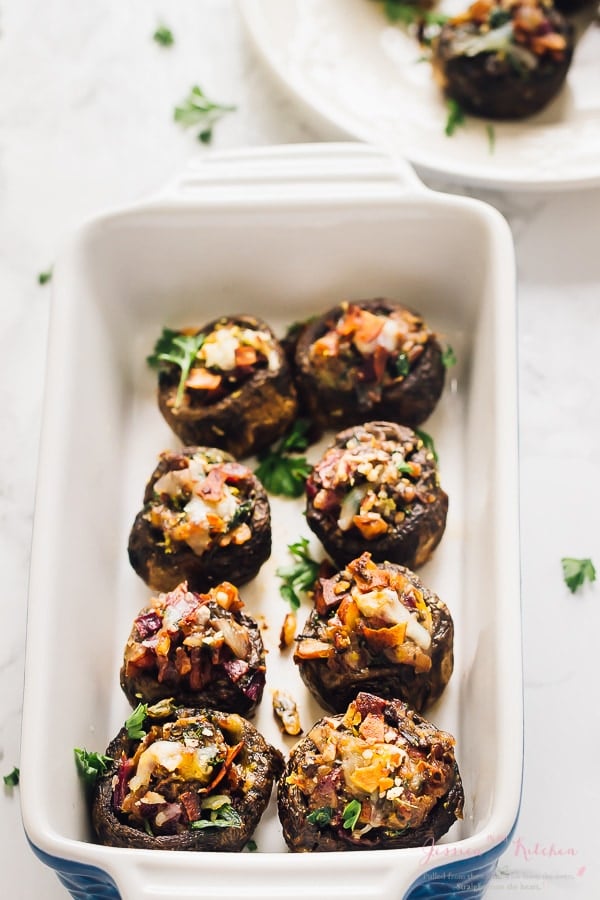 Stuffed mushrooms are one of my favorite side dishes, especially in the fall and winter. And this vegan stuffed mushrooms with coconut bacon recipe takes them to a new level.
The recipe starts with cooking mushrooms and garlic, because what flavor combination can beat that? The filling is complex, rich, and fresh, with nuts, parsley, and vegan cheese. It's a whole lot of flavor in one small bite.
I like to serve these stuffed mushrooms with vegan baked mac and cheese, alongside my loaded sweet potato skins.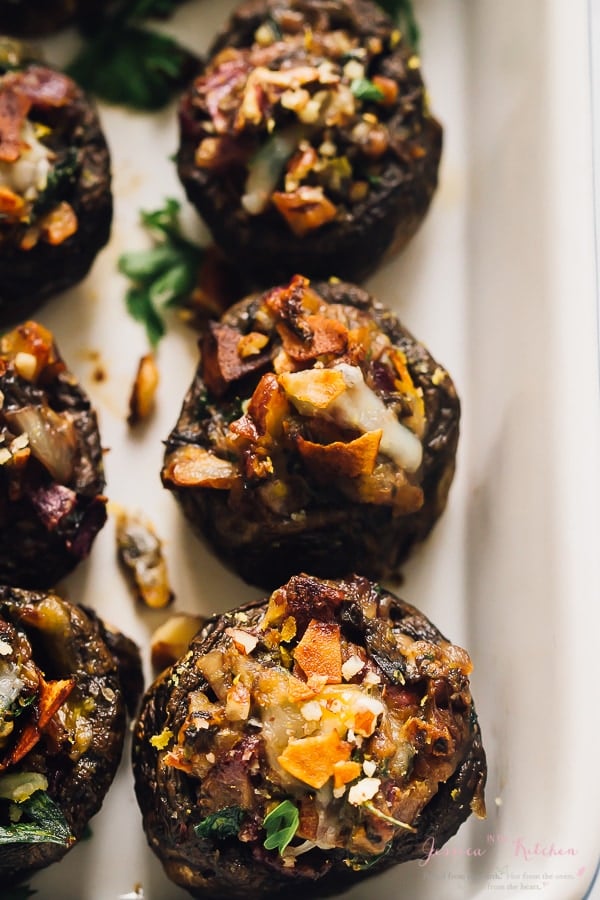 Notes on Ingredients
Here's everything you need to make these stuffed mushrooms with coconut bacon. Make sure you scroll to the recipe card at the bottom of the page for exact measurements.
Baby bella mushrooms
Coconut oil
Garlic
Onion
Parsley
Pecans – You can also use walnuts.
Vegetable broth
Vegan mozzarella – The chewiness of vegan mozzarella goes better with the mushroom filling than other cheeses would.
Vegan parmesan cheese
Crushed nuts – This is a garnish, and you can use almost any kind of nut. I prefer pecans, walnuts, and pine nuts.
Coconut bacon – Here's my recipe.
How Do You Clean Mushrooms?
Most mushrooms from the store are pretty clean, but they usually still have some dirt on them. You don't want to wash mushrooms the way you do other produce, as they're porous and will absorb a lot of the water. Instead, gently scrub them with a damp paper towel, or with a mushroom brush.
How to Make Stuffed Mushrooms with Coconut Bacon
This recipe has a decent number of steps, but it's straightforward. Here's how to make it.
Prep. Preheat the oven to 350F, then line a baking sheet with parchment paper or a silpat.
Cook the filling. Heat a pan over medium-high heat and add coconut oil. Add the mushroom stems, garlic, onions, parsley, nuts, vegetable broth, salt, and pepper. Cook for about 10 minutes. The mushrooms and onions should be fairly soft.
Add the mozzarella cheese. Take the mixture off the stove, and stir in the vegan mozzarella cheese until combined.
Stuff the caps. Place the caps on the prepared baking sheet, with the caps face up. Brush them with coconut oil, then stuff them with the filling.
Garnish. Top the mushrooms with vegan parmesan cheese, chopped nuts, and coconut bacon.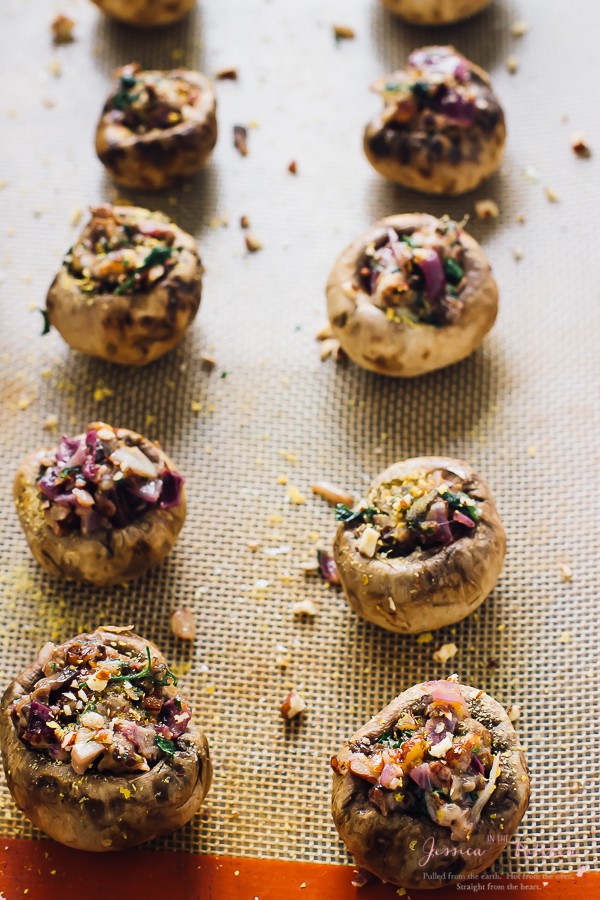 Bake. Bake the stuffed mushrooms for about 20 minutes. When they're done, the mushrooms should be puffy and the cheese should be bubbly.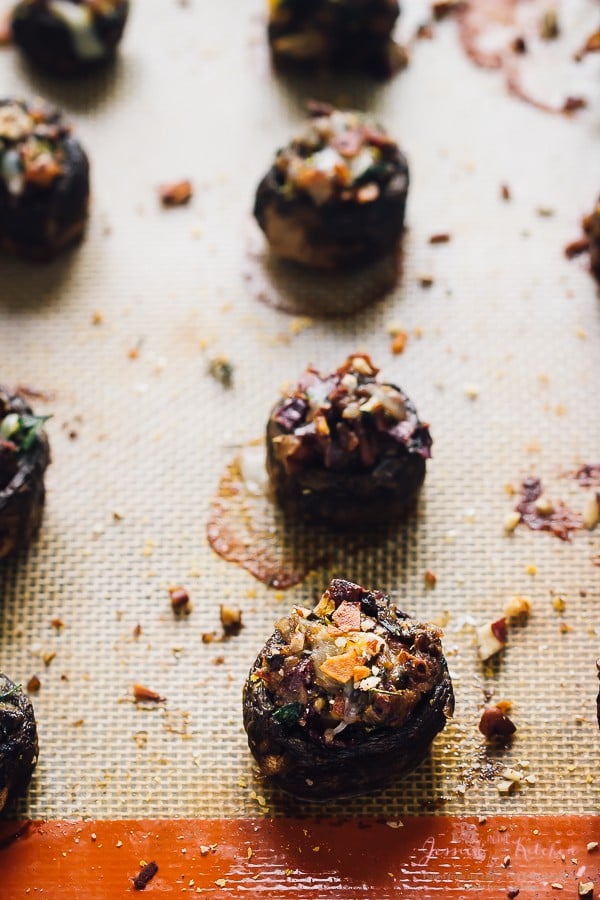 Finish. Remove the baking sheet from the oven, place it on a cooling rack for a few minutes, and then devour the stuffed mushrooms!
Tips for Success
Here are some tricks and tips for making the best stuffed mushrooms with coconut bacon.
Pick good mushrooms. When shopping for this recipe, pick mushrooms that haven't started to soften and age too much.You want the mushrooms to be able to maintain their structure in the oven.
Consistent sizes. You should also try to pick mushrooms that are all similar sizes. That way they'll cook at the same rate, and you won't be left with any stuffed mushrooms that are undercooked or overcooked.
Don't undercook. Make sure you cook the stuffed mushrooms long enough that the cheese gets very bubbly, even if that takes more than 20 minutes. The more bubbly the cheese, the better the flavor.
How to Store Leftovers
These stuffed mushrooms with coconut bacon will last in an airtight container in the fridge for up to 3 days. You can reheat them in the microwave or in the oven, or even eat them cold!
Can I Freeze This Recipe?
You sure can! This recipe will last up to 2 months in the freezer if in an airtight container. You can reheat directly from the freezer in the oven.

If you try these Stuffed Mushrooms with Coconut Bacon please let me know in the comment section below, or tag me on instagram with the hashtag #jessicainthekitchen! For more exclusive recipes follow me on Instagram AND on Snapchat: jessinkitchen.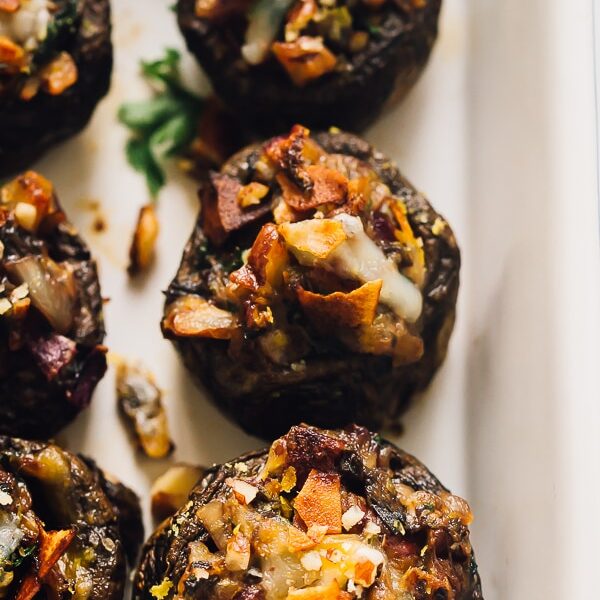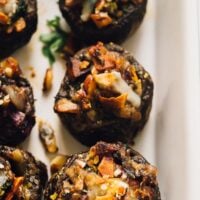 Stuffed Mushrooms with Coconut Bacon
This stuffed mushrooms with coconut bacon recipe is vegan, gluten-free, and the perfect healthy side for any fall or winter dish. Full of oozy, melting vegan cheese, nuts, and homemade coconut bacon.
Ingredients
Stuffed Mushrooms with Coconut Bacon (Vegan)
18 baby bella mushrooms, cleaned, stems cut off and finely chopped (KEEP stems)
1/2 tablespoon coconut oil + 1 tsp to brush mushroom caps
4 cloves garlic, minced
1/4 small, about two tablespoons onion, finely diced
3 tablespoons parsley, chopped
2 tablespoons crushed and finely diced pecans/walnuts
2 tablespoons vegetable broth
2 tablespoons vegan mozzarella
Vegan Parmesan cheese and crushed nuts, for topping
Coconut bacon for topping
Instructions
Stuffed Mushrooms with Coconut Bacon (Vegan)
Preheat oven to 350 degrees Fahrenheit. Line a baking sheet with parchment paper or a silicone mat.

In a pan over medium high heat, add the ½ tablespoon coconut oil.

When hot, add the mushrooms stems, garlic cloves, onions, parsley, diced pecans/walnuts and the vegetable broth. Season with salt and pepper to taste.

Allow to cook down for about 10 minutes, until stems and onions are much softer. Remove from stove and add in the vegan mozzarella shreds. Stir to combine and to get cheese melted. The mixture should be combined.


Place the mushroom caps with the bottoms (the open side) face up, and lightly brush each with the rest of the coconut oil.

Stuff each mushroom cap with some of the mixture. This will change depending on the size of your mushroom caps. Divide equally throughout the mushroom caps.

Top the mixture with some crushed nuts, coconut bacon, and vegan parmesan cheese.

Bake for 20 minutes until the cheese begins to bubble slightly and the mushrooms are puffy.

Remove from oven and allow to cool slightly. Enjoy!
Notes
Store in an airtight container in the fridge for up to 3 days, then reheat in the oven or microwave. Store in an airtight container in the freezer for up to 2 months. 
Calories: 67kcal, Carbohydrates: 6g, Protein: 2g, Fat: 4g, Saturated Fat: 2g, Sodium: 75mg, Potassium: 309mg, Fiber: 1g, Sugar: 1g, Vitamin A: 179IU, Vitamin C: 4mg, Calcium: 24mg, Iron: 1mg
Disclaimer: Although jessicainthekitchen.com attempts to provide accurate nutritional information, kindly note that these are only estimates. Nutritional information may be affected based on the product type, the brand that was purchased, and in other unforeseeable ways. Jessicainthekitchen.com will not be held liable for any loss or damage resulting for your reliance on nutritional information. If you need to follow a specific caloric regimen, please consult your doctor first.