Easy Vegan Blueberry Pancakes
These Easy Vegan Blueberry Pancakes are fluffy, simple and easy to throw together. It's guaranteed to be your go-to breakfast pancakes!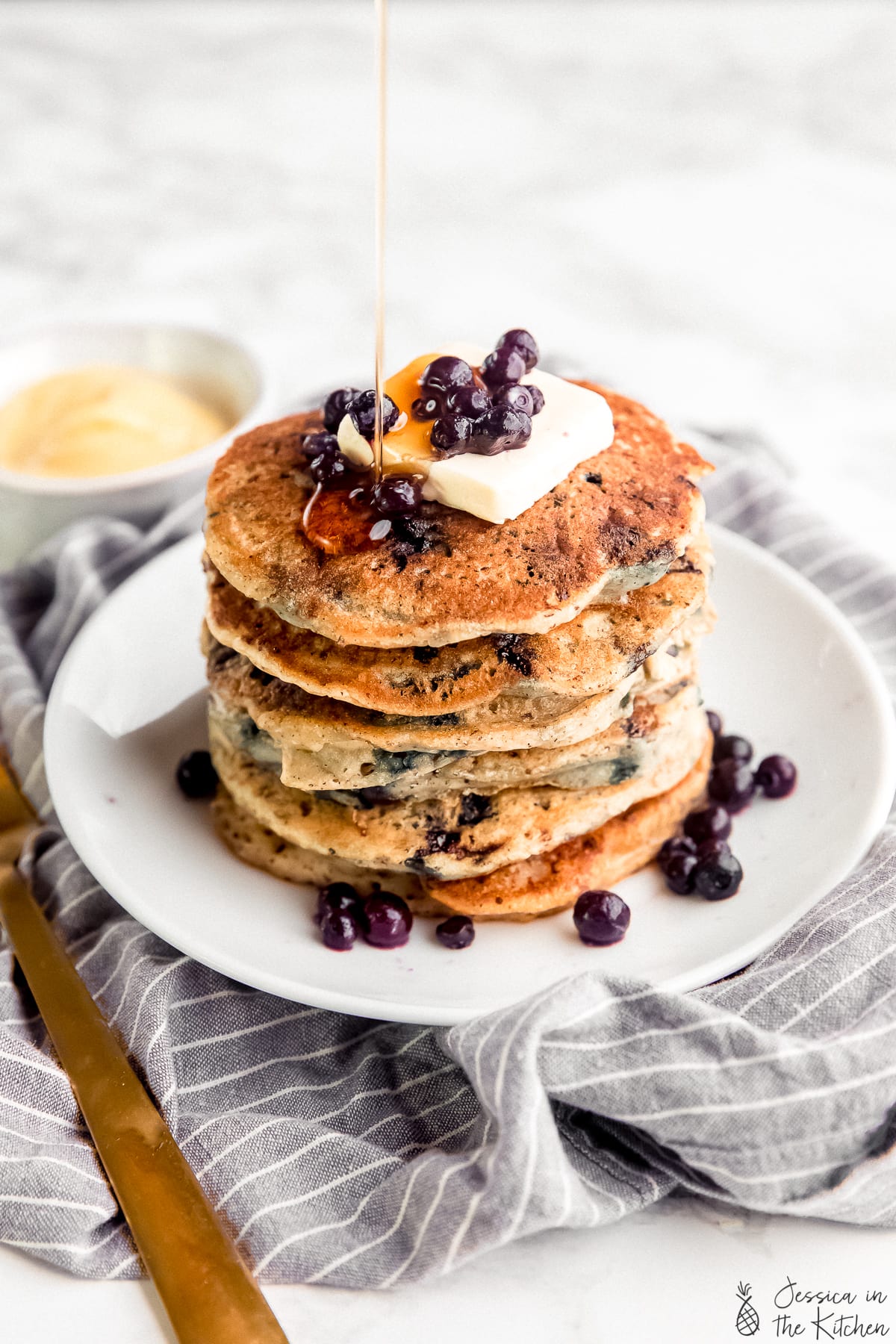 It's safe to say that I've had double-digit amounts of these pancakes and still want more. Honestly, friends, these pancakes are so good. They are so fluffy and airy that they absorb the perfect amount of maple syrup. Not a maple syrup person? No fear we have the perfect vegan lemon curd which takes these pancakes to a different level. When I think about these pancakes I realise that they're perfect for brunch or even a lazy morning breakfast. This recipe is also a crowd-pleaser with all kids alike!
As I've hinted before there was a point in my life that I consumed pancakes every single morning. How did I achieve this incredible task you may ask? By freezing them! Meal prep is a magical thing, isn't it? Because of meal prep, you will realise pancakes freeze beautifully. They maintain their taste and texture after reheating in your foster oven/ microwave. I used this process to eat some of my favourite pancakes all week.

How to Make Easy Vegan Blueberry Pancakes
The first step is to mix the nut milk and lemon juice in a small bowl to create vegan buttermilk. After that, you can set this aside to be used at a later time
The very next step is to combine all dry ingredients by whisking them together. This would be the gluten-free flour, baking powder, salt, and cinnamon. To this amazing dry mixture add all the wet ingredients. This would be the flax egg, maple syrup, and the previously made vegan buttermilk. Lightly whisk! Please be careful not to over mix. Lumps are ok – there is perfection in imperfection. If you're using frozen blueberries you can add them to each pancake otherwise it will turn the whole batter blue.
Let batter rest as you wait for the griddle or pan to heat up. Then brush the griddle with coconut oil or vegan butter
When the griddle is heated add 1/4 cup of the batter into whatever medium you use to make your pancakes. When the tiny bubbles start to show up on the pancakes, it's time to flip.
For best taste serve your amazing easy vegan blueberry pancakes hot! Drizzle generously with maple syrup and top with your favourite toppings!
Last but not least, eat and enjoy!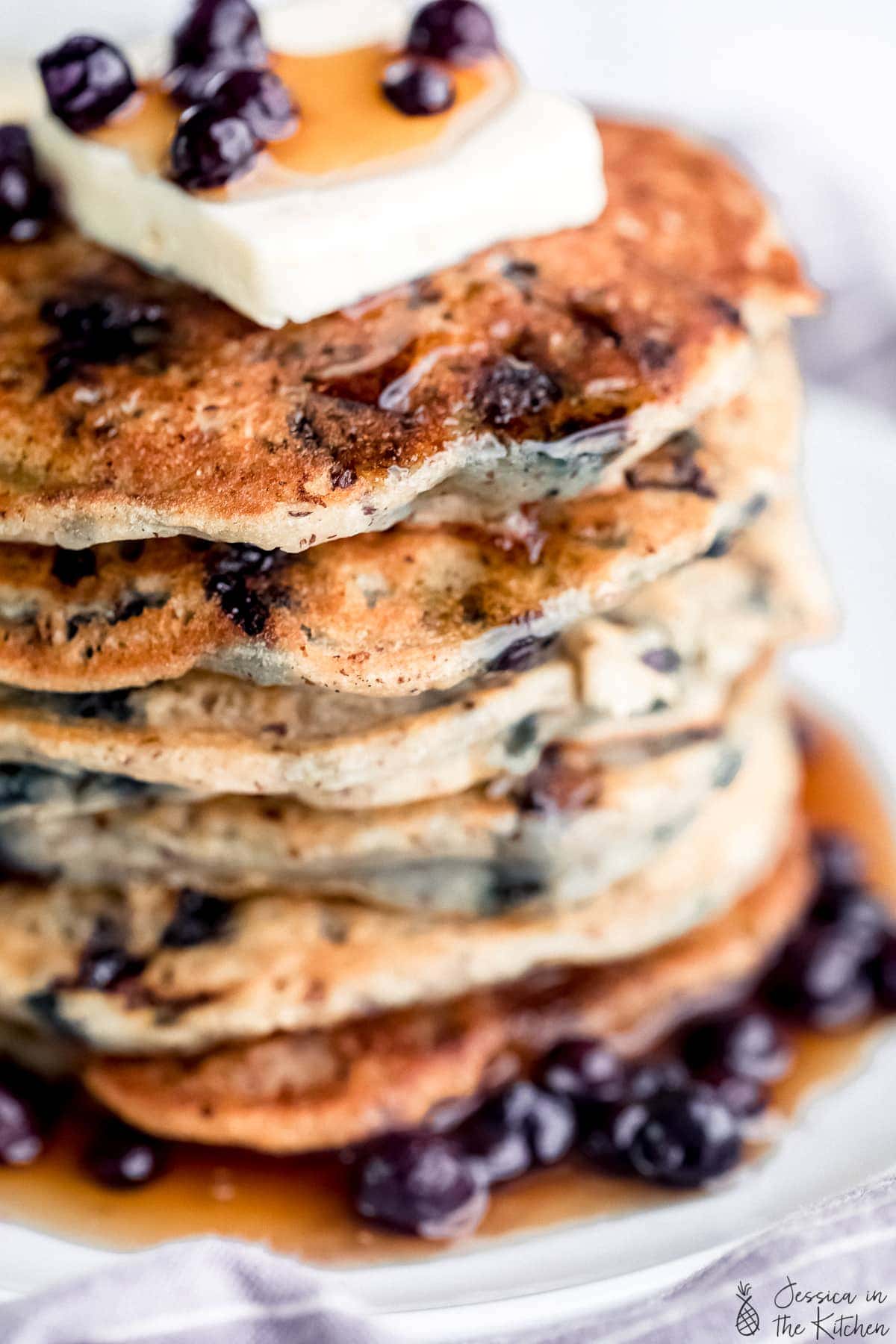 Tips For Making Pancakes
Over-mixing the batter will cause the pancakes to be rubbery and gummy, so be sure not to. Do not be afraid of lumps in the batter. You batter doesn't need to be a perfectly smooth consistency.
Let the batter rest. Allowing the batter to rest ensures that the batter is perfectly incorporated and that the flour absorbs all the liquid.
Flip when you see the bubbles in the pancake. Those tiny bubbles are telltale signs that your pancake is ready for warmth on the other side.
Check the trim of the pancake. It's a little secret that the edge of your pancake will start to get firm and change colour. If this is coupled with bubbles, you know the time is right to strike!
Enjoy friends! If you make this post about this Easy Vegan Blueberry Pancake, please snap a photo and tag #jessicainthekitchen on Instagram! We'd also love it if you would leave a comment below, and give the recipe a rating! Thanks so much! P.S. – do you know that we have an entire blog dedicated to low carb recipes named Low Carb Vegan Recipes?! Be sure to check it out!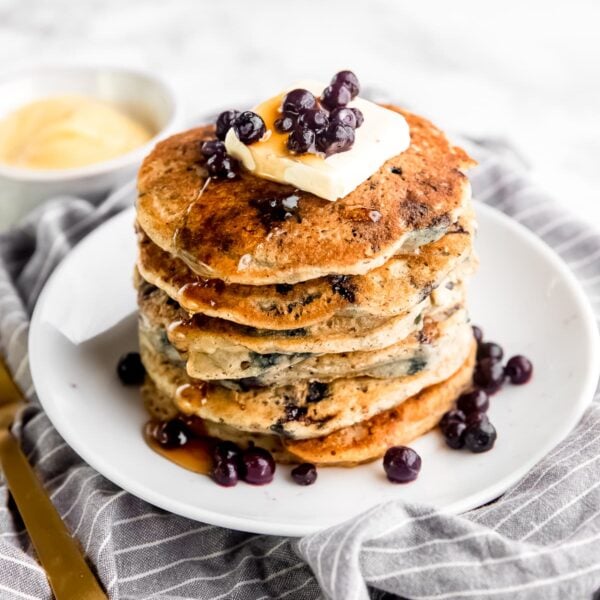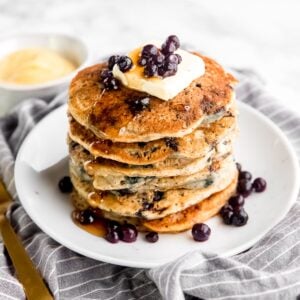 Easy Vegan Blueberry Pancakes
These Easy Vegan Blueberry Pancakes are fluffy, simple and easy to throw together. It's guaranteed to be your go-to breakfast pancakes!
Ingredients
1 ¼ cups unsweetened nut milk + two teaspoons lemon juice or apple cider vinegar
1 ¼ cups (185g) gluten-free baking flour, (I use Bob's Red Mill)
1 tablespoon baking powder
½ teaspoon sea salt
¼ teaspoon ground cinnamon, (optional)
1 flax egg, (1 tbsp flax meal + 3 tbsps water, stirred together and in fridge for 15 minutes until gooey)
1 tablespoon maple syrup
1 cup blueberries, fresh or frozen, (if frozen, don't let them thaw)
coconut oil or vegan butter, for the griddle/pan
Instructions
Mix the nut milk and the lemon juice or ACV together in a small bowl/measuring cup. Set aside - this will make the vegan buttermilk.

In a large bowl, whisk the gluten free flour, baking powder, salt and cinnamon. Add the flax egg, maple syrup and the vegan buttermilk mixture and whisk until JUST combined and smooth. Don't overmix or you'll get gummy pancakes. It's okay if there are lumps. Fold in the blueberries. If using frozen, you may want to add them to each pancake so it doesn't turn the whole batter blue! The batter will thicken slightly while you wait for the griddle pan to heat up.

Heat a griddle pan or a cast iron skillet over medium heat and brush with coconut oil or vegan butter.

Pour about ¼ cup of batter into the pan/skillet for one pancake. Wait until some bubbles start to form on top. Allow to cook for 2-4 more minutes and then flip the pancakes over once the bubbles are formed on top. Cook for about 2-4 more minutes until batter is cooked through.

Serve pancakes hot and drizzle with maple syrup on top and your favorite toppings.

Enjoy!
Calories: 88kcal, Carbohydrates: 19g, Protein: 2.1g, Fat: 1.4g, Sodium: 159.1mg, Fiber: 3g, Sugar: 3.4g
Disclaimer: Although jessicainthekitchen.com attempts to provide accurate nutritional information, kindly note that these are only estimates. Nutritional information may be affected based on the product type, the brand that was purchased, and in other unforeseeable ways. Jessicainthekitchen.com will not be held liable for any loss or damage resulting for your reliance on nutritional information. If you need to follow a specific caloric regimen, please consult your doctor first.