Chocolate Chip Tahini Mug Cake (5 Minutes & Vegan)
This Chocolate Chip Tahini Mug Cake (Vegan) will totally blow you away! It's vegan, easily made in under 5 minutes start to finish and has a nutty, subtle tahini flavour that's so addictive!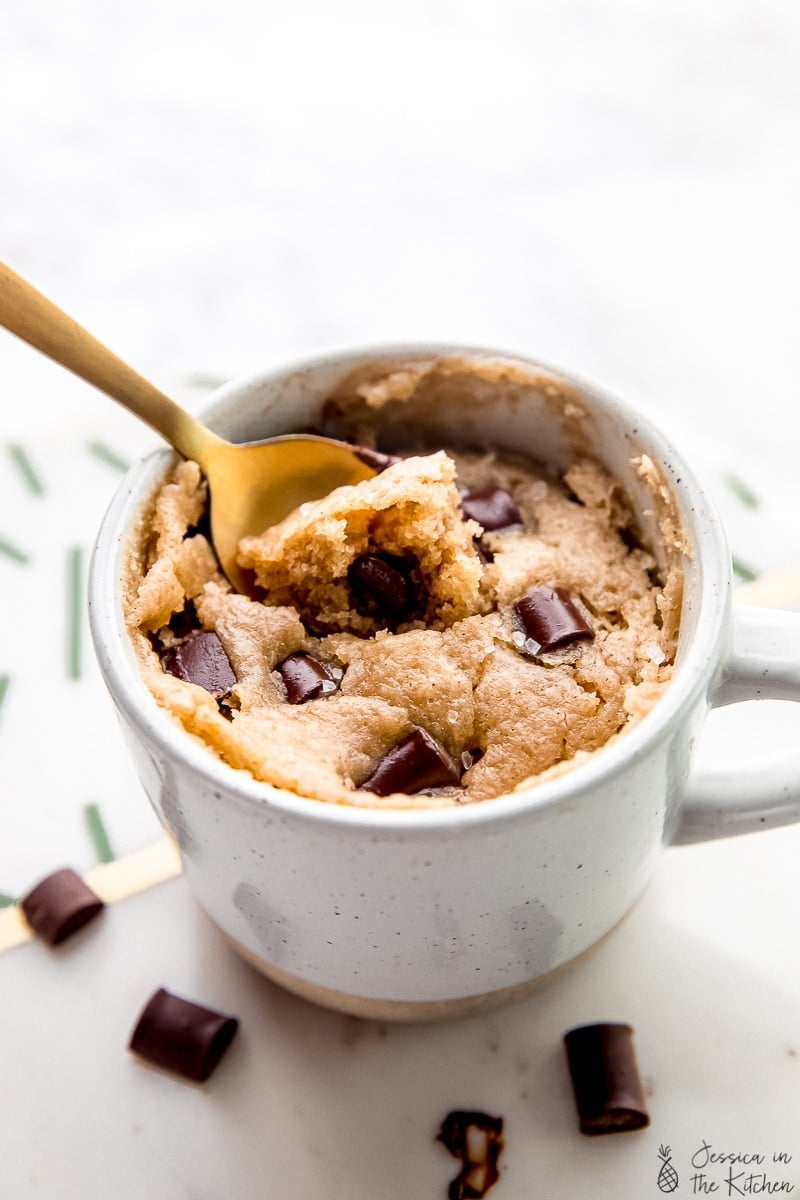 Chocolate Chip Tahini Mug Cake. It's as delicious as it sounds. Imagine a cookie in cake version, and now made in your microwave for less than 2 minutes. Insane? No. Insanely delicious! Absolutely. Honestly, this post is way overdue. It's been far too long since I've made a mug cake, and it's also been so long since I've used tahini in a sweet recipe! I can't wait for you to make this because I know it's about to become one of your favourite quick and easy recipes!
What is a mug cake?
In case you don't know, a mug cake is exactly what it sounds like. A quick single-serving cake that's usually whipped up in your mug and cooked quickly in it too. It usually takes about a minute to two minutes to make, and the result is a fully cooked, delicious and moist mini cake. I've made one before that's the #1 search result for vegan brownie mug cake, so be sure to check that one out too.
Needless to say – mug cakes are incredibly convenient and so tasty! You usually only one a single serving anyway, and the overall time is always less than 5 minutes to make!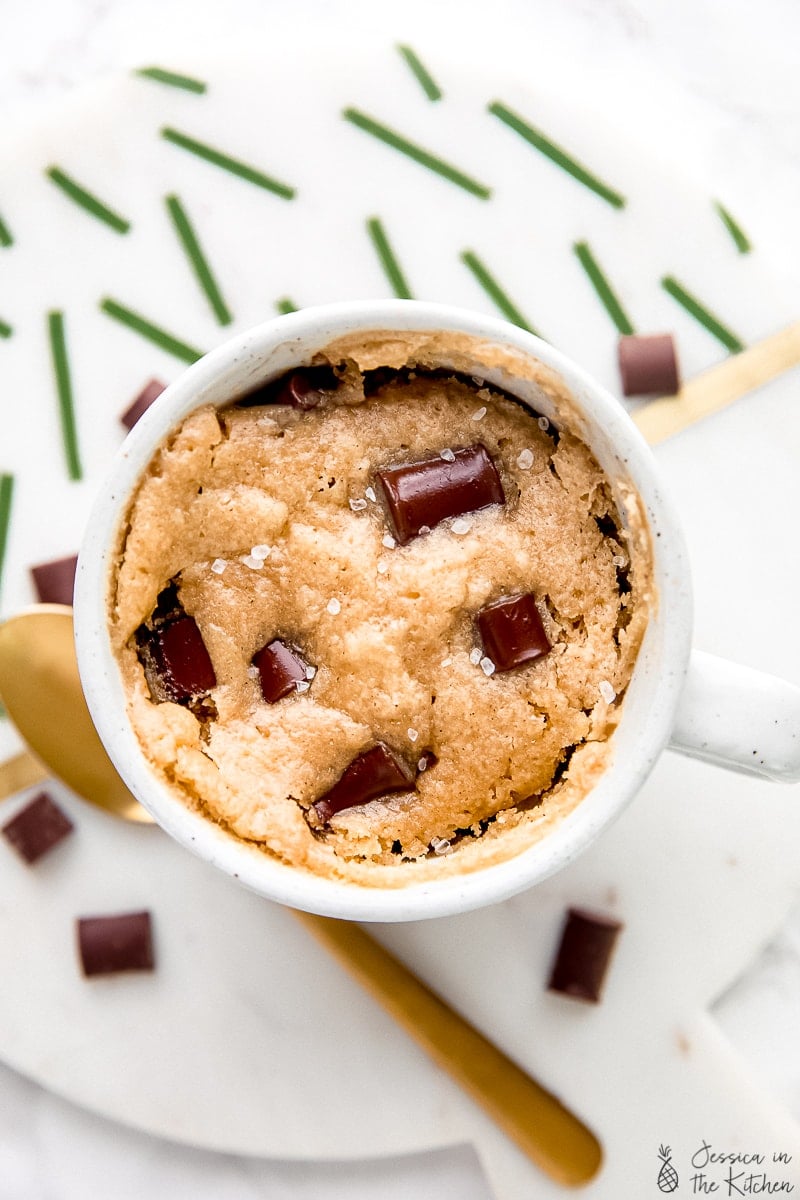 What is tahini, and why use tahini?
I get asked about tahini all the time on my Facebook page. Tahini is, long story short, made from sesame seeds. Not to butcher the delicate process, but it's essentially sesame seed butter like peanut butter is made from peanuts. The process to make incredibly delicious, nutty and non-bitter tahini is more complex than that though and is the reason why I just buy tahini now instead of trying to make it. This is the brand I love. Tahini can be used in a multitude of ways including in hummus, baba ghanoush and many dressings that I have on the blog.
Funny enough, I never considered using tahini in a sweet recipe until I tried halva. Oh my goodness HALVA! It unlocked a whole new flavour profile for me and since then, I've been running through bottles of tahini. I use tahini here because this recipe is inspired by my tahini chocolate chip cookies. But also, tahini here replaces oil and adds moistness to the cake. It also adds a very subtle nuttiness. Overall, it's the perfect ingredient.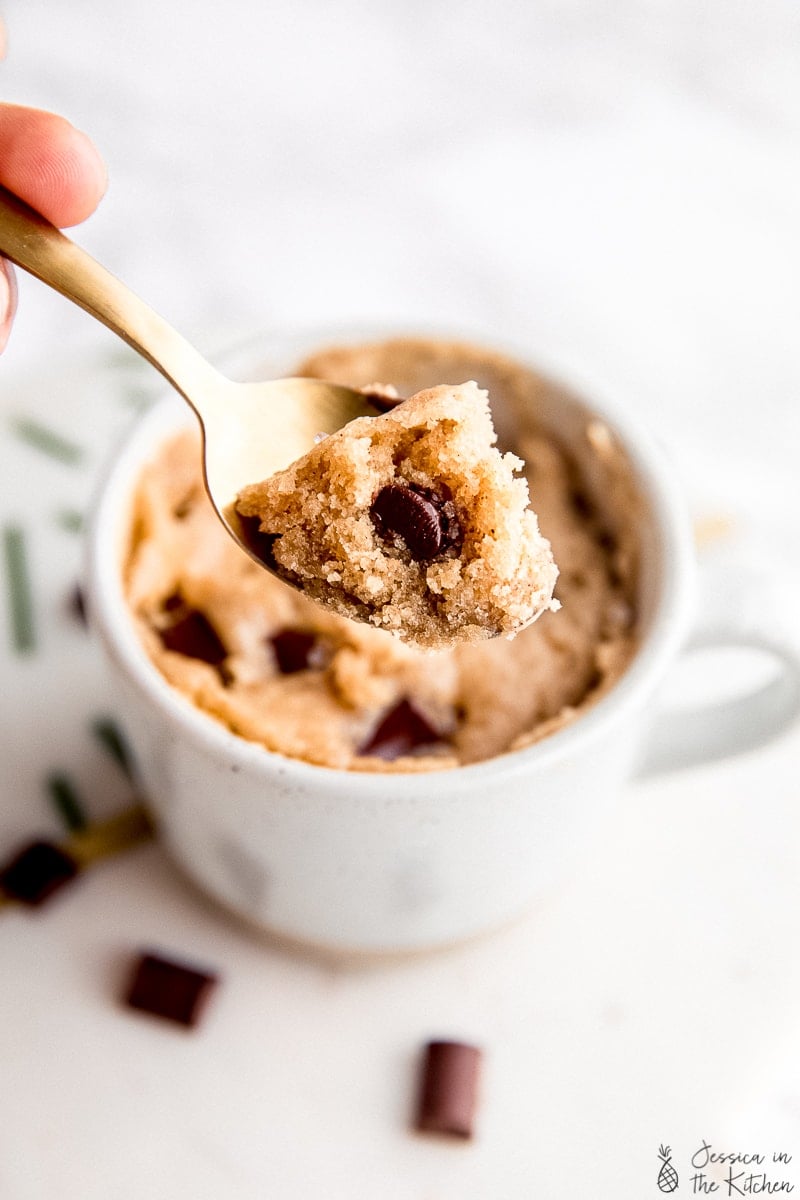 Ingredients in Chocolate Chip Tahini Mug Cake
Speaking of which, these are the other ingredients to make this mug cake shine:
Chocolate chips. Simple enough, right? I love using dark chocolate chips, but feel free to use semi-sweet. Remember to double-check that your chocolate is vegan. I have so many favourite brands to choose from but specifically for these, I used Enjoy Life.
Almond flour. I do use a tablespoon here because it adds moistness to the mug cake. If you don't have, feel free to use regular flour.
Flour. Same as above, you can use gluten-free flour, but not all almond flour. Best to follow the recipe as is! 🙂
Cinnamon. It's optional, but I love adding it into baking recipes
Tahini. As discussed above, tahini adds a richness in flavour, nuttiness and moisture to this mug cake.
Baking powder. It adds a bit of rise to the mug cake. Ensure your baking powder is fresh!
Sea salt. A pinch of salt always elevates flavours. Please don't skip this. I did by accident once and it tastes so different. Salt really makes a difference in flavours.

Tips for making mug cakes
Making a mug cake is pretty much foolproof, but these few tips help to make a big difference. I tested this over 2 dozen times (yes!), and here are the top tips I took away:
Use a wide short-ish mug (like the one in these photos!). If you have a variety to choose from, using this type of mug means the cake rises higher in a concentrated space. I've found this helps with cooking.
Ensure to stir it all together. Don't go whisking it for minutes on end, but ensure your entire mug cake is mixed. Since it's such a small container it can be easy to miss the bottom. Just ensure you incorporate everything.
Adjust your time based on your microwave. The times I've provided should work but yours may need an extra 10 seconds. It'll cook edges to centre so just check the centre that it's fully cooked…BUT:
BUT, don't overcook. This will make your mug cake gummy and rubbery. Remember that the mug cake will keep cooking while it's cooling so it's better to slightly under bake it.
Let it cool for like 3 minutes before digging it. It really does make a difference, like how you'd let a cake or brownies cool first!
I've included instructions for baking this in your oven too! Similarly here, be sure to slightly underbake (you don't want your toothpick to come out clean, it should still have crumbs attached) since it'll continue to cook while it cools.
That's it friends! Whip this up and enjoy so much!!
Other mug cake recipes
Vegan Chocolate Brownie Mug Cake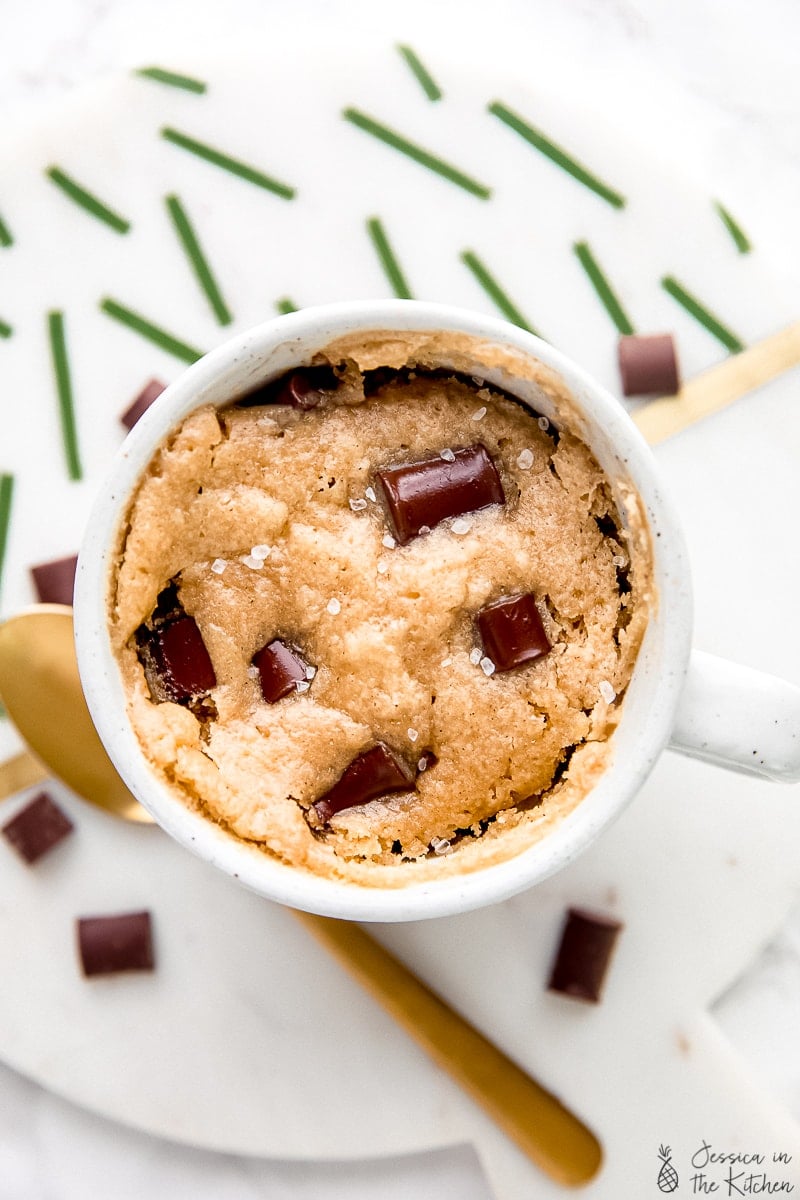 Enjoy friends! If you make this Chocolate Chip Tahini Mug Cake (5 Minutes), please snap a photo and tag #jessicainthekitchen on Instagram! We'd also love if you would leave a comment below, and give the recipe a rating! Thanks so much!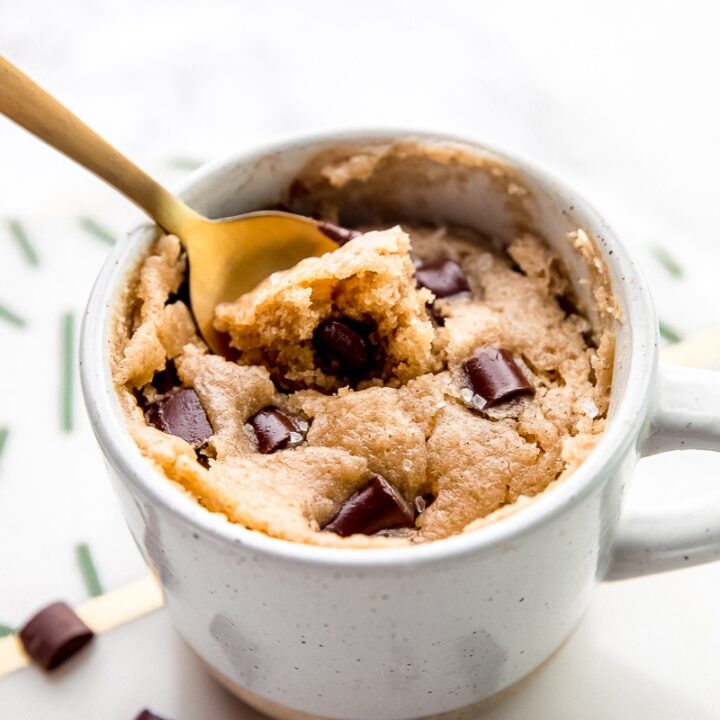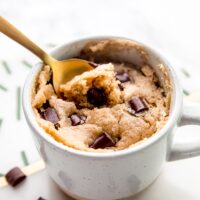 Chocolate Chip Tahini Mug Cake
This Chocolate Chip Tahini Mug Cake (Vegan) will totally blow you away! It's vegan, easily made in under 5 minutes start to finish and has a nutty, subtle tahini flavour that's so addictive!
Ingredients
1 1/2 tablespoons regular or gluten free flour mix*
1 tablespoon almond flour
2 tablespoons water
2 tablespoons sugar
1-2 tablespoons chocolate chips
2 tablespoons tahini
pinch of sea salt
pinch of ground cinnamon
¼ teaspoon baking powder
Instructions
In a mug, add in the water; sugar and tahini. Whisk together for about 30 seconds to combine completely. Add in the flours, baking powder, salt and cinnamon.

Stir to combine for about 20 more seconds to ensure it's all incorporated, ensuring the get the bottoms too. Add in the chocolate chips and fold in. Feel free to sprinkle some of them on top.

Place in your microwave for about 65 to 70 seconds. It's okay if it's slightly undercooked because it'll continue to cook while it cools. It's better for it to be slightly undercooked than overcooked. Remove and let cool for about 3 minutes. If making in your oven, preheat oven to 350F and bake in about a 3.5-inch ramekin (ensure it's oven safe) for 25 minutes. Remove and allow to cool for about 5 minutes. Sprinkle some coarse sea salt on top and enjoy!
Notes
GLUTEN-FREE or REGULAR FLOUR Yes! You can make this mug brownie gluten-free! I tested both and it works beautifully. I tested both regular All-Purpose Flour in a test and Bob's Red Mill Gluten Free 1-to-1 Baking Flour. In fact, Gav preferred the GF one in a blind taste test! I cooked both for 70 seconds! P.S. I purposefully messed this recipe up (yes, I'm that person) so I could try and troubleshoot. Two notes – whisk in the order provided so you don't end up over mixing the flours. Also, don't overcook. The mug brownie continues to cook while it's cooling, so don't overmix it. If you want a lower-cal version, you can sub one tablespoon of tahini for 1 tbsp water which would bring you to about 337 calories. Be sure to cook it for about 50 to 55 seconds!
Calories: 428kcal
Disclaimer: Although jessicainthekitchen.com attempts to provide accurate nutritional information, kindly note that these are only estimates. Nutritional information may be affected based on the product type, the brand that was purchased, and in other unforeseeable ways. Jessicainthekitchen.com will not be held liable for any loss or damage resulting for your reliance on nutritional information. If you need to follow a specific caloric regimen, please consult your doctor first.