Easy Vegan Lemon Curd
This Easy Vegan Lemon Curd taste just like regular lemon curd! It's the perfect balance of sweet and tart and is beautifully creamy. It's a perfect topping for pancakes and almost any dessert, or even eating it with a spoon!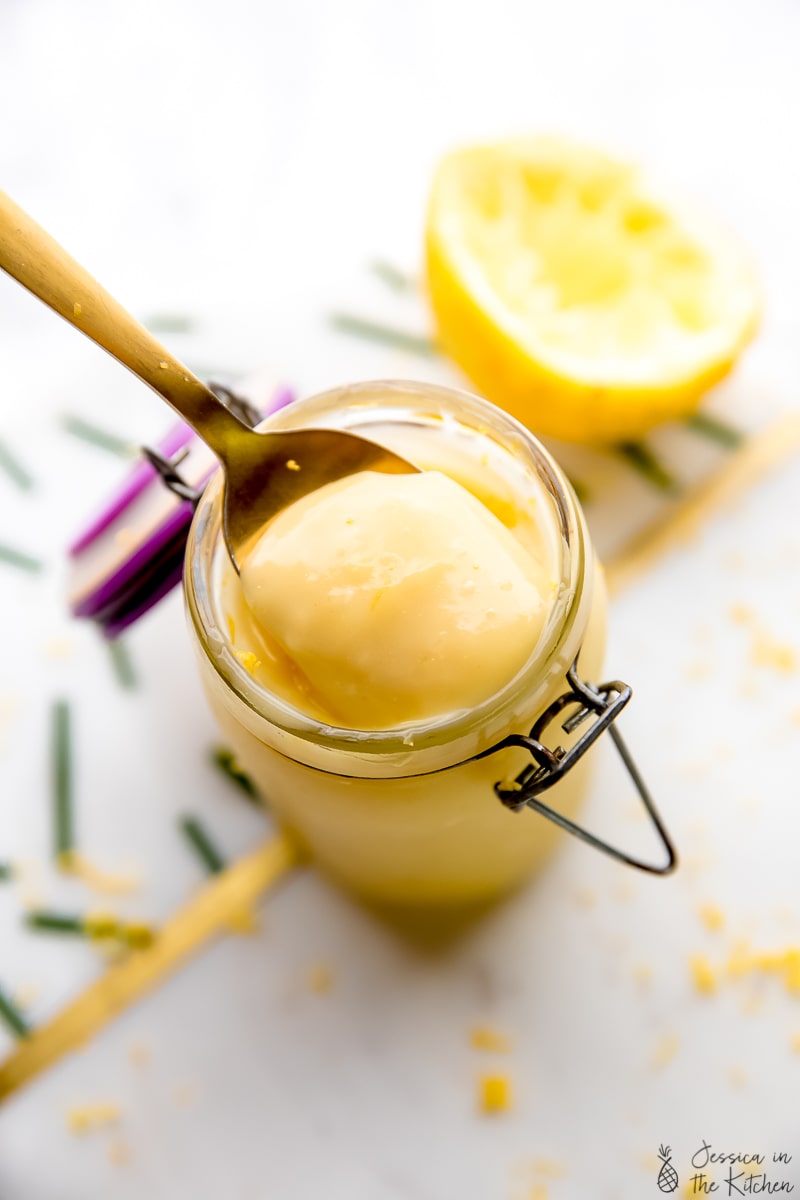 I love all things lemon! There I said it, I admitted it and I'm not ashamed. Now that I got that off my chest, I can now speak about this recipe with extreme bias. One day while sitting on the couch watching Bojack Horseman I realized that it wasn't easy to purchase vegan lemon curd anywhere. I mean what would I top my vegan blueberry muffins with? When I was vegetarian, making lemon curd at one was genuinely one of my favourite baking scientist moments. I used to eat it with spoon friends – that's how good it was. After that, my journey began. Trust me – this is the recipe that you never thought you needed!
What is Vegan Lemon Curd?
Vegan Lemon Curd is a rich and smooth dessert topping. It's a combination of a tart flavour with a creamy sweetness. Due to its consistency, it can be used as a spread to replace jam on toast or even a topping on desserts. Traditionally it is made with butter and egg yolks to make it creamy, but the vegan version gets the same smooth and incredible taste with some easy ingredients you probably already have.
In fact, one of my favourite things about this lemon curd was how easy it was to make. Although I used to love making vegetarian lemon curd, I was always aware of how temperamental it was. I knew I could make this recipe at like, 2 am in the morning (this is my life) and still be able to pull it off easily. It's as easy as just following the instructions. Simple.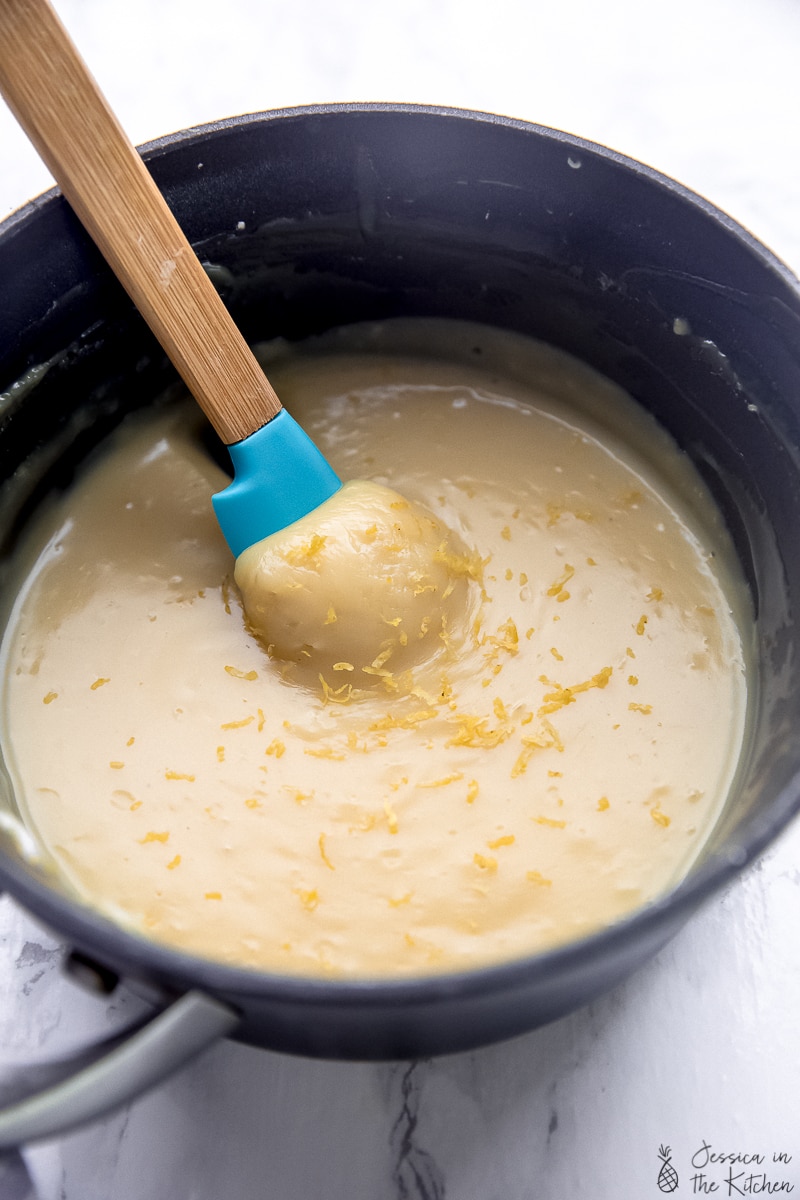 How to make Vegan Lemon Curd
To make this vegan lemon curd is a very simple process. Best of all? You would only need 8 ingredients to get the key base texture, texture taste and look.
Add cornstarch, lemon zest, turmeric, water, and lemon juice in a pan. Can someone say One Pot! Make sure to whisk well so that the mixture does not clump up. The cornstarch essentially works here as the egg replacer, and the turmeric is purely for colour only, so you want the tiniest pinch possible!
After about 5-6 minutes remover from heat. After that add some sugar (slowly) them vanilla extract and a pinch of salt. This should be whisked on medium heat for about 2 minutes or so. Here is where the creaminess and sweetness come in to play.
Slowly incorporate coconut cream to the mixture as well but do this off heat. Never forget to keep whisking. Clumpy-ness is natural, this can all be whisked away (Get it?). Place the pan back on the medium heat for 5 minutes and voila! You have a perfectly creamy, playfully tart and satisfyingly sweet Vegan Lemon Curd.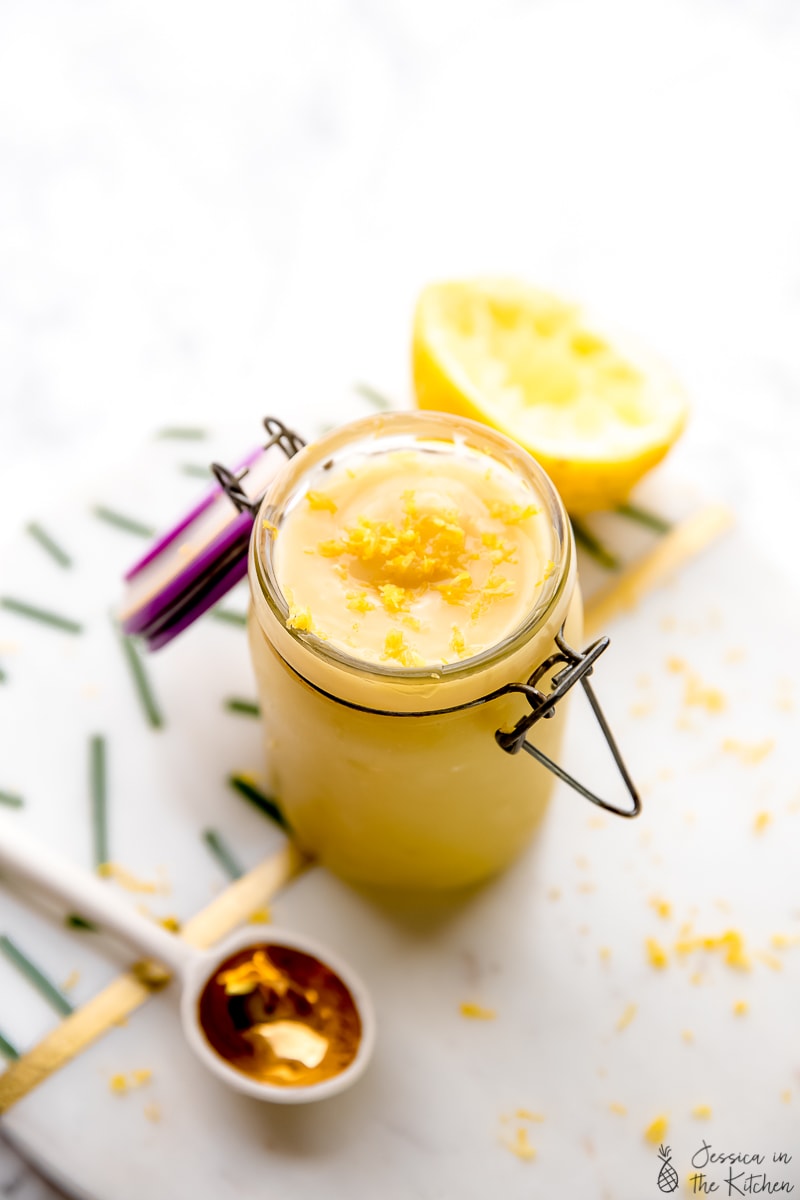 What can I use Lemon Curd for?
It tastes great with just the classics! You can spread it on toast, biscuits and English muffins.
Enjoy friends! If you make this post about an Easy Vegan Lemon Curd, please snap a photo and tag #jessicainthekitchen on Instagram! We'd also love it if you would leave a comment below, and give the recipe a rating! Thanks so much!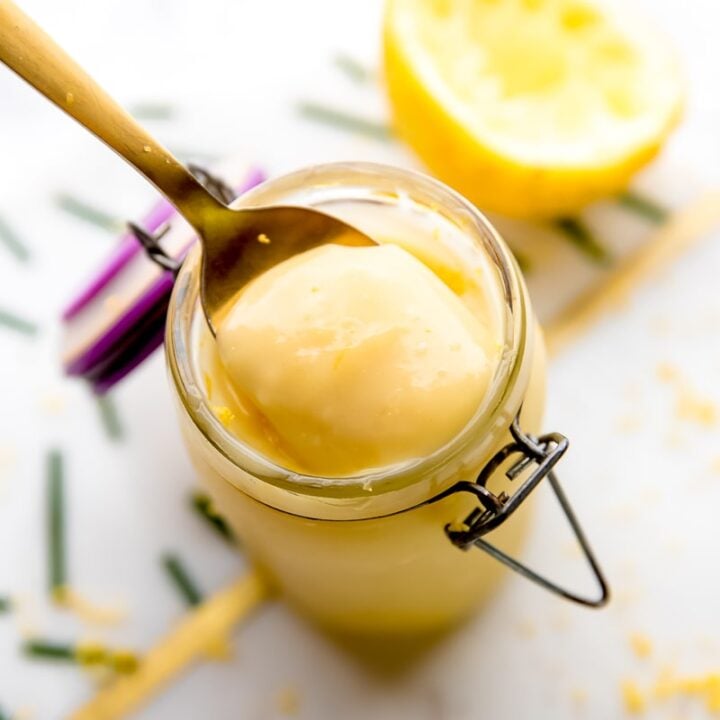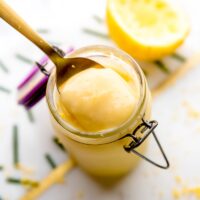 Easy Vegan Lemon Curd
This Easy Vegan Lemon Curd taste just like regular lemon curd! It's the perfect balance of sweet and tart and is beautifully creamy. It's a perfect topping for pancakes and almost any dessert, or even eating it with a spoon!
Ingredients
Easy Vegan Lemon Curd
½ cup fresh lemon juice
2 tablespoons cornstarch
6 tablespoons water
½ cup sugar
tiny pinch of turmeric for colour
1/4 cup thick coconut cream (from the top of a can of coconut milk
pinch of sea salt
¼ teaspoon vanilla extract
1 teaspoon lemon zest
Instructions
Easy Vegan Lemon Curd
In an off pan whisk the cornstarch, lemon zest, turmeric, water and lemon juice until fully incorporated. Turn the pan to medium-high heat and begin to whisk for about 6 minutes as the mixture heats up. You want to whisk the entire time so the cornstarch doesn't clump up. The mixture will begin to thicken around the 3-minute mark then continue to get thicker by 6 minutes.

Reduce heat to medium. Slowly add in the sugar and whisk thoroughly into the curd. Add in the sea salt, vanilla and stir to combine. Stir for another two minutes. If you begin to see any lumps whisk vigorously to remove.

Remove from heat and Stir in the coconut cream and whisk vigorously to combine again. Bring back to heat and allow the mixture to heat over medium heat for about 5 minutes more minutes until it begins to thicken up even more, stirring occasionally. Taste and add more sugar if needed for your tastebuds - it's supposed to be sweet and tart.

Remove from heat and allow to cool in the fridge. There's barely any coconut flavour but any traces will be removed once it cools fully. Enjoy!
Serving: 1tbs, Calories: 29kcal, Carbohydrates: 6g, Protein: 1g, Fat: 1g, Saturated Fat: 1g, Sodium: 2mg, Potassium: 19mg, Fiber: 1g, Sugar: 5g, Vitamin C: 2mg, Calcium: 4mg, Iron: 1mg
Disclaimer: Although jessicainthekitchen.com attempts to provide accurate nutritional information, kindly note that these are only estimates. Nutritional information may be affected based on the product type, the brand that was purchased, and in other unforeseeable ways. Jessicainthekitchen.com will not be held liable for any loss or damage resulting for your reliance on nutritional information. If you need to follow a specific caloric regimen, please consult your doctor first.