Hummus Pasta
Hummus Pasta is an incredibly easy vegan pasta perfect for a weeknight dinner! It's deliciously creamy, very customisable and made together in only 20 minutes!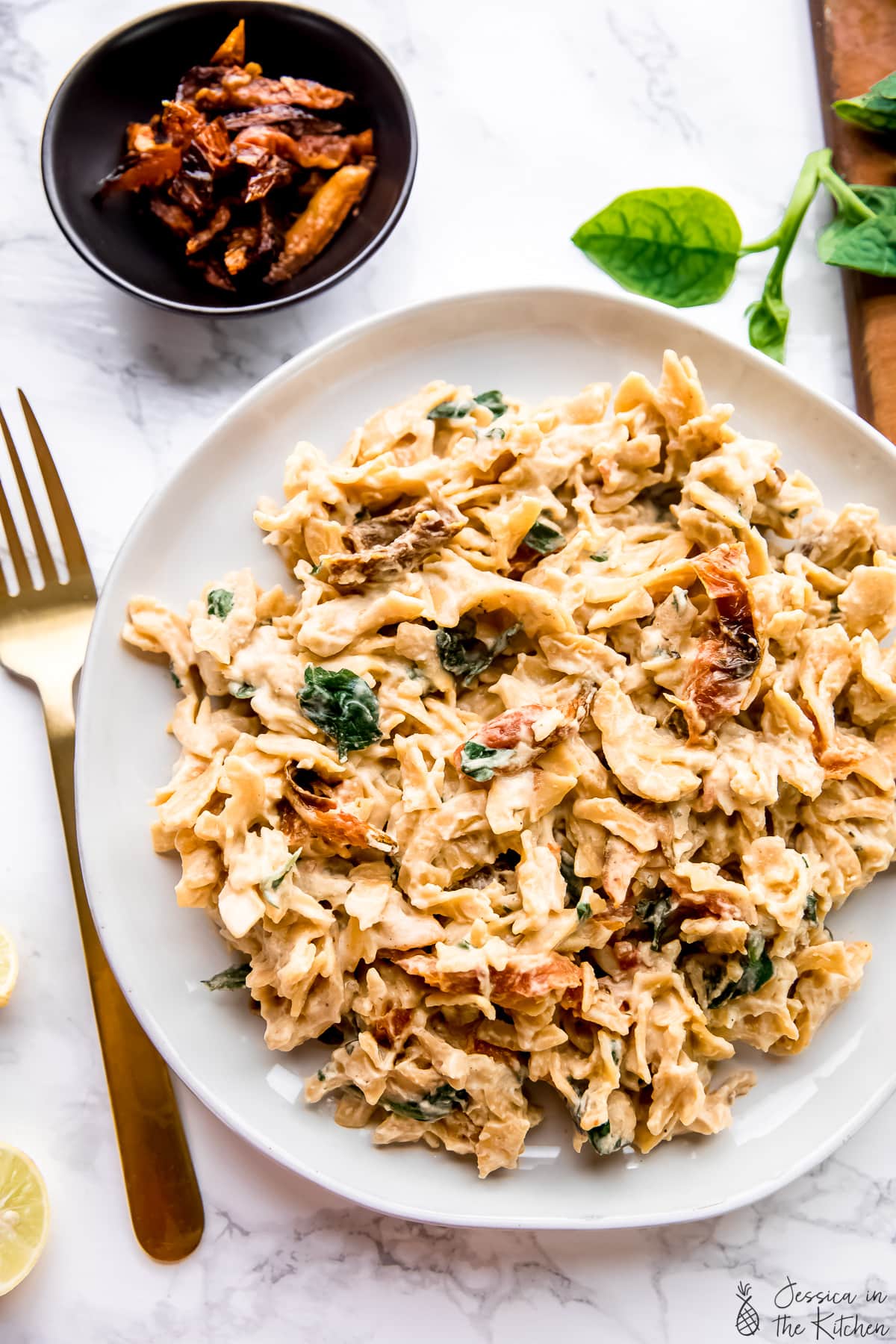 For the last few weeks, Gav keeps asking me "when are you going to share the hummus pasta recipe on the blog?!"
I keep putting it off because well, I switch up my editorial calendar constantly friends. It's just the way I am and I've accepted that about me. But he REALLY loved this pasta and insisted that I share this sooner than later because you guys deserved some hummus pasta in your life.
Why Hummus Pasta?
Why make this you might ask? The answer is simple: it's EASY and delish. The concept of hummus pasta is so simple, yet so satisfying complex in flavours. We love pasta and we love hummus, and combined? You get a creamy, luscious, tasty pasta dish that comes together in just minutes. I can't believe it took me this long to think about adding hummus to my pasta!
Apart from the fact that this is the perfect quick lunch or weeknight dinner, I love how affordable hummus pasta is. Whether you're making your own hummus or using store-bought, it's very budget-friendly and great for meal prep and long story short – needs a place in your life.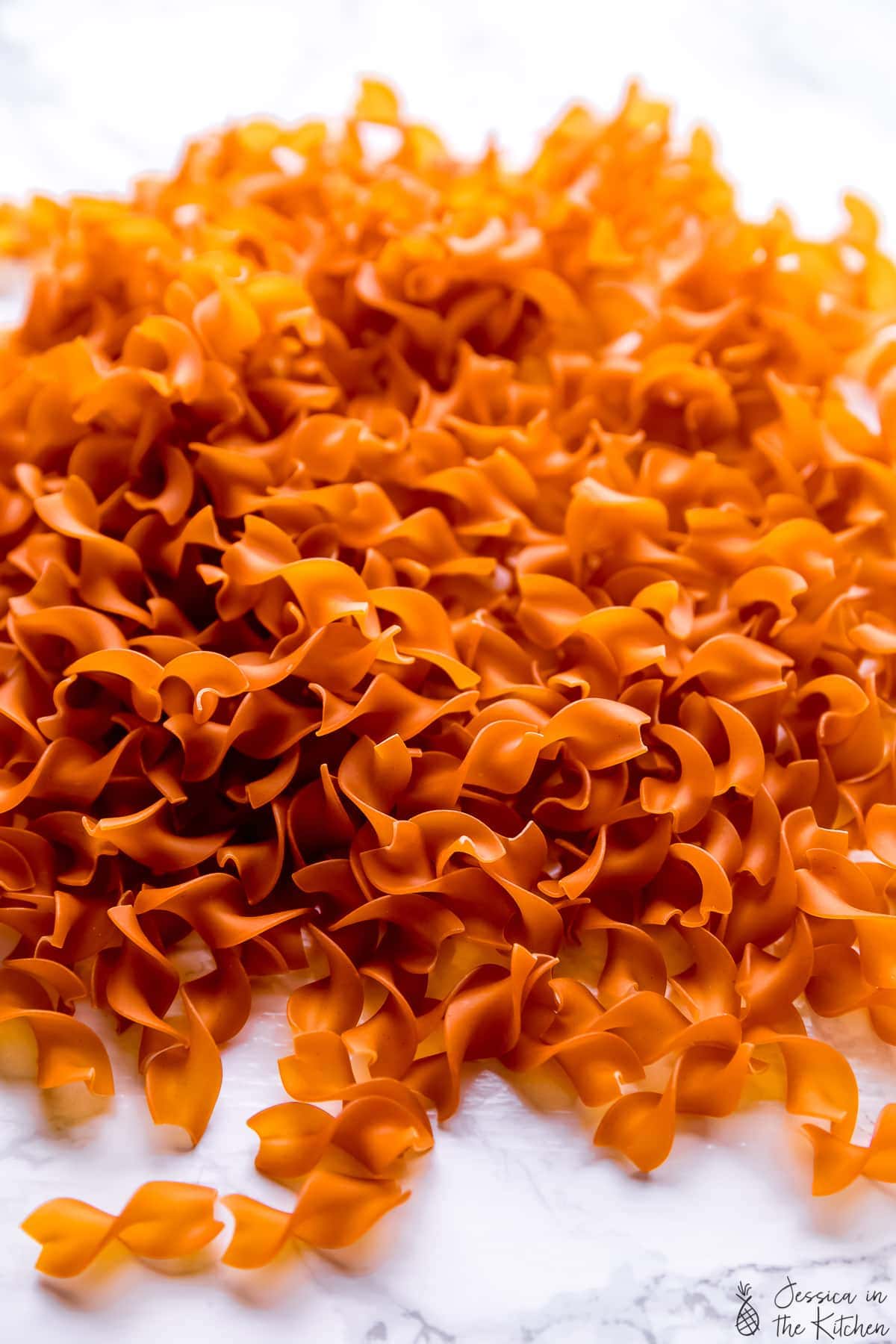 Ingredients in Hummus Pasta
Hummus – I mean, do I even need to say more? If you're a hummus lover like me then you'll already added some to your favourite wraps or on a slice of bread. It adds a deliciously creamy base without any actual cream. In case you're thinking it – it doesn't really taste like hummus at all. Just a creamy, garlicky sauce.
Pasta – I used gluten-free pasta here but you can use any pasta that you have.
pasta water – this starchy and well salted water is great for thinning out your sauce and making it smoother.
spinach (or any of your favourite greens) – you can add way more if you want, but some greens in here adds a nice hint of freshness.
sundried tomatoes (and any other sautéed veggies you want to add here) – I love love love sundried tomato hummus, so that's what I was going for with this. You could also add in any veggies that your heart desires. I would saute down the veggies first then stir them in.
salt and pepper to taste – you can also add any additional seasonings here!

How to Make Hummus Pasta
Making this pasta dish is insanely easy.
First you boil some pasta and reserve some of that well-salted water. While your pasta is boiling, go ahead and sautéed your sundried tomatoes with any other veggies you're adding in. I went for sundried tomatoes because of a really old hummus recipe I have, and I wanted to bring back those flavours.
After your pasta is ready, add your pasta, your veggies, your hummus and ¼ cup pasta water into your pot and mix them all together. Whether you're making fresh hummus or you have leftover hummus, you'll be adding in a cup of it here.
You'll get a creamy and flavourful sauce that'll perfectly coat your pasta. If you want, you can add more pasta water, but it's totally up to you. Season it with salt and pepper to taste and more seasonings depending on the base flavours of your hummus. You know my hummus is loaded with garlic, so I didn't need to add more in.
Finish it with a squeeze of lime or lemon, stir again and bam! Serve and enjoy!

Tips on making the best hummus pasta
Choose a high-quality hummus, taste-wise. It's the star of the dish, so using essentially your favourite hummus on this pasta result in the best end product.
Switch it up! You can add in sautéed tomatoes, broccoli, bell peppers, mushrooms – really any veggies you love. I recommend sautéeing and seasoning them and then adding them into the pasta.
Season!
Enjoy friends! If you make this Hummus Pasta, please snap a photo and tag #jessicainthekitchen on Instagram! We'd also love it if you would leave a comment below, and give the recipe a rating! Thanks so much! P.S. – do you know that we have an entire blog dedicated to low carb recipes named Low Carb Vegan Recipes?! Be sure to check it out!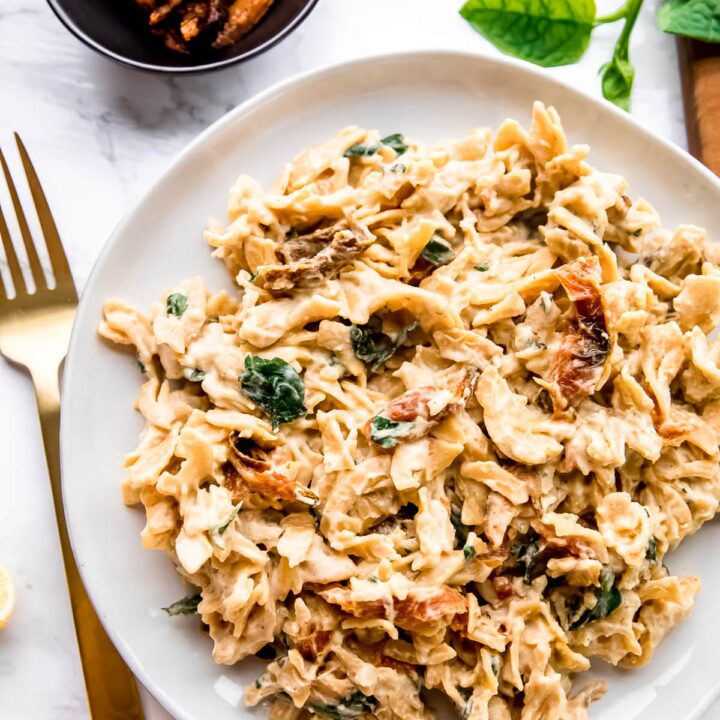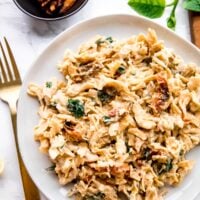 Hummus Pasta
Hummus Pasta is an incredibly easy vegan pasta perfect for a weeknight dinner! It's deliciously creamy, very customisable and made together in only 20 minutes!
Ingredients
2 teaspoons olive oil or any oil
1/2 cup spinach, chopped
3 sundried tomatoes, thinly sliced
salt and pepper to taste
1 cup garlicky well-seasoned hummus**, you can start with 3/4 cup
1/4 cup pasta water + more if needed
8 ounces dry pasta
squeeze lime
Instructions
In a pot of well salted boiling water, boil your pasta according to package directions. Reserve up to 1/2 cup pasta water or more if you think you might need more. When pasta is finished, drain and set aside.

While pasta is boiling, heat the olive oil in a medium-sized pan.

When oil is hot, add in the spinach and sundried tomatoes and any other vegetables you might want to add. Add a pinch of salt and black pepper, and saute for about 5 minutes until the spinach is wilted and sundried tomatoes are fragrant.

Lower the heat to low, and add in the hummus and a 1/4 cup of the pasta water. Stir everything together until smooth and combined. Add in the cooked pasta. Squeeze the lime over the top and stir until everything is combined.

Taste the pasta and sauce, and add more water if desired, and season with more salt and pepper to taste, if needed.

Remove from heat, serve and enjoy!
Notes
*You want to start this recipe with a great base, such as my hummus recipe. If you're using plain hummus, I highly recommend sauteeing some garlic and onions with your vegetables or adding in garlic powder and onion powder. Feel free to customise this dish to your desired consistency and flavour!
Calories: 320kcal, Carbohydrates: 51g, Protein: 10g, Fat: 10g, Saturated Fat: 2g, Sodium: 271mg, Potassium: 213mg, Fiber: 5g, Sugar: 1g, Vitamin A: 383IU, Vitamin C: 2mg, Calcium: 27mg, Iron: 2mg
Disclaimer: Although jessicainthekitchen.com attempts to provide accurate nutritional information, kindly note that these are only estimates. Nutritional information may be affected based on the product type, the brand that was purchased, and in other unforeseeable ways. Jessicainthekitchen.com will not be held liable for any loss or damage resulting for your reliance on nutritional information. If you need to follow a specific caloric regimen, please consult your doctor first.