Apple Pie Pancakes (Gluten Free)
These healthy, gluten-free Apple Pie Pancakes are only 100 calories, made with ground oats, and filled with delicious caramelised apples. These are so healthy & easy to make!
WATCH THE VIDEO TO SEE HOW IT'S MADE: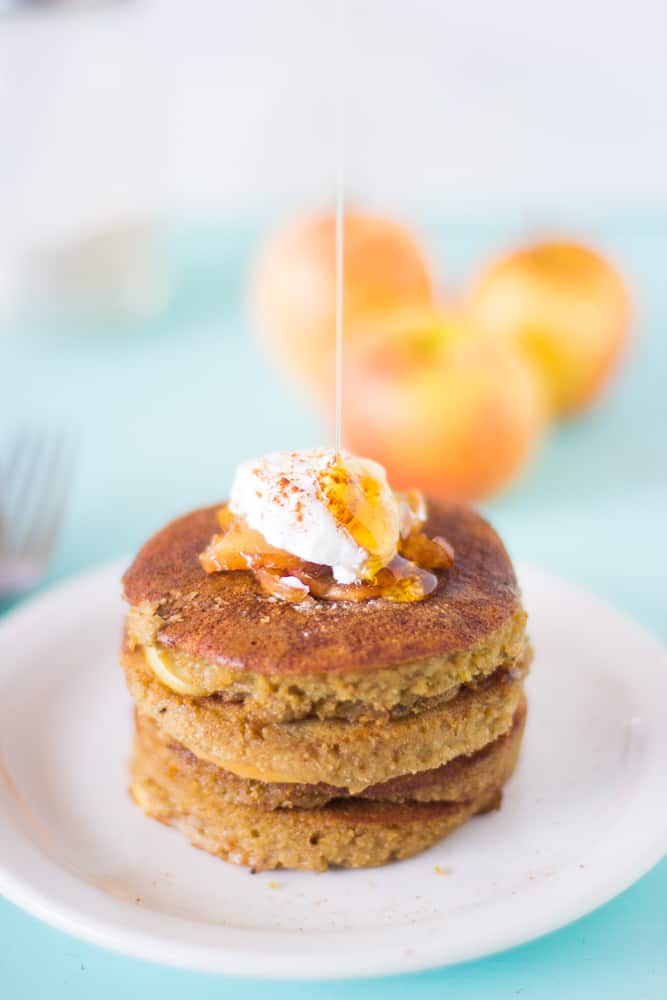 Wow, my first new post under Jessica in the Kitchen. It's kind of like a dream come true you know? I've been waiting for this moment for such a long time and it's finally here. Thank you for all your positive feedback – it's helped with the butterflies! Enough about my excitement for right now – I need to tell you about these apple pie pancakes! Two words: new favourite.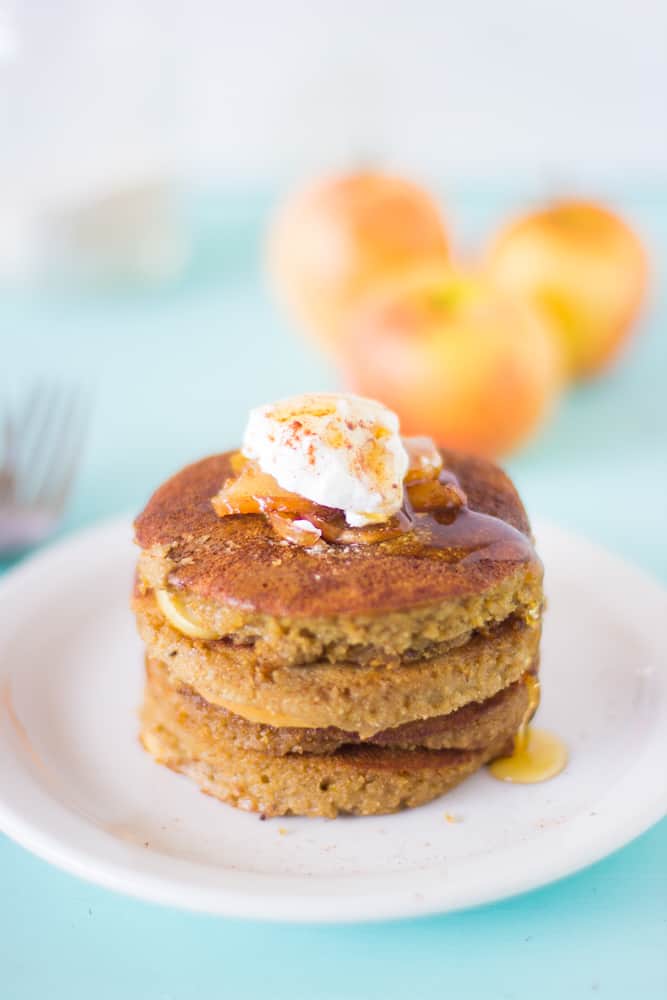 I've been trying to cut down on any processed foods inclusive of white flour and sugars, and I also want to bring this forth to the blog. I promise – I don't eat anything that I don't love, and Mr. Bakes is also the second tester so I can guarantee there are only delicious recipes here.
That being said, I knew whole wheat flour wouldn't taste that great because I've been there and then I was like wait, how about oats? 15 minutes later – since I decided to over grind a TON of oats, I had amazing, soft and airy oat flour. I'll share how to make homemade oat flour another day, but it's as simple as adding ¼ cup of oats at a time to reveal almost twice the amount of oat flour in seconds. Mix in the rest of the ingredients and you're ready to make these healthy gluten free apple pie pancakes.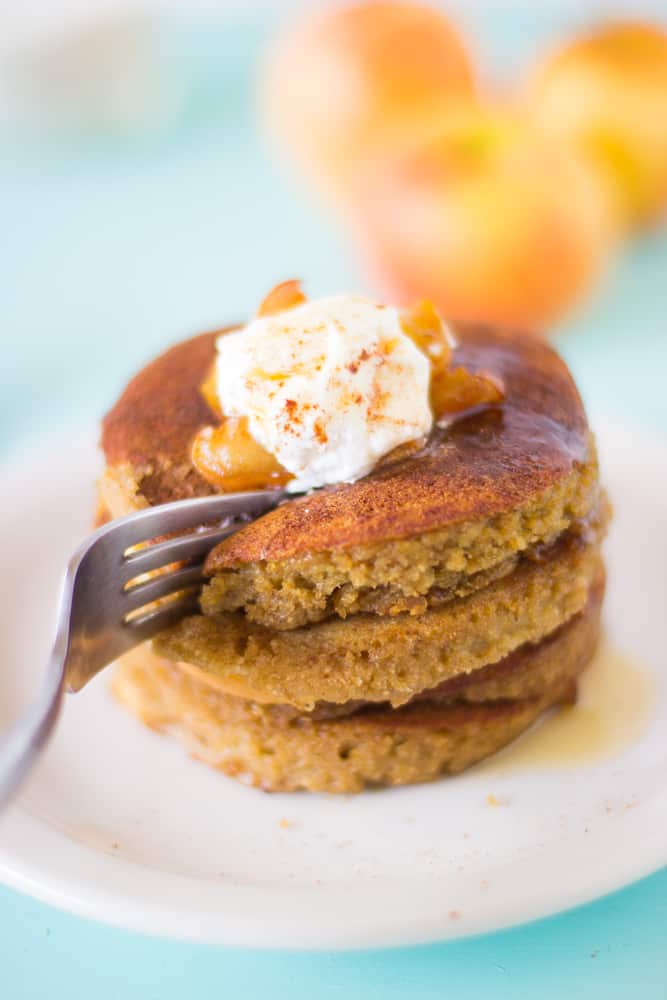 I was a little skeptical at first, I mean come on I just changed my favourite pancake recipe to have NO white flour in there or processed sugars! But they came out soft, fluffy, and filled with so much flavour! Like seriously, it's as if the homemade flour had so much more flavour in itself, and created pancakes that were solid on their own in terms of texture.
Let's not forget the apples that get caramelised when being cooked when you flip the pancakes – deliciously soft and sweet. It doesn't really get much better than this! This is my new favourite pancake recipe, hands down.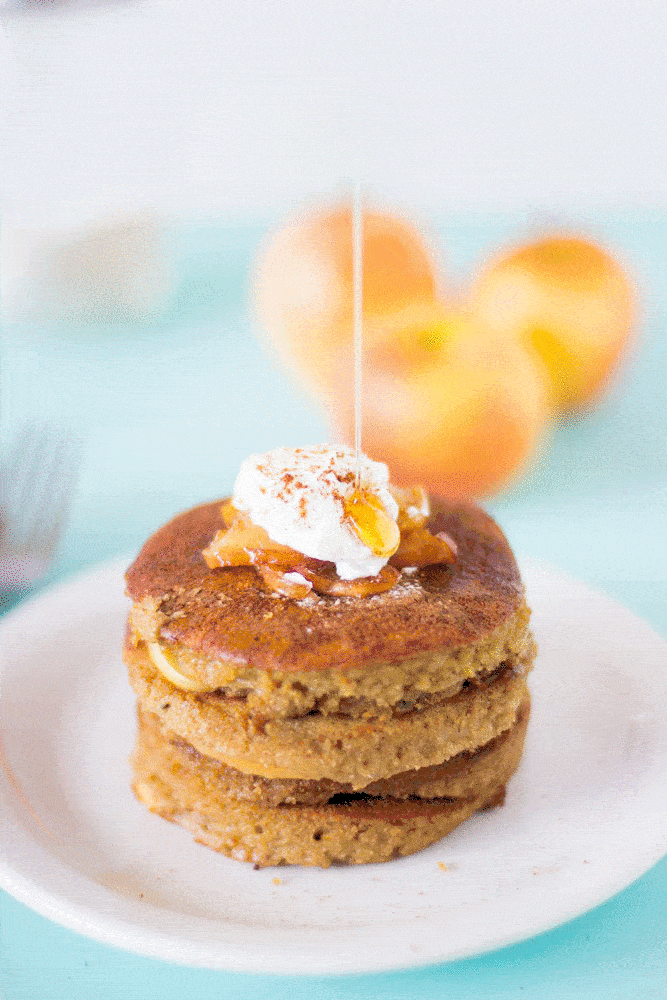 P.S. top these healthy gluten free apple pie pancakes with some more caramelised apples (just pop them onto your griddle for a few minutes and sprinkle with cinnamon) , greek yogurt and drizzle some honey on top – heaven! I was more concerned with devouring these then photographing them, but deciding I had to share them, and just in time for the fall season that's slowly but surely approaching!
These would also make a quick and easy breakfast for those soon-to-come back busy school mornings (don't I know it – my little brother goes back in two weeks!) and are so easy to freeze (more directions in the recipe below) and pop in the toaster the next day.
P.S. Here are some of the items I used to make this recipe if you'd like to use them too:
| WHAT YOU'LL NEED // SHOP MY FAVORITE INGREDIENTS & PREP PRODUCTS |


If you try these Healthy Gluten Free Apple Pie Pancakes please let me know in the comment section below, or tag me on instagram with the hashtag #jessicainthekitchen! For more exclusive recipes follow me on Instagram AND on Snapchat: jessinkitchen.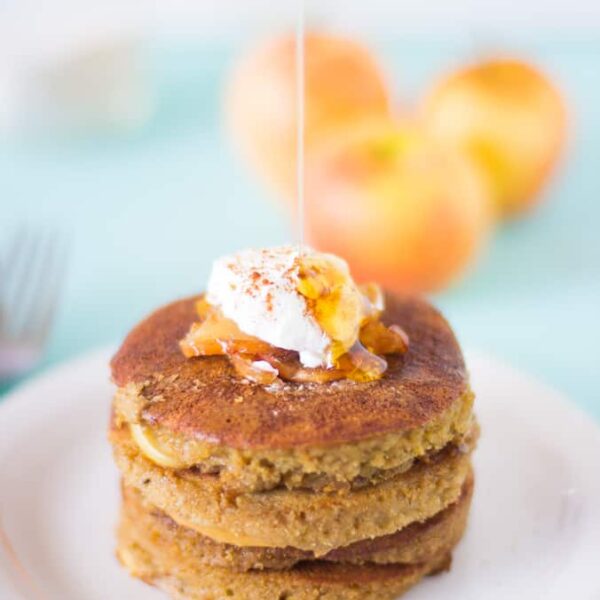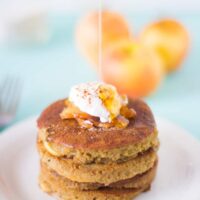 Apple Pie Pancakes (Healthy & Gluten Free)
These Healthy Gluten Free Apple Pie Pancakes are only 100 calories, made with ground oats, filled with delicious caramelised apples and are so healthy & easy to make!
Ingredients
1 1/4 cups oat flour, or oats ground in a food processor or in a coffee grinder
1 tablespoon baking powder
1/2 teaspoon salt
1 tablespoon agave nectar or maple syrup
1 cup almond milk
2 tablespoons thick vegan yogurt
1 teaspoon cinnamon
1 apple, sliced
Instructions
In a large bowl, add the oat flour, baking powder, and salt.

Add the remaining pancake ingredients except the apple and whisk until just combined. Heat a griddle pan or a cast iron skillet over medium heat and grease with oil or cooking spray.

Pour the batter into a liquid measuring cup, then pour about 1/4 cup's worth for one pancake. Wait until some bubbles start to form and then add a few apple slices on top. Allow to cook for 2 more minutes and then flip the pancakes over. Cook for about 3 more minutes until batter is cooked through.

Serve pancakes hot and drizzle maple syrup on top and some caramelised apples.
Notes
This recipe is gluten free.
TO MAKE IT VEGAN:
You can use a flax egg or a banana to replace the egg, maple syrup instead of honey, and coconut cream or vegan yogurt instead of the greek yogurt.
HOW TO STORE – FRIDGE & FREEZER:
Store these pancakes stacked with wax or parchment paper in between each one in an airtight tupperware container in the fridge. If freezing, store them in a freezer-safe zipped bag with wax or parchment paper in between each other. Store them flat to freeze. They last very long in the freezer!
VARIATIONS:
You can use pears or even plums in place of the apples.
MORE GLUTEN FREE PANCAKE RECIPES
Chocolate Peanut Butter Blender Pancakes
Gluten Free Pumpkin Pancakes
Peanut Butter and Strawberry Jelly Compote Waffles
Calories: 125kcal, Carbohydrates: 21g, Protein: 4g, Fat: 3g, Saturated Fat: 1g, Sodium: 400mg, Potassium: 125mg, Fiber: 3g, Sugar: 5g, Vitamin A: 14IU, Vitamin C: 2mg, Calcium: 172mg, Iron: 1mg
Disclaimer: Although jessicainthekitchen.com attempts to provide accurate nutritional information, kindly note that these are only estimates. Nutritional information may be affected based on the product type, the brand that was purchased, and in other unforeseeable ways. Jessicainthekitchen.com will not be held liable for any loss or damage resulting for your reliance on nutritional information. If you need to follow a specific caloric regimen, please consult your doctor first.