Apple Streusel Muffins
Apple Streusel Muffins filled with sweet apples and a crunchy and delicious topping!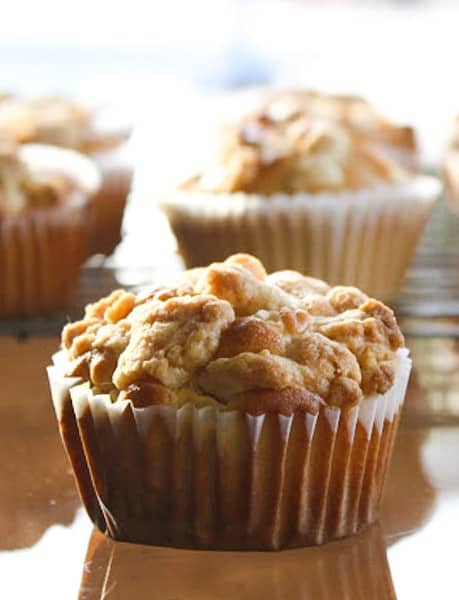 I know that everyone loves longer blog posts from me, but honestly my time is just so limited right now! I've been struggling with the idea to post if it isn't even going to be long but it's been way to long since I've blog posted; blame law school, which also produces writer's block.
Just saying.
I do miss this so much though, and I want to leave these here. These apple streusel muffins were delicious and so worth the calories (sorry, it's true!) I hope you enjoy them in this fall season.
Also, I want to wish a Happy Birthday to my beloved Dad! I love you so much Dad! You don't know it yet but I made you a rum & raisin cheesecake with oreo crust since you love rum & raisin ice cream, cheesecake, and oreos! Can't wait to surprise you in a few hours with it!
Just to point out, I can't believe it's the middle of October! Time is flying by so quickly; it's a little scary! Halloween will be upon us so very soon! For some reason I'm not seeing as much Breast Cancer Awareness activities as I am used to; what's up with that?! Anyhow, you can always support in your own way!
Oh? Describe these apple streusel muffins? The topping? crunchy, and delicious. The muffins? Filled with sweet apples and light and fluffy. I really did enjoy them so very much especially the lovely touch of cinnamon (you guys know I love cinnamon). They are definitely worth it.
Enjoy your week guys!
Love,
Jessica

If you try these Apple Streusel Muffins please let me know in the comment section below, or tag me on instagram with the hashtag #jessicainthekitchen! For more exclusive recipes follow me on Instagram AND on Snapchat: jessinkitchen.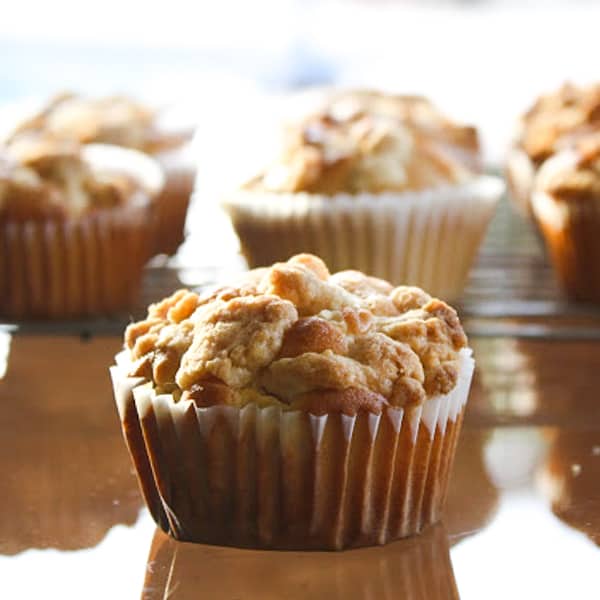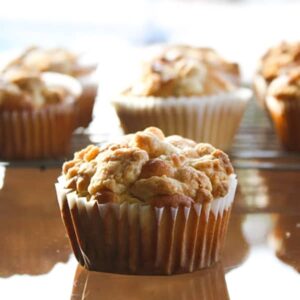 Apple Streusel Muffins
Apple Streusel Muffins filled with sweet apples and a crunchy and delicious topping!
Ingredients
Muffins:
2 apples, peeled, cored, and diced
2 cups flour
2/3 cup white sugar
2 tsp baking powder
1 tsp salt
2 flax eggs
3/4 cup vegan milk
1/4 cup vegan butter, melted
2 tsp cinnamon
Streusel Topping:
1/2 cup flour
1/4 cup vegan butter, melted
1/3 cup brown sugar
Cinnamon for sprinkling
Instructions
Preheat oven to 400F. Line a muffin tin with cupcake wrappers.

In a large bowl, mix together wet and dry ingredients for the muffins until well combined.

Gently stir in chopped apple.

Scoop about 1/4 cup batter into each cupcake liner — the cups should be 2/3 full. Set aside

In a medium bowl, mix together ingredients for streusel topping.

Spoon streusel topping on top of the batter in each muffin cup. Use as much as you want — I sprinkled enough to cover the entire top.

Sprinkle a little cinnamon on top of the streusel.

Bake for 20-25 minutes.

Enjoy warm with a glass of milk.
Calories: 263kcal, Carbohydrates: 42g, Protein: 4g, Fat: 9g, Saturated Fat: 5g, Cholesterol: 48mg, Sodium: 363mg, Potassium: 99mg, Fiber: 2g, Sugar: 21g, Vitamin A: 350IU, Vitamin C: 2mg, Calcium: 86mg, Iron: 2mg
Disclaimer: Although jessicainthekitchen.com attempts to provide accurate nutritional information, kindly note that these are only estimates. Nutritional information may be affected based on the product type, the brand that was purchased, and in other unforeseeable ways. Jessicainthekitchen.com will not be held liable for any loss or damage resulting for your reliance on nutritional information. If you need to follow a specific caloric regimen, please consult your doctor first.