Carrot Cake Muffins (Vegan & Gluten Free)
These Carrot Cake Muffins bake up in just 30 minutes and are absolutely fantastic! They are moist, delectable and vegan and gluten free!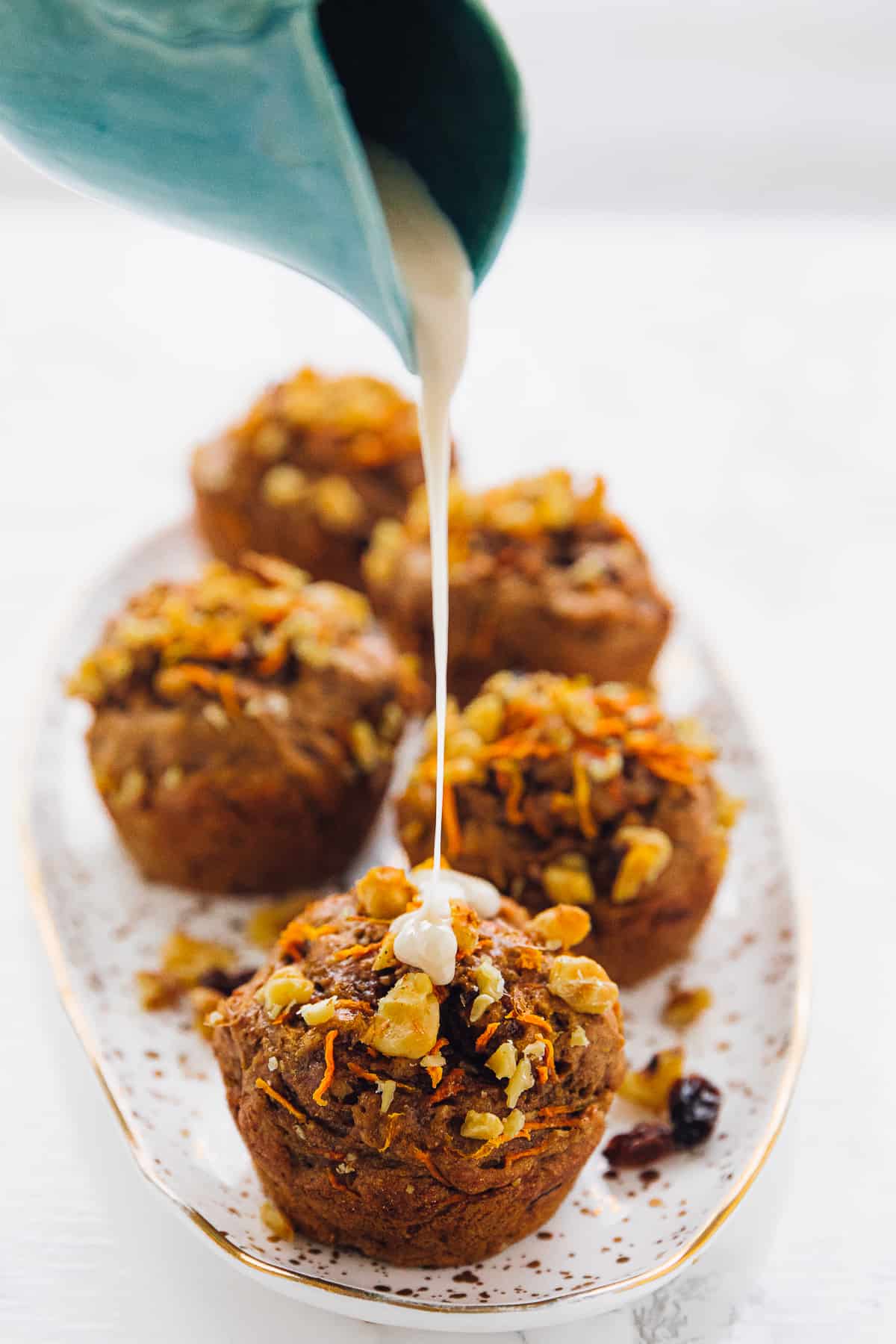 Happy March friends! Today I have for you some healthier Carrot Cake Muffins – trust me, you're going to want to make these. Right in time for when you're making your Easter plans, these are a must for your table!
In case you didn't know, carrot cake is actually my favourite kind of cake. It's the mixture of the nuts, the cinnamon, the moistness and those delightful carrots. Actually, carrots are such a delicious vegetable that I love snacking on them alone. Now what happens when you want the taste of carrot cake, without the time to make an entire cake? Carrot cake muffins!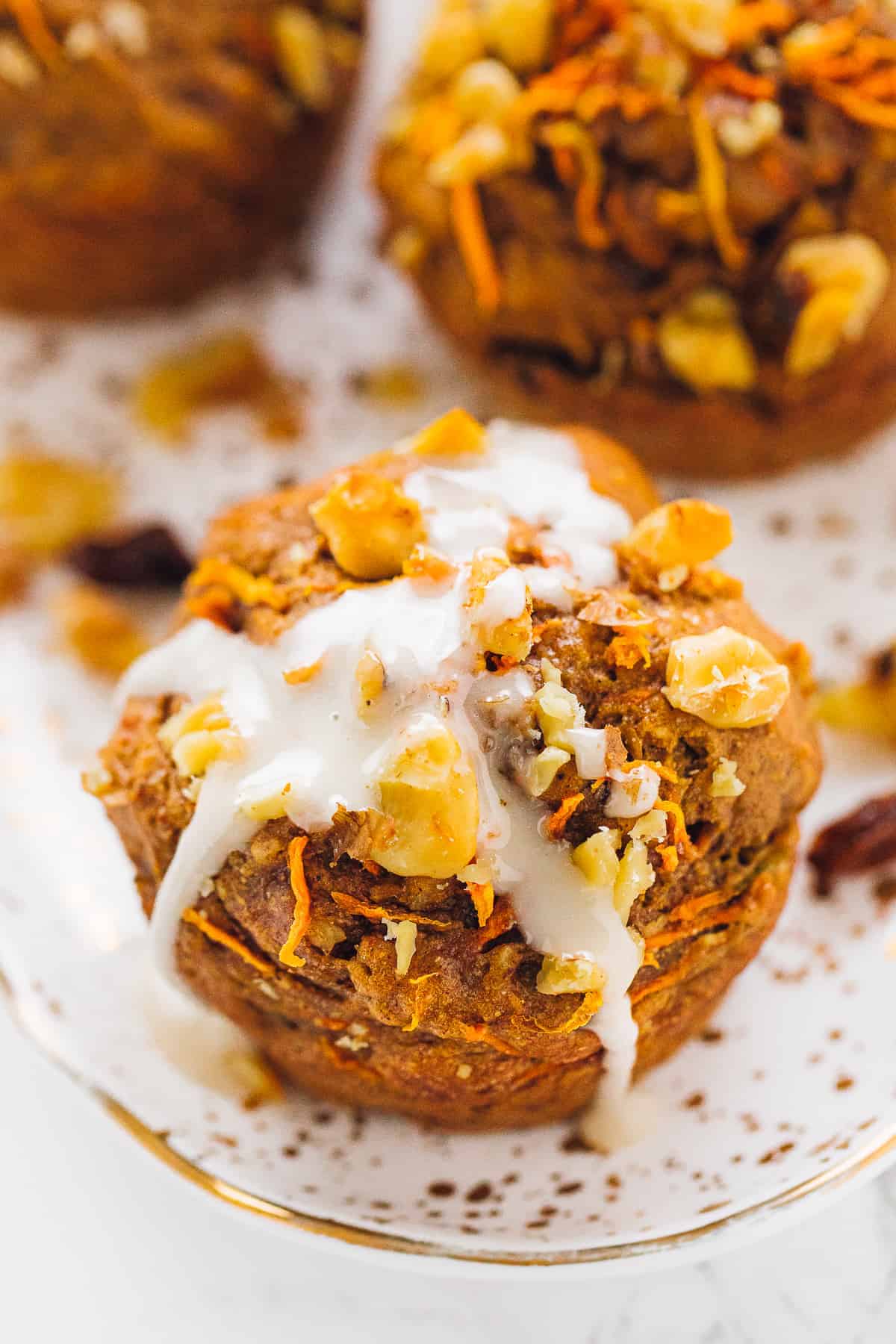 So these carrot cake muffins came about because I was making my uncle a treat to say thank you for something he had done for me. I had free range as to what to make, so I said, why not make him a muffin version of my favourite cake?
His response blew me away.
"Jess, these muffins…are absolutely fantastic!". Friends, these are the compliments from family members that make my squeal a bit from glee. Okay, a lot of squealing. That was my stamp of approval that these were definitely blog ready. That and the fact that when I made some more, the Mr. tried one and loved it so much that he said it was one of his top favourite desserts that I've ever made.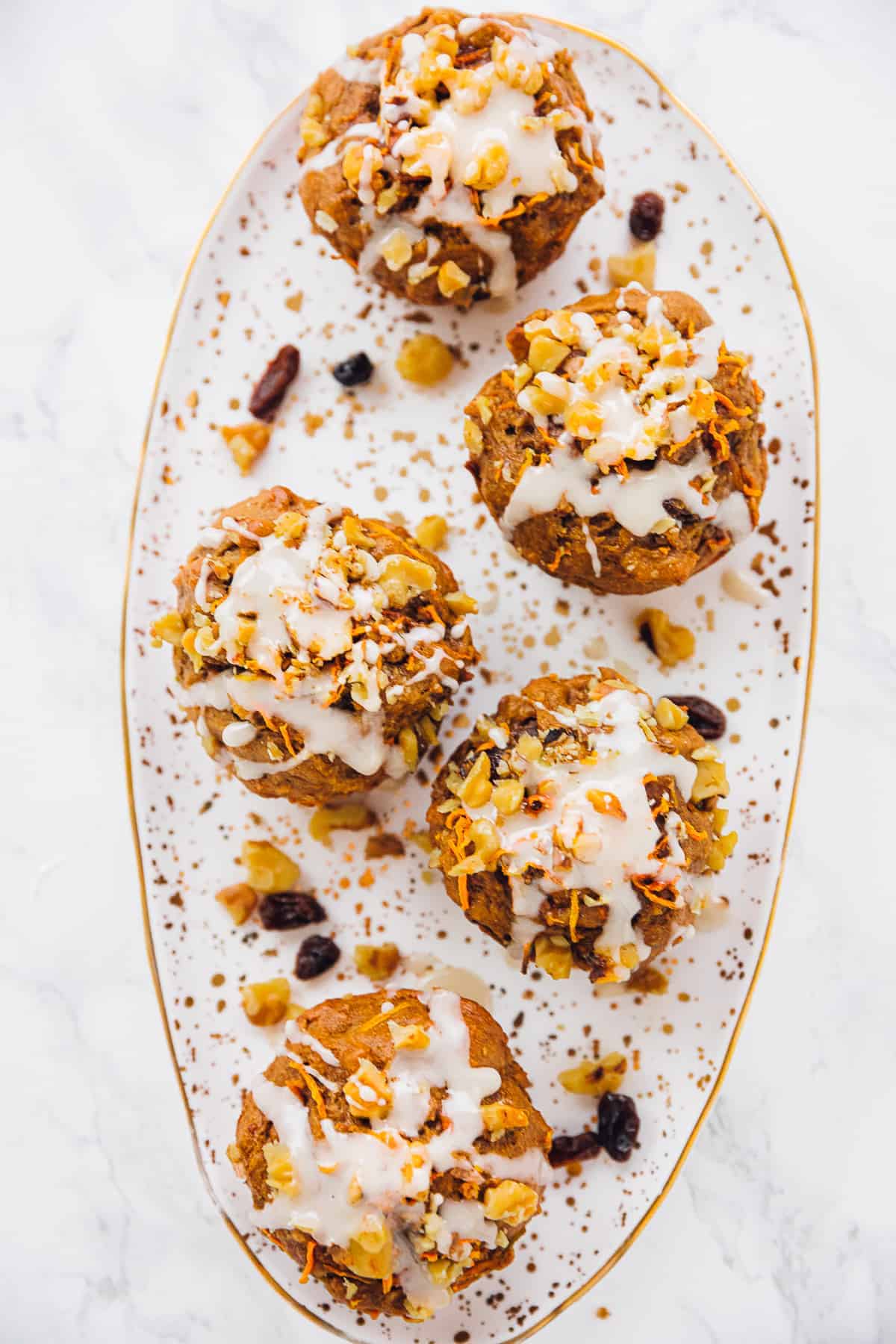 Like I said, totally blog ready.
These carrot cake muffins pack a punch of flavour thanks to the seasonings (hi cinnamon!), and are also so light and fluffy that you won't feel a heavy feeling from enjoying them. I love coconut and walnuts in my carrot cake too, so I definitely added those in.
Also, what's muffins without a bit of glaze? It's totally optional, but it takes it from breakfast muffins to a lovely little treat. The fact that it's vegan and gluten free means that you can serve this to a crowd and know that everyone can equally dig in.
Enjoy, and happy eating friends!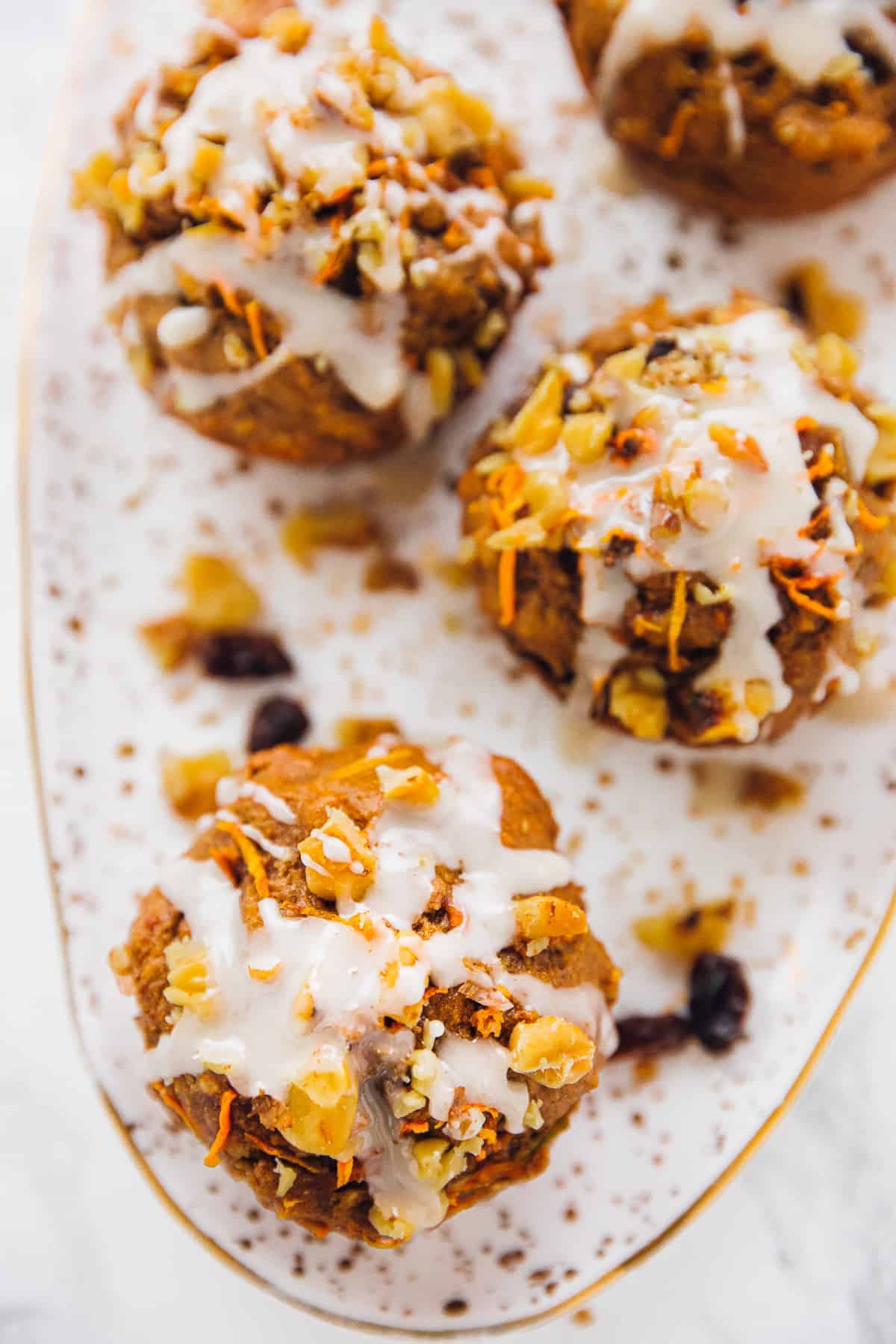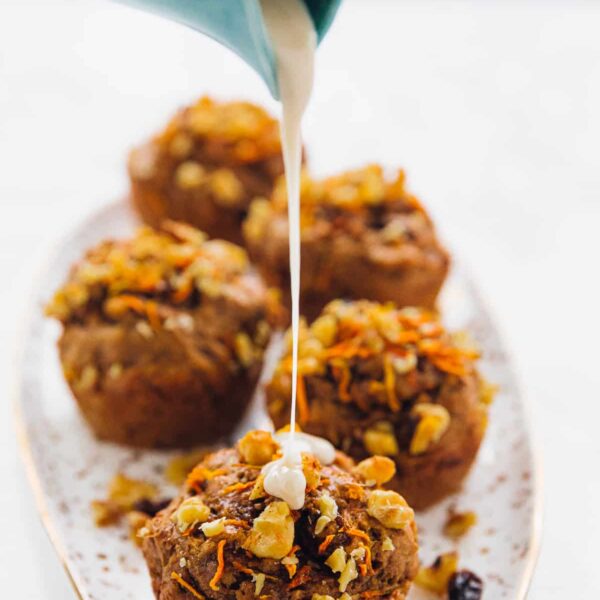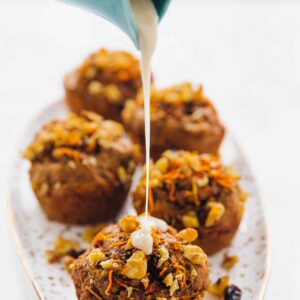 Carrot Cake Muffins (Vegan & Gluten Free)
These Carrot Cake Muffins bake up in just 30 minutes and are absolutely fantastic! They are moist, delectable and vegan and gluten free!
Ingredients
¼ cup coconut oil, 52.2g
1 cup coconut sugar, 192g
¼ cup vegan yogurt, 82g
2 cups gluten free flour (I use Bob's Red Mill Gluten Free 1-to-1 Baking Flour, 254g
2 teaspoons baking powder
½ teaspoon baking soda
1 teaspoon sea salt
1 teaspoon cinnamon
¼ teaspoon nutmeg
¼ teaspoon ground ginger
1 Bob's Red Mill Egg Replacer equivalent
½ teaspoon vanilla extract
¼ teaspoon ground cloves, optional
¾ cup unsweetened almond milk, 180ml
¼ cup raisins, 72g
1 cup shredded carrot
¼ cup unsweetened shredded coconut flakes
½ cup walnuts, 50g
Glaze
1 ½ tablespoons unsweetened almond milk
1/2 cup organic powdered sugar
Instructions
Preheat oven to 425°F/220°C. Spray a muffin pan with non-stick flour spray or rub with vegan butter and dust with gluten free flour, removing excess.

In a bowl of a mixer, mix the coconut oil, sugar and vegan yogurt together for about 3 minutes.

In another small bowl, mix the gluten free flour, baking powder, baking soda, sea salt, cinnamon, nutmeg, ground ginger, ground cloves together in another container. Set aside.

In the coconut oil mixture, add the Bob's Red Mill Egg Replacer mix and the vanilla to combine for another 30 seconds, scraping down the bowl.

Add the flour mixture to the bowl, alternating with the almond milk until finished, ending with the flour. I did it in sets of three.

Fold in the raisins, shredded carrot, the coconut flakes and the walnuts to the batter with a spatula, saving some of each to top the muffins with. Fold in until combined.

Using a 1/4 cup measuring cup, pour the batter into each of muffin hole; they should be filled about ⅓ way high. Alternatively, you can just fill 10 muffin holes for slightly larger muffins.

Bake for 5 minutes, then reduce the temperature to 350 degrees and bake for another 12 minutes until a toothpick inserted into a muffin comes out clean.

Remove from oven and allow to cool in pan for about 10 minutes. Remove (I just use the same toothpick that comes with it) and place on a wire rack to cool completely.
Glaze Recipe
Whisk the powdered sugar and almond milk until completely combined and there are no lumps. If you want your glaze thinner, add a little bit more milk; if you want it thicker, add more powdered sugar.

Pour glaze over the cooled muffins – about a teaspoon per cupcake.

Allow to set (about 5 minutes) and enjoy!
Notes
Notes You could also use an egg if you aren't vegan! If you can't find organic powdered sugar, you can grind organic sugar in a food processor until as fine as powdered sugar, which takes just a few short minutes to do.
Calories: 237kcal, Carbohydrates: 37g, Protein: 3g, Fat: 10g, Saturated Fat: 5g, Sodium: 369mg, Potassium: 97mg, Fiber: 4g, Sugar: 15g, Vitamin A: 1782IU, Vitamin C: 1mg, Calcium: 93mg, Iron: 1mg
Disclaimer: Although jessicainthekitchen.com attempts to provide accurate nutritional information, kindly note that these are only estimates. Nutritional information may be affected based on the product type, the brand that was purchased, and in other unforeseeable ways. Jessicainthekitchen.com will not be held liable for any loss or damage resulting for your reliance on nutritional information. If you need to follow a specific caloric regimen, please consult your doctor first.