Pumpkin Cream Cheese Swirl Muffins
These Pumpkin Cream Cheese Swirl Muffins will amaze your tastebuds and your guests!! They taste fantastic, are gluten free and are so easy to make!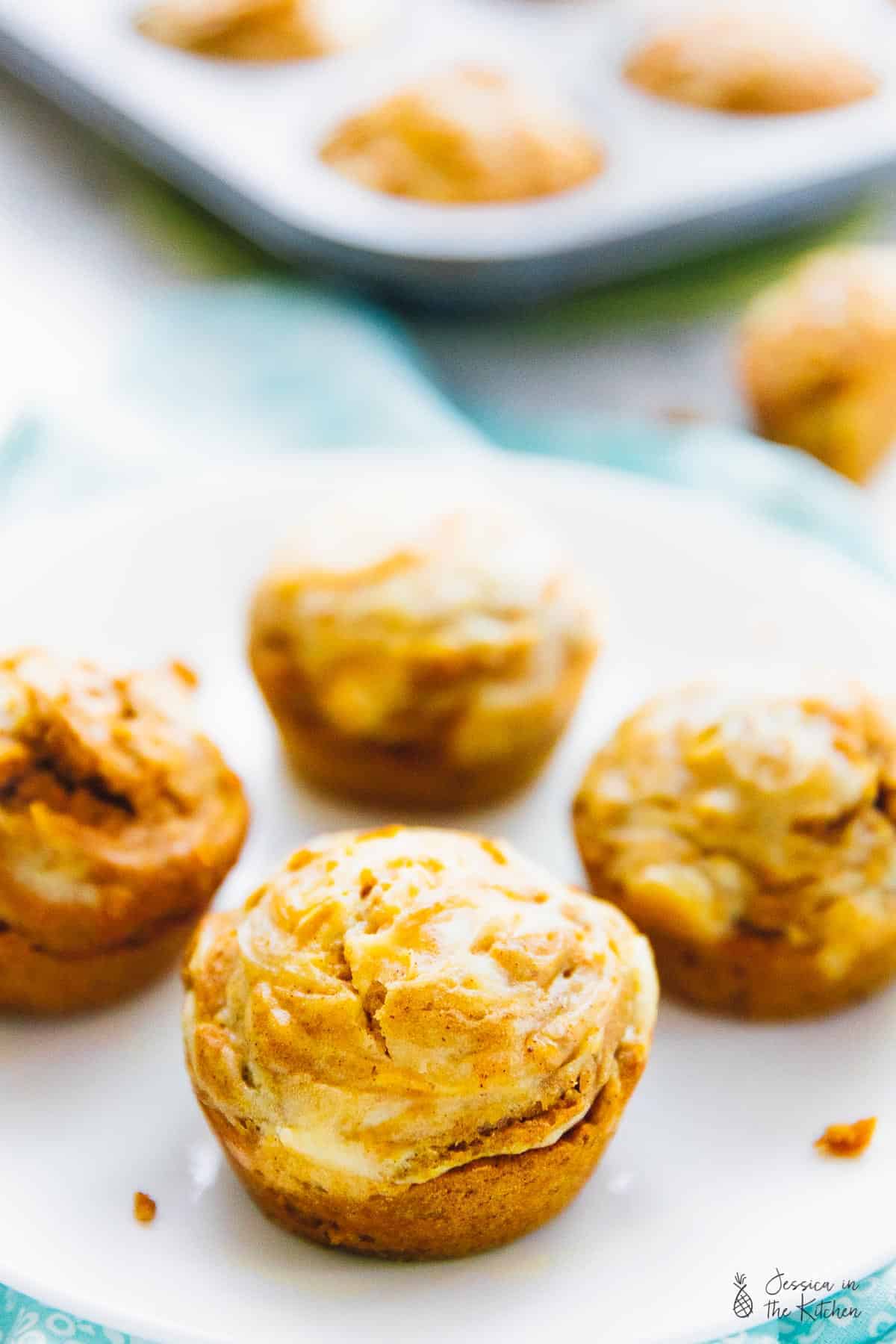 This post is sponsored by Walmart! All opinions and text are 100% mine. Thanks for supporting the brands that support Jessica in the Kitchen!
Pumpkin Cream Cheese Swirl Muffins. I mean – that's already a mouthful, right? Both in words and literally. The idea for these muffins came from my pumpkin cheesecake swirl brownies. I fell in love with the idea of the swirl and really wanted to integrate it into another recipe. Spoiler alert: it was a success.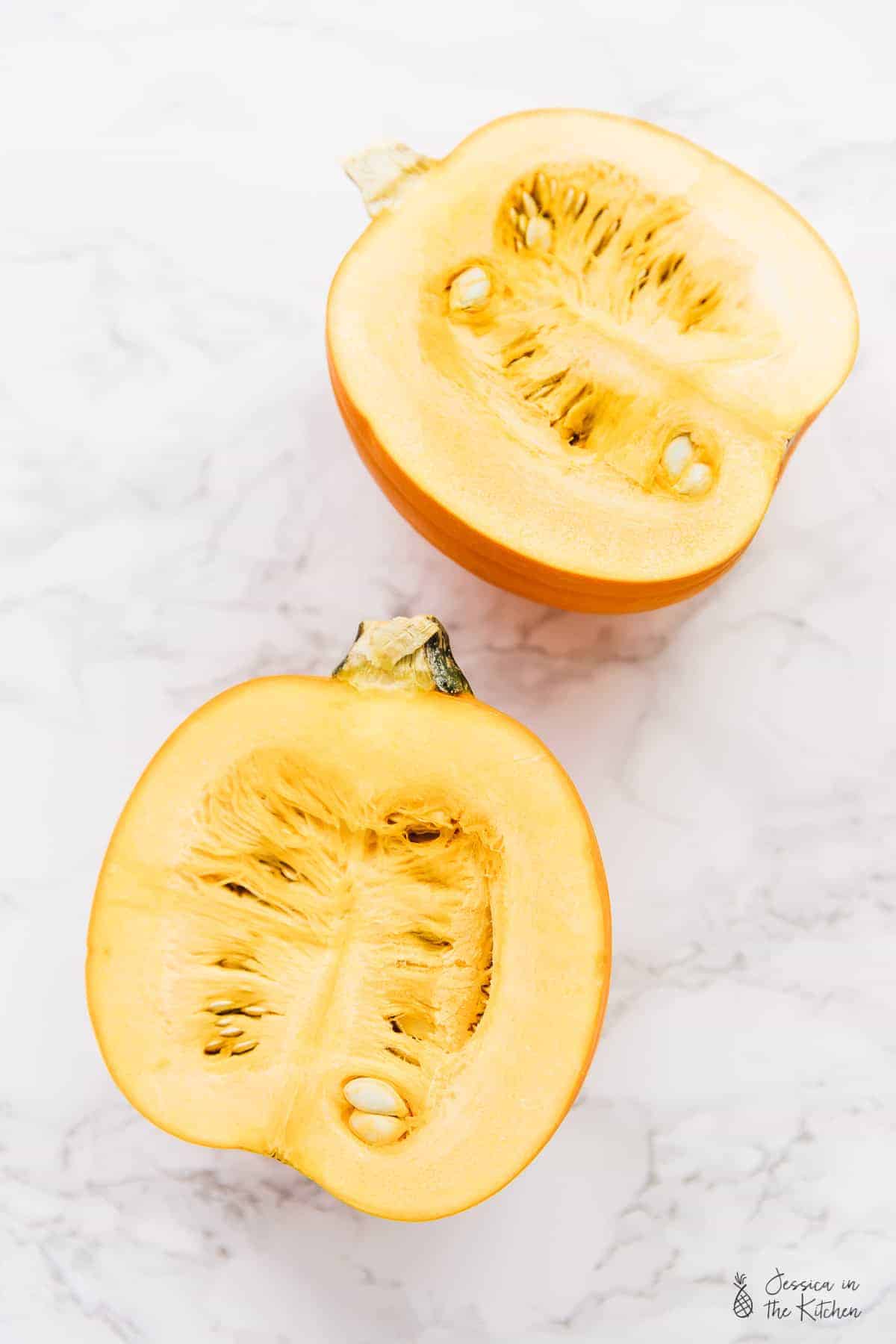 First, these ingredients. As you guys know, I always go for the best ingredients I can find, while keeping your allergies/dietary requirements in mind. So these muffins are as usual gluten free and vegan and absolutely delicious. They're made with pumpkin purée which is always a winner in desserts. You can make your own with some fresh sugar pumpkins, or buy some organic pumpkin purée – whichever you desire. After that I aimed to use ingredients that would highlight the pumpkin flavour. I tested a few versions to yield my favourite which I'll discuss further in the notes below. I found that unrefined brown or cane sugar was the best here, along with an unsweetened nut milk. There are so many combinations you can use depending on your preferences.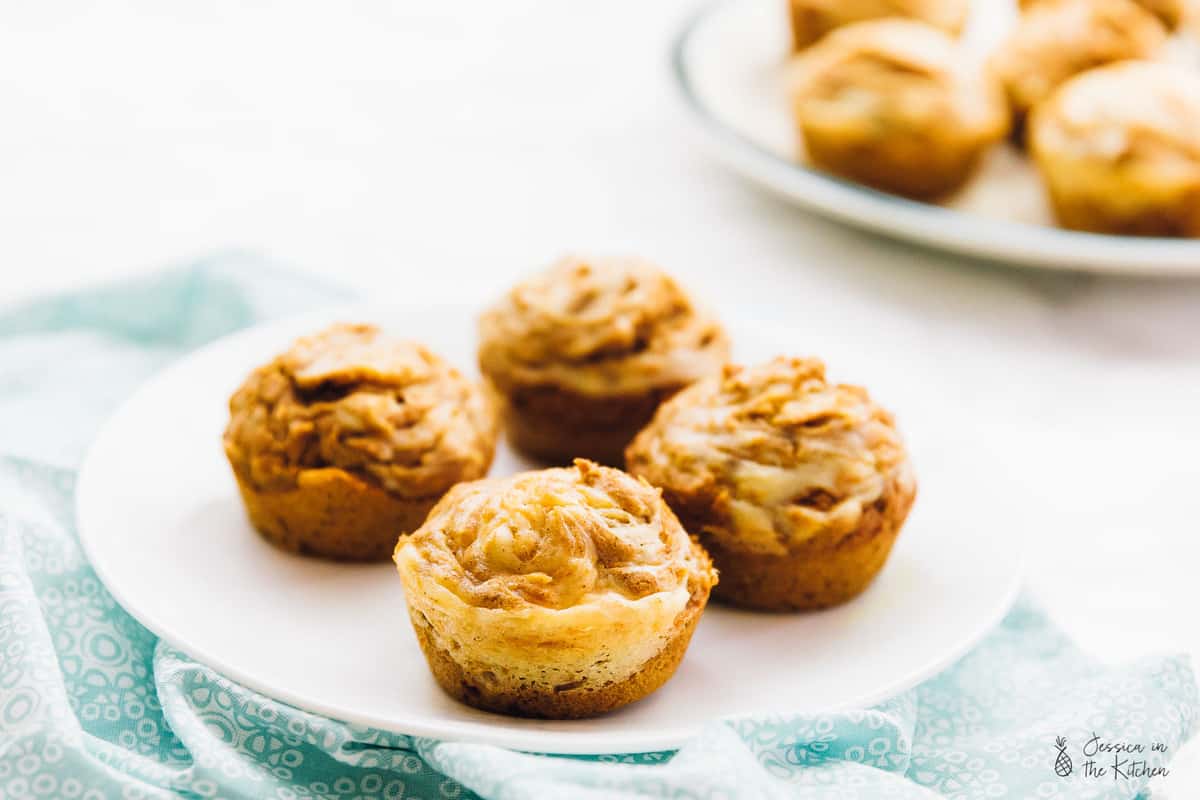 Best of all, I found all of the ingredients that I needed at Walmart. I love that it's been my go to source for my ingredients for both my sweet and savoury recipes. I even got the plate, the muffin pan and that pretty napkin from there too. If you decide to use fresh pumpkins to make your purée, Walmart has such an amazing locally grown produce section and they restock at least once a day – locally grown produce varies by location. If you buy canned organic pumpkin purée, they have a great line that I used for this recipe.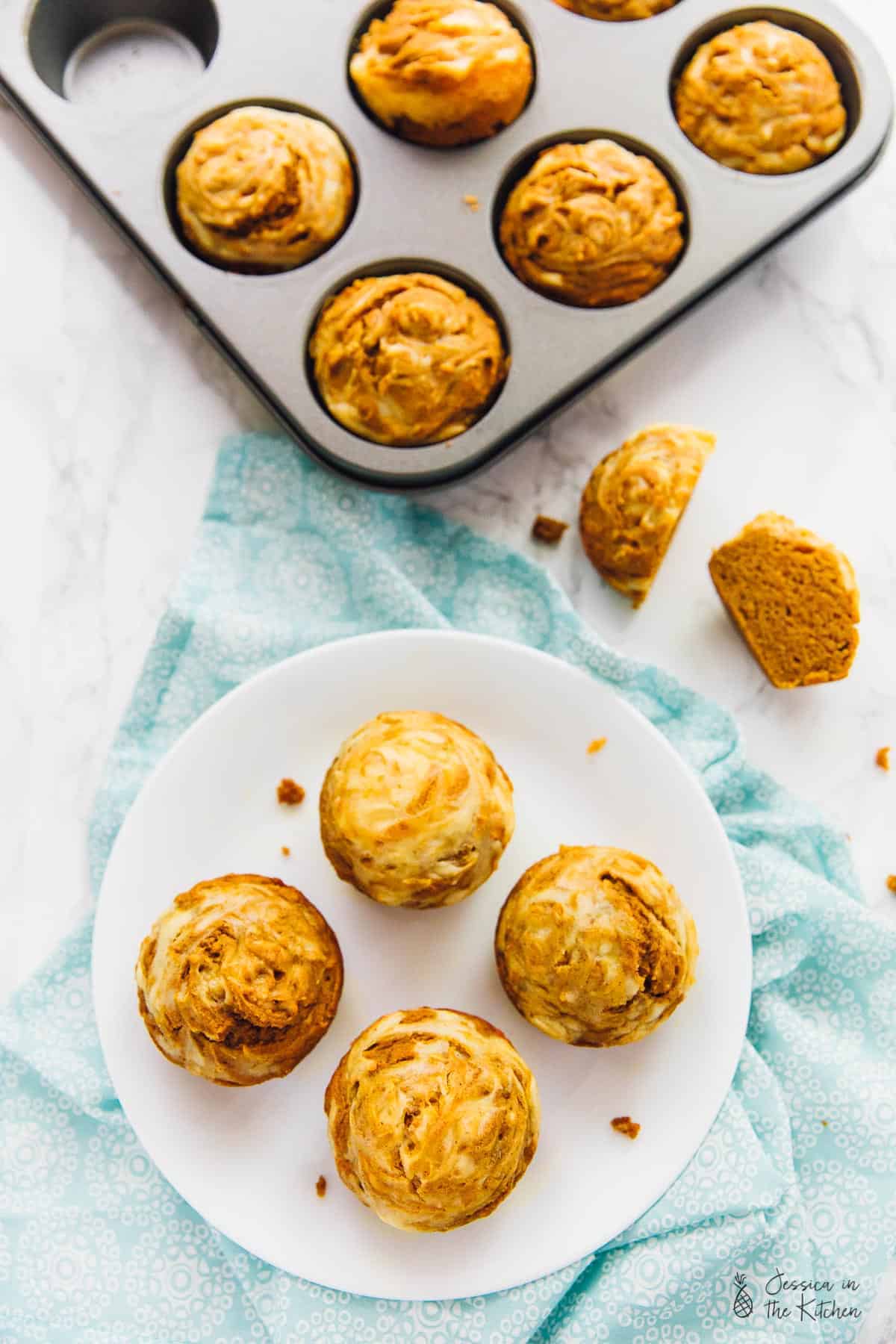 Before you dive in, let's talk about that cream cheese swirl though. I used a vegan cream cheese that I found at Walmart, sugar, salt and an egg replacer and that's it. It's amazing how much it amped up the flavour of these muffins and complemented them at the same time. Plus – don't they look so pretty here?
If and when you try these pumpkin cream cheese swirl muffins, let me know. They actually last on the counter for a couple of days, but you could always keep them in the fridge. If you're like me, you like to enjoy your muffins warm. So pop them in the microwave for a few seconds before eating. They're a real treat and so worth making. Eat up and enjoy friends!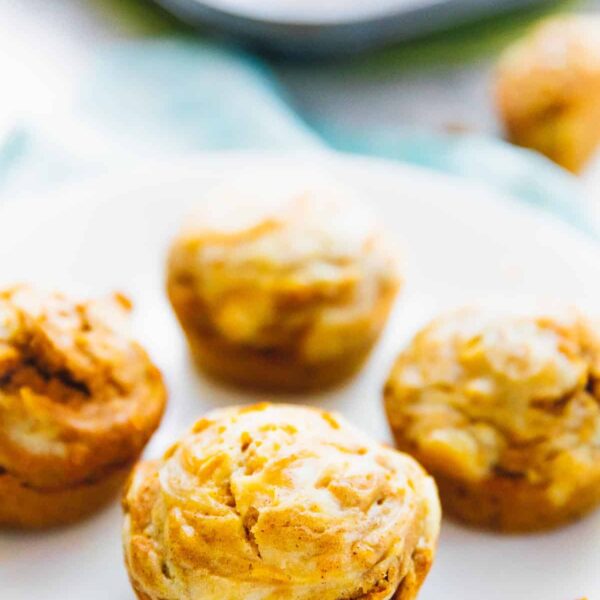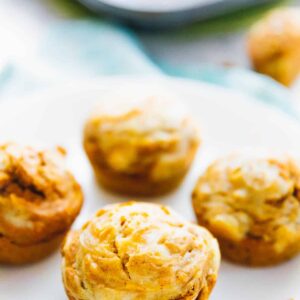 Pumpkin Cream Cheese Swirl Muffins
These Pumpkin Cream Cheese Swirl Muffins will amaze your tastebuds and your guests!! They taste fantastic, are gluten free and are so easy to make!
Ingredients
Pumpkin Muffins
10 ounces roughly 1 ¾ cups 2 ½ tablespoons all purpose gluten free baking flour - I used Bob's Red Mill that I found at Walmart
2 teaspoons baking powder
1/2 teaspoon baking soda
1/2 teaspoon fine sea salt
1 teaspoon cinnamon
2 teaspoons pumpkin pie spice
1 cup 224g pumpkin puree*
1 cup 175g brown or cane or coconut sugar
⅓ cup 74g coconut oil OR vegan butter
1/2 cup 120mL almond milk
2 teaspoons vanilla extract
Cream Cheese Swirl
4 oz./113g, ½ cup vegan cream cheese, at room temperature
1 ½ tablespoons unrefined brown or cane sugar
1 teaspoon pumpkin pie spice
¼ teaspoon pure vanilla extract
1 egg yolk substitute - I use Bob's Red Mill Egg Replacer that I found at Walmart
Instructions
Pumpkin Muffins
Preheat oven to 425°F/220°C. Grease a muffin pan with vegan butter or oil and set aside.


In a mixing bowl, add the flour, baking soda, baking powder, salt, cinnamon and pumpkin pie spice ingredients and whisk together to remove any lumps.


In a standing mixer or another bowl, mix the sugar, pumpkin puree, and coconut oil until partially mix/whisk for about 1 minute. Add in the almond milk and vanilla extract and combine for another minute.


Add the dry ingredients mix one cup at a time, working into the wet ingredients on a medium to low speed until it's all combined. Don't over mix or over whisk - up to 2 minutes while using your spatula to scrape down is enough. The batter will be VERY thick.
Cream Cheese Swirl
Mix all of the ingredients for the cream cheese swirl together until completely smooth.
Putting it all Together
Scoop ¼ cup into each muffin cup, then distribute the left over batter equally. Dollop a little less than tablespoon of the swirl onto each muffin. Using a knife or a toothpick, swirl until completely swirled in.

Bake for 5 minutes at 425°F/220°C, then at 15 minutes for 375°F/190°C. Don't remove them from the oven, just lower the temperature. The muffins are finished when a knife or tester comes out clean. Allow to cool for about 5 minutes in the muffin pan, then remove onto a cooling rack to cool completely. Enjoy friends!
Notes
Notes 1) I 100% recommend getting a kitchen scale (which you can purchase at Walmart) since it is a lot more accurate than using a cup measurement. When scooping flour, you can end up scooping too much, resulting in dry muffins, or too little, resulting in muffins that doesn't bake up enough. 2) Please ensure that your gluten free baking mix has xanthan gum in it, else the muffins will be crumbly! 3) I would recommend unrefined brown sugar or cane sugar here. Coconut sugar is great but I found that it coloured the cream cheese swirl too darkly, and the coconut flavour was a lot in both the muffins and swirl. If you want that though – you can definitely use that! 4) Here are instructions on how to make homemade pumpkin puree! You'll need 1 small sugar or pie pumpkin for this recipe. Set your oven to preheat at 350. Cut your pumpkin in half. Scoop out the insides of the pumpkin (the seeds and stringiness). Cut into manageable sizes and lay on a baking tray. Bake for 1 hour in the oven until it is fork tender (should slide right off of a fork stuck into it.)When finished baking, peel the skin (it should come right off). Put the pumpkin into a food processor and blend until it's smooth. Store in your fridge in a container until needed. You can store the excess pumpkin purée into plastic zip bags and place them in the freezer laid flat.
Calories: 206kcal, Carbohydrates: 32g, Protein: 3g, Fat: 9g, Saturated Fat: 2g, Sodium: 330mg, Potassium: 49mg, Fiber: 4g, Sugar: 12g, Vitamin A: 3177IU, Vitamin C: 1mg, Calcium: 84mg, Iron: 1mg
Disclaimer: Although jessicainthekitchen.com attempts to provide accurate nutritional information, kindly note that these are only estimates. Nutritional information may be affected based on the product type, the brand that was purchased, and in other unforeseeable ways. Jessicainthekitchen.com will not be held liable for any loss or damage resulting for your reliance on nutritional information. If you need to follow a specific caloric regimen, please consult your doctor first.