Red Velvet Brownies with Cream Cheese Frosting (Vegan)
These Red Velvet Brownies are such a divine holiday treat! They're so amazing in flavour, and the vegan cream cheese frosting on top is the perfect final touch!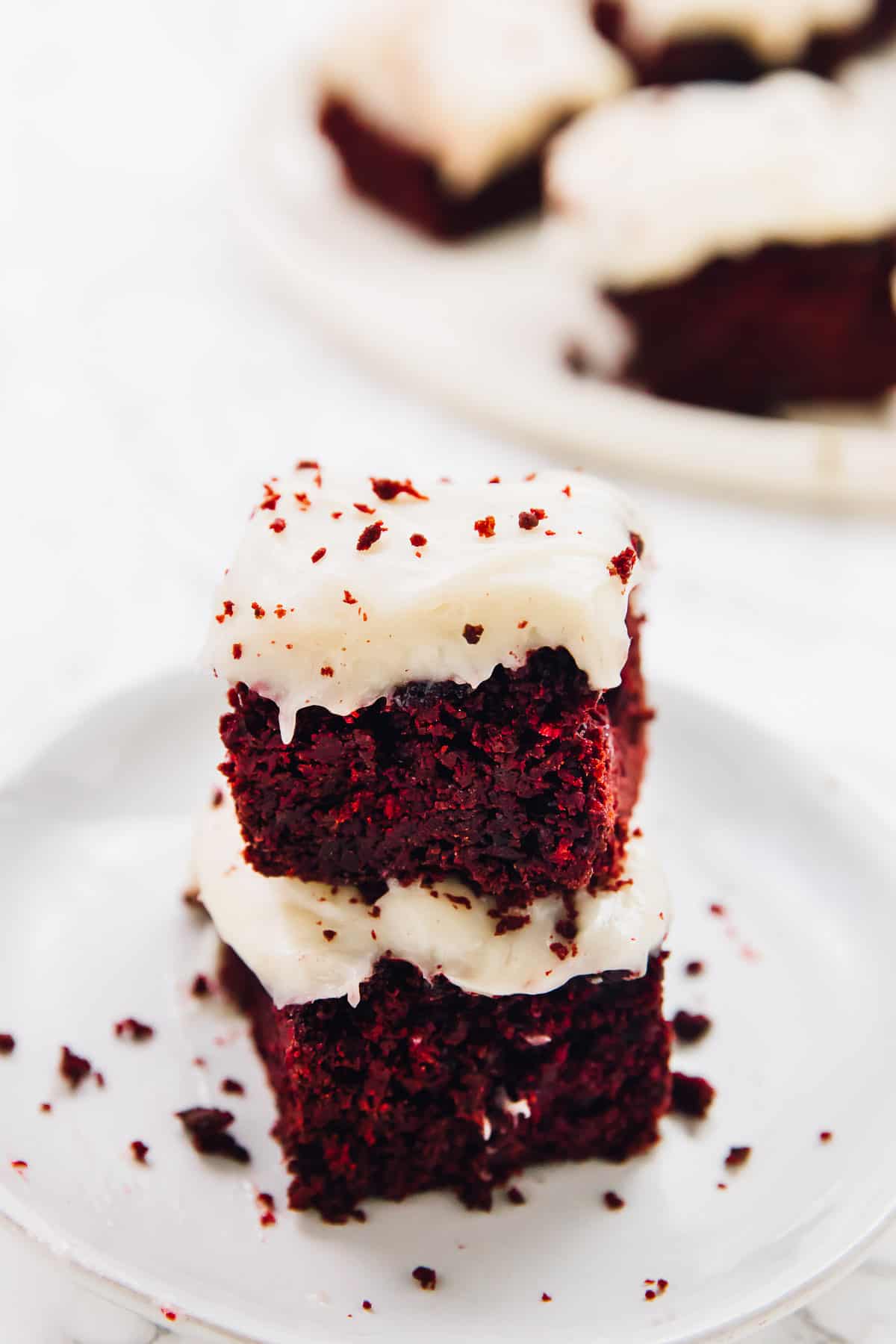 This blog post is sponsored by Nielsen-Massey! All texts and opinions are 100% mine. Thank you so much for supporting the brands that support Jessica in the Kitchen!
When I think about the things that I've done in my life more times than I could possibly count, a few things come to mind. Naturally, sleeping and eating and laughing. But also – baking.
When I tried to (actually) calculate it slightly, it turns out that I have baked (desserts) from scratch over 5,000 times. Of course, that's because I had an at home bakery for three years. But it's also because I'm in love with baking and it's in my blood.
As it turns out, we are a family full of bakers. My grandma, just like me, sold her baked creations. My grand-aunt makes and decorates wedding cakes. My mom baked every holiday season for as long as I can remember and still does, and now every holiday season I get right back into baking. If you look at JITK, I'm sure you see a huge uptick around this time. Apart from the fact that it's my favourite season, I feel like it's the time of year that I can really dig back deep into my baking roots and just bake for hours at a time.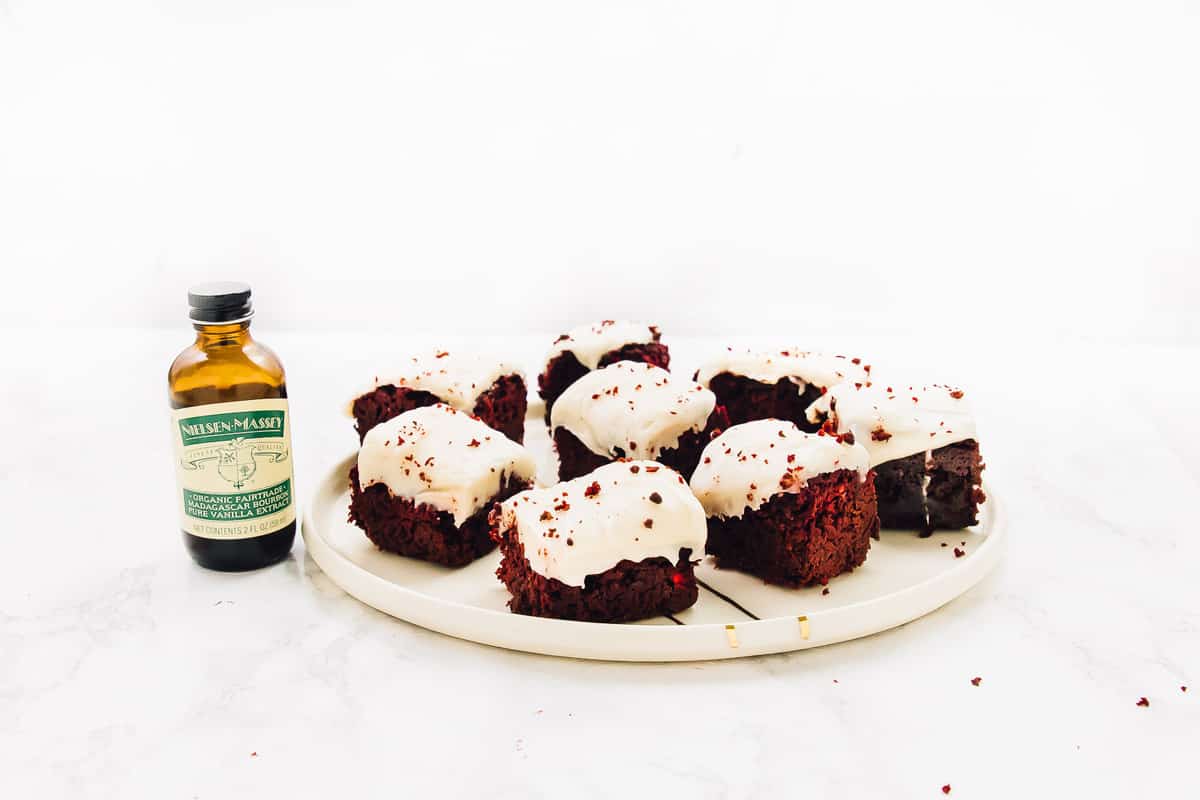 I have so many fond memories tied into baking: all the people I made laugh and smile with my baking business, all the fun in the kitchen baking with my family, and all the taste testing and homemade frosting on the corners of mouths. Down to last week when my youngest brother asked "didn't you bake something last week?" and I get to surprise him by pulling the treat from behind my back and to see the excitement in his face. For me, baking brings up emotions of joy, satisfaction and really honours that spirit of giving in me. I can't count how many times I've just gotten up, thrown on a food related documentary or podcast, and just went at it. Revisiting old favourites and putting twists on new ones. I can't quite put my finger on a specific word for it, but it leaves my heart full.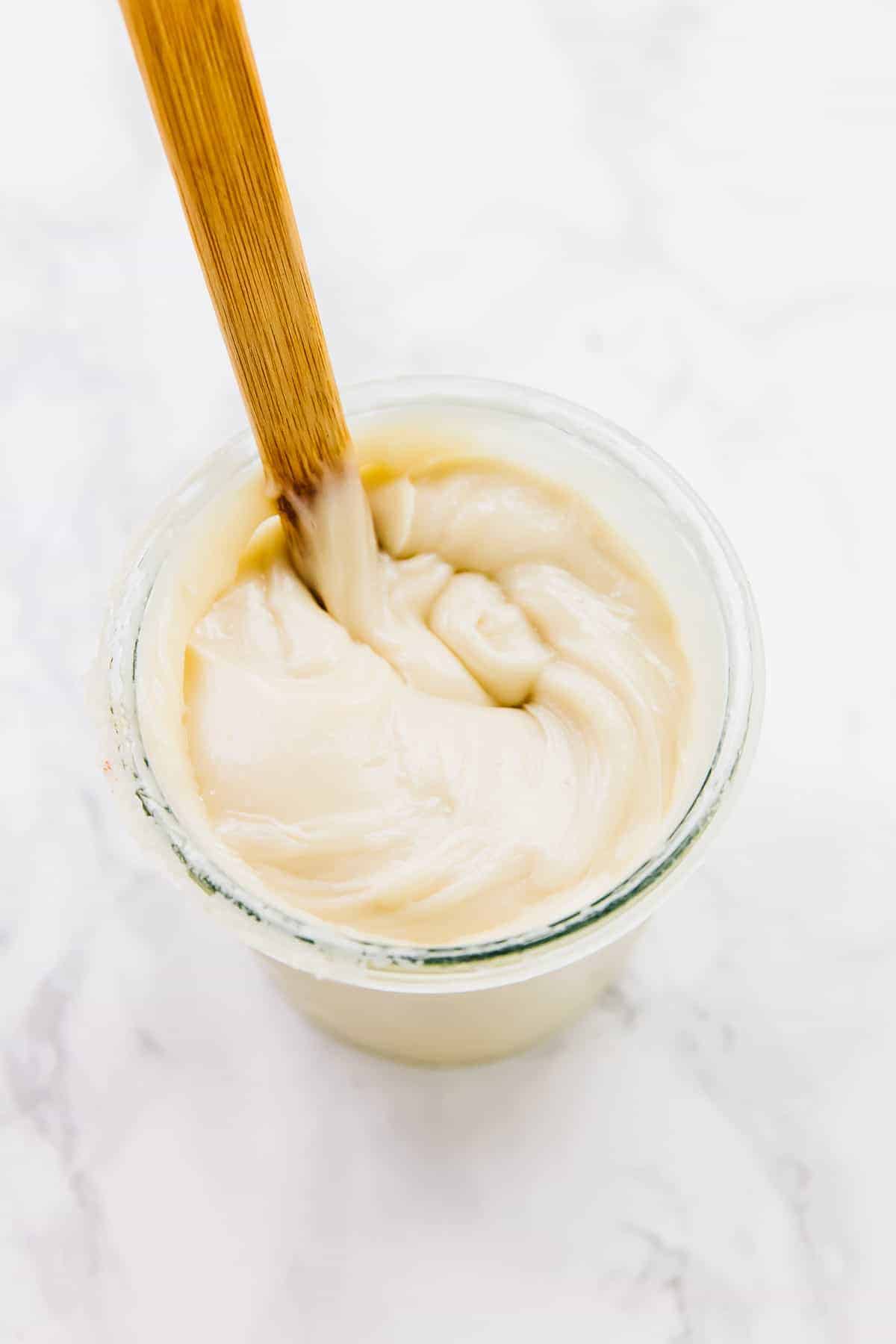 That's why I'm so excited to be sharing these Vegan Red Velvet Brownies with you today! Can you believe that I haven't baked anything red velvet since turning vegan, or even vegetarian? That's a bit insane – isn't it? To give some background – the very first dessert that I sold for my baking company was a red velvet cake! So, making these brownies really took me back. Let me tell you – you're going to want to make these just so that you can see the smiles on the faces of your loved ones when they bite in. You could also take a bite in front of a mirror cause you're going to be smiling too. Just saying.
These Red Velvet Brownies with Cream Cheese Frosting are:
Made from scratch
Made with all-natural food colouring (yay!)
Slightly fudgy and deliciously moist
Loaded with that classic red velvet flavour
To get that classic red velvet flavour I incorporated my two favourite methods I would use in the past. Adding vanilla extract, and the baking soda vinegar. I'll explain the latter first. Baking soda and vinegar (you don't taste the vinegar) brighten up that red and give red velvet that classic taste that it's known for, so just follow my instructions for that! Then of course, vanilla extract.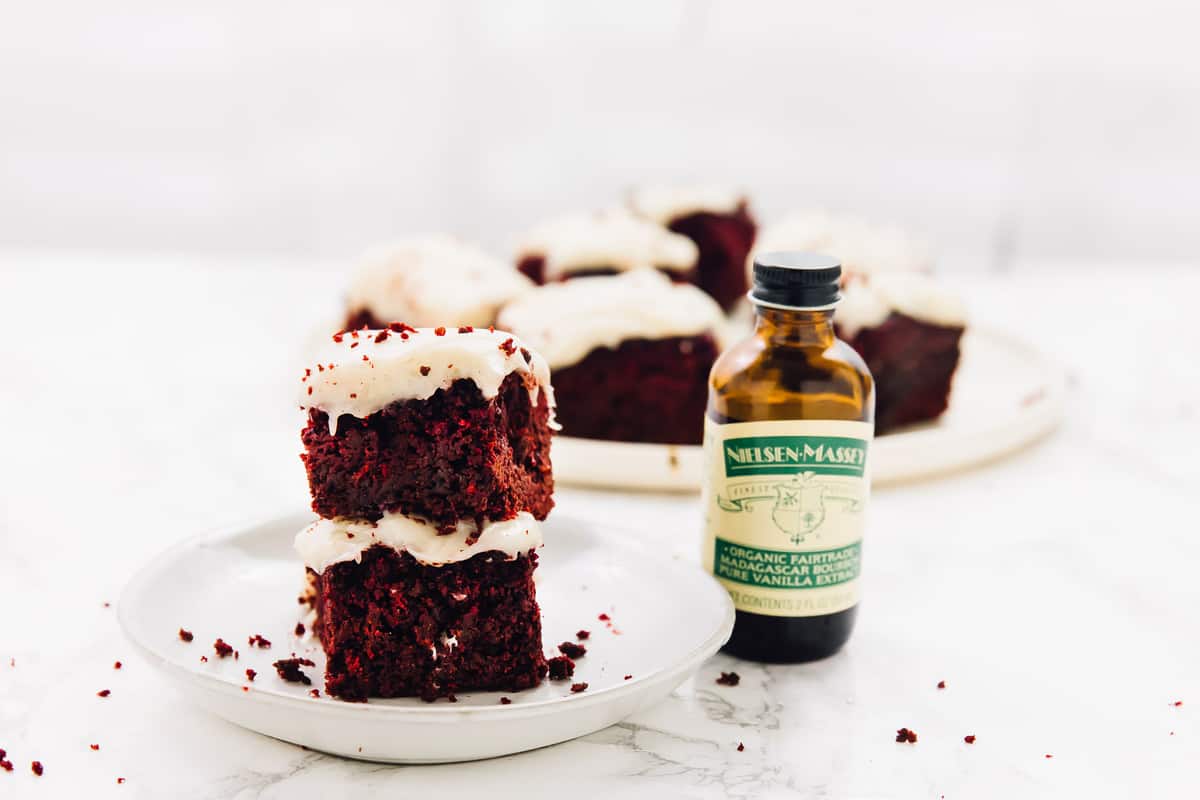 The first time I used vanilla extract in my baked goods I was shocked at the difference it could make. This was circa 2009, and since then I've only bought and used one vanilla extract: Nielsen-Massey Vanillas. P.S. you can read here about how I loved the giant bottle so much I almost moved out with it! That's almost a decade of using the same vanilla, and I'm so honoured to be partnering with Nielsen-Massey again on this blog post. All of Nielsen-Massey's products are all-natural, GMO-free, certified gluten-free, certified Kosher, and allergen-free, so I knowthey work perfectly with our little family over here on JITK. For these Red Velvet Brownies, I used their Organic Fairtrade Madagascar Bourbon Pure Vanilla Extract. It really boosts the sweet notes of the dish while adding in that undeniably creamy flavour.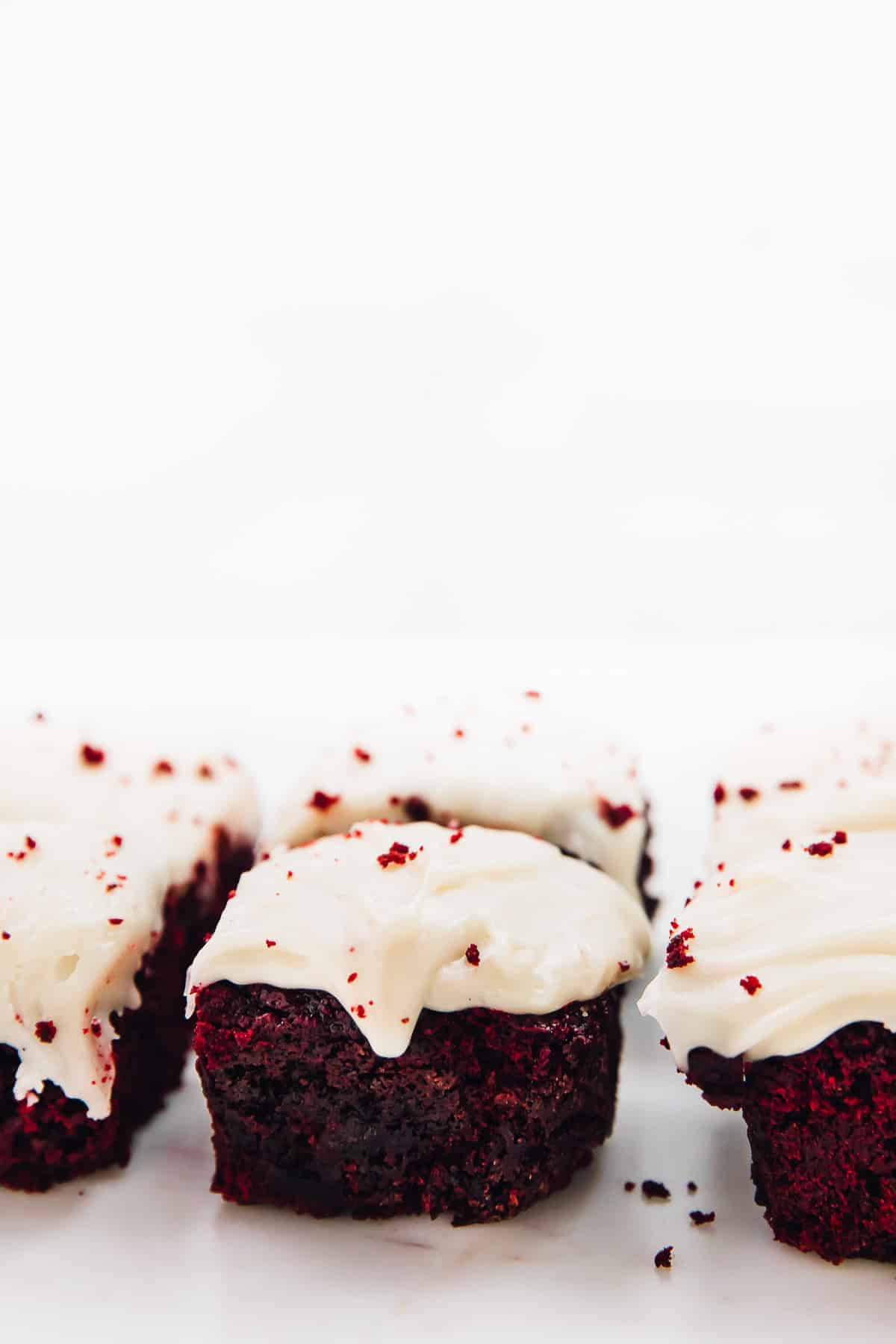 After using Nielsen-Massey for almost a decade, it was so eye opening to learn about their cultivation process earlier this year. The extraction process starts with a cold-pressed extraction to preserve 300+ flavour compounds, which naturally results in a flavour rich vanilla. The entire vanilla-cultivation process, from planting to market, can take from five to six years. Following harvest, the hand-picked beans must be cured before use. Then, for two weeks, farmers spread the beans in the hot sun during the day and wrap them in blankets to sweat at night. The beans are conditioned on racks for an additional two weeks, and finally, beans are aged for 6 to 8 months in wooden boxes to allow the complex flavour notes to emerge.
Nielsen-Massey's dedication to quality while using only a few ingredients is exactly why I trust their product so much. I used this vanilla in the brownies to enhance all the flavours, and also in the cream cheese frosting. I wasn't getting a strong vanilla flavour in the frosting until I added two teaspoons of the Organic Fairtrade Madagascar Bourbon Pure Vanilla Extract to the frosting, and that really brought it all the way out. The frosting is optional of course, but really packs a punch with delightful flavour. I literally had to leave the kitchen and go brush my teeth to force myself to stop eating these. Gav took one bite and with eyes wide open said "WHOA." Me: "EXACTLY". These brownies are best kept in the fridge (or frozen then thawed) which really boosts the fudgyness and moisture even more.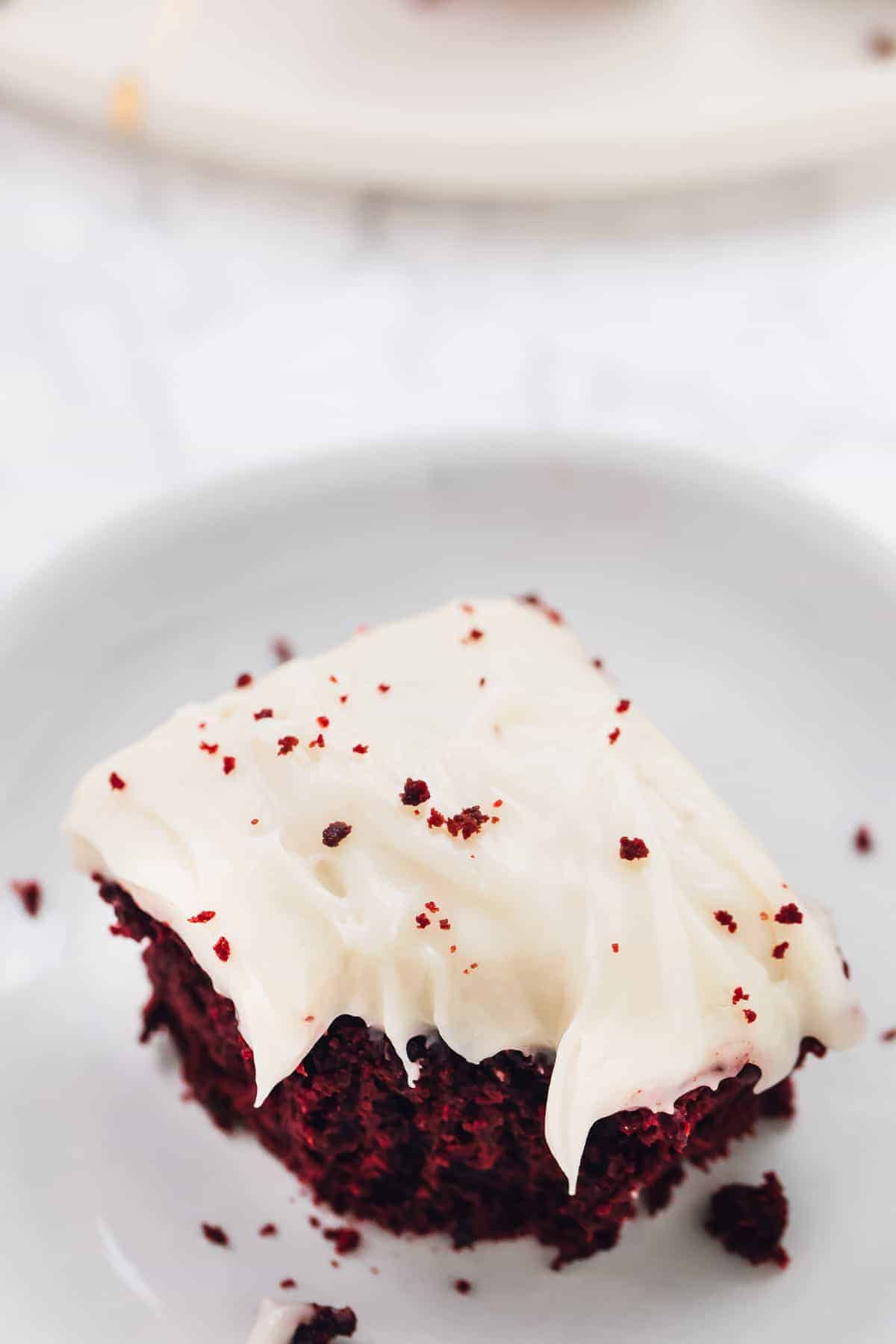 I hope you dig deep into these brownies and enjoy friends! P.S. be sure to follow Nielsen-Massey on Facebook, Twitter, Pinterest and Instagram to keep up to date on all their amazing content and recipes!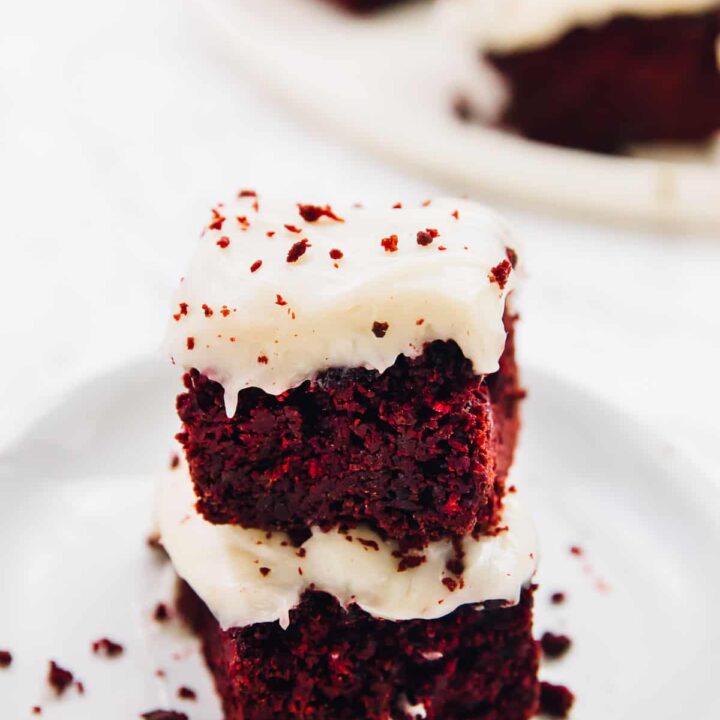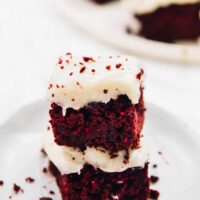 Red Velvet Brownies with Cream Cheese Frosting (Vegan)
These Red Velvet Brownies are such a divine holiday treat! They're so amazing in flavour, and the vegan cream cheese frosting on top is the perfect final touch!
Ingredients
Brownies
1 cup chocolate chips, melted, (188g)
1 cup all-purpose flour, (133.75g)
1/2 teaspoon sea salt
2 flax eggs or 2 egg replacers
3/4 cup brown sugar (I use raw brown sugar, cane sugar or coconut sugar), (158g)
1/2 cup oil, (100g) or vegan butter (any kind)
1/4 cup water
2-3 tablespoons natural red food colouring
1 teaspoon vinegar
1/4 teaspoon baking soda
Instructions
Brownies
Preheat oven to 325°F/160°C.

Melt chocolate chips in microwave for a minute, stirring after to see if chips have melted. If not, microwave in increments of 30 seconds until completely melted. Alternatively, you can melt in over a small pot of boiling water (Not a lot of water in the pot) and put the chocolate chips it in a heat proof and melt proof bowl over the pot and stir until melted.

In a medium bowl, whisk the flour and salt and until combined. Set aside.

In a separate bowl, add the flax eggs, sugar and oil and mix until combined in a mixer or by hand for about 2 minutes. Add the water, Nielsen-Massey Organic Fairtrade Madagascar Bourbon Pure Vanilla Extract and natural red food colouring and stir again for 1 minute. Add the dry mixture to the wet mixture and melted chocolate chips and stir for about 3 minutes until combined.


In a small container, combine the vinegar and the baking soda. It will fizz! Stir quickly, add to the brownie mixture and combine once more.

Pour into a greased, parchment lined, or a greased foil-lined 8×8 square pan. Tap the brownie pan on the counter a few times to release any bubbles.

Bake for 35 minutes.**

When finished, remove from oven and allow to cool completely in pan on a wire rack. Then let brownies chill in the fridge while you make the frosting (if not made already). 

Add the frosting to the brownies, then allow to chill in the fridge for at least an hour before slicing through. Slice through with a warm knife, cleaning after slice to prevent red velvet crumbs from getting all over the frosting. Serve and enjoy! These brownies are best stored in the fridge and freeze beautifully!
Cream Cheese Frosting
In the bowl of a mixer, beat the butter and cream cheese together for about 2 minutes until fully incorporated.

Add in the vanilla extract and the pinch of salt. 

Add in a cup of sifted powdered sugar and all of the sifted cornstarch. Mix for about 1 minute or until incorporated. Add in the powdered sugar 1 cup at a time until the frosting has reached the desired thickness.

Place the frosting wrapped or covered into the fridge for at least 4 hours or overnight, until being used. You can enjoy it right away, but it will thicken up beautifully in the fridge.
Notes
Notes *If you can't find vegan cream cheese, you can use cream cheese spread but it won't hold up out the fridge! It'll taste delicious though!   **The first time I made these brownies I baked them at 40 minutes. They came out slightly fudgy, slightly cake-y, which was still an amazing contrast to the richness of the frosting. So if you want more fudgy – 35 minutes is great, if you want slightly cake-y brownies, 40 minutes is for you!  
Calories: 254kcal, Carbohydrates: 26g, Protein: 2g, Fat: 17g, Saturated Fat: 8g, Sodium: 222mg, Potassium: 19mg, Fiber: 1g, Sugar: 17g, Calcium: 14mg, Iron: 1mg
Disclaimer: Although jessicainthekitchen.com attempts to provide accurate nutritional information, kindly note that these are only estimates. Nutritional information may be affected based on the product type, the brand that was purchased, and in other unforeseeable ways. Jessicainthekitchen.com will not be held liable for any loss or damage resulting for your reliance on nutritional information. If you need to follow a specific caloric regimen, please consult your doctor first.