Vegan Butter Cauliflower
This Vegan Butter Cauliflower is a great take on takeout at home! The cauliflower is marinated  in spices and coconut milk, then pan charred before being added to the creamy butter sauce. It's a healthier version of the classic, bursting with flavour and is rich and creamy!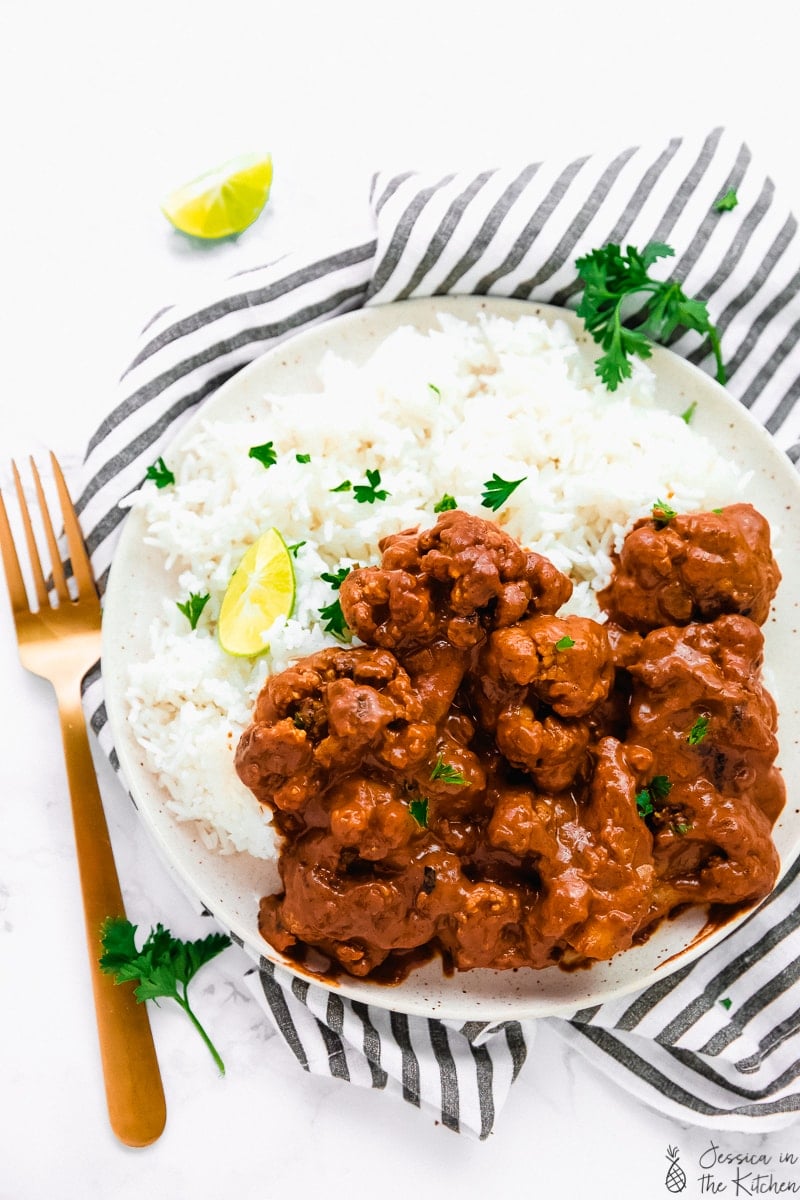 Butter Cauliflower. This was one of those "duh!" recipes that ended up being even better tasting than I could've possibly thought. If you know, then you knowwwww I love cauliflower. Like it's a top tier vegetable for me. It's a versatility beast. It's also texture transforming, flavour absorbing, all around wonder veggie. I *still* shudder at raw cauliflower on crudités platters but that I absolutely adore when it's cooked. That's probably why I have so many cauliflower wings,  and I've used it in a variety of recipes including hummus, veggie meatballs soup and so much more.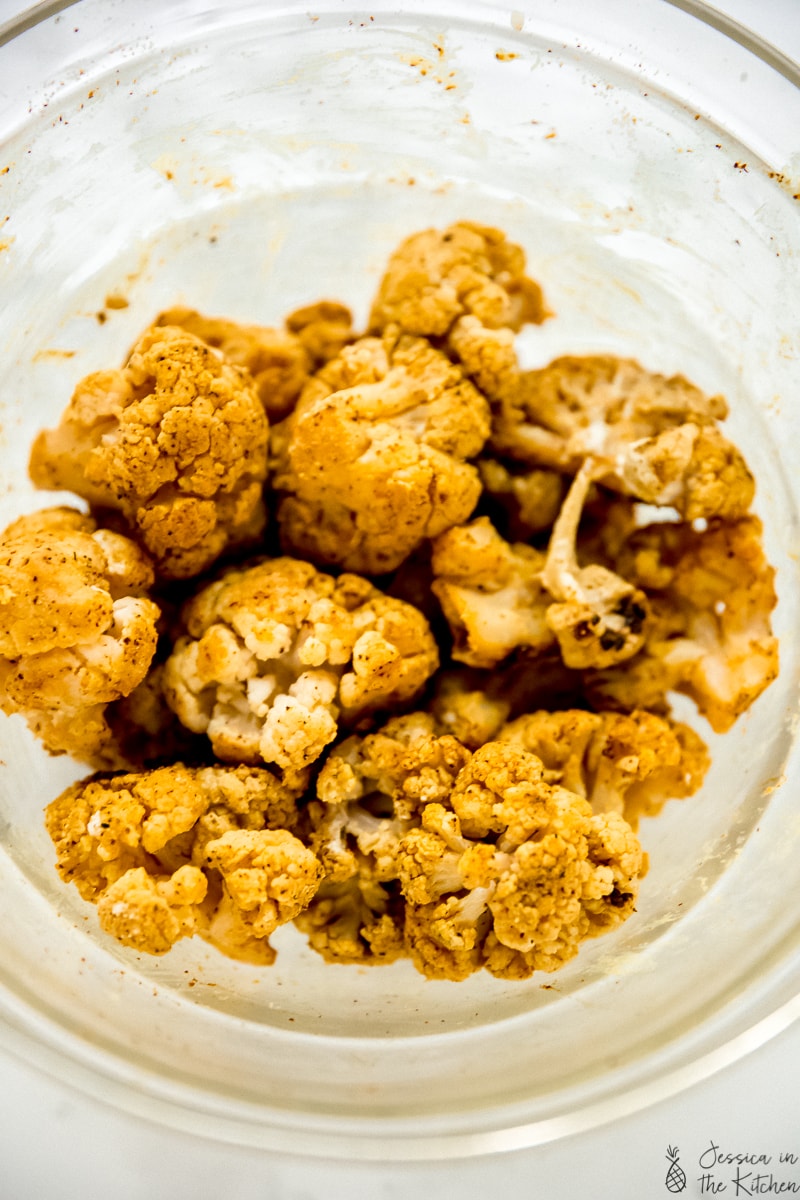 How to Make Vegan Butter Cauliflower
Sorry, I fell down a bit of a cauliflower rabbit hole. BACK to this dish. It's my favourite healthier butter sauce, except this time with a few ingredient swaps and featuring this beautiful charred cauliflower. This isn't an authentic Indian butter cauliflower, but I love the flavours so much. First, the cauliflower is marinated in some coconut milk and some seasonings. I wanted to treat it like I treated the tofu in my Tofu Butter Chicken. This time, with a little coconut milk to help the seasonings soak into the cauliflower. Trust me, this makes such a phenomenal difference. Let it soak for at least 15 minutes, but if you have an hour, definitely do that.
Then, just pan char the cauliflower on all its sides in a hot pan. You could also roast it into the oven for 15 minutes, but I wanted to prevent you having to turn that on too. This helps to infuse the flavour and adds a new flavour and texture element to the cauliflower so it's a bit crispy, too.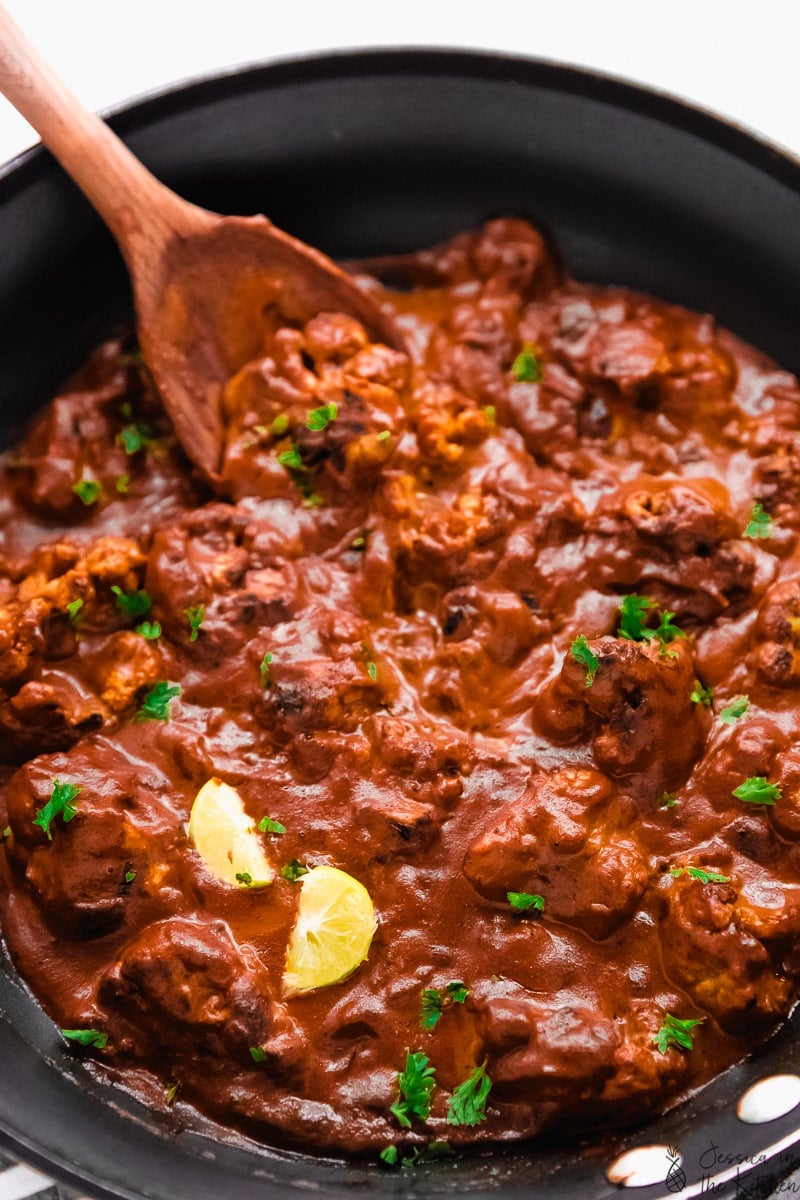 Add it to the buttery tomato sauce and let it simmer for about 15 minutes so the flavours are infused. Again, if you have more time, let it simmer for even more. We tasted this the next day and man the flavours were even more developed!
Okay, no more talking. Eat up and enjoy friends!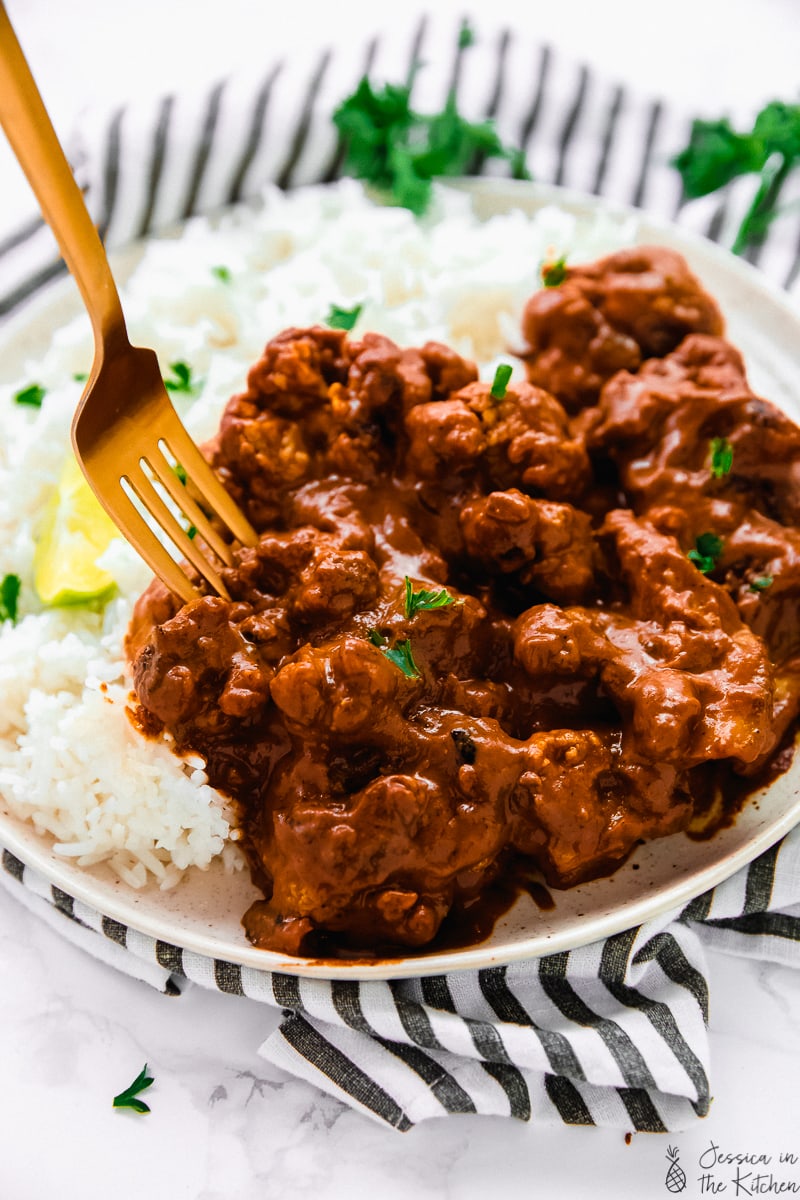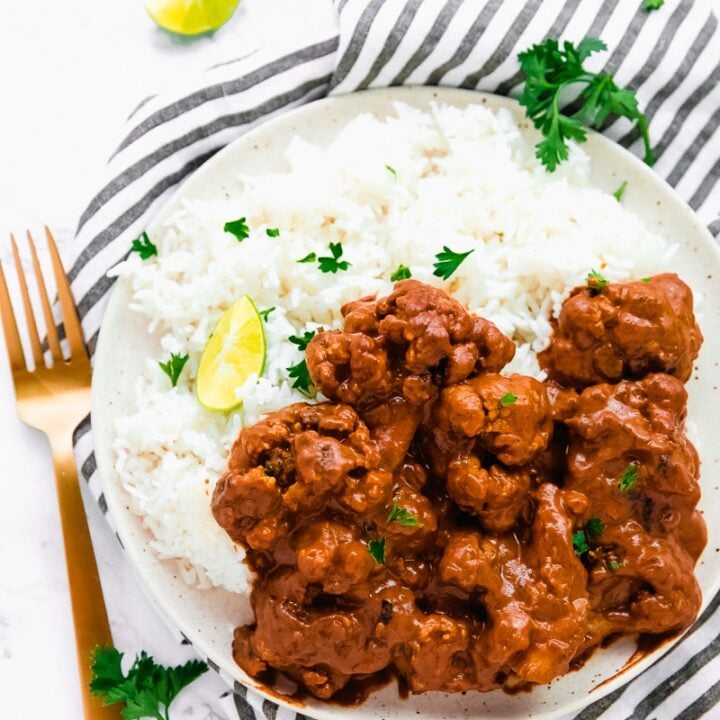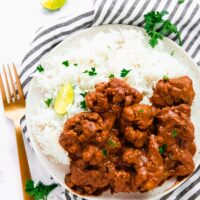 Vegan Butter Cauliflower (Vegan)
This Vegan Butter Cauliflower is even better than takeout! The cauliflower is marinated  in spices and coconut milk, then pan charred before being added to the Indian butter sauce. It's a healthier version of the classic, bursting with flavour and is rich and creamy! 
Ingredients
Marinated Cauliflower
½ teaspoon garam masala
¼ teaspoon ground ginger
¼ teaspoon Indian chili powder
¼ teaspoon curry powder
Medium head of cauliflower, about 3 to 4 cups florets, cut into florets
2 tablespoons coconut milk, Just take from the can before you pour it in
3 teaspoons coconut oil
Vegan Butter Sauce
1 1/2 tablespoons coconut oil
1 small onion, diced
1 tablespoon garam masala
1/2 teaspoon Indian chili powder
1/2 teaspoon ground black pepper
1 teaspoon curry powder
1 teaspoon sea salt
14 ounce coconut milk (1 can of full-fat coconut milk), minus the 2 tablespoons for the marinated cauliflower
6 ounce can of tomato paste
juice of one lime, about 1 tablespoon
Instructions
Marinated Cauliflower
Add the cauliflower florets and all the ingredients (except the oil) into a bowl and toss to combine, until all pieces are coated. Set aside or cover and marinate for at least 15 minutes.


In a pan over high heat, heat the oil. Once hot, add in the marinated cauliflower and pan char on all "sides", until all cauliflower is essentially evenly browned and crisped up, about 5 minutes. Remove the cauliflower and set aside.
Vegan Butter Sauce
While the cauliflower is marinating, heat the rest of the coconut oil. Add the onions and sauté for about 4 minutes until translucent.

Add in the the garam masala, chili powder, sea salt, ground black pepper and the curry powder. Stir together and let the seasonings cook for about 30 seconds.

Stir in the coconut milk and tomato paste, stirring for about 15 seconds to incorporate everything. You can use a whisk or just stir thoroughly to combine the tomato paste completely.

Bring the mixture to a slight boil and then reduce to a simmer and cook together for about 5 minutes, allowing the mixture to thicken.

Add in the cauliflower, combined gently to cover it with the sauce.

Reduce the heat to a simmer, cooking for another 5-10 minutes to allow the cauliflower to soak up some flavours and to marinate. Squeeze the lime over the mixture and stir to combine it into it. Taste and season with more salt if you'd like.

Remove the dish from the heat. Garnish with parsley and serve optionally with basmati rice and naan bread.
Calories: 374kcal, Carbohydrates: 22g, Protein: 7g, Fat: 32g, Saturated Fat: 28g, Sodium: 982mg, Potassium: 1136mg, Fiber: 6g, Sugar: 9g, Vitamin A: 760IU, Vitamin C: 82mg, Calcium: 71mg, Iron: 6mg
Disclaimer: Although jessicainthekitchen.com attempts to provide accurate nutritional information, kindly note that these are only estimates. Nutritional information may be affected based on the product type, the brand that was purchased, and in other unforeseeable ways. Jessicainthekitchen.com will not be held liable for any loss or damage resulting for your reliance on nutritional information. If you need to follow a specific caloric regimen, please consult your doctor first.