Aloo Gobi Masala – Cauliflower and Potato Curry
This Cauliflower and Potato Curry dish is perfect for a weeknight dinner! It's loaded with delicious spices and comes together so easily!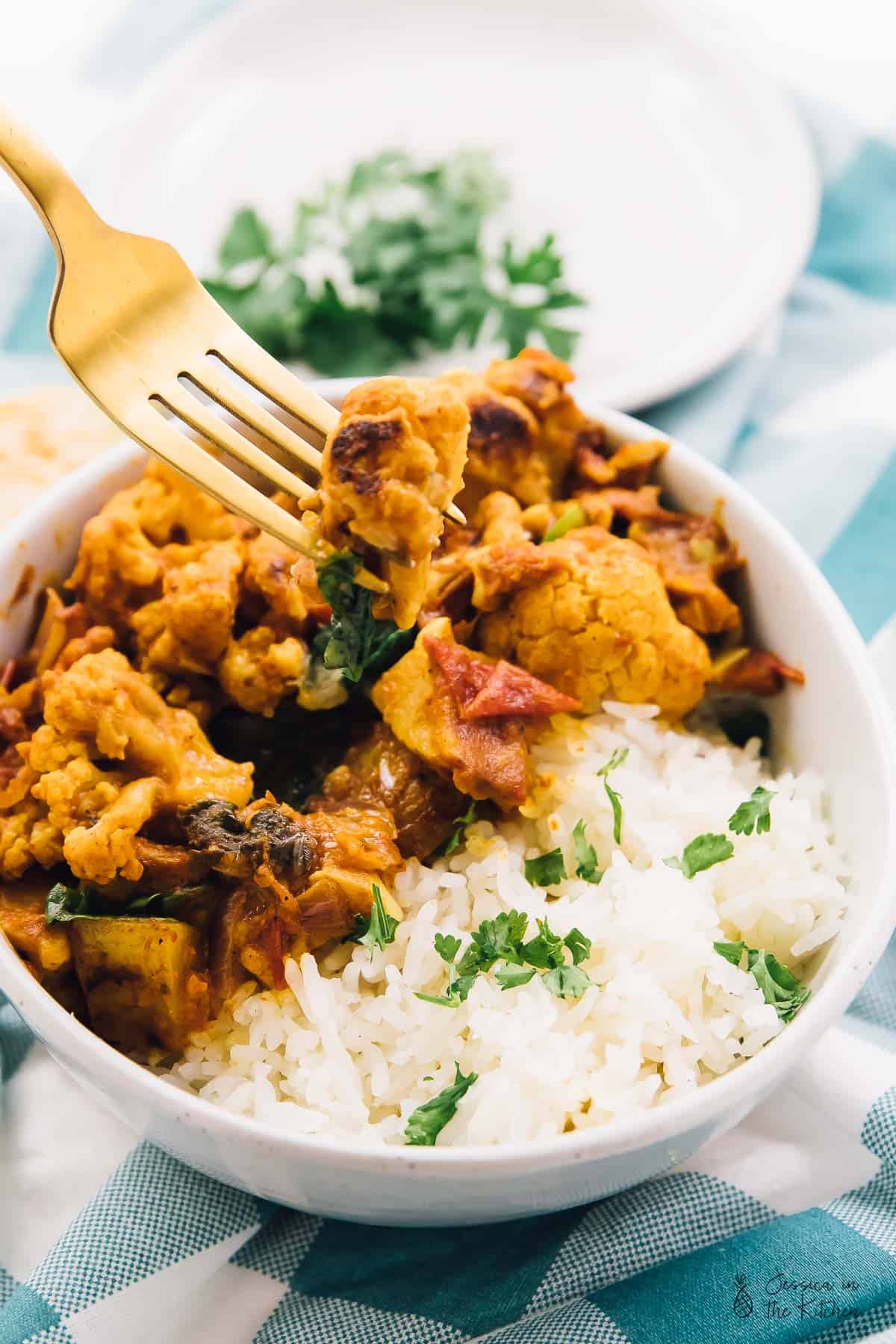 Friends. You know that another curry recipe was coming, right? After how much I saw that you guys loved my Coconut Chickpea Curry, I knew I had to keep these curry recipes coming. There's my Thai Green Curry, my Red Lentil Curry and even my Coconut Curry Soup (with Noodles). Now finally – this Cauliflower and Potato Curry. This is such an amazing, mouthwatering and comforting curry that you'll be making it over and over again.
I wanted to try this recipe after the idea for cauliflower curry popped up into my head over a year ago. Yes, that's how long I've been sitting on this. Now I'm really happy that I did – because I found out about Aloo Gobi Masala which uses potatoes too, and I was amazed by the combination.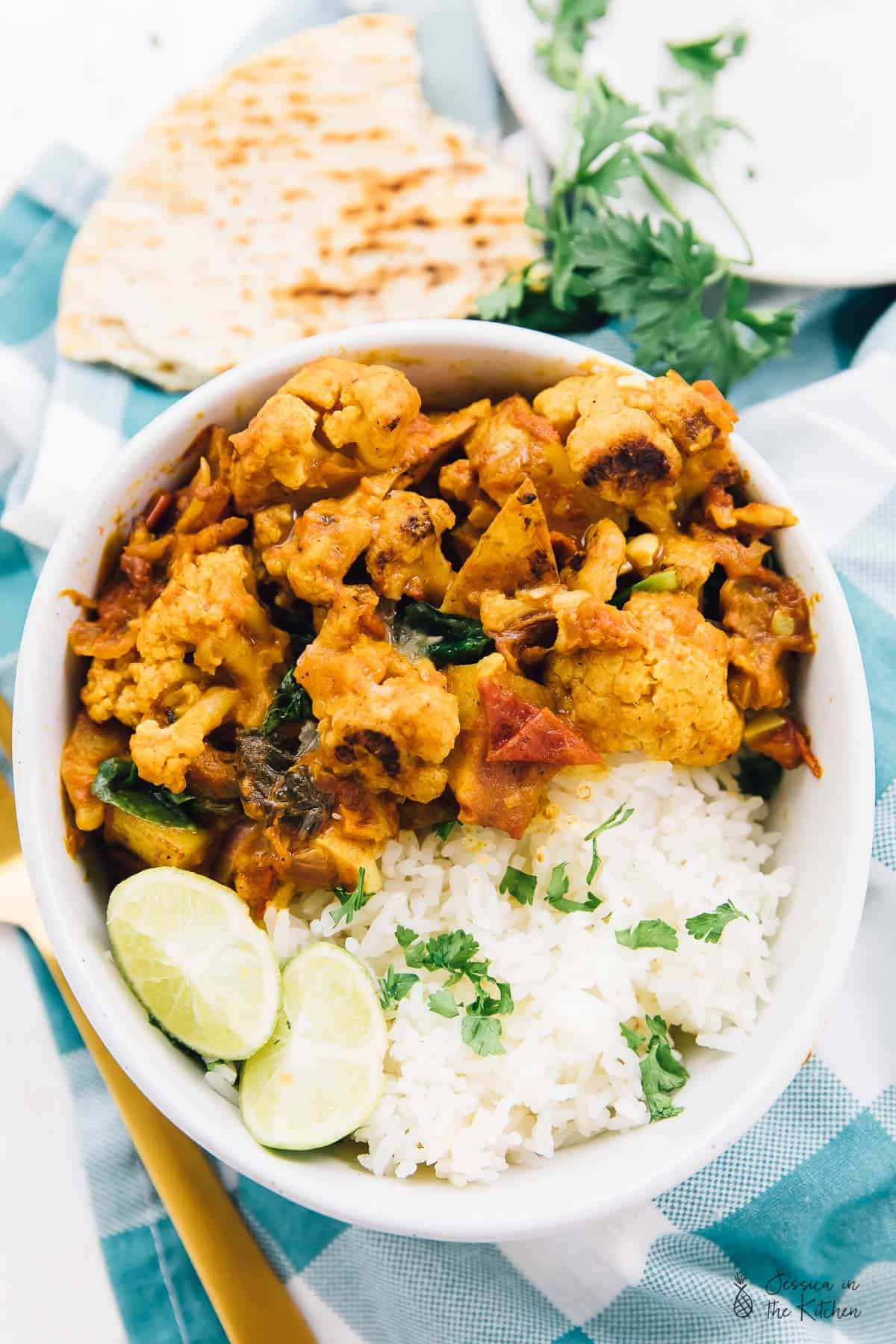 I can't guaranteed that this Cauliflower and Potato Curry is as authentic as traditional Aloo Gobi Masala, but I really did my best to honour it. Think creamy, deliciously seasoned and loaded with so much flavour. The cauliflower and potatoes soak the sauce right up and are the perfect vessel for it. I cook the cauliflower and potatoes partially first, until the potatoes start to crisp up. It adds such a beautiful texture to the dish which I am in love with.
This is delicious served alongside rice, naan bread and any other side dishes to swipe up extra sauce.
I switched mine up a bit and added in spinach – because I love adding greens into my curry dishes. It added a beautiful texture, plus a colour pop that I really loved.
Anyway, I hope you try this Cauliflower and Potato Curry and really enjoy it. Let me know – what's your favourite curry? Eat up and enjoy friends!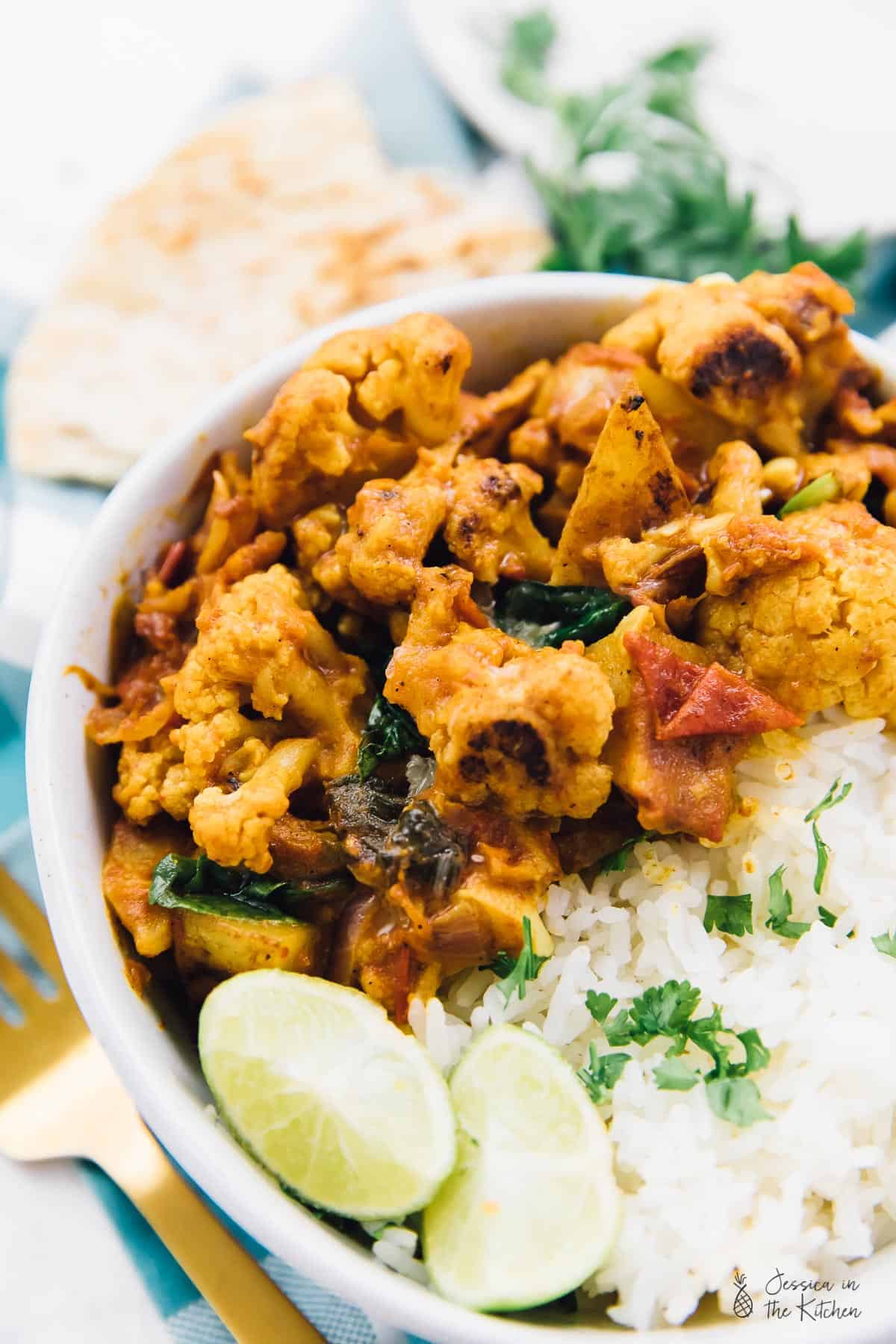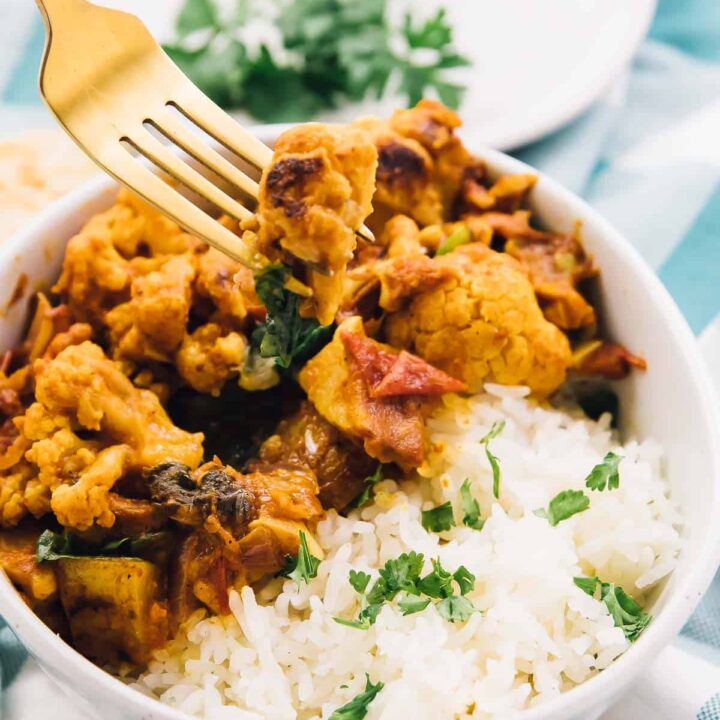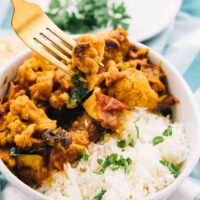 Cauliflower and Potato Curry (Aloo Gobi Masala)
This Cauliflower and Potato Curry dish is perfect for a weeknight dinner! It's loaded with delicious spices and comes together so easily! 
Ingredients
1 medium head cauliflower, de-stemmed and florets broken up
2 cups Irish potatoes, cubed
2 tablespoons coconut oil
½ red onion, chopped
6 medium, 14 ounces tomatoes
2 teaspoons minced ginger
4 cloves garlic, minced
1 tablespoon garam masala
3 tablespoons red curry paste
1 teaspoon curry powder
¾ cup coconut milk, I used from the can, you can use can or box
Salt and pepper to taste
squeeze of juice of ½ lime
Instructions
In a large pot over medium high heat, add a tablespoon of the coconut oil.

Add in the cauliflower florets and the potatoes and stir together to cook down and crisp up, for about 10-12 minutes. Season to taste with sea salt and pepper.

While that's cooking, in a another pan, add the other tablespoon of coconut oil. Add in the onions and tomatoes. Grind some sea salt and ground black pepper over the mixture and stir together. Lower heat to medium and allow to cook down until juices of the tomatoes are naturally released and onions are soft, about 10 minutes.

Add in the ginger, garlic, garam masala, red curry paste and curry powder. Stir to combine.

Add in the coconut milk and stir again. Add in the cauliflower florets and the potatoes here from the first pan. Bring the curry to a boil, and then reduce immediately to medium-low so that the mixture continues to simmer for 5 more minutes.

Taste the curry and season with salt and pepper if you desire. If you want more liquid/gravy, add up to another ½ cup of coconut milk depending on the amount you want. Remove the curry from the heat and squeeze a lime lightly over the top of the curry, stirring to combine. Don't skip this step!! Allow to cool slightly and then serve. Enjoy!
Notes
Notes You can do this in two different pots, or one and take out the cauliflower and potatoes and set aside – it's up to you! It'll go faster if you use two pots at once.
Calories: 261kcal, Carbohydrates: 22.5g, Protein: 4.7g, Fat: 17.2g, Fiber: 5.9g, Sugar: 7.2g
Disclaimer: Although jessicainthekitchen.com attempts to provide accurate nutritional information, kindly note that these are only estimates. Nutritional information may be affected based on the product type, the brand that was purchased, and in other unforeseeable ways. Jessicainthekitchen.com will not be held liable for any loss or damage resulting for your reliance on nutritional information. If you need to follow a specific caloric regimen, please consult your doctor first.