Pumpkin Chia Pudding
Packed with rich and hearty pumpkin puree, your favorite fall spices, and buttery pecans, this pumpkin chia pudding is a healthy and easy breakfast. Loaded with chia seeds and non-dairy milk, it's a vegan breakfast that's perfect for an autumn morning.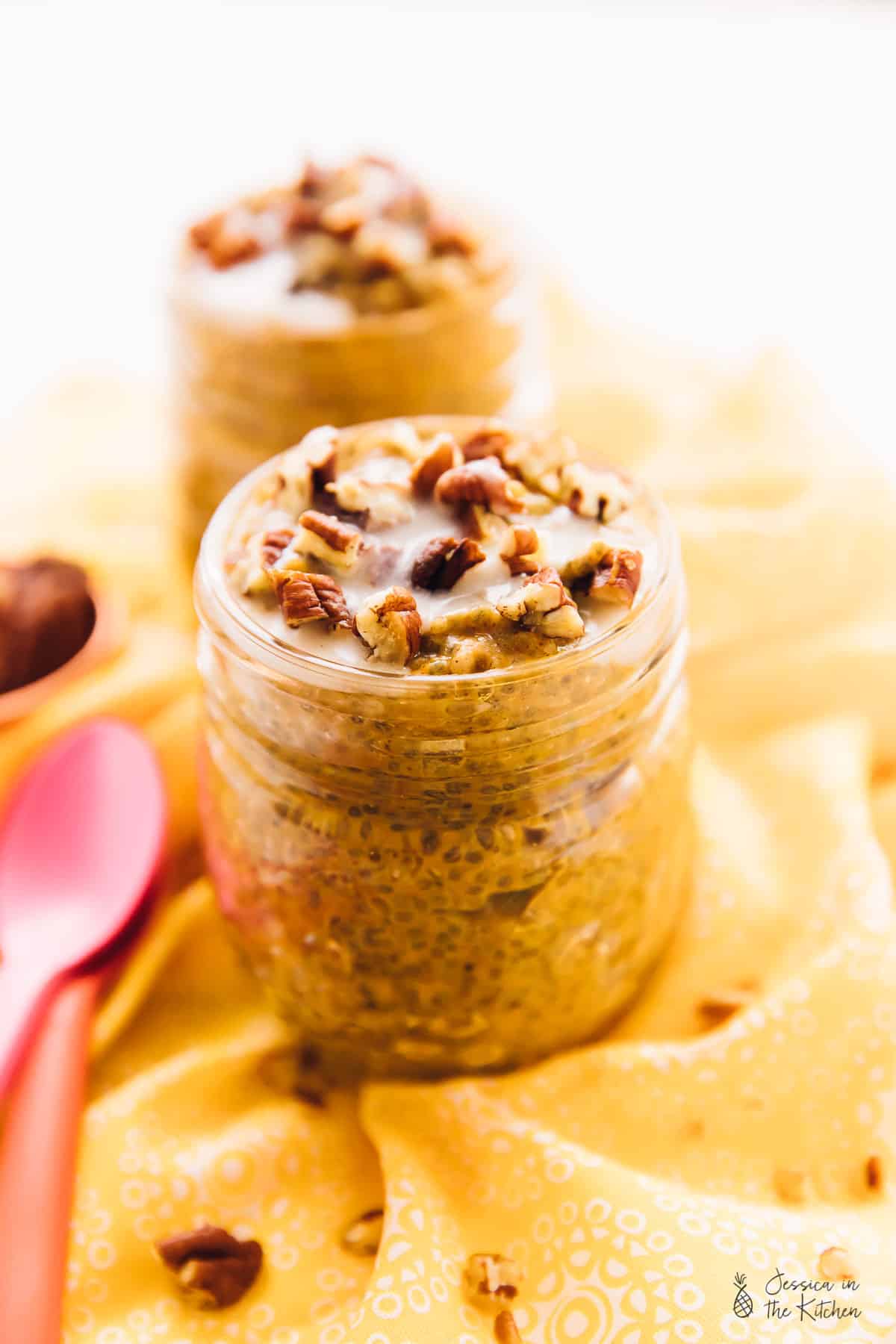 I've been on a chia pudding kick lately and have been making Chocolate Chia Pudding all the time. But with cold weather right around the corner, it's time to start making breakfasts fit for fall. And this pumpkin chia pudding is exactly that.
This super quick and easy pumpkin chia seed pudding recipe is perfect for autumn and winter. It's loaded with earthy pumpkin puree and warm pumpkin pie spices, so it basically tastes like a Thanksgiving dessert that you get to eat for breakfast. It's creamy and filling but super healthy, and it's topped with rich and nutty pecans. I could eat this vegan chia pudding every day until spring!
Why You'll Love This Quick & Easy Pumpkin Chia Pudding
This is one of those comforting and healthy breakfasts that I could never get tired of. Here's why you're going to love this recipe.
Easy to make. This is such a simple and straightforward recipe. You only need 7 ingredients to make hearty pumpkin chia pudding, and it takes just 10 minutes. Then all you have to do is leave the pudding in the fridge overnight, and you have a ready-made breakfast when you wake up! 
Feel great. This is a breakfast that will set the tone for your whole day. With nuts, pumpkin, chia seeds, and non-dairy milk, you'll feel healthy and energized to attack the day after eating vegan pumpkin chia pudding. 
Fall flavors. My favorite thing about fall is the food. The warm, cozy, and spicy flavors of autumn are so comforting and delicious. This breakfast chia pudding is packed with them. With pumpkin puree, pumpkin pie spice, pecans, and your choice between maple syrup and agave, this recipe is basically like eating pumpkin pie for breakfast. 
Vegan. I'm always looking for more delicious vegan breakfast recipes, and this is a great option. You can make this pudding with dairy if you prefer, but I like it best as an easy and healthy vegan-friendly recipe. 
Is Chia Pudding Healthy?
Yes, pumpkin chia pudding is super healthy! Each serving has 22 grams of chia seeds, which are high in fiber and loaded with vitamins, minerals, and antioxidants. It also has a lot of pumpkin, nuts, and non-dairy milk, which are all very good for you. Plus, this recipe only uses a tiny bit of natural sweetener, with no processed sugar.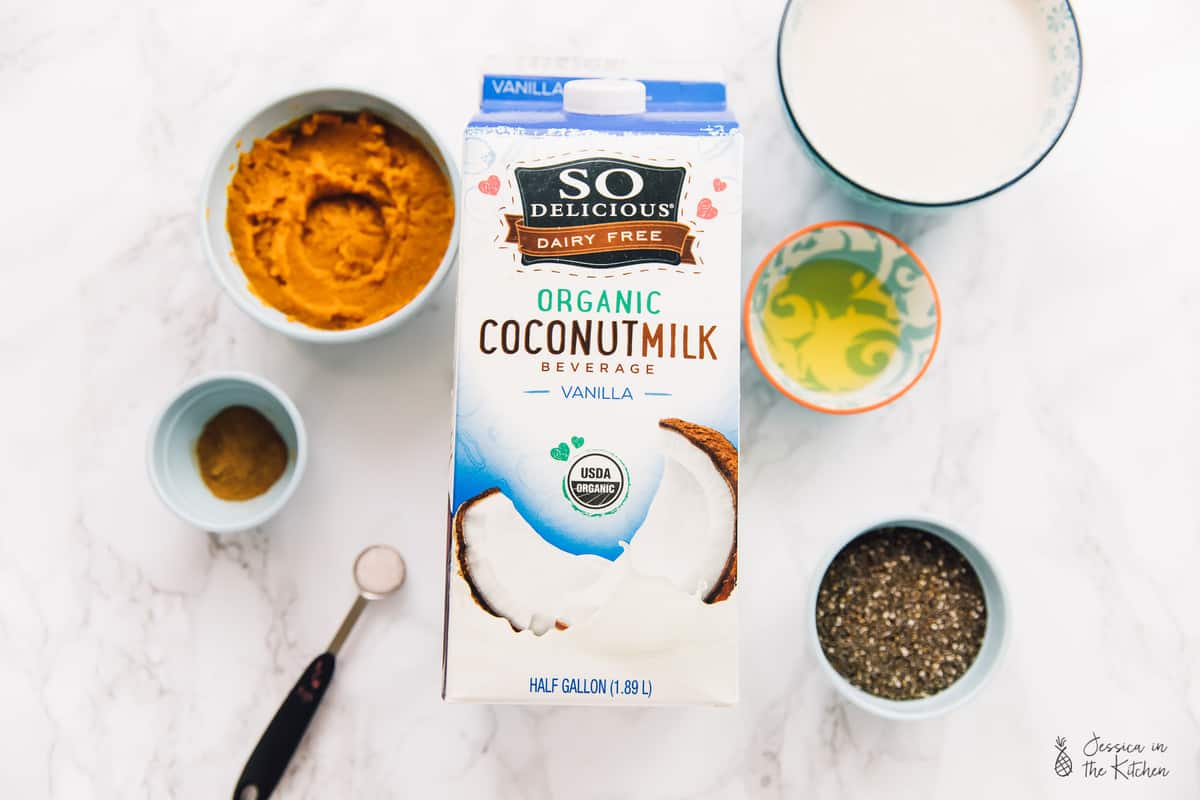 What You'll Need
You only need a handful of common household ingredients to make this creamy and autumnal pumpkin chia pudding. Make sure to check out the recipe card at the end of the page for the exact amounts of each ingredient.
Chia seeds
Non-dairy milk – Use the milk of your choice. 
Agave syrup or maple syrup 
Pumpkin pie spice
Pumpkin puree – Make sure to use unsweetened and unflavored puree.
Sea salt
Chopped pecans 
What Milk Is Best For Pumpkin Chia Seed Pudding?
You can use any type of milk for this recipe, though it's healthiest and most delicious with non-dairy milk. My preferred milk for pumpkin chia seed pudding is a vanilla-flavored coconut milk beverage, but you can use whatever you'd like. I recommend avoiding non-dairy milks that are super sweet, as they can overwhelm the pudding. 
How To Make Pumpkin Chia Pudding
This recipe only takes 10 minutes to throw together. Here's how to do it.
Add ingredients. Place the chia seeds, milk, sweetener, pumpkin puree, salt, and spices in a bowl or individual jars.
Mix. Use a whisk or fork to mix the ingredients together until smooth. 
Adjust. Taste the pudding, and adjust the seasonings to fit your taste. 
Chill. Cover and place the pumpkin chia pudding in the fridge for at least 4 hours, and preferably overnight. 
Serve. Remove the pudding from the fridge and top it with nuts and an optional drizzle of non-dairy milk or creamer. Then eat!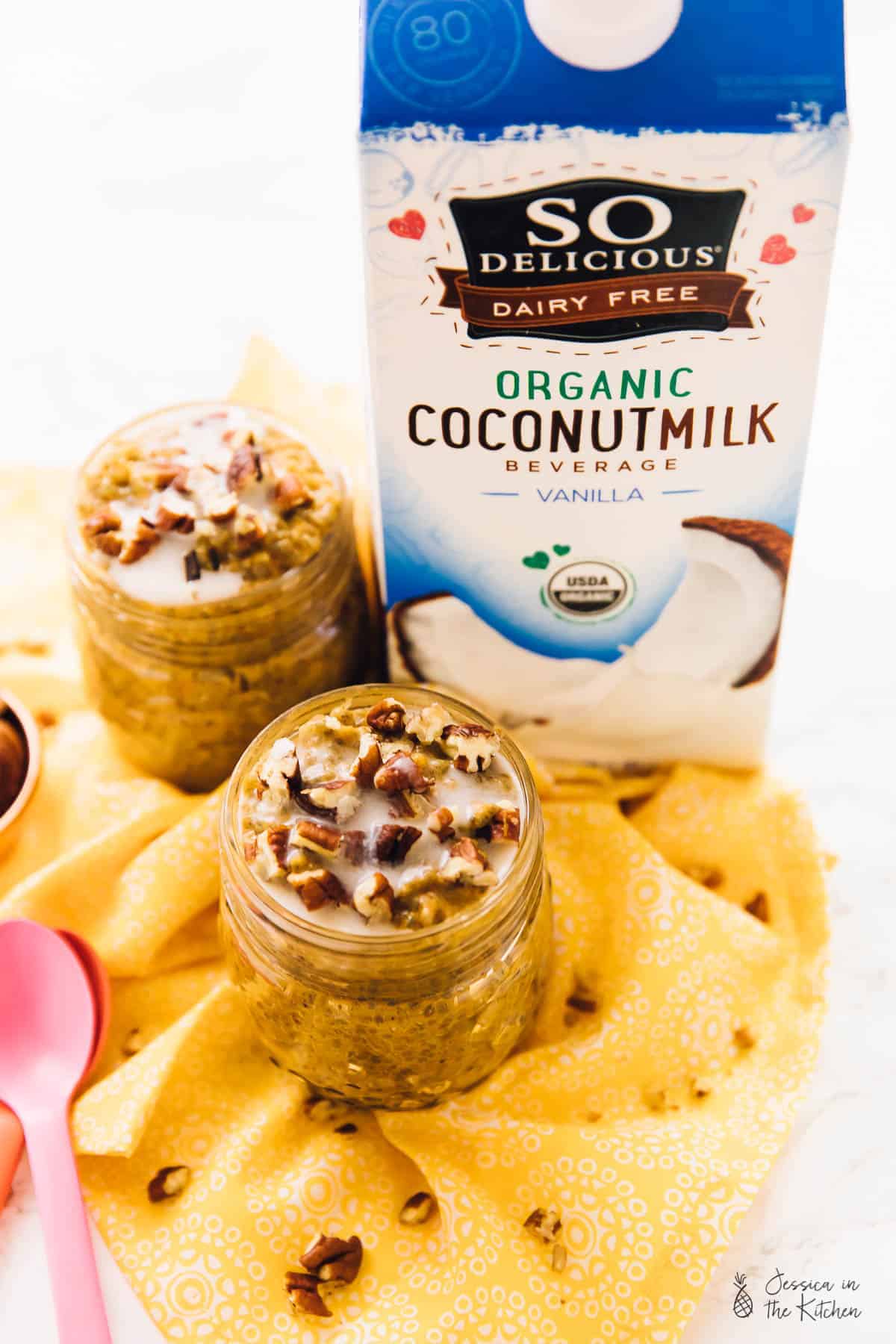 Tips for Success
Here are some of my favorite tricks for making the best possible vegan pumpkin chia seed pudding.
Make your own puree. You can absolutely use store-bought pumpkin puree for this recipe, but it will be even more delicious if you make your own. Homemade Pumpkin Puree is easy to make and super delicious, and it will add a level of complex holiday flavor that will really make this pudding shine. 
Toast the pecans. Another way to boost the flavors in this pumpkin breakfast is to toast your pecans. Pecans become more buttery and less bitter when you toast them, and the flavor goes so well with pumpkin and pumpkin pie spices. Toast them for a few minutes on the stovetop or in the oven for the best pumpkin chia pudding. 
Play with the flavors. This is a perfect vegan chia pudding recipe as is, but feel free to adjust it based on what flavors you like. You can add other types of nuts or even fresh or dried fruit to the pudding, or adjust the amount of pumpkin pie spice based on your tastebuds. You can even add a dollop of Vegan Coconut Whipped Cream on top and serve the pumpkin chia pudding for dessert or a celebratory breakfast! 
Serving Suggestions
There's nothing I love more than a tasty and healthy breakfast paired with a good morning beverage. Here are a few drinks that I love to sip on while eating pumpkin chia pudding.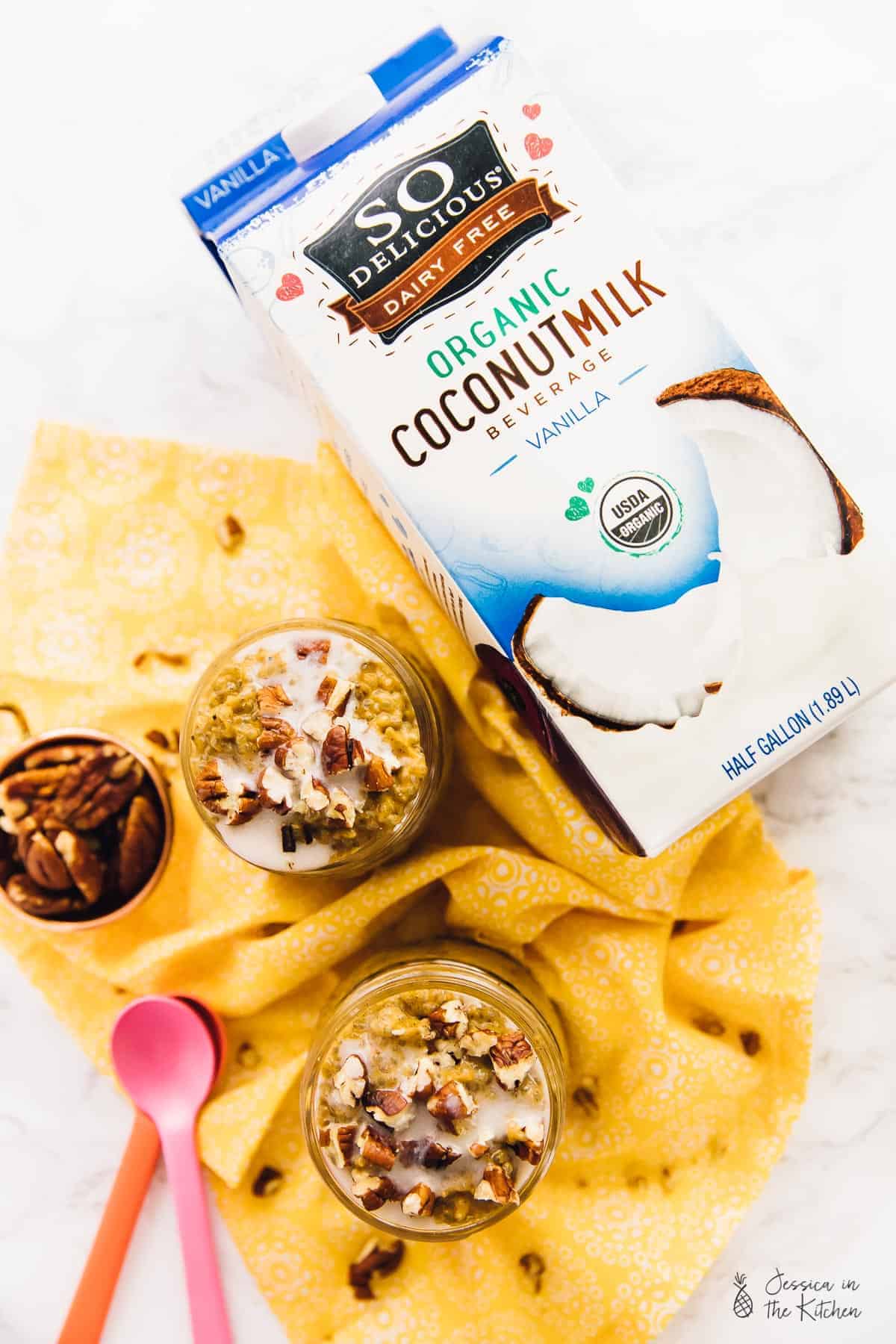 How Long Does Pumpkin Chia Seed Pudding Last?
One of the best things about this vegan pumpkin chia pudding is that it lasts for a long time. As long as you keep it in an airtight container in the fridge, it will stay good for at least 5 days. So you can make a big batch during the weekend and have easy grab-and-go breakfasts all week long.
I do not recommend freezing chia pudding, as the texture will get pretty weird.
More Pumpkin Recipes To Try
When autumn shows up I find myself trying to put pumpkin in everything. It's so hearty and cozy and perfect for the cold seasons. Here are a few more of my favorite pumpkin recipes.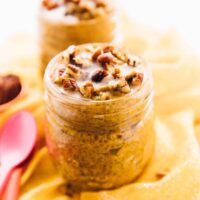 Pumpkin Chia Pudding
This healthy and vegan pumpkin chia pudding is the perfect fall breakfast. It's loaded with pumpkin puree and spices, chia seeds, and creamy non-dairy milk, and topped with buttery pecans.
Ingredients
¼ cup chia seeds, (42g)
1 cup So Delicious Vanilla Coconutmilk, or any other non-dairy milk
1 tablespoon agave syrup or maple syrup
¾ teaspoon pumpkin pie spice
½ cup pumpkin puree
Pinch sea salt
Chopped pecans, for garnish
Instructions
In a bowl or in individual jars, mix all of the ingredients except the pecans together with a whisk. Stir until the ingredients are completely combined and smooth throughout.

Taste the chia pudding and adjust the seasonings and sweetener.

Cover and set in the fridge for at least 4 hours, and preferably overnight.

Remove the pudding from the fridge. If you chilled it in a bowl, spoon it into individual servings.

Top with pecans and an optional drizzle of non-dairy milk or creamer, then serve.
Notes
Store in the fridge for at least 5 days for an easy breakfast on the go.
Adjust the flavors and toppings to fit your taste. 
Calories: 382kcal, Carbohydrates: 26g, Protein: 7g, Fat: 31g, Saturated Fat: 22g, Polyunsaturated Fat: 5g, Monounsaturated Fat: 2g, Trans Fat: 0.03g, Sodium: 22mg, Potassium: 467mg, Fiber: 9g, Sugar: 9g, Vitamin A: 9546IU, Vitamin C: 6mg, Calcium: 176mg, Iron: 6mg
Disclaimer: Although jessicainthekitchen.com attempts to provide accurate nutritional information, kindly note that these are only estimates. Nutritional information may be affected based on the product type, the brand that was purchased, and in other unforeseeable ways. Jessicainthekitchen.com will not be held liable for any loss or damage resulting for your reliance on nutritional information. If you need to follow a specific caloric regimen, please consult your doctor first.