Vegan Pumpkin Mac and Cheese (One Skillet)
This Vegan Pumpkin Mac and Cheese is loaded with lots of fall favour, tons of nutrients and tastes so decadent! ONE POT, and it's the perfect side dish.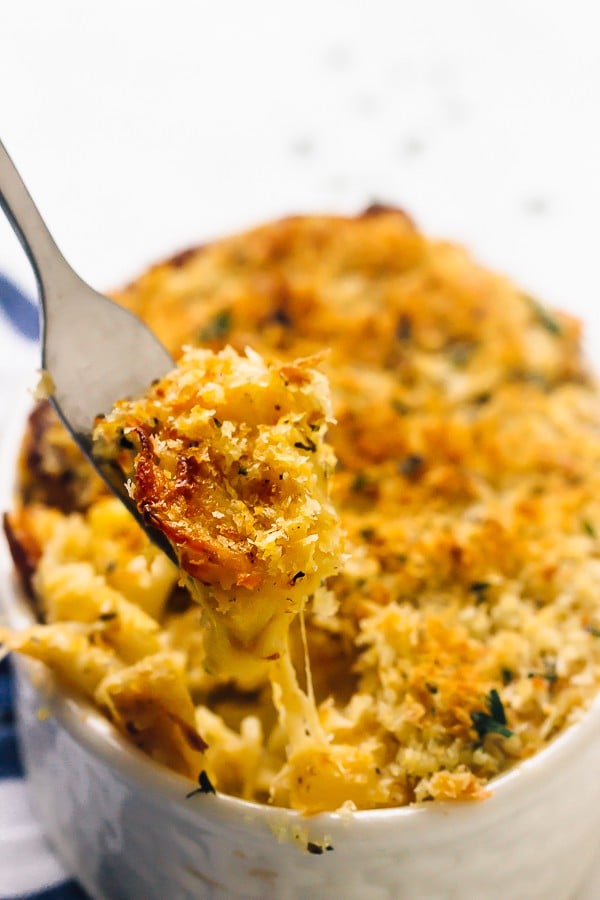 Good grief. Upside to being a food blogger: making all this delicious food and getting to eat it. Downside? Having to stare at the photos and videos for hours while shooting, editing, sorting and then writing the posts. It's pretty hard not to get hungry while doing it. Looking at these pictures reminds me just how much we enjoyed this Vegan Baked Pumpkin Mac and Cheese to its core.
This is not something you want to miss out on.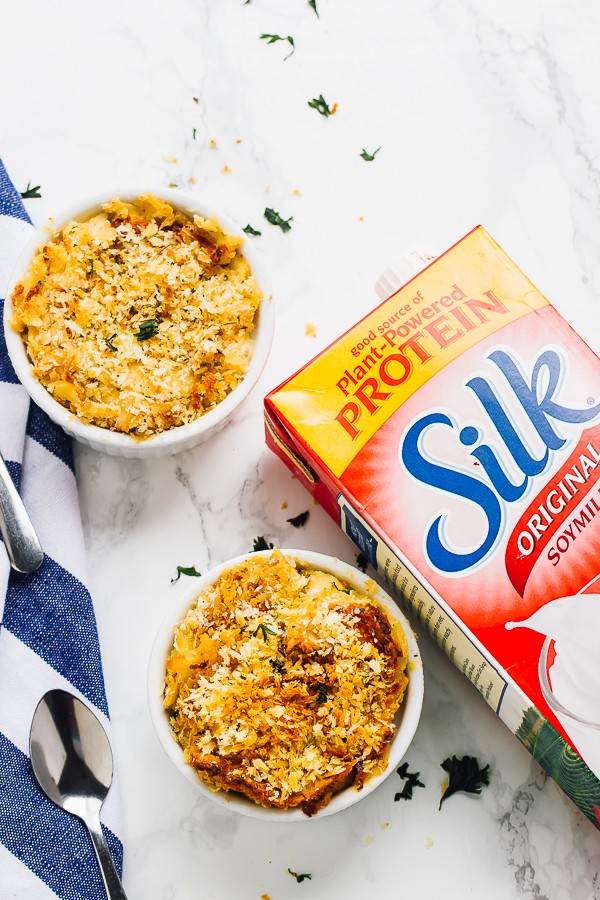 So, it's fall, and while Christmas is my fav holiday of all time, fall is right behind it, cozy in the second spot. Speaking of cozy, this time of the year I drink way more hot chocolate, way more tea, and I want all the warm, comforting foods. You won't see me this a bowl of cereal for breakfast unless it's this Pumpkin Spice Granola, and even then I would probably put that on top of warm oatmeal.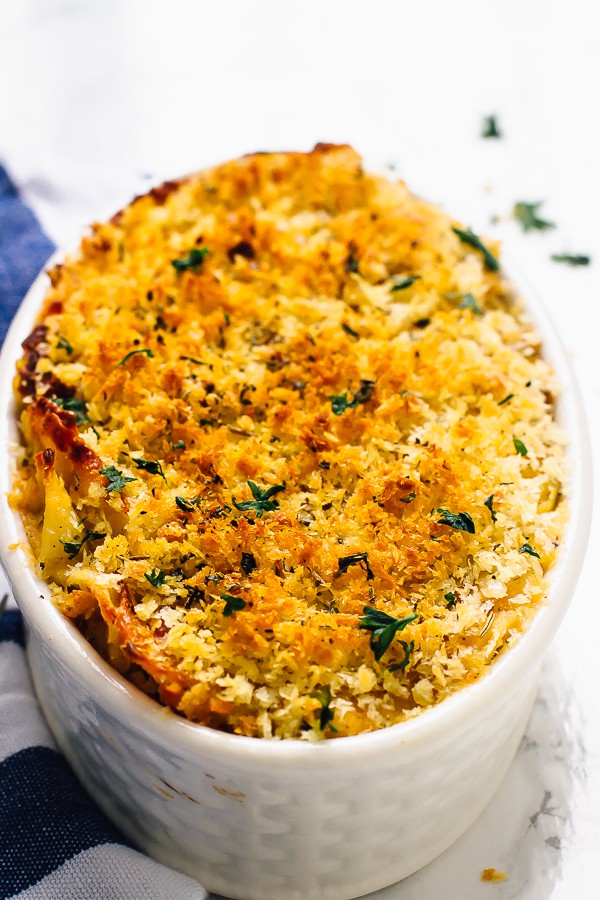 Warm comforting food is the way to go right now, even if it's still hot outside. It's a mental thing I realise, but I'm accepting it 100%. That's probably why the Mr. and I were so inclined to making this baked pumpkin mac and cheese.
It's vegan (HELLO!) and soo comforting and delicious. To keep it vegan, we used vegan dairy cheese and Silk's Soymilk, which helped to keep this a bit lightened up while keeping all of the comfort. Comfort may be my favourite word in this post; have you noticed?
I've always been a lover of Silk's nut milk, but this was actually my first time trying the Soymilk. Shocker right? The Mr. actually baked up this beauty of a mac and cheese and substituted the same amount of Soymilk in place of where we usually use Almond milk. It tastes just as amazing as all their other milks and is perfect if you have a nut allergy! Definitely something we will be keeping on our supermarket list.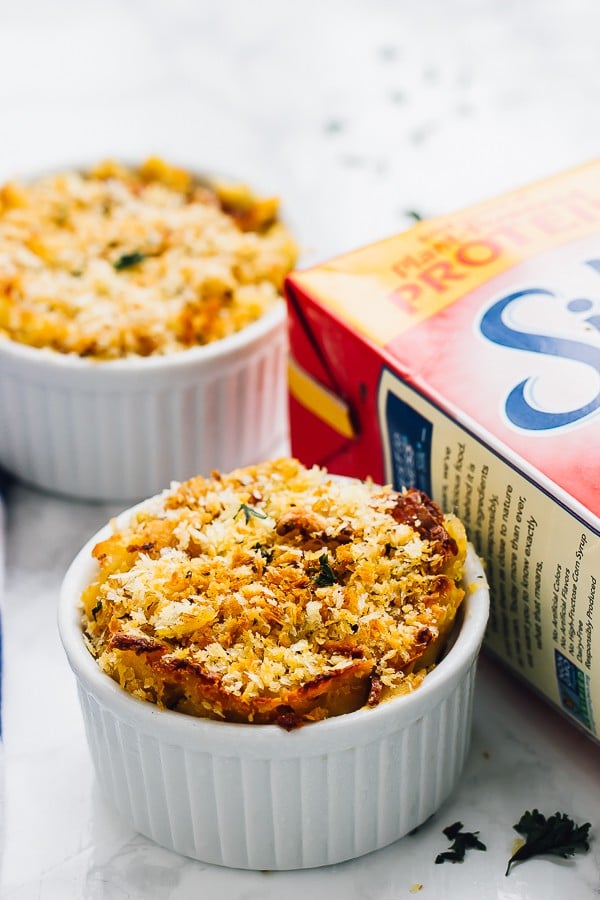 The second joy of using any nut milk made by Silk is that it's always loaded with nutrients, calcium and essential vitamins, meaning that combined with the pumpkin, you're doing your body a whole lot of good while enjoying a whole lot of yummy baked pumpkin mac and cheese. Win, win, right?!
Speaking of the pumpkin, you get a nice dose here. While the mac and cheese doesn't "scream" pumpkin flavour, it really contributes to the creaminess, the flavour and the nutrients.
My PRO tip for this recipe would be to broil it at the very end. It's not a must, but a few extra minutes really takes the breadcrumbs from yum to outstanding. Also, do not forget the sage! It goes so well with the pumpkin!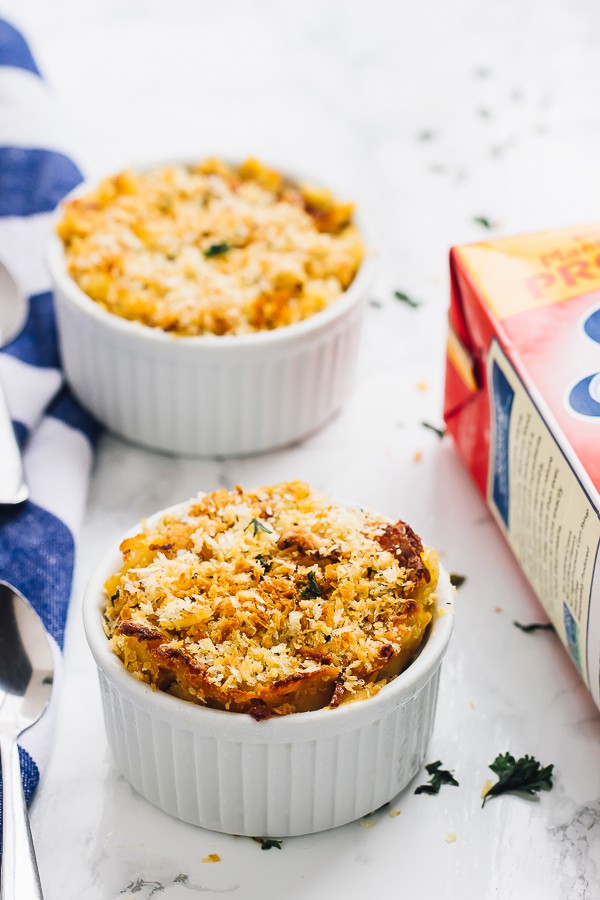 If you try this Vegan Pumpkin Mac and Cheese (Vegan) please let me know in the comment section below, or tag me on instagram with the hashtag #jessicainthekitchen! For more exclusive recipes follow me on Instagram AND on Snapchat: jessinkitchen.
RELATED POSTS TO VEGAN BAKED PUMPKIN MAC AND CHEESE
Vegan Butternut Squash Mac and Cheese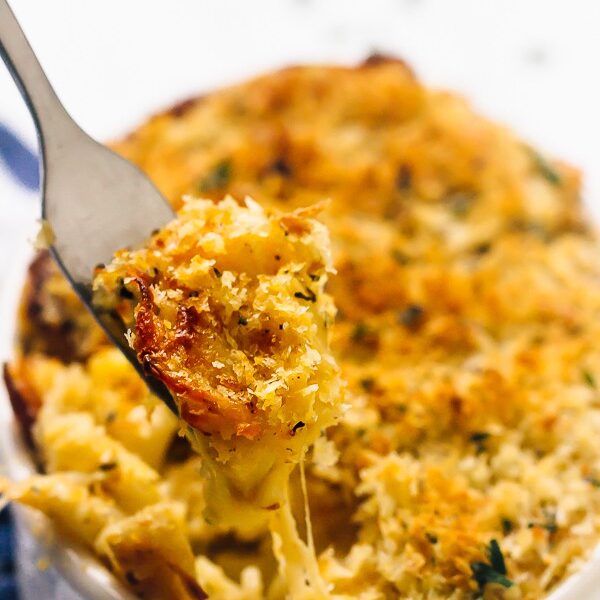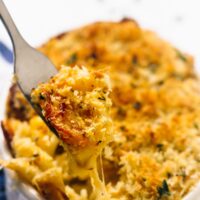 Vegan Pumpkin Mac and Cheese (One Skillet)
This Vegan Pumpkin Mac and Cheese is loaded with lots of fall favour, tons of nutrients and tastes so decadent! ONE POT, and it's the perfect side dish.
Ingredients
Vegan Baked Pumpkin Mac and Cheese (One Skillet)
2 cups elbow macaroni
3 cloves garlic, minced
3 cups unsweetened Silk Soy Milk
3 tablespoons vegan butter
3 tablespoons whole wheat flour
1 tablespoon powdered mustard
1/2 large onion, finely diced 1 teaspoon fine sea salt
1/4 teaspoon freshly ground black pepper
1/2 teaspoon dried sage
2 1/2 cups of three types of shredded vegan cheese, divided
1/2 cup pumpkin puree
parsley, for garnish
Topping
3 tablespoons unsalted vegan butter, melted or olive oil
1 cup whole wheat panko bread crumbs
1/4 teaspoon salt
1/4 teaspoon ground black pepper
Instructions
Vegan Baked Pumpkin Mac and Cheese (One Skillet)
Preheat oven to 350°F/180°C.

In a skillet over medium high heat, heat one tablespoon of coconut oil. When hot, add the garlic and sauté for about 1 minute until fragrant. Add the pasta, soy milk, butter, flour, powdered mustard, onion, the salt, pepper and sage and stir and bring to a boil.

Reduce to a simmer and cook together for about 15 minutes until pasta is al dente (still a bit firm) and the sauce has thickened. Add in the pumpkin puree and mix together.

Fold in the cheese except ¼ and mix together. Sprinkle the rest of the cheese over the top.
Topping
Mix the bread crumbs, salt and pepper and butter together in a small bowl then sprinkle over the entire macaroni and cheese.

Bake in the oven for 15 minutes (uncovered) so that pasta becomes set then put under the broil on low for a few minutes until the topping is golden brown. Garnish with parsley.
Calories: 468kcal
Disclaimer: Although jessicainthekitchen.com attempts to provide accurate nutritional information, kindly note that these are only estimates. Nutritional information may be affected based on the product type, the brand that was purchased, and in other unforeseeable ways. Jessicainthekitchen.com will not be held liable for any loss or damage resulting for your reliance on nutritional information. If you need to follow a specific caloric regimen, please consult your doctor first.