Vegan Pumpkin Pasta (Alfredo Sauce)
A Creamy Vegan Pumpkin Pasta (Made Alfredo Style) made with melted cheese that'll satisfy all your fall and pasta cravings!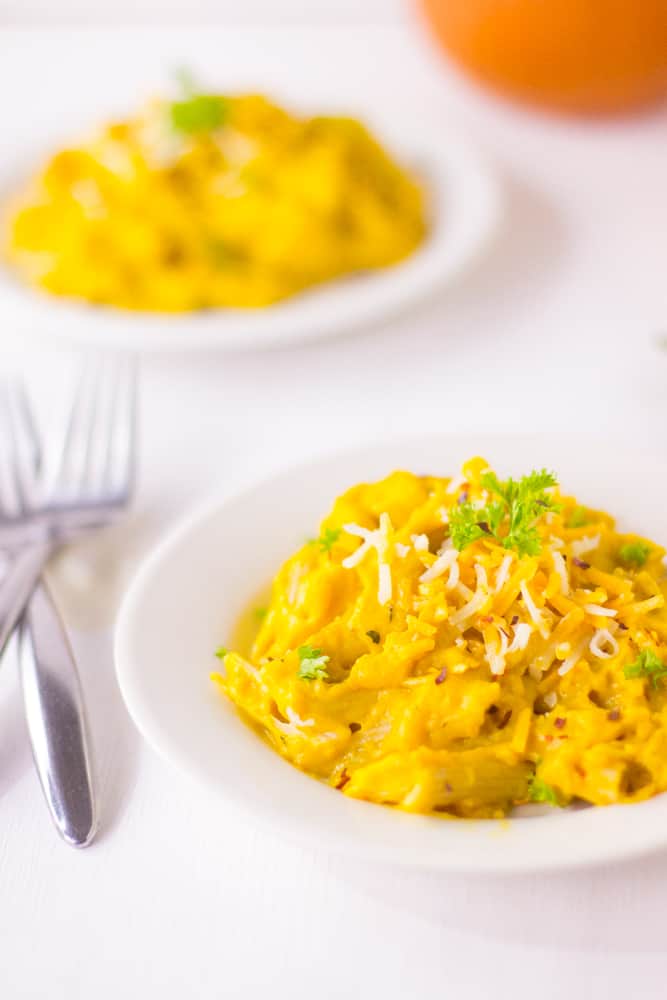 So obviously, I've been eating for the time I was gone. It's like my favourite thing to do other than watch marathons of Modern Family and my new fav. Netflix series HIMYM) and this vegan pumpkin pasta was one of the things that I loved so much that I knew I would have to share it here with you. Let's start from the top shall we?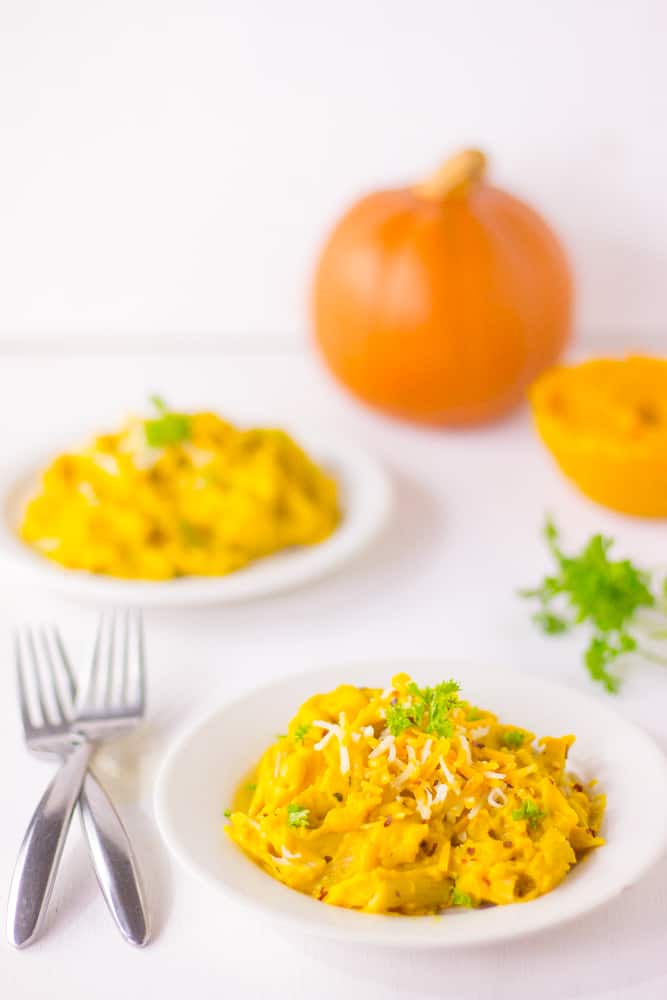 First, the pasta. You can use any pasta your heart desires, but penne pasta has my heart. You just cook your pasta based on the package directions. P.S. Quinoa pasta is pretty fabulous, and the next time I make this I'm so using quinoa pasta. Next, the sauce.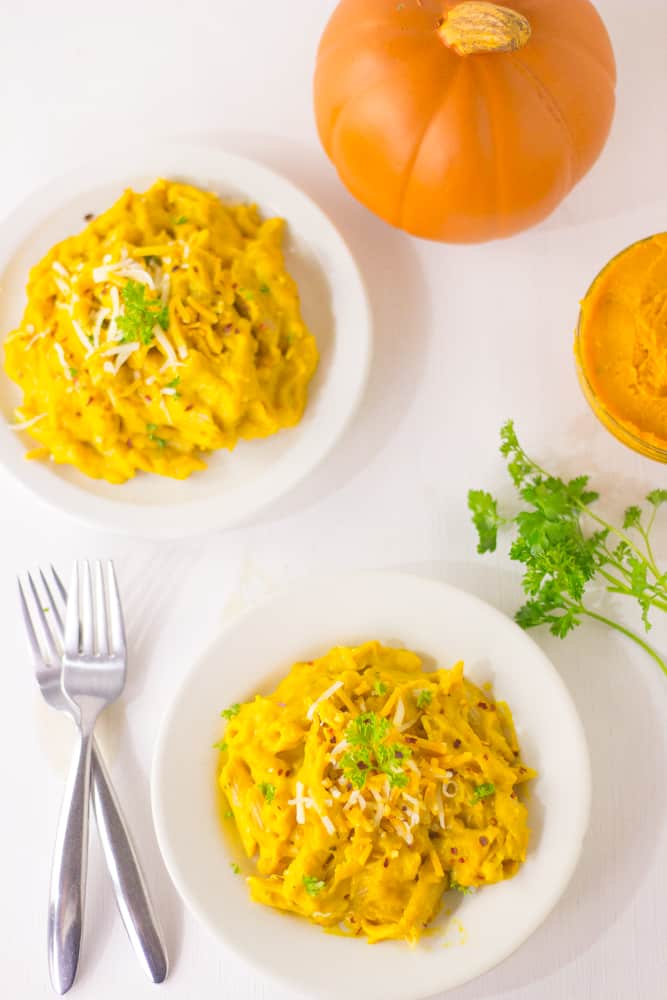 THE SAUCE. This sauce is a combination of delicious thick pumpkin puree, coconut milk, cooking white wine and vegan cheese. I know I know, the coconut milk makes this sauce creamy, but the CHEESE makes it to die for. We are talking notes and hints or tanginess complementing the creamy and mellow coconut milk matched by the delicious savoury pumpkin puree and your favourite seasonings all coming together in this one sauce. I had to taste it right away, then went back and added some red pepper flakes because I'm kind of pepper obsessed and pepper makes everything better. All in all, this vegan pumpkin pasta is a total must make.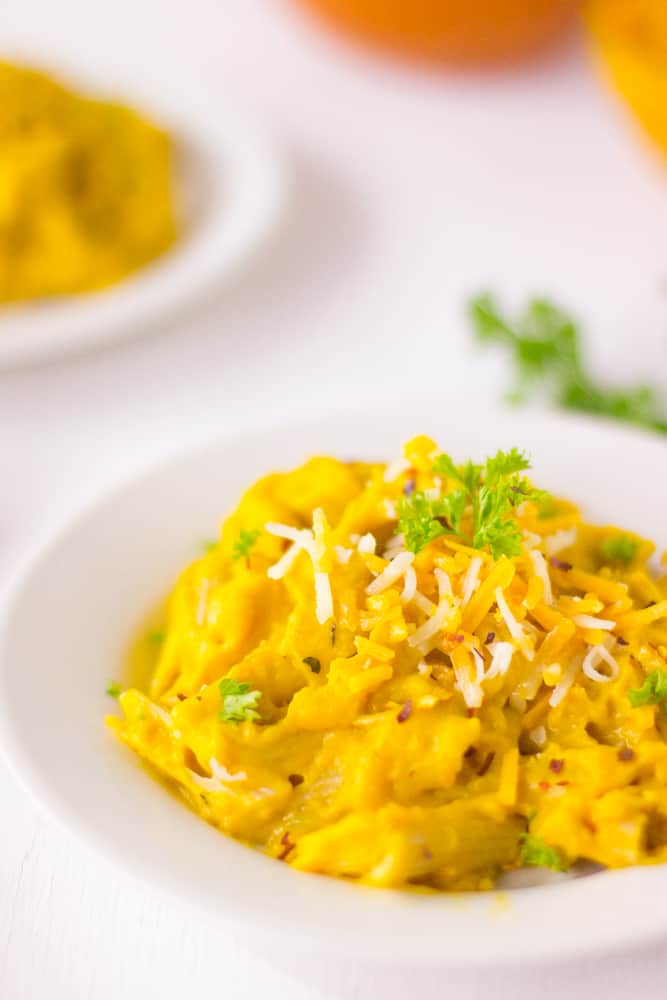 Needless to say, I went back for the leftovers of this baby. I MAY or may not have hid so no one else could get any (oops). This time, I added about ¼ cup of coconut milk while I was warming it up so it was extra creamy. This trick makes it taste like it fresh off the stove. I'll be adding that note in the recipe instructions so you can cream to your heart's desire. Happy eating!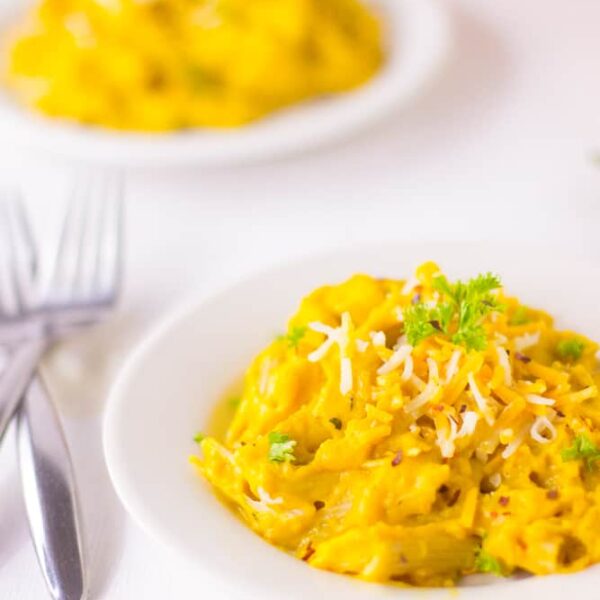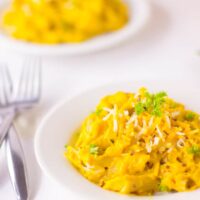 Vegan Pumpkin Pasta
A Creamy Pumpkin Alfredo Pasta made with melted cheese that'll satisfy all your fall and pasta cravings!
Ingredients
1 ¾ -2 cups penne pasta
1 ½ cups pumpkin puree
½ – 1 cup coconut milk*
½ cup cooking white wine
½ cup vegan mozzarella shreds
1 teaspoon fine sea salt
½ teaspoon ground black pepper
½ teaspoon red pepper flakes
Instructions
Cook the pasta based on package directions. Remove and drain and set aside.

While pasta is cooking, heat the pumpkin puree over medium high heat.


Add the coconut milk and stir with a whisk until incorporated and smooth.


Add the white wine, cheese and seasoning and whisk all together until incorporated.


Allow to heat for about 5 minutes on medium heat together until completely heated and so that the flavours meld together.


Add the penne pasta and stir, allow the penne pasta to sit in the sauce for another 5 minutes.


Remove from heat and serve.

Notes
When reheating, you can choose to add up to 1/2 cup more of coconut milk to make the sauce creamy again, or you can add it in the extra 1/2 cup from the first time you make the sauce.
Calories: 289kcal, Carbohydrates: 3g, Protein: 5g, Fat: 28g, Saturated Fat: 24g, Cholesterol: 15mg, Sodium: 921mg, Potassium: 544mg, Fiber: 4g, Sugar: 4g, Vitamin A: 19290IU, Vitamin C: 6mg, Calcium: 150mg, Iron: 6mg
Disclaimer: Although jessicainthekitchen.com attempts to provide accurate nutritional information, kindly note that these are only estimates. Nutritional information may be affected based on the product type, the brand that was purchased, and in other unforeseeable ways. Jessicainthekitchen.com will not be held liable for any loss or damage resulting for your reliance on nutritional information. If you need to follow a specific caloric regimen, please consult your doctor first.