Easy Sweet Potato Curry (One Pot)
This Easy Sweet Potato Curry is made in one pot (perfect for a weeknight meal) & makes the ultimate hearty meal. It is the perfect blend of flavours and is excellent for meal prep!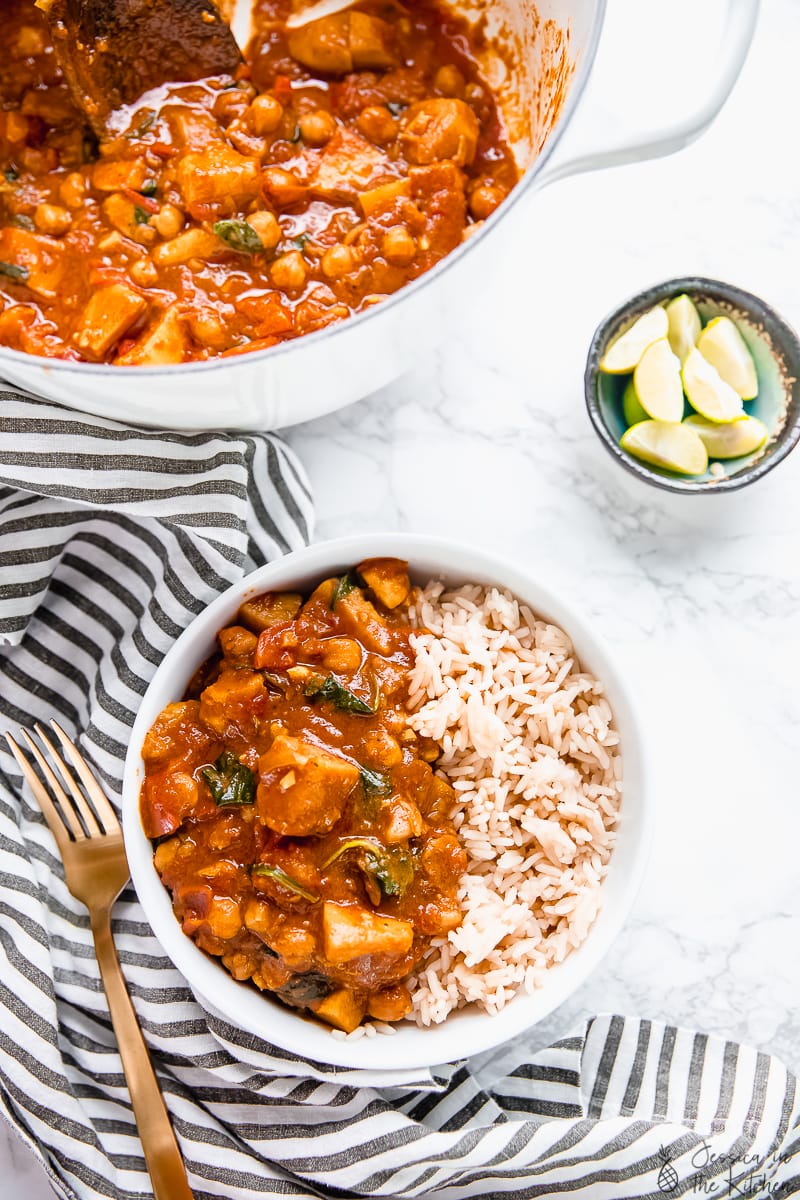 It's no secret that we love a good curry dish in our household. Be that Chickpea Curry, Thai Green Curry, Red Lentil Curry, Aloo Gobi Masala, even Curry Chickpea Salad – the list goes on and on. So it seemed about time to add a Sweet Potato Curry to the repertoire. It's been an idea that I've had for a while now, so the anticipation was definitely building. One bite and I already knew that this would become not only one of our favourites but also one of yours! Friends, you're definitely going to want to try this one.
I knew when making this Sweet Potato Curry that I didn't want to just be eating sweet potatoes and sauce. Not that's anything wrong with that (carbs and sauce are like – the BEST combo – hello fries and burger sauce?!), but I wanted to include even more delicious fibre and protein into the dish. Introduce, chickpeas. Not as much as my chickpea curry, but enough to provide a great mix of texture and nutrition to the dish. This dish is influenced by both my Coconut Chickpea Curry and my Aloo Gobi Masala, and it became the perfect blend of the two – mimicking the similarity of the two dishes with a new fusion of flavours.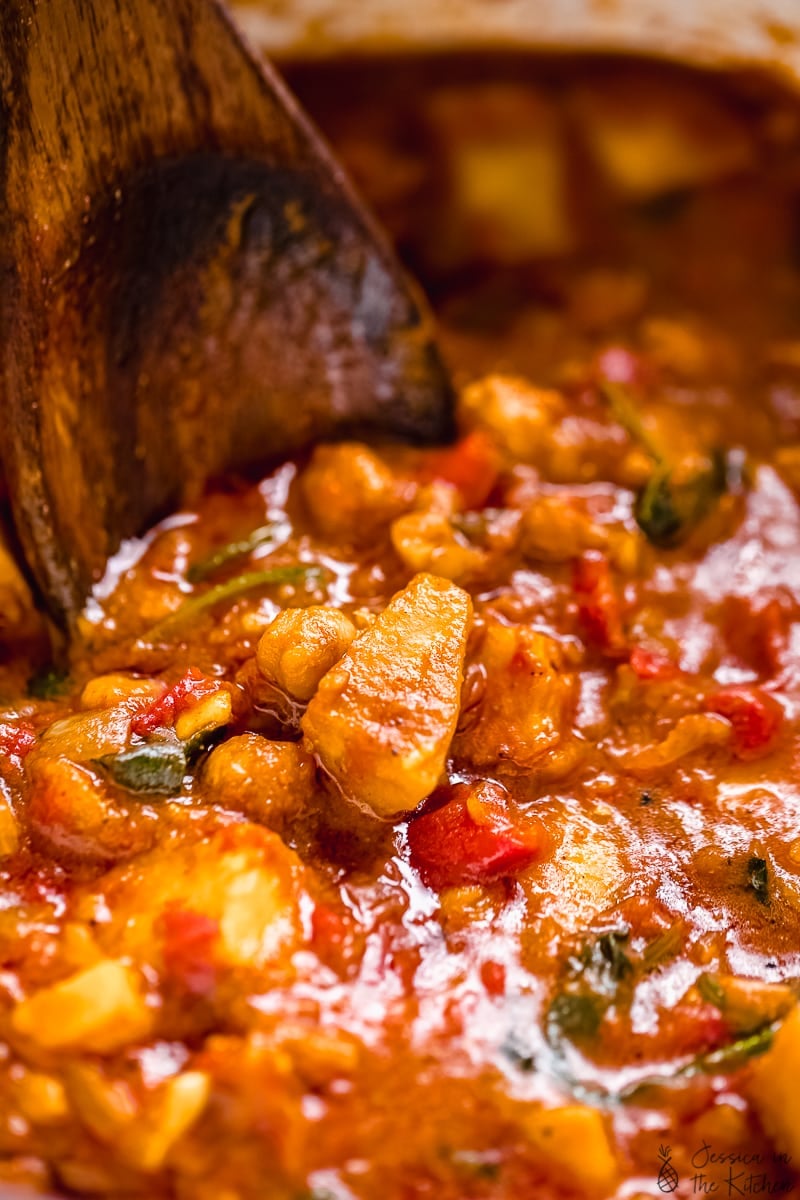 The combination of flavours in this Sweet Potato Curry really takes you on a wild ride. The sweetness of the potatoes. The creaminess of the coconut milk. The aromatic richness of the spices. Altogether, they meld beautifully – creating a winner of a dish.
Tips for Making Sweet Potato Curry
One of my top tips for making this Sweet Potato Curry is to ensure all your sweet potato pieces are the same. I like to cut them into 1-inch pieces, that way they cook evenly and aren't too big (not bite-size) and aren't too small (so they don't become mushy). I also wanted the onions to essentially melt away into this dish, so I diced mine very finely. Another favourite of mine was letting the spices cook without liquid for about 30 seconds, to really pull out their aromatics and flavours. Also, don't forget that lime at the end, and a good dose of salt. These little tips go a long way, especially for a one-pot dish.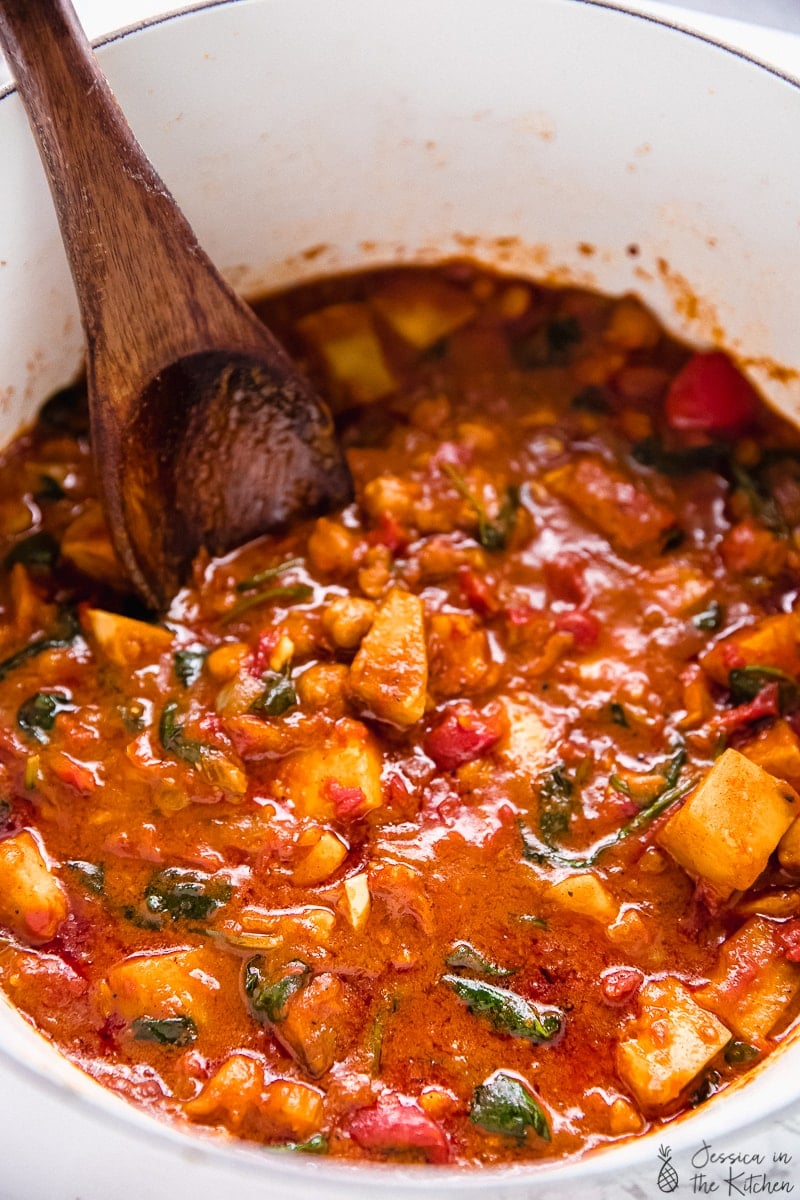 This Sweet Potato Curry is:
absolutely delicious
made from cost-friendly ingredients like chickpeas, coconut milk, onions and sweet potatoes.
Is time friendly – everything is made in under an hour, making it perfect for a weeknight meal.
Made in one pot dish
Is freezer-friendly (stores easily in the freezer for up to 2 months).
perfect for meal prep.

How to Serve this Sweet Potato Curry
Gav loves it with rice but you can easily have it with naan, quinoa or cauliflower rice. However, you choose to have it, I just hope that you love it! Eat up and enjoy friends!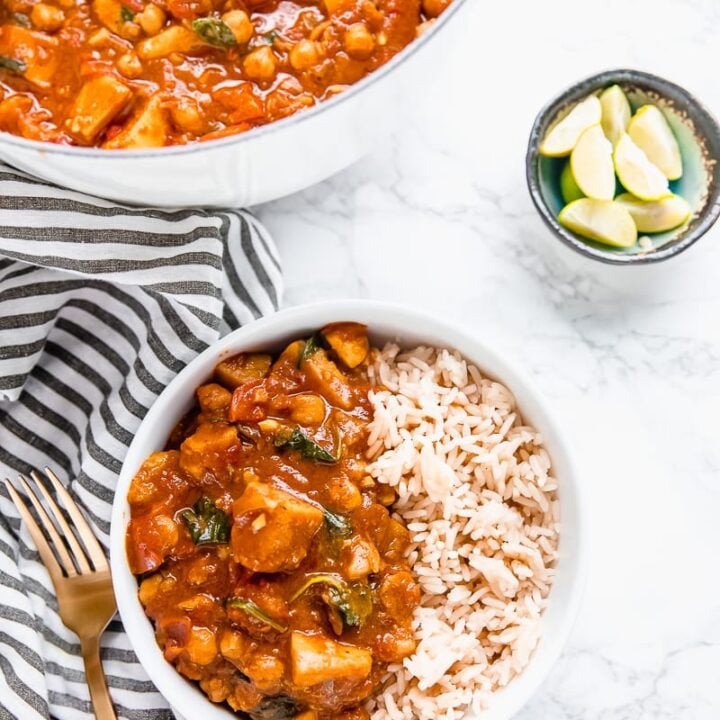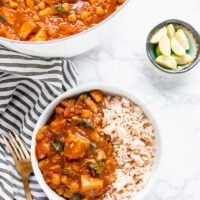 Easy Sweet Potato Curry
This Easy Sweet Potato Curry is made in one pot (perfect for a weeknight meal) & makes the perfect hearty meal. It is the perfect blend of flavours and is excellent for meal prep!
Ingredients
2 tablespoons coconut oil
½ large red onion, finely diced
14 ounces/400g fresh tomatoes, diced (if using canned, drain the tomatoes)
sea salt, I use about ¾ teaspoon & ground black pepper (I use about ¼ teaspoon), to taste
3 garlic cloves, minced
1 ½ tablespoons garam masala
1 teaspoon curry powder
¾ tablespoon paprika
1/4 teaspoon cumin
1 cup cooked chickpeas
1 lb 450g sweet potatoes or 3 cups, peeled and cubed into 1 inch pieces
13.5 ounces/383g can coconut milk*
juice of 1 small lime
3 cups spinach
Instructions
In a deep pot over medium-high heat, add the coconut oil.

Add in the onions and tomatoes. Grind some sea salt and ground black pepper over the mixture and stir together. Lower heat to medium and allow to cook down until juices of the tomatoes are naturally released and onions are soft, for about 10 minutes.

Add in the chickpeas and the sweet potatoes, stirring to combine. Add in the garlic, garam masala, curry powder, paprika and cumin. Stir for about 30 seconds in the heat, until the spices become fragrant.

Add in the coconut milk and stir again. Bring the curry to a boil, and then reduce to medium-low so that the mixture continues to simmer for about 20 to 30 more minutes until the sweet potatoes are fully cooked through and are fork-tender.

Stir in the spinach and squeeze a lime lightly over the top of the curry (don't skip the lime!), stirring to combine. Remove the curry from the heat. Taste the curry and season with more salt and pepper if you desire. Allow to cool slightly and for the spinach to wilt in the heat until wilted (about 3 minutes), then serve. Enjoy!
Notes
Notes:
This recipe is vegan and gluten-free.
*Many readers have asked and yes you can definitely use low-calorie coconut milk! You can even use boxed coconut milk if those calories suit you better.
HOW TO STORE: You can store this curry in an air-tight Tupperware container in the fridge for up a week. It's an excellent candidate for freezing and can be stored in the freezer for up to a month.
TO ADD HEAT:
1. Crushed red pepper flakes: I would start with 1/4 teaspoon in the beginning so that that gets heated up with everything else. Taste and you can always add another 1/4 teaspoon.
2. Harissa paste: if you have a harissa or chilli paste, you can stir a little in before the simmer part so that it can heat up with everything. Even sriracha can work.
3. Lastly, and my favourite, scotch bonnet pepper sauce which adds flavours and lots of heat. A few drops right before simmer again, and you can taste and decide whether you want to add more.
Calories: 344kcal, Carbohydrates: 33.2g, Protein: 6.6g, Fat: 22.8g, Sodium: 452.8mg, Fiber: 6.3g, Sugar: 7.2g
Disclaimer: Although jessicainthekitchen.com attempts to provide accurate nutritional information, kindly note that these are only estimates. Nutritional information may be affected based on the product type, the brand that was purchased, and in other unforeseeable ways. Jessicainthekitchen.com will not be held liable for any loss or damage resulting for your reliance on nutritional information. If you need to follow a specific caloric regimen, please consult your doctor first.