Rolled Pumpkin Spice Cookies (Vegan)
These Rolled Pumpkin Spice Cookies are the perfect holiday cookie!! They're deliciously spiced, easy to make, vegan and have the perfect texture!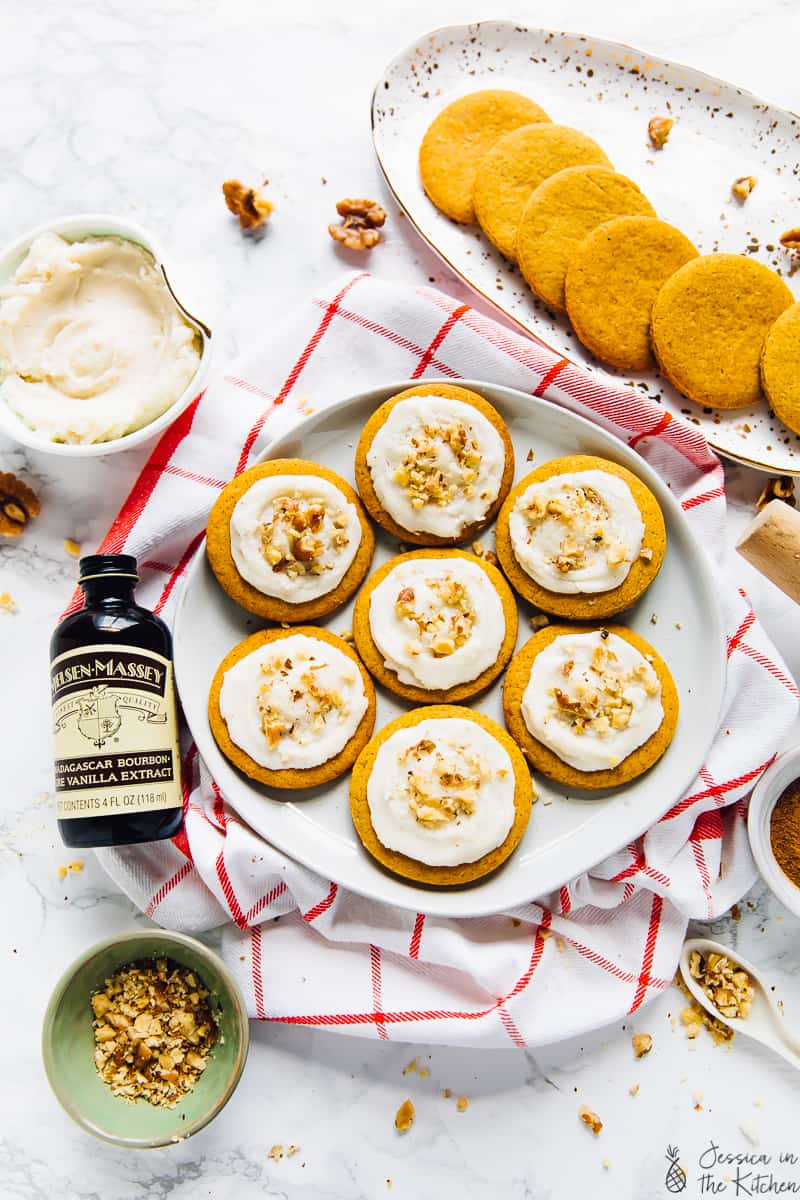 This blog post is sponsored by Nielsen-Massey Vanillas! All texts and opinions are 100% mine. Thank you so much for supporting the brands that support Jessica in the Kitchen!
It's official: my lifetime love for pumpkin has grown even more this season. I think as soon as it hit September 1, I grabbed my first small container of pumpkin purée, thinking I wouldn't need much. A week later and four containers later, I realised it was time to just buy some pumpkin. I followed my handy dandy homemade pumpkin purée recipe to whip up a whole batch to keep me stocked for the season. Needless to say – I love pumpkin, and I LOVE these Vegan Rolled Pumpkin Spice Cookies!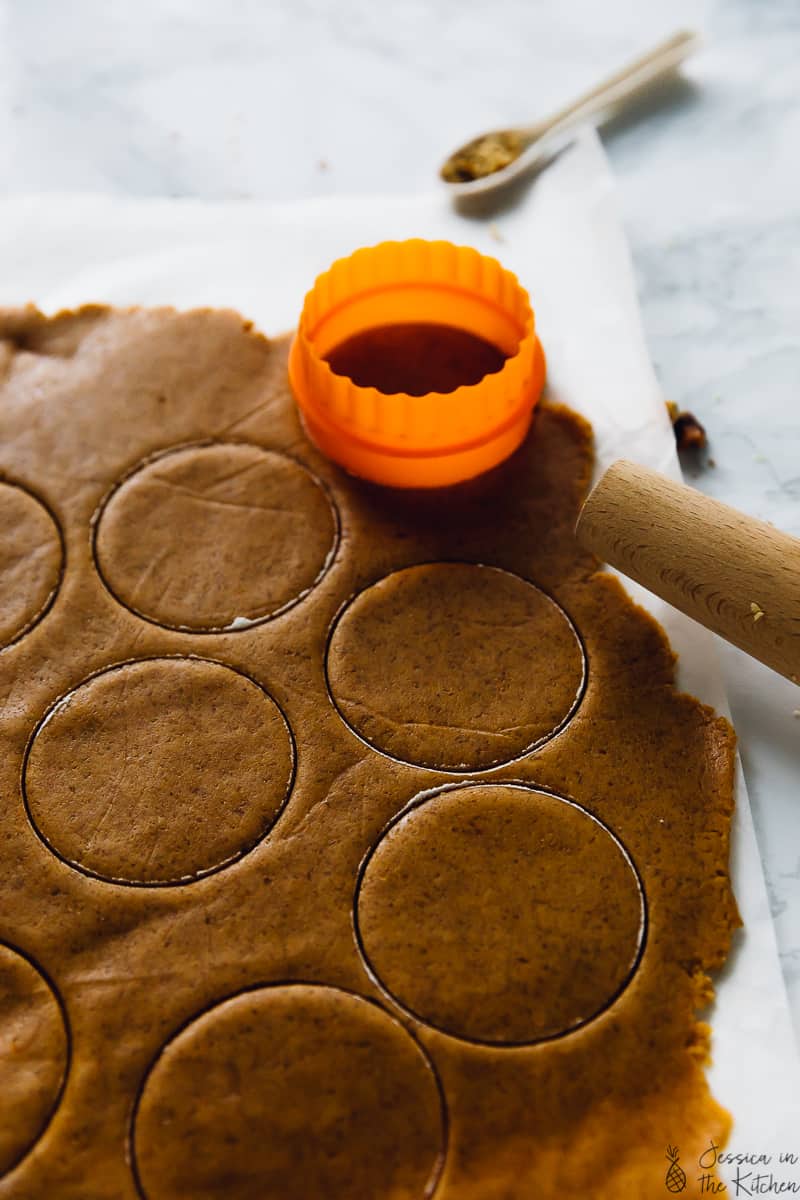 I wanted to try out something different with these cookies. I haven't made rolled cookies in a while – not since my Jessiker Bakes day running an at-home bakery. Wow, those were some interesting times. I had every single baking device possible, and soooo many cookie cutters! Every shape, every size, every category. There's just something fun and festive about pressing shapes into rolled cookie dough. I also loved a good solid sugar cookie. The type that is soft but also chewy. With these cookies, I knew what I was looking for and so the creations began.
Not that long after, I had created a beautifully spiced (all the pumpkin spice) sugar cookie that was a delicious mix of crunchy, slightly soft on top and chewy. I went out of my way to ensure that this batter was so easy that you could easily whip it up twice in a week while watching a tv show – which is, exactly what I did. Trust me, one bite and you're all in.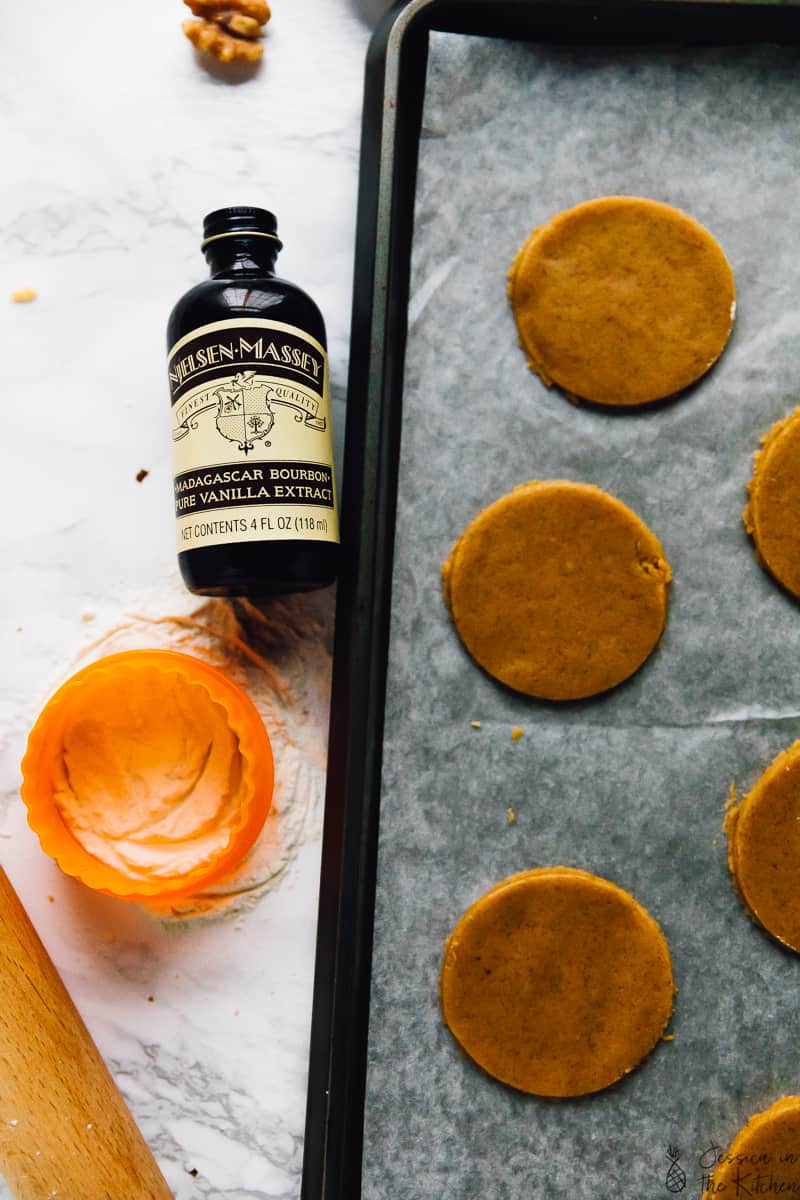 Let's talk ingredients. These pumpkin spice cookies also have actual pumpkin in there! It's my go-to ingredient to make everything thick and soft. From chocolate chip cookies, to cornbread to even pumpkin quinoa chili. There's only 1/4 cup in there so it doesn't taste like pumpkin, but it sure helps with the texture of the cookies. In combination with my usual mix of cookie ingredients, I used my favourite vanilla extract, Nielsen-Massey Vanillas.
I opted specifically for their Madagascar Bourbon Pure Vanilla Extract. If you've been a reader here before, then you know that I LOVE this vanilla extract. I love their dedication to high-quality ingredients and products – including but not limited to hand-picked vanilla beans, cold extraction process, while being all-natural, Non-GMO Project verified, vegan and gluten free. I also love the sweet and creamy flavour that this specific vanilla extract lends to these cookies. I've shared before about how it was the first one I ever used back when I had my baking business, and decided to stick with it, even keeping my massive (empty) bottle of it for quite some time.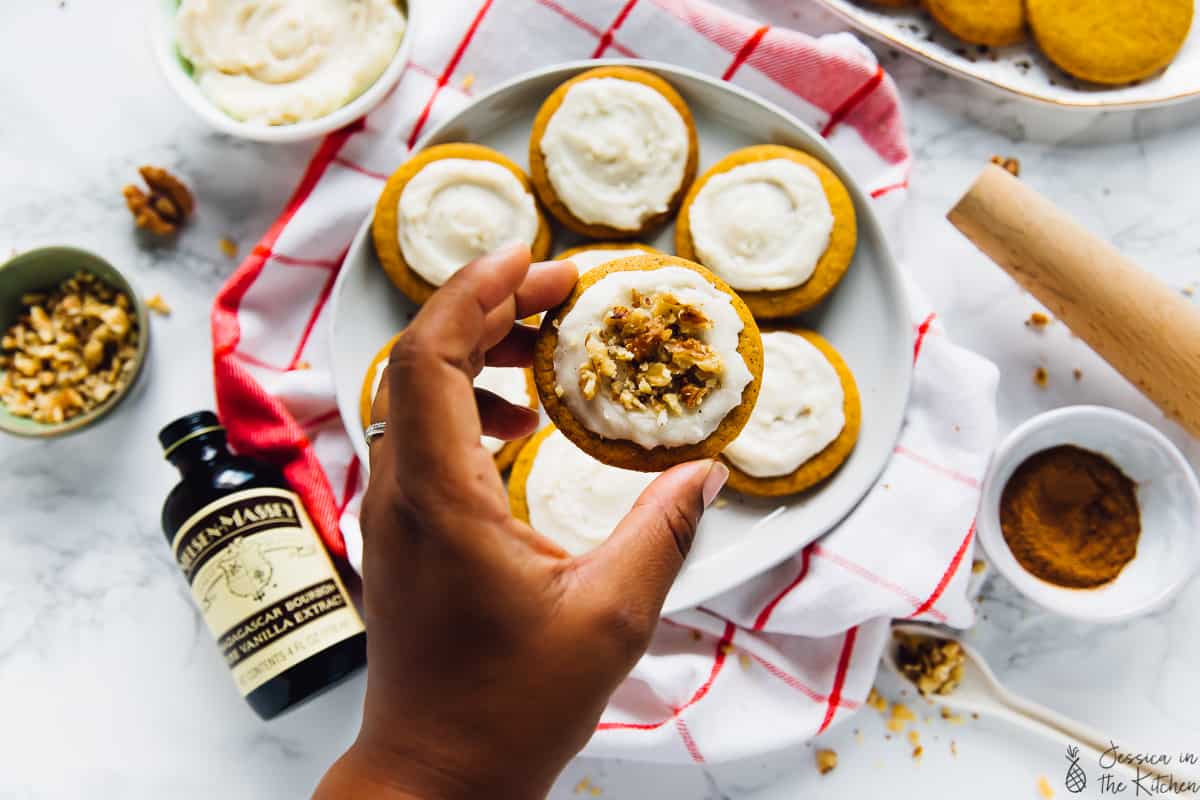 I'm especially loving Nielsen-Massey's Better Your Bake campaign. Baking has been in my family for generations. With my grandma having her own catering business, and my mom always making Christmas cake every season and so many more memories. No wonder I fell in love – it's in my blood! Gav even jokes that he knows when it's holiday season because I seem to bake constantly, just because. That being said, it helps that I've learned many of the basics and so it comes easily and naturally to me. Nielsen-Massey's Better Your Bake campaign is designed to help you master the basics of baking, so that you can get straight to the enjoying (and all the taste testing, of course).
One of my favourite parts of baking is that I feel like I can get lost in the rhythm of it. It allows me to free my mind of overthinking in that moment, and instead just focus on the mindfullness of the process. To this date, I've baked over 500 times, so clearly I've been loving the benefits of it! Nielsen-Massey did a six-part series sharing lots of baking basics for you to master, complete with step-by-step videos. You can head over to betteryourbake.com to follow along. I decided to cover "How to Roll Cookie Dough" because – who doesn't love cookies? I go step by step in these photos, and in the instructions below.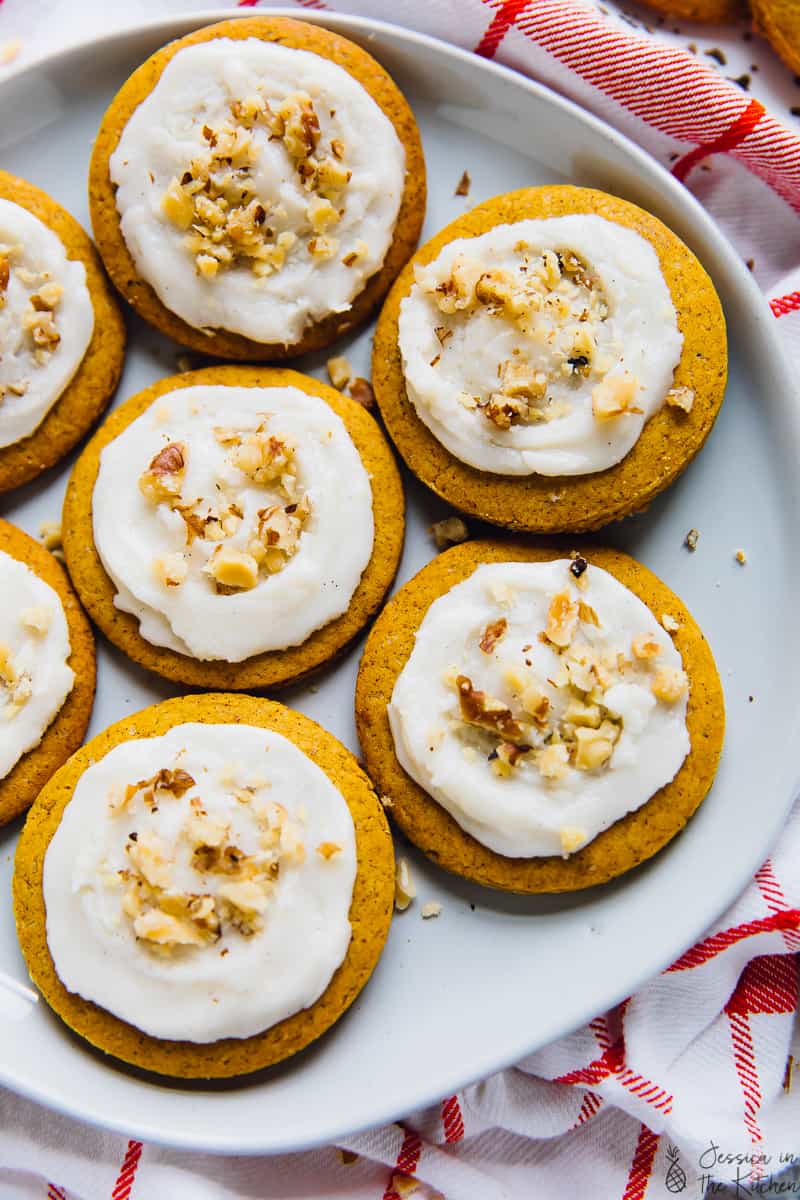 All in all, this cookie dough will be whipped up in just a few minutes, rested, rolled then baked. It's the perfect new cookie dough to make for this holiday season and beyond. If you aren't already following me on IG, I also detailed it last week in video format over on my stories. It's an easy to follow method that'll guarantee your cookie dough won't be sticking to your rolling pin ever. Seriously, always roll your cookies like this!
I kept it pretty simple for you! But, be sure to spruce these cookies up even more with maybe a pumpkin shape, or even icing sugar on the cookies. Either way they'll taste absolutely delicious and will be perfect for the holiday season. Eat up and enjoy friends!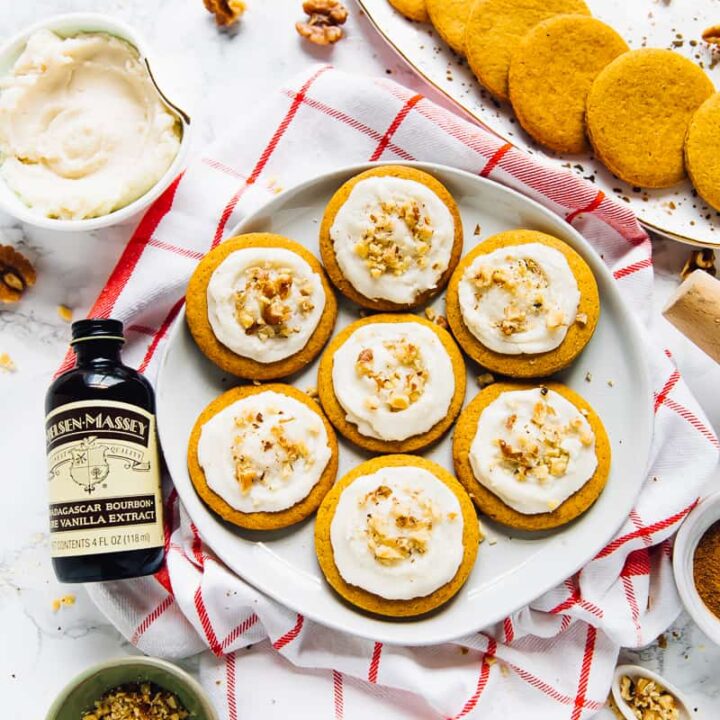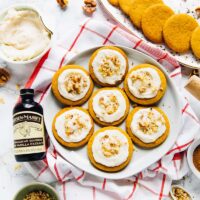 Rolled Pumpkin Spice Cookies (Vegan)
These Pumpkin Spice Cookies are the perfect holiday cookie!! They're deliciously spiced, easy to make, vegan and have the perfect texture! 
Ingredients
1 1/2 cups flour of choice, regular all-purpose flour or gluten-free flour mix (192g)
1 teaspoon pumpkin spice
1 teaspoon baking powder
1/4 teaspoon baking soda
1/4 teaspoon sea salt
1/4 cup vegan butter, (56g)
1/2 cup cane sugar, brown sugar, coconut sugar or any granulated sugar, (105.3g)
1/4 cup pumpkin purée, (112.5g)
Instructions
Preheat oven to 350°F/180°C. Line a baking sheet and cut two sheets of parchment paper to fit the baking sheet. Set aside for now.

In a small bowl, add the flour, baking powder and baking soda, pumpkin spice and sea salt. Whisk together thoroughly. Set aside.

In a large bowl, add the vegan butter and the brown sugar. With a standing mixer or a hand mix, beat together until thoroughly incorporated, about 5 minutes. Add in the Nielsen-Massey Madagascar Bourbon Pure Vanilla Extract and the pumpkin puree. Blend until thoroughly incorporated, scraping down sides, for about 3 minutes. Add the flour mixture to the wet in two batches and mix with mixer until incorporated. Scrape down the sides to gather all the dough and gently fold in.

Form dough into a large ball and cover with reusable wrap. Place in the fridge for at least 30 minutes to set up.

Place the two sheets of parchment paper on the counter (put baking sheet aside for now) and place slightly chilled cookie dough between the two sheets of parchment paper. Press down slightly. Using your rolling pin, roll the cookie dough from the centre, rolling away from your body, back and forth. Repeat, rotating the parchment paper about 45 degrees to help with rolling and to ensure even rolling, until the cookie dough is flat and about 1/4" thick.

When all rolled out, place the parchments on the baking sheet and back into the fridge for about 20 minutes to hold the shape.

Remove baking sheet from fridge and peel off the top layer of parchment paper. Set out a small amount of flour on the counter and press your clean cookie dough cutter into it. This will help to ensure the cookie cutter does not stick to the dough.

Press firmly into the dough, cutting out your cookies. When all the cookies have been stamped, remove the excess dough. You can flatten this and make even more cookies from it! Leave a bit of space in between each cookie.

Bake for 10-12 minutes: 10 for slightly softer, 12 for firmer. Remove and let cool slightly. Serve with frosting and chopped walnuts or cookies and enjoy!
Calories: 76kcal, Carbohydrates: 14g, Protein: 1g, Fat: 2g, Saturated Fat: 1g, Sodium: 92mg, Potassium: 18mg, Fiber: 1g, Sugar: 6g, Vitamin A: 649IU, Vitamin C: 1mg, Calcium: 16mg, Iron: 1mg
Disclaimer: Although jessicainthekitchen.com attempts to provide accurate nutritional information, kindly note that these are only estimates. Nutritional information may be affected based on the product type, the brand that was purchased, and in other unforeseeable ways. Jessicainthekitchen.com will not be held liable for any loss or damage resulting for your reliance on nutritional information. If you need to follow a specific caloric regimen, please consult your doctor first.