Vegan Cornbread Skillet (Easy and Cheesy)
This Easy Cheesy Cornbread Skillet (Vegan & Gluten Free) has the best cornbread crust ever! It's so fluffy, loaded with so much flavour and is so addictive!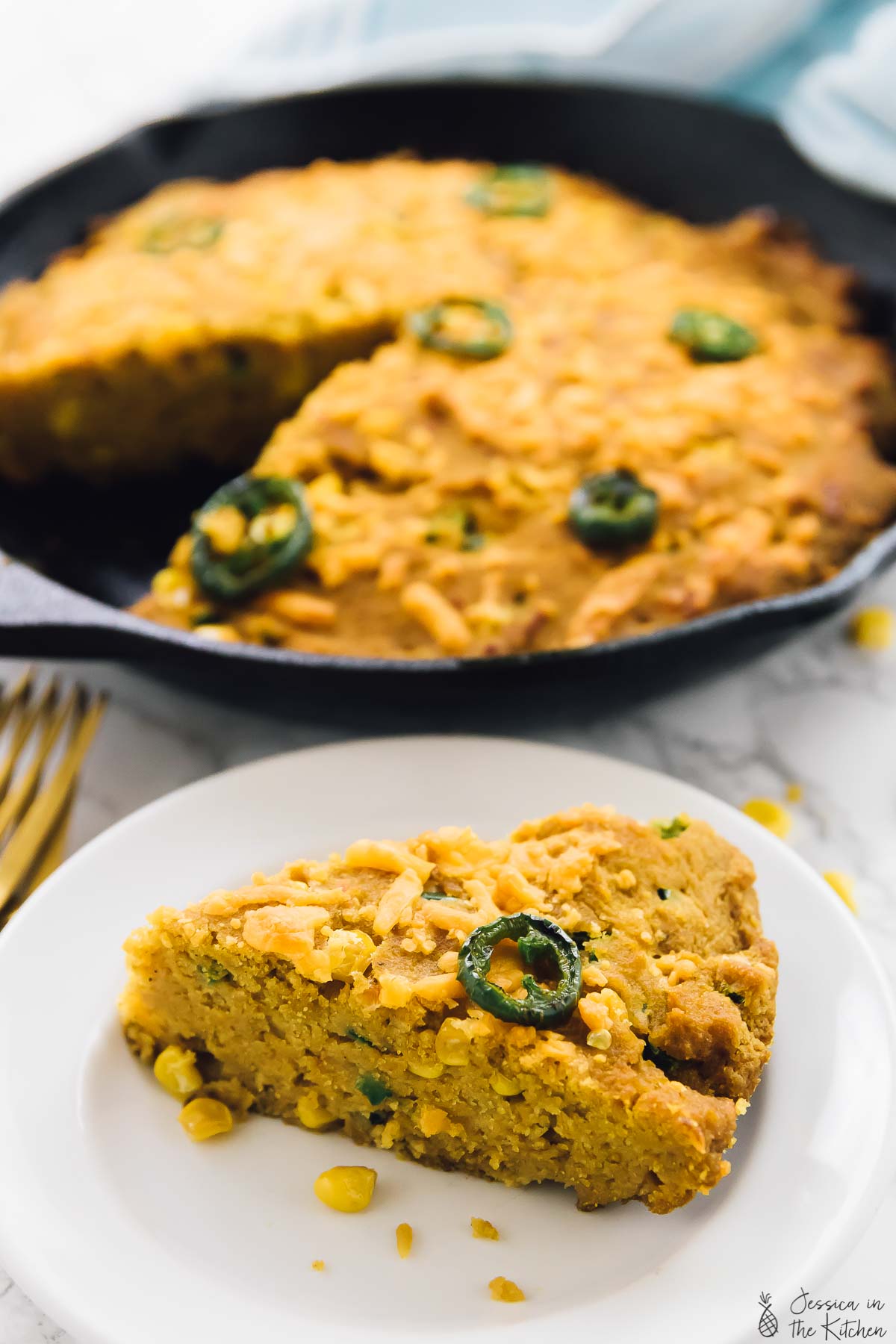 Okay okay okay. I
need
to tell you about this. Love at first bite. You haven't had cornbread until you've had it like this. We've made
cornbread muffins
before – and they are totally moist, flavourful and loaded with a delicious kick of jalapeño flavour. I wanted to try something new. We made this cornbread in a cast iron skillet – with one very specific trick that COMPLETELY blew our minds. I'm talking, the Mr. And I looked at each other after one bite and knew we had fallen in love all over again.
Long story short – we've got the key to the perfect, buttery cornbread skillet crust.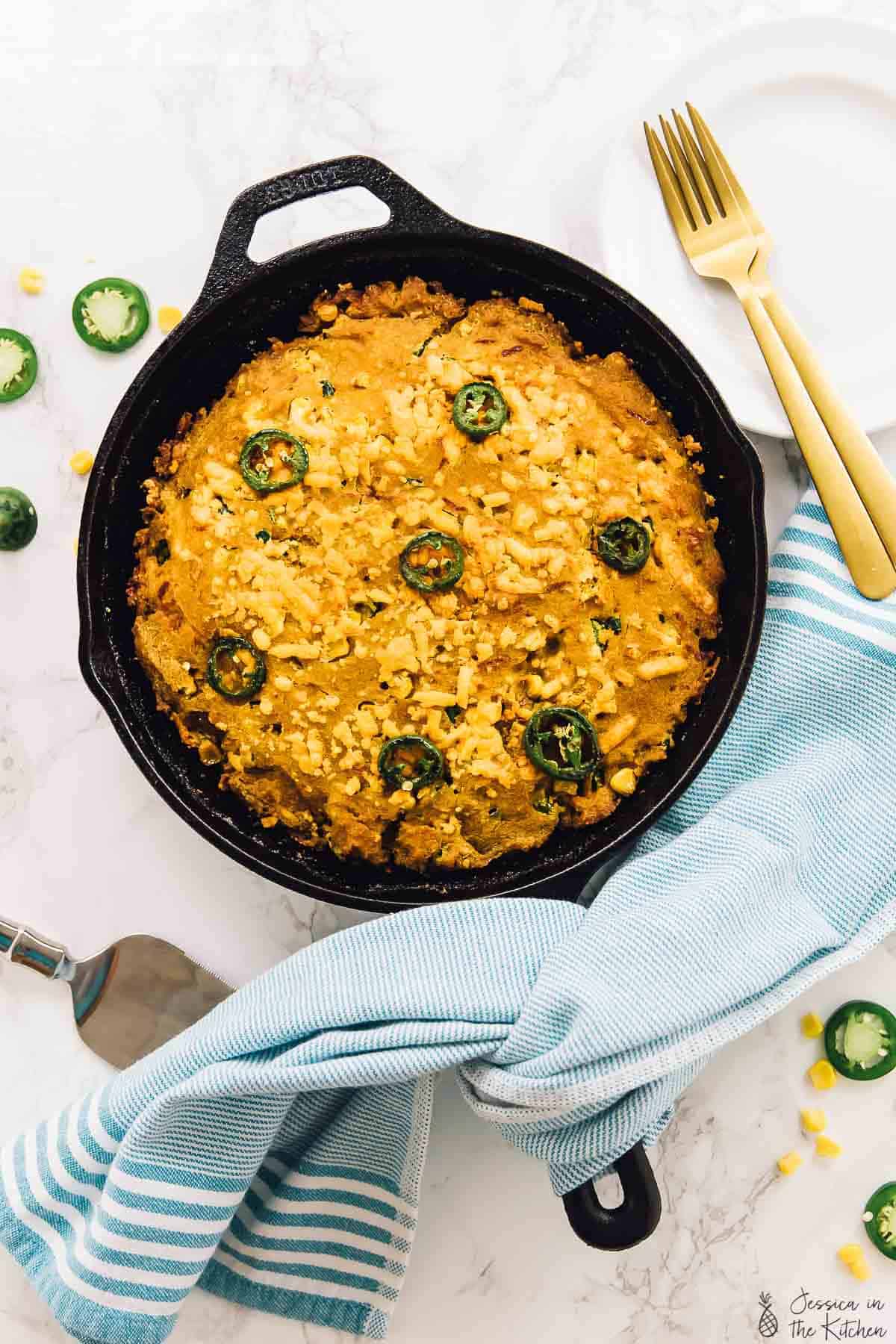 I've been binge-watching this new-to-me show Drop Dead Diva. It's been a total favourite and I've had it in the background of every recipe I've made this week so I would amiss not to mention it. Have you watched it yet?! Isn't it absolutely addictive?? I was watching it while we made this recipe every bite of it made Drop Dead Diva that much better. Actually, I'm pretty sure any show I'm watching while devouring this divine cornbread would instantly be even better. Add this to your Netflix binge parties.
So WHAT am I going on about?! The trick/hack/DO NOT SKIP step that is going to elevate these for you is to melt a few tablespoons of butter in your skillet. I know…wait what? The key to the best cornbread you'll have this holiday season is to 1) bake it in a cast iron skillet 2) bake it in that melted butter. First – if you've ever baked anything in a cast iron skillet, then you know it helps to create the perfect crust. Be that a peach cobbler or a cornbread skillet, you'll be guarantee to get a delicious, golden brown, perfectly crisp at the edges, crust. Of course you can make this in a baking dish and it'll taste amazing, but this will indeed bring it up several notches.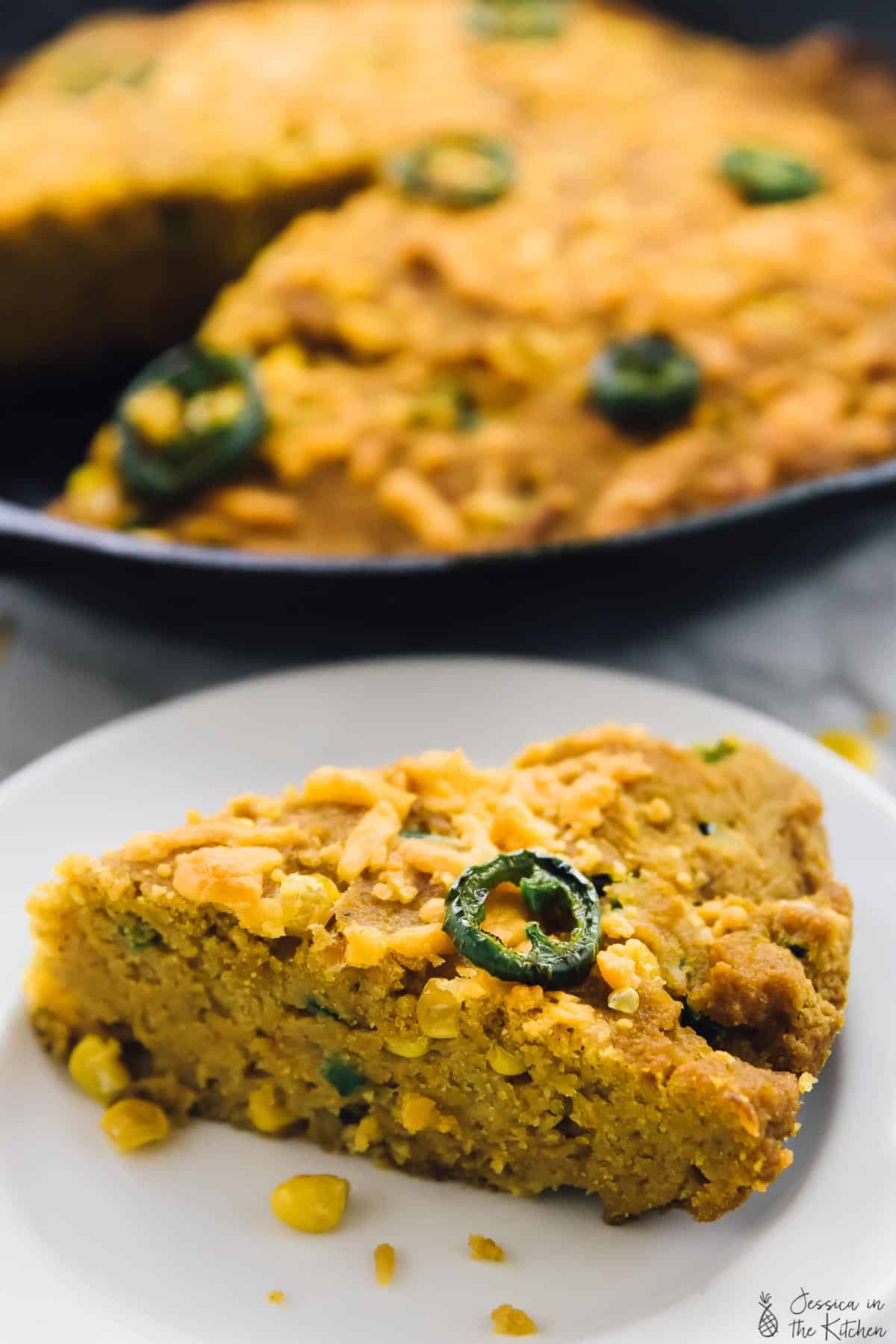 Then there's the melted butter. Of course you need to ensure your cast iron is well seasoned before attempting this. The melted butter isn't to season the pan, it's to take the crust up 10x even more. Melted the butter while preheating the cast iron means that when you add the batter into that hot cast iron, it'll start to slightly sizzle. This helps to puff up the cornbread, and that butter sinks into the outer layer of the crust, making it buttery. Also, and the total kicker, if you're using vegan salted butter, gives it an unbelievably satisfying sweet and salty crust you won't be able to forget. I am telling you – it really creates a cornbread that you won't forget.
Promise me you'll not only try this, but devour it. I also added corn, cheese and jalapeños so this feels like THE cornbread skillet of your dreams. It'll make an amazing dish on your Thanksgiving, Christmas, and to be honest, any dinner table. Enjoy!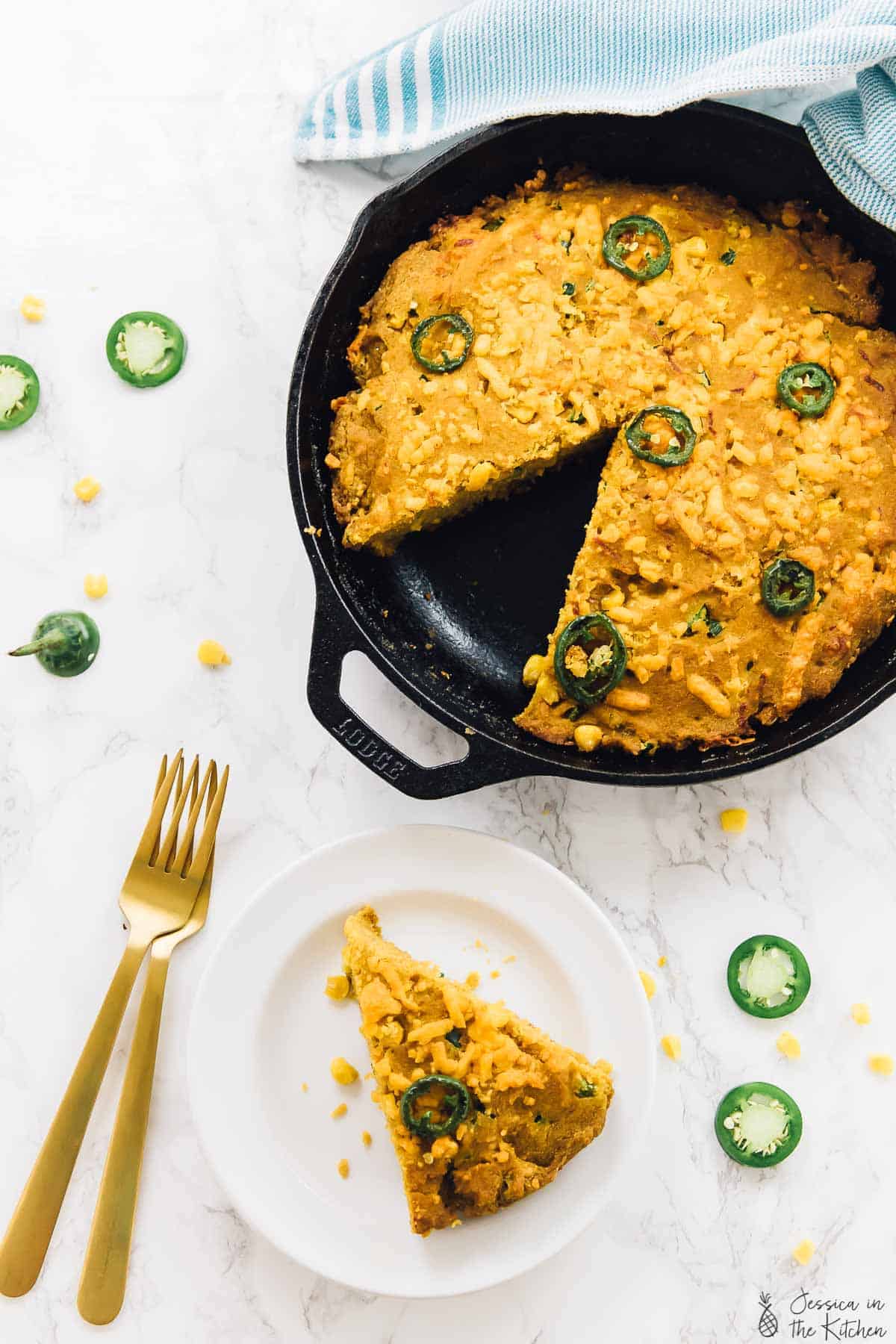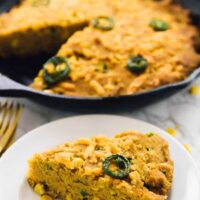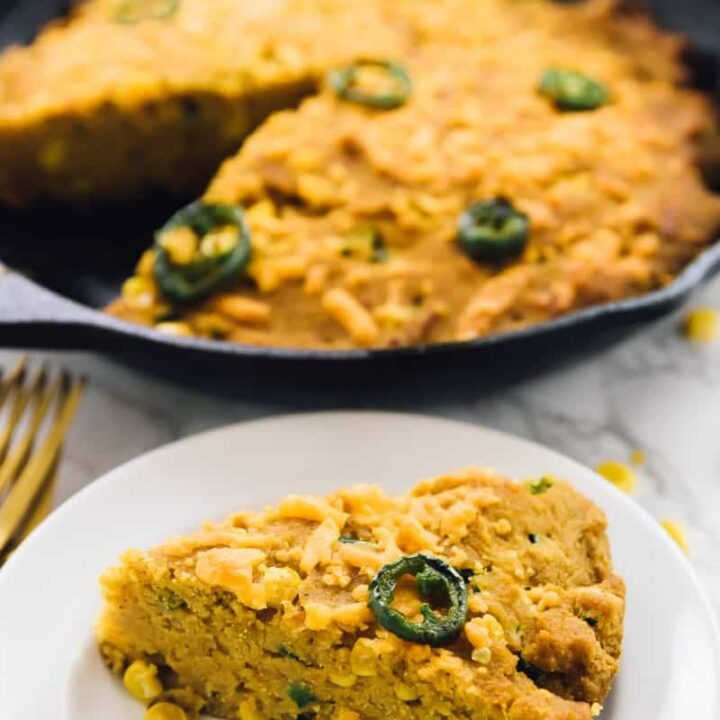 Easy Cheesy Cornbread Skillet (Vegan & Gluten Free)
This Easy Cheesy Cornbread Skillet (Vegan & Gluten Free) has the best cornbread crust ever! It's so fluffy, loaded with so much flavour and is so addictive!
Ingredients
1 1/4 cups fine grain cornmeal, 150g
1 cup All Purpose Gluten Free Flour Mix, 148g
½ teaspoon baking soda
1 1/2 teaspoons baking powder
¾ teaspoon sea salt
⅓ cup pumpkin puree
1 cup unsweetened almond milk
1 tablespoon apple cider vinegar or white vinegar
¼ cup unmelted melted vegan butter, 44g
3 tablespoons coconut sugar
3 tablespoons maple syrup, 69g
2 jalapeños, de-seeded and finely diced plus slices for the tops
½ cup cooked corn kernels
¾ cup vegan mozzarella shreds
2 tablespoons vegan butter
Instructions
Preheat oven to 375 degrees Fahrenheit.

Mix the almond milk and apple cider vinegar together. Let sit for at least 3 minutes to create a vegan buttermilk.

In a large bowl, mix all the dry ingredients together. Set aside.

In a smaller bowl, mix all the wet ingredients together EXCEPT the final 2 tablespoon of butter. Mix slowly to incorporate, then a bit quicker to mix together properly.

Pour the wet ingredients into the dry and mix until combined. Add in the diced jalapeños, corn, and cheese and mix gently.

In your cast iron skillet, add the 2 tablespoons of butter. Place the cast iron in your oven and leave it there until the butter is melted and the cast iron is hot, about 3-5 minutes. You want the cast iron to be hot so that the dough starts baking the second it hits the cast iron.

Remove the cast iron CAREFULLY with an oven mitt, it will be very hot. Spoon the batter into the cast iron and on top of the butter.

Add a few thin slices of jalapeño to the top of the cornbread and press down gently. Bake for 25 minutes, until the crust is golden brown and the butter is bubbling on the sides.

Allow to cool slightly, then cut with a dinner knife and serve. Enjoy!
Notes
Notes
Ensure to use a well seasoned cast iron for this recipe so that it doesn't stick. Alternatively, you want use a 9×9 or a 9×13 baking dish instead.

If you try this Easy Cheesy Cornbread Skillet please let me know in the comment section below, or tag me on instagram with the hashtag #jessicainthekitchen! For more exclusive recipes follow me on Instagram AND on Snapchat: jessinkitchen.
Calories: 300kcal, Carbohydrates: 44g, Protein: 5g, Fat: 12g, Saturated Fat: 3g, Sodium: 608mg, Potassium: 141mg, Fiber: 5g, Sugar: 9g, Vitamin A: 1760IU, Vitamin C: 5mg, Calcium: 111mg, Iron: 2mg
Disclaimer: Although jessicainthekitchen.com attempts to provide accurate nutritional information, kindly note that these are only estimates. Nutritional information may be affected based on the product type, the brand that was purchased, and in other unforeseeable ways. Jessicainthekitchen.com will not be held liable for any loss or damage resulting for your reliance on nutritional information. If you need to follow a specific caloric regimen, please consult your doctor first.