Pumpkin Energy Bites (No Bake, 10 Minutes)
These No Bake Pumpkin Energy Bites are made with only 8 ingredients, vegan and gluten-free and are a perfect quick healthy breakfast or snack! You can even make them without a food processor!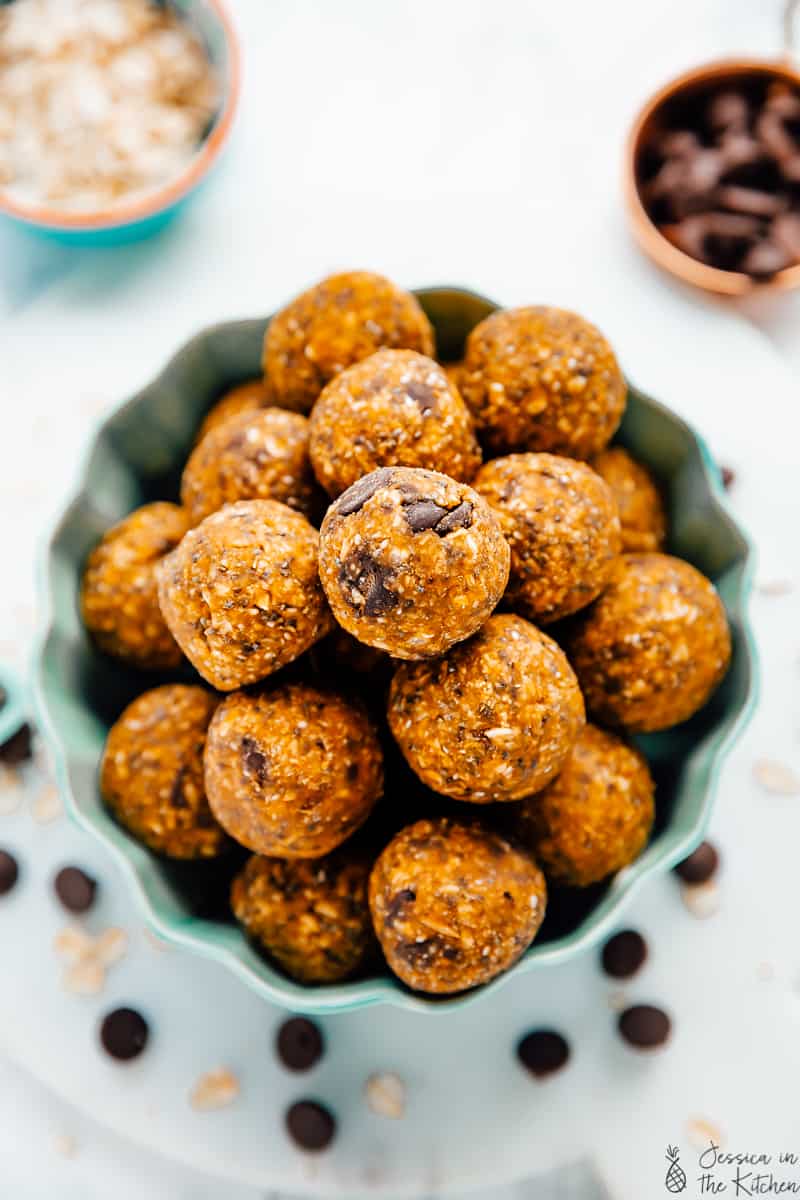 I can't believe it's already fall.
I feel like this entire year has just flown by, completely too quickly. It feels like just last week we were in Bali (blog post series on that coming soon). That being said, I'm also so happy it's
fall
! I am trying to decide whether I'll actually decorate the house for fall this year. It's like every year my love for the season grows more and more, and now I'm genuinely considering
buying a new plaid front door layer mat under our "hello" mat to match the season
. I'm pretty sure I've decided that I am if I'm writing about it in a blog post, right?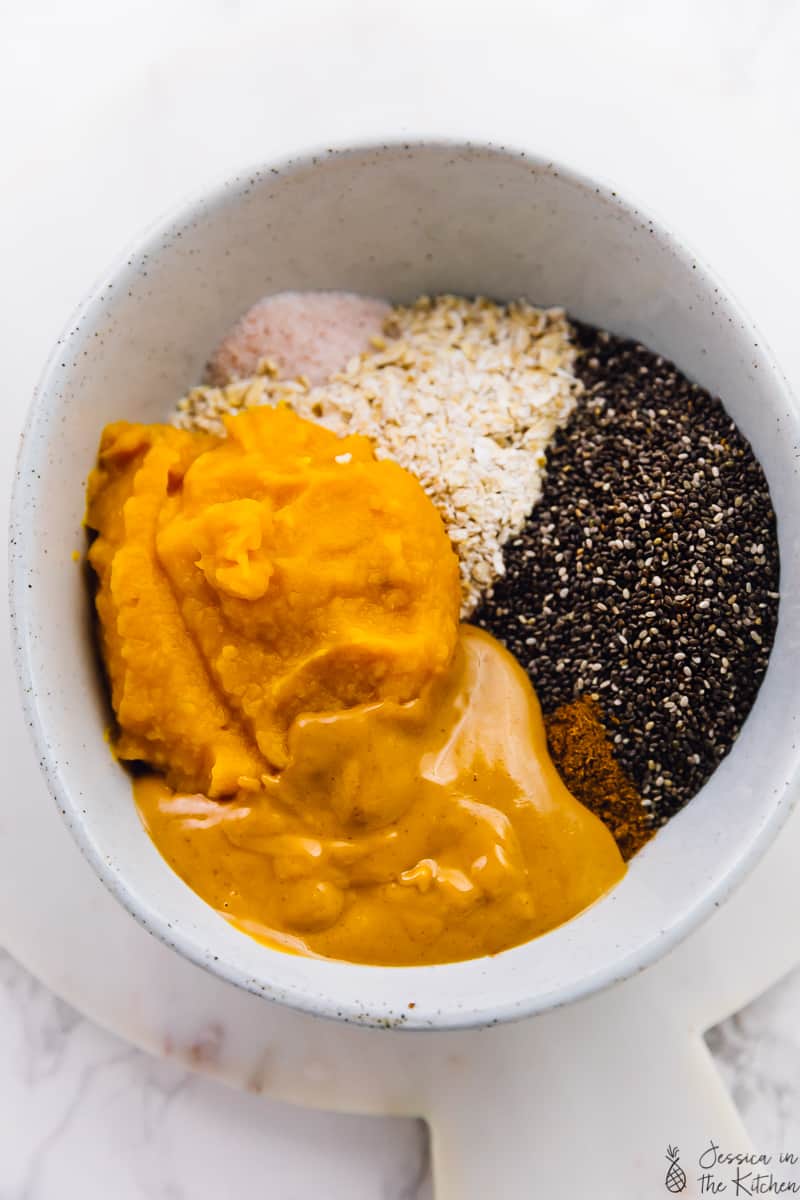 Every year I make more
pumpkin
dishes, start baking earlier, buy more cozy blankets and light more candles. This season already I've made a handful of pumpkin dishes and these Pumpkin Energy Bites are amongst my favourite ever. Let me tell you, I love
energy bites,
or energy balls, whichever one you may call them. I'm on a secret mission to make one in every flavour for every season (Christmas, I'm coming for you) and to make each one just as delicious or even more than the last!
These Pumpkin Energy Bites kept nagging at me, like seriously. I kept having the thought "you know what you should make? Pumpkin energy bites." Yes friends, this thought near haunted me over a dozen times until finally I decided to make it. I had two things on the agenda: it would need to be delicious, and it needed to be made without dates.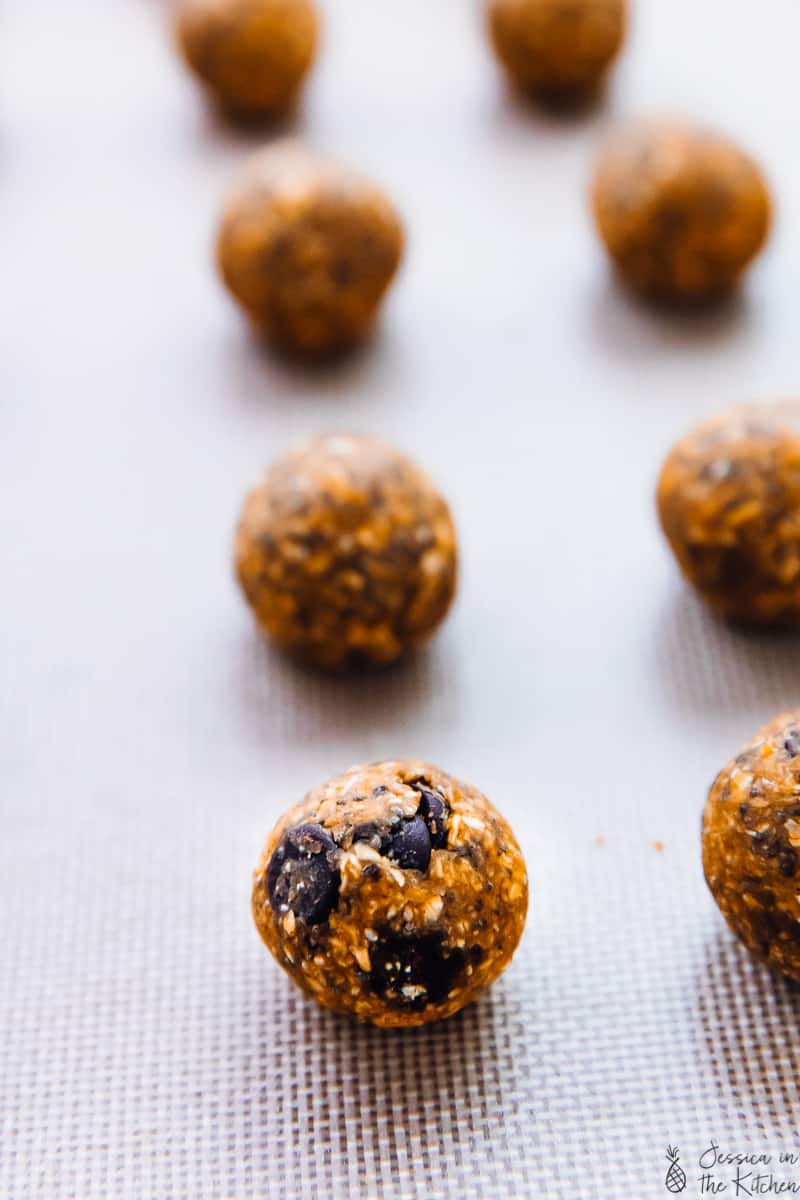 The first is obvious. Yummy fresh pumpkin puree, sweet maple syrup, creamy peanut butter and chocolate? Automatically delicious. The second, is pretty important. This whole summer I've gotten questions from readers about budget friendly recipes and it's led me to strive to make more budget friendly ones as a result. Dates are not budget friendly, especially outside of the US. Dates are also not something we all always have in our house. So I wanted to make an energy bite recipe that you could make with many ingredients already in your house. Energy bites with no dates! I always peruse old JITK recipes as a starting point, and landed back on my
pumpkin chocolate chip oatmeal breakfast cookies
.
What a lifesaver! I basically copied the entire recipe, minus the baking soda, and what do you know – they make PERFECT energy bites! They're very affordable, and if you want you can swap the chia seeds for the original flax seeds. I'm just a huge fan of chia seeds since they have a bit more fibre. All in all, these Pumpkin Energy Bites feel like they were meant to be created, with everything lining up so perfectly for them.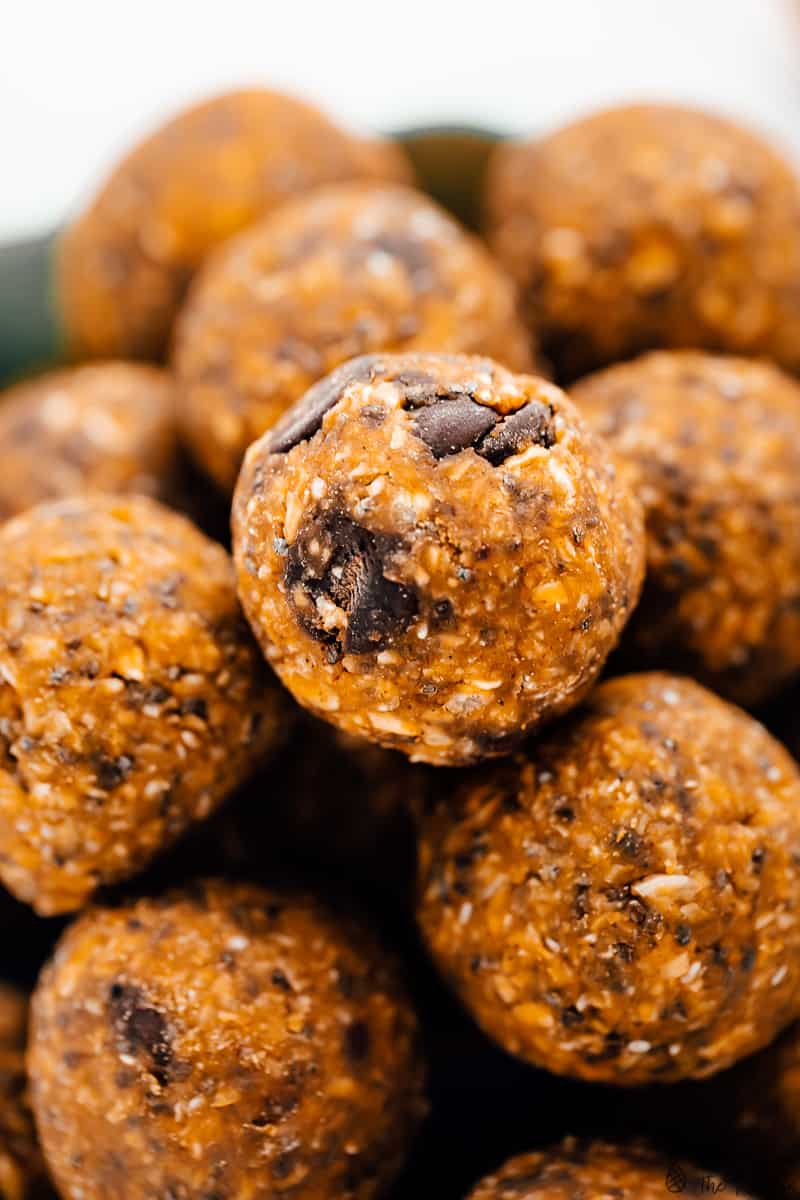 How to Make Pumpkin Energy Bites
Making these bites are incredibly easy – toss everything into your blender then you blend everything together. Energy bites have always been amongst my favourite recipes for this recipe – they're incredible versatile and easy and quick to make, making them almost a super meal!
In a nutshell, they are:
Absolutely delicious
Filled with fibre
Chewy
Filled with a divine pumpkin spice flavour
Protein packed
On top of that, they are great for a quick breakfast, snacks in lunch kits, and freeze really well. They actually last really well outside of the fridge too, and in a pinch make a yummy quick and healthy dessert.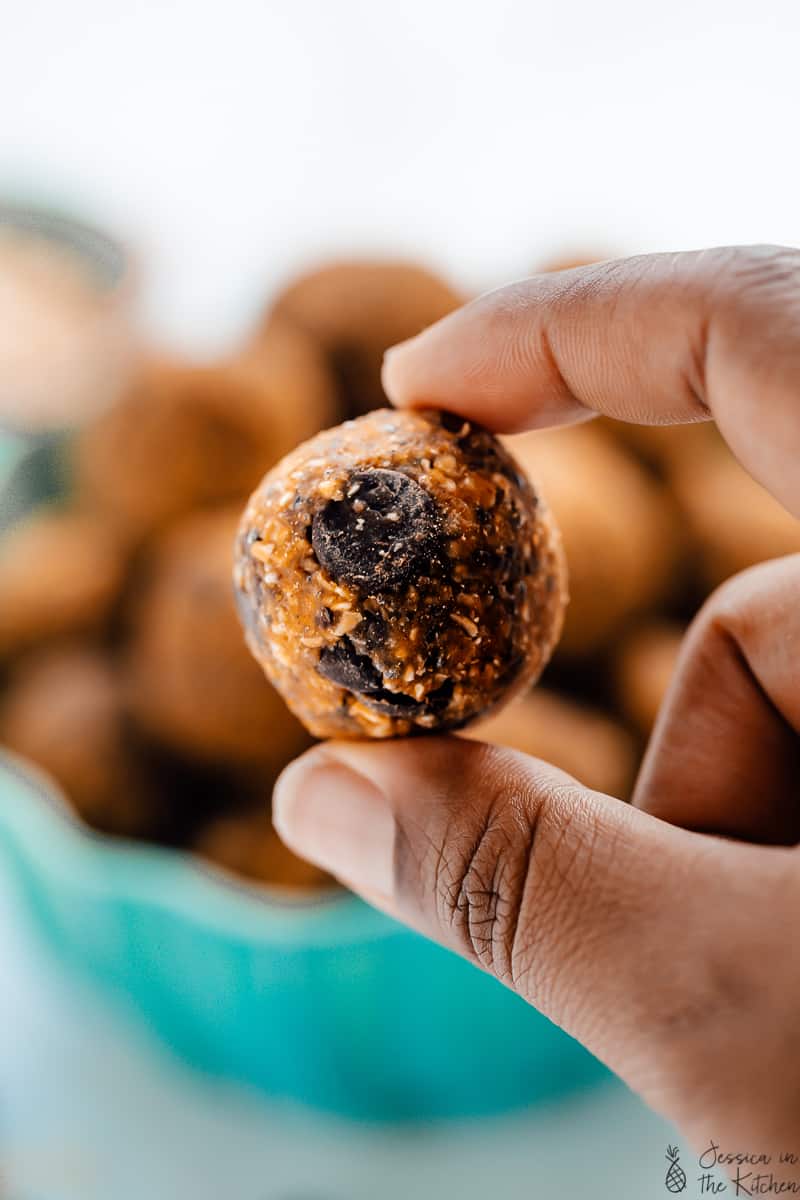 Energy Bites Variations
I'll no doubt get asked this question, so let's tackle these from now! Energy bites are so user friendly, so don't feel like you have to strictly follow the recipe.
Oats – I recommend using old fashioned oats or rolled oats, so you can swap them for each other. You could even sub in another "flour" made from an oat like texture.
Pumpkin Spice – I love the smell and flavour of pumpkin spice mix, but you can use cinnamon instead, or any mix of a warm fall spice.
Chia Seeds – You can swap the chia seeds for flax seeds, just like in my original pumpkin chocolate chip oatmeal breakfast cookies. You can even leave them out, they just add some amazing added nutrients such as Omega-3's and fibre.
Peanut Butter – You can swap the peanut butter for any other nut butter. Or nut butter alternative, such as sunflower seeds.
Maple Syrup – You can swap the maple syrup out for agave nectar. Or any other liquid sweetener with a similar viscosity, like date syrup.
Chocolate chips – you can swap the chocolate chips for anything – dried cranberries, pumpkin seeds, any kind of nut, and you can add in anything you want here too! You can also leave them out!
I guarantee you'll love these friends! Eat up and enjoy!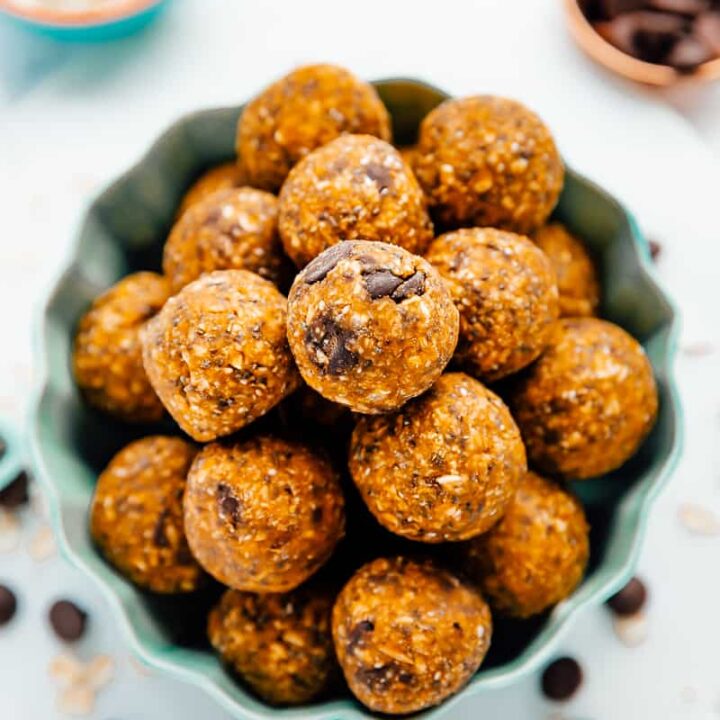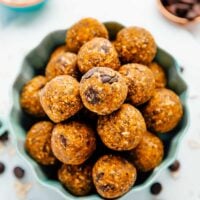 Pumpkin Energy Bites (No Bake, 10 Minutes)
These No Bake Pumpkin Energy Bites are made with only 8 ingredients, vegan and gluten-free and are a perfect quick healthy breakfast or snack! You can even make them without a food processor!
Ingredients
2 1/4 cups old fashioned or rolled quick oats
1/2 teaspoon fine sea salt
1 teaspoon pumpkin spice
1/4 cup chia seeds
1/2 cup pumpkin puree
1/4 cup organic peanut butter
1/4 cup maple syrup
1/3 cup vegan chocolate chips
Instructions
Grind the oats for about 1 minute in a food processor, until they're almost ground down.

Add in all the other ingredients minus the chocolate chips and mix until incorporated and the mixture begins to turn into a dough. It should be slightly sticky and very thick.

Add in the chocolate chips and pulse about 15 times until the chips are smaller and incorporated throughout the energy bites.

Roll the mixture into round balls using a tablespoon measurer until the entire mixture is rolled out, into about 20-22 bites.

Place in the fridge for at least an hour to set, then enjoy!
Notes
Notes
This recipe is gluten free and vegan.
Don't have a food processor?
That's fine! Grind the oats with your hands until they are finer. You don't need them super fine or flour like at all for this time. Then mix all the ingredients together with your hands or a spatula until very combined. Repeat with the rest of the steps.
How to Store
You can store these brownie bites in the fridge in a zipped bag or air tight tupperware container for at least 2 weeks.
How to Freeze
These bites are great for breakfast, snacks in lunch kits and freeze very well. Just place them in a freezer safe ziplock bag until ready to use. Thaw on the counter for 30 minutes or in the fridge until ready to use.
Calories: 92kcal, Carbohydrates: 13g, Protein: 3g, Fat: 4g, Saturated Fat: 1g, Sodium: 75mg, Potassium: 84mg, Fiber: 2g, Sugar: 4g, Vitamin A: 953IU, Vitamin C: 1mg, Calcium: 30mg, Iron: 1mg
Disclaimer: Although jessicainthekitchen.com attempts to provide accurate nutritional information, kindly note that these are only estimates. Nutritional information may be affected based on the product type, the brand that was purchased, and in other unforeseeable ways. Jessicainthekitchen.com will not be held liable for any loss or damage resulting for your reliance on nutritional information. If you need to follow a specific caloric regimen, please consult your doctor first.