Roasted Sweet Potato Soup (Easy Sheet Pan Soup!)
Roasted Sweet Potato Soup tastes absolutely creamy, is loaded with flavour and is made in your oven! The ingredients are roasted then put right into your blender, so NO time is spent hovering over the stove. It's one of easiest soups you'll ever make. It's also vegan, gluten free and loaded with delicious healthy ingredients.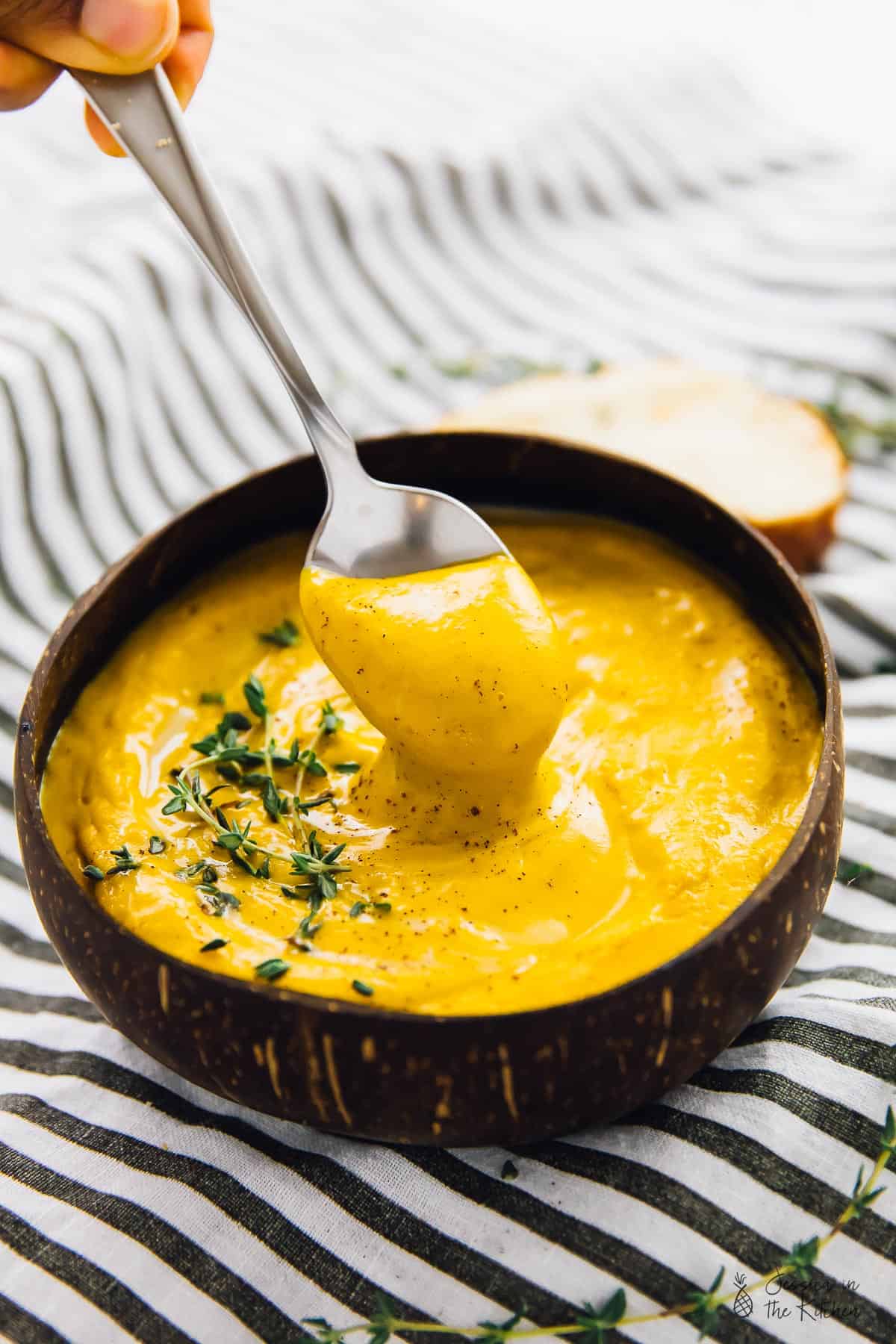 Soup on a SHEET PAN. If you've been here for a while then you know that I first tried this crazy easy recipe for my
Roasted Carrot Soup
. MAN – that recipe video has amassed almost a million views and it tastes absolutely amazing. Needless to say, it became a real hit with you guys and I wanted to experiment with it again. After all, my combined love for soup and easy weeknight meals basically demanded that I try that method again.
Spoiler alert: it works perfectly here. It's almost criminal how easy this soup is to prep. This Roasted Sweet Potato Soup is kinda sweet, really creamy, super smooth and loaded with so much flavour. The
roasting
of the vegetables brings out all of their beautiful flavours and aromas. It's beautifully spiced thanks to the cinnamon and the nutmeg, and has a subtle spiciness thanks to the black pepper added before roasting. Once blended, it becomes silky smooth and all the flavours meld together. This is one soup you're going to want to make again and again.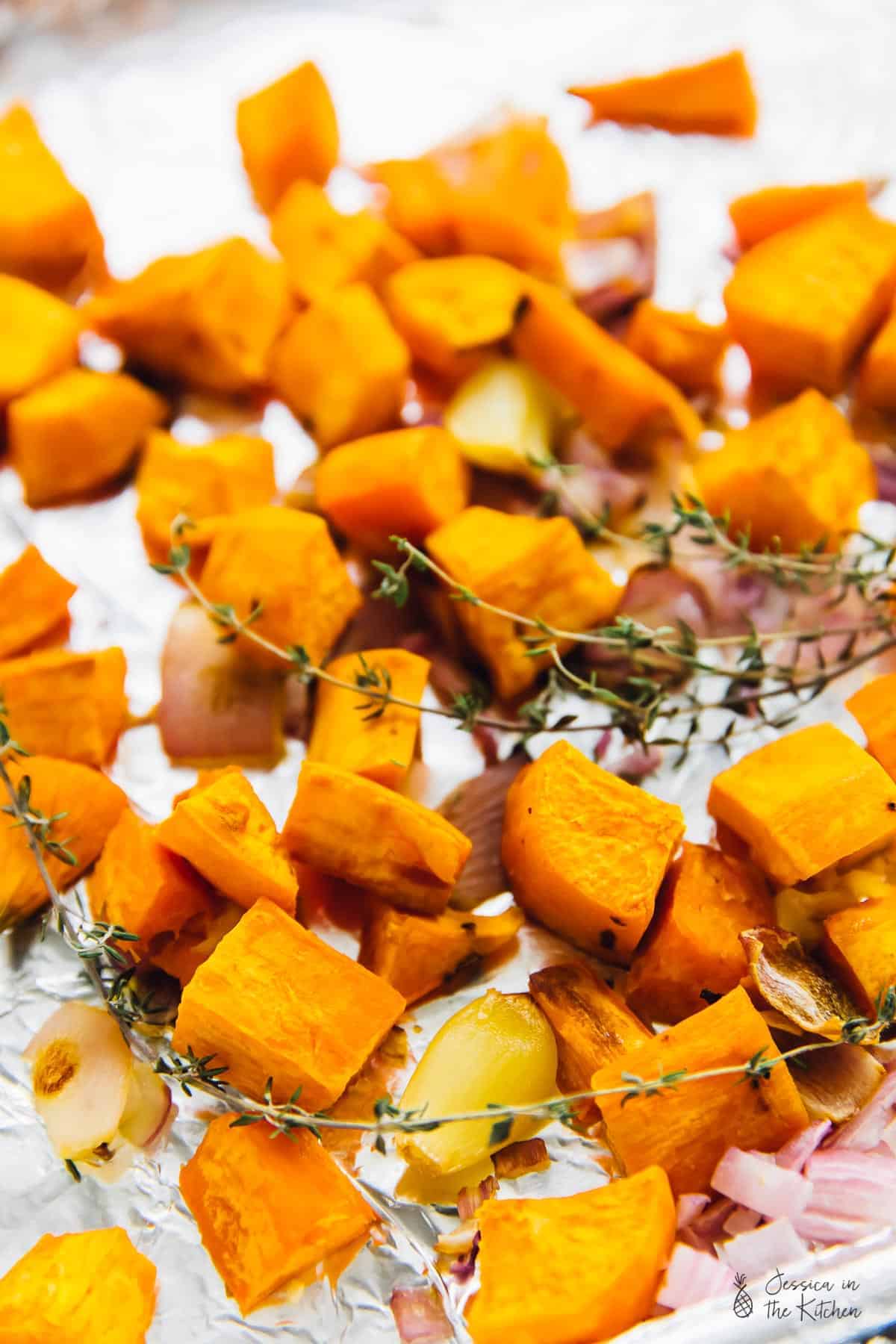 In case you're still curious as how easy it is: Let me break down the method for you. I promise after you read it – you're going to want to meal prep this pronto.
Add the sweet potato cubes to a lined baking sheet. Add in the onions and garlic and mix it all up with coconut oil. Sprinkle over a little bit of salt and pepper (or sans that – up to you). Roast – then add it to a blender with some spices, coconut milk and hot broth and bam – Roasted Sweet Potato Soup. Easy, right?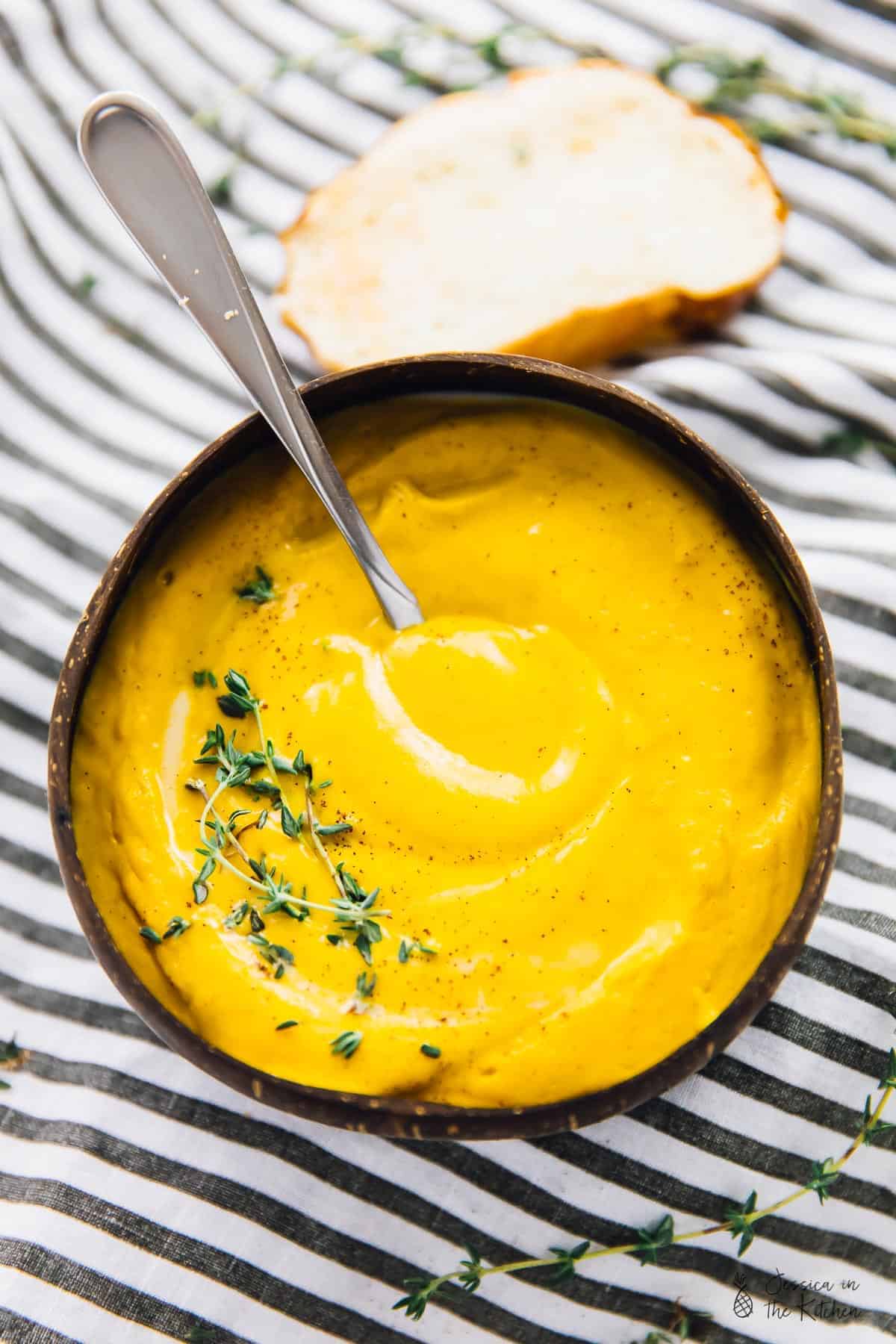 Let's talk nutrition quickly before you go run for the sweet potatoes. You'll get loads of fibre and a great source of Vitamin C and beta carotene thanks to the sweet potations. You'll also get anti-inflammatory properties thanks to the garlic and the coconut oil. The coconut milk is also loaded with fibre, your B vitamins and adds the perfect creamy touch to this soup, leaving you feeling comforted, satisfied and yet light. It's good to know that on top of the flavour, you're doing your body good. Not to mention, you'll feel so warm, comforted and satisfied while eating this this beauty. This soup is even so pretty I would definitely serve it as an appetiser at Thanksgiving.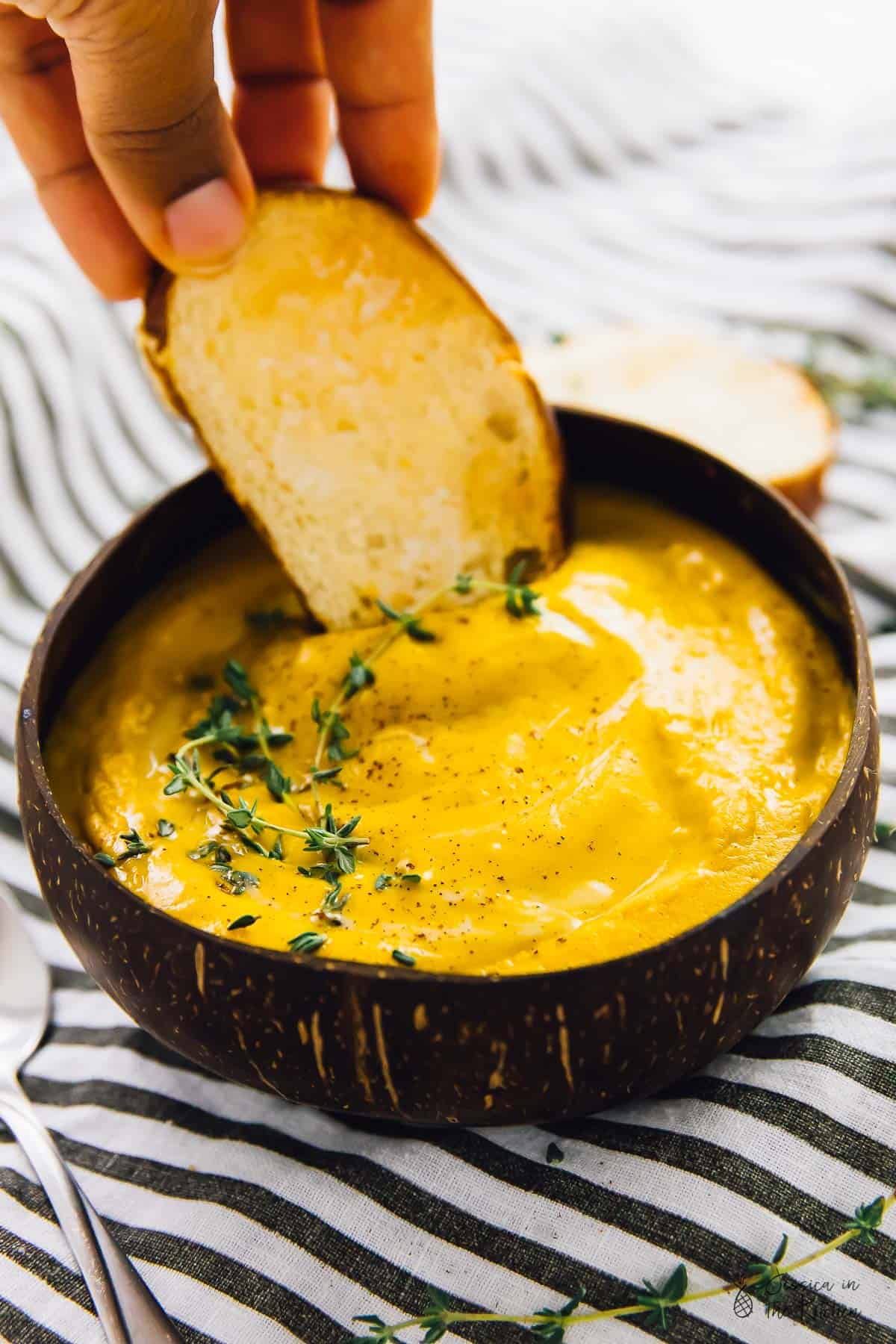 I've already made this twice in one week because of the small list of ingredients and the ease to make it. It's also easily doubled if you're prepping for a large group or want to store some for lots of meal prep. Speaking of which – this freezes like a beaut. Okay okay, I've said enough. It's time to get cooking. Welcome to your new favourite soup. Enjoy, friends!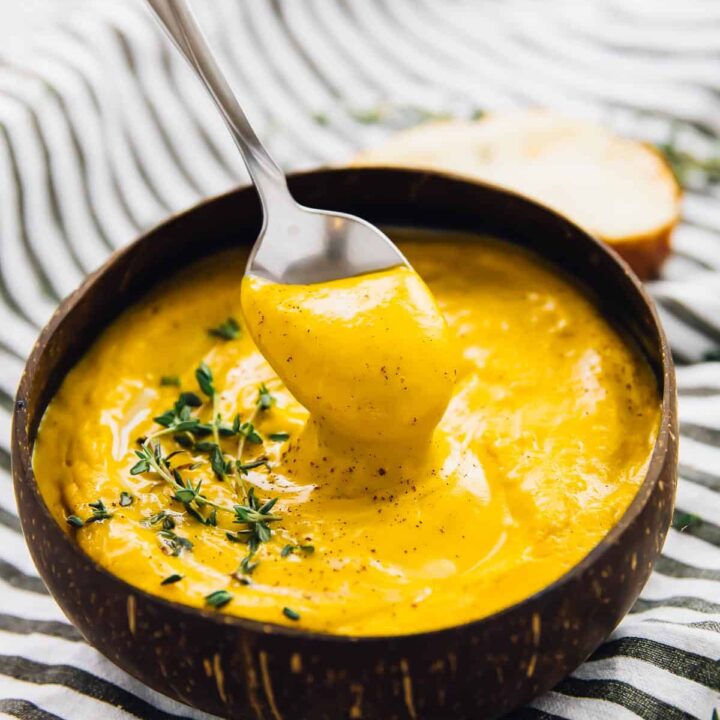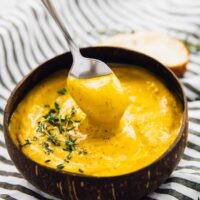 Roasted Sweet Potato Soup (Easy Sheet Pan Soup!)
Roasted Sweet Potato Soup tastes absolutely creamy, is loaded with flavour and is made in your oven! 
Ingredients
1 ½ tablespoons coconut or olive oil
1.5 pounds 680g sweet potato, peeled and cubed
½ medium red onion, chopped into large pieces
3 large garlic cloves, skins smashed but left on
2 sprigs thyme
¼ teaspoon sea salt
3 cups very hot vegetable broth*
1 1/2 cups 400g coconut milk (or 1 can)
½ teaspoon cinnamon
¼ teaspoon nutmeg
Instructions
Preheat oven to 425 degrees F/218 degrees C.

On a large sheet pan prepared with a silicone mat, parchment or greased foil, add the cubed sweet potatoes and the onions. Drizzle the oil over the vegetables. Season with a grinding of fresh sea salt and ground black pepper. Rub the seasonings and oil into the vegetables and spread out. Add the garlic and thyme sprigs alongside the vegetables at this point.

Roast for 25 to 30 minutes, turning halfway, until veggies are roasted and sweet potatoes are cooked through.

Remove from oven and remove the skins from the garlic.

In a large blender, add all the remaining ingredients with the vegetables (if your thyme isn't dried out, you can pick the leaves off the stems and add that in too). Ensure that the broth is very hot. If you're not using large blender (holds at least 6 cups) then do this in increments.

Using the soup setting on your blender, or a very powerful blend option, blend until creamy and smooth. My blender automatically blends for about 3 minutes continuously.

Taste and add salt and pepper to taste if necessary.

Top with garnish (I used some thyme leaves that I removed from their stems and some extra cinnamon).

Serve into bowls and enjoy!
Notes
Notes The broth needs to be very hot so that if helps to break down the vegetables, and so that you can serve the soup right out of the blender. You can do this by heating it in the microwave or even on a stovetop if you'd like. I had just made very fresh boiling hot broth and used that.
Calories: 379kcal, Carbohydrates: 41g, Protein: 5g, Fat: 23g, Saturated Fat: 17g, Sodium: 956mg, Potassium: 789mg, Fiber: 6g, Sugar: 9g, Vitamin A: 24531IU, Vitamin C: 7mg, Calcium: 74mg, Iron: 4mg
Disclaimer: Although jessicainthekitchen.com attempts to provide accurate nutritional information, kindly note that these are only estimates. Nutritional information may be affected based on the product type, the brand that was purchased, and in other unforeseeable ways. Jessicainthekitchen.com will not be held liable for any loss or damage resulting for your reliance on nutritional information. If you need to follow a specific caloric regimen, please consult your doctor first.