What's in Season: June Produce Guide
Here's your June Produce Guide: a list of what you should cook this June based on what produce is in season for fresh, delicious and healthy recipes!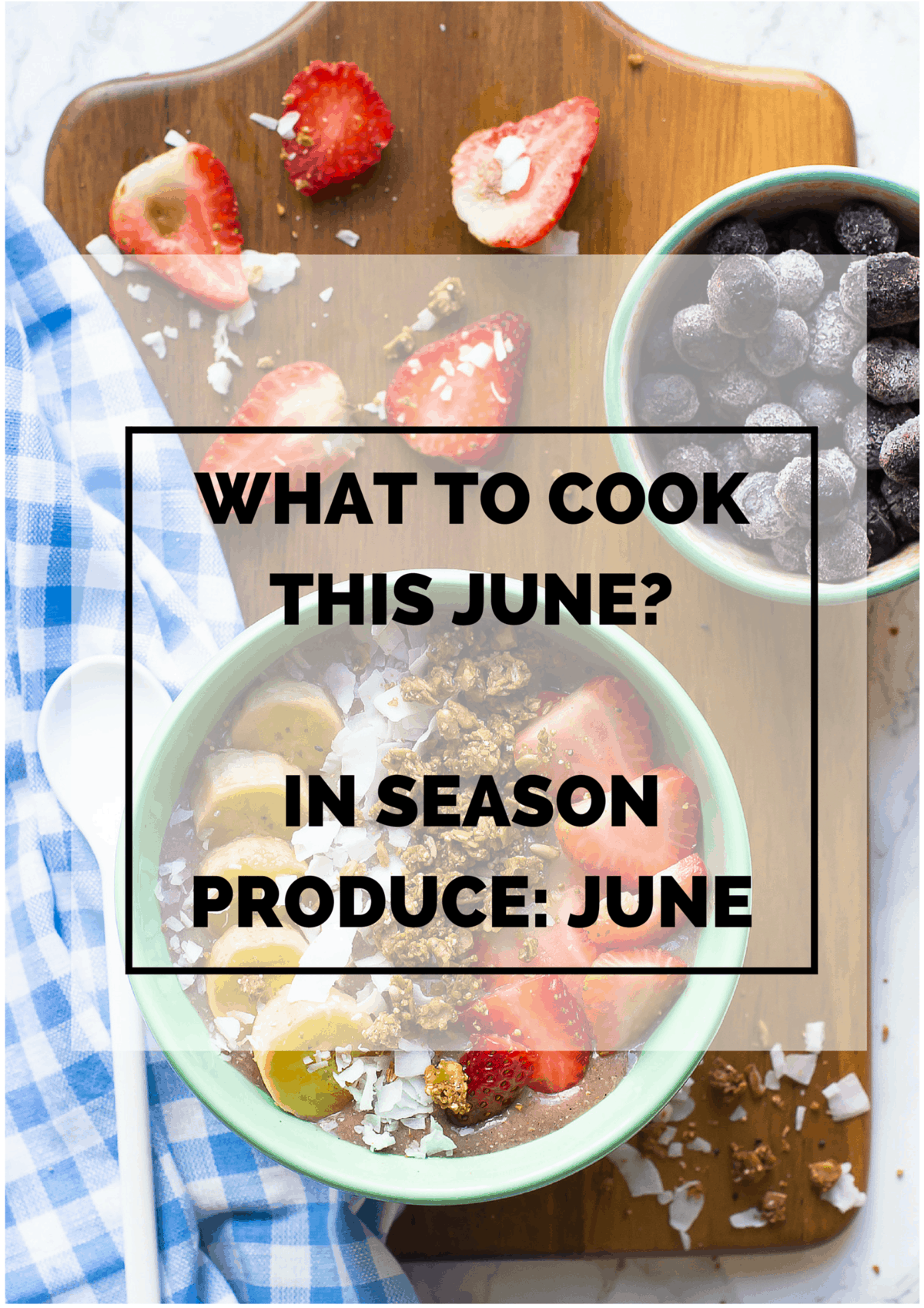 Happy June friends! Summer produce is my absolute favourite so I couldn't want to share this in season produce guide for June!
Curious as to what produce is in season in June?
CLICK TO GO:
Avocados

Pictured: Nourish Buddha Bowl with Harissa Tahini Dressing
I've been on a serious avocado trip. I'm completely obsessed. They are the perfect replacement in baking recipes and add such a great creaminess to bowl foods! Avocado toast is my favourite way to enjoy them.
Beets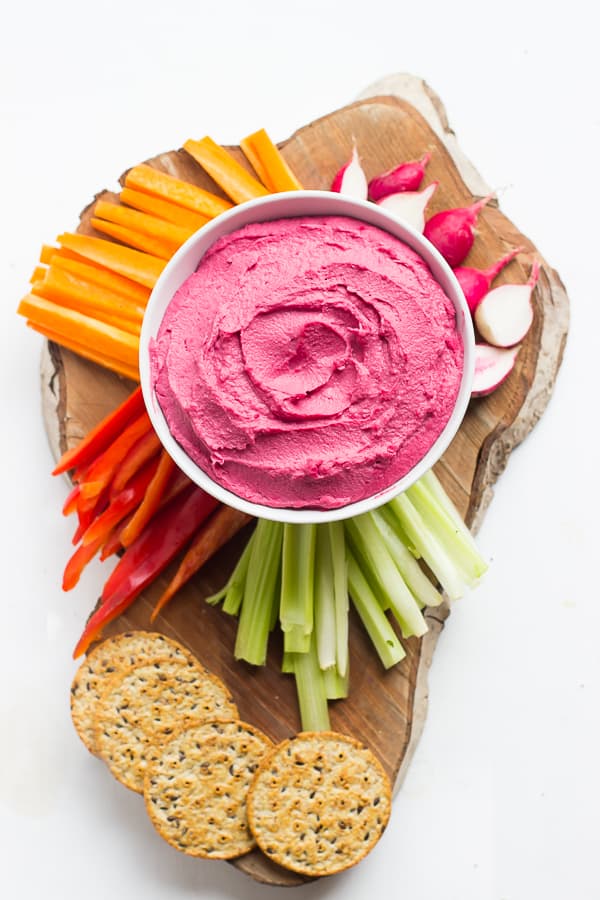 Pictured: Roasted Beet Hummus
I'm pretty sure I have an obsession with beets, since it's one of my most used ingredients on this entire blog. I made a joke about owning a beet farm, but I'm pretty sure I need to look into that. Their versatility from crunchy to smooth, velvet-y and sweet once roasted make them such a great root vegetable. That colour is also divine!
Cabbage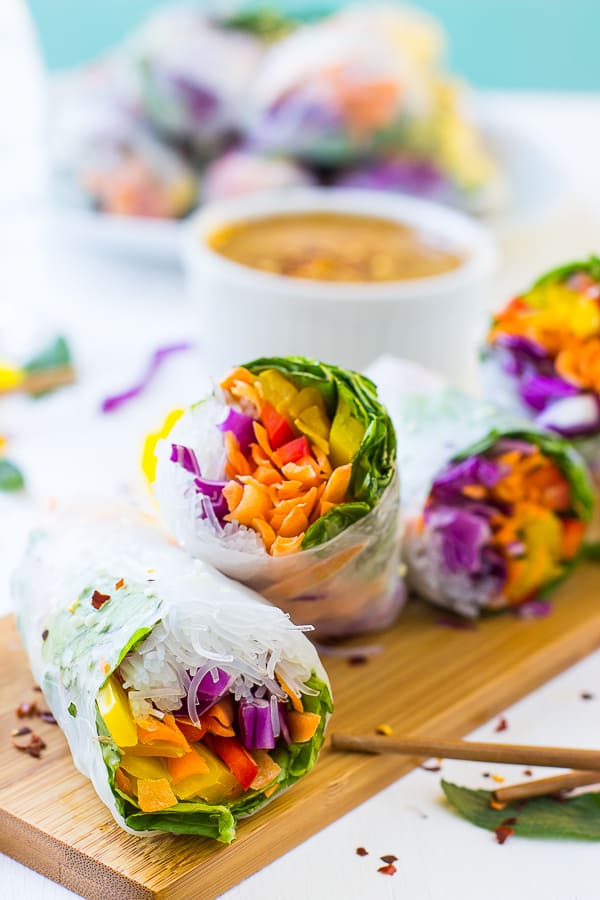 Pictured: Fresh Spring Rolls with Peanut Ginger Sauce
I love how bright and beautiful cabbage is. I've used it raw for a crunch factor, and I've also sautéed it down in coconut milk.
Corn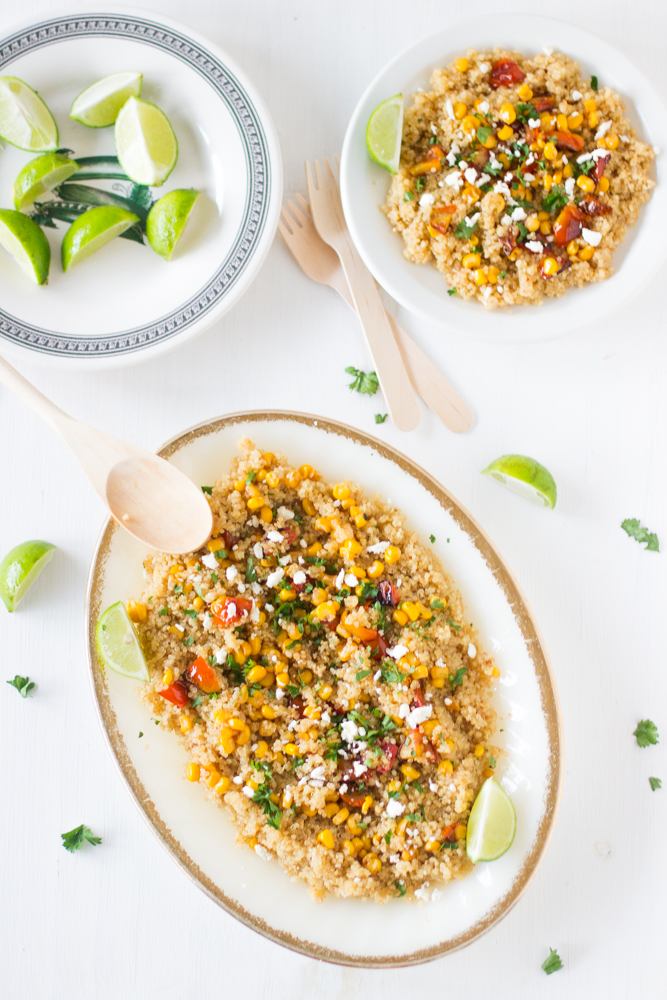 Pictured: Quinoa and Corn Salad with Honey-Lime Dressing
I'm preparing for a few corn recipes for this summer season because they are just so delicious when grilled!
Citrus (Oranges, Lemons, Limes and more)
Pictured: Tropical Green Smoothie
I'm a big citrus fan. We constantly stock up on limes, lemons and oranges because they work well with everything. I've included recipes where they are the main feature ingredient in the dish or the sauce/dressing.
Greens (Herbs, Spinach, Kale, and more)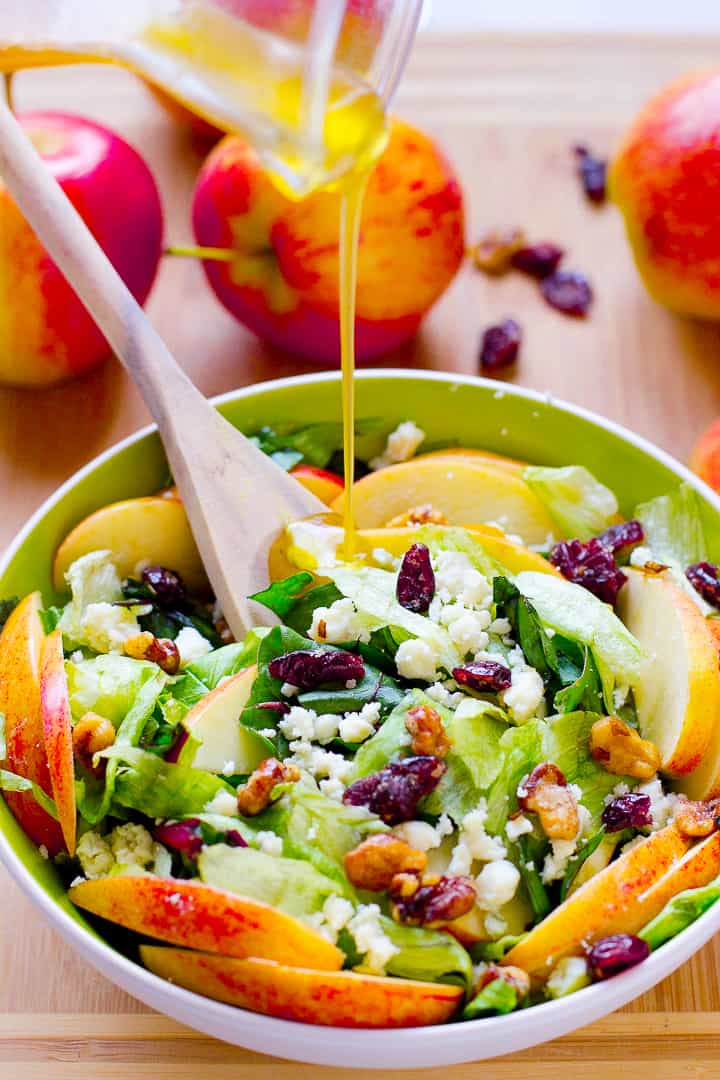 Pictured: Apple Candied Walnuts and Blue Cheese Salad with Honey Apple Dressing
Greens start to show up everywhere this time of the year. I try to keep a bag of fresh greens in my fridge at all times for spur of the moment salads, pestos, and anything else. I always use fresh herbs and you will absolutely taste the difference from dried herbs. I'm thinking of growing my own herb garden next. My new favourite herb is definitely rosemary! I've been using it in EVERYTHING.
Mango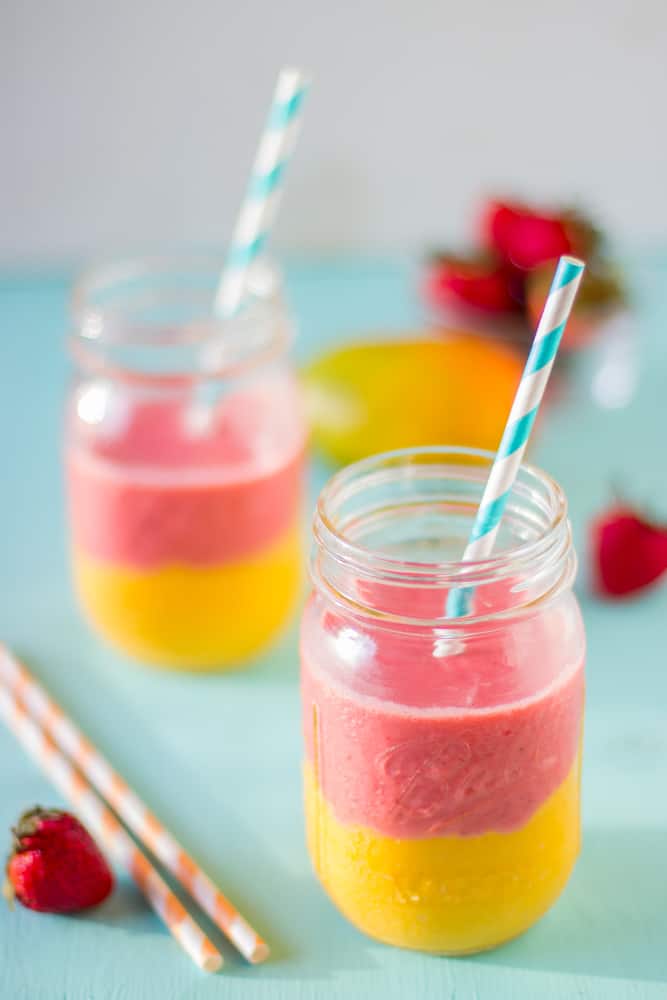 Pictured: Strawberry Mango Smoothie
I love Mangoes! This deliciously sweet fruit goes well with basically everything and this pairing above is the perfect example of a May ready smoothie. You can't go wrong with mangoes.
Peas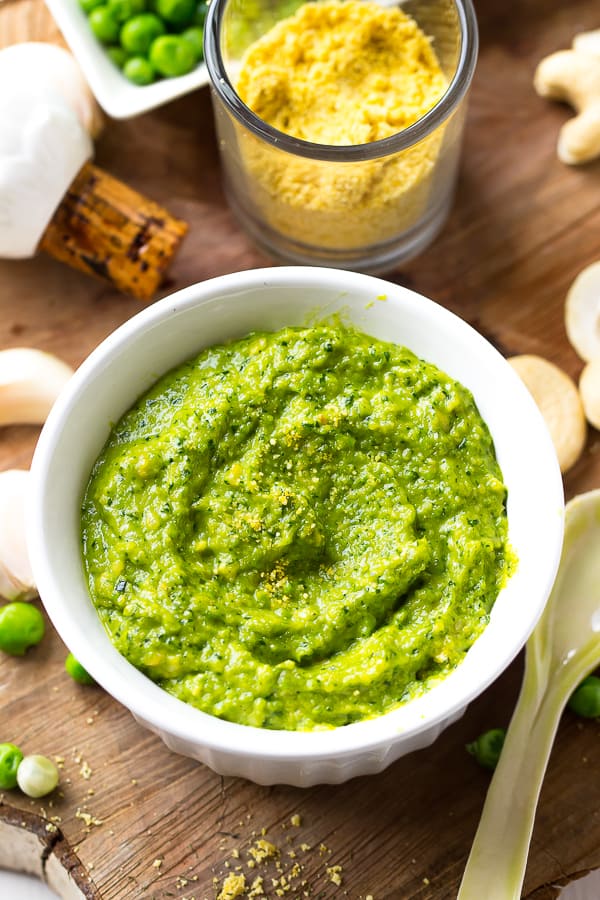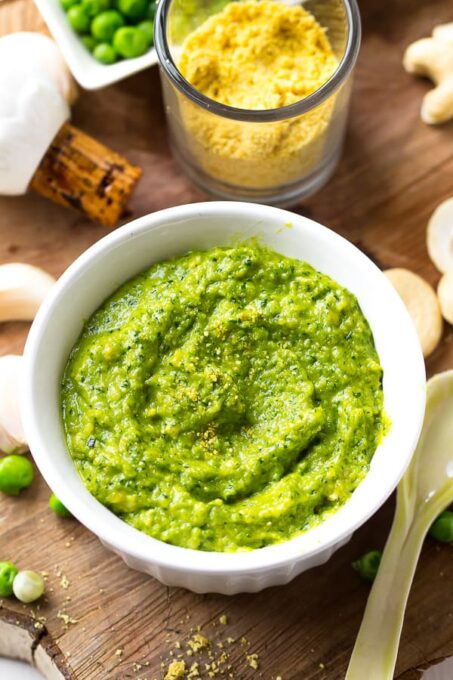 Pictured: Creamy Cashew Pea Pesto
It's pea season! Put these in everything. They are tiny bursts of spring that go with everything – this pesto is proof. It goes great on appetisers, pasta, in veggie bowls…anything!
Pineapple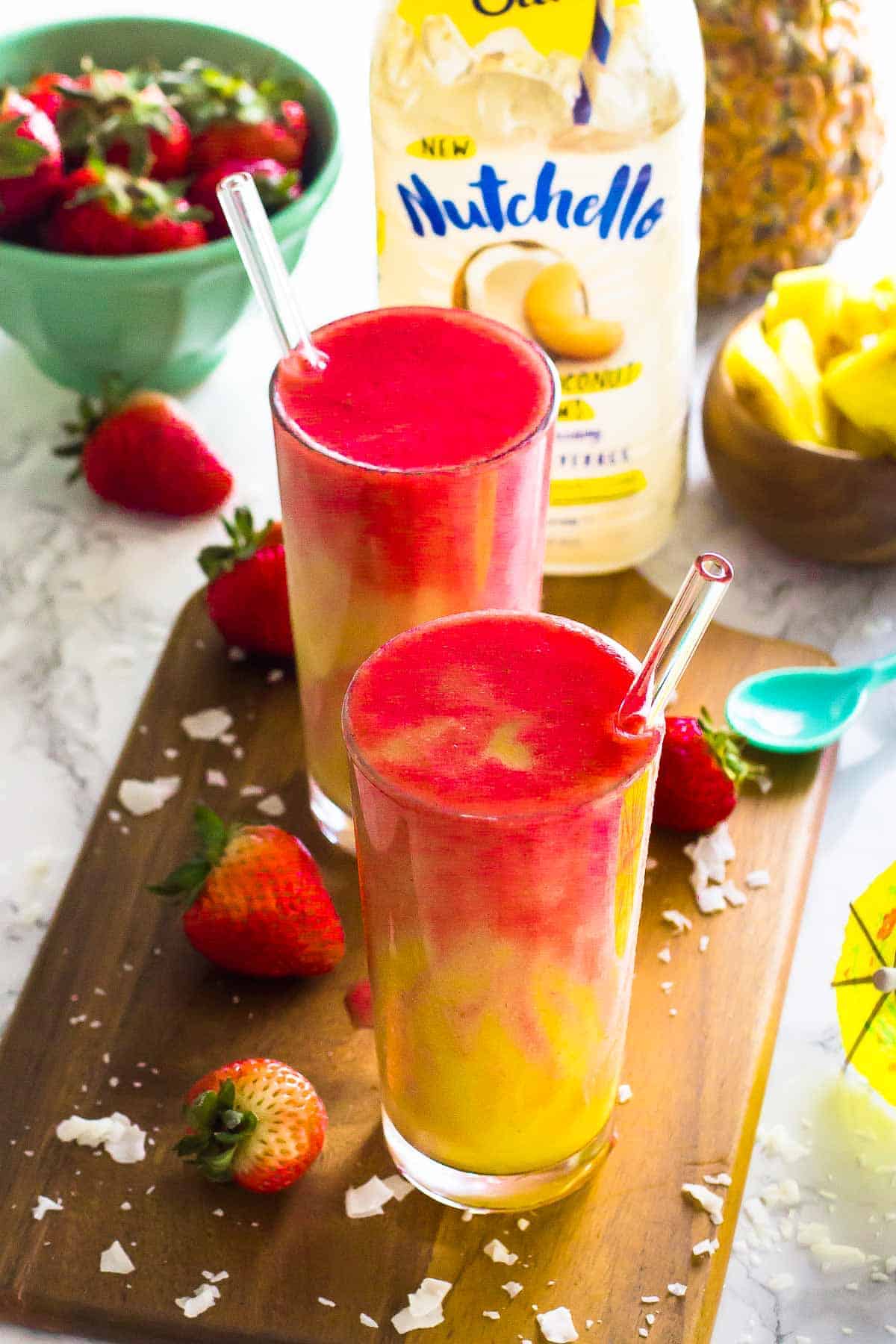 Pictured: Strawberry Pineapple Coconut Smoothie
Pineapples are one of the best summer fruits – bright, sweet and/or sour and great for hot days!
Radishes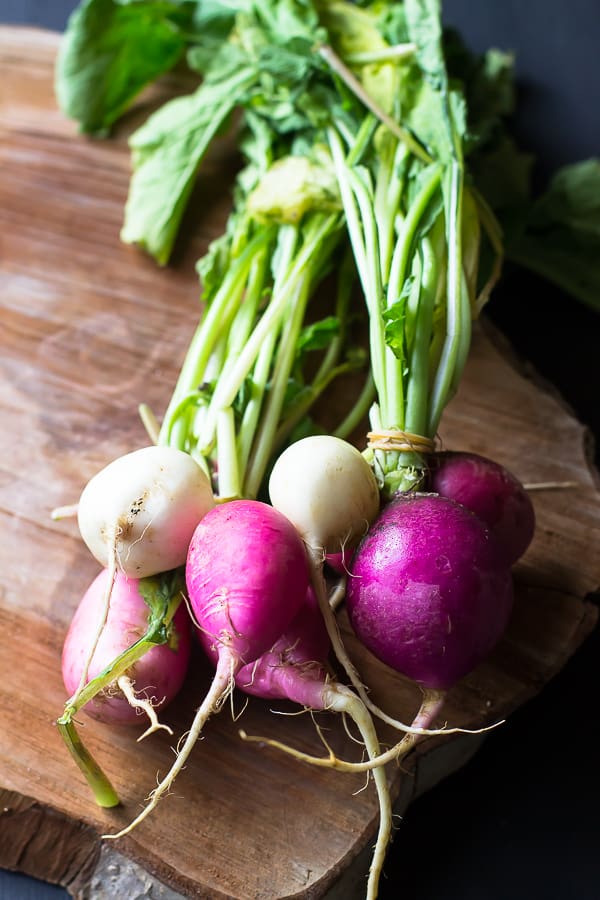 Pictured: Quick Pickled Radishes
HOW am I just getting into Radishes? Not only are they so undeniably pretty, their crunch and spice factor reminds me a lot of kohlrabi which I fell in love with two years ago. Be sure to try out all different varieties of radishes including easter egg radishes (pictured above), daikon radishes and any other kinds that you can find!
Strawberries

Pictured: Strawberry Salsa
I usually put this guide in order, but it's National Strawberry Month! It's the month to go wild with your strawberries. I adore them in this salsa, roasted, pureed, or eaten by themselves. Strawberries are my absolute favourite fruit.
Watermelon

Pictured: Watermelon Mojitos
There is no denying that watermelon is probably the official summer fruit. It is incredibly refreshing when used in any recipe and tastes so deliciously sweet!
Zucchini

Pictured: Pesto Zucchini Noodles with Burst Cherry Tomatoes
Zucchinis are finally coming into season! They are such a delicious veg and one I plan to incorporate this spring!
If you try any of these recipes, please let me know in the comment section below, or tag me on instagram with the hashtag #jessicainthekitchen. What do you plan to make this month?
P.S. I've completely redone my Pinterest boards to be ingredient specific so you can find more great seasonal May produce. Head over to check it out!