Beet Hummus (Creamy + 5 Minutes of Magic)
This Creamy 5 Minute Beet Hummus includes roasted beets which makes a creamy and velvet smooth and absolutely delicious unique hummus. It's great as a snack or dip, and is vegan and gluten free!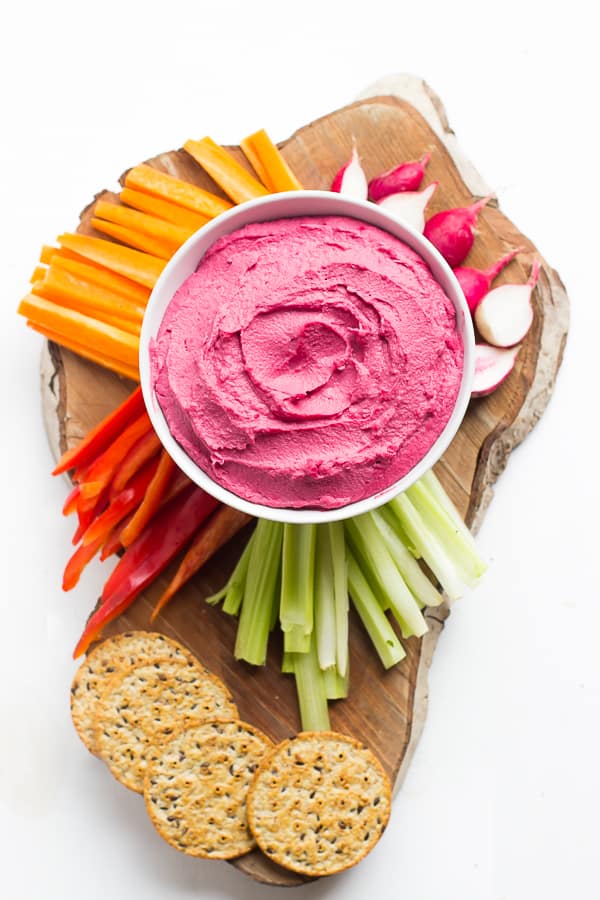 I don't know about you, but I never need an excuse to eat hummus. When I first became a vegetarian, I most definitely ate my weight in hummus. It's one of those magical bean spreads that taste great on anything, be it a salad, a sandwich, with chips or veggies or even by itself. Now, add the magic of roasted beets to that? Let me tell you, a star is born.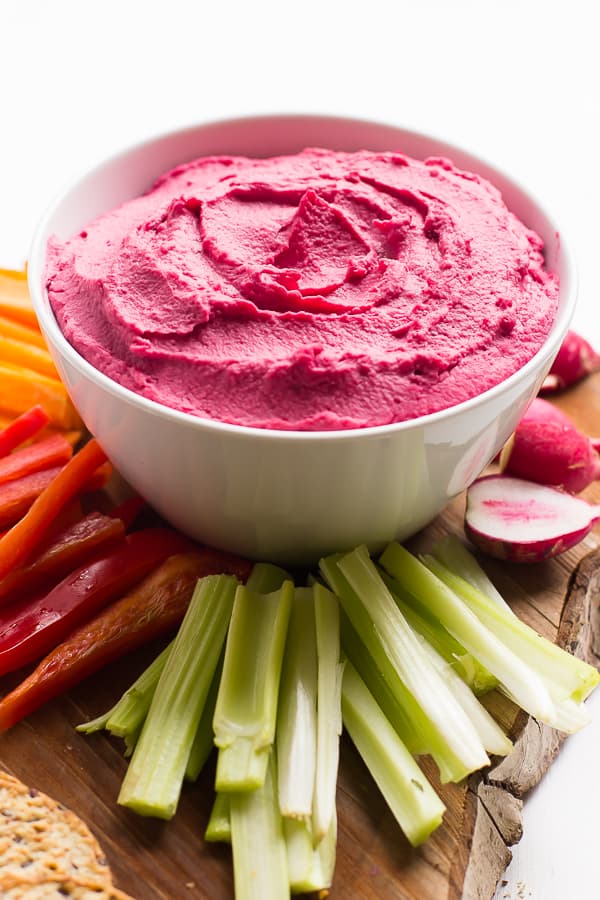 I'm quite aware that my beet addiction is quite similar to my quinoa addiction, but with absolutely good reason of course – I can't get enough of them. I thought of making beet hummus when I realised I hadn't had hummus in a few months (shocker!!) and I had tons of roasted beets in my fridge. I've experimented with adding all sorts of ingredients to hummus, be it roasted bell peppers, copious amounts of roasted garlic and anything else I could have my hands on. A quick google search let me know that I, brainiac of the beets, was unfortunately not the creator of this great hummus phenomenon, but it did at least reassure me that I wasn't entirely insane for trying this mixture out.
It's safe to say, about 1 ½ cups of beet hummus later in three days, that this was pretty good, no, ridiculously amazing.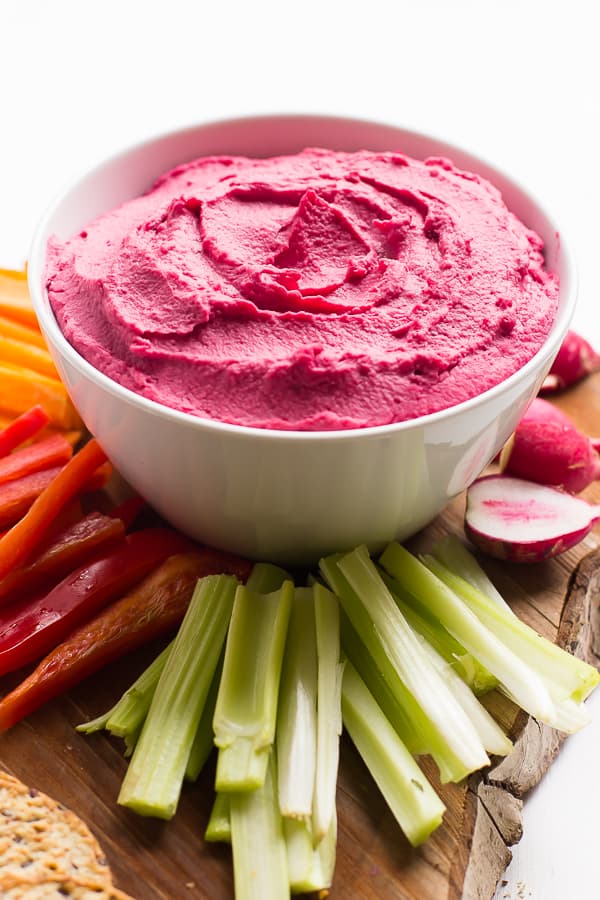 Beet hummus is a rich, creamy, velvet smooth hummus dip. The beets add a subtle mellow-ness to the flavour, and a shockingly bright colour that would make this dip the instant star at any party – first from curiosity of the colour, then from realisation of that this is some sort of fairytale-like magical creation that you need to keep eating. It is so smooth it's almost like it's whipped hummus butter! You end up with a light dip that you'll be coming back to over and over and wanting to smother on anything that you can get your hands on. Want to be a fan of the veggie you actually don't like (celery for me)? Dip it in this hummus. Name it your new favourite veggie because of this hummus.
I may change my name to garlic and beets in the kitchen. After this dip, it would be worth the strange looks. No regrets.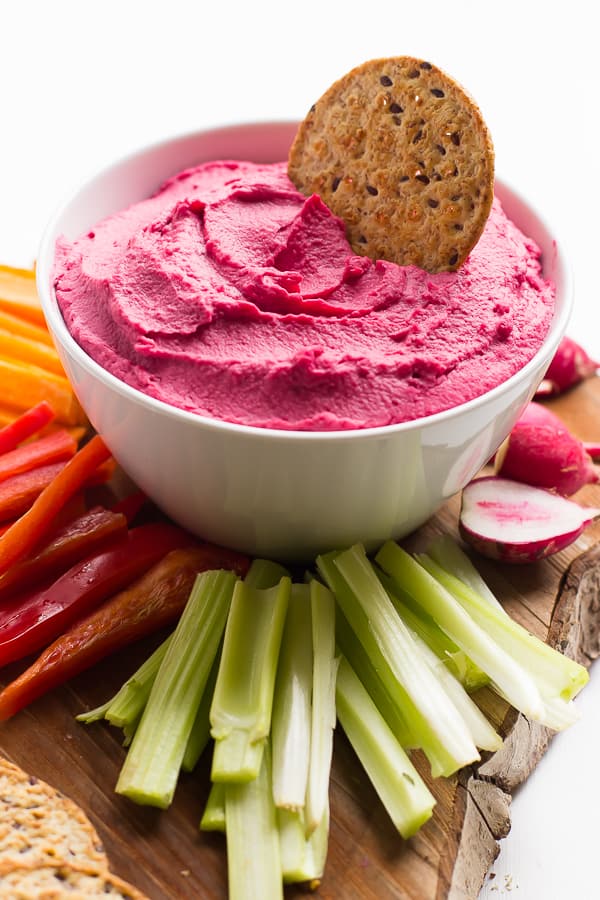 RELATED RECIPES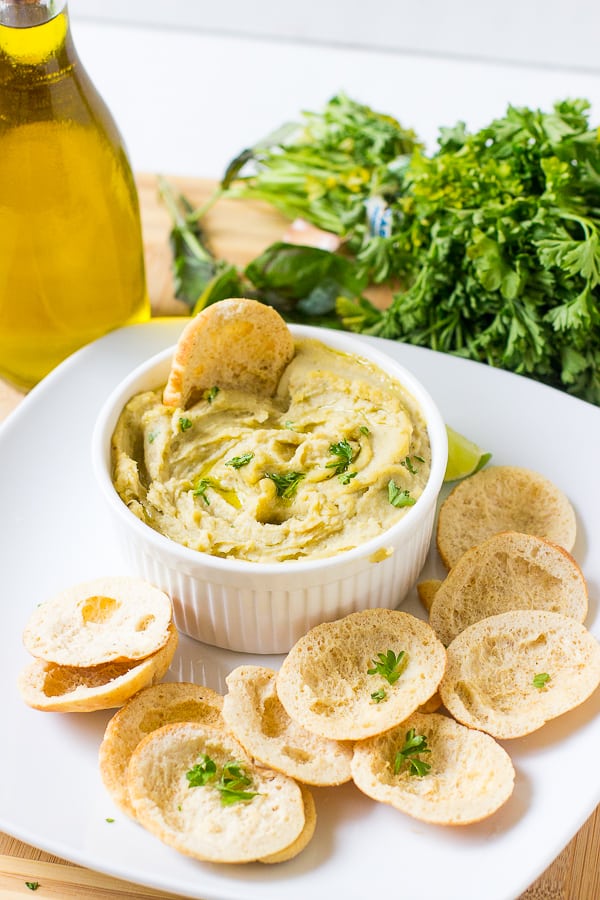 Herbed Roasted Garlic White Bean Dip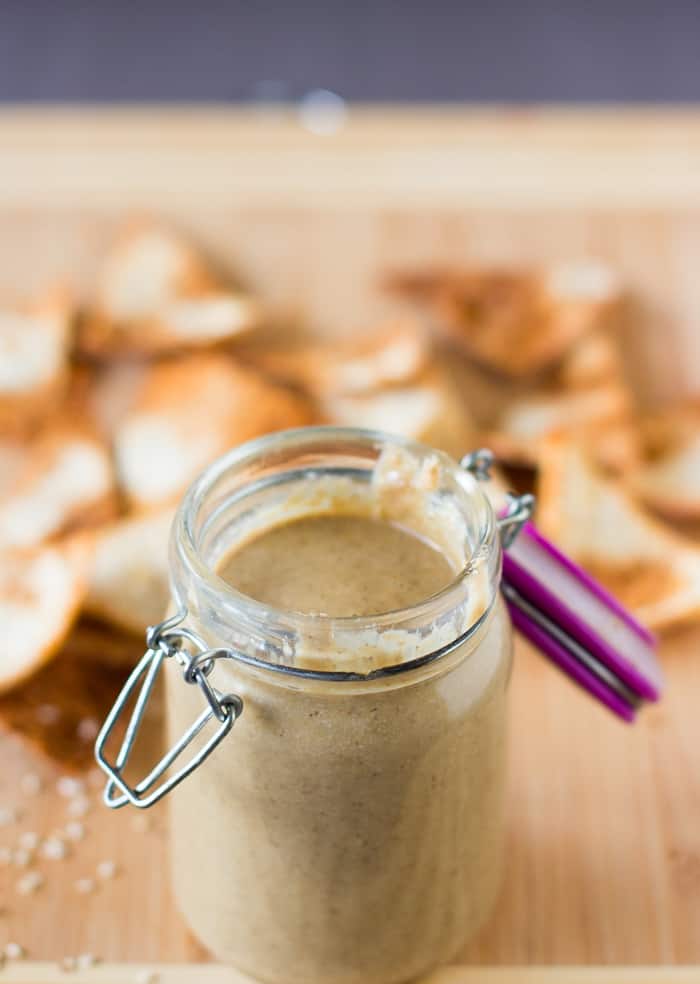 If you try any this Creamy 5 Minute Beet Hummus please let me know in the comment section below, or tag me on instagram with the hashtag #jessicainthekitchen! For more exclusive recipes follow me on Instagram AND on Snapchat: jessinkitchen.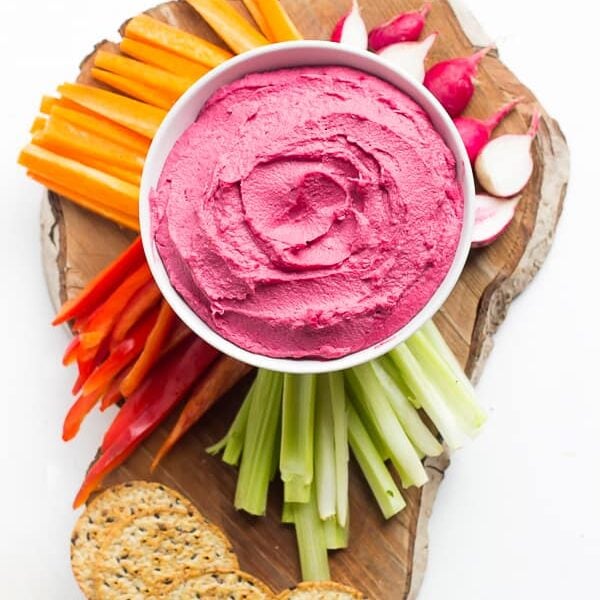 Beet Hummus
This Creamy 5 Minute Beet Hummus includes roasted beets which makes a creamy and velvet smooth and absolutely delicious unique hummus. It's great as a snack or dip, and is vegan and gluten free!
Ingredients
Beet Hummus
1 medium roasted beet, chopped
2 cups cooked and drained chickpeas
1 tablespoon lime juice
3 tablespoons olive oil
2 tablespoons tahini
1/2 teaspoon sea salt
1/4 teaspoon ground black pepper
2 cloves garlic
Instructions
Beet Hummus
Blend the beets and chickpeas together in a food processor until slightly combined, about 15 seconds.

Add the rest of the ingredients in and blend until all the ingredients are incorporated and smooth, about 30 seconds to 1 minute or longer depending on your food processor. Taste and adjust any ingredients based on your taste. Enjoy!
Notes
This recipe is naturally gluten free and vegan.
HOW TO STORE BEET HUMMUS You can store the beet hummus in a saran-wrapped bowl in the fridge or in an air-tight tupperware container. It should last up to at least a week in your fridge.
I would not recommend freezing this hummus as it tastes best fresh. You can freeze the roasted beets prior to use and then thaw on the container until it is at room temperature before preparing the hummus.
Calories: 189kcal, Carbohydrates: 18g, Protein: 6g, Fat: 11g, Saturated Fat: 1g, Sodium: 210mg, Potassium: 226mg, Fiber: 5g, Sugar: 4g, Vitamin A: 15IU, Vitamin C: 3mg, Calcium: 38mg, Iron: 2mg
Disclaimer: Although jessicainthekitchen.com attempts to provide accurate nutritional information, kindly note that these are only estimates. Nutritional information may be affected based on the product type, the brand that was purchased, and in other unforeseeable ways. Jessicainthekitchen.com will not be held liable for any loss or damage resulting for your reliance on nutritional information. If you need to follow a specific caloric regimen, please consult your doctor first.