Garlic Roasted Asparagus (Step-By-Step)
Garlic Roasted Asparagus is a must-make staple dish in my house!! They are crunchy and flavourful. Here's a step-by-step how to guide for roasting asparagus.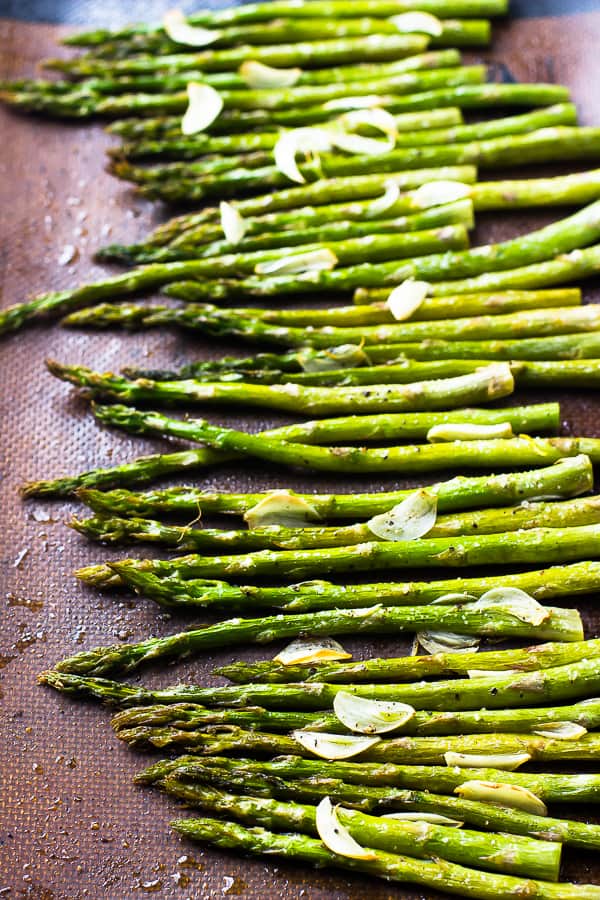 Spring is so close I can almost taste it! No wait, I can definitely taste it, especially with these delicious roasted asparagus. These are one of those veggies that don't need a lot of additional ingredients to bring out their divine flavour. Garlic, sea salt, black pepper and coconut oil are all you need to add to these roasted asparagus. This is to date, one of my favourite side dishes. I make them all the time and they go perfectly well with basically everything. I like to roast them in the oven until they are just roasted, still crunchy, and completely infused with the other ingredients in the mix. You are not going to regret this.
I get so many questions about becoming a vegetarian and transition recipes, and I think this perfectly fits the bill. Personally, I try to eat mainly plant-based, and this is one of these vegetarian recipes that can please absolutely anyone. I was eating these straight out of the oven, piping hot of course, breaking them in half and devouring them. Talk about addictive! The garlic slices are perfect instead of minced garlic because not only will they not burn, everyone can get a healthy sliver of garlic with their serving. Here are all the health benefits you'll be experiencing from this beautiful dish:
Health Benefits of Roasted Asparagus
Asparagus – High in Vitamin K, A, C, E and has great detoxing and diuretic properties.
Garlic – helps you to fight off infections by boosting immunity and its anti-viral properties
Coconut oil – helps to lower high blood pressure, reduce inflammation and so many other benefits that this needs to be an integral part of your diet!
So, here's a step-by-step guide for making roasted asparagus in your oven: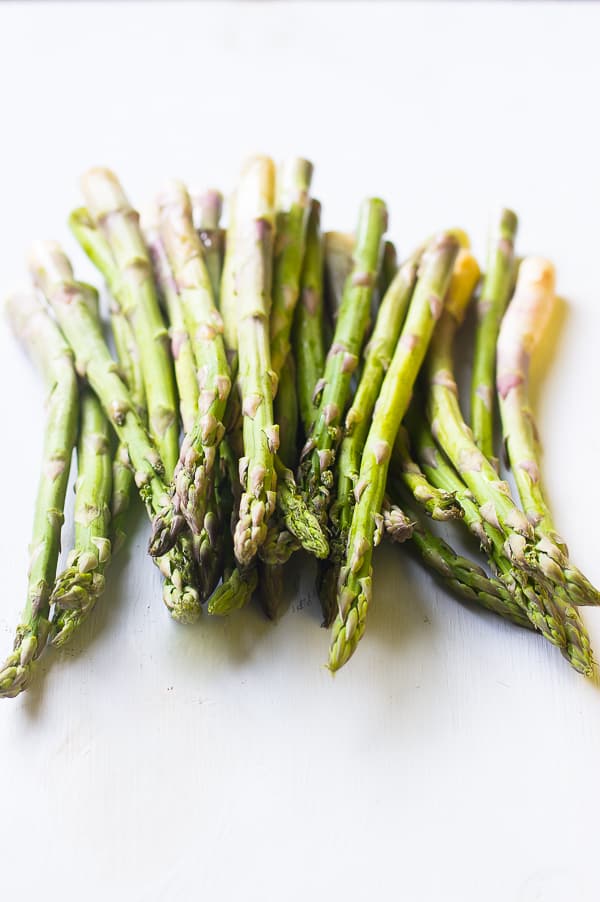 Get your beautiful asparagus.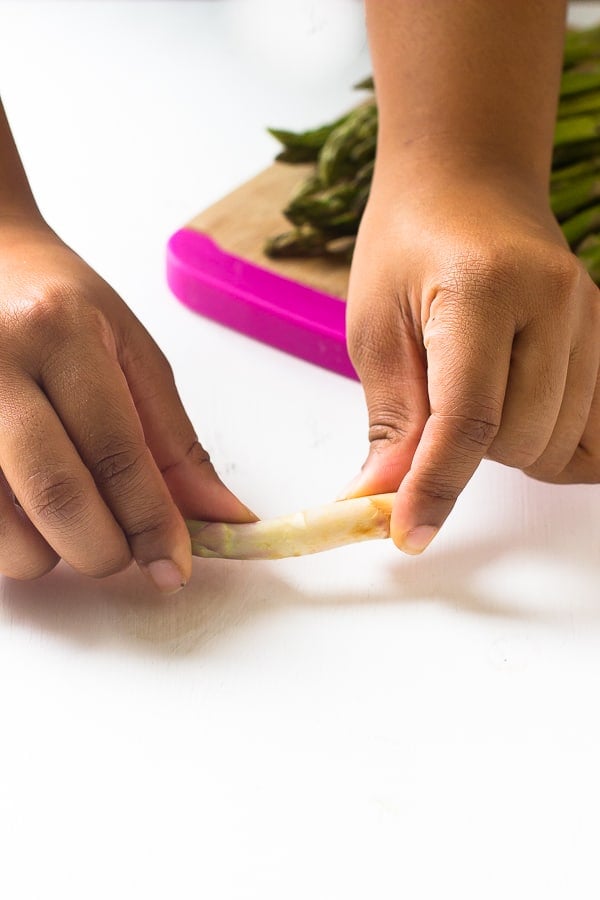 Break off the very ends of the asparagus. These roots are very tough and not very tasty.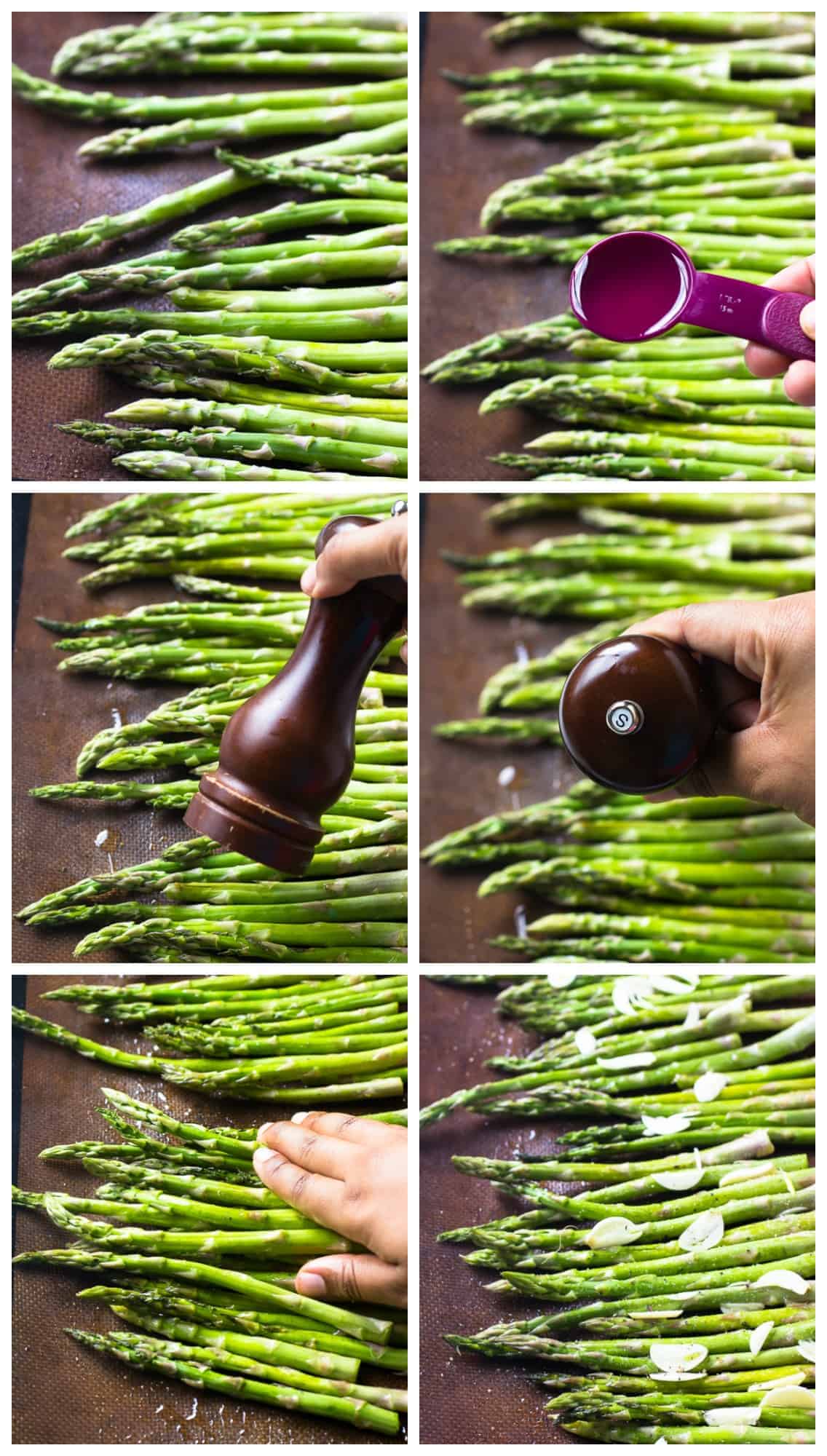 Place your asparagus on a baking sheet, I line mine with a silicone baking mat. Pour your coconut oil over the asparagus, crack some salt and pepper over it, and then rub it all in together. Really get in there, from roots to tip! Then, add the sliced garlic on top.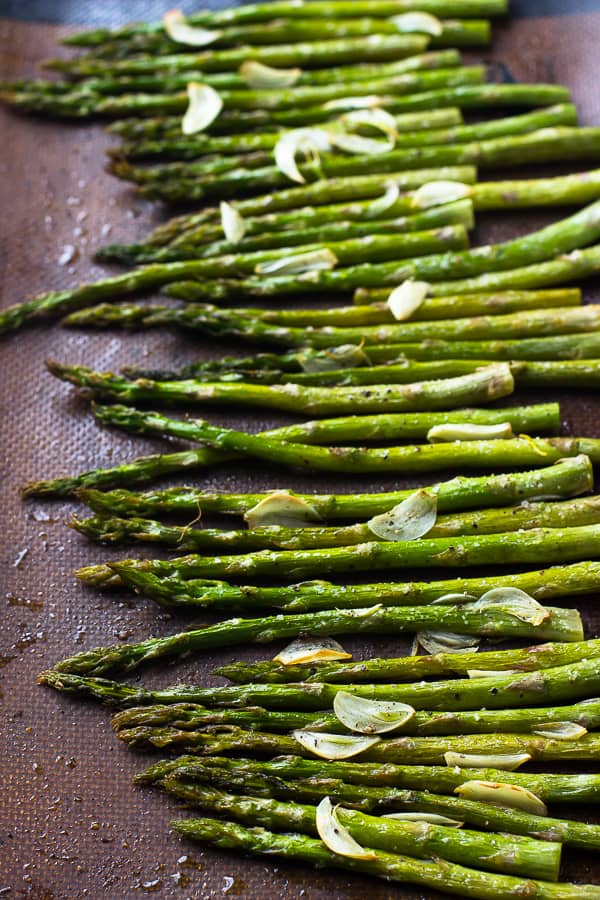 Place in an oven that has been preheated to 425 degrees F. Now I roasted mine for about 8-10 minutes, but you can go up to 15 minutes depending on how you like your asparagus. Mine were roasted, but still crunchy. The garlic was incredibly fragrant and the flavour was throughout the asparagus.
Let's get into those kitchens and roast some of these babies up!

If you try this Garlic Roasted Asparagus, please let me know in the comment section below, or tag me on instagram with the hashtag #jessicainthekitchen!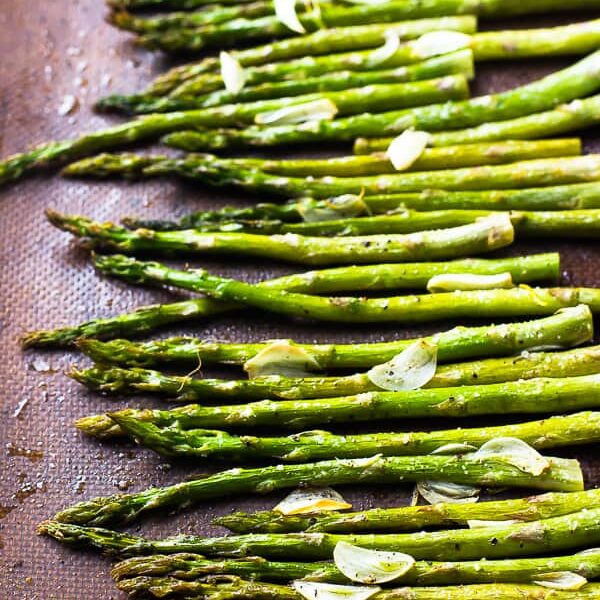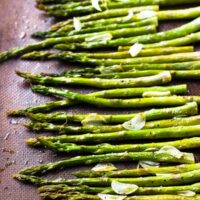 Garlic Roasted Asparagus
Garlic Roasted Asparagus is a must-make staple dish in my house!! They are crunchy and flavourful. Here's a step-by-step how to guide for roasting asparagus.
Ingredients
Garlic Roasted Asparagus
16 ounces asparagus
1 tablespoon coconut oil
freshly cracked sea salt
freshly ground black pepper
2 cloves garlic, thinly sliced
Instructions
Garlic Roasted Asparagus
Preheat oven to 425°F. Line a baking sheet with a silicone mat or greased foil.

Break off the very ends of the asparagus.

Place your asparagus on baking sheet.

Pour coconut oil over the asparagus, freshly cracked sea salt and freshly ground black pepper to taste. Rub these ingredients into the asparagus from roots to the tips to mix them together.

Place the garlic slices on top.

Place in oven and roast for about 8-10 depending on your preference or up to 15 minutes.

Remove from oven and allow to cool for 2 minutes. Serve immediately!
Notes
This recipe is vegan and gluten free. 2. You can add a squeeze of lime or lemon on top if you so desire.
HOW TO STORE ASPARAGUS: After the dish has cooled completely, transfer to a air-tight tupperware container. Place in the fridge and store for 2 days. You can reheat in a toaster oven until heated through. I do recommend only cooking what you will be eating since this does not store well. .
HOW TO FREEZE ASPARAGUS If freezing, I would freeze the raw asparagus freezer friendly zipper plastic bag, and then roast the asparagus. Allow to thaw and then roast when needed.
Calories: 37kcal, Carbohydrates: 3g, Protein: 2g, Fat: 2g, Saturated Fat: 2g, Sodium: 50mg, Potassium: 153mg, Fiber: 2g, Sugar: 1g, Vitamin A: 572IU, Vitamin C: 5mg, Calcium: 20mg, Iron: 2mg
Disclaimer: Although jessicainthekitchen.com attempts to provide accurate nutritional information, kindly note that these are only estimates. Nutritional information may be affected based on the product type, the brand that was purchased, and in other unforeseeable ways. Jessicainthekitchen.com will not be held liable for any loss or damage resulting for your reliance on nutritional information. If you need to follow a specific caloric regimen, please consult your doctor first.