Salt Roasted Carrots (aka the Magic of Salt Preservation)
These Salt Roasted Carrots are a MUST try! The roasted carrots are perfectly seasoned, beautifully caramelised, and taste absolutely divine! So easy, and you can roast more veggies in the salt!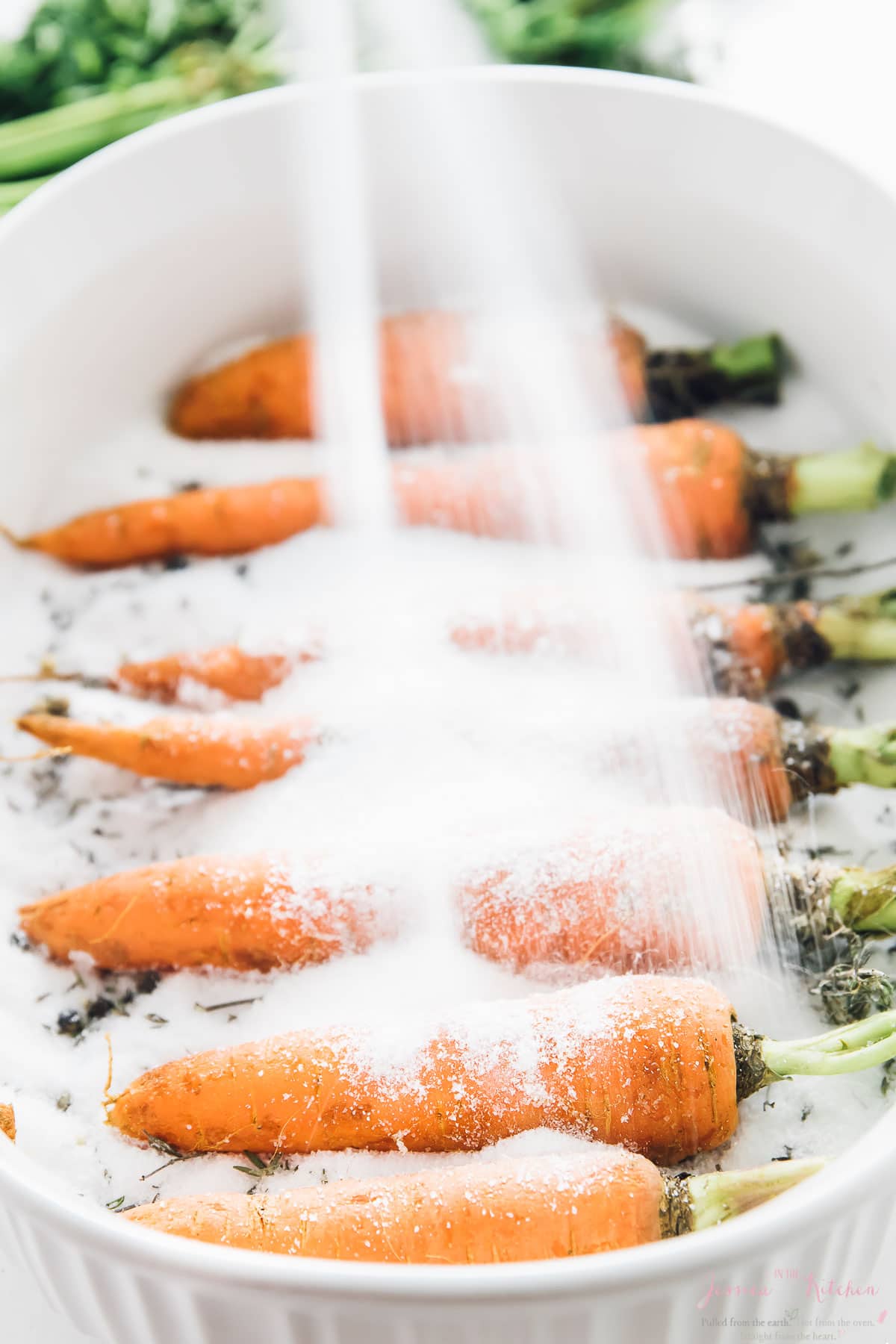 Hey Friends! Guess what? I'm going to need you to buy carrots the very next second that you see them. Then, I want you to buy a ton of salt and make these Salt Roasted Carrots. Why? It'll change the way you view vegetables.
It'll highlight that all veggies need are some beautifully pure seasonings to bring out their natural flavour. That carrots can caramelise, be sweet, soft and addictive with this incredibly simple method. P.S. after you try these, you're going to wonder – "Can I salt roast anything else?! I need it!".
Yes my friends, yes you can.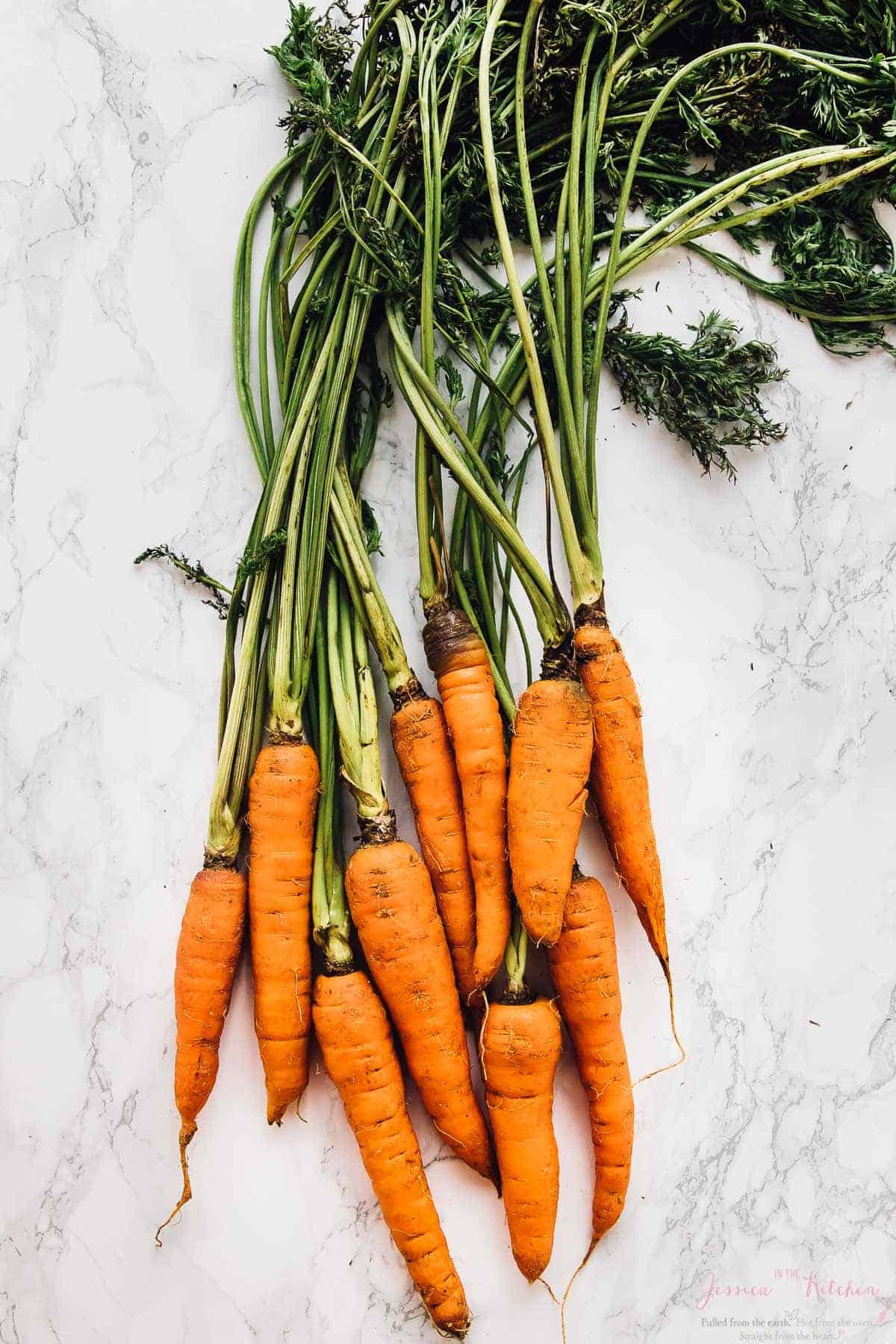 I've been doing a lot of thinking lately. Like, a lot. The kind of staying-up-late, reflecting-on-life, am-I-going-down-the-right-path kind of thinking. You see, it's my birthday month. I'm turning 26 next week Wednesday, on the 15th of March.
To some that may seem old, to others that may seem super young. To me, It seems like wait, what?!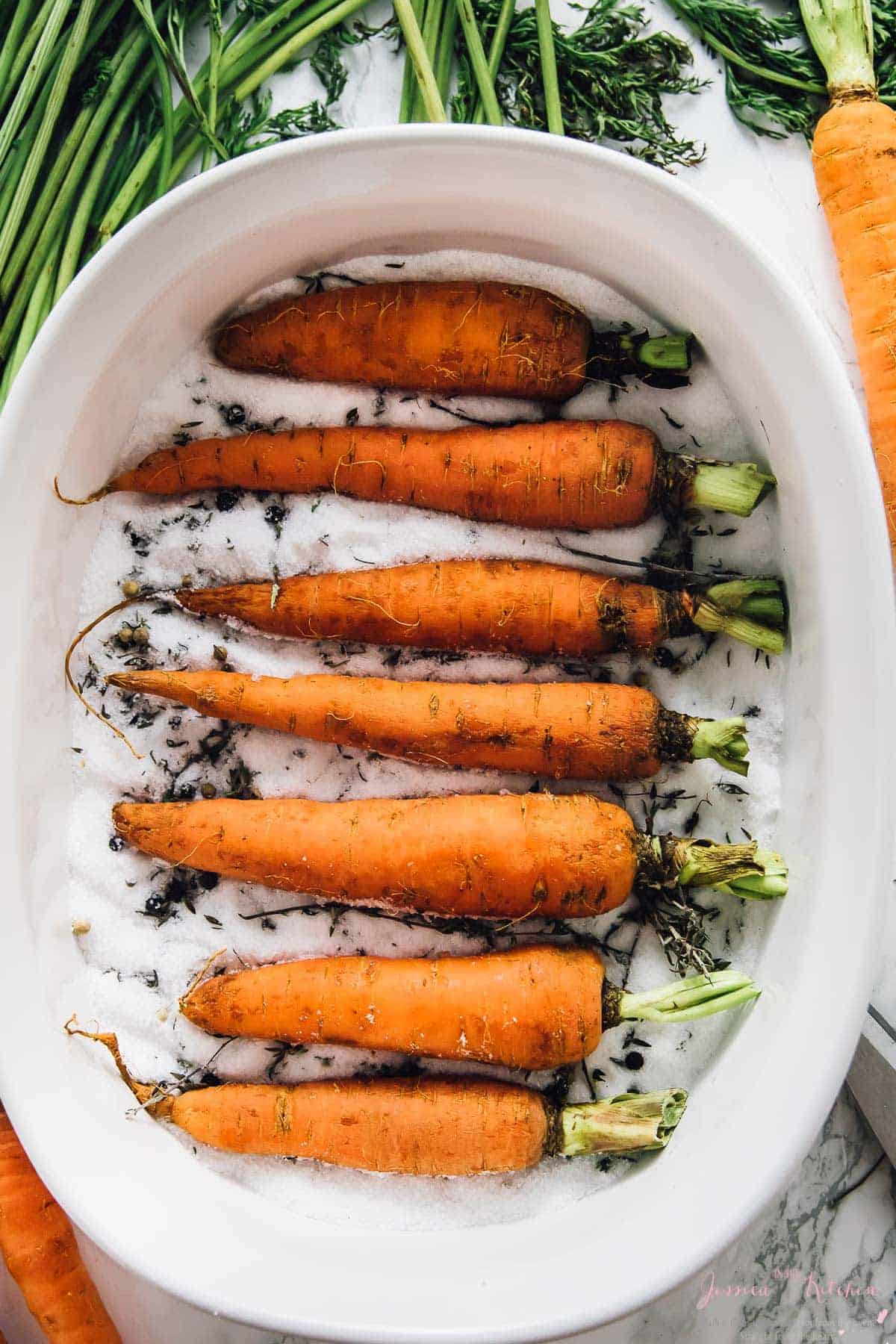 When did I become a real adult? How did the years fly by so quickly? What do you mean I've almost been married for TWO years?! It's kind of revolutionary. I've always thought of being 25 and still figuring out my life, and then BAM! 26 came out of nowhere.
Fortunately, after two very, very long weeks of soul searching, I've not only accepted it, but I'm more than ready. I definitely feel that I'm on the right path of life, and that I'm doing the right thing with my business (aka my baby, my blog). God has been pushing signs directly into my face for the last few days that have definitely convinced me that this is, without a doubt, the best use of my talents.
Speaking of talents, who knew salt could do so much?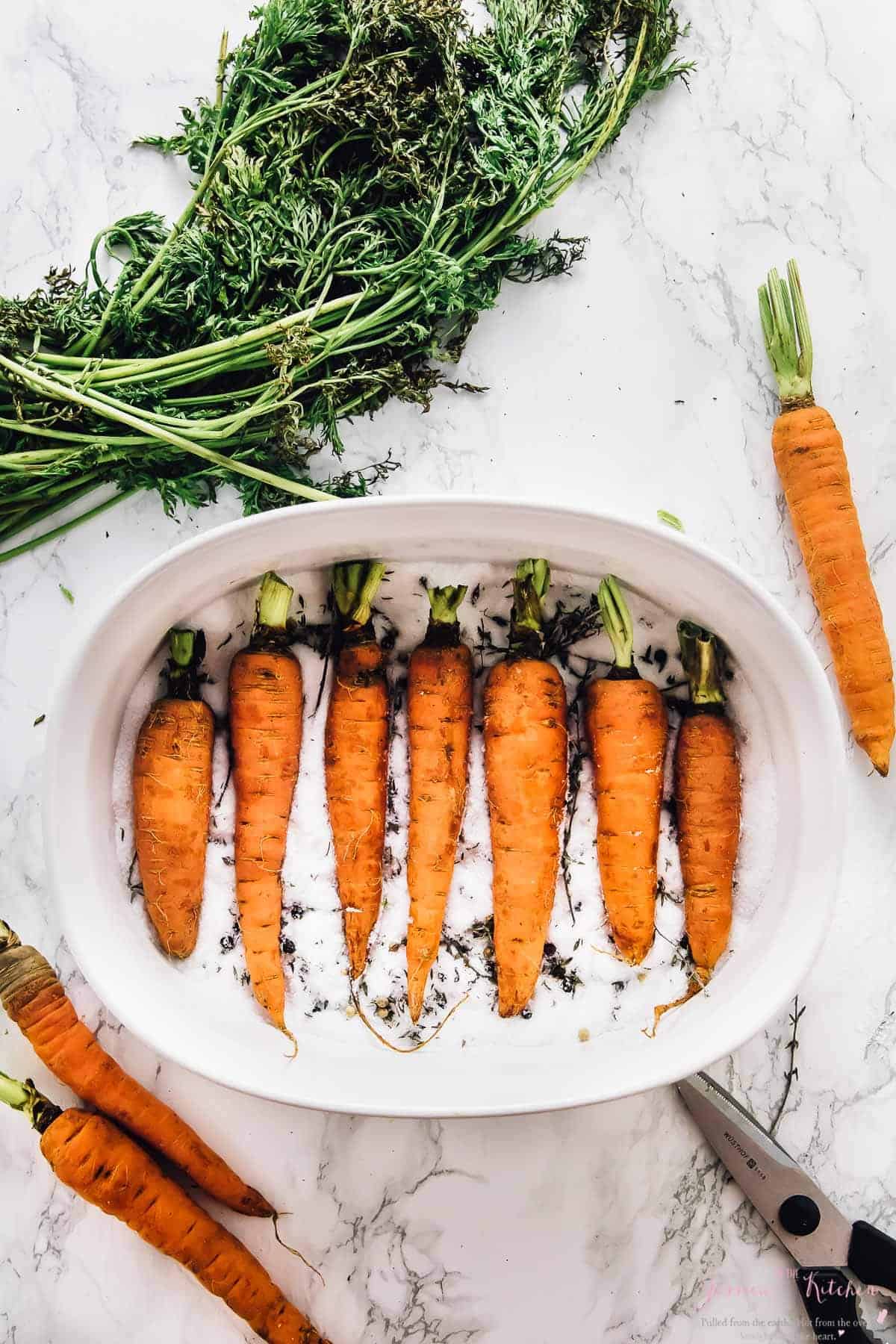 Okay, okay. I'll be honest, I knew salt was much more than a base seasoning. It's the original preservative, dating back to days way before Netflix's Chef Table, where I learned all about what salt can do for your veggies other than season it in a sauce pan. What I wasn't aware was that salt roasting was a thing, and that it transformed your vegetables beyond what words can describe. I don't want to oversell it, but this is a pretty amazing way of cooking your vegetables. This is coming from someone who absolutely adores maple roasted carrots. Speaking of which, these are almost literally burn proof, so goodbye kitchen stress!
I first heard of Salt Roasted Carrots on Olives for Dinner's website, on her post about Carrot Lox. P.S., I'm trying this next because I was a HUGE salmon fan, and I'm also a huge food science nerd all over. Anyway, the process of salt roasting, well, anything absolutely amazed me. I did some digging, read up some articles, and decided to give it a try.
The results blew me away. I gobbled down a whole carrot, freshly brushed off, in about 30 seconds.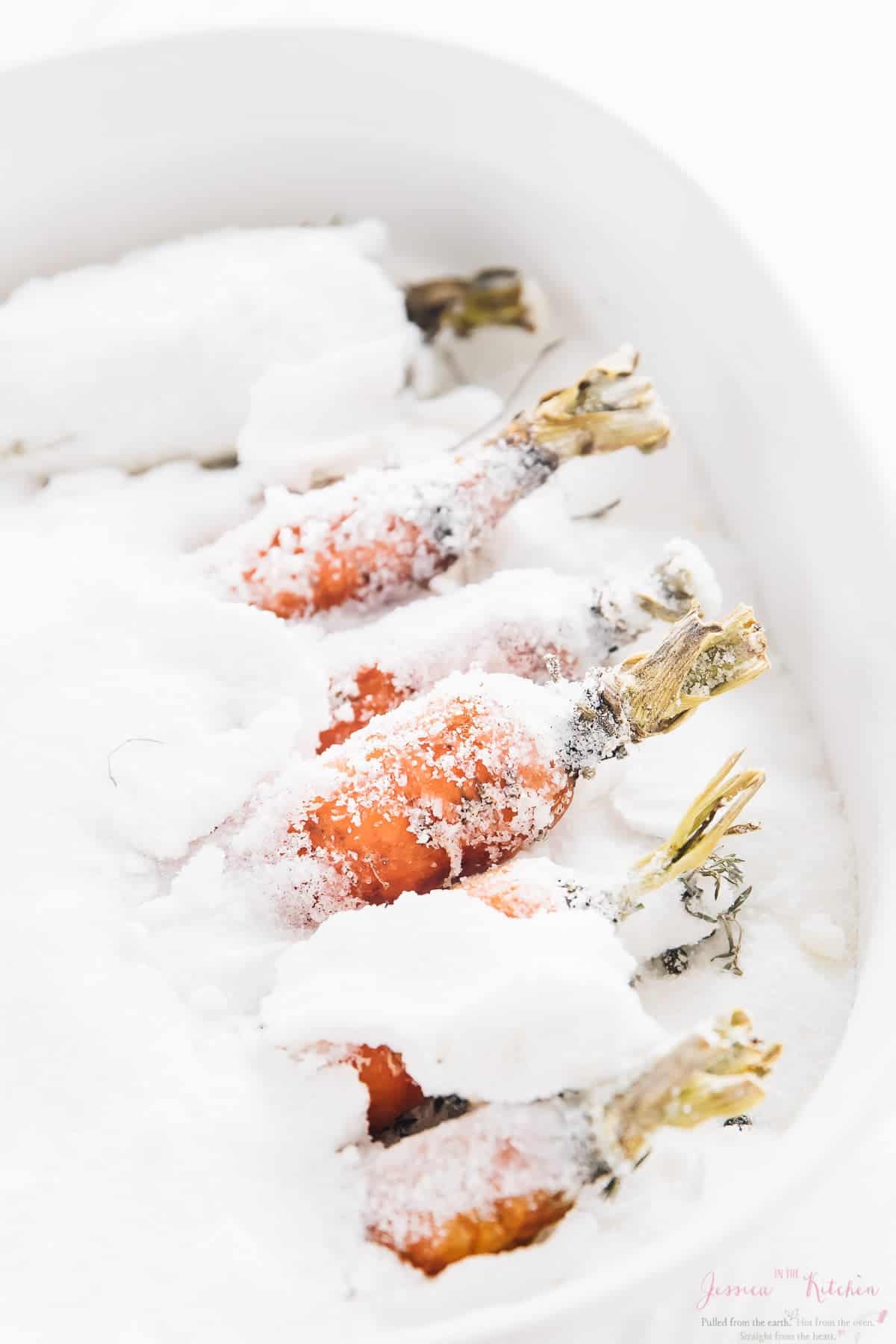 Let me explain this process a bit. The salt in these salt roasted carrots traps the heat, locks in the moisture of the vegetables, and cooks it perfectly even all at once. It also perfectly seasons the carrots. No, it does not over-salt them. I wouldn't ever do that to you friends. It does encrust them in a salt cocoon that you just break open. I dusted all the salt off with a pastry brush, and bit in. Perfectly seasoned, soft and delicate carrots are a result. Sweeter than I've ever had them, with all its juices perfectly preserved, making the nutritional content the same as well as the flavour.
Even if you don't do this every single time, I would definitely give this a try. It makes a beautiful presentation, requires NO work, and you can use the salt again! I made salt roasted sweet potatoes after this, and any root vegetable will work. In the words of the Mr. after one bite, "this shouldn't be legal! OMG." I don't remember what else he said, it was said in between other glorious bites. ?
P.S. I used thyme and peppercorns for my seasonings, but you could also add rosemary or your preferred herb seasoning. When I made the salt roasted potatoes, I also added unsmashed garlic cloves, then mashed into a vegan garlic butter over the potatoes. These would also make the ultimate vegan garlic mashed potatoes. Perfection!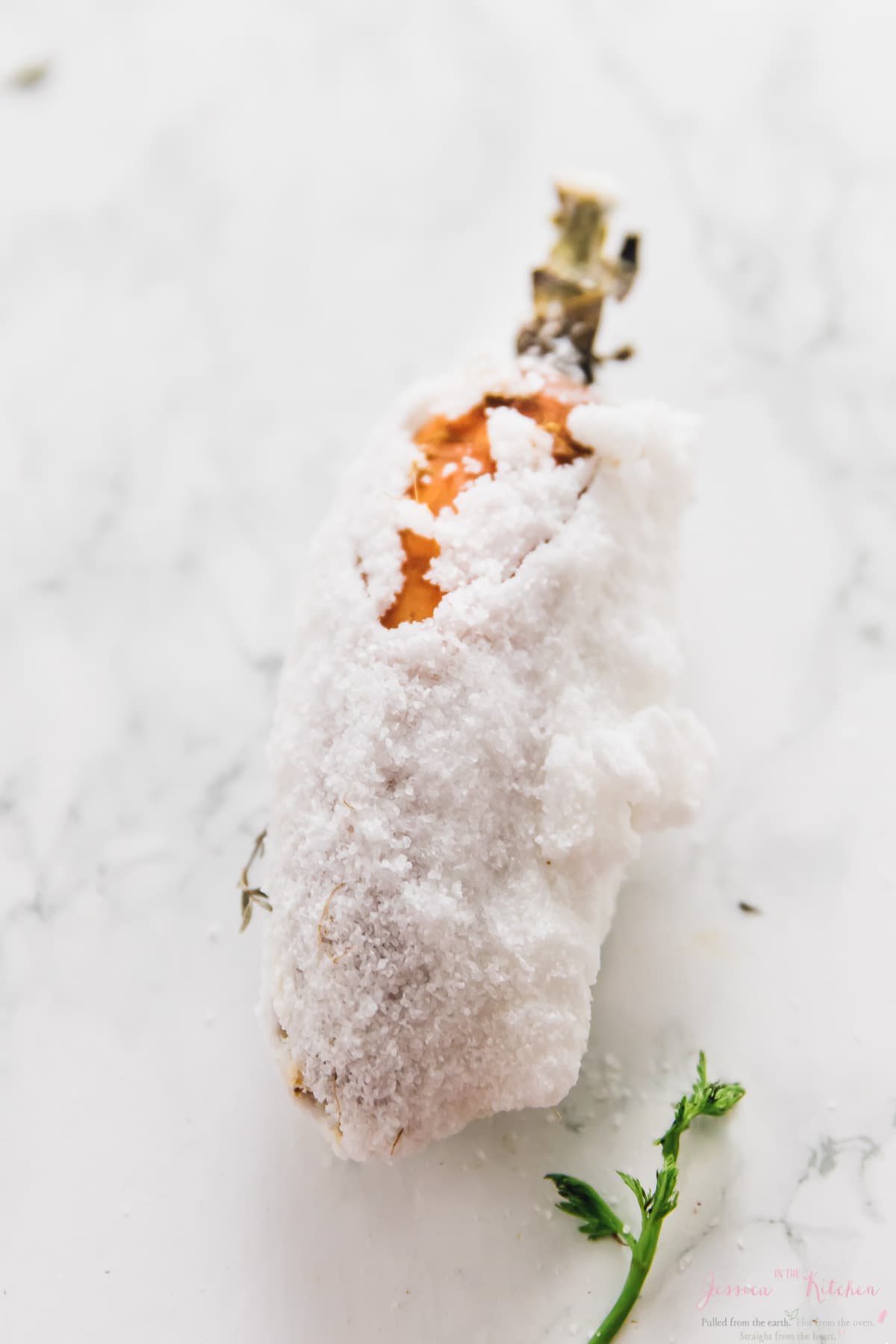 If you try these Salt Roasted Carrots, please let me know in the comment section below, or tag me on instagram with the hashtag #jessicainthekitchen! For more exclusive recipes follow me on Instagram AND on Snapchat: jessinkitchen.
RELATED RECIPES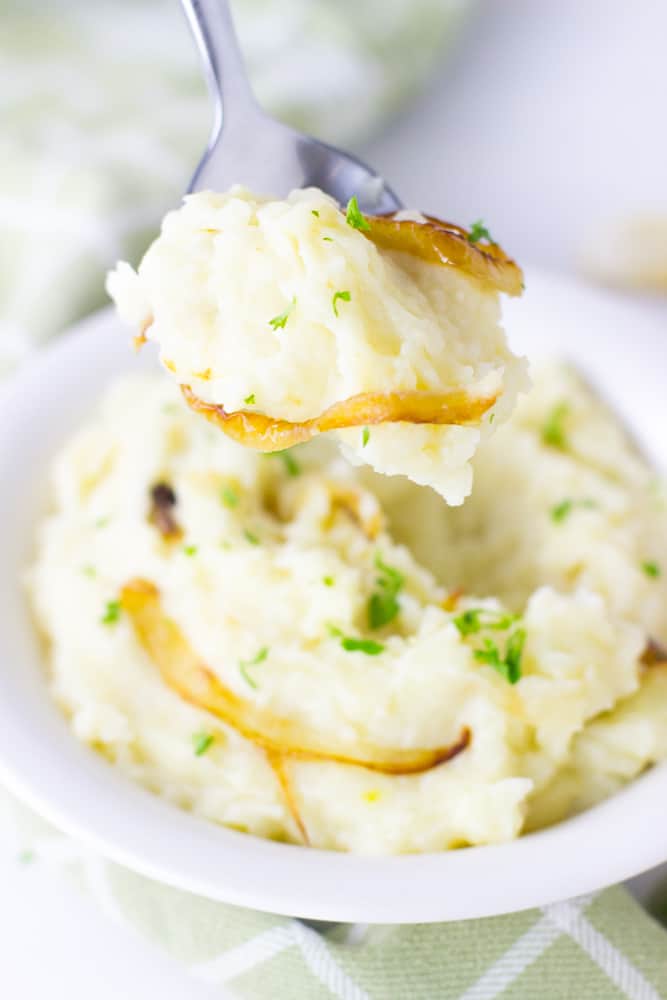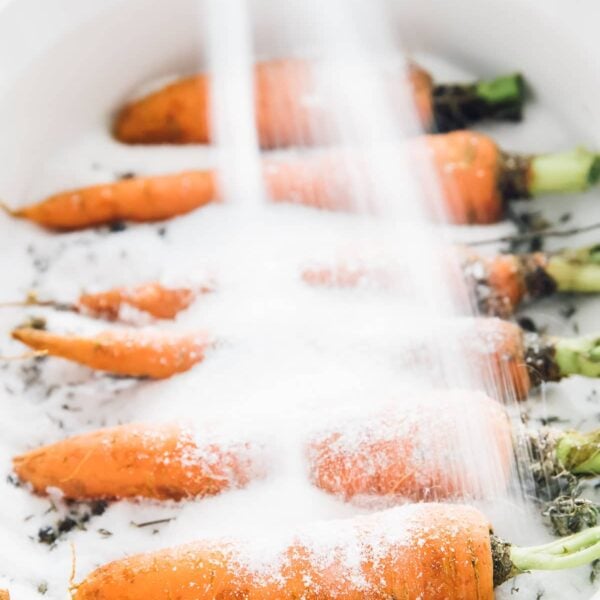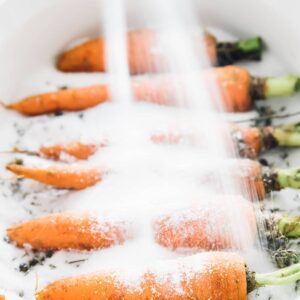 Salt Roasted Carrots (aka the Magic of Salt Preservation)
These Salt Roasted Carrots are a MUST try! The roasted carrots are perfectly seasoned, beautifully caramelised, and taste absolutely divine! So easy, and you can roast more veggies in the salt!
Ingredients
Salt Roasted Carrots (aka the Magic of Salt Preservation)
2 lbs carrots, washed and greens removed, 32 ounces/907g
2.5 lbs salt, 1200g - you could probably use less than this, you just need enough to cover the veggies completely.
Choice of Seasonings:
peppercorns
thyme sprigs - I used a lot
rosemary
garlic cloves
Instructions
Salt Roasted Carrots (aka the Magic of Salt Preservation)
Preheat your oven to 425 degrees F/218 degrees C.


In a casserole dish or any baking dish add 1 cup of salt to cover the bottom of the dish.


Add in your seasoning choices and mix them in with the salt.


Add in the carrots, nestling them into the salt so that they do not touch the bottom of the dish and so that they are not touching any other carrots either.


Pour the remainder of the salt over the carrots, to cover them completely.


Bake, uncovered, in the oven for 25 minutes.


Remove and let cool slightly. Pull the carrots out of the salt. There might be a salt shell around them, you can just break it open. Using a pastry brush, or even a dry paper towel, brush of all of the salt off of the carrots.


You can serve immediately or use them in another dish. I love to serve them on some quinoa with some mushrooms, sautéed greens, cabbage and a dressing (recipe coming Friday!)


Enjoy!
Notes
Notes:
This recipe is vegan and gluten free. Please, brush the salt off the carrots completely! You don't want your carrots to taste like salt. They are already perfectly seasoned. You can use any root vegetable using this method, adjusting the cooking temperature for them. I found cooking for 15 minutes longer than normal worked perfectly. I baked my sweet potatoes at 425 degrees for 1 hour, same method, except I also added in garlic, then made a roasted garlic butter for the potatoes afterwards.
Calories: 48kcal, Carbohydrates: 11g, Protein: 1g, Fat: 1g, Saturated Fat: 1g, Sodium: 55017mg, Potassium: 374mg, Fiber: 3g, Sugar: 5g, Vitamin A: 18944IU, Vitamin C: 7mg, Calcium: 73mg, Iron: 1mg
Disclaimer: Although jessicainthekitchen.com attempts to provide accurate nutritional information, kindly note that these are only estimates. Nutritional information may be affected based on the product type, the brand that was purchased, and in other unforeseeable ways. Jessicainthekitchen.com will not be held liable for any loss or damage resulting for your reliance on nutritional information. If you need to follow a specific caloric regimen, please consult your doctor first.