Vegan Fajita Bowls – 10 Min Prep, High Protein
These Vegan Fajita Bowls are loaded with all your favourite fajita toppings, protein-filled and done in just 30 minutes!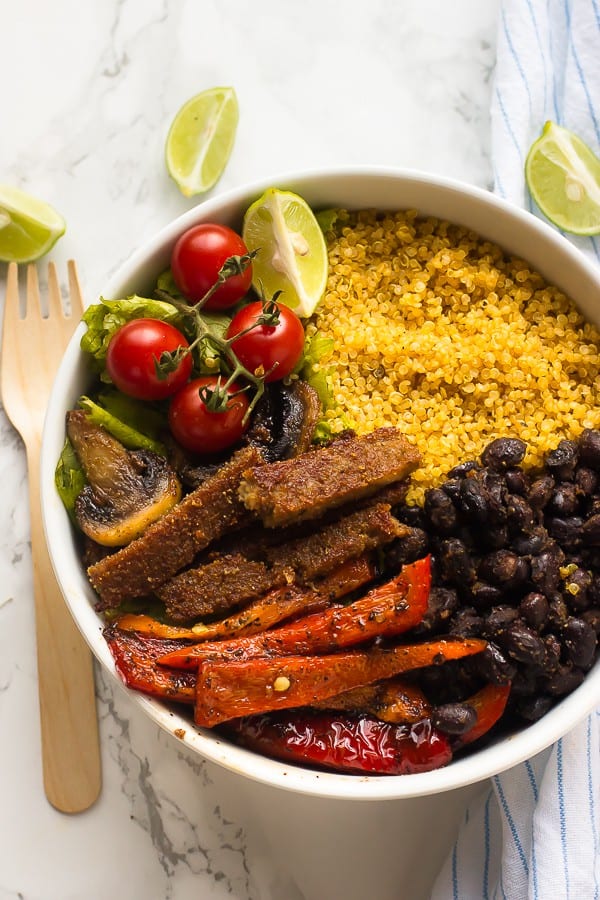 Welcome to my love story entitled in LOVE with bowl food. This chapter refers specifically of course to these vegan fajita bowls aka try this NOW. My love for Mexican food has been prominent ever since my blog started. Now that I've actually visited Mexico I'm pretty sure it's quadrupled. I don't think I've ever meet anyone who disliked a fajita, and these bowls are an insanely good twist on them. Say hello to 30-minute filling dinner heaven.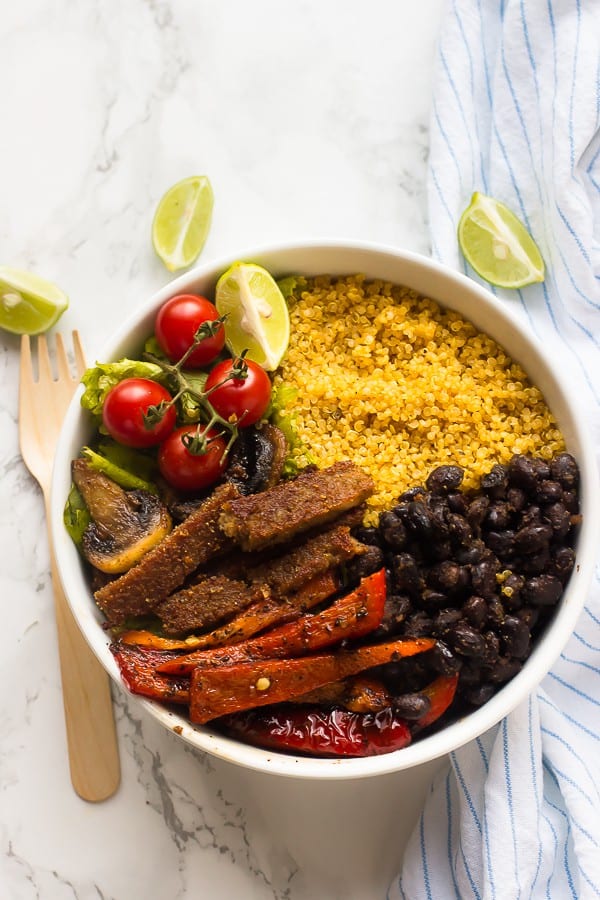 For these vegan fajita bowls I tried seitan for the first time and I am OBSESSED. Seitan is a plant-based protein made up of vital wheat germ that is can be used as a meat substite just like tofu or tempeh. It has a pretty "meaty" texture and tastes amazing once seasoned properly so I used it in substitute for beef in traditional fajitas. Then I sauteed some garlic mushrooms and red bell peppers and served it all alongside some maple lime quinoa. You get a super filling, high protein fajita bowl in 30 minutes from start to finish.
When it comes to the nutritious side of this recipe, you get lots of protein from the seitan, quinoa and black beans, and lots of fibre too. This also makes great leftovers since you can pack all the items in tupperware containers in your fridge ahead of time and reheat it easily, or even pack it in a mason jar for lunch. Speaking of which, you need to check out these mason jar meal prep lunch salads – SO insanely easy and delicious!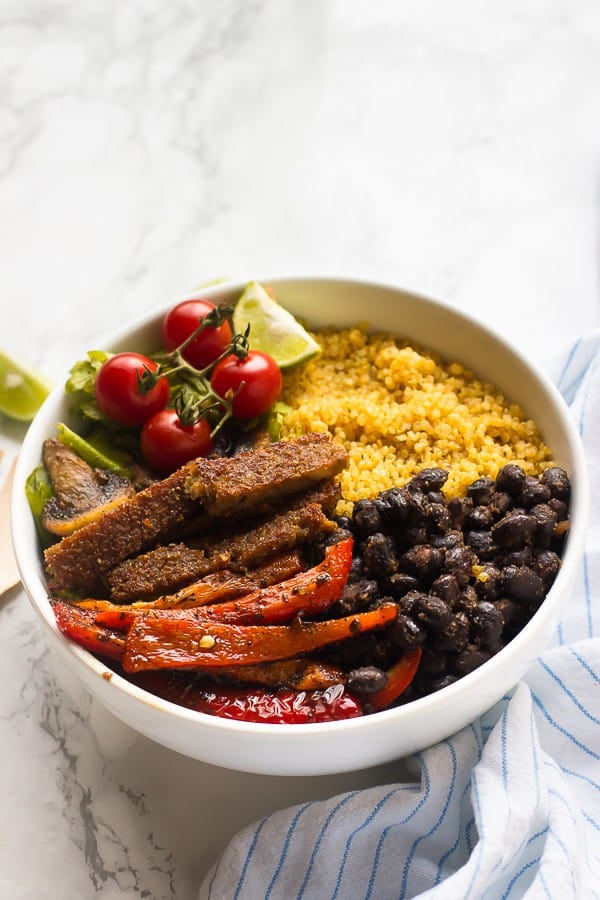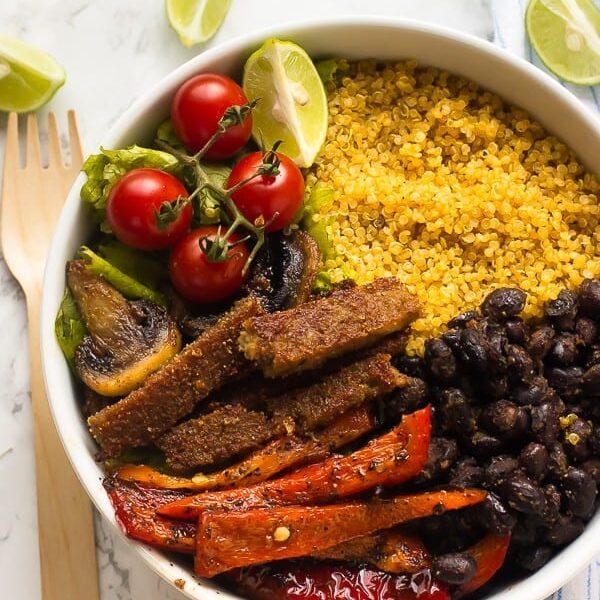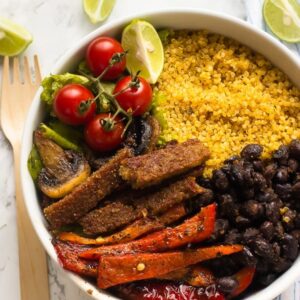 Vegan Fajita Bowl
These Vegan Fajita Bowls are loaded with all your favourite fajita toppings, protein-filled and done in just 30 minutes!
Ingredients
Vegan Fajita Bowl
2 cups cooked quinoa
2 tablespoons olive oil
5 cloves garlic, minced
1 large red bell pepper, or any colour you desire, sliced
1 package seitan, 12 ounces, sliced
1 cup baby bella mushrooms, sliced
1/2 cup cherry tomatoes, sliced
1/2 teaspoon cumin
1/2 teaspoon chili powder
1/4 teaspoon red pepper flakes
1/4 teaspoon oregano
1/4 teaspoon onion powder
salt and pepper to taste
2 cups canned black beans, drained
2 cups lettuce, shredded
Per Bowl Instructions
1/2 cup quinoa
1 cup lettuce, shredded
1/2 cup black Beans
1/4 cup sautéed red bell peppers
sautéed tomatoes
sautéed mushrooms
1/4 serving cooked seitan
lime wedges, to serve and squeeze over
Instructions
Vegan Fajita Bowl
Cook the quinoa according to package directions and mix in 2 teaspoons maple syrup and lime: see here how to cook quinoa

While the quinoa is cooking, heat the olive oil in a large pan over medium high heat.

Add the minced garlic and sauté until fragrant. Add in the sliced bell peppers, the seitan slices, mushrooms and tomatoes. Stir together and add all the seasonings and stir in. Reduce heat to medium and allow all the ingredients to cook until softened, for about 15 minutes. Add in the black beans to heat through and mix in with the rest of the ingredients. Add salt and pepper to taste and add more seasonings if desired.

Remove from heat.

Per bowl, add ½ cup quinoa, ¼ cup lettuce and split the rest of the ingredients into 4 equal bowls in desired quantities. Serve with lime wedges on the side and enjoy!
Notes
If you try these Vegan Fajita Bowls please let me know in the comments section below, or tag me on instagram with the hashtag #jessicainthekitchen! For more exclusive recipes follow me on Instagram AND on Snapchat: jessinkitchen.
Calories: 311kcal, Carbohydrates: 41g, Protein: 17g, Fat: 10g, Saturated Fat: 1g, Sodium: 478mg, Potassium: 674mg, Fiber: 10g, Sugar: 4g, Vitamin A: 1314IU, Vitamin C: 47mg, Calcium: 62mg, Iron: 4mg
Disclaimer: Although jessicainthekitchen.com attempts to provide accurate nutritional information, kindly note that these are only estimates. Nutritional information may be affected based on the product type, the brand that was purchased, and in other unforeseeable ways. Jessicainthekitchen.com will not be held liable for any loss or damage resulting for your reliance on nutritional information. If you need to follow a specific caloric regimen, please consult your doctor first.