5 Mason Jar Salads To Meal Prep for a Week of Lunches
Bored of your lunch or want some new exciting ideas? Here are 5 Mason Jar Salads To Meal Prep for a Week of Lunches you can prep in just one hour for your entire week ahead! Plus tips for making the perfect mason jar salad.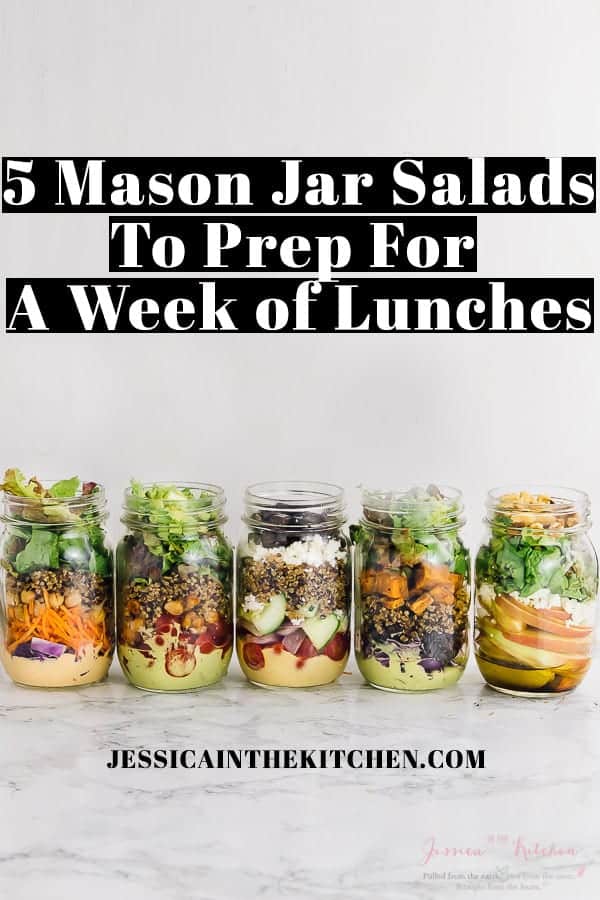 Happy Wednesday! Hump Day seemed like the perfect day to share these recipes with you. I've been making meal prep salads for well, forever, but when I discovered Mason Jar salads, it kind of pretty much changed the salad game for me. It's not even about being "hipster" – putting your salad in a mason jar can bring about a world of possiblities:
You can meal prep them ahead of time, as in, like a week ahead of time with fresh ingredients. They last very long!
Your dressing won't make your green soggy. Properly layering a mason jar salad means they never touch until you're ready to them, keeping everything fresh and crisp.
They are easily portable and grab and go convenient. They take up very little space both in your lunch kit and your fridge, and being see through means you can just open your fridge, grab what you want, and go! I'm sharing my top 5 favourite salads for a Mason Jar salad with you.
Now if you've never meal prepped before, you should check out my Meal Prep 101 Post: my best healthy meal prep recipes. Meal prep makes a world of differences, saves you so much time in the long run and helps to keep you on track with being healthy. I know for me, when I'm hungry and there isn't any prepared food or healthy snacks, it's a bad situation. I'll pretty much eat anything. Meal prepping solves that – glorious, healthy and already prepared food is sitting in your fridge, just waiting to be devoured.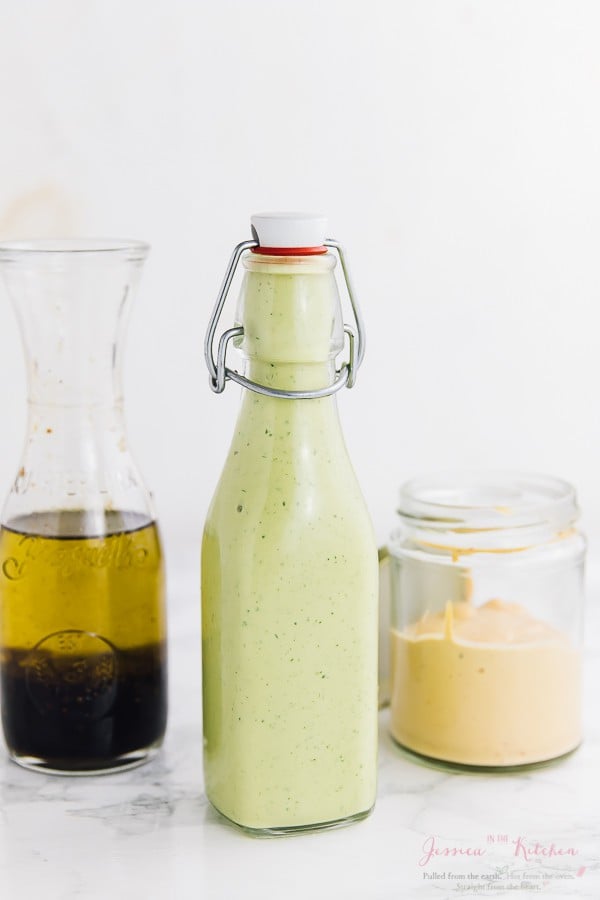 Pictured: Balsamic Vinaigrette, Avocado Dressing and Harissa Tahini Dressing
So on to these Mason Jar Salads. Even though I work at home, stopping to cook lunch can kill so much time so having food already prepared is a life saver. If you work in an office, these are even better for you! You can prep all of these meal prep salads on Sunday night for the entire week of work lunches. You can even make more to carry over into dinner, or check out some of my favourite meal prep dinner recipes too. Either way, you'll be surprised how little rush there will be in the morning, and how much money you'll save on lunches. Now, I have just a few small tips before I give you the recipes for the salads, and they will help with just how great your salads turn out.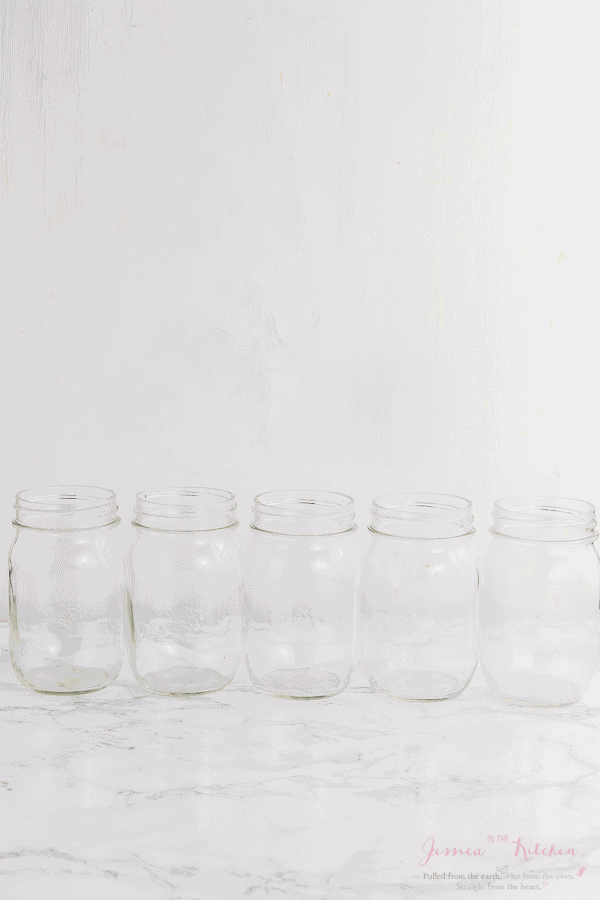 Choose the containers that best suit your needs.

I'm kind of a Mason Jar addict, I have them in every kind and for every purpose. I found that the pint jars from Ball work best for me and my salads. If you want something a bit bigger, you can purchase the Quart jars. Now, I'm not counting out tupperware here at all. I think it's perfect for if you want to assemble your salad the morning you leave (totally fine too). Cut up all the veggies and portions needed for the salad, place into your tupperware containers (I love labelling them). and then divvy it up in the morning. I don't necessarily stick to just one brand when it comes to these, but I do love the Rubbermaid Stackables and the Glad containers.

Layer your jars properly.

This will make your jar or ruin it. Jar layering is a science…just kidding. It's super easy. Start with non-absorbent/thick & hard veggies (think cabbages, tomatoes, carrots), then your soft veggies (chickpeas, beans), and end with your leafy greens at the top. If you're using cheese, I like to put it a layer below the veggies, and if using nuts, I like to put them on top. P.S. – these are my three favourite dressings that work for all of these jars.

FRESH INGREDIENTS.

Friends! This is so crucial. Fresh ingredients make all the difference with how long your Mason Jae Salads taste and how great they taste. I like to go to the farmer's market on Saturday with my grocery list (P.S. FREE and printable for you) and then meal prep the next day.

Find the recipe for this salad here.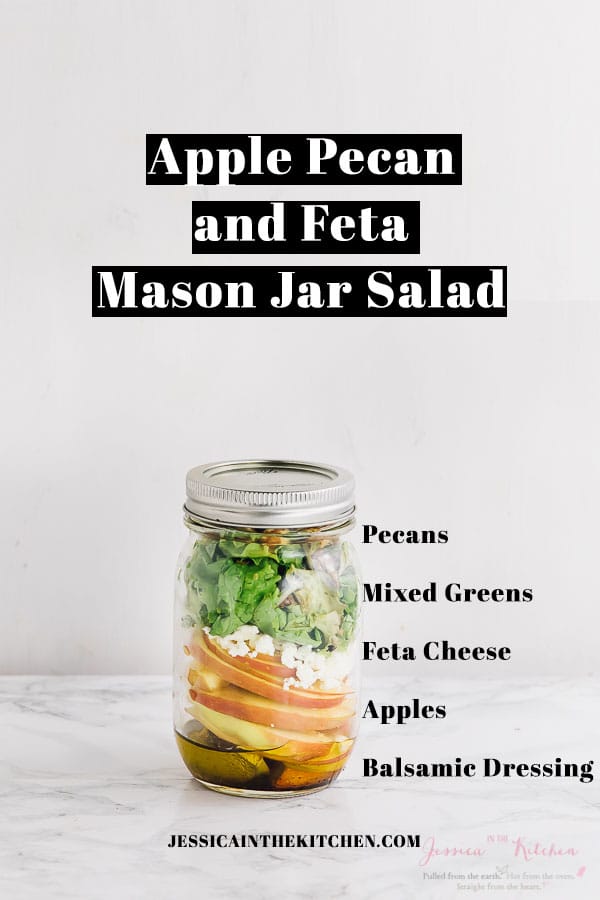 Find the recipe for this salad here. P.S. Here's my recipe for vegan cheese

Find the recipe for this salad here. I used the Avocado Dressing in place of sliced avocados because it can double as a dressing, and lasts longer than sliced avocados.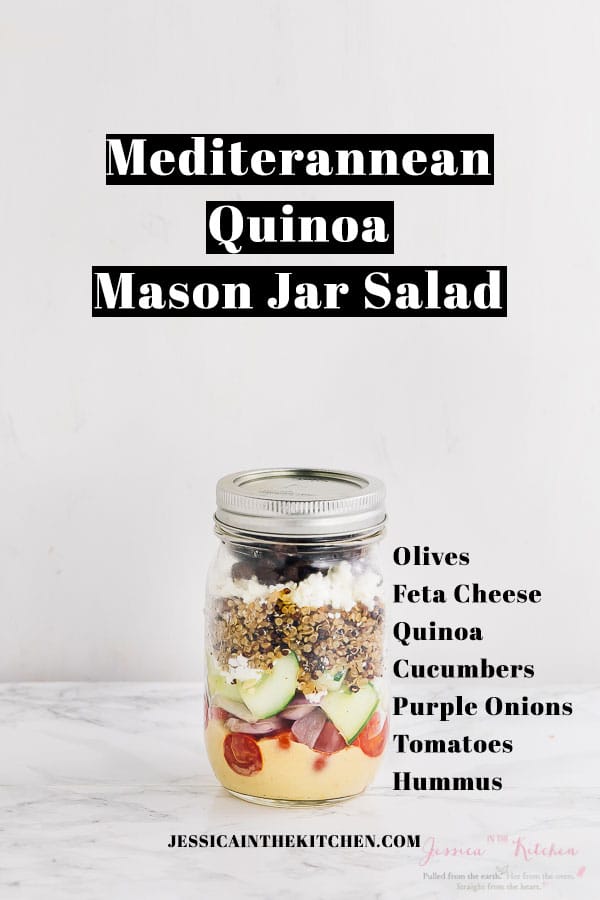 Find the recipe for this salad here. P.S. Here's my recipe for vegan cheese
Roasted Sweet Potato Quinoa & Black Bean Salad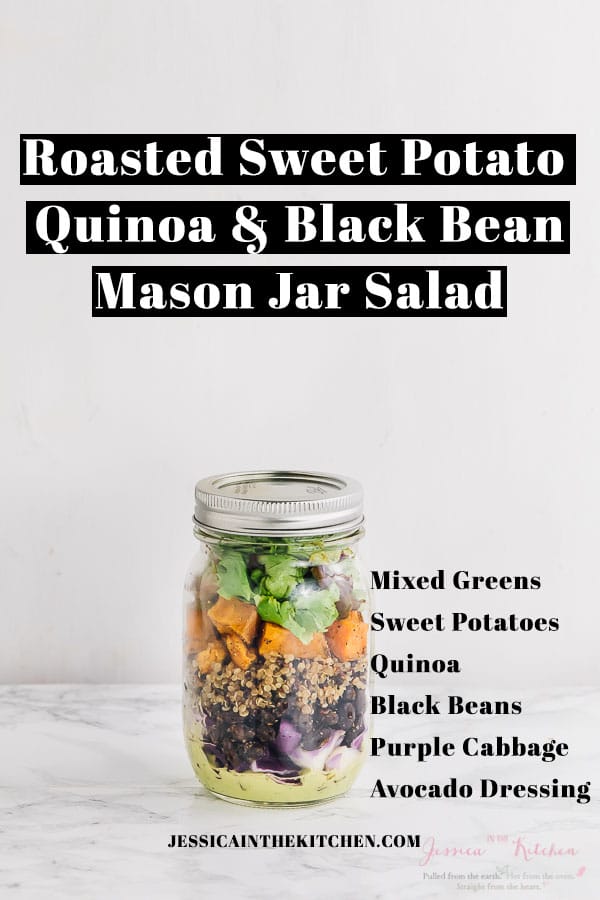 PIN TO SAVE FOR LATER:

P.S. are you watching our Youtube Channel?! Click below to subscribe and watch our latest video!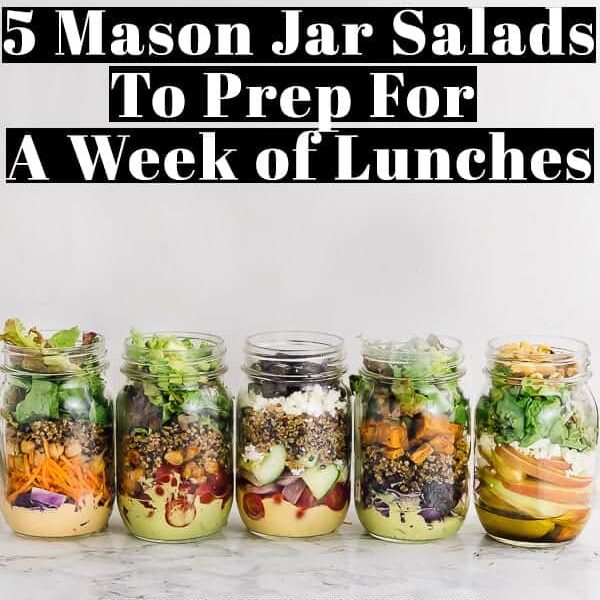 Roasted Sweet Potato & Black Bean Salad
A delicious and easy salad that's packed with goodness!
Ingredients
Roasted Sweet Potato & Black Bean Salad
3 tablespoons Creamy Vegan Avocado Dressing
1/3 cup roasted sweet potato cubes*
1/4 cup seasoned black beans, I just heat them in a pan and stir with cumin, garlic, salt and black pepper
1/4 cup purple cabbage
1/3 cup cooked quinoa
2 cups mixed salad greens, washed, torn and dried
Instructions
Roasted Sweet Potato & Black Bean Salad
Layer the ingredients in a mason jar once cooled and place in fridge as follows from bottom to top

Dressing

Purple Cabbage

Black Beans

Quinoa

Sweet Potato Cubes

Mixed Salad Greens Last.

If you want to reheat some of the layers, simple separate them in a plate and reheat separately.

Enjoy!
Notes
To roast sweet potato, preheat oven to 425 degrees F. Wash, dry and cube the sweet potato. Rub with a little olive oil, salt, black pepper and garlic powder. Place on foil or a silicone mat on a cookie sheet and bake for 20 to 30 minutes. You won't need all of it for the recipe so you can use it as a side dish to your other meals.

If you try any of these Meal Prep Mason Jar Salads please let me know in the comment section below, or tag me on instagram with the hashtag #jessicainthekitchen! For more exclusive recipes follow me on Instagram AND on Snapchat: jessinkitchen.
Calories: 145kcal, Carbohydrates: 21g, Protein: 4g, Fat: 5g, Saturated Fat: 1g, Sodium: 237mg, Potassium: 318mg, Fiber: 4g, Sugar: 4g, Vitamin A: 3723IU, Vitamin C: 16mg, Calcium: 23mg, Iron: 1mg
Disclaimer: Although jessicainthekitchen.com attempts to provide accurate nutritional information, kindly note that these are only estimates. Nutritional information may be affected based on the product type, the brand that was purchased, and in other unforeseeable ways. Jessicainthekitchen.com will not be held liable for any loss or damage resulting for your reliance on nutritional information. If you need to follow a specific caloric regimen, please consult your doctor first.