Nourish Buddha Bowl with Harissa Tahini Dressing
This Nourish Buddha Bowl is filled with nourishing, detoxifying and best of all absolutely delicious veggies and grains and topped with an incredible tahini dressing!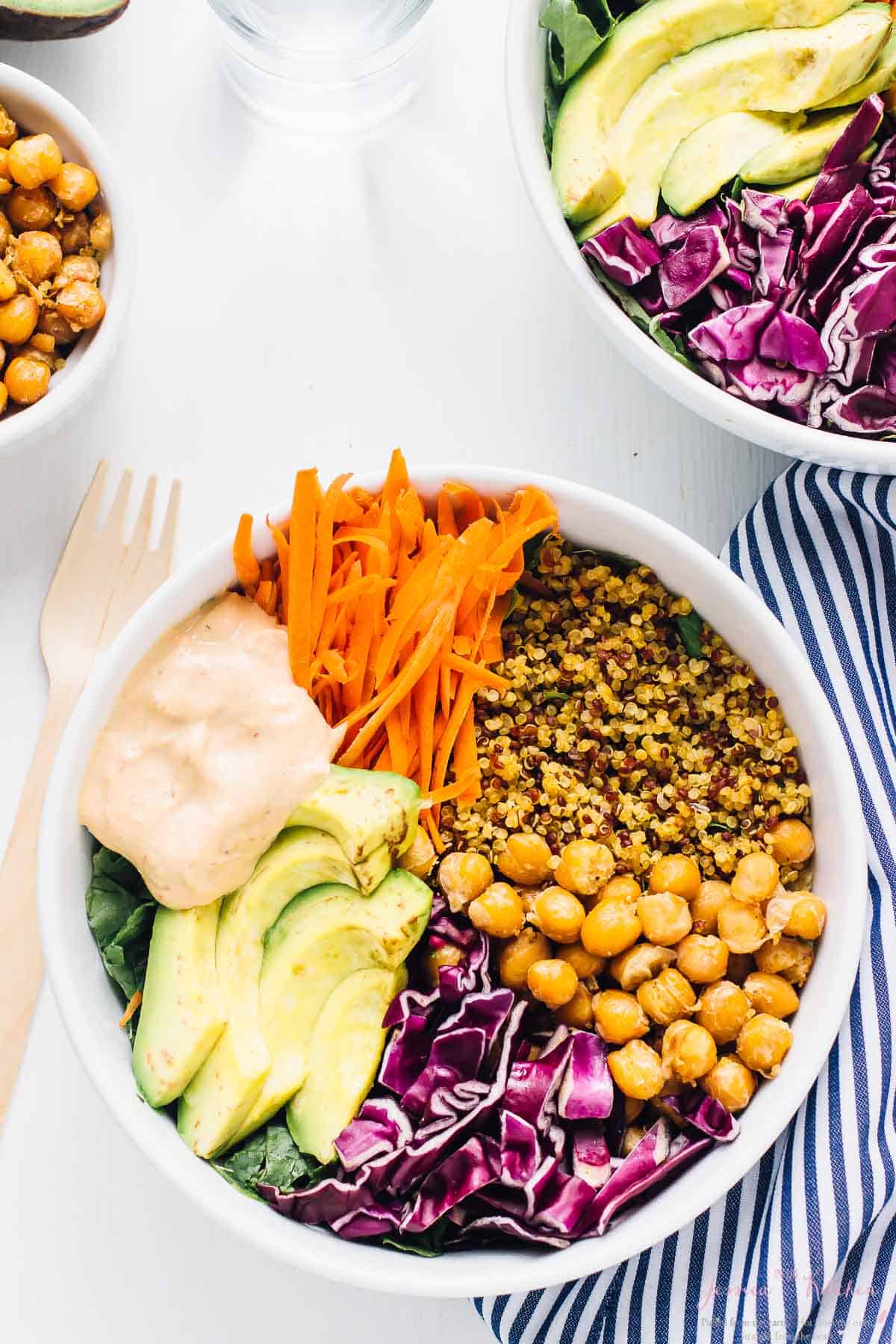 Four words: My. Husband. Devoured. This. I took one bowl, he took the other, and he had to stop talking to me to get into his food. "This is just SO good!" That's music to my ears, friends. So apart from the fact that this bowl is ridiculously good for you, it's so very, very tasty…and isn't that what we all want in the end?
Yes, actually.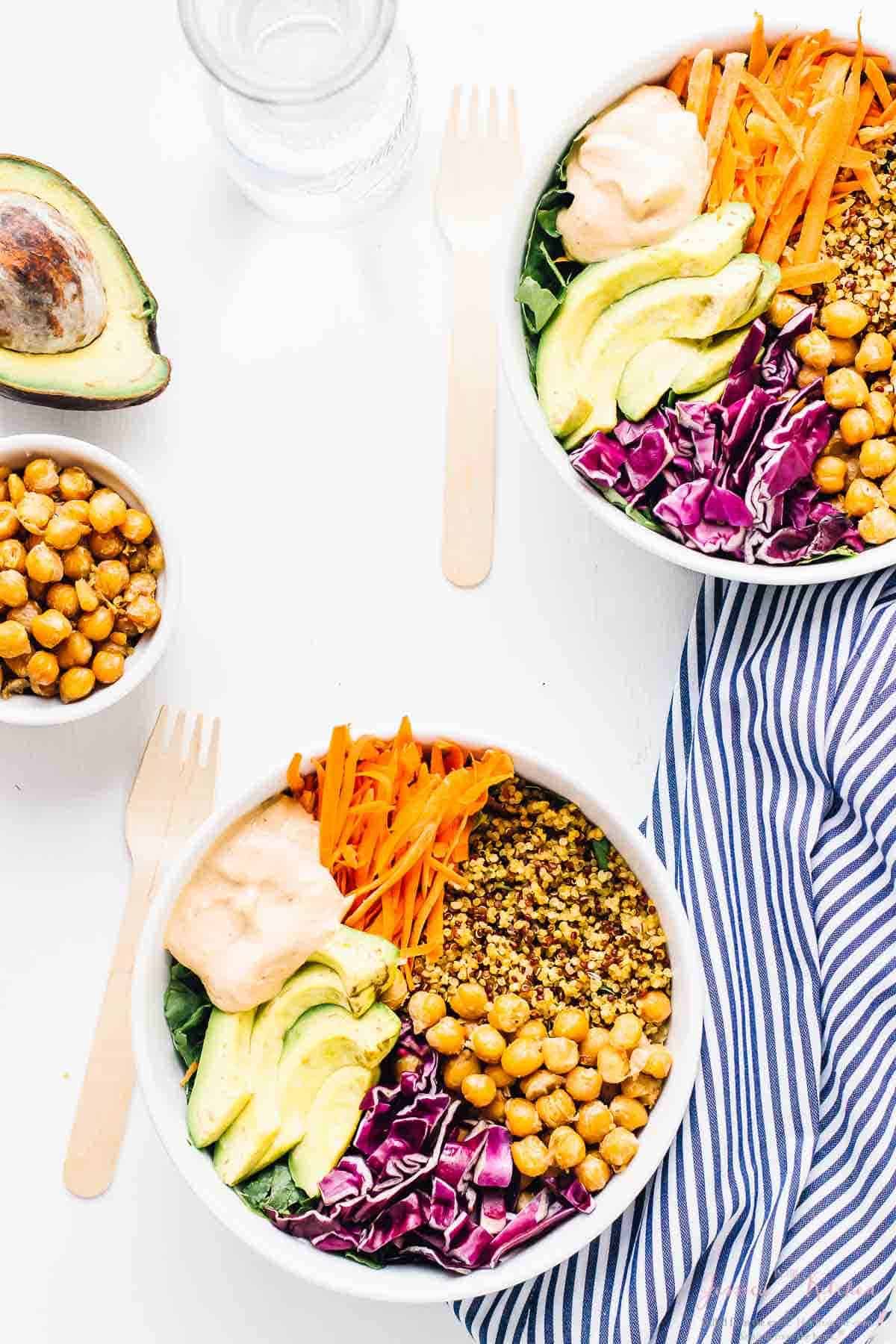 So what exactly is a nourish buddha bowl? A buddha bowl consists of greens, grains, protein, healthy fats and usually a delicious dressing on top of it all that all do exactly that, nourish, which is to provide for growth, health and good condition. This bowl will not only leave you feeling full, but will give you a complete wave of healthy benefits by the time you're done.
We really enjoyed this bowl so much that I am definitely making it for lunch tomorrow, and the day after that. It's the perfect meal planning dish since it's all separate components coming together to make one delicious lunch or dinner and so incredibly versatile. No carrots? Sure, use broccolini. No chickpeas? Use sweet potatoes. You can switch and swap this bowl out as much as your heart desires. For right now, I adore this particular combination. It's incredible benefits are:
Nourish Buddha Bowl Benefits
Cabbage – Loaded with vitamin C which is an effective and excellent anti-oxidant.
Quinoa – One of the few plant foods that are a complete protein source, and is high in fiber which will keep your full and help with bloating.
Chickpeas – Another great source of protein and fiber which contribute to weight loss and intestinal health.
Kale – Incredibly high in Vitamin K, C and beta-carotene which helps your vision, your immune system and your metabolism.
Avocado – The best healthy fat ever (my opinion). Avocado are loaded with fiber, potassium and heart healthy fats which makes it an all around great addition to your diet.
Harissa Tahini Dressing – Tahini is great for liver detoxification, helps maintain healthy skin and muscle tone, and between you and me, tastes down right amazing.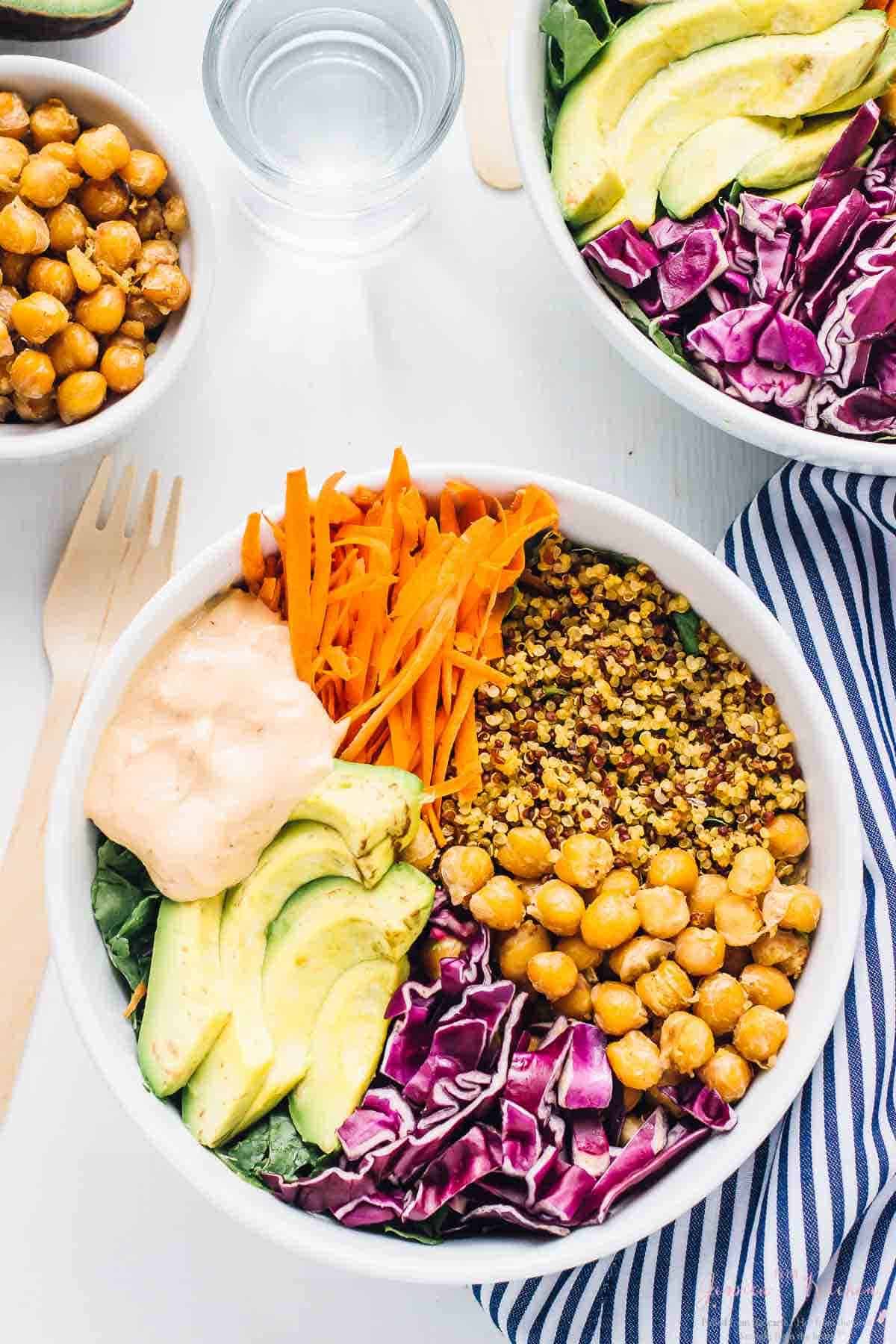 So, now you can dig into and devour your nourish buddha bowl knowing that it is incredibly good for you and still delicious.
Save me some, please?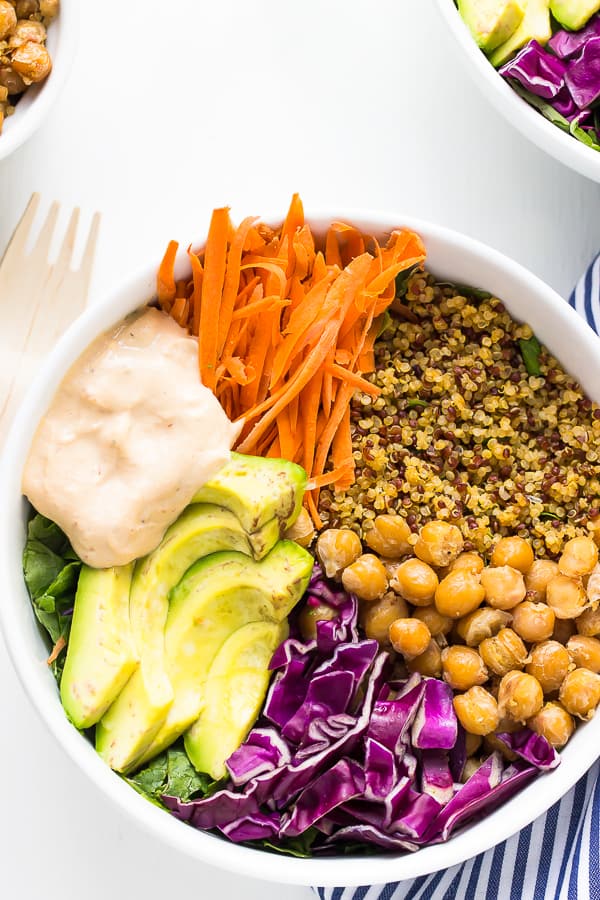 | SHOP THE POST // CLICK THE LEFT & RIGHT ARROWS TO SCROLL |


MORE EASY BUDDHA BOWL FOOD RECIPES
Honey & Lime Quinoa Salad Bowl with Spicy BBQ Chickpeas
Quinoa and Black Bean Burrito Bowl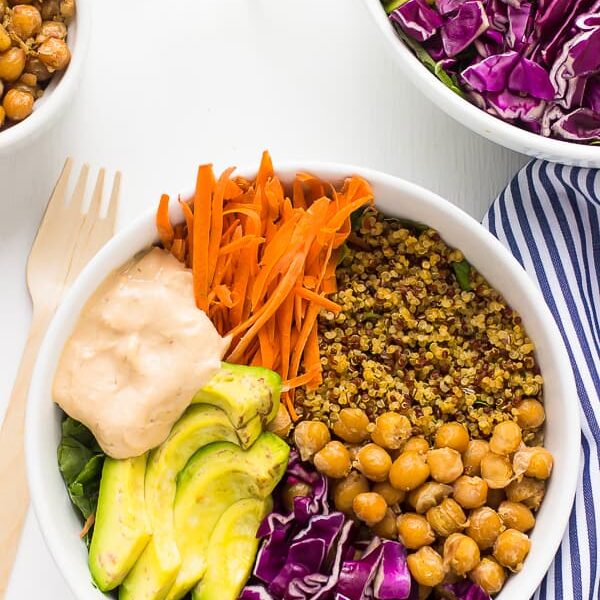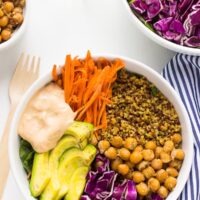 Nourish Buddha Bowl with Harissa Tahini Dressing
This Nourish Buddha Bowl is filled with nourishing, detoxifying and best of all absolutely delicious veggies and grains and topped with an incredible tahini dressing!
Ingredients
Nourish Buddha Bowl
1/2 cooked quinoa
1 cup chickpeas, cooked and drained
1/2 cup shredded carrots
1/2 cup chopped purple cabbage
4 cups kale or other greens
1 small avocado
Harissa Tahini Dressing
1/4 cup tahini
1/4 teaspoon salt
1/4 teaspoon ground black pepper
1 teaspoon harissa paste
4 tablespoons water
2 tablespoons lime juice
3 cloves garlic, chopped
Per Buddha Bowl
1/4 cup cooked quinoa
1/2 cup cooked chickpeas
1/4 cup shredded carrots
1/4 cup purple cabbage
2 cups kale or other green
3 tablespoons of harissa tahini dressing
Instructions
Harissa Tahini Dip
Mix all the ingredients together in a blender or food processor. Spoon into a bowl and set aside until ready.

Buddha Bowl
Heat coconut oil in a pan over medium high heat. Add the chickpeas and crisp for 15 minutes on medium hight, turning over to chickpeas in a pan over medium high heat in a tablespoon of heated coconut oil.


Assemble the bowl with the kale on the bottom, and the other ingredients arranged side by side. Mix everything together, getting the dressing on everything, and enjoy!
Calories: 171kcal, Carbohydrates: 26g, Protein: 9g, Fat: 5g, Saturated Fat: 1g, Sodium: 44mg, Potassium: 566mg, Fiber: 4g, Sugar: 3g, Vitamin A: 9490IU, Vitamin C: 88mg, Calcium: 126mg, Iron: 3mg
Disclaimer: Although jessicainthekitchen.com attempts to provide accurate nutritional information, kindly note that these are only estimates. Nutritional information may be affected based on the product type, the brand that was purchased, and in other unforeseeable ways. Jessicainthekitchen.com will not be held liable for any loss or damage resulting for your reliance on nutritional information. If you need to follow a specific caloric regimen, please consult your doctor first.