Quick Pickled Radishes
These Quick Pickled Radishes are so easy to make and are delicious crunchy and spicy bites that can go on everything from sandwiches to salads to tacos!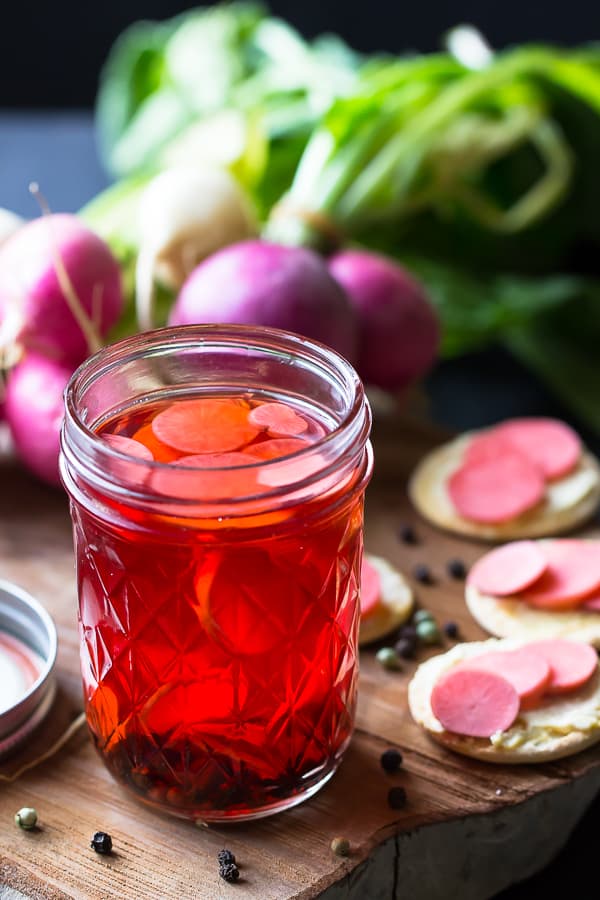 So you know how some veggies – cucumbers, jalapeños, bell peppers – are really great, delish even, on their own. They all go great in other dishes and enhance them. Now have you ever had any of those pickled? Cucumbers turn into addictive pickles, jalapeños become sweet and dangerously-addictive spicy bites of heaven, and bell peppers become heavily induced with intense flavour. Basically, they all get 100% better. The same goes for these radishes. They get even spicier, retain their crunch and go on EVERYTHING. I'm talking sandwiches, salads, pizzas, apps, everything and anything that you want to taste better, put them on ALL the things.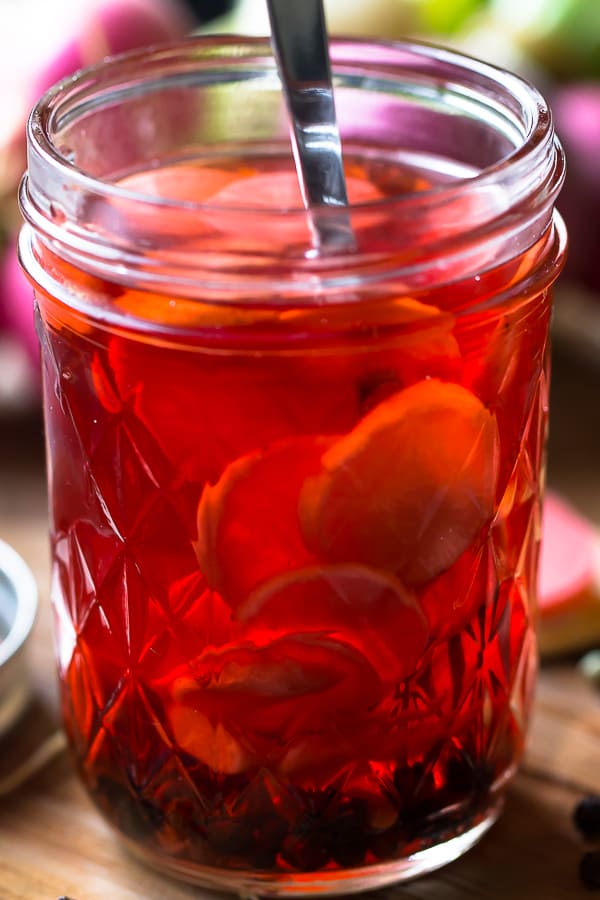 There's not much to explain about these pickled radishes. They're as simple a dish as it gets. The process of quick-pickling is also ridiculously easy and can be done by anyone. Quick-pickling is different from regular pickling because it doesn't require you to do proper canning and sealing of the jars in boiling hot water. I just pictured a total disaster with my clumsy self in the kitchen at the sight of the words " carefully drop the GLASS into at least x cups of boiling hot water". Umm, no. You need to do proper canning when you're selling these or if they're for the long term use.
Since we'll be finishing these within mere weeks of making them (trust me) quick-pickling is the way to go. It's as simple as equal parts water and white vinegar, then adding in salt, a little sweetness and any other spices you want to add. No really, that's it. Add the sliced radishes and let it sit for at least a day for maximum flavour boost and then get to putting it on everything.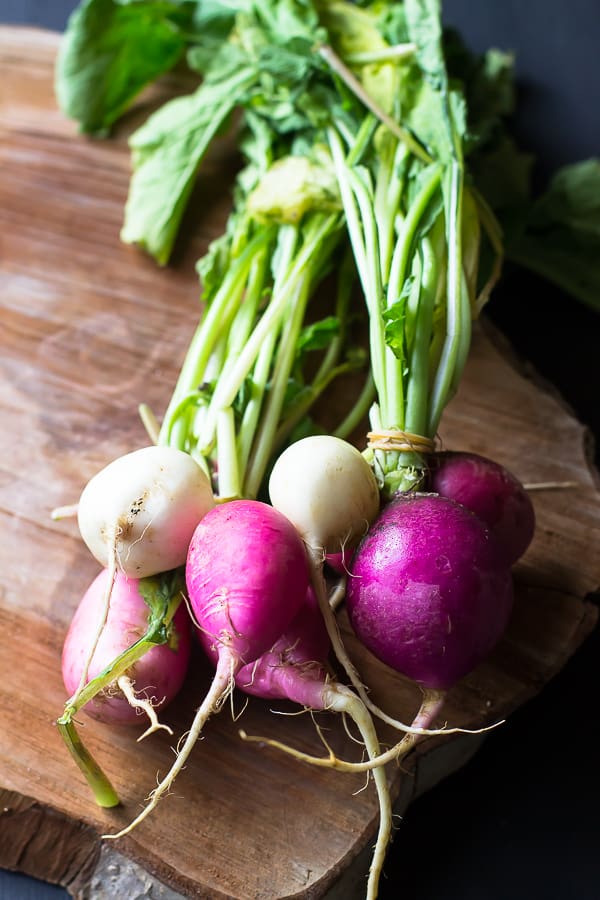 I've now pickled jalapeños and radishes and I'm pretty sure my next mission is to conquer the world. These veggies come alive, and make you want to put every veggie in the pickling juice. Speaking of which, a bit of these juice in a savoury dish adds a delicious brine-y and spicy quick so win, win my friends. Win, win.
Now go forth and get to pickling all the radishes.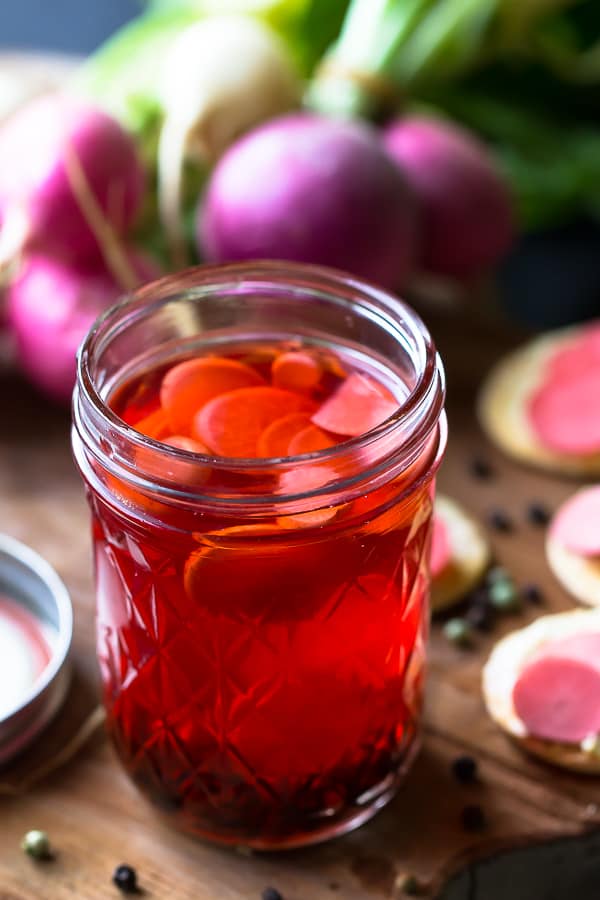 RELATED RECIPES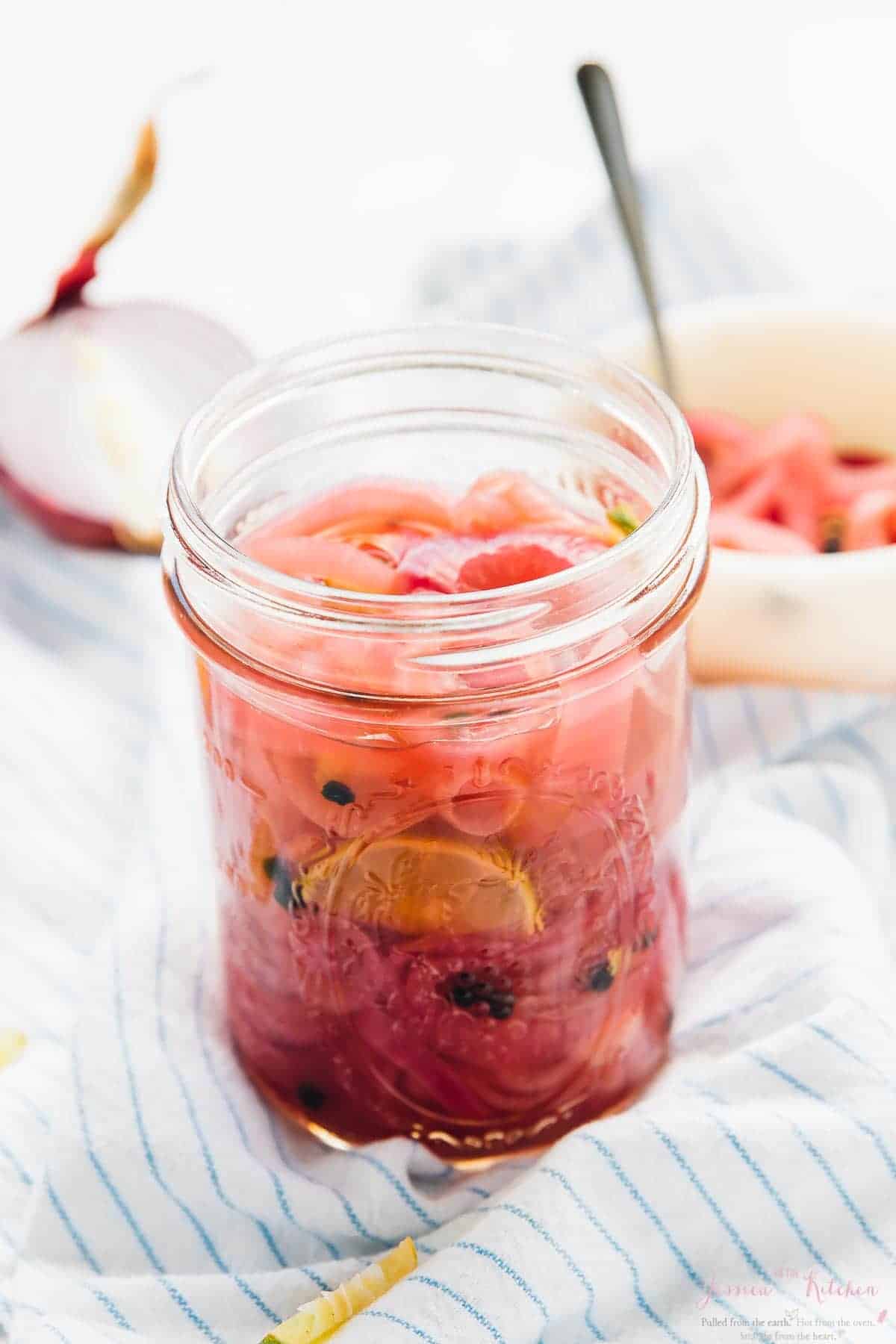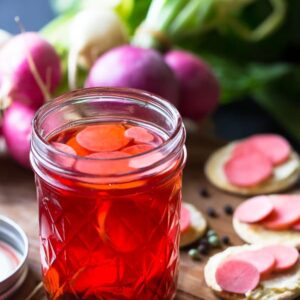 Quick Pickled Radishes
These Quick Pickled Radishes are so easy to make and are delicious crunchy and spicy bites that can go on everything from sandwiches to salads to tacos!
Ingredients
Quick Pickled Radishes
1 bunch radishes, sliced thinly preferably with a mandolin
1 cup white vinegar
1 cup water
3 tablespoons maple syrup
2 teaspoons salt
1 tablespoon peppercorns, I used mixed peppercorns
Instructions
Quick Pickled Radishes
Prepare your radishes by washing them, slicing off the tops and wispy bottoms, and using a mandolin to slice very thin circles. You could also use a sharp chef's knife.

Add the circles to a canning jar such as a Ball jar.

In a small pan, add the vinegar, water maple syrup and salt. Bring to a boil, stirring, then remove from heat.

Let the mixture cool for a few minutes so that's it's no longer boiling hot, then pour the hot mixture over the radishes in the jar. Add the peppercorns and stir everything together with a fork or spoon.

Allow to cool to room temperature before serving. They can be served immediately but taste much better after a day of the flavours marrying together in the fridge.

Enjoy!
Calories: 24kcal, Carbohydrates: 5g, Protein: 1g, Fat: 1g, Saturated Fat: 1g, Sodium: 470mg, Potassium: 40mg, Fiber: 1g, Sugar: 4g, Vitamin A: 5IU, Vitamin C: 1mg, Calcium: 14mg, Iron: 1mg
Disclaimer: Although jessicainthekitchen.com attempts to provide accurate nutritional information, kindly note that these are only estimates. Nutritional information may be affected based on the product type, the brand that was purchased, and in other unforeseeable ways. Jessicainthekitchen.com will not be held liable for any loss or damage resulting for your reliance on nutritional information. If you need to follow a specific caloric regimen, please consult your doctor first.