No Bake Carrot Cake Energy Bites (10 Minutes, Vegan)
These No Bake Carrot Cake Energy Bites are made with only 7 ingredients, vegan and gluten-free and are a perfect quick healthy breakfast or snack!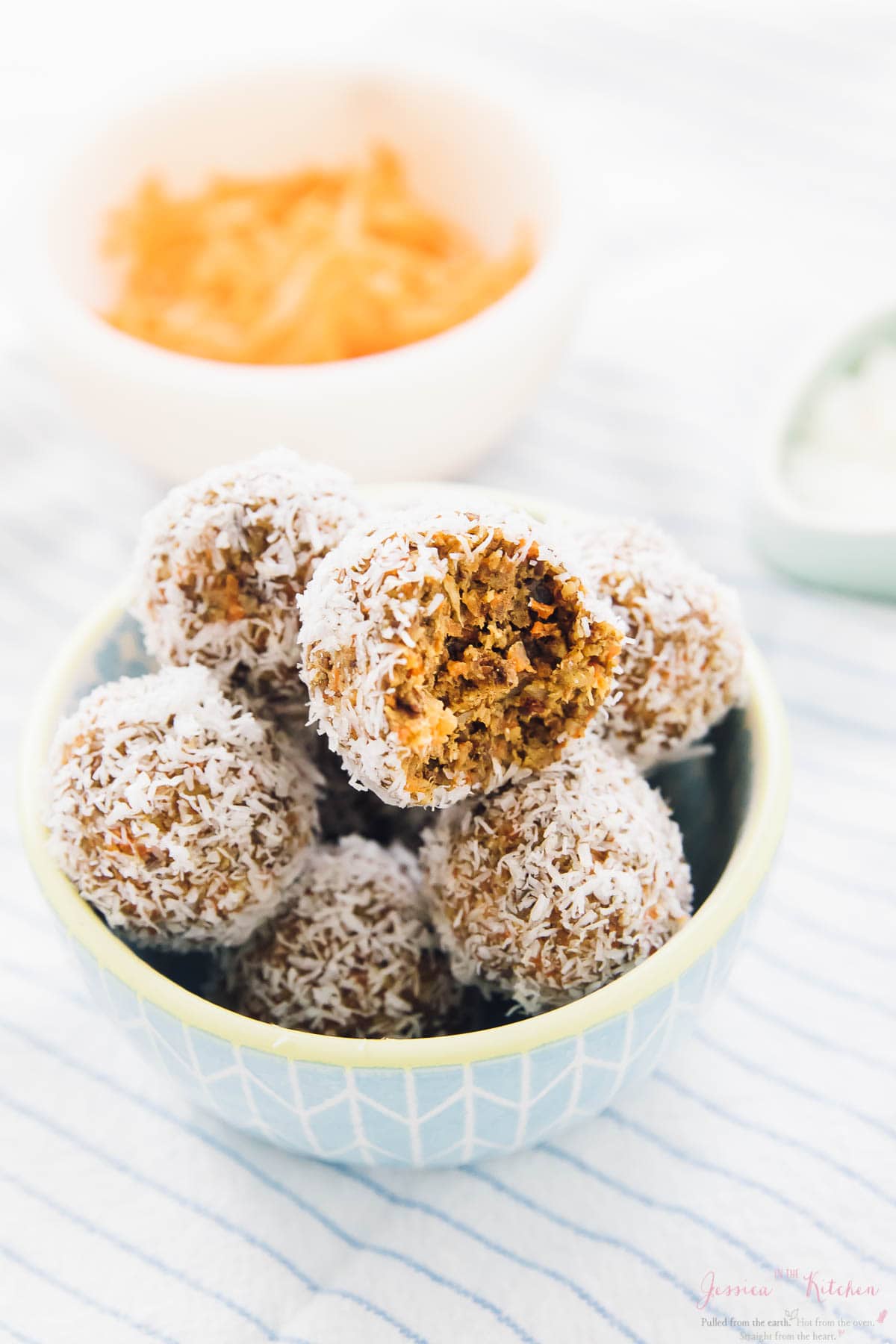 Total fun fact about myself: I'm a total sci-fi geek, but, more about that later. Also fun fact? Carrot cake is my favourite type of cake, ever. I mean, I won't discriminate (hey cheesecake) but anything carrot cake flavoured is up there for me.
These Carrot Cake Energy Bites are sooo yummy. The spices added really help create that famously-known carrot cake flavour and up the ante for these bites. They are a great, all natural, super quick dessert idea that could easily be an on-the-go breakfast, post-workout snack, or any other purpose you'll need these babies for.
P.S. – you will LOVE how these taste.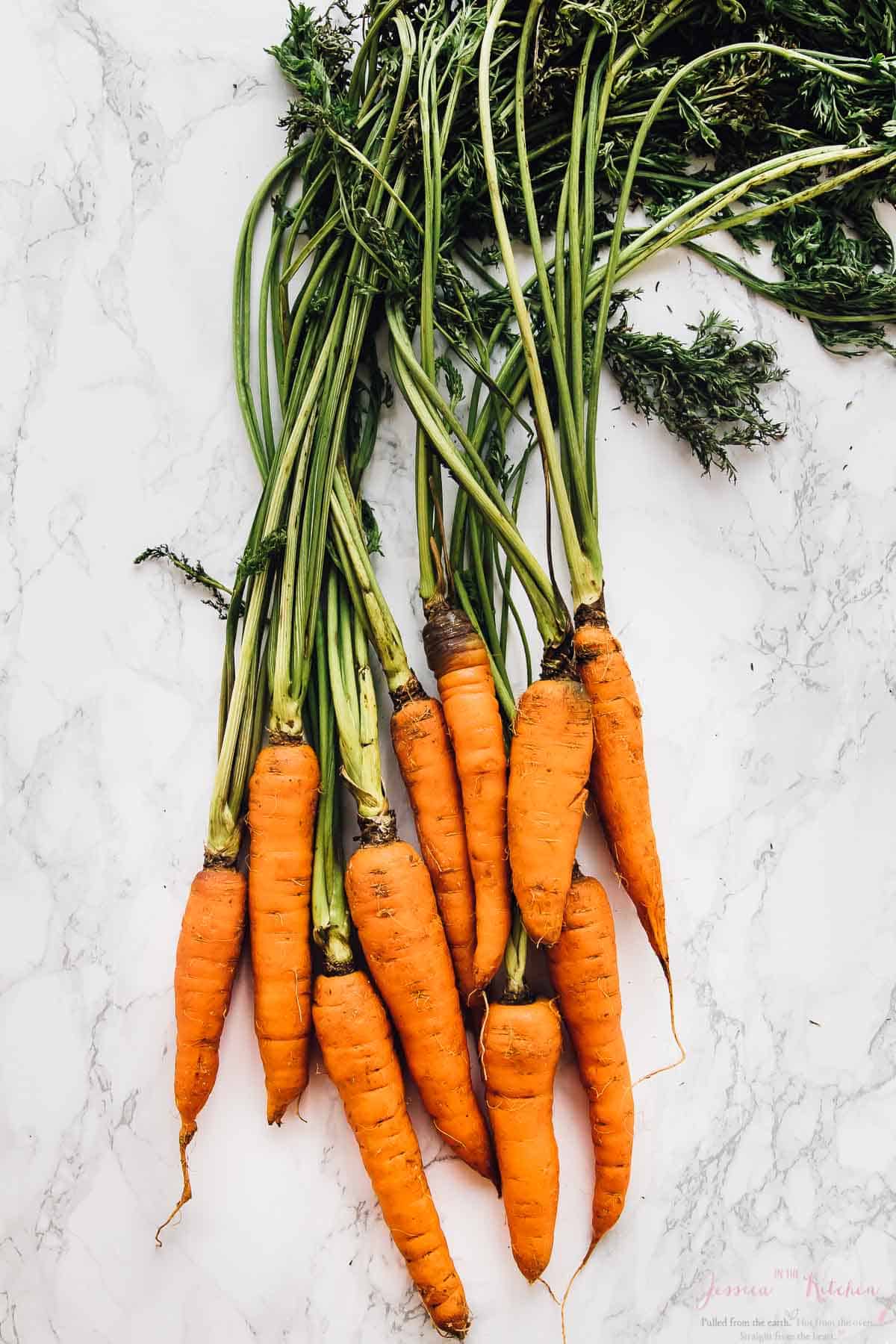 Back to my sci-fi love. My favourite types of sci-fi themes would be future world, space shows, alternate reality worlds, time travel themes, end of the world, post-apocalyptic, dystopian…you see where I'm going with this right? I also love superhero shows, both sci-fi and fantasy themes.
You should see our Netflix recommendations.
Earlier this month I was swapping shows/movies with a new blogger friend, Mary, and I was in full geek mode. After completely binging the show she recommended (P.S. Jericho is AMAZING) I went into a new show the Mr. found, Helix. Perfect snack while watching this show with my jaw on the floor? These Carrot Cake Energy Bites.
See how I kind of linked my rant? Ha. Grabbed right from the fridge, long lasting, and absolutely delicious.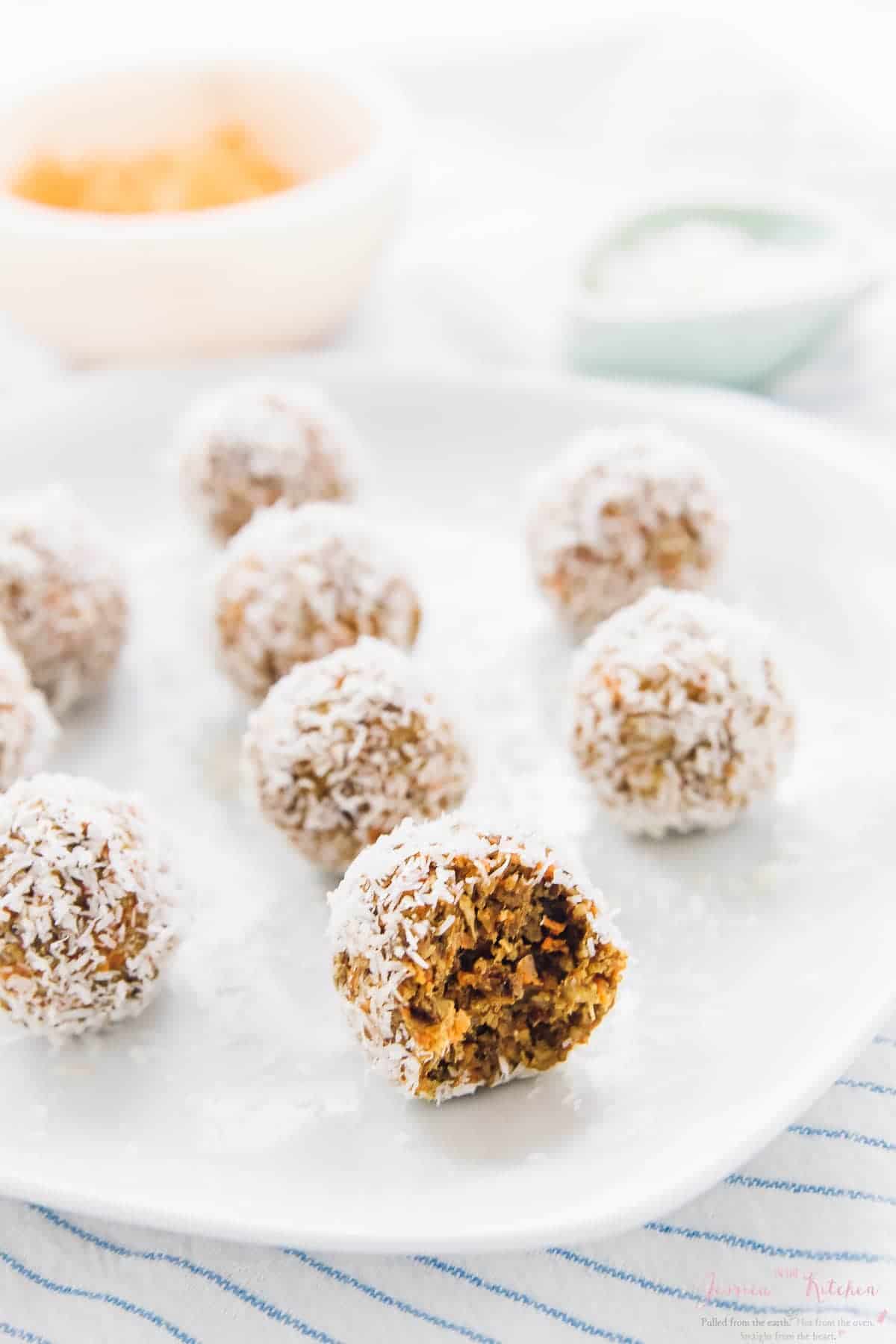 In all seriousness, any craving sweet that you're having, these Carrot Cake Energy Bites will solve it immediately. They're also super customisable and great for meal prepping snacks and easy breakfasts. Feel free to use walnuts instead of pecans, dried cranberries instead of raisins, or even adding dried pineapples into these. Uh, that last part sounds DIVINE, yes to that.
Enjoy!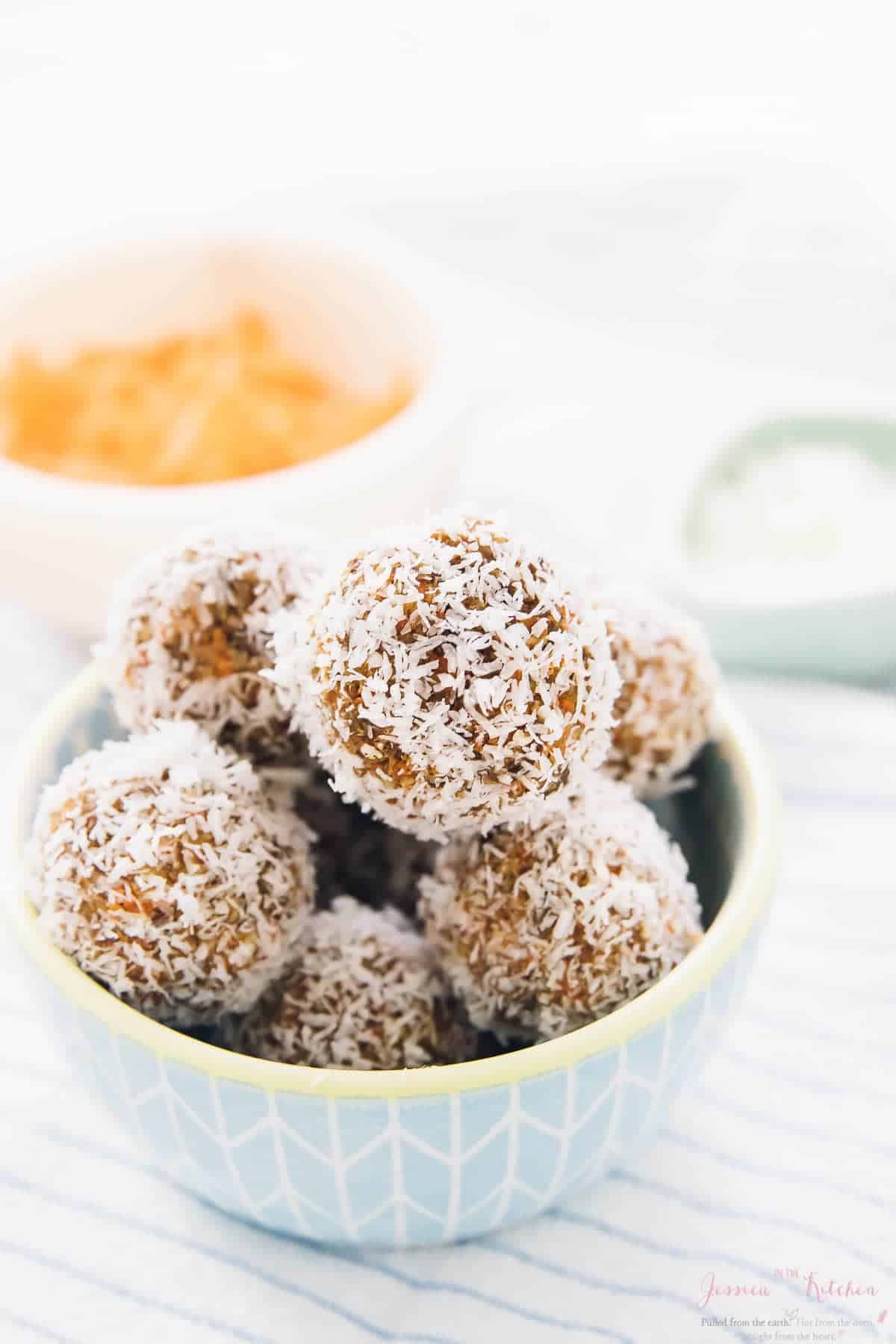 P.S. Here are some of the items I used to make this recipe if you'd like to use them too:
| WHAT YOU'LL NEED // SHOP MY FAVORITE INGREDIENTS & PREP PRODUCTS |



If you try these No Bake Carrot Cake Energy Bites please let me know in the comment section below, or tag me on instagram with the hashtag #jessicainthekitchen! For more exclusive recipes follow me on Instagram AND on Snapchat: jessinkitchen.
RELATED NO BAKE RECIPES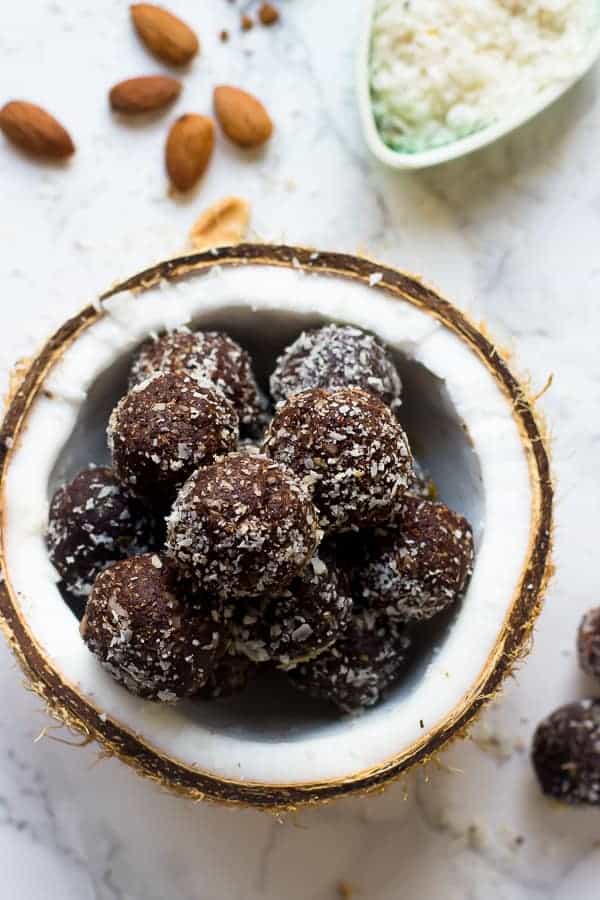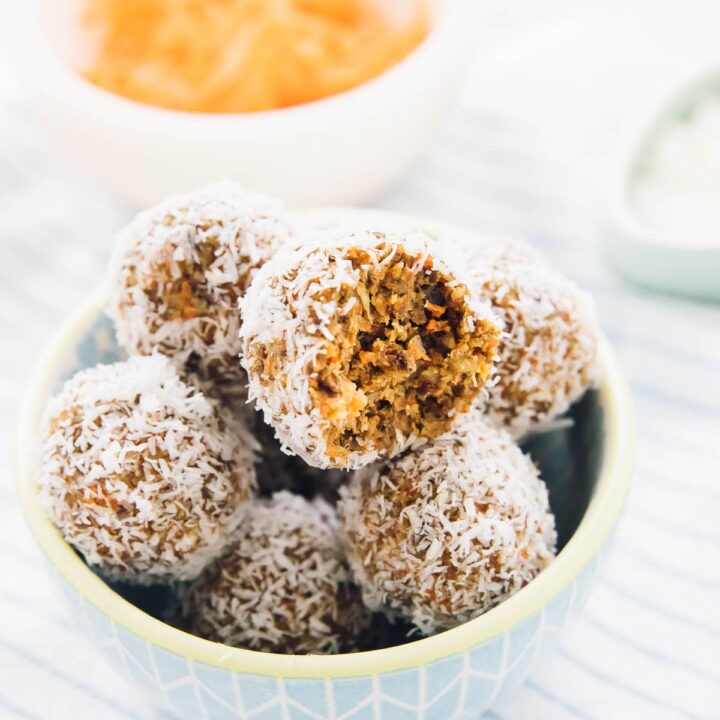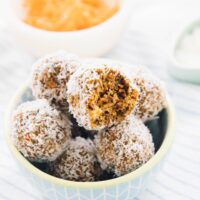 No Bake Carrot Cake Energy Bites
These No Bake Carrot Cake Energy Bites are made with only 7 ingredients, vegan and gluten-free and are a perfect quick healthy breakfast or snack!
Ingredients
No Bake Carrot Cake Energy Bites
1 cup pecans
1 cup dates, Medjool or regular, chopped
2 cups shredded carrots
1 cup shredded coconut flakes
1/2 teaspoon cinnamon
1/2 teaspoon nutmeg
1/4 teaspoon sea salt
OPTIONAL: raisins
Instructions
No Bake Carrot Cake Energy Bites
Grind all the ingredients except ½ cup coconut flakes in your food processor until incorporated and the mixture begins to turn into a dough, about 1 minute. Scrap down the sides if necessary.


Roll the mixture into round balls using the help of saran wrap (wrap it around the bites to form a circle), until all the mixture is finished.


Roll the balls in the last ½ cup shredded coconut flakes.


Place in the fridge for at least an hour, then enjoy!
Calories: 111kcal, Carbohydrates: 11g, Protein: 1g, Fat: 8g, Saturated Fat: 3g, Sodium: 50mg, Potassium: 166mg, Fiber: 3g, Sugar: 7g, Vitamin A: 2676IU, Vitamin C: 1mg, Calcium: 15mg, Iron: 1mg
Disclaimer: Although jessicainthekitchen.com attempts to provide accurate nutritional information, kindly note that these are only estimates. Nutritional information may be affected based on the product type, the brand that was purchased, and in other unforeseeable ways. Jessicainthekitchen.com will not be held liable for any loss or damage resulting for your reliance on nutritional information. If you need to follow a specific caloric regimen, please consult your doctor first.