Candied Yams
Candied yams are a staple of Southern cuisine, and this quick recipe is entirely plant-based. Sweet, sticky, and rich, these yams are a mouth-watering side dish.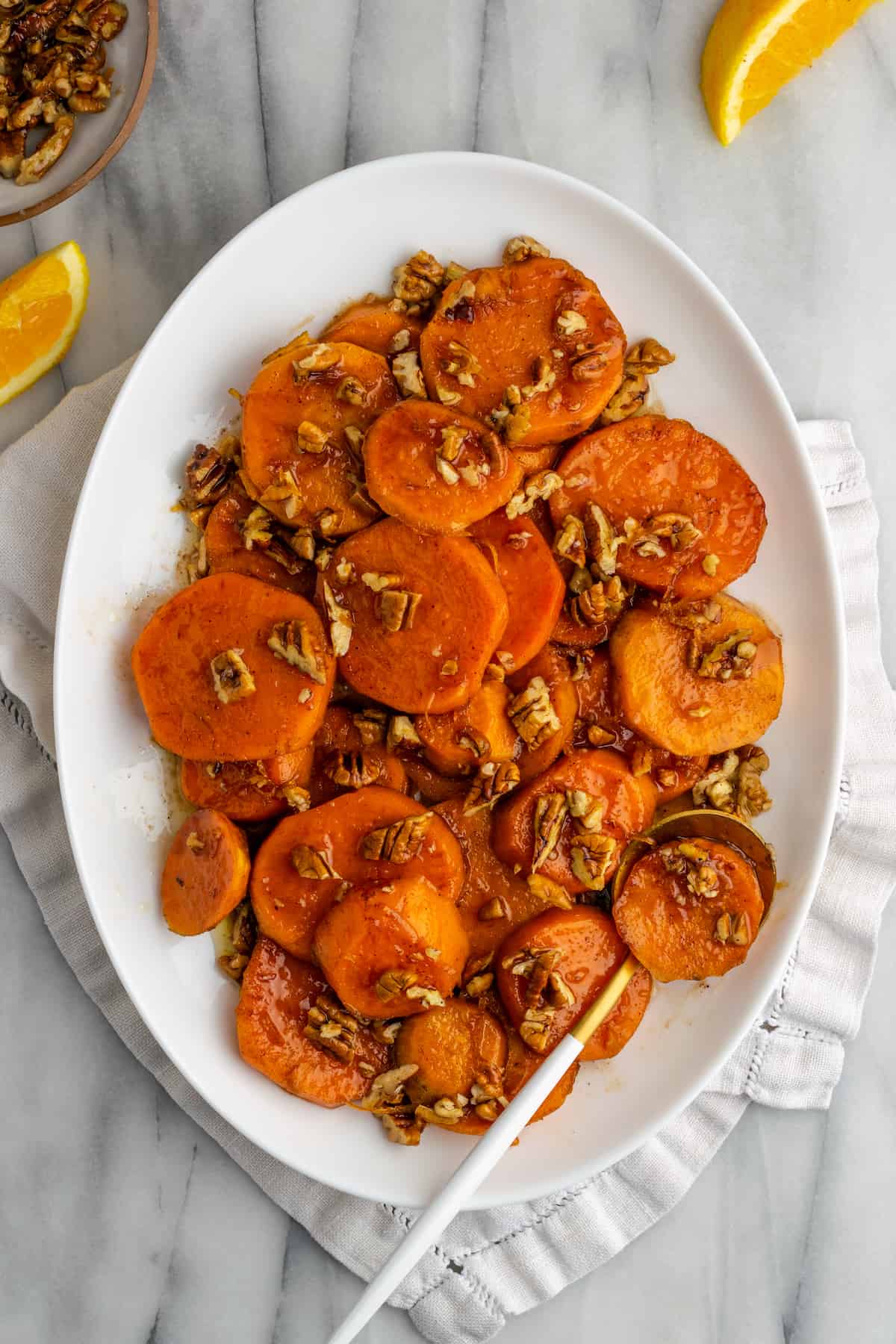 Candied yams are one of my favorite side dishes. They're sweet. They're salty. They're decadent. Unfortunately, they're usually dripping in butter, so they're not vegan. But it turns out that plant-based candied yams are just as delicious!
This is an easy vegan recipe for one of the most common side dishes in the south. Vegan candied yams will make your mouth water with their juiciness, stickiness, and sweetness, and they work well with so many meals. You can put them alongside your holiday feast, or next to a meat substitute for a special weekend treat. Or they can accompany almost any weekday meal.
You might find yourself making this recipe over and over again, because it's that good, and it's that easy.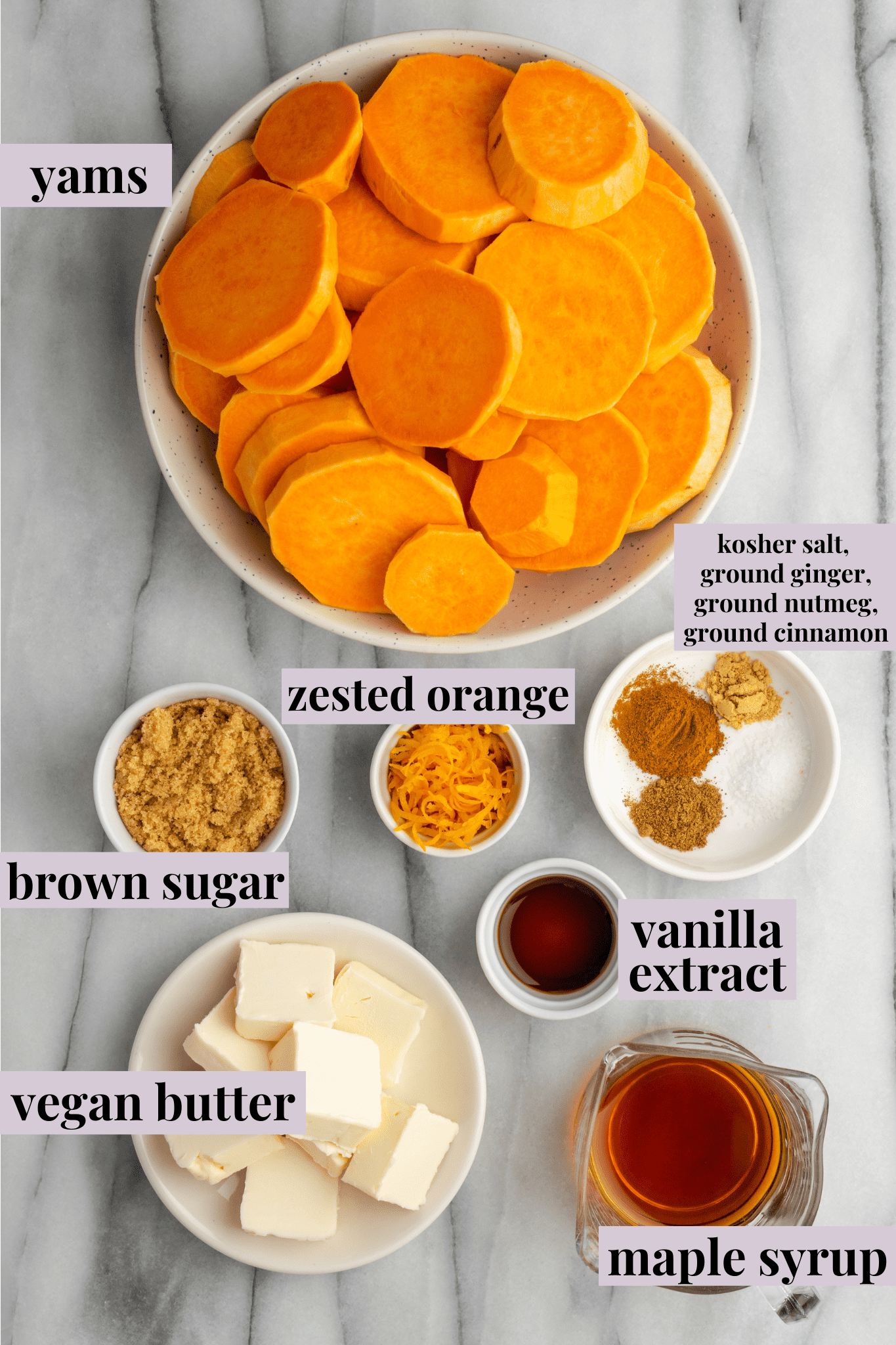 Notes on Ingredients
Be sure to scroll to the recipe card at the bottom of the page to find the exact quantities for each ingredient.
Maple syrup – Try to use 100% pure maple syrup, instead of something with artificial flavors.
Vanilla extract – Make sure you use pure vanilla extract.
What's the Difference Between Yams and Sweet Potatoes?
People often confuse yams and sweet potatoes. In fact, many of the "yams" that are sold at grocery stores are actually mislabeled sweet potatoes. Yams have a little bit more starch and are usually less sweet. You can use either for this dish, but yams are preferable.
How to Make Candied Yams
Preheat the oven. Set the oven to 400F.
Prep the yams. Peel the yams and cut them into ½-inch rounds. Place them in a 9"x13" baking dish.
Melt the butter. Place the vegan butter in a saucepan over medium heat. Melt until the butter begins to sputter.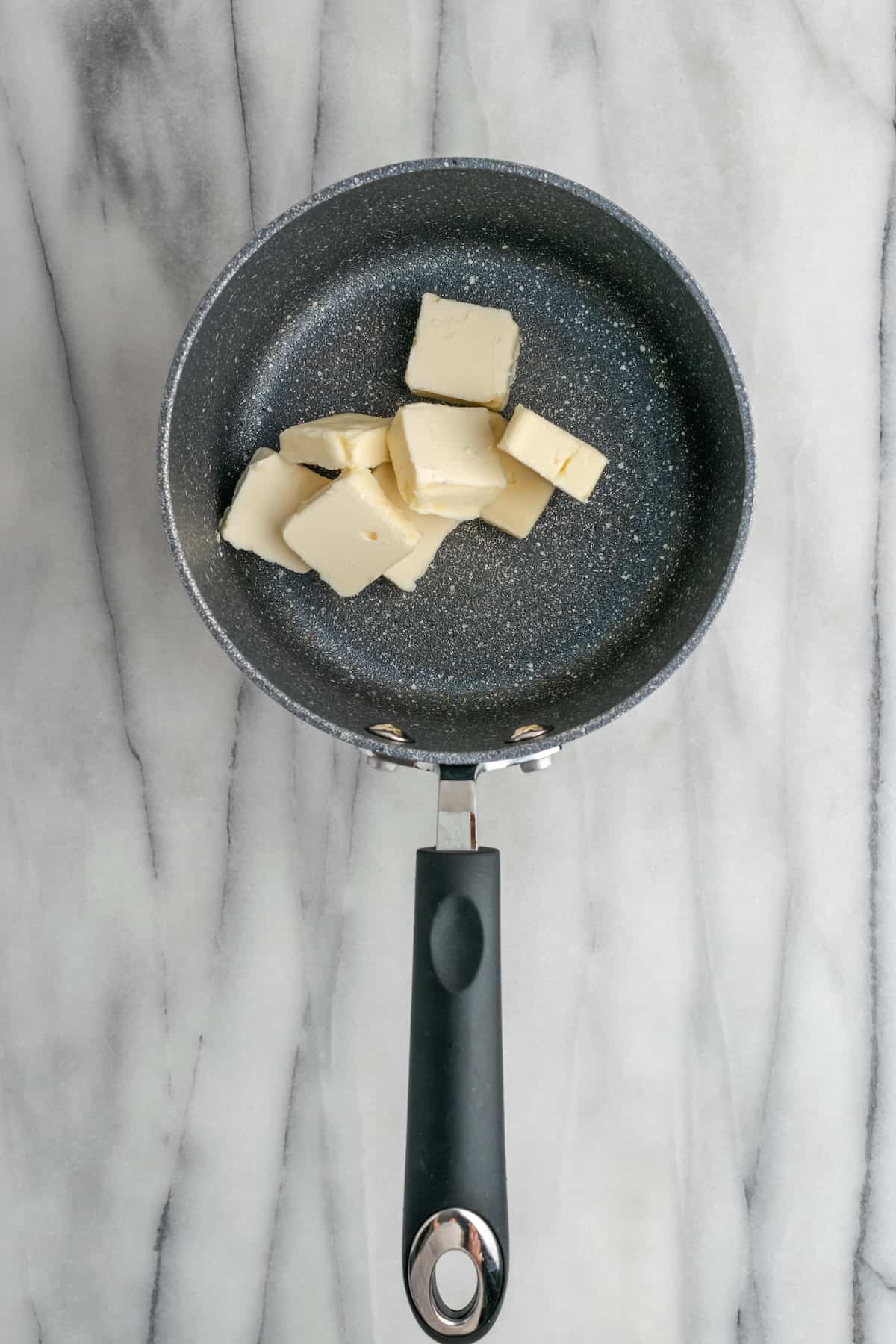 Make the sauce. Add the brown sugar, orange zest, salt, cinnamon, nutmeg, ginger, and maple syrup to the butter. Stir until everything has mixed together, then turn off the heat. Add the vanilla and stir again.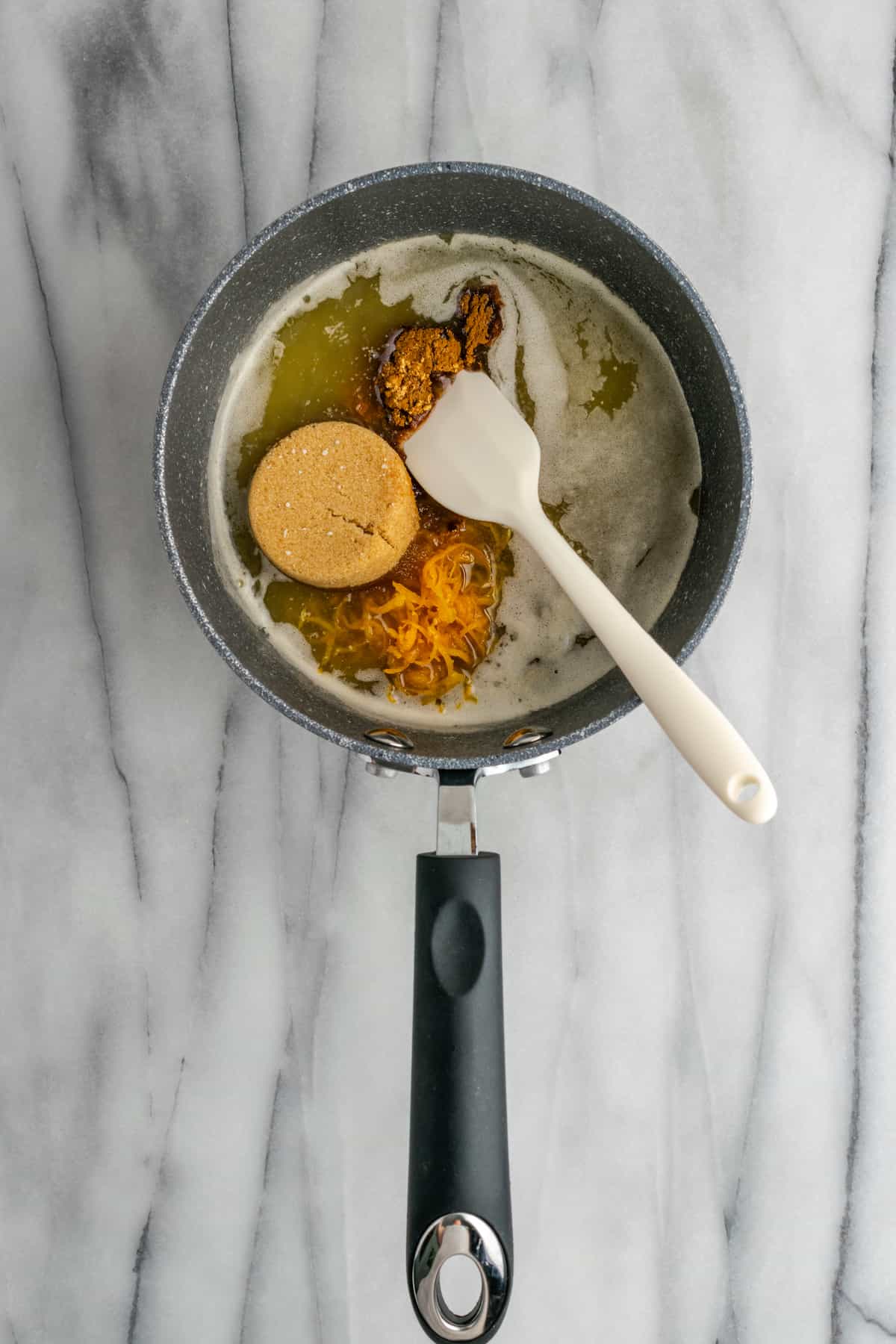 Sauce the yams. Pour the mixture into the baking dish, and toss the yams until they're coated in the sauce.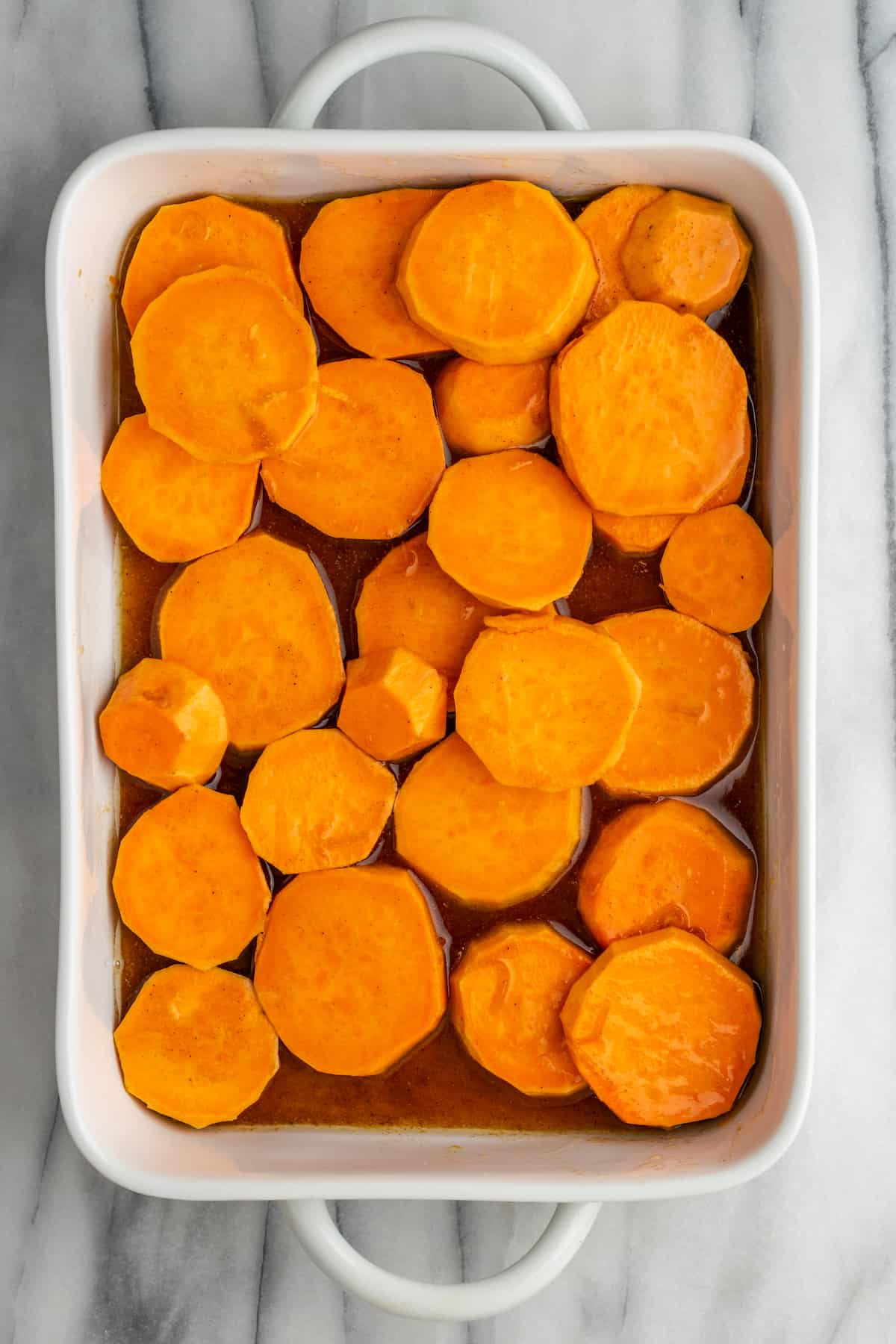 Bake. Cover the baking dish with aluminum foil and bake for 20 minutes, or until the yams are fork-tender. Remove the aluminum foil, and spoon the sauce over the yams. Bake uncovered for 15-20 minutes, or until the sauce has thickened. Remove from the oven, sprinkle with pecans if you'd like, and serve while the vegan candied yams are still hot.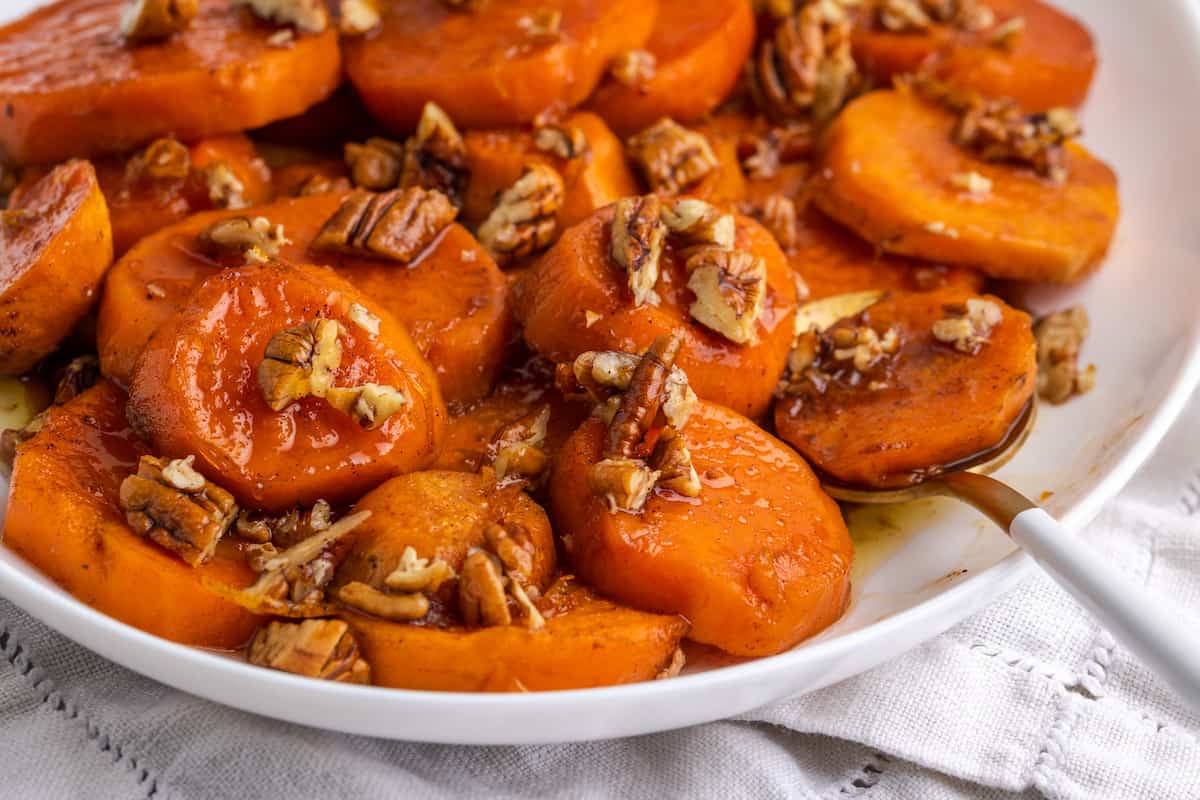 Tips for Success
Follow these tips and your plant-based candied yams will come out perfect every time you make them.
Cut the yams evenly. Try to have every yam slice be roughly the same size. This way the yams will cook consistently and you won't have any undercooked or overcooked pieces.
Don't under bake. Make sure you cook the candied yams long enough for the sauce to caramelize and get sticky. That's part of what makes this recipe so delicious, because the caramelized sugars form a complex and rich flavor.
Don't over bake. While it's important to not undercook the sauce, you don't want to over bake it either. Because the sauce has a fair amount of sugar, it will burn and turn bitter easily.
What to Serve Candied Yams With
Candied yams are one of my all-time favorite side dishes, in part because they go so well with almost everything. Here are a few recipes you could serve them alongside
How to Store and Reheat Leftovers
Candied yams can be kept in the fridge for up to 5 days. All you need to do is store them in an airtight container, and reheat them in the oven or the microwave.
Can I Freeze Candied Yams?
Yes! You can keep candied yams in your freezer for 6 months. Place the yams in an airtight container, and store them towards the back of the freezer. You can reheat them in the oven without having to thaw them first.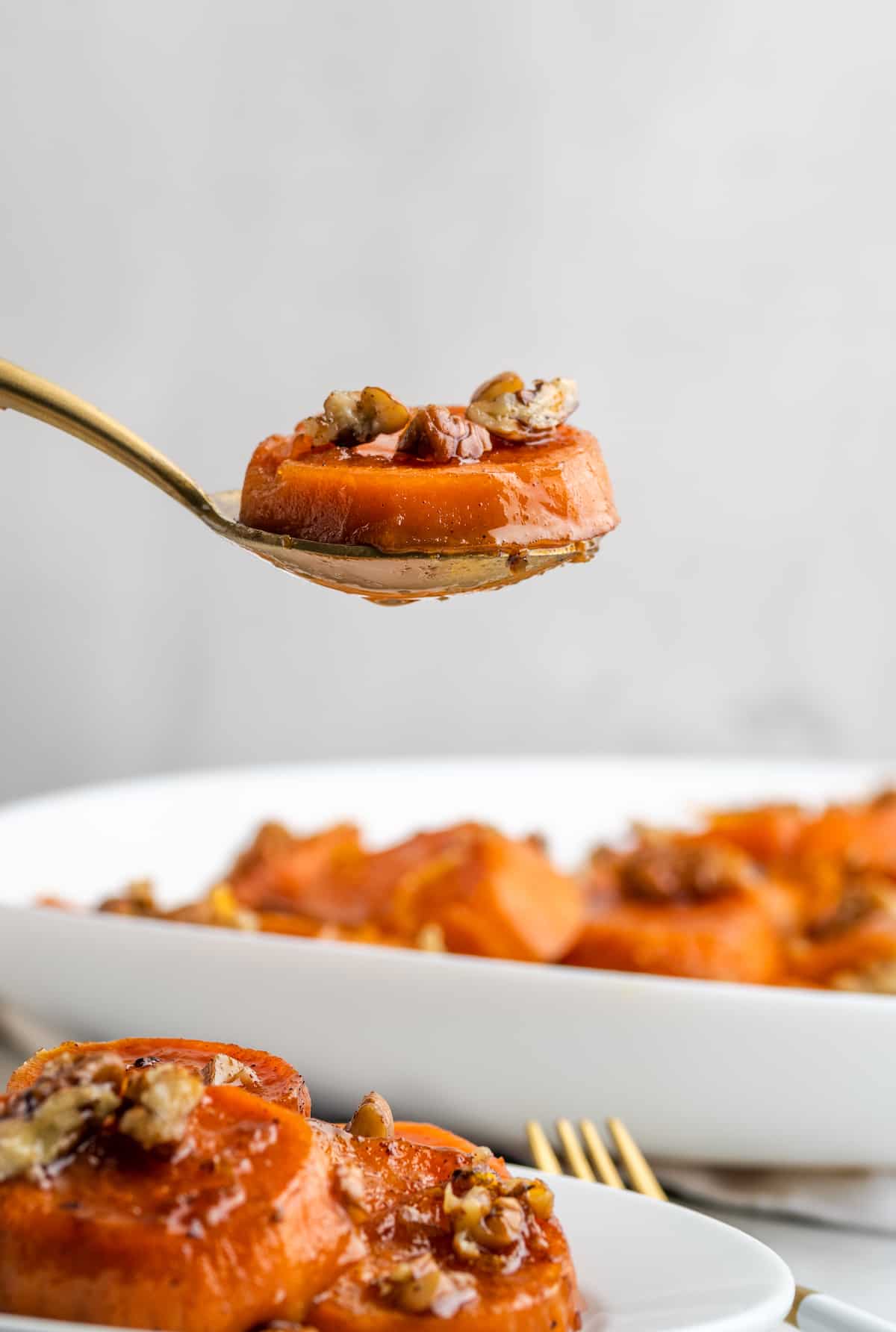 Enjoy friends! If you make this vegan candied yam recipe, please snap a photo and tag #jessicainthekitchen on Instagram! We'd also love it if you would leave a comment below, and give the recipe a rating! Thanks so much!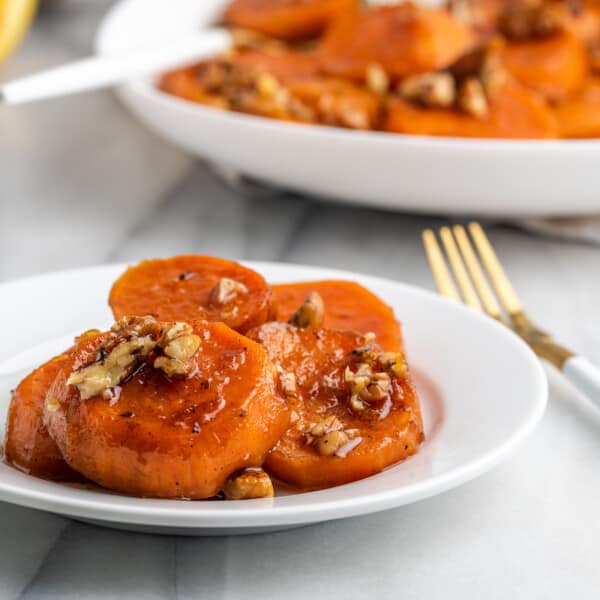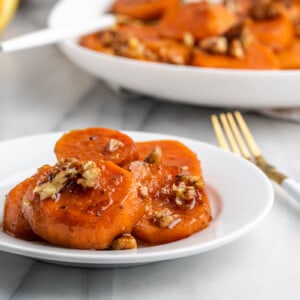 Candied Yams
Sweet and sticky plant-based candied yams that are perfect for any meal.
Ingredients
4 medium yams or sweet potatoes, peeled and cut into 1/2-inch rounds
1/2 cup vegan unsalted butter
1/4 cup light brown sugar
1/4 cup maple syrup
1 large orange, zested (about 1 heaping teaspoon)
1/2 teaspoon ground cinnamon
1/4 teaspoon ground nutmeg
1/4 teaspoon ground ginger
1/4 teaspoon kosher salt
2 teaspoons pure vanilla extract
chopped pecans for garnish, optional
Instructions
Preheat the oven to 400°F.

Place the yams in a 9×13-inch baking dish.

Stir in the sugar, maple syrup, orange zest, cinnamon, nutmeg, ginger, and salt until the sugar is fully dissolved. Remove the pot from the heat. Add the vanilla. Pour the sugar-butter mixture over the yams, and toss to coat.

Cover baking dish with aluminum foil and bake for 20 minutes, until the potatoes are just fork-tender. Remove from the oven and spoon the liquid over the yams. Bake uncovered for another 15 to 20 minutes, until tender and the syrup is thickened. Remove the yams from the oven and serve hot, sprinkled with pecans if you like.
Notes
Cut the yams into evenly-sized pieces. Don't underbake or overbake the yams. Store in an airtight container in the fridge for up to 5 days or in the freezer for up to 6 months. Reheat in the oven. 
Calories: 514kcal, Carbohydrates: 77g, Protein: 4g, Fat: 22g, Saturated Fat: 4g, Polyunsaturated Fat: 6g, Monounsaturated Fat: 10g, Trans Fat: 4g, Sodium: 449mg, Potassium: 895mg, Fiber: 8g, Sugar: 38g, Vitamin A: 32137IU, Vitamin C: 23mg, Calcium: 118mg, Iron: 2mg
Disclaimer: Although jessicainthekitchen.com attempts to provide accurate nutritional information, kindly note that these are only estimates. Nutritional information may be affected based on the product type, the brand that was purchased, and in other unforeseeable ways. Jessicainthekitchen.com will not be held liable for any loss or damage resulting for your reliance on nutritional information. If you need to follow a specific caloric regimen, please consult your doctor first.