Quick Pickled Onions (+ How to Pickle Any Vegetable) + An Anniversary
These Quick Pickled Onions recipe takes only 10 minutes! It completely transforms the onions, and adds a divine pop of flavour to any recipe. Use them in sandwiches, tacos, burgers and any recipe you like!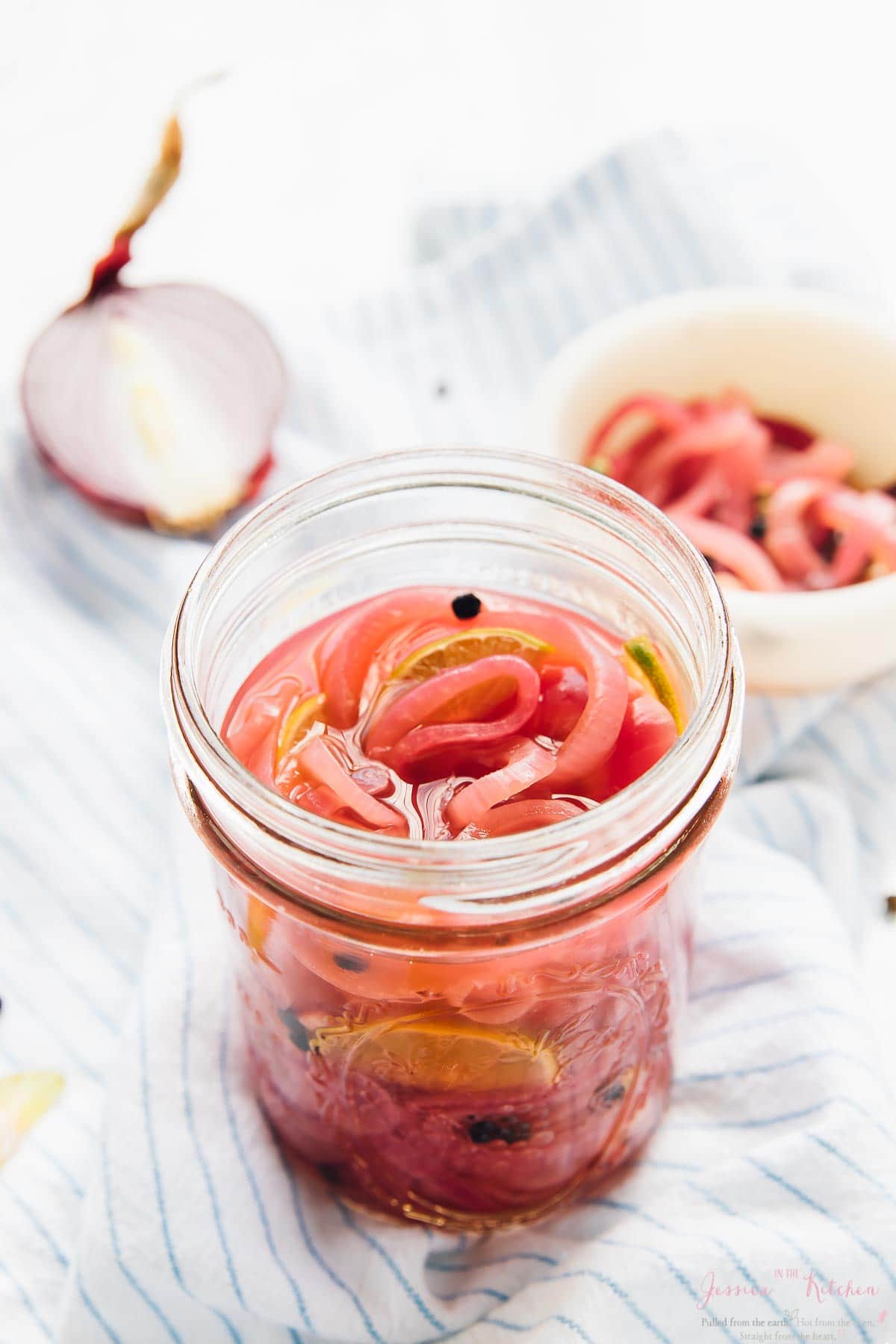 Before we get into these Quick Pickled Onions, can we talk about that pink? It's stunning. It actually makes me want to put these on everything. If the colour doesn't convince you, the taste absolutely will. If you're like me, you love that extra touch that takes a recipe to the next level, be that homemade hot sauce, caramelised onions or something else with a divine hidden flavour. These pickled onions are definitely for you.
Bonus? You can use this pickling liquid for ANY vegetable you want to pickle. In 10 minutes.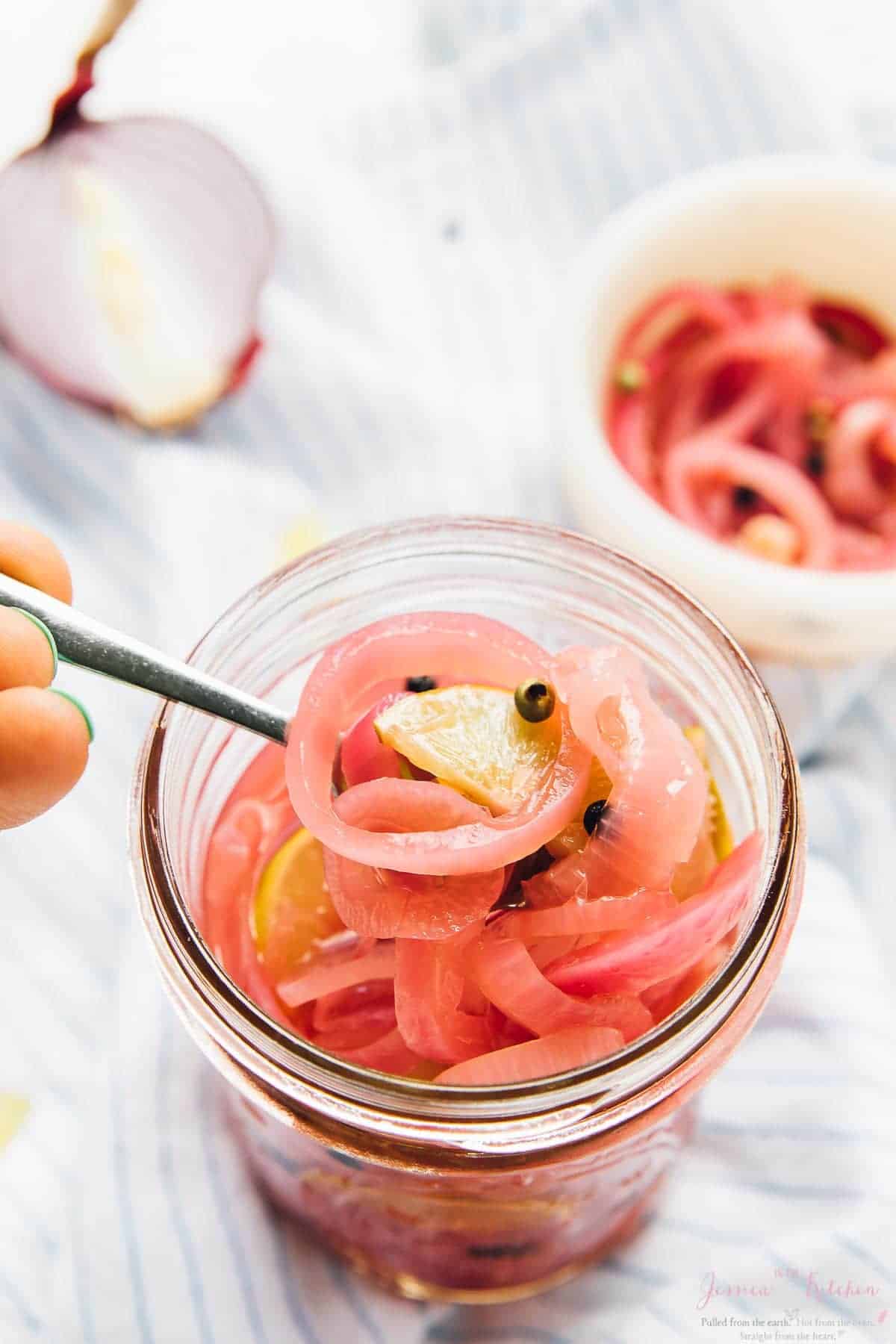 When taking the pictures of these Quick Pickled Onions, it occurred to me that I would end up posting them and the recipe on my 1 year anniversary of blogging full time (surprise! If well, you didn't know). I started to wonder whether I should instead do a cake (yum for carrot cake), brownies (been there, done that a million times), maybe even something that I knew would have a viral potential?
The thing is, these Quick Pickled Onions are a perfect representation of this anniversary. They represent doing what I love, because I love it, with all my favourite things in one – the colour pink, green on my nails, and limes. That, sometimes the most simple things on this journey have brought me so much joy. Also, that I go through a bag of limes in a heartbeat.
I'm starting to think, after putting it in almost every recipe I've published in 2017, I may be a wee bit obsessed. Maybe.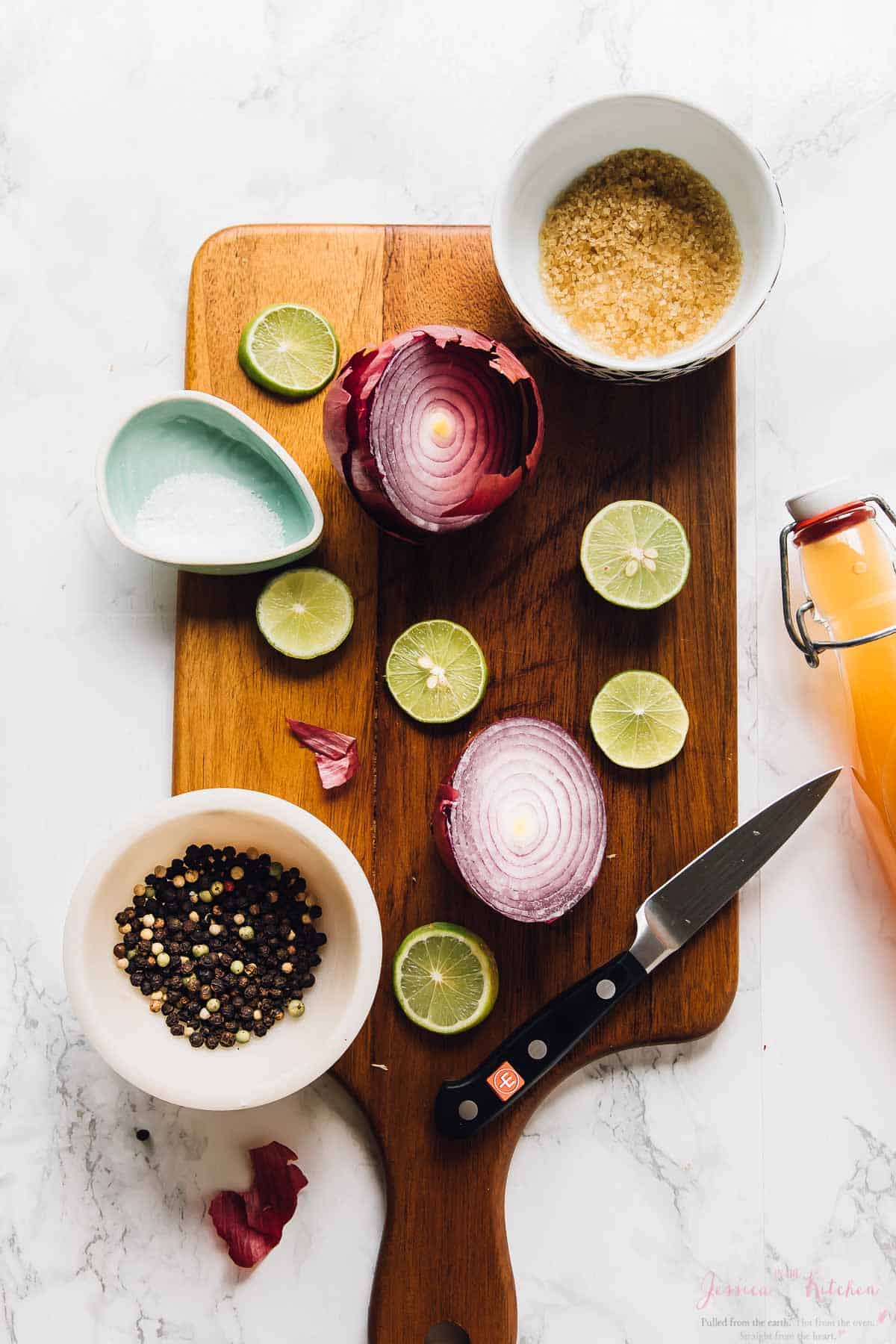 This has been such a fantastic year. I can truthfully say that there hasn't been another year in my life where I have learnt so much, and that's coming from someone who did 5 years non-stop of law to become an attorney-at-law. I have learnt endless amounts of information about photography, styling, videography, journalism, Netflix (duh), and so much more.
I've learned and studied about different species of vegetables. Realised that fennel (seeing it for the first time) looks nothing like I thought it would. Grown about 12 different plants (several of which, well, let's just say some are finally thriving!). Watched so many documentaries on cooking in a sitting that I didn't leave the kitchen for three days straight. Made a recipe on the whim, so unassuming, that I never, ever thought it would be my number 1 recipe ever. P.S., it's my Chickpea Curry.
I have also learnt so much about the world. I have realised that the world is indeed, not black and white, but grey. Things that once made sense, do not anymore. Things that I once could never figure out, are so plain and simple to explain. Life has almost done a 180, especially, thank God, with my health. I have never been a healthier version of myself.
I have learnt so much about myself. I gave a speech – my first Jessica in the Kitchen speech! – the other day where I said that I have never felt more myself in my entire life, and it's the truth. I feel as if I finally know who Jessica is right now. I've learnt the power of negative thoughts, and that since I will be spending the rest of my life with myself, I need to learn to stop them as best as I can. I've learnt that I not only love meditation, yoga, and most of all prayer, but that I absolutely need them in my life. I've become a more outspoken person on issues that affect me.
I try to do more hobbies. To read, paint, colour and cook for no reason whatsoever and not for a blog post. I've had ups and downs, mainly ups, and I've learned to enjoy the journey and the process. In fact, I've learned most importantly that I crave knowledge. I try to learn something new daily, to watch a TED talk I've never seen, to read a new article, to immerse myself into a new documentary. It has been such an incredible process.
I am also so grateful to have SUCH a fantastic support system from my amazing husband, my incredibly supportive mom and dad and my small but inspiring group of friends. I seriously couldn't have done any of this without them, especially my husband and mom and dad who have been through every single step. If you ever decide to make such a decision, get a true support group. Do not surround yourself with people who are unsupportive, ridiculing and down right uninterested. Be around people who build you up, want to see you grow, and are progressing in their own lives.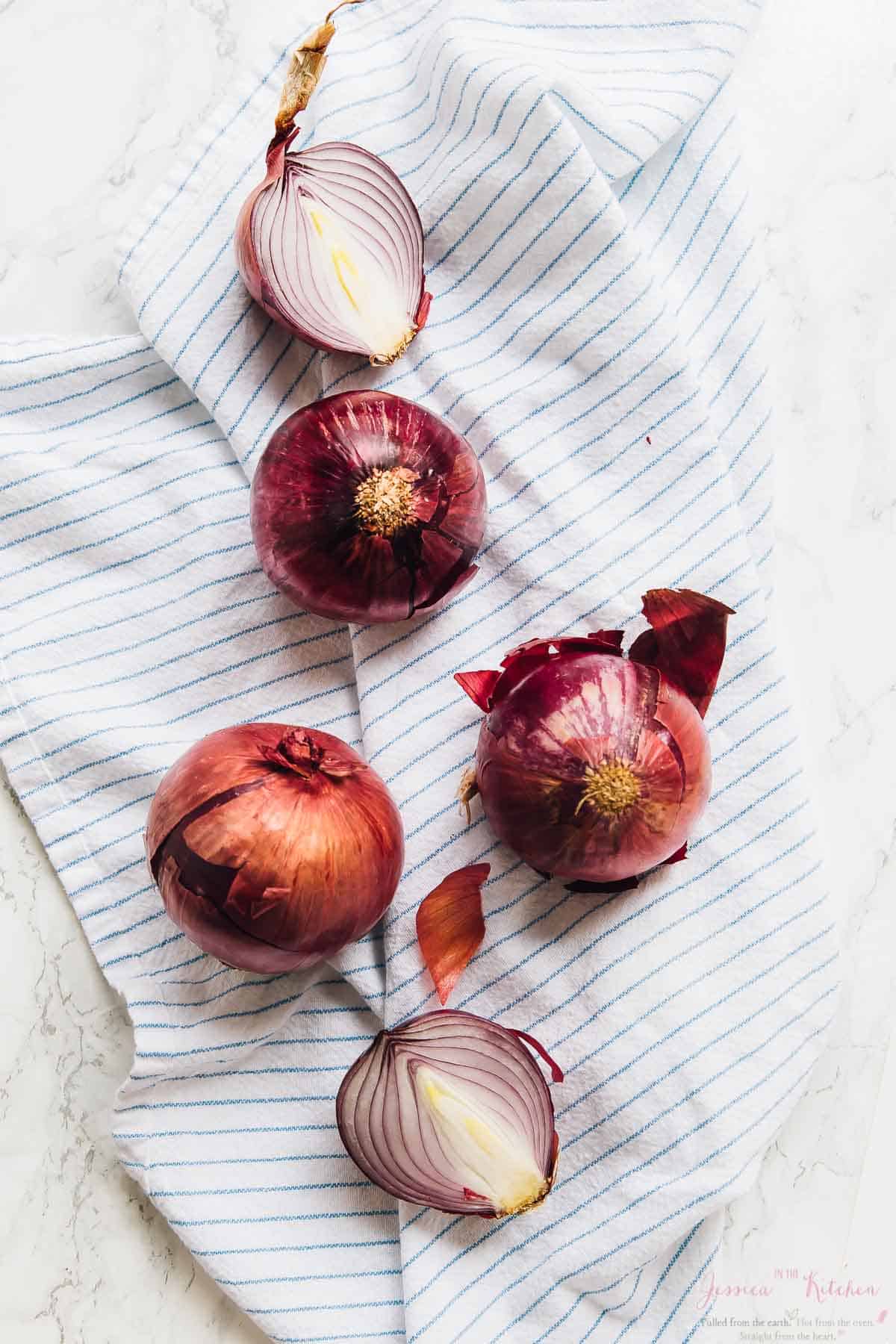 I could go on, for about 300 more pages, but something tells me you may be here just for the recipe. In short, after a year, I can definitely see myself doing this for well, forever. Thank you for reading my mini life bio. Now, to the recipe.
Oh my, these Quick Pickled Onions. I asked the Mr. to buy some red onions when he went to the supermarket, except I totally forgot that I had just bought some the last time I went. Oops. That meant way too many onions for even us to eat in recipes. I caramelised three of them (yes, we had TONS & yes I'm obsessed with caramelised onions) and decided after staring at the gorgeous purple colour, I immediately thought of the pickled radishes I made a while back. This recipe is the perfect base recipe for pickling any vegetable, so I knew it would work perfectly with these onions.
Not only was I right, I was RIGHT. These quick pickled onions are such a dream. They are packed with a sweet tang, leave the onions with a tender crunch, and taste absolutely amazing on everything. I actually whipped up black bean burgers after trying one JUST so that I could experience their true power. I guarantee you'll fall in love with them, and find endless uses. Think burgers, sandwiches, tacos, vegetable hot dogs, salads, loaded nachos…anything and everything.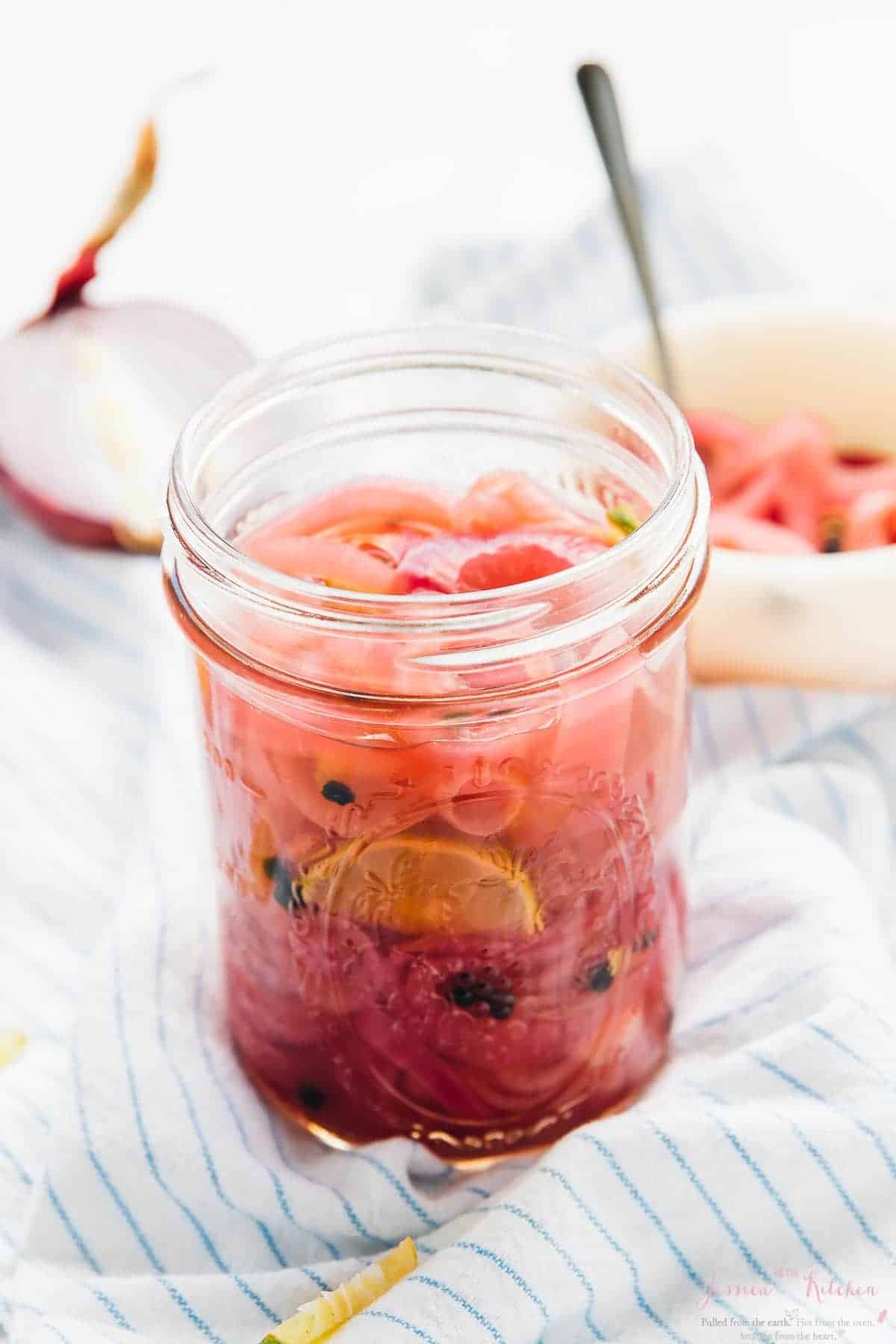 If you try these Quick Pickled Onions please let me know in the comment section below, or tag me on instagram with the hashtag #jessicainthekitchen! For more exclusive recipes follow me on Instagram AND on Snapchat: jessinkitchen.
RELATED RECIPES TO TRY THESE QUICK PICKLED ONIONS ON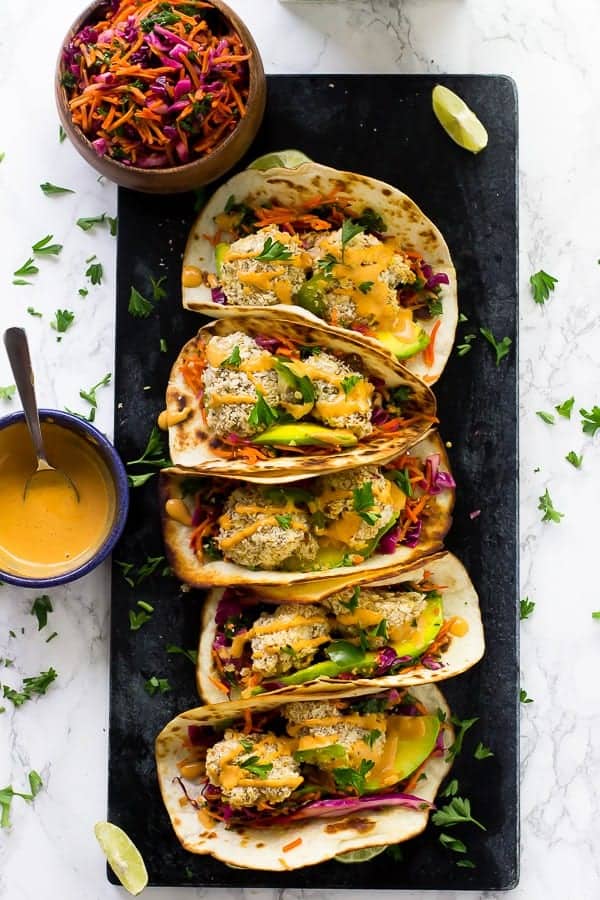 Crispy Cauliflower Tacos with Chipotle Crema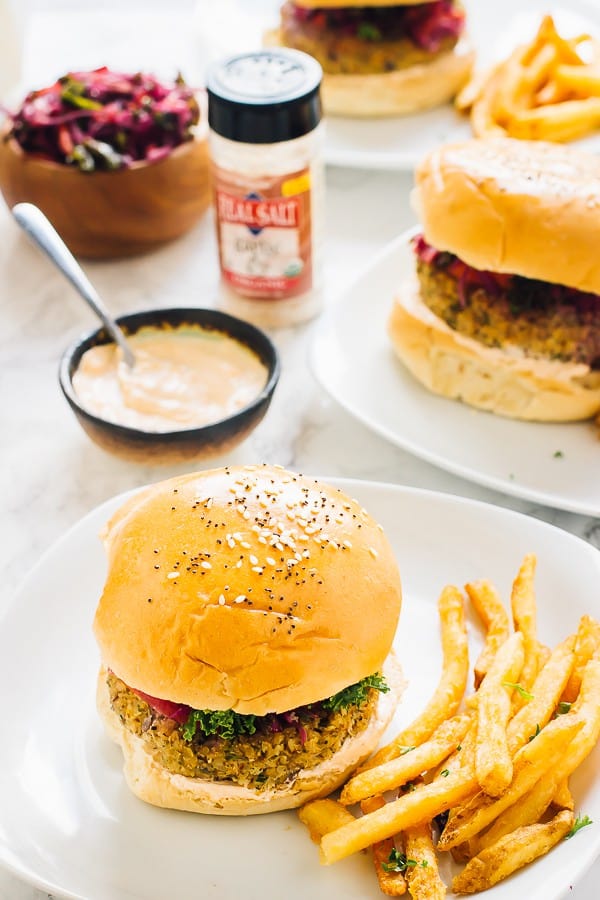 Vegan Quinoa Cauliflower Burgers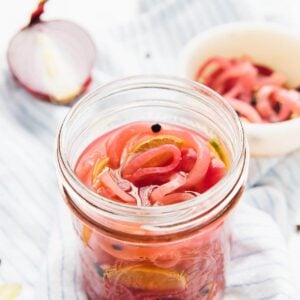 QUICK PICKLED ONIONS (HOW TO PICKLE ANY VEGETABLE)
These Quick Pickled Onions recipe takes only 10 minutes! It completely transforms the onions, and adds a divine pop of flavour to any recipe. Use them in sandwiches, tacos, burgers and any recipe you like!
Ingredients
QUICK PICKLED ONIONS (HOW TO PICKLE ANY VEGETABLE)
2 regular sized red onions
1 cup apple cider vinegar
1 cup filtered water
2 teaspoons sea salt
1 tablespoon coconut/cane/brown sugar
lime slices
Instructions
QUICK PICKLED ONIONS (HOW TO PICKLE ANY VEGETABLE)
In a pot, add the vinegar, water, sea salt, sugar and peppercorns. If using any other additional seasonings, add them now too. Stir together. Bring to a boil for 2 minutes.

Add in the onions, and allow to boil for 1 minute with the onions.

Remove from heat, let cool for 1 minute, then pour into a mason jar large enough to hold everything but that allowed the onions to be completely covered in the vinegar mixture. Add in the lime slices and swirl together to mix everything together.

Allow the mixture to cool completely to room temperature. You can serve immediately once cooled, but if you let it sit and continue to pickle, the flavours meld incredibly. I tried mine three days later and they were perfect. A week is even better. They will last several weeks in your fridge in a mason jar that has the cover tightly screwed on.

Enjoy!

Notes
Notes:
This recipe is vegan and gluten free. I use these Mason Jars. You can use a wide variety of seasonings in this recipe. You could add mustard seeds, fennel seeds, more sugar, jalapeños, anything. It's really up to you. You can use the basic recipe and replace it with your vegetable of choice to pickle any vegetable you want. If pickling peppers, PLEASE use gloves and try not to inhale the fumes of the boiling peppers.
Calories: 18kcal, Carbohydrates: 3g, Protein: 1g, Fat: 1g, Saturated Fat: 1g, Sodium: 471mg, Potassium: 50mg, Fiber: 1g, Sugar: 2g, Vitamin C: 2mg, Calcium: 7mg, Iron: 1mg
Disclaimer: Although jessicainthekitchen.com attempts to provide accurate nutritional information, kindly note that these are only estimates. Nutritional information may be affected based on the product type, the brand that was purchased, and in other unforeseeable ways. Jessicainthekitchen.com will not be held liable for any loss or damage resulting for your reliance on nutritional information. If you need to follow a specific caloric regimen, please consult your doctor first.