Sheet Pan Fried Rice (Vegan & One Pan)
This Sheet Pan Fried Rice (Vegan) is even better than takeout! It's all made on one pan for an easy cleanup and prep, is a family favourite takes only 10 minutes of prep!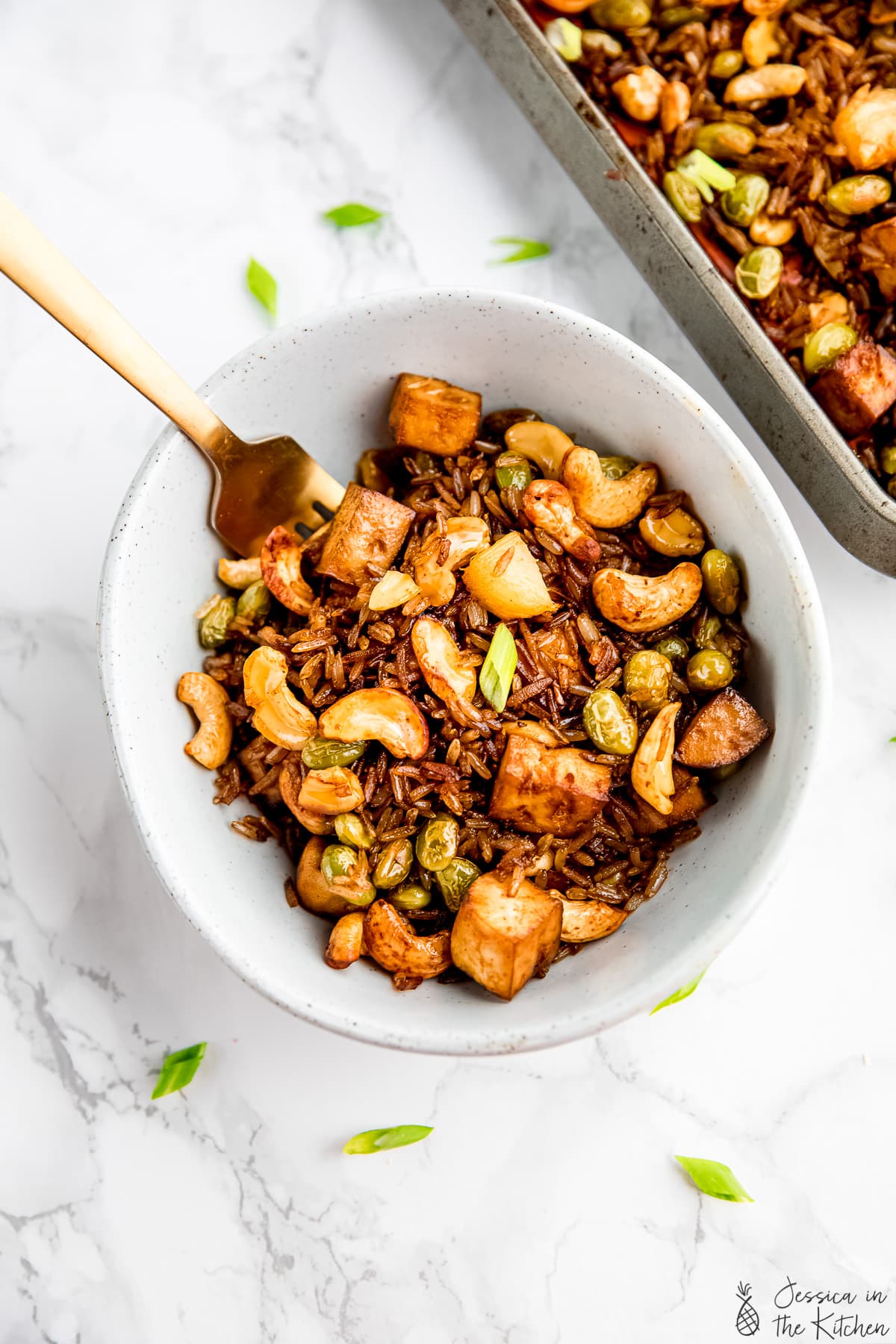 For the last three months, I've really been working ahead recipe wise. It's been pretty helpful because I now have months worth of content, I got to launch another blog, and I feel like I'm finally getting on top of some of the strictly business side of things. The only thing is – I've been waiting SO long to share this beauty with you!! Oh my gosh, Sheet Pan Fried Rice – let me count the ways!!
This Sheet Pan Fried Rice really is the answer to your prayers. It's made easily on a sheet pan – so legit the world's easiest cleanup. It's packed with protein, carbs, fibre – all the things! The sauce is super yummy and you even mix it on the sheet pan. Then BAM – in the oven, and you have dinner for a few days! It's probably the easiest meal prep with the least amount of dishes I've done in a while. I also love that it uses up some great pantry and freezer ingredients so it's really perfect all year round.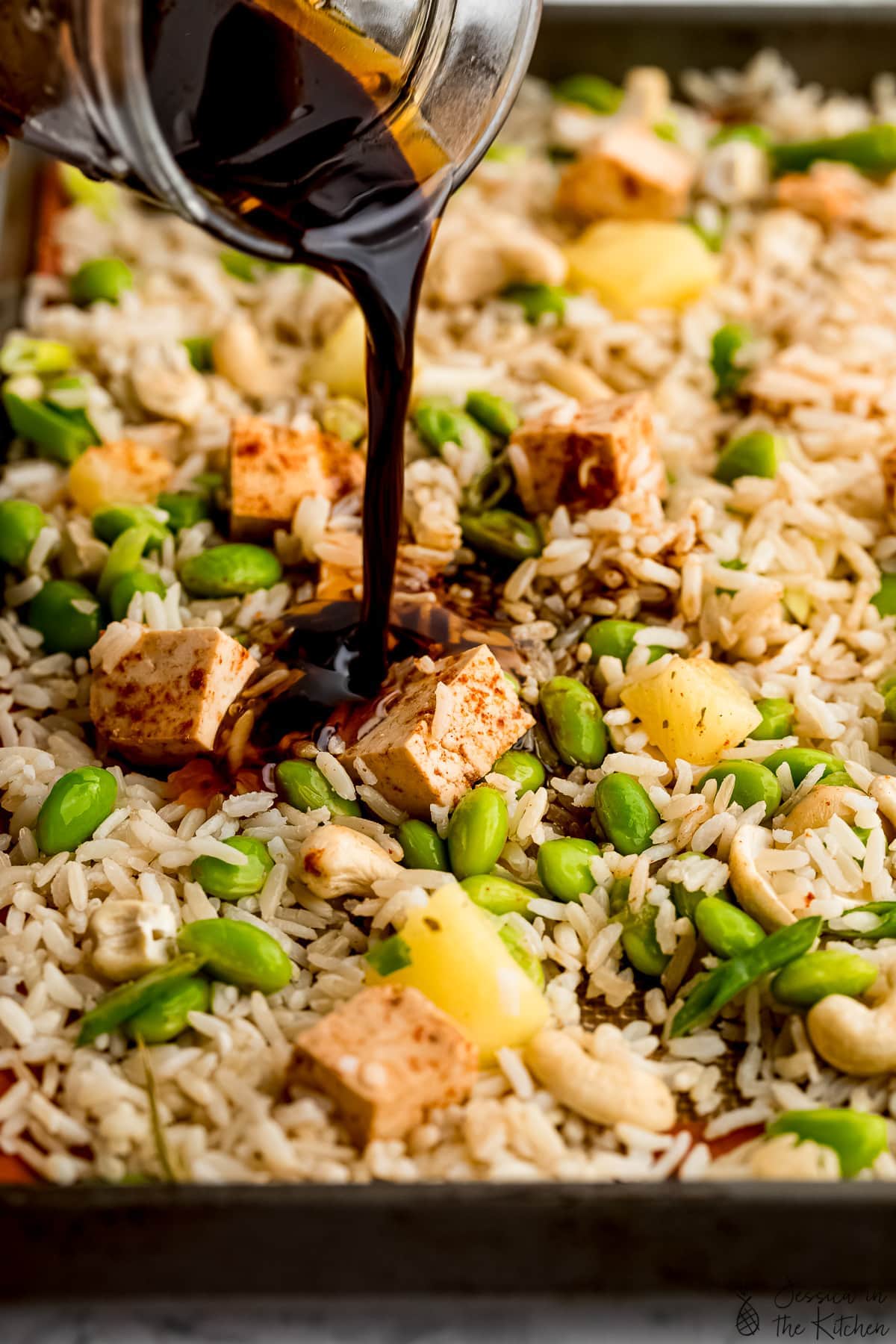 Sheet Pan Fried Rice Ingredients
I love how simple the ingredients are for this dish:
Edamame
Tofu
Brown Rice
Green Onions
Pineapple (yasss)
Cashew pieces
Tamari or soy sauce
Oil (I used sesame)
Sriracha
That's it! love all of these ingredients and they work together to turn this into an incredibly filling meal. I think out of the whole list, my favourite ingredient is the CASHEWS! They genuinely shocked me and I loved the flavour and texture so much. You already know I'm a cashew addict, so I'm 100% putting cashews into every fried rice ever from now on.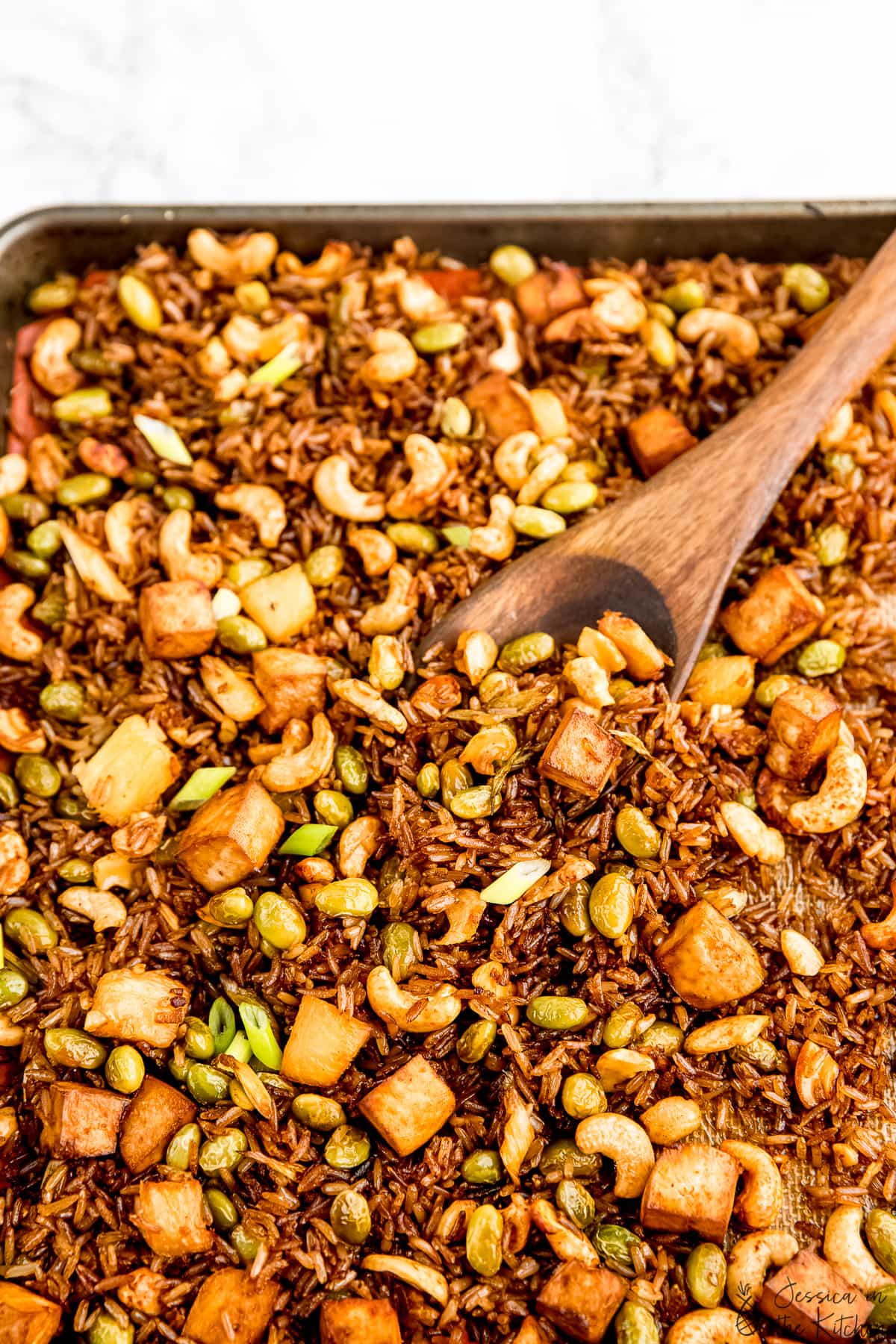 Green Plate Club
This recipe is from my friend Kiersten's new site: Green Plate Club! This isn't sponsored (it is an affiliate link), but I knew immediately that I wanted to help her share this new fantastic service that I know would come in handy for so many of you guys.
Green Plate Club is an online meal plan service that's perfect if you're like me and love plant-forward meals. Whether you're always trying to figure out what to make next or just want to switch it, I highly recommend it. You get three full meatless meal plans every week (for recipes from Monday to Friday) a thorough grocery list and tips about your ingredients of the week in each one. The recipes not only taste amazing but also work with each other so that if you have leftover ingredients, you use them up in another dish. One of my fave parts about it is that she has options whether you're vegan (like me), vegetarian or flexitarian. So it's still meatless of course, but you can choose how many days work for you – and you still get ALL the recipes anyway! Total win, win. Go check it out!!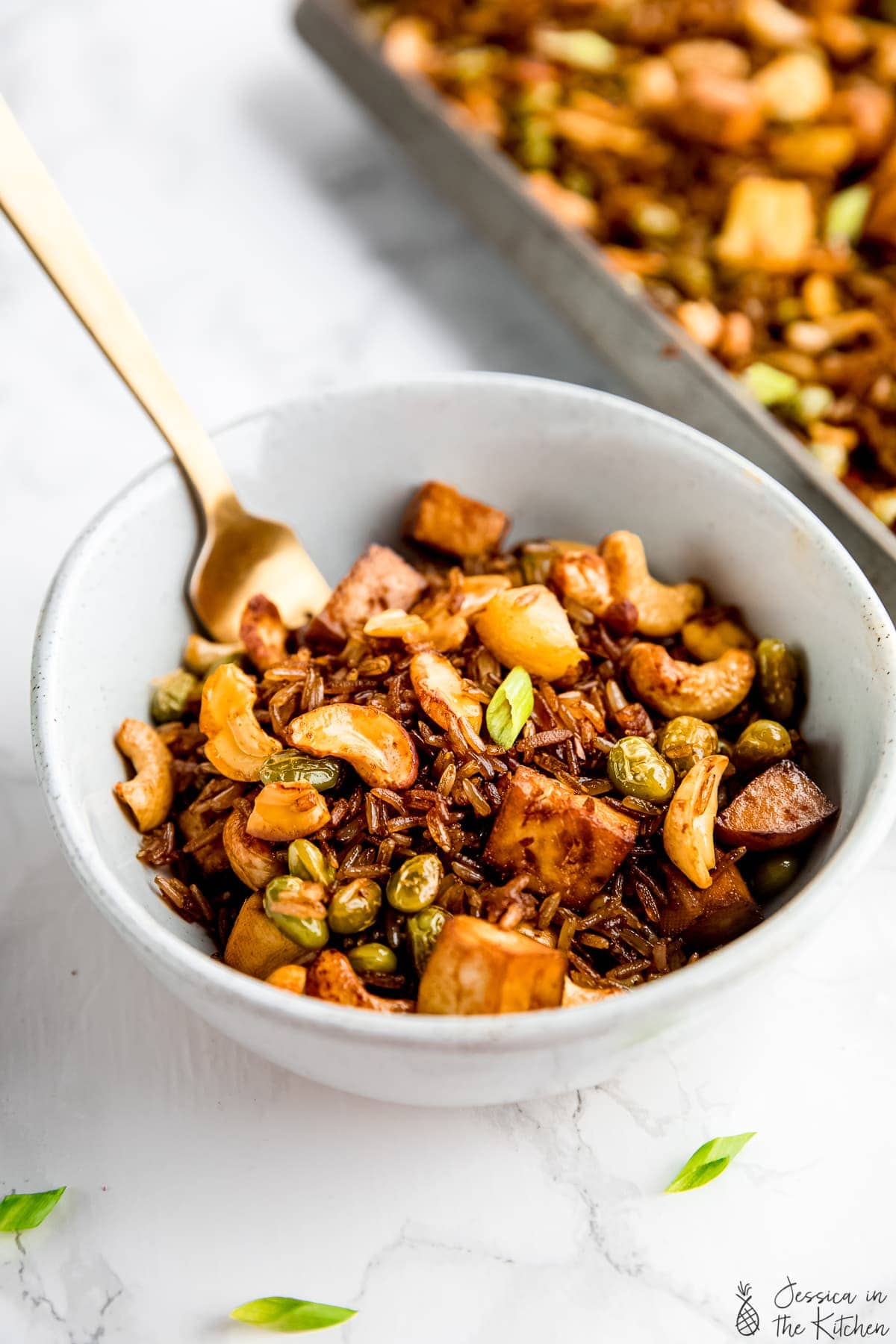 How to Make Fried Rice on a Sheet Pan
Add all your ingredients to the sheet pan, pour the sauce mix over, stir, and bake. That's it. Making this Sheet Pan Fried Rice is ridiculously easy. I'm talking, watching a vlog while cooking and mastering it easy. Kids running laps around you and still being a kitchen pro easy. Make this for your next dinner.
Enjoy friends! If you make this post about this Sheet Pan Fried Rice, please snap a photo and tag #jessicainthekitchen on Instagram! We'd also love it if you would leave a comment below, and give the recipe a rating! Thanks so much! P.S. – do you know that we have an entire blog dedicated to low carb recipes named Low Carb Vegan Recipes?! Be sure to check it out!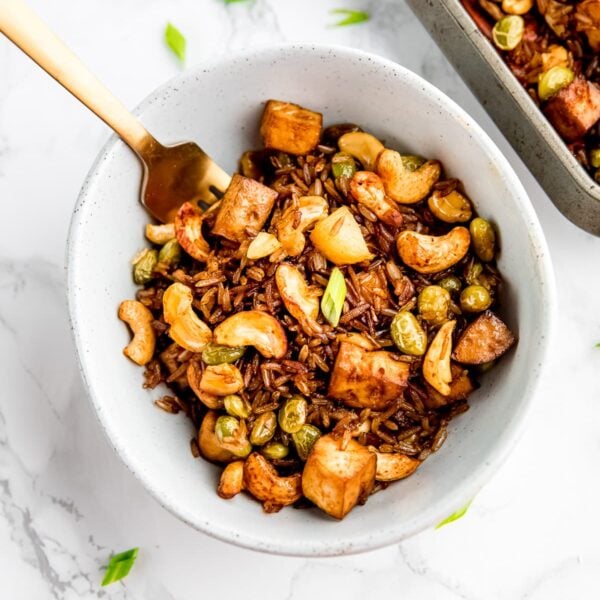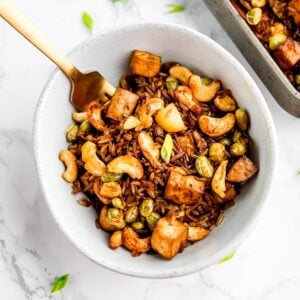 Sheet Pan Fried Rice Recipe (Vegan)
This Sheet Pan Fried Rice (Vegan) is even better than takeout! It's all made on one pan for easy clean up and prep, is a family favourite takes only 10 minutes of prep! 
Ingredients
4 cups leftover brown rice
1 bunch green onions,  sliced into 1-inch pieces
1 cup pineapple chunks, (canned, fresh, or frozen)
1 cup fresh or frozen edamame, thawed
8 ounces braised or marinated tofu, cubed
1/2 cup raw cashew pieces
3 tablespoons avocado oil (or any other cooking oil you have on hand)
3 tablespoons tamari or soy sauce
1 tablespoon sriracha, (optional–you can use more if you like too)
Instructions
Preheat oven to 325ºF.

Combine the rice, green onions, pineapple, edamame, tofu, and cashews on a sheet pan. In a small bowl, whisk together the oil, soy sauce, and sriracha. Pour the oil mixture over the rice mixture and toss to coat.

Bake the rice for 45-60 minutes, stirring about every 20 minutes, or until the rice is mostly dry and beginning to get crispy near the edges of the pan. Serve with additional soy sauce and sriracha, if desired.
Calories: 516kcal, Carbohydrates: 62g, Protein: 18g, Fat: 23g, Saturated Fat: 3g, Sodium: 855mg, Potassium: 409mg, Fiber: 5g, Sugar: 11g, Vitamin A: 89IU, Vitamin C: 11mg, Calcium: 131mg, Iron: 6mg
Disclaimer: Although jessicainthekitchen.com attempts to provide accurate nutritional information, kindly note that these are only estimates. Nutritional information may be affected based on the product type, the brand that was purchased, and in other unforeseeable ways. Jessicainthekitchen.com will not be held liable for any loss or damage resulting for your reliance on nutritional information. If you need to follow a specific caloric regimen, please consult your doctor first.