Vegan Apple, Pecan, and Feta Salad
This vegan Apple Pecan, and Feta Salad with Maple Apple Dressing is loaded with fall flavours and is sweet, crunchy and good for you!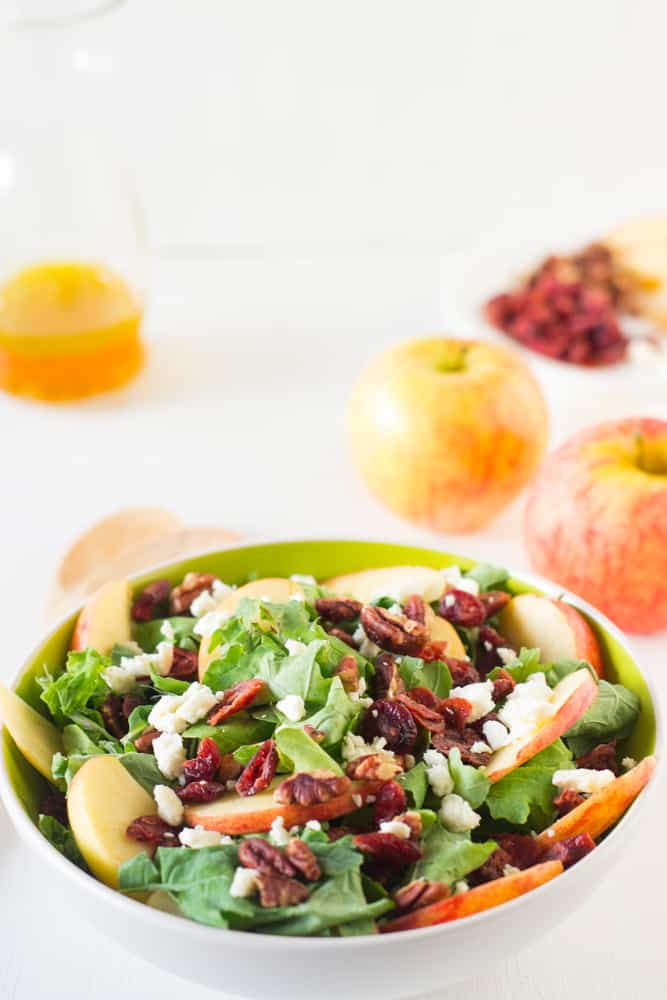 Do you hear that? That's the sound of denial that summer is nearing to an end. That's also the sound of me rushing in, arms loaded with apples, pumpkins, butternut squash and a few leaves for table decor smiling from ear to ear.
Yeah, I'm kind of ready for fall.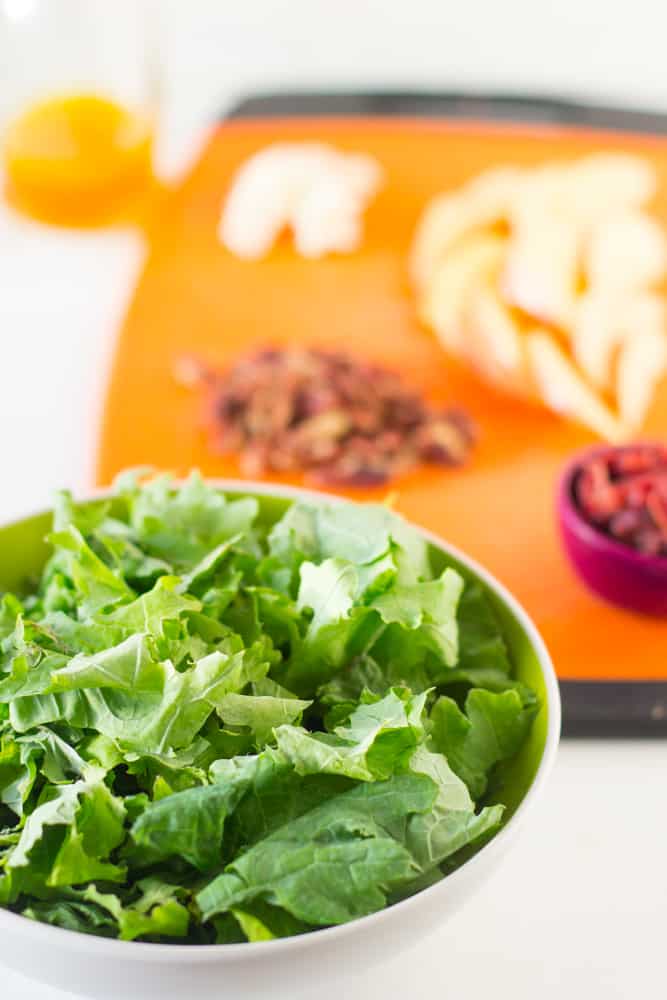 Apple, Pecan, and Feta Salad Is Perfect for Fall
It's still pretty hot during the day time here, but last night for example I was cold. I was also up in the hills at what turned out to be two friends' engagement party (woohoo!) but I'm hanging on to whatever hope I have for a colder period. It's also been pouring rain since we had a storm over the weekend and I'm more than thankful for the cooler days.
Even though fall doesn't officially start until late September, in food blogger season it started up to two weeks ago and I feel as if I've been sitting, staring at my calendar, willing the days to move ahead. Yes, picture me eating these pumpkin pie overnight oats (YUM) while trying to push the calendar days forward.
They won't budge. So I decided to share this apple pecan and feta salad with you now, anyway.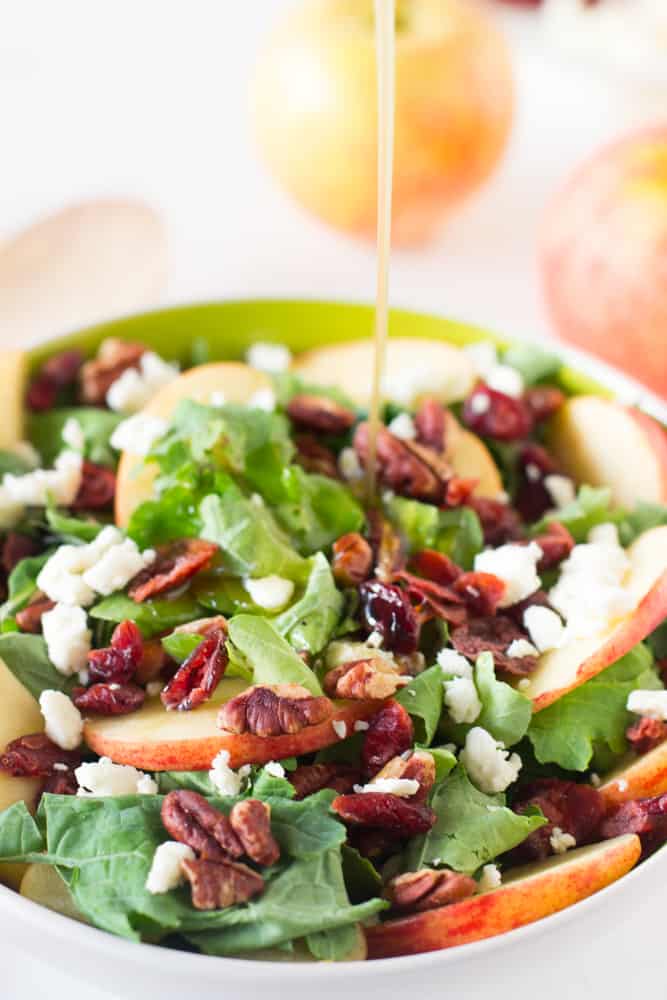 Apple and Maple with Vegan Feta
If you haven't noticed, I'm into salads lately. In fact, I'm into loaded apple salads because who has time for boring plain salads?! This salad, came from my need to put pecans feta cheese and apple together in a healthy but still delicious way so of course I took to a salad. I know the word salad puts off many of us, but trust me, this is a salad you're going to love.
On top of the combination of crisp apples, texture-adding pecans, sweet cranberries and deliciously-tart vegan "feta" cheese you have the maple-apple dressing. Mr. Bakes had the idea to add apple cider vinegar to it, and the flavour combined with the maple syrup and olive oil came through beautifully. P.S., you could also try this creamy vegan avocado dressing all over this salad – one of my new favourites.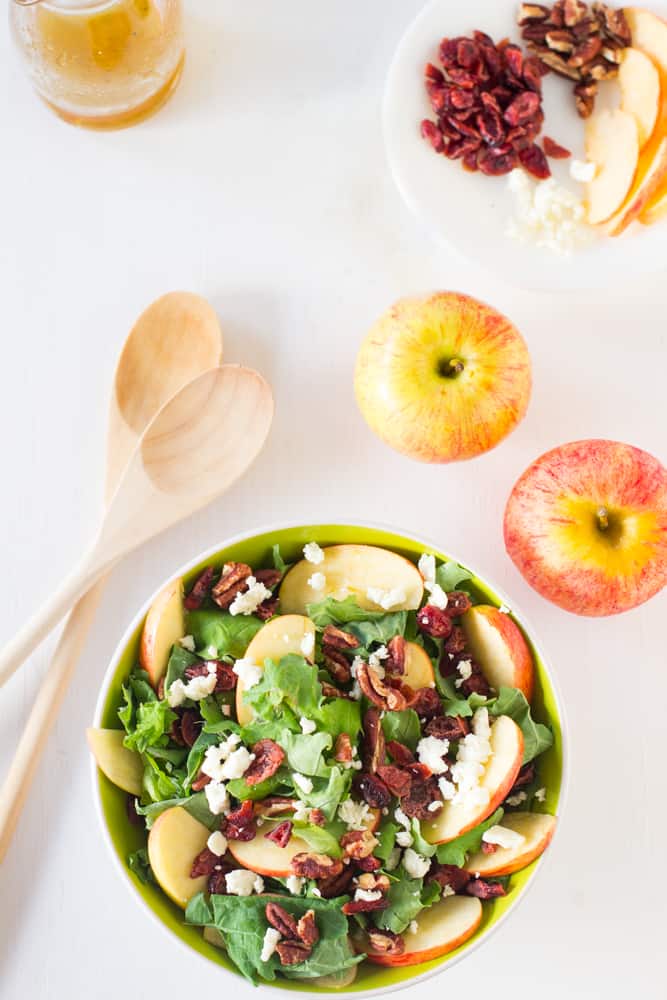 Needless to say, I ate this right up. As soon as I finished shooting (what's new?). And did I mention that's not lettuce, it's kale?! You knew that was coming right? The kale added a unique flavour that just complimented all the other ingredients. I'm all for salads that come together with no heat, no cooking and under 15 minutes.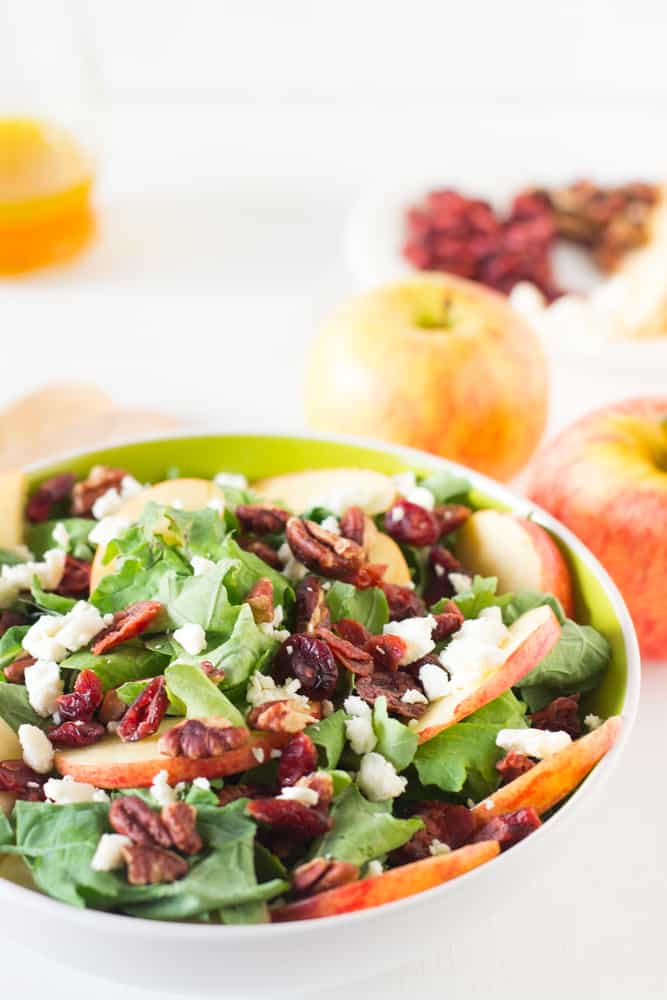 Look out fall, we're coming through! (It sounded funnier in my head, so please laugh).

P.S. Here are some of the items I used to make this recipe if you'd like to use them too:
| WHAT YOU'LL NEED // SHOP MY FAVORITE INGREDIENTS & PREP PRODUCTS |



If you try this Apple Pecan and Feta Salad with Maple Apple Dressing please let me know in the comment section below, or tag me on instagram with the hashtag #jessicainthekitchen! For more exclusive recipes follow me on Instagram AND on Snapchat: jessinkitchen.
RELATED FALL SALAD RECIPES
Apple Candied Walnuts and Blue Cheese Salad with Maple Apple Dressing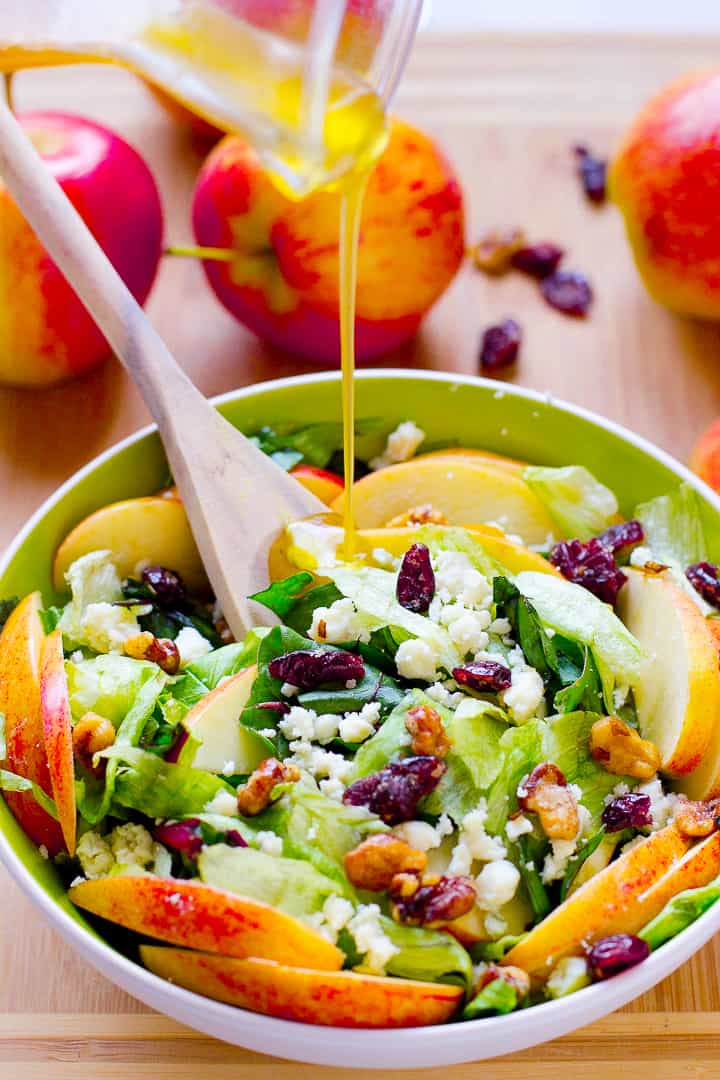 Pear and Gorgonzola Salad with Honey Apple Dressing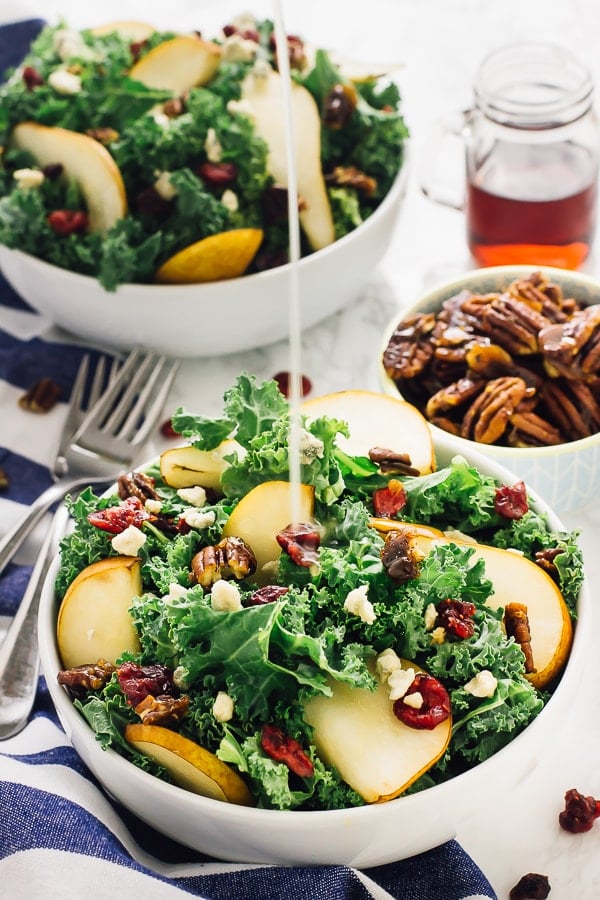 Crunchy Kale & Chickpea Salad with Lemon Poppyseed Dressing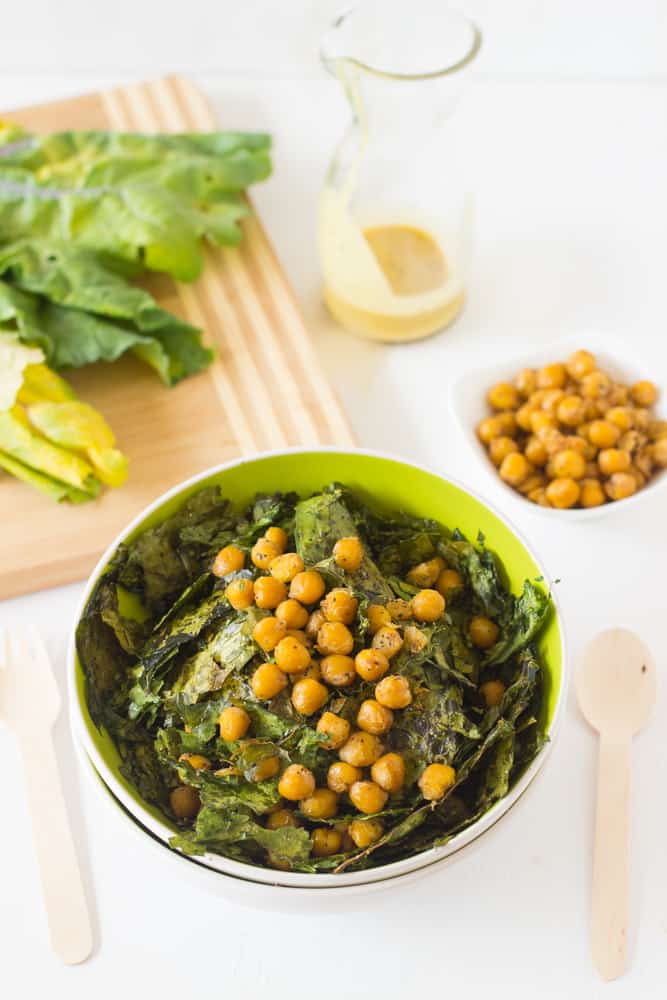 More Fall Apple Recipes from Across the Web
Surprising Ways to Use Apple Recipes by Greatist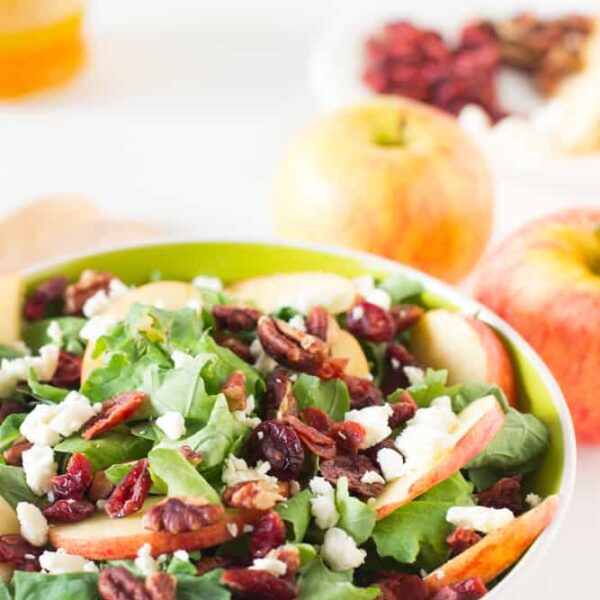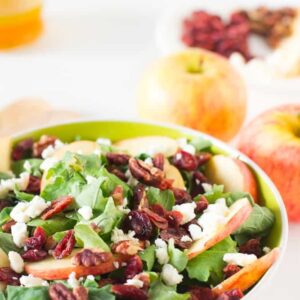 Apple Pecan and Vegan Feta Salad with Maple Apple Dressing
Vegan Apple Pecan and Feta Salad with Maple Apple Dressing is loaded with fall flavours and is sweet, crunchy and good for you! 
Ingredients
Salad:
3 cups kale, de-stemmed, washed and torn
1 apple, sliced thinly
2 tablespoons cranberries
2 tablespoons pecans
3 tablespoons crumbled vegan tofu feta cheese or store-bought vegan feta
Maple-Apple Vinaigrette Dressing:
2 tablespoons maple syrup or agave nectar
1 tablespoon apple cider vinegar
2 tablespoons olive oil
1/2 teaspoon salt
1/2 teaspoon ground black pepper
Instructions
Salad
In a bowl, place the kale. Add the apples, cranberries, pecans and feta cheese on top – if you'd like, toss them in a bowl first them sprinkle on top.
Maple-Apple Vinaigrette Dressing
Whisk the ingredients together and pour over the salad. Enjoy!
Notes
This recipe is gluten free.
TO STORE You can store this salad in an airtight tupperware container in the fridge without the dressing. You can store the dressing in a mason jar . The salad lasts about 3 days in the fridge. The dressing can last up to two weeks if stored properly.
Calories: 783kcal, Carbohydrates: 83g, Protein: 12g, Fat: 50g, Saturated Fat: 7g, Sodium: 1487mg, Potassium: 1354mg, Fiber: 9g, Sugar: 45g, Vitamin A: 20178IU, Vitamin C: 254mg, Calcium: 387mg, Iron: 4mg
Disclaimer: Although jessicainthekitchen.com attempts to provide accurate nutritional information, kindly note that these are only estimates. Nutritional information may be affected based on the product type, the brand that was purchased, and in other unforeseeable ways. Jessicainthekitchen.com will not be held liable for any loss or damage resulting for your reliance on nutritional information. If you need to follow a specific caloric regimen, please consult your doctor first.