Roasted Tomato Soup with Grilled Cheese Croutons
This Roasted Tomato Soup is creamy, flavourful and topped with delicious grilled cheese croutons. A cold-weather dinner that is so cozy!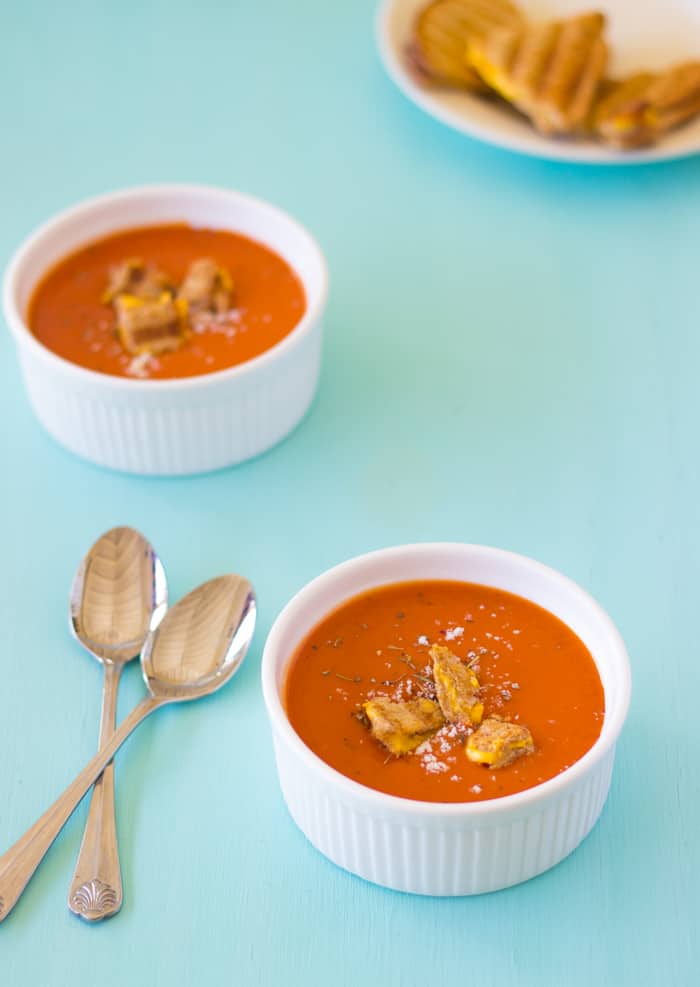 I don't have many words today (that's a surprise) but this soup was actually made way back in March and I've been wanting to share it would you ever since. Since we grow tomatoes we're always looking for new ways to use it. This was such an easy and delicious way to share it.
The weather has been weird – hot during the day, and now the nights are getting pretty cold. Now that it's getting into soup weather, and the fact that I've already had soup quite a lot already, it seemed prime time to share this soup recipe. This was definitely my favourite tomato soup to date. It hits all the notes on creaminess, taste, texture and flavour. I'm tempted to compare to to a bisque because it's also a nicely thick soup.
I've always been a fan of grilled cheese sandwiches and although I've had quite a lot less in the past few months, it's the perfect addition to tomato soup if you ask me. I thought it would be great to serve the grilled cheese as croutons. They taste magnificent on top of the tomato soup, soaking up the flavour for you and still having it's crispness.
If you're not yet ready for soup weather, save this recipe for when you are – I guarantee you'll love it!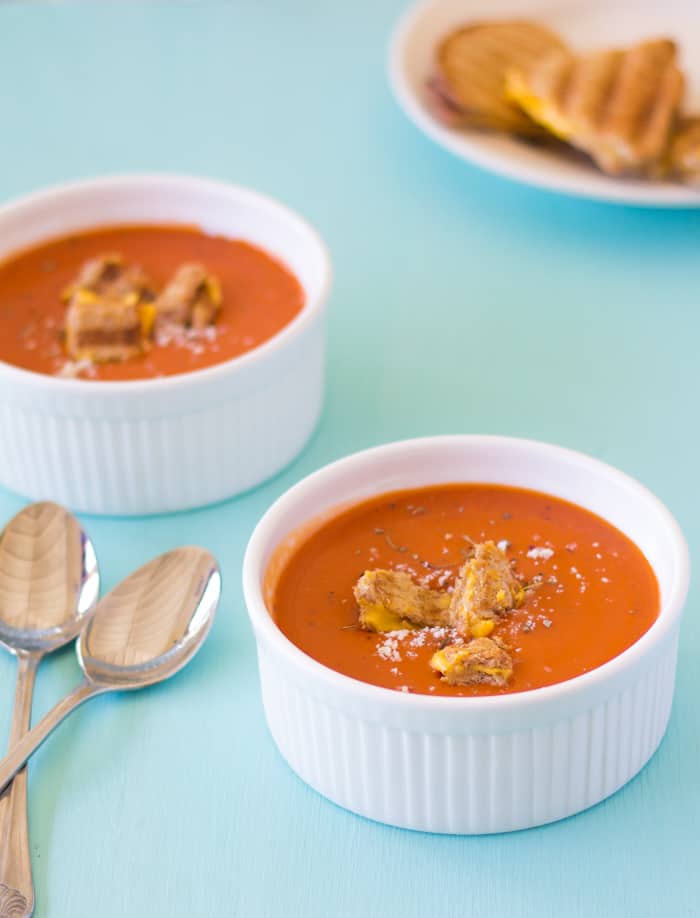 P.S. Here are some of the items I used to make this recipe if you'd like to use them too:
| WHAT YOU'LL NEED // SHOP MY FAVORITE INGREDIENTS & PREP PRODUCTS |

RELATED RECIPES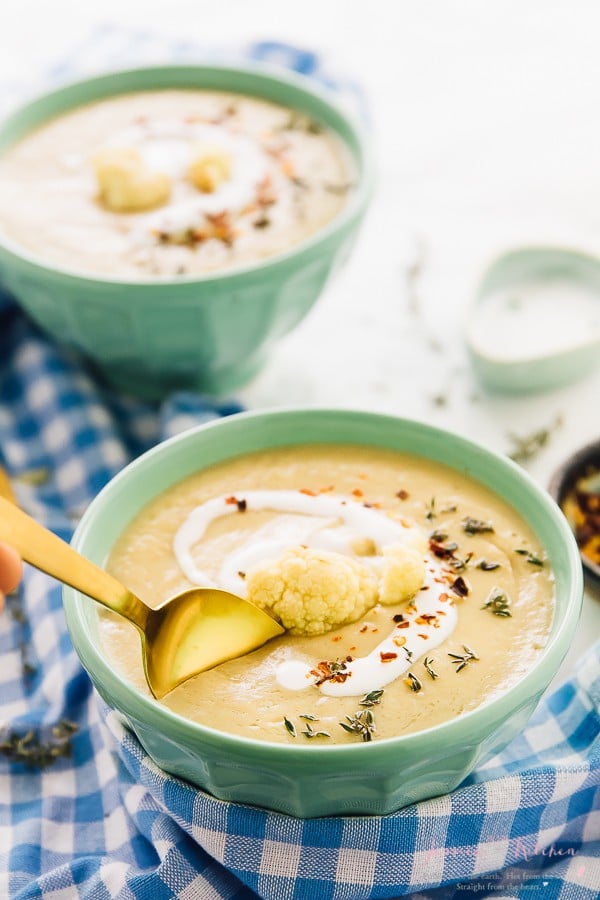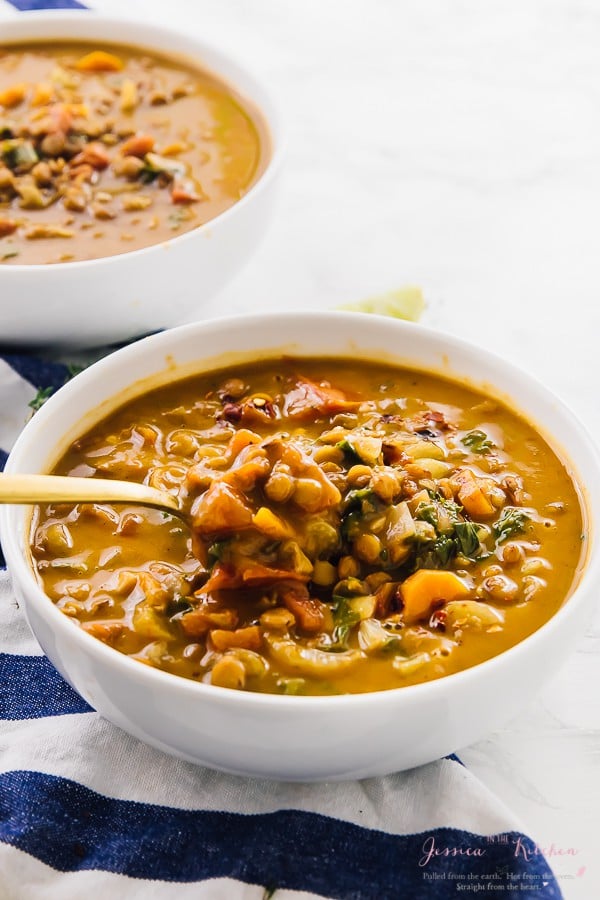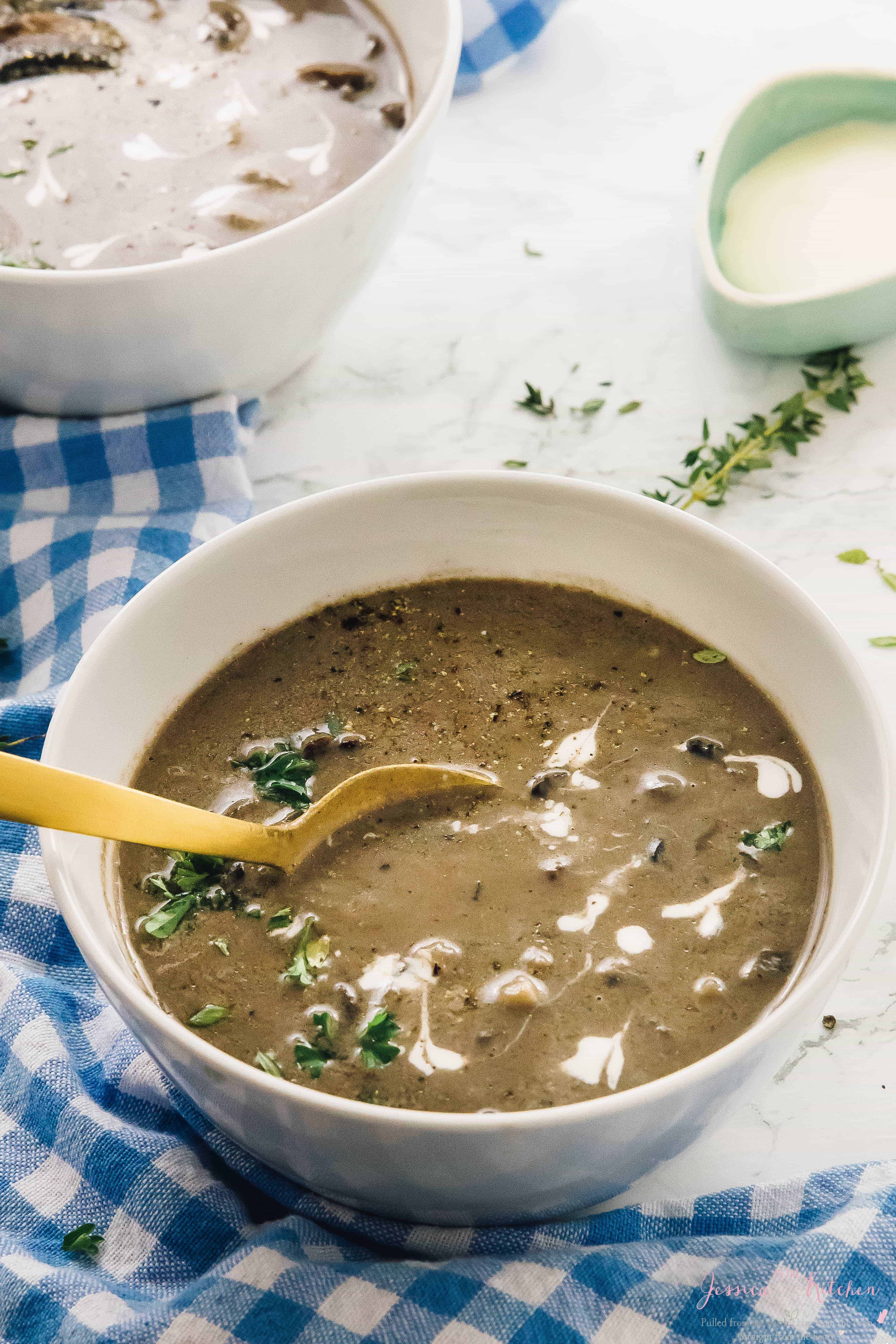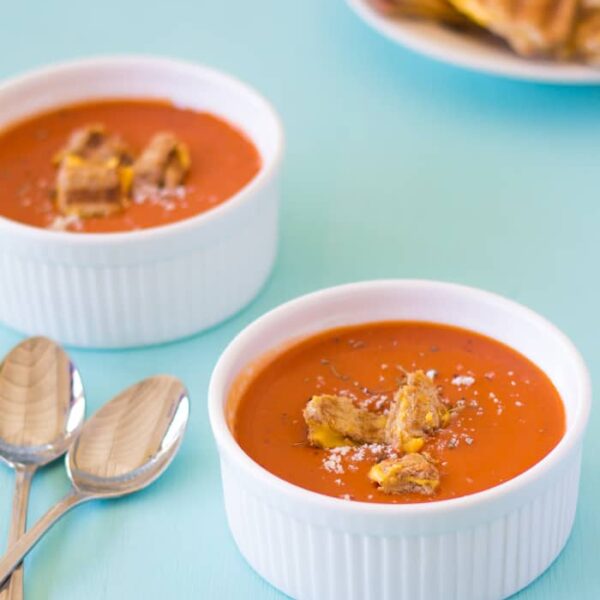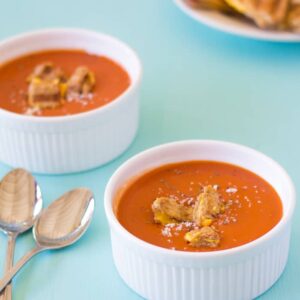 Roasted Tomato Soup with Grilled Cheese Croutons
This Roasted Tomato Soup is creamy, flavourful and topped with delicious grilled cheese croutons
Ingredients
2 onions, peeled and chopped
1 carrot, peeled and diced finely
1 clove garlic, peeled and crushed
1 stick celery, finely chopped
2 tablespoons olive oil
1 pound fresh ripe tomatoes, halved
1 l vegetable stock, 4 1/2 cup
1 teaspoon raw sugar/coconut sugar/sucanat
1 teaspoon salt
1 teaspoon freshly ground black pepper
handful fresh basil, shredded (optional)
Grilled Cheese Croutons:
Two Slices Multigrain bread
1 slice cheese
Instructions
In a large pan over medium heat, heat the olive oil.


Add the onions, carrot, celery and garlic. Cover and cook for 10 minutes until soft. Add the sugar, salt, pepper and tomatoes. Stir and cook for another 5 minutes.



Add the stock and bring to a boil, then simmer for 10 minutes. Transfer the soup to a blender and blend for about 1 minute until smooth, or if you have an immersion blender (produces much smoother results) blend until smooth, about 2 to 3 minutes.



Top with garnish and grilled cheese croutons.
Grilled Cheese Croutons
While soup is simmering, In a grilled cheese maker or on a skillet, prepare grill cheese sandwich to your likening until very crisp. Cut into cubes and add a few to soup immediately before serving.
Calories: 195kcal, Carbohydrates: 23g, Protein: 5g, Fat: 10g, Saturated Fat: 3g, Cholesterol: 7mg, Sodium: 1719mg, Potassium: 423mg, Fiber: 3g, Sugar: 10g, Vitamin A: 4095IU, Vitamin C: 21mg, Calcium: 99mg, Iron: 1mg
Disclaimer: Although jessicainthekitchen.com attempts to provide accurate nutritional information, kindly note that these are only estimates. Nutritional information may be affected based on the product type, the brand that was purchased, and in other unforeseeable ways. Jessicainthekitchen.com will not be held liable for any loss or damage resulting for your reliance on nutritional information. If you need to follow a specific caloric regimen, please consult your doctor first.