Strawberry Salsa
This easy and addictive strawberry salsa comes together in less than ten minutes, and is about to become your new favourite salsa! Perfect for summer togethers!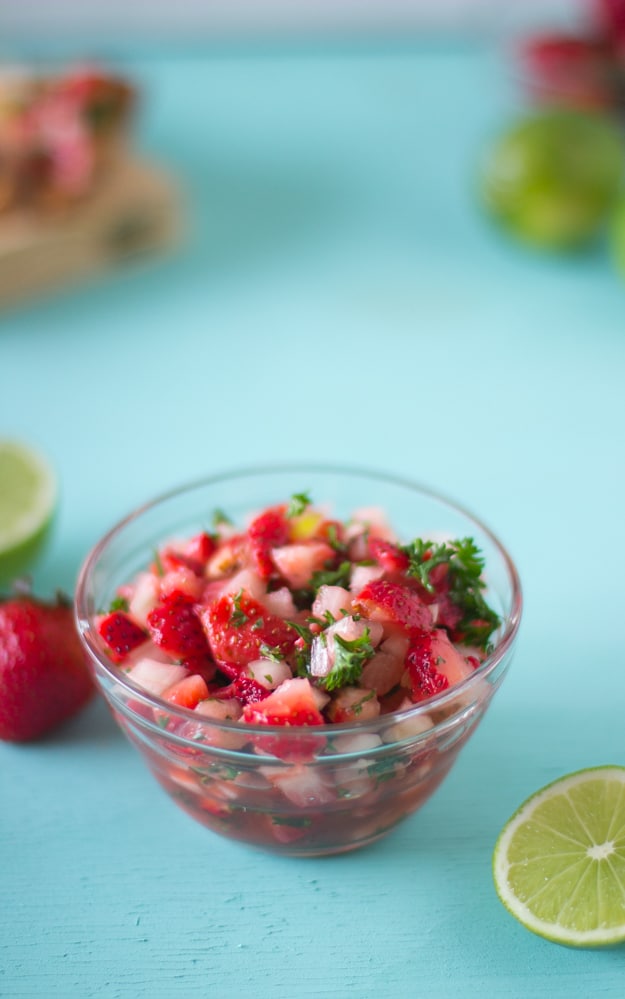 Happy Friday! Is it really Friday already, and is it just me or did this week totally zoom by? Not that it matters, because Friday is one of my most favourite days of the entire week. I'm talking Pizza Party Friday Night (if anyone here gets the reference, please let me know in the comments!). Every Friday is pizza night or games night or salsa and chips night, or all three (oops). This Friday is definitely looking like Strawberry Salsa Night.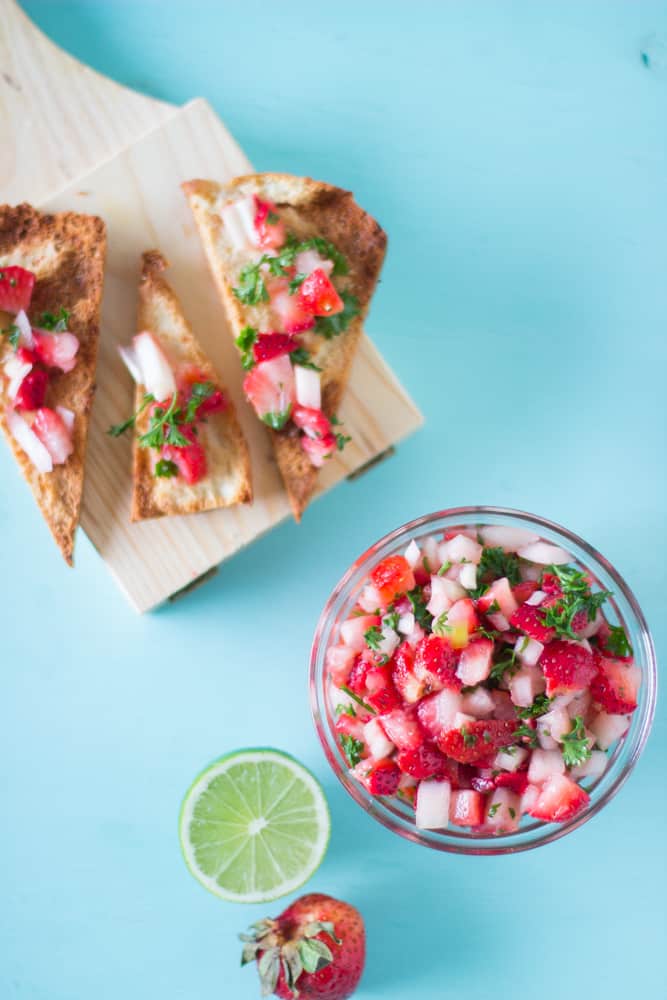 I'm going to dive straight into this salsa, which by the way about to be your new FAVOURITE salsa. This salsa is so simple but so delicious, made up of onions, chopped strawberries, mint/parsley/cilantro and lime juice. Isn't there such beauty in simplicity? What you end up with is a sweet and sour and spicy (if you so desire) combination that honestly, may not look it, but it pretty much perfect on anything. I'm talking pita chips. Tortillas. Leftover fried fish from the beach. With a spoon. The lime not only does it's magic as it always does it salsas, it slightly macerates the strawberries and so the sweetness comes out, and before you know it you have a little natural sweet syrup forming.
I can't make this stuff up. You pretty much just have to give it a try. Is this recipe healthy? By all means. But you'll be too busy focusing on how delicious it is to even be harping about that. As proof, throughout this shoot (which was very short because I really wanted to eat this) I couldn't stop taking bits and pieces because it is just THAT good! Summer get together coming up? Make it. It takes ten minutes tops, then by the time your guests are all settled in, you have your delicious syrup-y salsa ready to serve.
Are you sold yet?
And P.S., I know today is Doughnut Day, so as a treat, make this healthy salsa and reward yourself with a doughnut for dessert.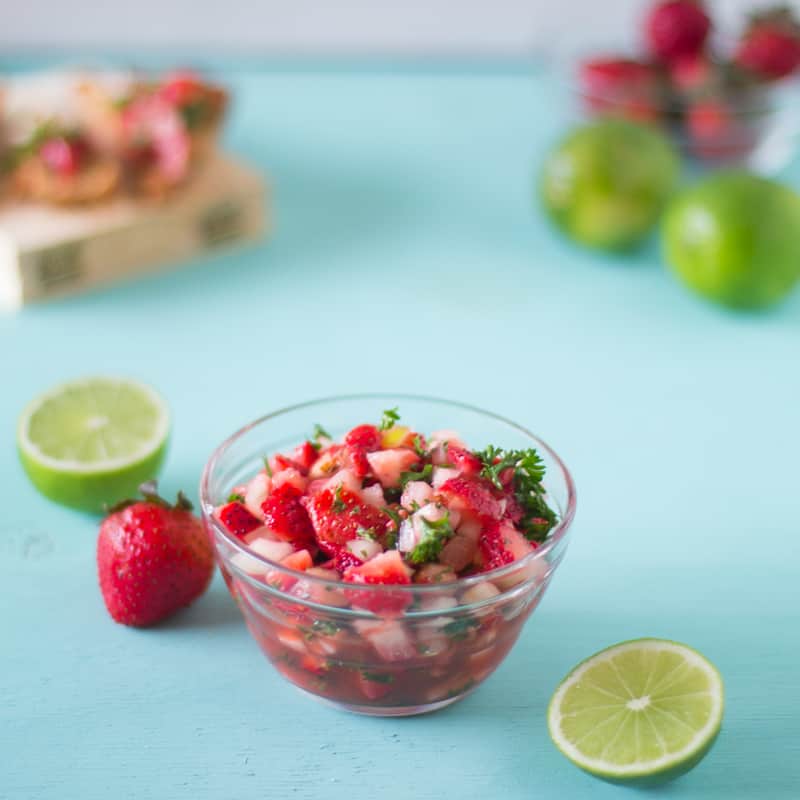 If you loved this salsa, you'll definitely also love this Spicy Guacamole!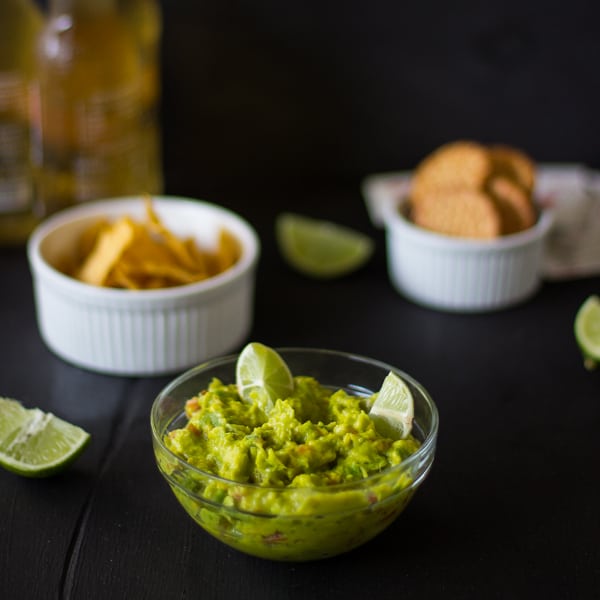 Check out all my salsas, dips and spreads!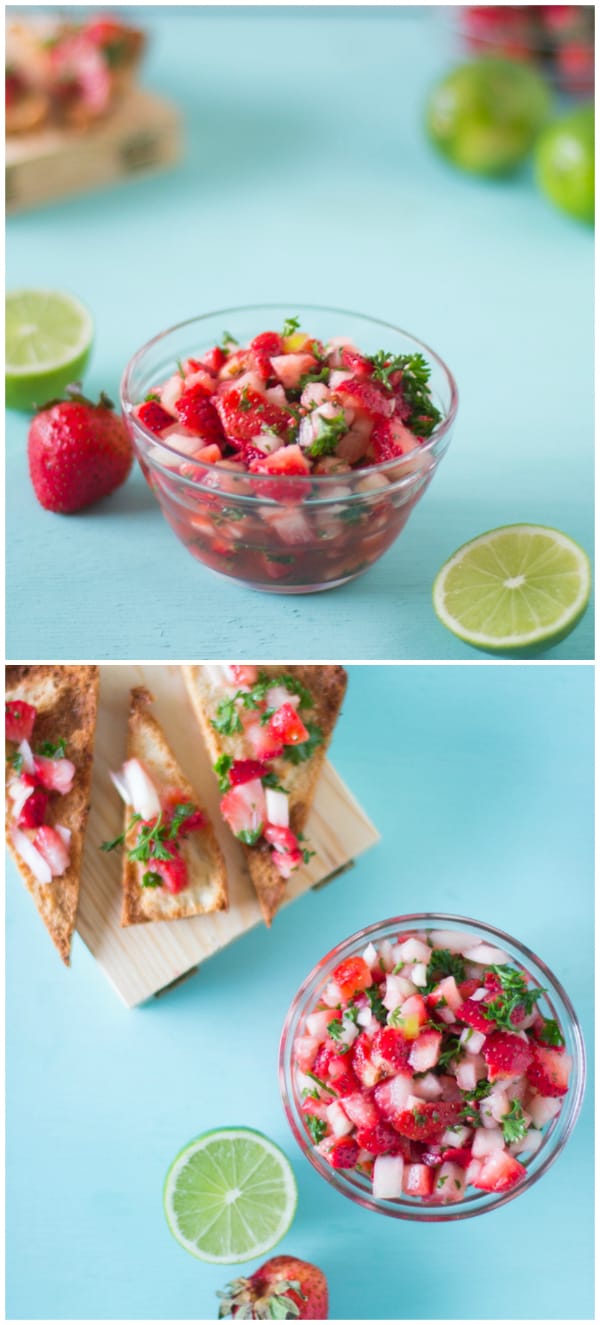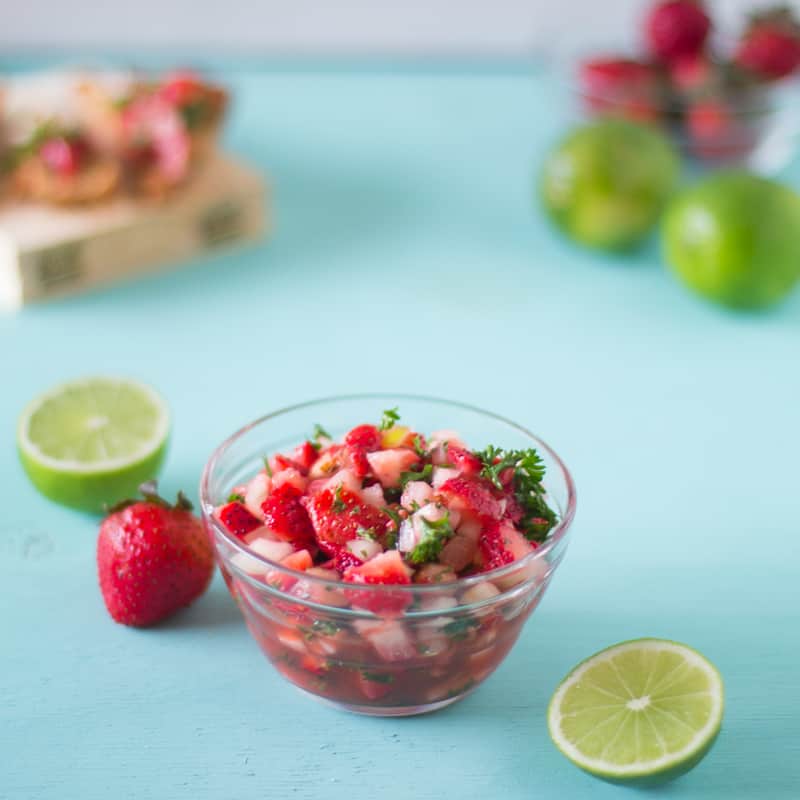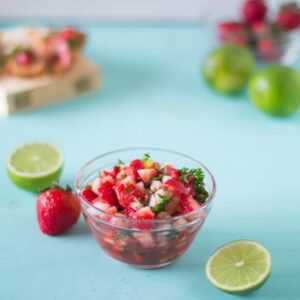 Strawberry Salsa
This easy and addictive strawberry salsa comes together in less than ten minutes, and is about to become your new favourite salsa! Perfect for summer togethers!
Ingredients
1/2 cup strawberries, washed, de-stemmed and diced
1/2 a small onion, diced
1/2 tablespoon chopped mint/parsley/cilantro/herb of your choice
Juiced of 2 small limes
Instructions
Mix the strawberries, onion and lime juice together. You want the salsa to soak in the lime juice. Allow to soak for about 5 minutes to ensure all the flavours are mixed and the strawberries slightly macerated.

Add the herbs and mix. If you can, chill until ready to serve and enjoy!
Notes
NOTES You could add some chopped jalapeños in the mix, but I would recommend a teaspoon of sugar if that's the case. It would add a delicious kick!
Calories: 29kcal, Carbohydrates: 8g, Protein: 1g, Fat: 1g, Saturated Fat: 1g, Sodium: 2mg, Potassium: 109mg, Fiber: 2g, Sugar: 3g, Vitamin A: 58IU, Vitamin C: 28mg, Calcium: 23mg, Iron: 1mg
Disclaimer: Although jessicainthekitchen.com attempts to provide accurate nutritional information, kindly note that these are only estimates. Nutritional information may be affected based on the product type, the brand that was purchased, and in other unforeseeable ways. Jessicainthekitchen.com will not be held liable for any loss or damage resulting for your reliance on nutritional information. If you need to follow a specific caloric regimen, please consult your doctor first.