Strawberry Pineapple Coconut Smoothie
This Strawberry Pineapple Coconut Smoothie or Lava Flow Smoothie is loaded with delicious spring and summer fruits and bound to be your new favourite smoothie!
If you want to try more strawberry drink recipes, I highly suggest this Korean Strawberry Milk or this Strawberry Pineapple Smoothie!
I seem to be a big fan of strawberries, pineapples, and all things coconut in so many of my recipes. Who could blame me – they are all pretty amazing ingredients on their own. So…what do you get when you mix strawberries, pineapples and coconuts together? Was I mad scientist? As I found out the easy (and delicious) way, a very, very happy me and an addictive Strawberry Pineapple Coconut (Lava Flow) Smoothie recipe.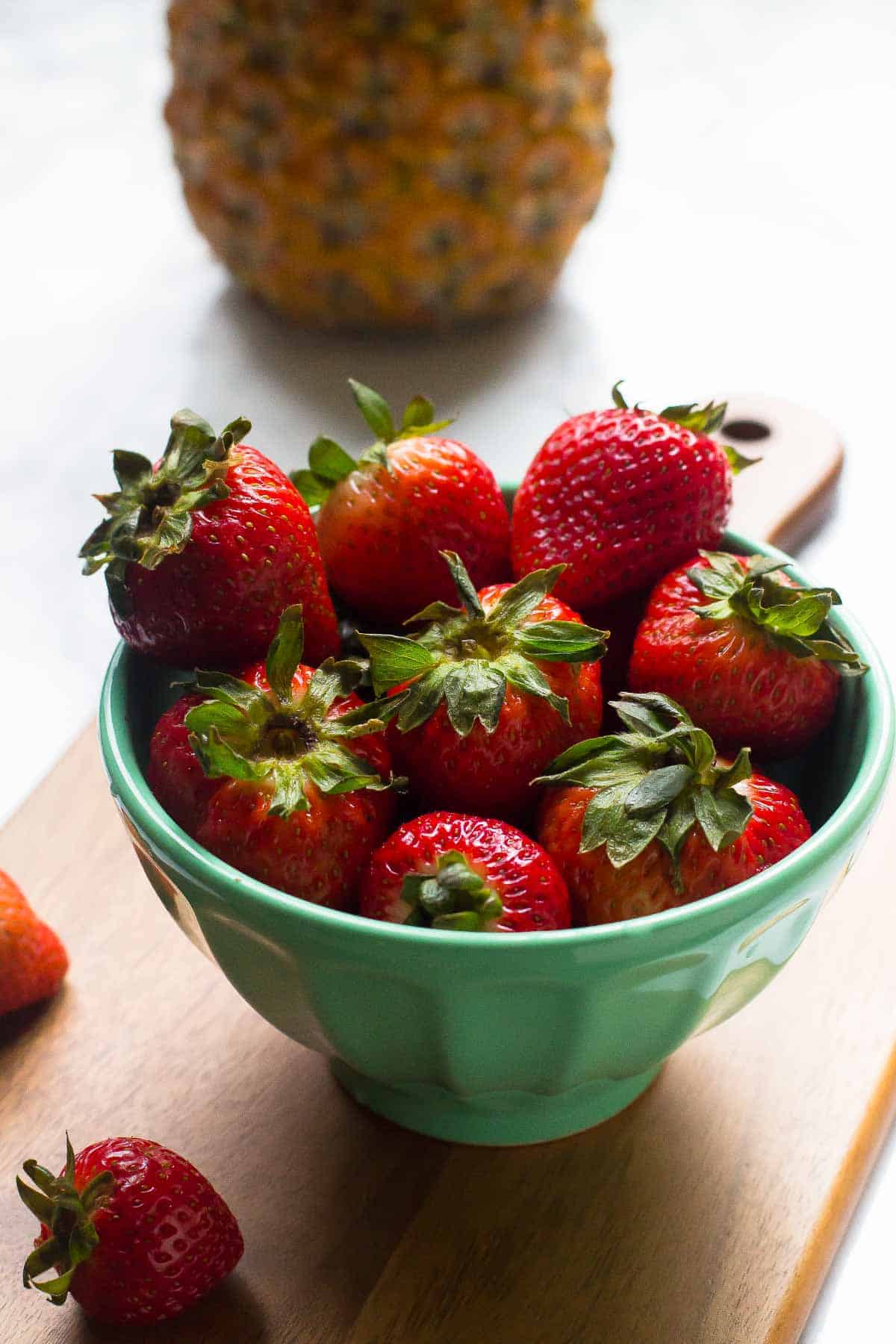 I'm always looking for a new way to incorporate nut based milks into my smoothies. This month's attempt proved to be one of my most favourite ways yet. This month, I skipped my way to the fridge section of the supermarket to give Silk's new product Nutchello a try. It's a creamy and light nut based milk beverage that you can simply pour into a glass and drink at any time of the day. The Nutchello beverage that I wanted to try was the Toasted Coconuts + Cashews. Toasted coconuts, creamy cashews and straw? Uh, count me in immediately.
This flavour screamed tropical delight in a glass. I was definitely drinking this straight from the glass – enjoying it so much so that I only paused to wonder – when was the last time I did this?! After a delicious glass and proudly donning my nut based milk moustache, I knew I had to incorporate this into a recipe that would allow it to shine through beautifully. In walks this Strawberry Pineapple Coconut (Lava Flow) Smoothie.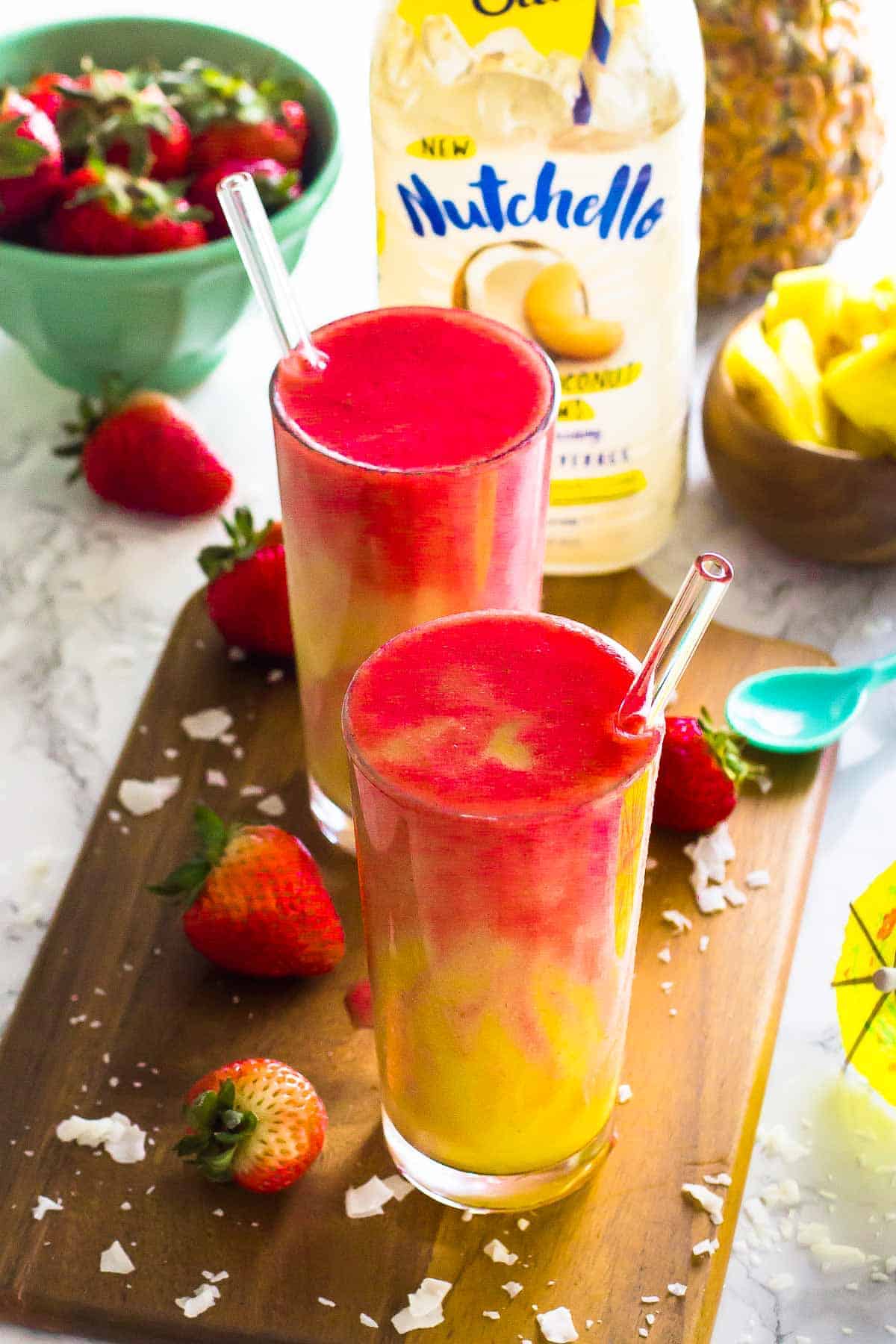 How to Make a Lava Flow Smoothie
I couldn't get the combination of strawberries, pineapples and coconuts out of my head. They make such an absolute perfect blend to me! So, I decided to try them all together in one glass, at which point the Hawaiian drink "Lava Flow" came to mind. Bingo. This is a mocktail version of the drink, but it's just as perfect for a spring or summer breakfast or afternoon pick-up smoothie. Creamy and sweet, incredibly easy to make, and have you seen that stunning colour? I would make this again and again just to see that beautiful colour again.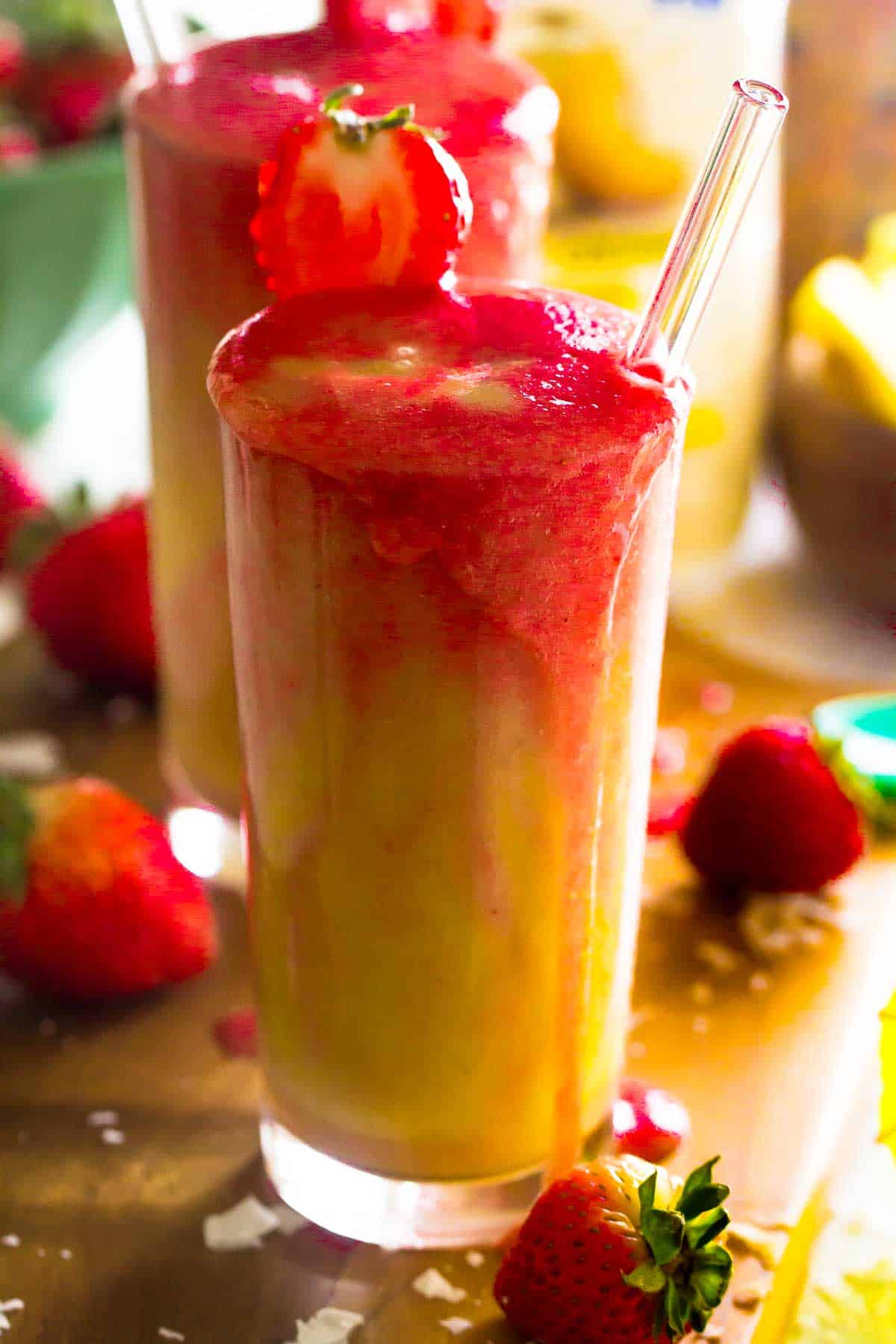 P.S. If you head over to Silk's website, you'll get a coupon instantly upon signing up as a member! You can sign up their newsletter to also receive various other member perks including tons of giveaways (free stuff? Yes please)!

If you try this Strawberry Pineapple Coconut (Lava Flow) Smoothie, please let me know in the comment section below, or tag me on instagram with the hashtag #jessicainthekitchen! For more exclusive recipes follow me on Instagram AND on Snapchat: jessinkitchen.
More Easy Smoothie Recipes
Looking for more quick and easy smoothie recipes? Check out these ones!
This is a sponsored conversation written by me on behalf of Silk! All opinions are mine. I love their products so much. Thank you for supporting the brands that help to support me!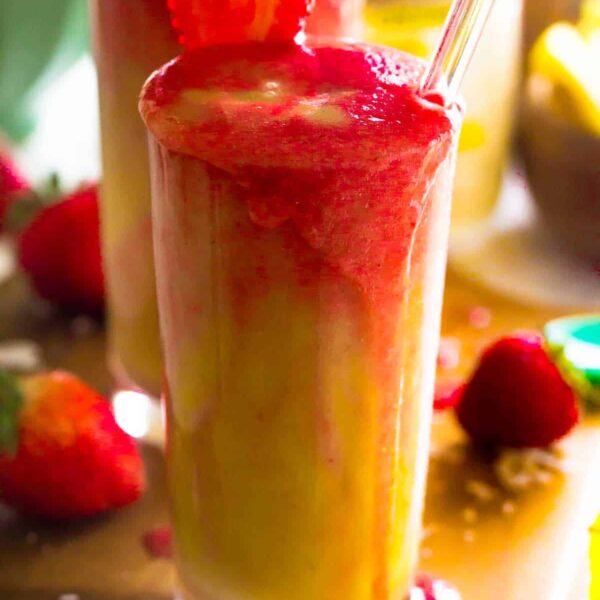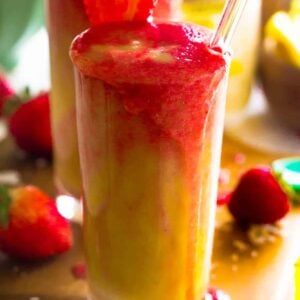 Strawberry Pineapple Coconut (Lava Flow) Smoothie
This Strawberry Pineapple Coconut Smoothie, or Lava Flow Smoothie, is loaded with frozen strawberries, banana, and tangy pineapple chunks. It's great as a quick breakfast or a sweet snack!
Ingredients
Strawberry Puree Layer:
1/2 cup coconut water
1 1/2 cups frozen strawberries
1 frozen small banana
Pineapple Layer:
1/2 cup Silk Nutchello Toasted Coconut + Cashew
2 cups pineapple chunks
Instructions
Mix all the ingredients for the strawberry puree layer together in your blender. Pour into the glasses and set aside. Rinse out your blender.


Mix all the ingredients for the pineapple layer in your blender. Pour over the strawberry layer, in the centre. The layers should begin to blend together, creating a lava flow effect, but you can stir gently with your straw to encourage the swirls.

Serve and enjoy!

Notes
This recipe is vegan and gluten free. Ensure that your pineapple is ripe. If you want a sweeter recipe, you can add a natural sweetener to both layers, especially if your strawberries/pineapple are tart.
HOW TO STORE: You can store this in a mason jar in the fridge for up to a day. I would recommend drinking this immediately since it tastes best then.
Calories: 311kcal, Carbohydrates: 64g, Protein: 4g, Fat: 8g, Saturated Fat: 6g, Sodium: 71mg, Potassium: 891mg, Fiber: 9g, Sugar: 49g, Vitamin A: 156IU, Vitamin C: 93mg, Calcium: 70mg, Iron: 2mg
Disclaimer: Although jessicainthekitchen.com attempts to provide accurate nutritional information, kindly note that these are only estimates. Nutritional information may be affected based on the product type, the brand that was purchased, and in other unforeseeable ways. Jessicainthekitchen.com will not be held liable for any loss or damage resulting for your reliance on nutritional information. If you need to follow a specific caloric regimen, please consult your doctor first.