Easy Vegan Almond Flour Pizza Crust (Gluten Free & Low Carb)
This Easy Vegan Almond Flour Pizza Crust is done in 30 minutes, and has the perfect crust texture! It's gluten free, uses only 8 ingredients, is yeast free and incredibly easy to make! It also has only 5 net grams of carbs per slice!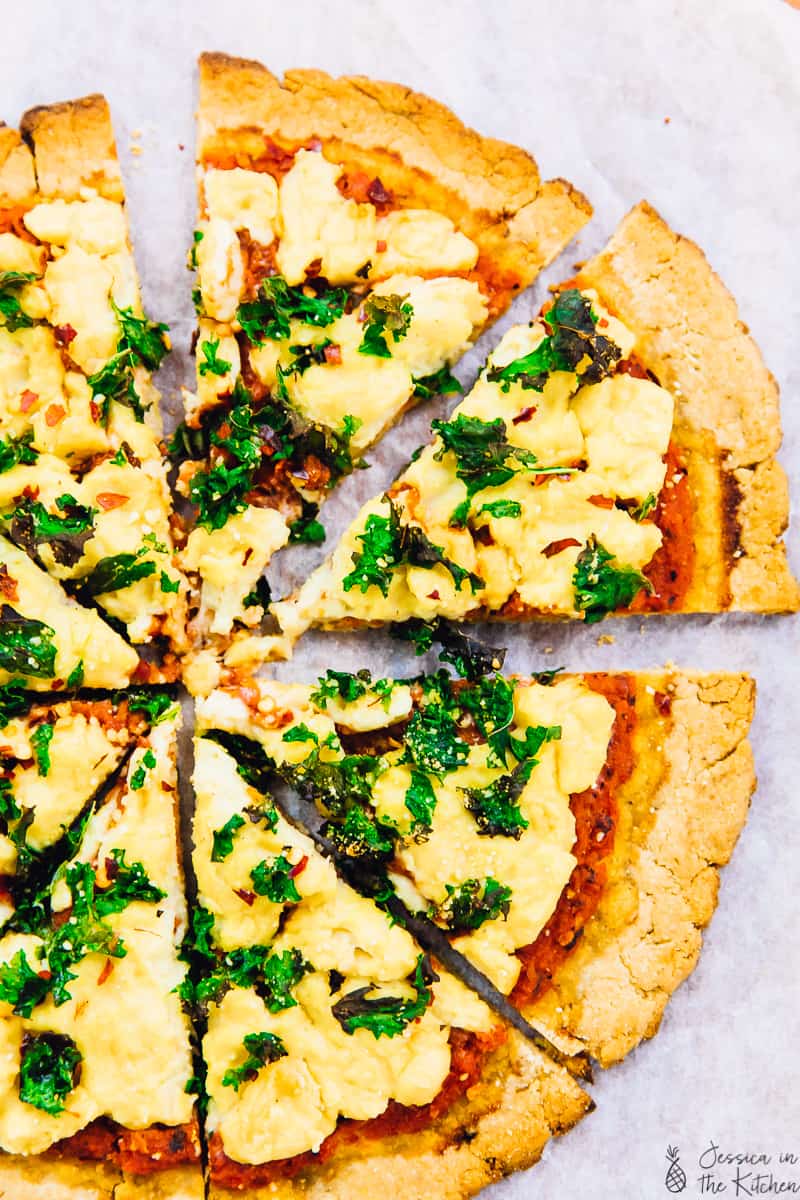 Almond flour crust vegan
Let me tell you a story about a girl (woman? Millennial?) who is obsessed with homemade pizza. She loves making the dough from scratch and enjoys making it deep dish in her cast iron. She devours the pizza with her guy (man/millenial) and they live happily ever after. The end.
Homemade Pizza and our household go hand in hand. I've made homemade pizza so many times it became a bit of a tradition. I have an on hand quick rise dough (I need to share this with you), I would bake it off in my oven, and then we would enjoy
Friday night
homemade pizza. And
Saturday morning for breakfast
, of course.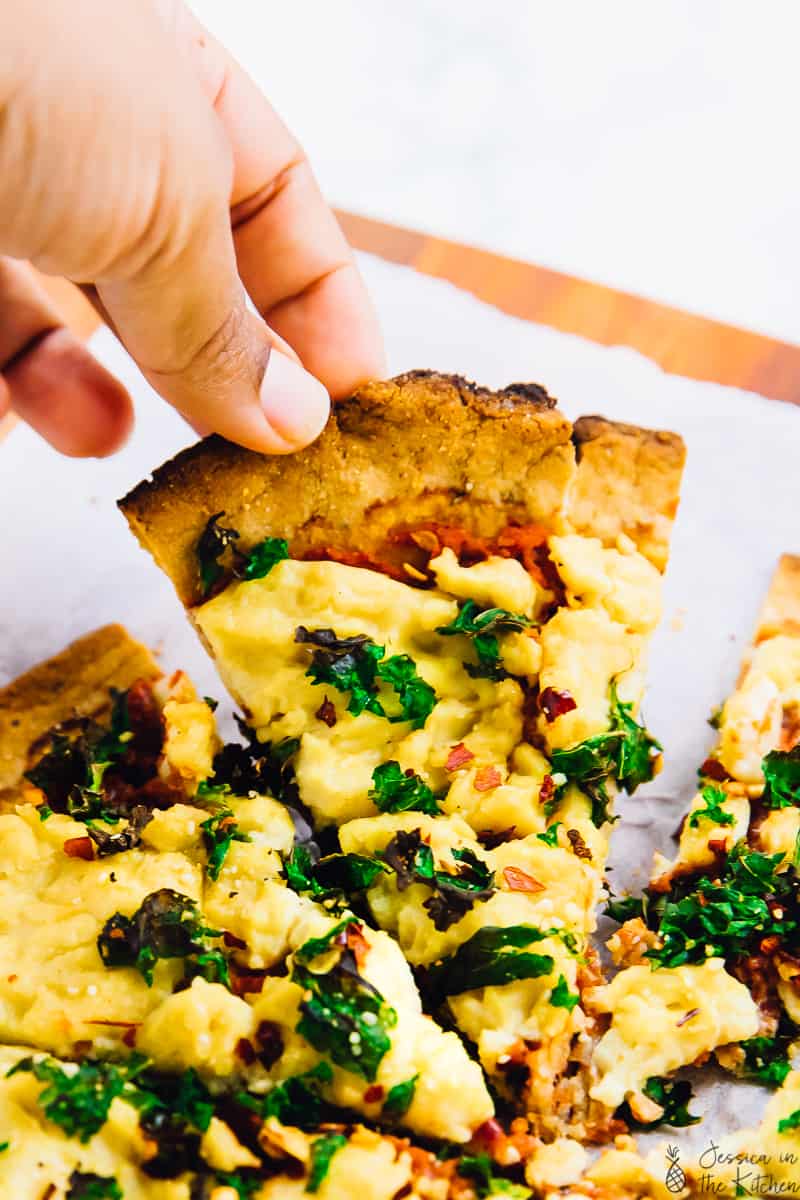 That being said, I wanted a pizza that fit a lower carb way of eating. It's something you've all requested and plus I don't have a gluten free pizza crust on the blog! I wanted a pizza that was still delicious, and still gave me that pizza feeling. That pizza friends, is this Almond Flour Pizza Crust.
This Almond Flour Pizza Crust is absolutely delicious. It has that crisp at the edge that I love in a pizza crust, and holds the pizza beautifully. No flopping around here. It's low carb, yeast free, and is done in a jiffy. From start to finish this crust takes under 30 minutes. Plus, it has 5g of net carbs per slice!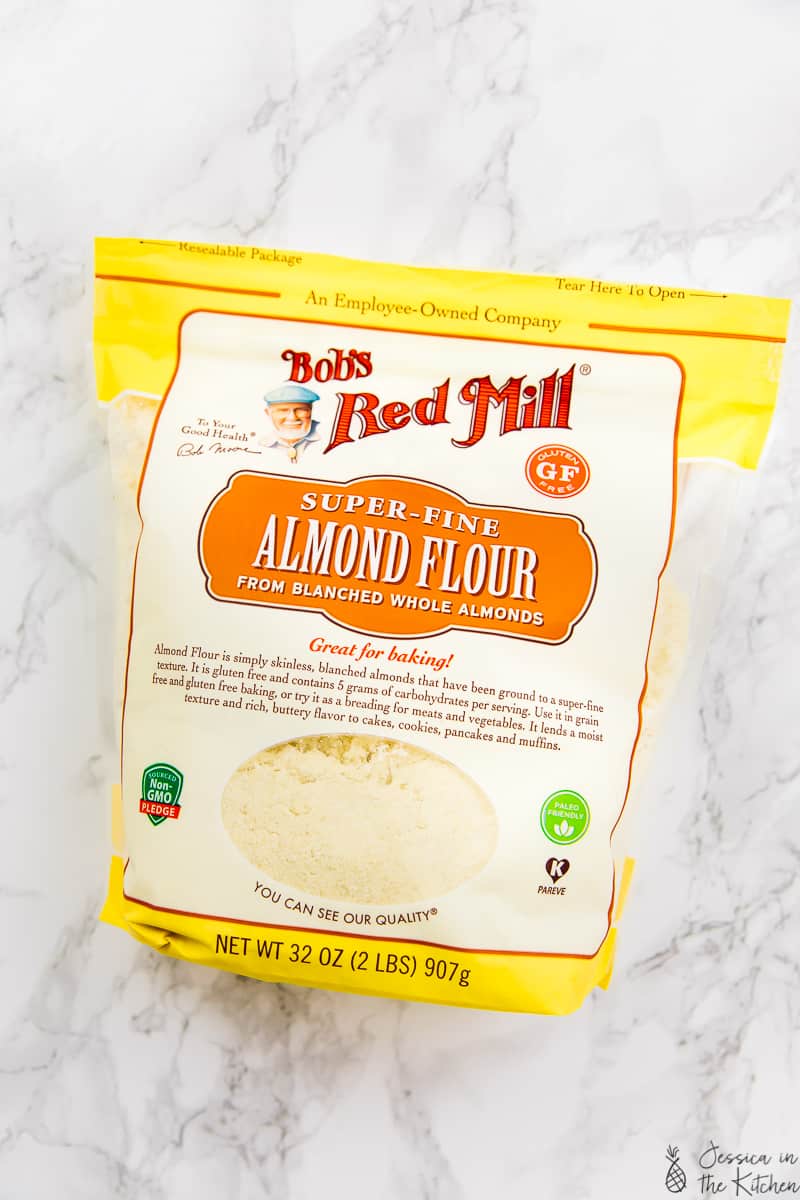 Armed with my favourite gluten free brand,
Bob's Red Mill
, I got to making this crust.

How to make almond flour pizza crust
This crust is so easy to make it's insane. First, mix together your flours and your dry ingredients. I wanted to zhush up my crust so I added in the same seasonings I add into my regular pizza crust, usually Italian seasonings, nutritional yeast and garlic powder. Then add in the flax meal, water and oil. Stir to combine and roll into a disk. Bake it off, add your ingredients, then bake again! That's it and your beautiful pizza is done! Enjoy friends!
Can I freeze this almond flour pizza crust?
Yes you can! I highly recommend freezing the dough ball before baking. Then you can thaw it in the fridge overnight when you need it, and bake it before making and adding the toppings!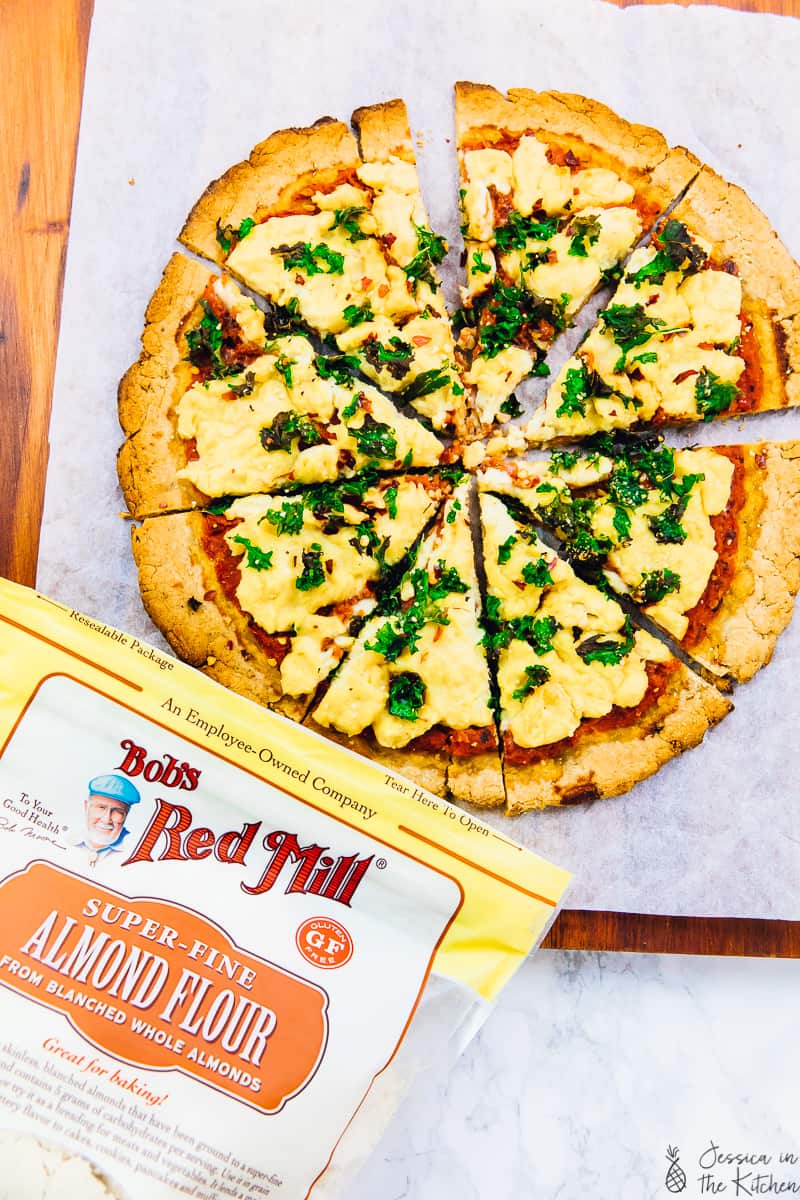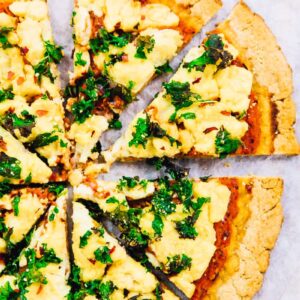 Easy Vegan Almond Flour Pizza Crust (Gluten Free)
This Easy Vegan Almond Flour Pizza Crust is done in 30 minutes, and has the perfect crust texture! It's gluten free, uses only 8 ingredients, is yeast free and incredibly easy to make!
Ingredients
Pizza Toppings (Optional and Up to You)
1/3 cup tomato sauce
1 cup vegan cheese shreds or homemade vegan mozzarella
Instructions
Preheat oven to 450 F/230 C. 

In a bowl, mix the Bob's Red Mill Almond Flour, Bob's Red Mill all purpose flour, flax meal, sea salt, dried oregano and garlic powder. Add in the water and oil and stir to combine until a dough is formed. Knead for about two minutes then turn out into a bowl into a baking sheet lined with a silicone mat or a greased parchment paper. 

Press out the ball into a round crust shape about 10 inches diameter, even all around. Prick with a fork so it doesn't rise during the first bake. Bake the crust for 7-8 minutes in the oven. Remove and let cool slightly. 

Top the pizza with your favourite toppings. I like a simple crispy kale pizza with the above pizza toppings. Add the tomato sauce, then the cheese, then the chopped kale. They can overlap the edges of the crust if you'd like, or you can leave it bare for a solid crust edge.

Place in the oven and bake for 8-10 minutes, watching after 8 minutes to see that the crust doesn't burn or only browns slightly. You can broil for a minute so the cheese is bubbly.  

Remove, slice into 8 slices, let cool slightly, and enjoy!
Notes
*The Bob's Red Mill Egg Replacer works perfectly here at binding this crust. You make it 1 tablespoon Egg replacer powder and 2 tablespoons water according to the directions on the package.
I also use Bob's Red Mill for my nutritional yeast!
If you don't have you can swap this for a flax egg instead a flax egg is 1 tablespoon flax meal, 3 tablespoons water, mixed and set up in the fridge for 15 minutes.  if using this, lower the additional 2 tablespoons of water to 1 tablespoon to balance it out. I have tested both and the egg replacer comes out on top each time.
The calories is for the pizza crust alone since it is likely we may use different vegan cheeses and toppings. When I added up the vegan cheese I used, the tomato sauce
Calories: 128kcal, Carbohydrates: 7.1g, Protein: 3.7g, Fat: 10.5g, Sodium: 178.4mg, Fiber: 2.1g, Sugar: 0.6g
Disclaimer: Although jessicainthekitchen.com attempts to provide accurate nutritional information, kindly note that these are only estimates. Nutritional information may be affected based on the product type, the brand that was purchased, and in other unforeseeable ways. Jessicainthekitchen.com will not be held liable for any loss or damage resulting for your reliance on nutritional information. If you need to follow a specific caloric regimen, please consult your doctor first.