Sweet Potato and Kale Pizza with Balsamic Drizzle
This gluten free Sweet Potato and Kale Pizza with Balsamic Drizzle is topped with delicious crispy kale and soft sweet potato, and drizzled with sweet balsamic!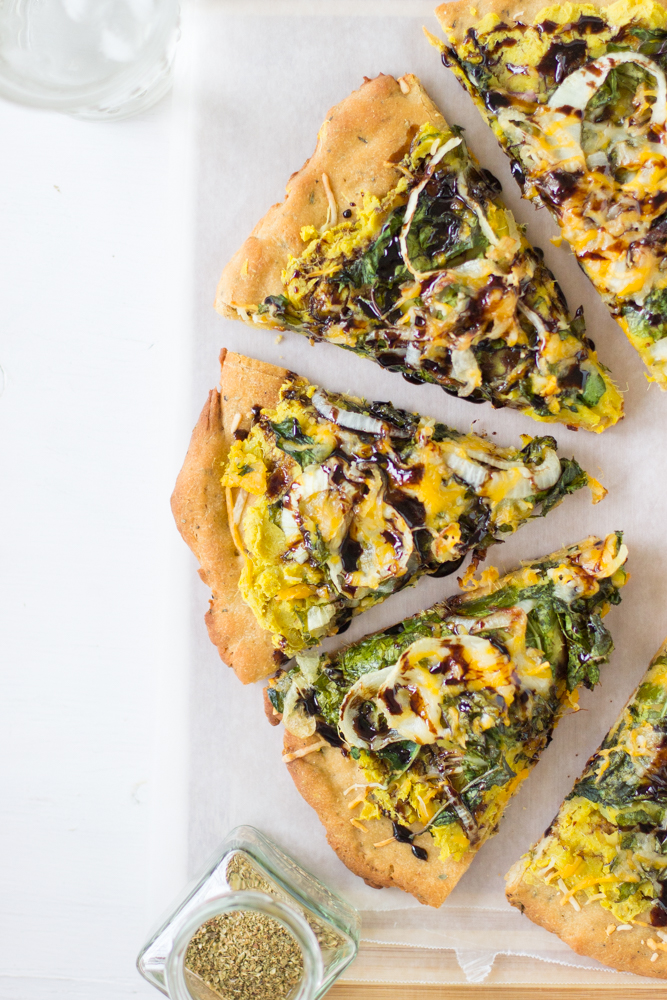 It's the BEST DAY EVER – NATIONAL KALE DAY!! Can you tell I'm excited?? If you're a regular reader, you know I love kale.  In fact, I eat kale in so many recipes that never make it to the blog – mostly because I'm too hungry to stop and take pictures. Yesterday I had kale chips with a fried egg for breakfast – 3 cups of kale. Then last week I made a salad when a friend joined us for dinner. It starred kale, of course, andI have to make it over and over again.
My kale-ness knows no bounds! I may have it once a week or for five days straight. Mr. Bakes is very much aware of my kale obsession and how excited I am every time I get a fresh bunch from the farmer's Market. So all my Kale lovers, happy day to you!! I'm now ranting – let's get to this pizza.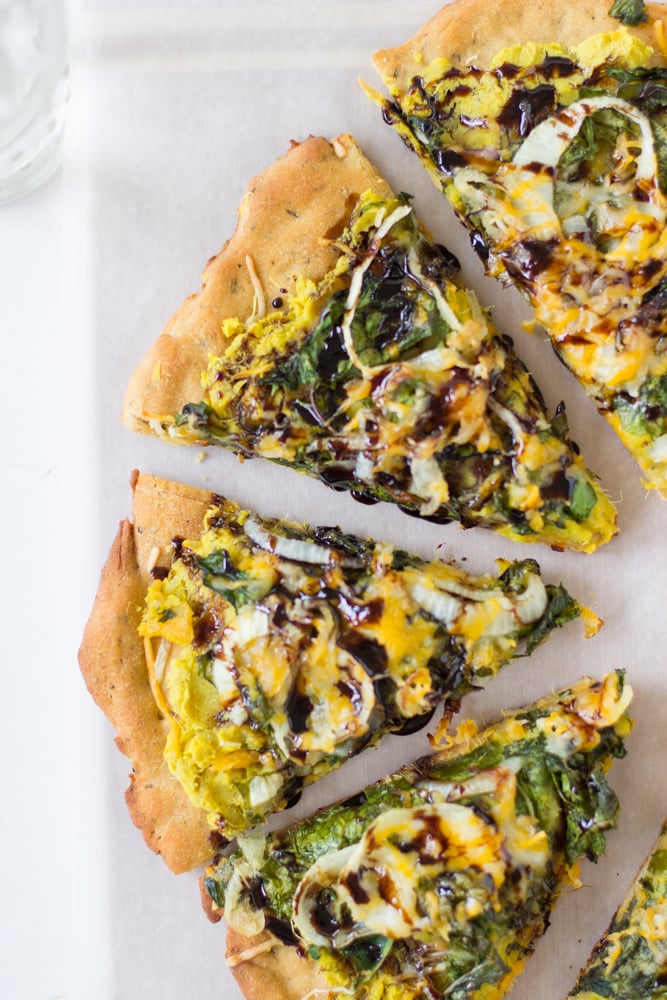 I didn't even know it was Kale Day when I decided to post this, so I will consider this fate. While watching a marathon of chopped last night with my dad & mom (we tried to get up after the first episode, didn't work) I noticed something. One of the judges said, "If I'm having greens on my pizza, I want them to be crispy." This is also true for me! I love greens in all their capacities but on my pizza, they've got to be crisp.
Kale seemed like the perfect (of course) green because it crisps up so well under heat. That's when I believe it's true flavours become to develop, although I love kale raw also. I was thinking of what would be a great base, and sweet potato came to mind. It's soft enough to become a spreadable base for the pizza, and adds sweetness to contrast with the kale and balsamic. An amazing pizza, after it all!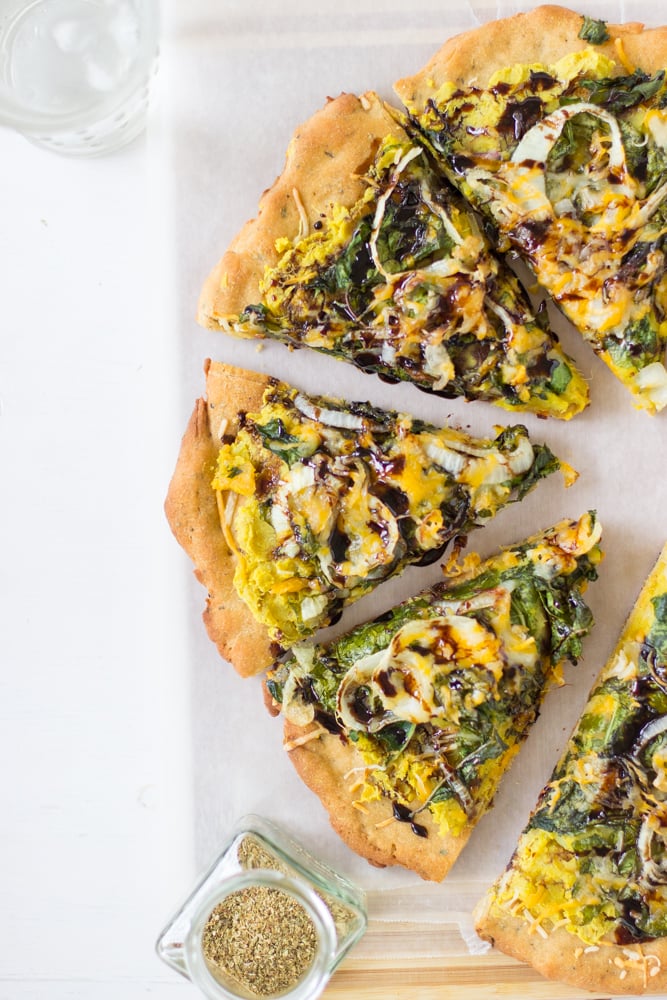 For all those who have stuck to traditional tomato sauce and mozzarella, trust me, it's time to break out. Unique pizzas are my favourite because you get to try flavours you already know in an entire new way that won't be classified as the typical greasy quick dinner meal.
I added mozzarella cheese at the end, but upon tasting, this pizza didn't even need any cheese. I did love the flavour it brought, but nothing compared to the bite of the balsamic drizzle. Fun fact: I actually had to make it three times. The first time I wasn't paying attention and it all dried up very thick. The second time I was carrying it to the freezer to cool down, and I spilled hot balsamic drizzle all over my self… oh, and the entire left half of the kitchen (YAY). The third time was the charm.
The balsamic drizzle adds a welcoming flavour contrast to all the flavours currently on the pizza. To me, it cannot be left out. I preferred this pizza made fresh as opposed to reheated, and would eat this over and over. Try this out for National Kale Day; I promise you'll fall in love.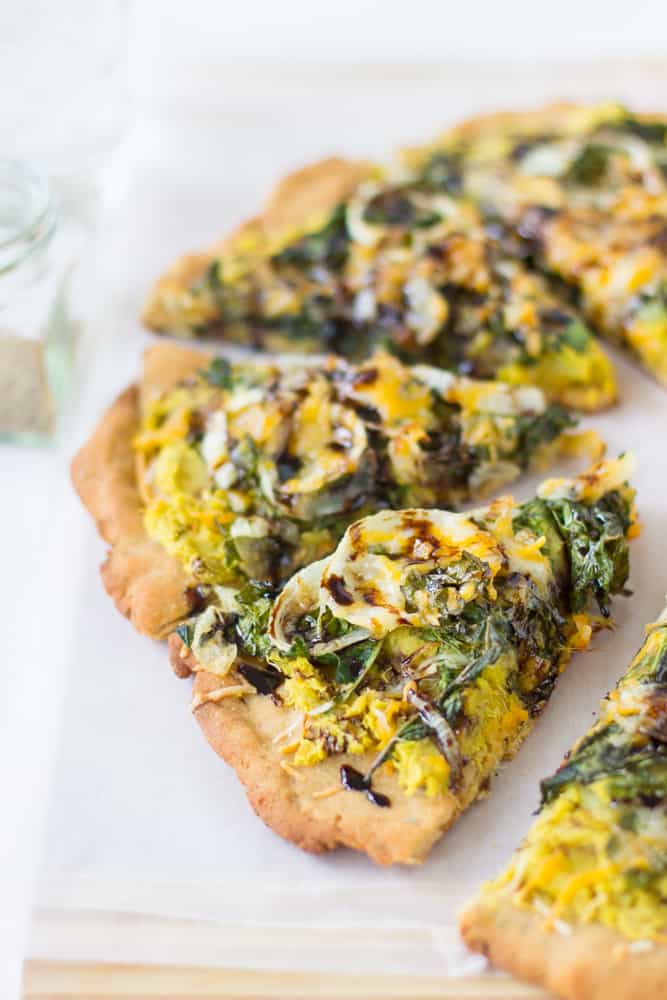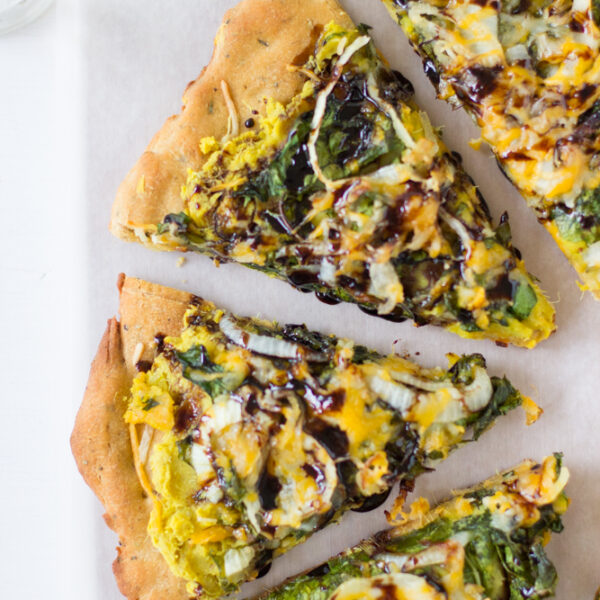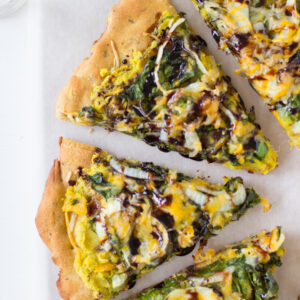 Sweet Potato and Kale Pizza with Balsamic Drizzle
Sweet Potato and Kale Pizza with Balsamic Drizzle is topped with delicious crispy kale and soft sweet potato, drizzled with sweet balsamic and is gluten free!
Ingredients
1 gluten free pizza crust, I made mine from a gluten free pizza crust mix
1 large sweet potato, peeled and chopped into large chunks
1/2 teaspoon salt
1/2 teaspoon ground black pepper
1/4 cup unsweetened almond milk
3 cups kale, washed, dried and stems removed
1/2 medium onion, sliced thinly
1/2 cup mozzarella cheese
1/2 cup balsamic vinegar
2 teaspoon coconut sugar, optional
Instructions
Preheat oven to 375 degrees Fahrenheit.


Bring a pot of water to a boil and add the sweet potato. Allow to boil for 20 minutes or until the sweet potato is fork soft. Remove from heat and mash with almond milk, salt and pepper until spreadable.


Spread onto the pizza and top with the kale, onions and cheese.


Bake pizza for 10 minutes or until kale begins to crisp.


While the pizza is baking, prepare balsamic drizzle. Heat the balsamic vinegar and sugar in a pot over high heat. When it becomes to bubble, reduce heat to low and simmer for about 2 minutes, stirring. The vinegar should get thicker. Remove from heat and watch carefully so it doesn't get hardened.


Remove pizza from oven and drizzle with balsamic drizzle. Enjoy!
Notes
Please note that this pizza can be completely personalised. You add or subtract your own portions of each ingredient.
Calories: 636kcal, Carbohydrates: 100g, Protein: 26g, Fat: 15g, Saturated Fat: 8g, Cholesterol: 44mg, Sodium: 1850mg, Potassium: 2014mg, Fiber: 8g, Sugar: 37g, Vitamin A: 52521IU, Vitamin C: 251mg, Calcium: 774mg, Iron: 6mg
Disclaimer: Although jessicainthekitchen.com attempts to provide accurate nutritional information, kindly note that these are only estimates. Nutritional information may be affected based on the product type, the brand that was purchased, and in other unforeseeable ways. Jessicainthekitchen.com will not be held liable for any loss or damage resulting for your reliance on nutritional information. If you need to follow a specific caloric regimen, please consult your doctor first.