Pumpkin Chocolate Cups (No Bake)
These vegan pumpkin chocolate cups are a delicious holiday dessert and treat! They're no bake, easy to make, and packed with yummy pumpkin flavor!
If you're looking for more easy pumpkin recipes, check out these pumpkin cupcakes or this pumpkin sheet cake!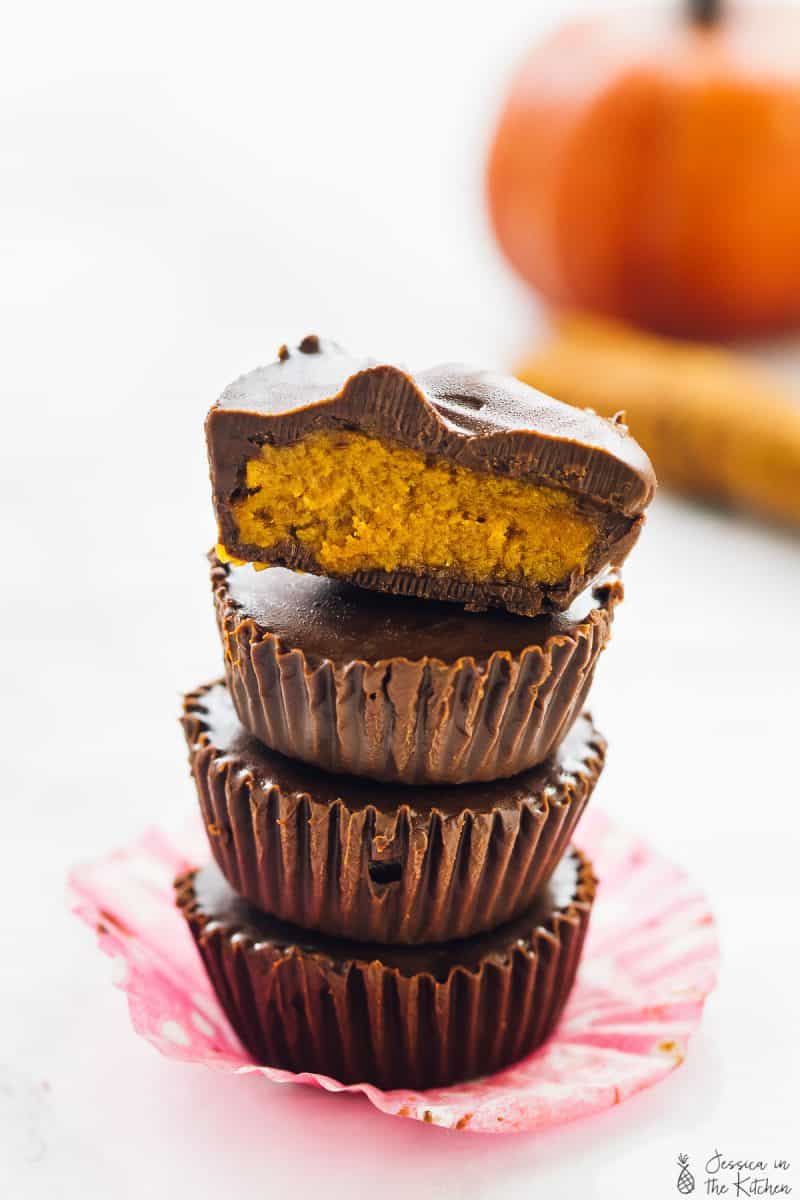 This post was originally published in 2017. I'm bringing it back to life because it's one of my favourite unsung heroes of JITK!
An Easy Vegan Candy Recipe
Once upon a time (aka when I was back in high school 600 years ago) I threw a super cool (in my view) Halloween party. I literally sat down and cut out like 50 bats out of black cartridge paper and bought all the fake skulls and fake web I could. Halloween used to be one of my favourite "holidays" and it's been a while since I've even done anything to celebrate it. I'm pretty sure Thanksgiving and Christmas took its place. Anyway, I realised that these Pumpkin Chocolate Cups are little candies that would be a perfect way to celebrate Halloween or any other holiday party.
Or you know, just life, cause they're perf for any celebration. Little morsels of goodness indeed.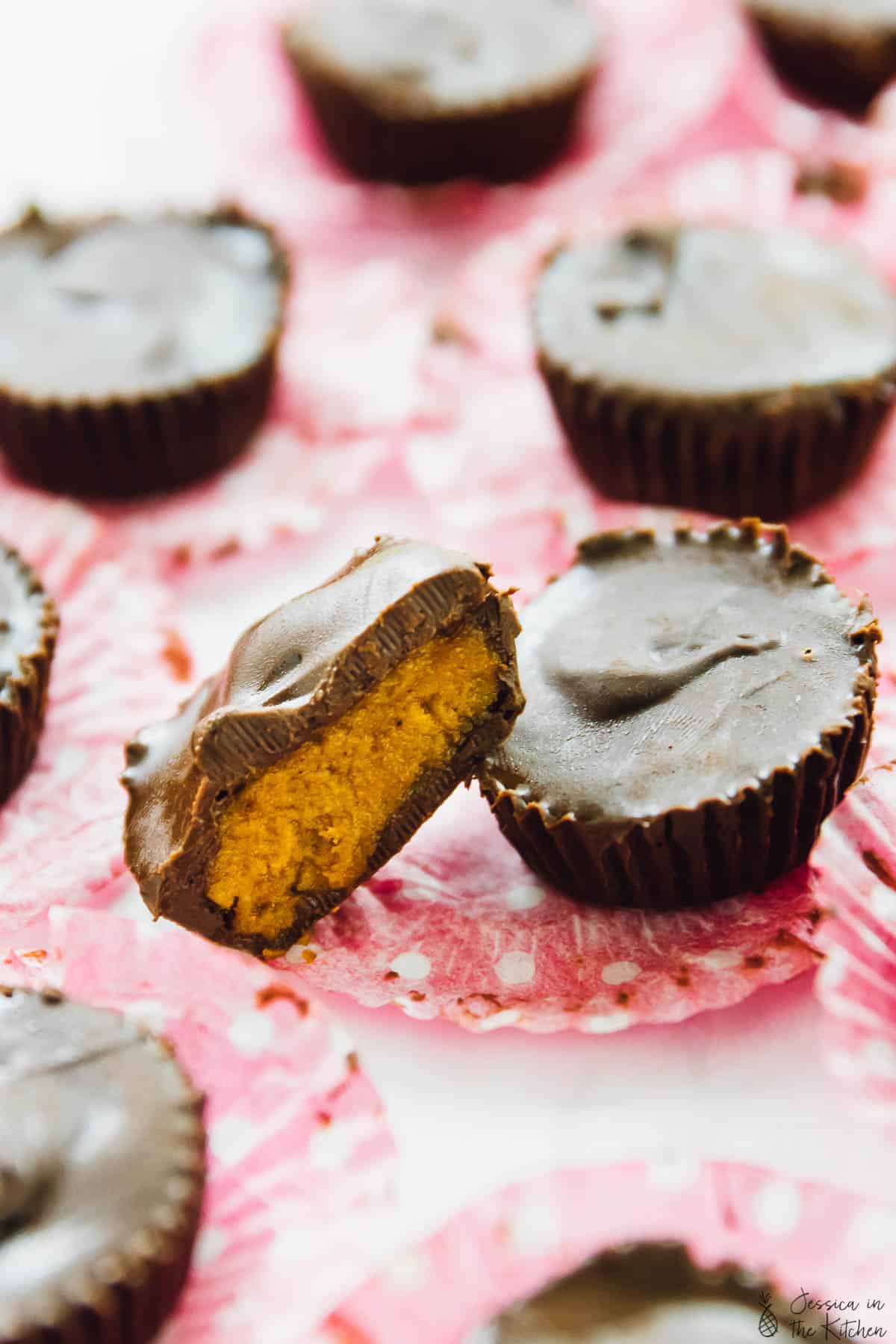 Speaking of Halloween, what are you doing for it? Are you going out and celebrating, or do you have little ones are you're taking them trick-or-treating? My plans include eating these Pumpkin Chocolate Cups and watching a non-horror flick. Truthfully, I am not good at horror movies. So I'll probably be watching Halloween town for the 500th time, or Hocus Pocus… I'll probably make some caramel corn while I'm at it and maybe even grab one of those skulls to "decorate" the TV area to get in the spooky mood.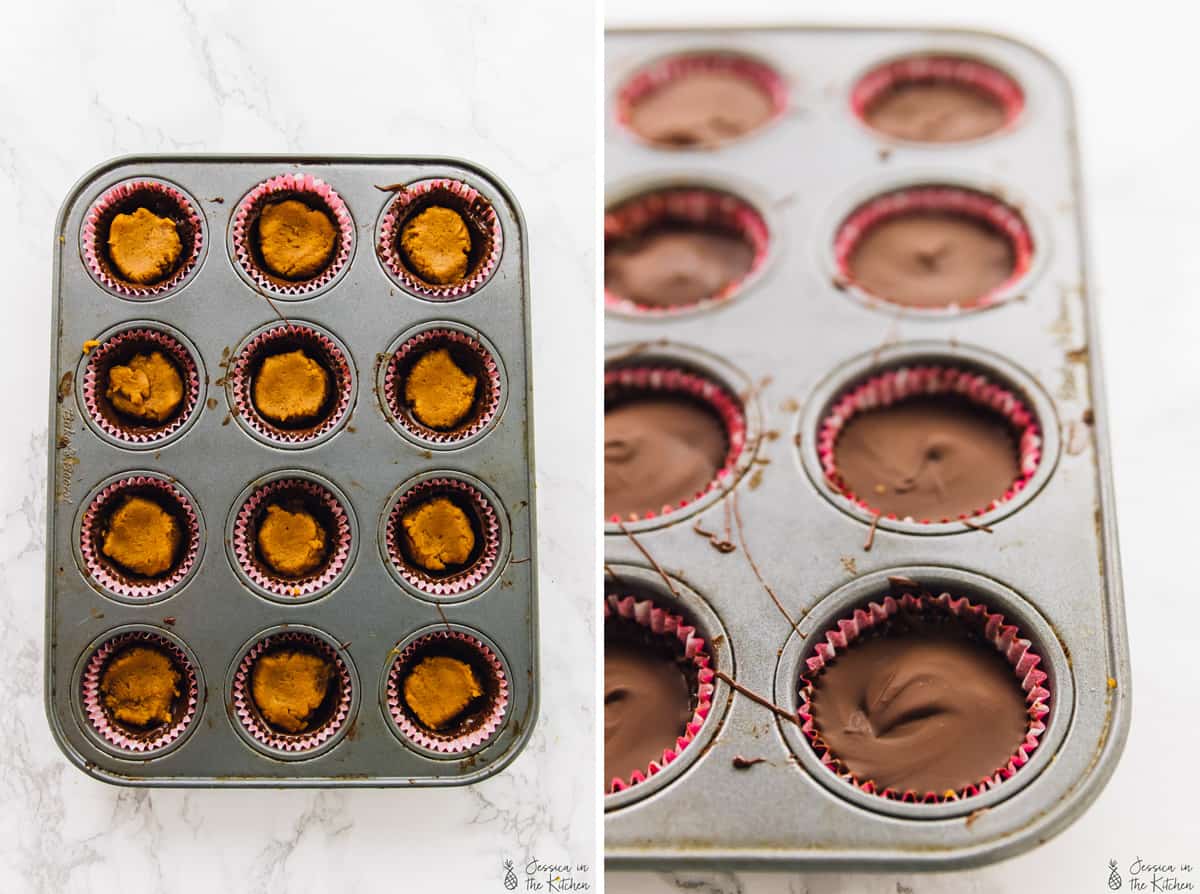 These cups will rock your life. I've made peanut butter cups before, but these really take it up a notch. In an effort to put pumpkin into all the things this fall, I knew I wanted to make some kind of easy candy with pumpkin, when these popped into my head.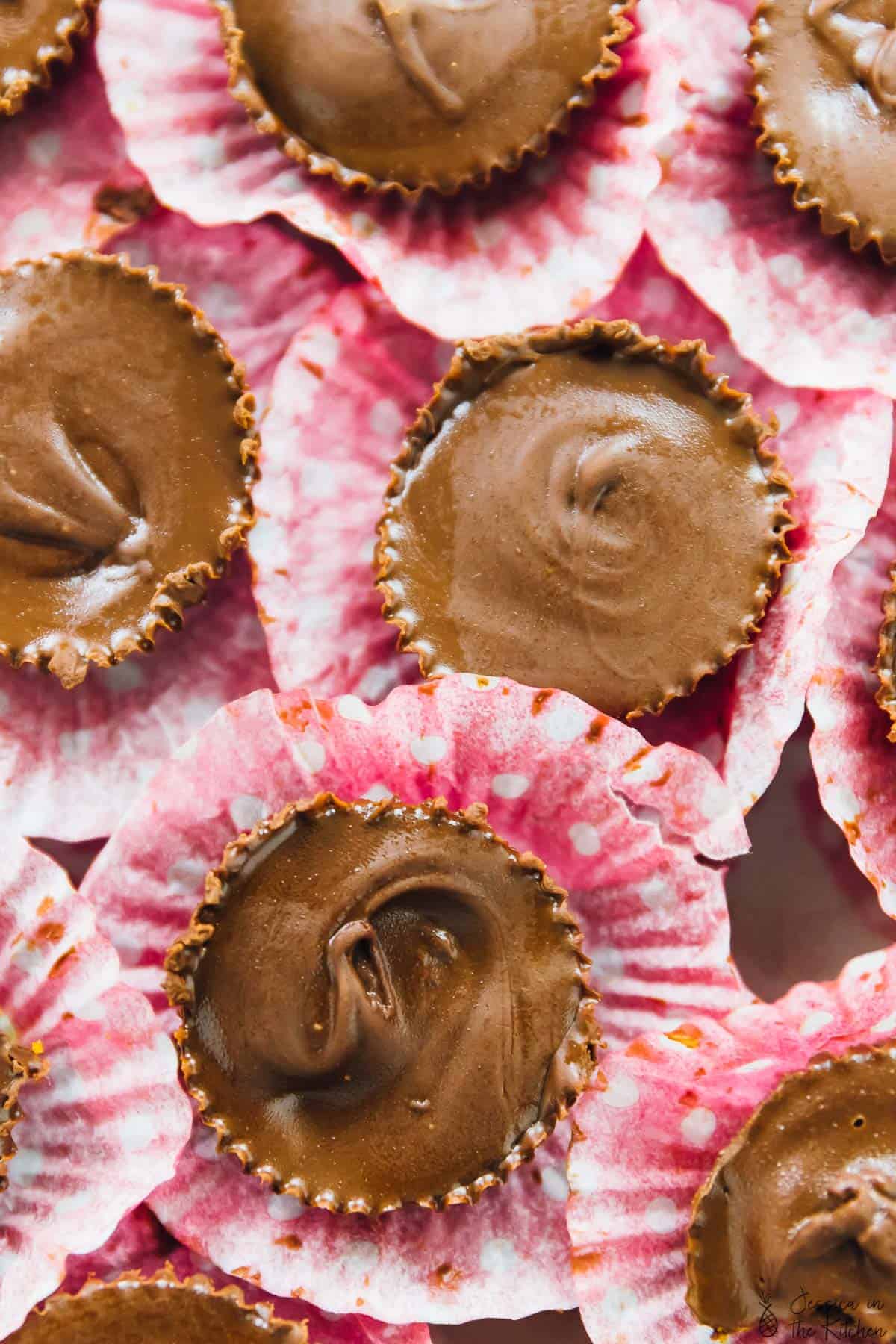 I had just used this same container for my Cauliflower Pizza Bites and remembered devouring, I mean sharing, my peanut butter cups last year. I still have endless amounts of pumpkin puree left over and was like hey, self, we should totally make chocolate cups but with pumpkin too!!
Okay, so if you've never tried pumpkin and chocolate, trust me, you're missing out. They are a fabulous duo. Whether it's chocolate and pumpkin sweet bread or breakfast cookies, they pair so well together. These cups have a delicious pumpkin flavour that's amped up thanks to the addition of pumpkin spice in their too. They're the perfect quick and easy no bake holiday candy.
How to Make Pumpkin Chocolate Cups
These Pumpkin Chocolate Cups are easy and straight forward to make. Actually, I'm pretty sure they deserve a video of how to make them. Melt your chocolate. Coat the cups and freeze for a bit. Fill with the pumpkin filling. Freeze a bit more. Pour the rest of the chocolate on top, and freeze. Done and done. SO yummy, and you could even customise them with some with some extra candy if you want. Bound to be finished within a week minimum because they're so easy to pop into your mouth.
Enough of my rambling, go off to make and enjoy these! They're great if you need treats in a pinch. Friends coming over, movie night, or to give to kiddos. Chances are they'll be done before the first half of your favourite Halloween movie. Enjoy friends!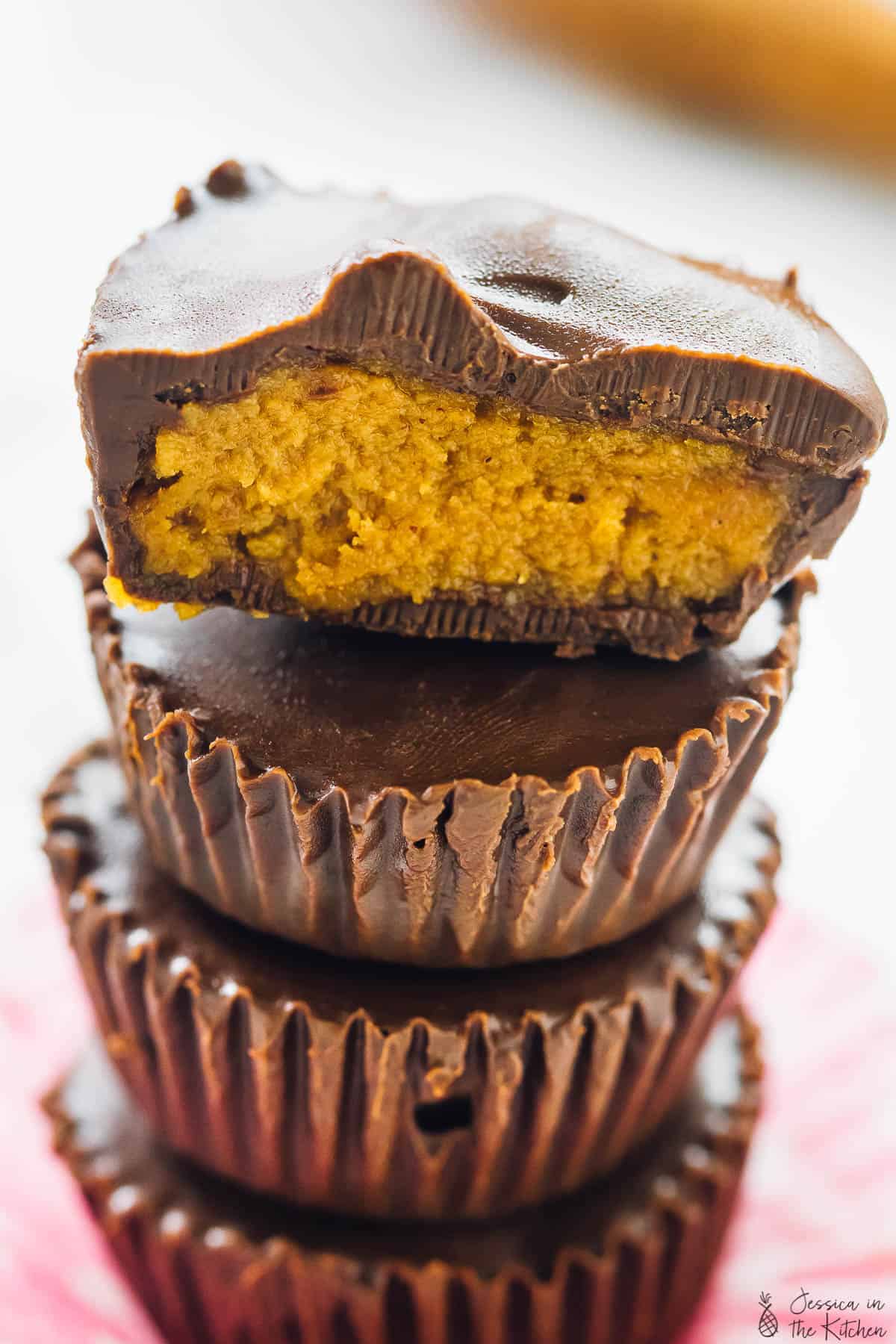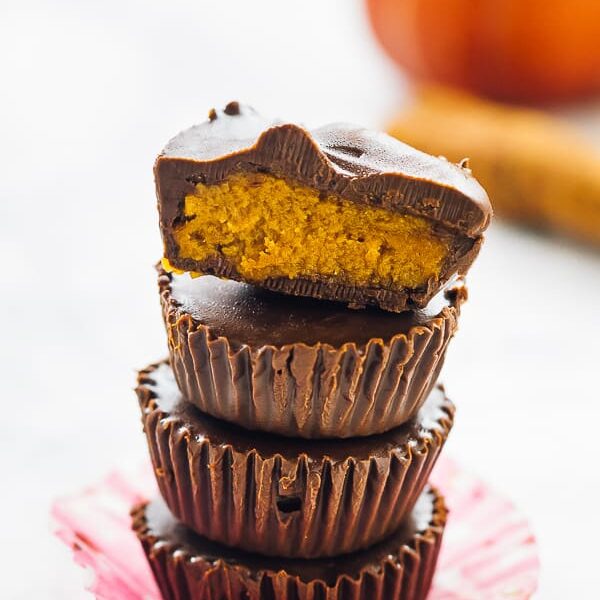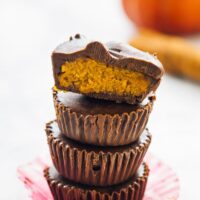 Pumpkin Chocolate Cups (Vegan, Gluten Free, No Bake)
These pumpkin chocolate cups are the perfect vegan candy for a Halloween party! You'll love this combination of rich pumpkin and sweet chocolate.
Ingredients
1 cup dark chocolate chips
2 teaspoons coconut oil
¼ cup natural peanut butter
2 tablespoons pumpkin puree
½ teaspoon pumpkin pie spice
2 teaspoons coconut sugar
Instructions
Line a mini muffin tin with 12 mini cupcake/muffin liners. Set aside.

In a bowl, add the chocolate chips and the coconut oil and stir together. Melt them in the microwave for 1 minute, then stir together until melted. If they aren't fully melted yet, you might need to microwave them for 30 seconds at a time until melted. You can also melt them in a double boiler method.

Spoon a little bit of melted chocolate into each of the muffin liners, and spread it so it covers the bottom, as well as ¾ way up the liners with the back of your spoon. This will ensure the pumpkin peanut butter filling is covered properly.

Put in the freezer for about 10 minutes to set.

In a small bowl, mix the peanut butter, pumpkin puree, pumpkin pie spice and coconut sugar and stir until thick and like a sticky dough.

Remove the mini muffin tin from the freezer and set beside this bowl. Dollop about ½ tablespoon of the pumpkin peanut butter into each cup. I like to roll it a bit in my hand first, then put into each cup and press down if needed so the final chocolate layer covers them.

Pour the rest of chocolate equally over each cup. Place in the freezer to set for another 10 minutes. Peel off liners, eat and enjoy!!
Notes
If you try this Pumpkin Chocolate Cups recipe please let me know in the comment section below, or tag me on instagram with the hashtag #jessicainthekitchen! For more exclusive recipes follow me on Instagram AND on Snapchat: jessinkitchen.
Calories: 104kcal, Carbohydrates: 9g, Protein: 2g, Fat: 7g, Saturated Fat: 5g, Cholesterol: 1mg, Sodium: 36mg, Potassium: 116mg, Fiber: 1g, Sugar: 5g, Vitamin A: 333IU, Vitamin C: 1mg, Calcium: 41mg, Iron: 1mg
Disclaimer: Although jessicainthekitchen.com attempts to provide accurate nutritional information, kindly note that these are only estimates. Nutritional information may be affected based on the product type, the brand that was purchased, and in other unforeseeable ways. Jessicainthekitchen.com will not be held liable for any loss or damage resulting for your reliance on nutritional information. If you need to follow a specific caloric regimen, please consult your doctor first.