Baked Banana Bread Oatmeal Cups (Chunky Monkey)
These Baked Banana Bread Oatmeal Cups are a great meal prep breakfast option! They are vegan, gluten free, and can be made in double or triple batches!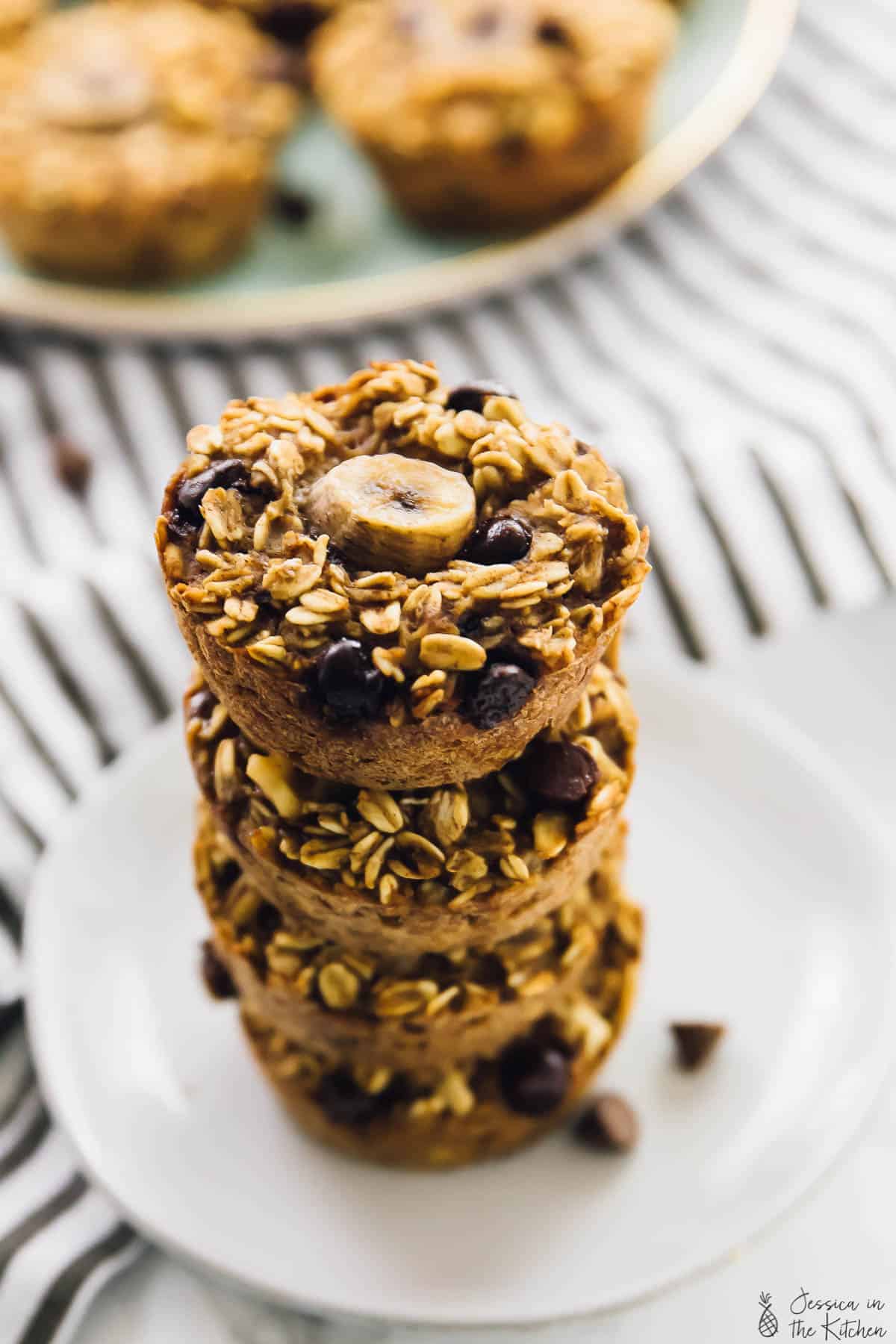 Welcome to the first brand new recipe of 2018! This recipe came to me moments after reflecting on 2017, and lying in bed when bam! "I need to make banana bread oatmeal cups!" instantly came to my mind. Oatmeal cups are something I absolutely love, and I plan to share way more versions of them on Jessica in the Kitchen this year, for sure.
Firstly, they are one of the easiest meal prep recipe you'll ever make. Perfect for busy mornings, for sure. They also make a really great portable breakfast, in any case you need to eat on the go. So if you're going for a hike, the gym or after a class, they would be great since they taste good hot or room temperature.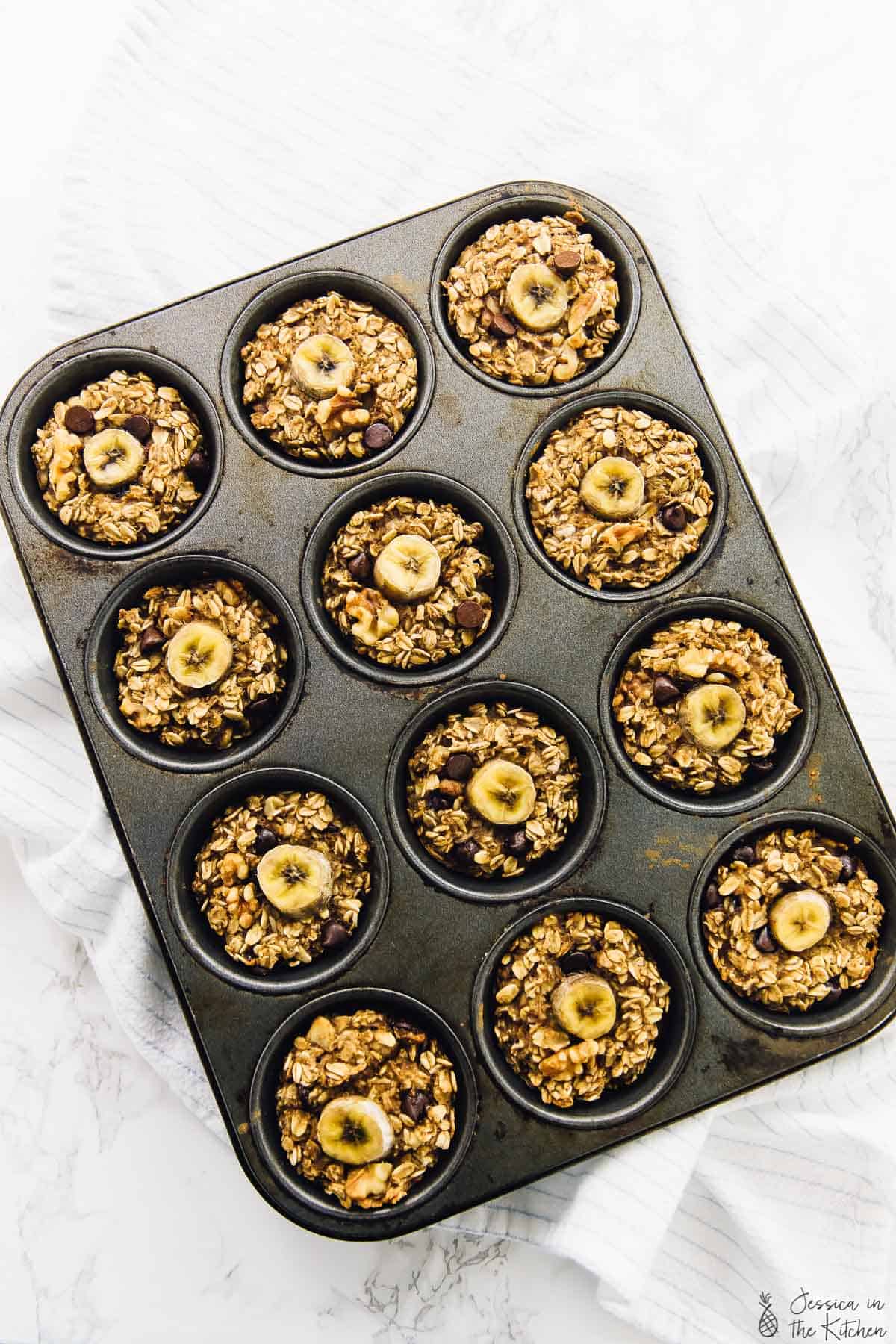 Secondly, You make oatmeal cups just like making oatmeal – except you bake them. This means that after they're baked, you can eat some immediately, or allow them to cool and then place them into your fridge or freezer. Pop them into your toaster oven or the microwave in the am, and drizzle with maple syrup (if you want) and that's breakfast!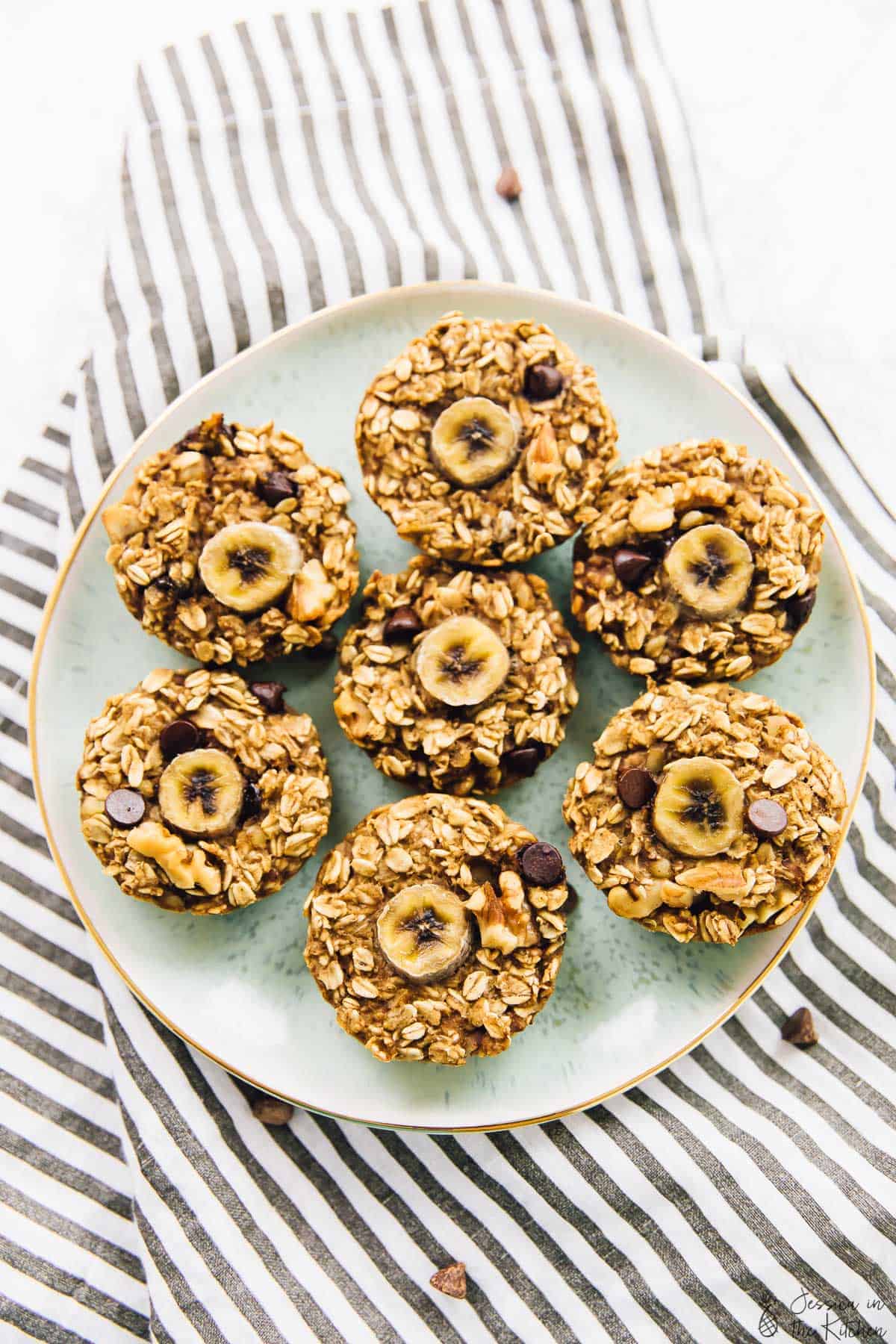 These banana bread oatmeal cups are especially delicious because they are made with:
Ripe, mashed sweet bananas
Crunchy and textured walnuts
Smooth unsweetened almond milk
Natural maple syrup
Sweet vanilla extract
Some sea salt (which by the way, elevates even stove top oatmeal)
Warm, cozy and anti-inflammatory cinnamon
A binding egg substitute
Last but not least, chocolate chips because banana bread needs them!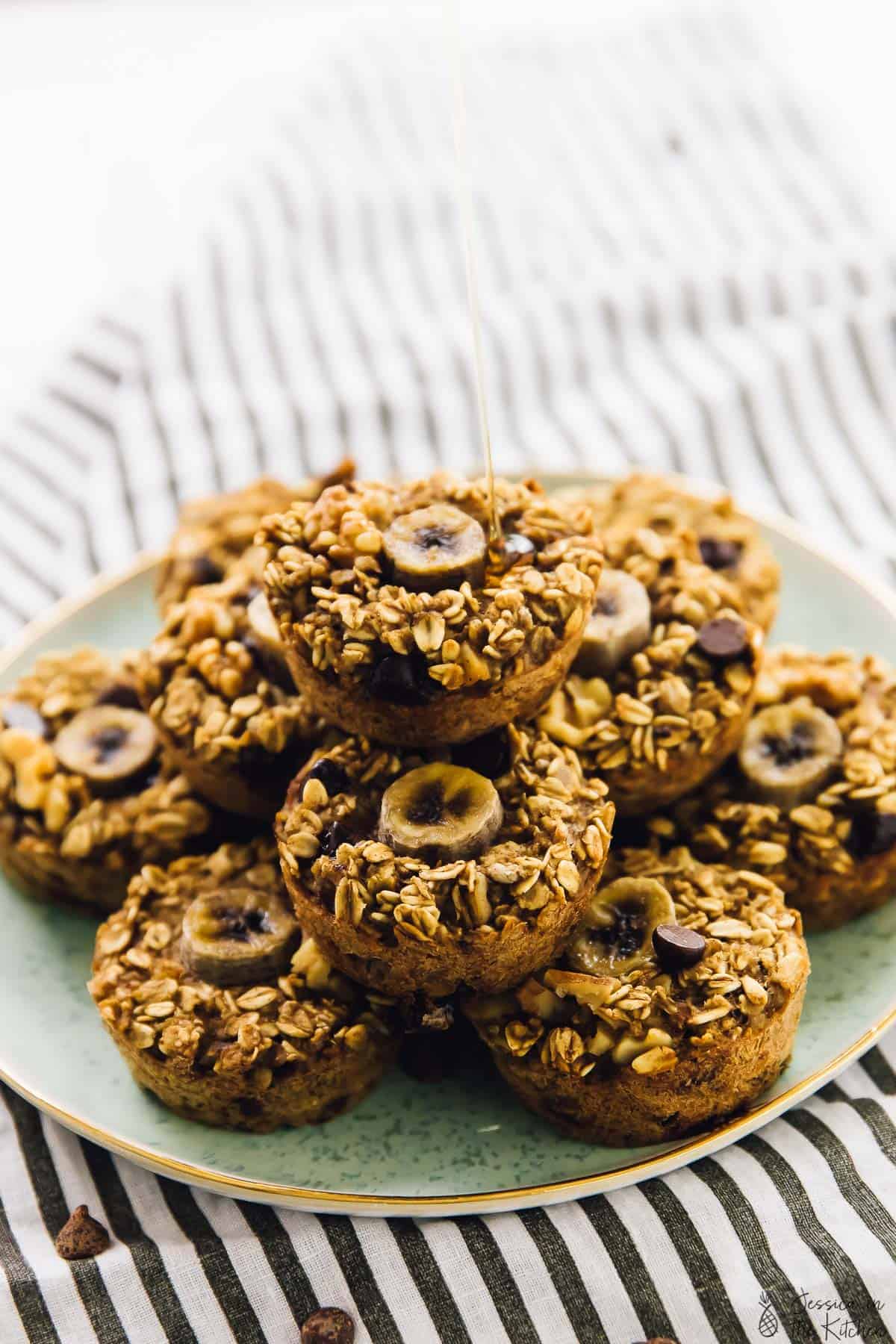 If you want, you can definitely put more add-ins. My dad loves raisins in banana bread, and feel free to make it a carrot banana bread if you want too.
Finally, I would highly recommend that you let your ripe bananas get super ripe, since they blend better into the oatmeal and also are super fragrant. When you're mixing them, they smell heavenly and like you're about to bake a banana bread. Who doesn't want
banana bread
for breakfast?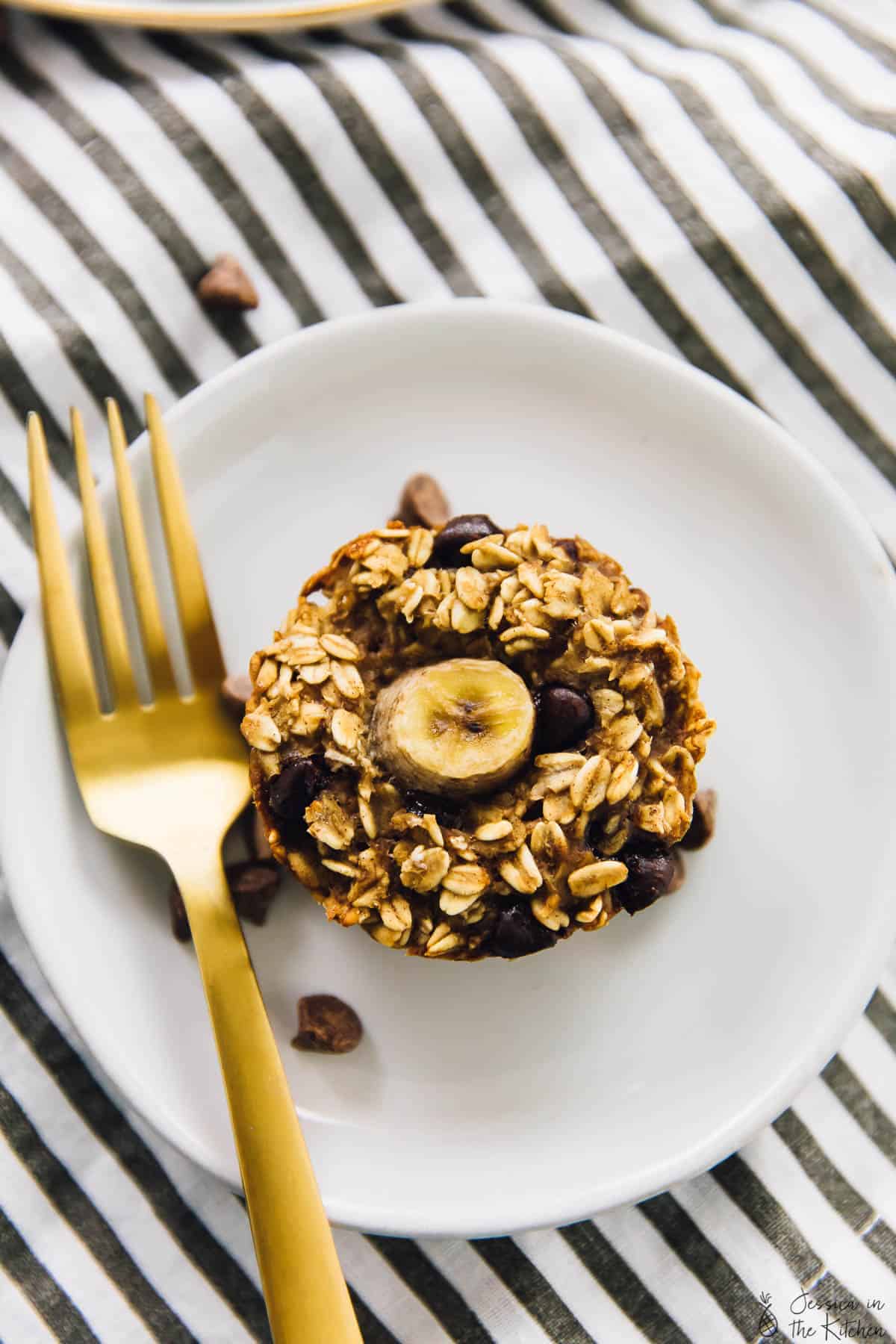 Enjoy, friends! Let me know if you make these – I promise they will make your meal prep so great!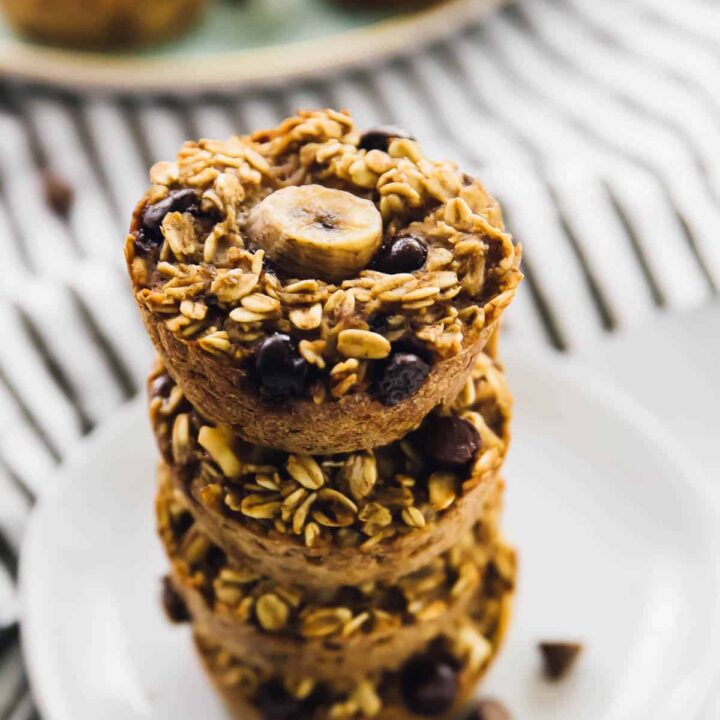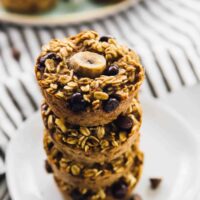 Baked Banana Bread Oatmeal Cups (Chunky Monkey)
These Baked Banana Bread Oatmeal Cups are a great meal prep breakfast option! They are vegan, gluten free, and can be made in double or triple batches!
Ingredients
3 cups old fashioned gluten free certified oats, such as Bob's Red Mill
1 teaspoon ground cinnamon
1/2 teaspoon sea salt
1 1/2 cups almond milk
½ cup mashed very ripe bananas
1/4 cup maple syrup
1/2 teaspoon vanilla extract
1 flax egg or egg substitute, like Bob's Red Mill
1/4 cup chopped walnuts
1/4 cup chocolate chips
Instructions
Preheat the oven to 350°F/180°C. Grease 12 muffin cups with coconut oil  or line with paper muffin liners.

Combine the oats, cinnamon, and salt in a large bowl, Using a wooden spoon, mix all the ingredients together.

Add in the bananas, maple syrup, vanilla extract and the flax egg. Stir together to combine, pouring in the almond milk as you stir. Fold in the chocolate chips and the walnuts. I like to leave some whole walnuts and chips to push into the top of the cups.

Using a 1/4 cup measuring cup, scoop the mixture into each muffin cups until all 12 are equally filled. Top each oatmeal cup with a slice of banana or a dried banana (to prevent browning).

Baked for 30 minutes. They should slightly spring back to the touch.

Allow to cool for 5 minutes then, running a knife around the edges or each cup, remove and place each on a cooling rack to cool completely.
Enjoy!
Calories: 145kcal, Carbohydrates: 23g, Protein: 4g, Fat: 5g, Saturated Fat: 1g, Sodium: 140mg, Potassium: 128mg, Fiber: 3g, Sugar: 7g, Vitamin C: 1mg, Calcium: 66mg, Iron: 1mg
Disclaimer: Although jessicainthekitchen.com attempts to provide accurate nutritional information, kindly note that these are only estimates. Nutritional information may be affected based on the product type, the brand that was purchased, and in other unforeseeable ways. Jessicainthekitchen.com will not be held liable for any loss or damage resulting for your reliance on nutritional information. If you need to follow a specific caloric regimen, please consult your doctor first.