My Progress Morning Routine + Quinoa Breakfast Bars
Here's my Progress Morning Routine! It helps me to wake up, feel energised, and get the day started! I'm also sharing a recipe for delicious, protein-packed quinoa breakfast bars!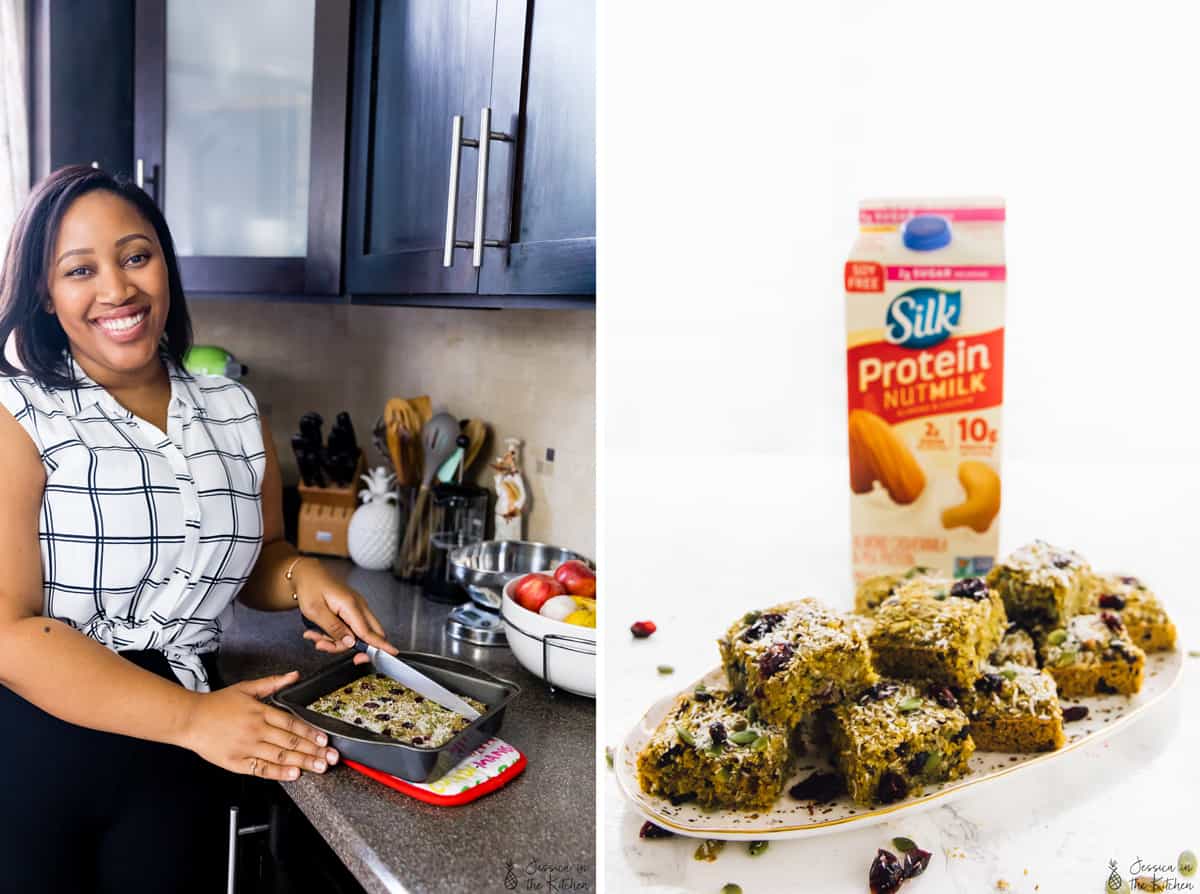 In January of last year, I started
meditation
. Little did I know at the time that it would pave the way for something I would do to start every single morning: my morning routine. Today I wanted to share with you my progress morning routine! I truly love my morning routine at this point. It doesn't take very long time, and it makes me feel like I can have a day filled with positive progress, motivation and good vibes. It can be easily adjusted if I need to get somewhere early in the morning. What's important is that when establishing your own morning routine, you do what suits you best.
Why a morning routine?
A morning routine really helped me to establish a system in place that my body, mind and soul needs to feel grounded and calm and ready for the day. The first time I realised how important it was when we were on vacation, and I didn't do it at first. I felt so out of whack that I ensured after that to work my morning routine into every day of my life. It helps me to prioritise my health and do what matters most.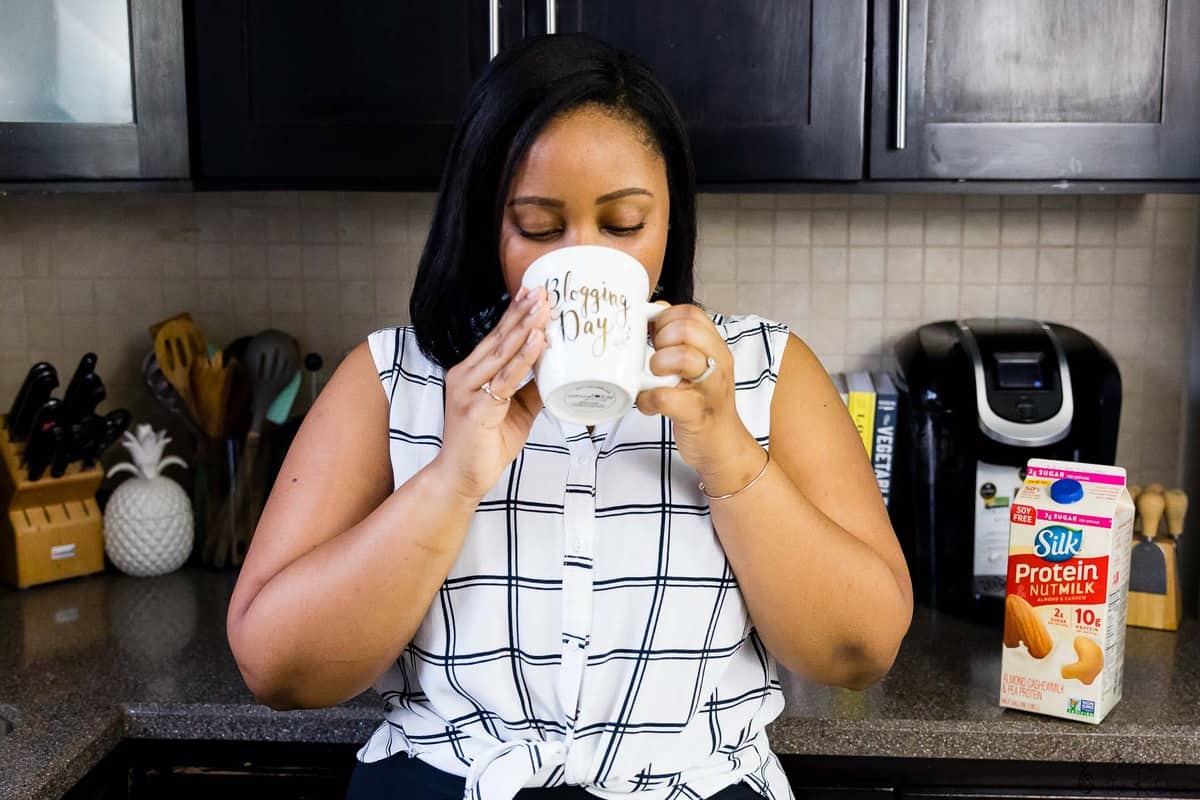 I truly believe a morning routine helps everyone. It's just a nice, basic set of steps you do every single day to keep you in a rhythm. It doesn't have to be complicated, and it can also even be just one step if you don't have a lot of time in the morning. Whether it's to drink a tall glass of water when you wake up, go for a quick run, or even to just spread your bed, something that makes you feel great and gets you started. I hope that in sharing my own morning routine, you can see how I get motivated daily to keep on what I like to call the path of progress. Instead of swirling around in my head for hours, this makes me feel good from the very start.
1. Wake up, drink a glass of water and make my bed. Time Dedication: 3 minutes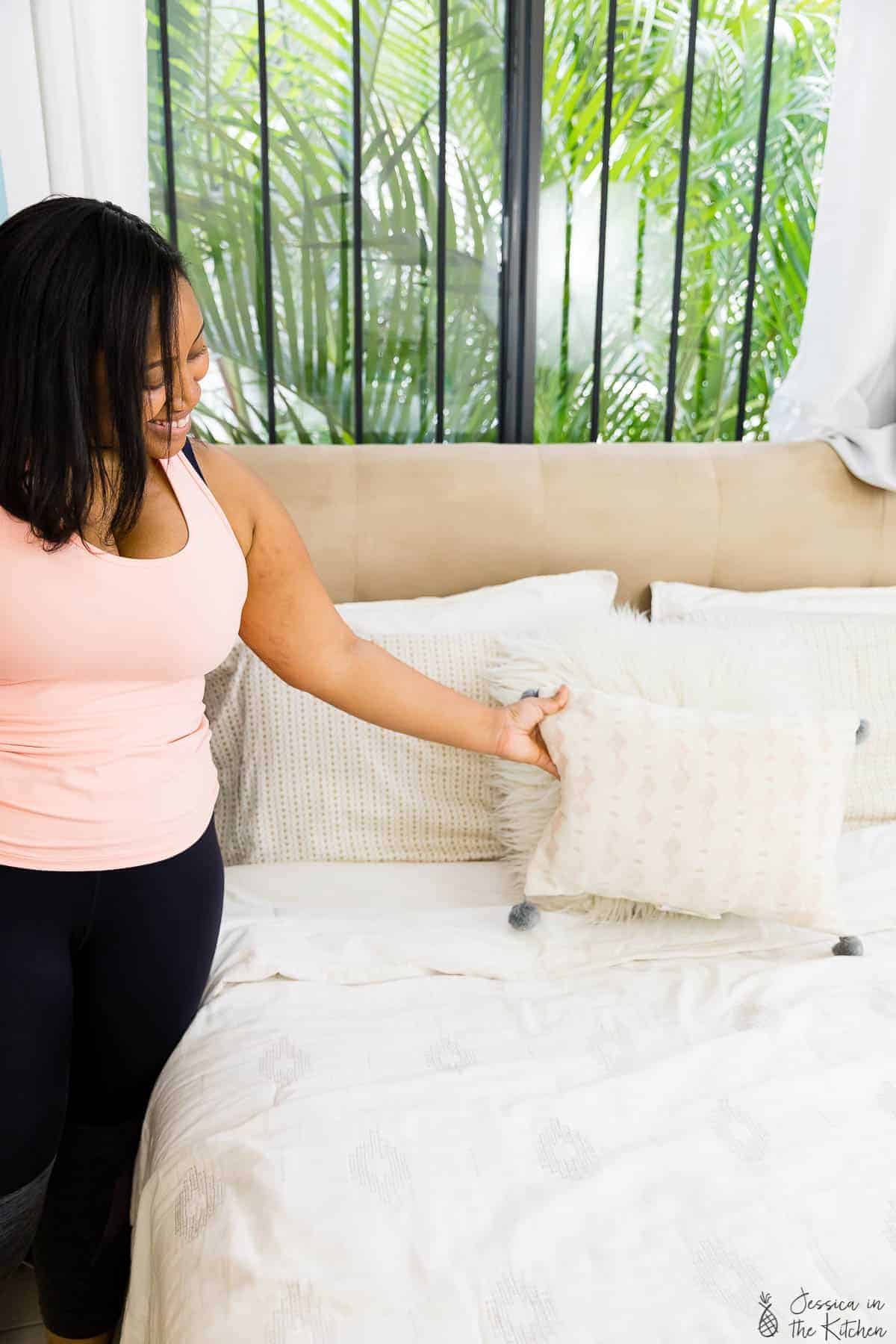 Yes friends, I'm one of those people that make their bed every day! Honestly, working from home can mean temptation-ville! I used to have to lock my bedroom door to block out that temptation. Since I'm starting to spread my bed in the morning though, it wakes me up immediately, and makes me feel like I've already accomplished something! Re drinking water, a tall glass literally wakes me up. It always seems to amuse the Mr. that seconds after drinking the water I do a body shake from top to bottom, then bottom to top, and essentially look like a robot booting up! Okay okay, I laugh at myself too about that!
2. Journalling/Morning Prayer/Affirmations: Time Dedication: 5 minutes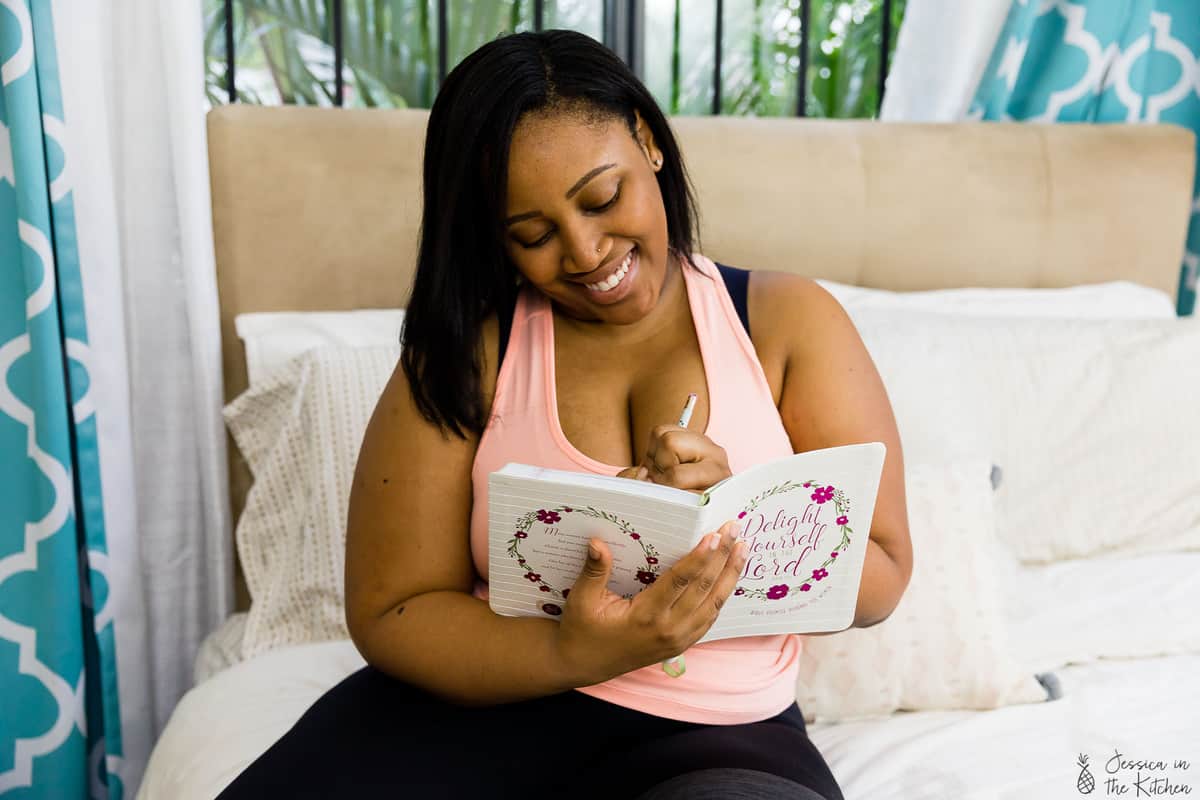 One of my besties Racquida introduced me to journalling late last year, and honestly, it is one of the most calming things ever. On top of that, she bought me this adorable journal! I love to write a few thoughts out, and to write down three things that I am grateful for that I can't buy/don't cost money (I first heard this from Mattie James). It really helps to set my priorities and brings me into a state of appreciation. After journalling, I say a quick prayer thanking God for the day, and that I know it'll be an amazing day! If I need to, I say some affirmations – "I am enough" "I can and will conquer today" "I am doing important work" to get my confidence up. Depending on the day I've had, I'll journal right before bed too to get all the thoughts out.
3. Meditate: Time Dedication: 10 minutes

Oh, meditation! I mean, I could go on about this forever, so I wrote a separate post addressing it. Needless to say, this ten minutes in the morning reminds me to be mindful (so necessary for me!), to respond instead of reacting, and to remember that even on hard days, I can come back to a place of peace and calm in my mind.
4. Exercise/Yoga: Time Dedication: whatever fancies you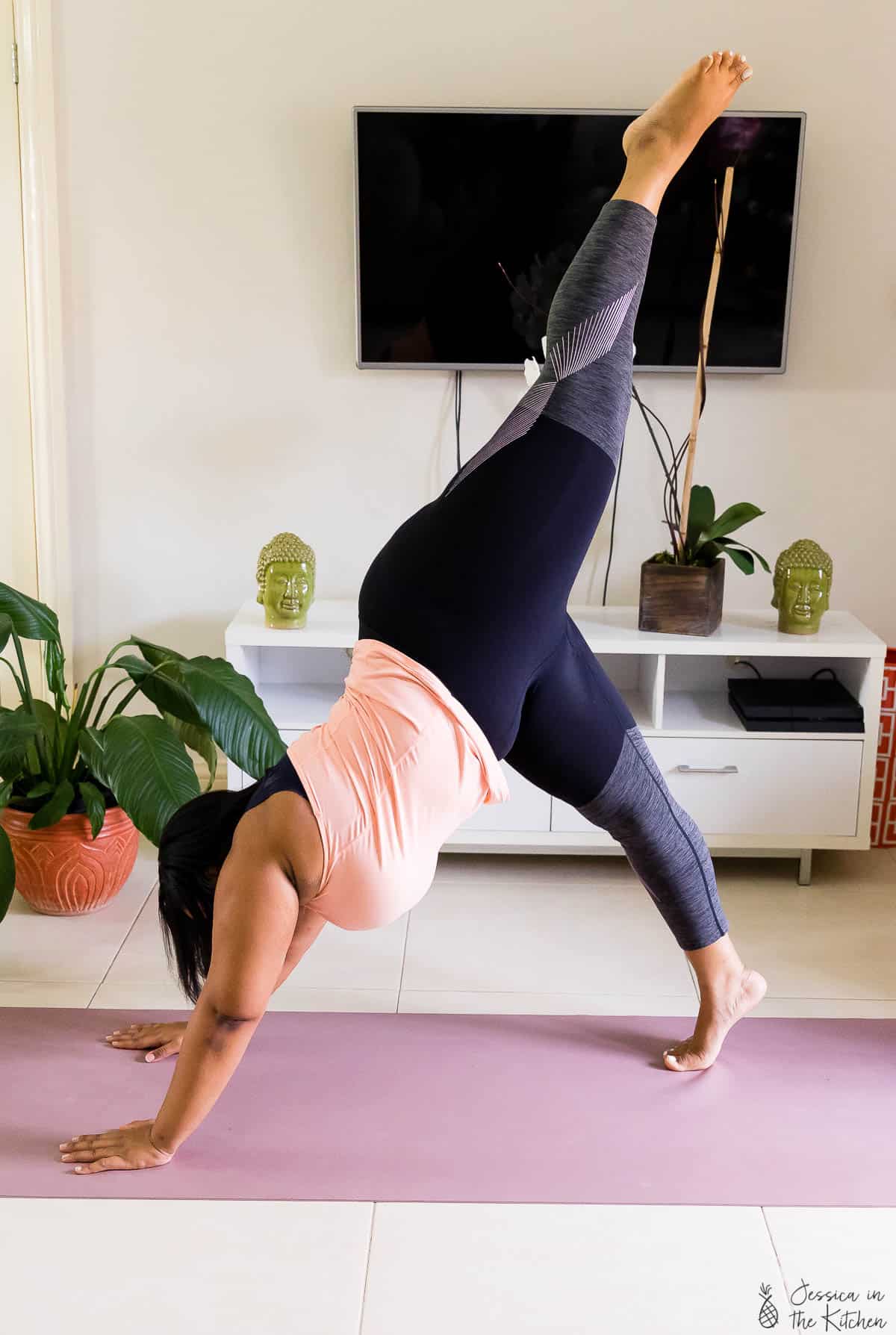 The thing I love about exercise is that if you still haven't woken up mentally, it'll wake you RIGHT up! I love doing yoga in the morning, but sometimes I do a HIIT workout too. That's when I'm bouncing off the walls for sure.
5. After I've showered, I make some matcha latte. Time Dedication: 5 minutes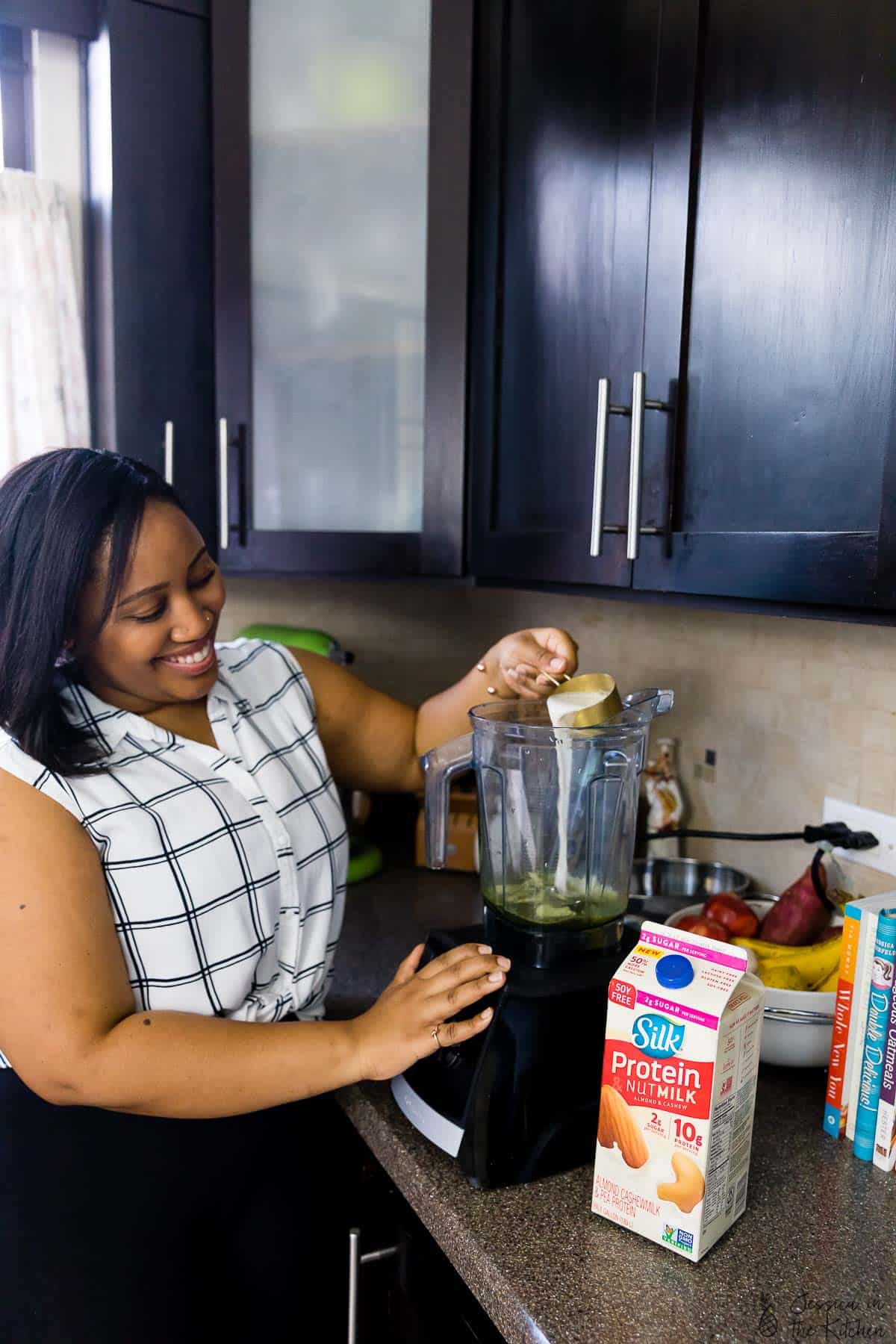 I love matcha latte !! It takes like 2-3 minutes for the water to boil, one minute to add the ingredients to my blender and another 1 minute to blend it all together. It has almost 100% replaced my coffee habit, and helps to keep me energised while keeping me really calm. I love using my Silk Protein Nutmilk in my matcha latte for a boost of protein in the morning. Adding more protein into my mornings actually ties into one of my 2018 self-love goals, so this helps to get me on the right track already. What this means is that I get 5g of protein in my matcha latte (I use ½ cup milk) thanks to the Nutmilk, which is an amazing way to start the day. You could even replace the ½ cup water and use a full cup of milk to amp that up to 10g protein!
6. Breakfast Time! Time Dedication: Anywhere from 1 minute to as long as you can

Why did I say 1 minute for breakfast?! Because
meal prepping
breakfast is the
EASIEST
way to shave time off of your morning routine! I love meal prepping my breakfast because it means I can pop it into the microwave for 1 minute, or the toaster oven for like 5 minutes. Even when I have a lot of time to make breakfast (rarely), it helps to have something pre-made to help my brain. Speaking of which – I made some Quinoa Breakfast Bars for you today! I wanted to try something different, and quinoa has a beautiful neutral flavour that adds beautiful to these bars. They taste like eating muffins!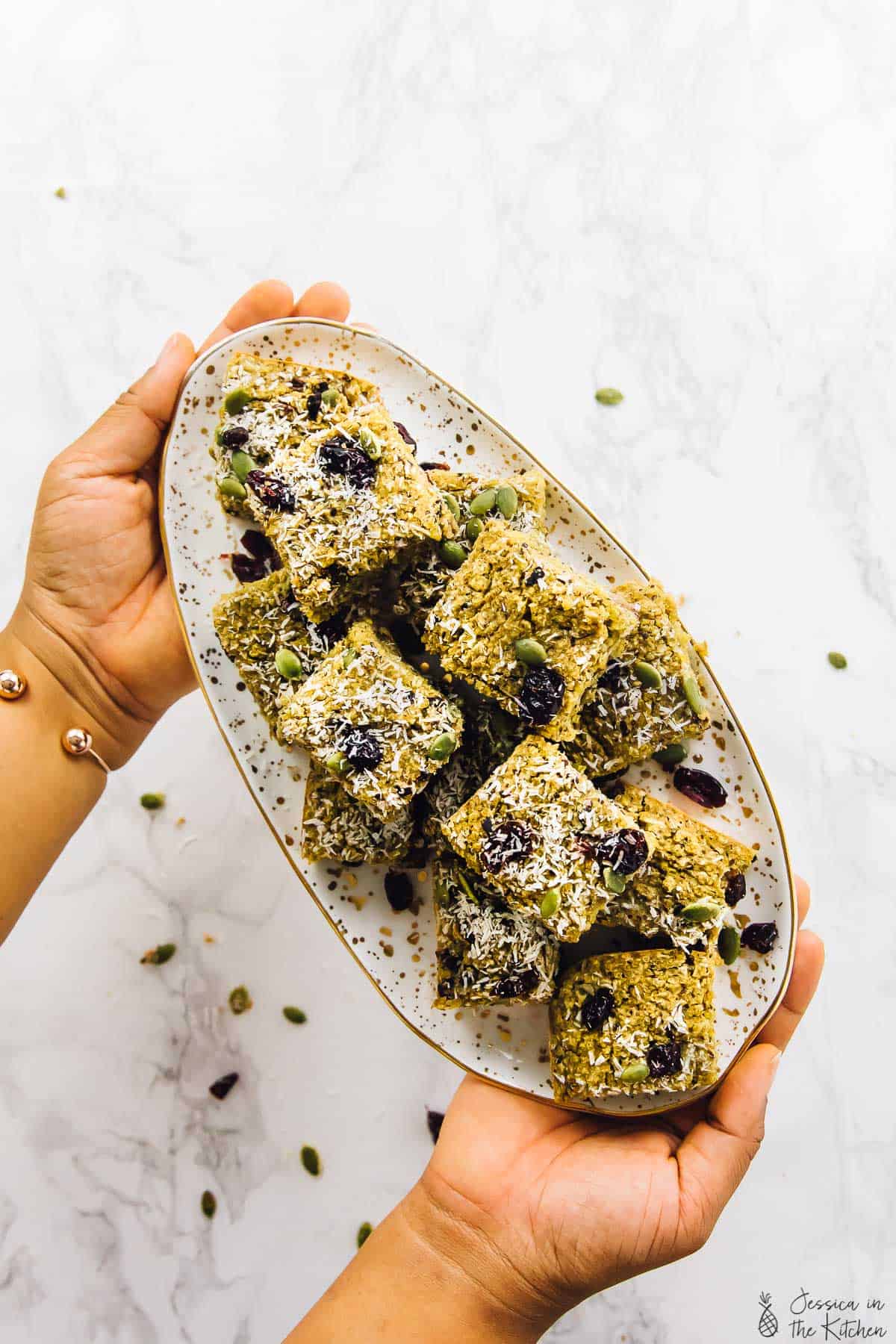 Breakfast is another place that I love to add protein into. I used
Silk Protein Nutmilk
here too in the bars for its smooth texture, to keep the bars vegan, and of course, to add in protein. You could even drink a glass with your bars instead of matcha latte. One cup has 10g of protein, so you'll be starting your day off strong for sure.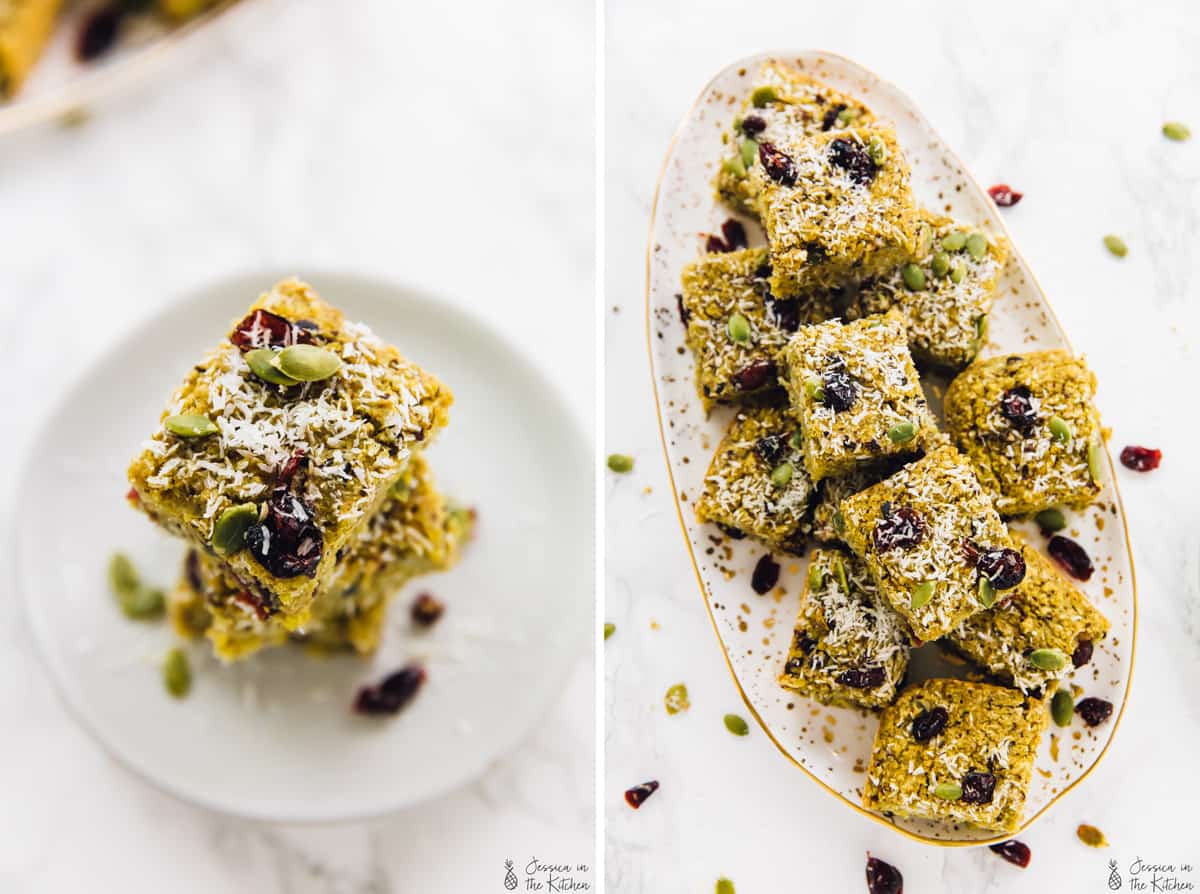 I find that when I start my day with a good amount of protein, I'm definitely on the path to progress. I feel energised, awake, and most importantly, nourished and filled.
Then I start my day! See? Not difficult, and super grounding. After a morning routine like that, I feel like I can do anything!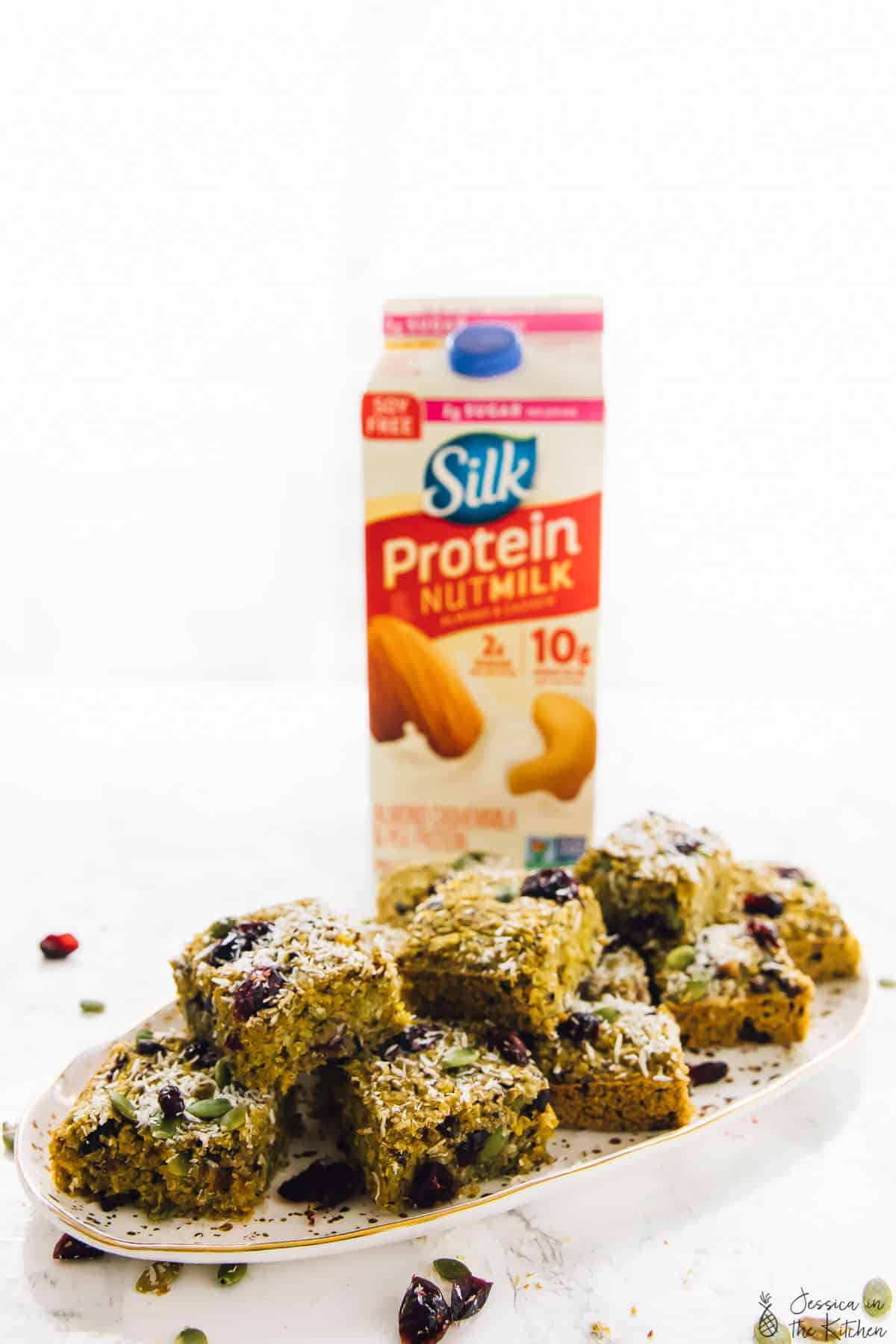 Tips For Starting Your Own Morning Routine:
Test it out, and try a few different things! Don't feel like you need stick to something because you think you should. I tried several different practices in the morning before sticking to one routine that quickly felt natural to me. Play around, and do what feels good for you.
Don't become a slave to your morning routine. Let me say this – I LOVE completing every single step of my morning routine. However, if I have an early morning appointment, or something else that must be done, I might skip some steps, or rearrange them. Maybe I'll do yoga in the evening instead, or journal right before bed. The whole point is that, let me say it again, it makes you feel good. It shouldn't make you feel stressed, or make you late! Being flexible with it is okay, and not something to feel guilty about.
Start from the night before. I totally get that if you're not working from home, adding a morning routine on top of your scrambling breakfast and packing lunch may seem impossible. If you always feel like you're rushing, create a to-do list the night before of what you need to do the next day, including what can be done the night before. Can you maybe pack lunch the night before? I find that creating a list every night anyway helps make the next day go better. I know for a fact that my brain can't think of a nice and logical list while I'm rushing!
Don't skip breakfast. No matter what your routine is, breakfast is a crucial part of it. If you're like me and want to have a high protein breakfast, then using Silk Protein Nutmilk is the easiest way to go. In just a cup, you've already added 10g to your dish.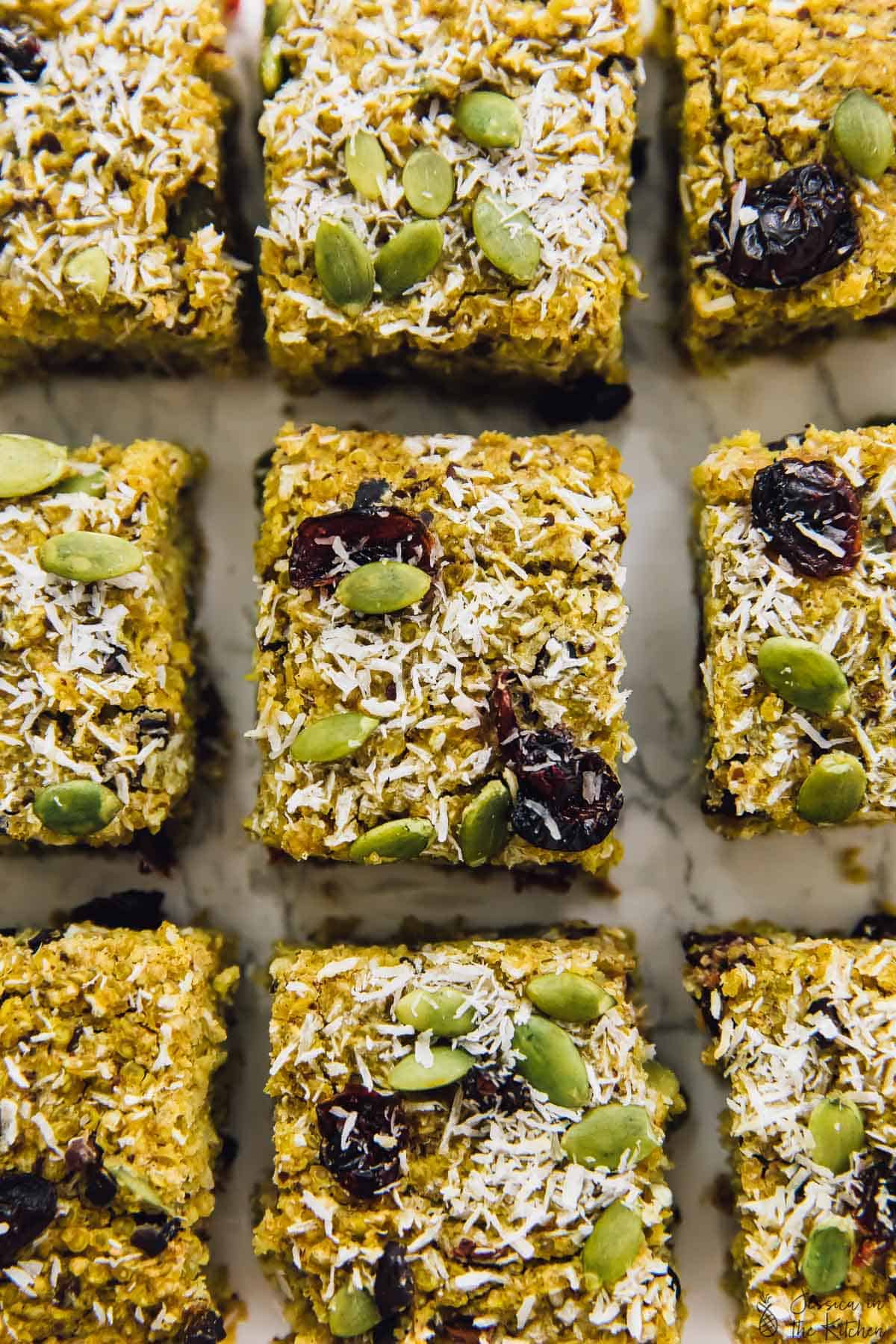 I hope you enjoyed this post! What do you do in your own morning routine? I would love to know!
This is a sponsored conversation written by me on behalf of Silk! The opinions and text are all mine. Thanks so much for supporting the brands who support Jessica in the Kitchen!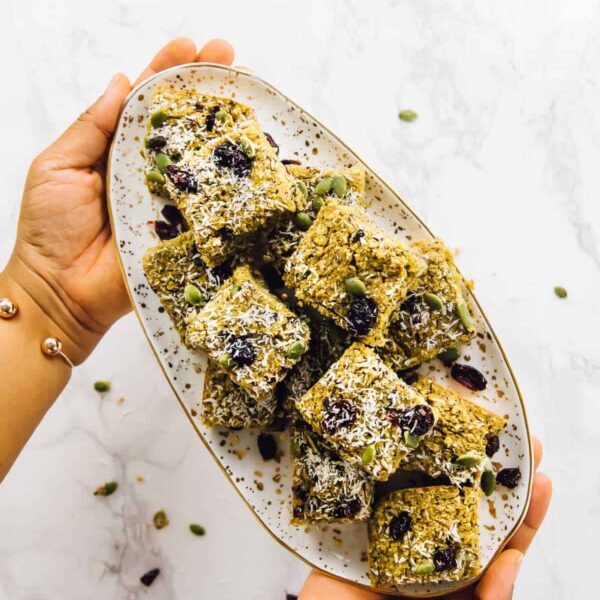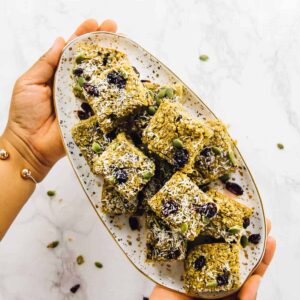 Quinoa Breakfast Bars
Delicious, protein-packed quinoa breakfast bars!
Ingredients
1 ½ cups cooked quinoa
5.25 ounces gluten free certified old fashioned oats, 1 ½ cups
⅓ cup maple syrup
1 cup Silk Protein Nutmilk
2 flax eggs
1 teaspoon baking powder
¾ teaspoon sea salt
½ teaspoon baking soda
1 teaspoon cinnamon
2 tablespoons coconut flakes, optional
2 tablespoons dried cranberries, optional
2 tablespoons cacao nibs, optional
2 tablespoons pepitas, pumpkin seeds (optional)
Instructions
Preheat your oven to 350°F/180°C. Grease an 8x8 baking dish and set aside. In your blender of food processor, grind down the oats.

In a bowl, mix the "oat flour", baking powder, baking soda, sea salt and cinnamon together. Add in the quinoa, maple syrup, Silk Protein Nutmilk and the flax eggs. Mix everything together until combined. The batter should be wet. Fold in the coconut flakes, dried cranberries, cacao nibs and pepitas to combine. I like to reserve some to sprinkle on top, or even add more on top. You can even fold in different ingredients here if you'd like.

Pour the mixture into the 8x8 baking dish and spread until even. Top with your additional toppings if desired. Bake for 25-30 minutes (I did 30) until the bars are set completely.

Allow the bars to cool. Slice into bars - 9 or 12, and serve! Enjoy!
Calories: 187kcal, Carbohydrates: 30g, Protein: 5g, Fat: 6g, Saturated Fat: 2g, Sodium: 343mg, Potassium: 182mg, Fiber: 4g, Sugar: 10g, Calcium: 94mg, Iron: 2mg
Disclaimer: Although jessicainthekitchen.com attempts to provide accurate nutritional information, kindly note that these are only estimates. Nutritional information may be affected based on the product type, the brand that was purchased, and in other unforeseeable ways. Jessicainthekitchen.com will not be held liable for any loss or damage resulting for your reliance on nutritional information. If you need to follow a specific caloric regimen, please consult your doctor first.