Sweet Potato and Black Bean Tacos
These Sweet Potato and Black Bean Tacos are amazing homemade vegetarian tacos. They are drizzled with a delicious creamy Lime Crema!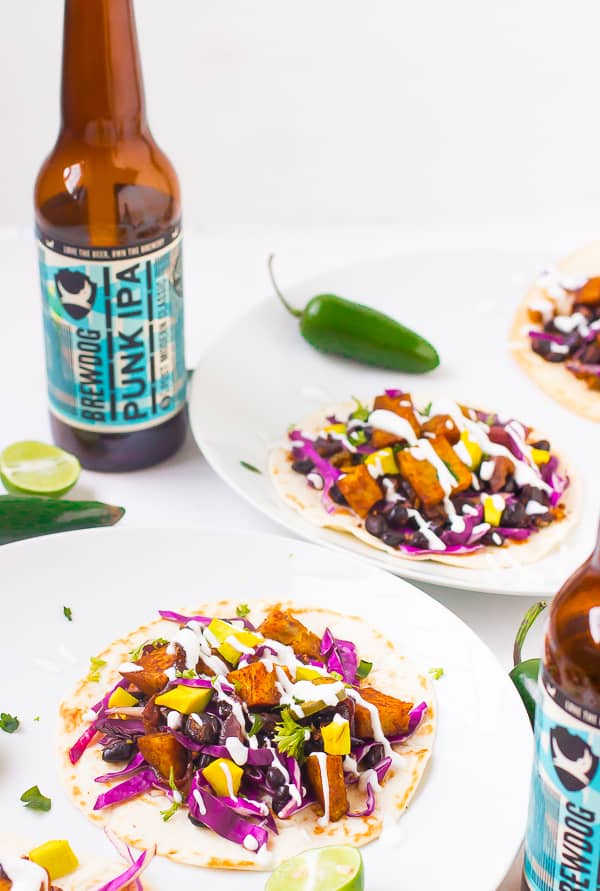 Happy March! I'm definitely ready for some fresh spring recipes, and (best part) super early prep for Cinco de Mayo! I tend to eat Mexican recipes all year round so I'm pretty sure by the actual celebration I'll have quite a lot of recipes to share with you. That's always good news, isn't it? So let's get right to these amazing vegetarian tacos. Let the pre-celebrations begin!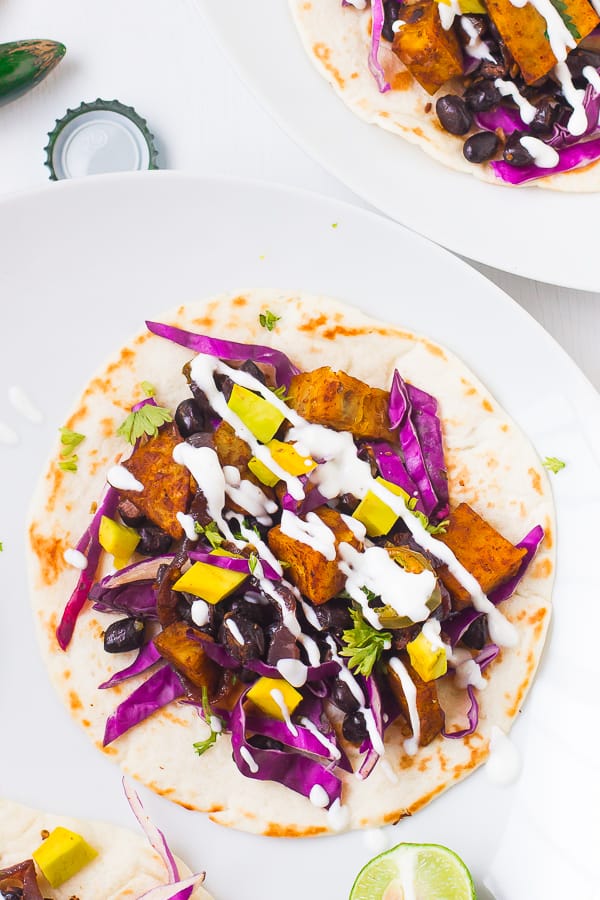 Sweet potatoes and black beans are a definite staple in my household. My husband and I usually don't buy irish potatoes, and he loves sweet potatoes even more than I do, so we put them in just about everything. I've been craving making tacos for weeks now, and I knew immediately that not only would it of course be vegetarian, but it had to have fresh and in season ingredients that would come together super easy. That's what I love about tacos. They can have such a variety of ingredients and always. Taste. AMAZING.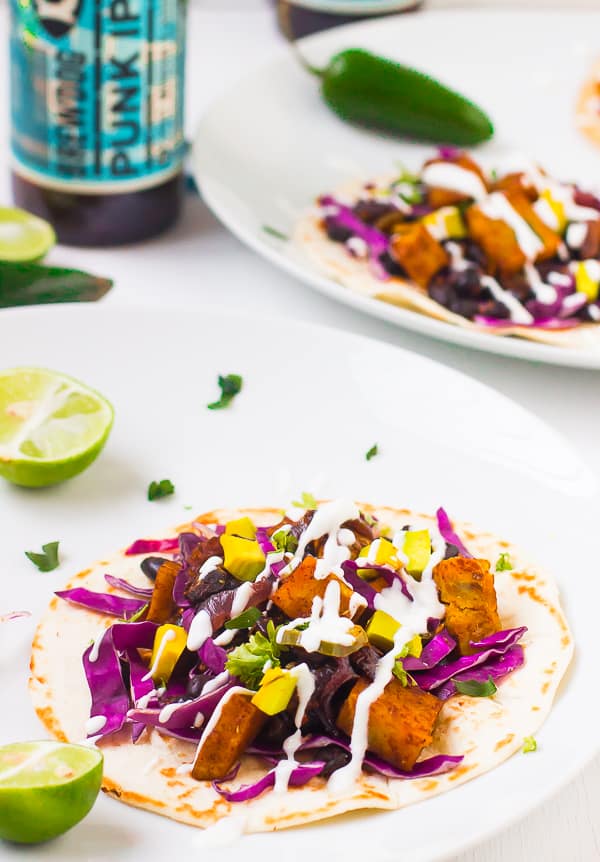 These tacos were a no brainer and came together perfectly. I've made them quite a few times now. The sweet potatoes and red onions are cooked until the sweet potatoes are crispy on the outside and the onions are semi caramelised, and then all the delectable seasonings are added to the mix. Truthfully, I would mix this in with quinoa and add the lime crema and this would make a perfect dish. But of course, tacos.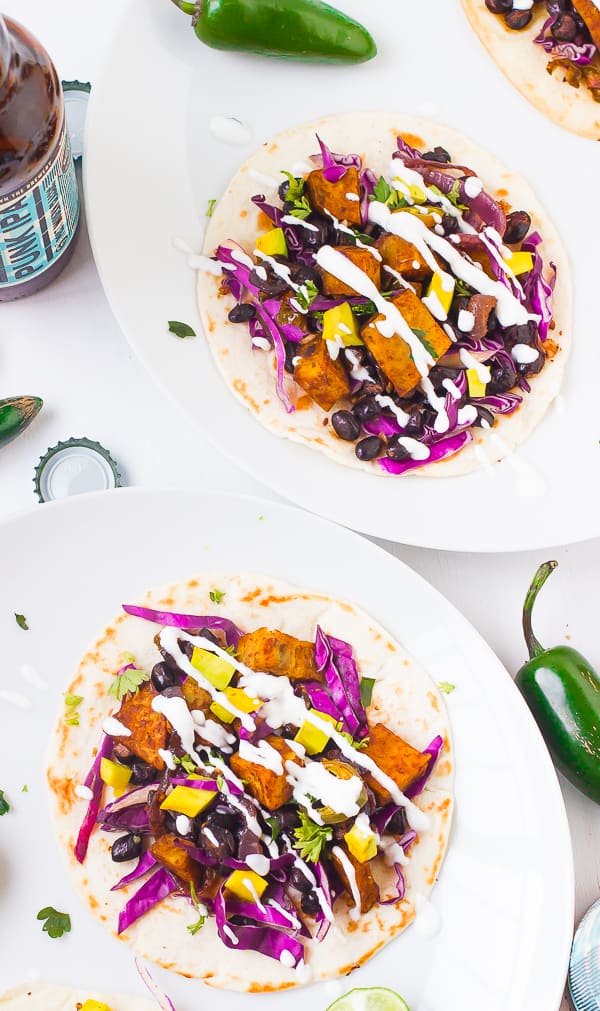 The fresh veggies make a world of a difference to not only filling these up with beautiful colours, but also by adding a nice spring-like freshness for a crunchy, creamy, tangy, spicy and sweet combination. The lime crema on top is definitely the icing on top, figuratively speaking of course. Unless you actually want icing. Treat yo self.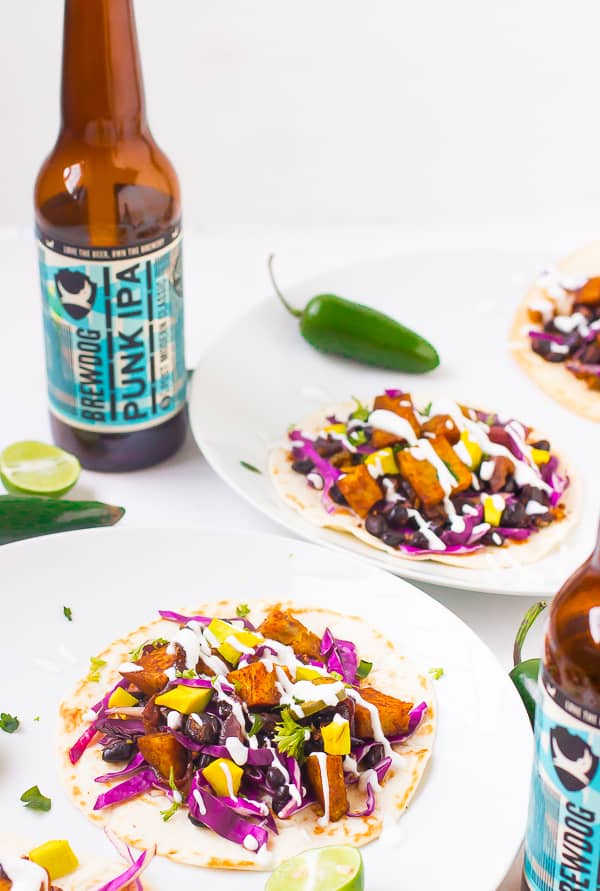 If you give these Sweet Potato and Black Bean Tacos a try, please let me know in the comment section below, or tag me on instagram with the hashtag #jessicainthekitchen!
Taco Nutrition Facts is without the taco shells.
RELATED RECIPES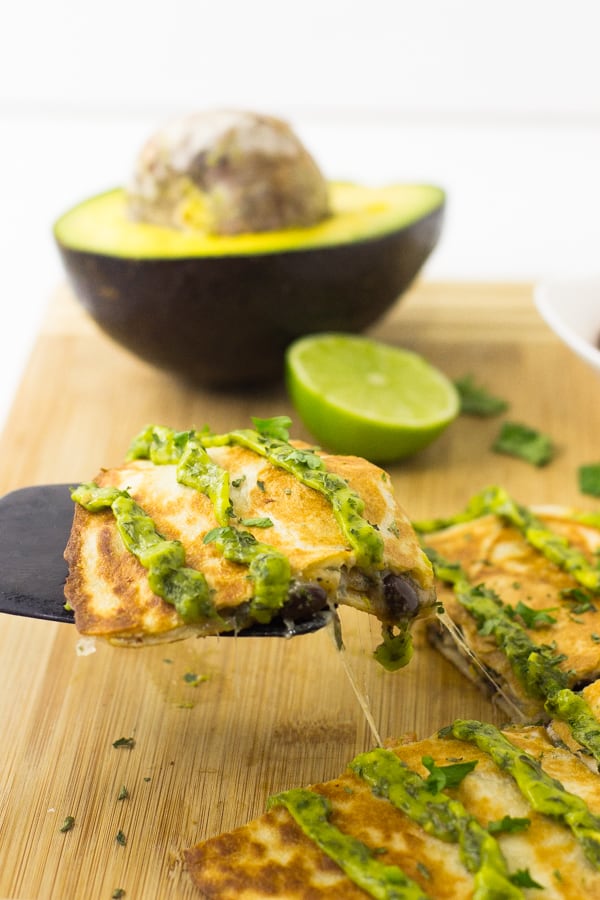 Mexican Quesadillas with Avocado Cilantro Cream Sauce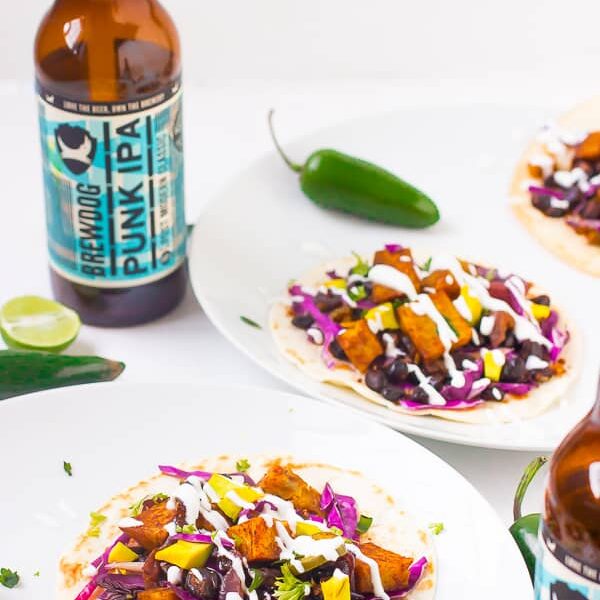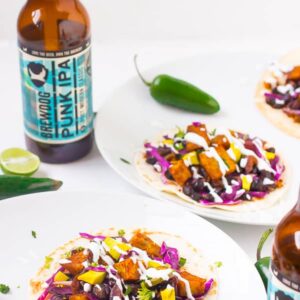 Sweet Potato and Black Bean Tacos
These Sweet Potato and Black Bean Tacos are amazing homemade vegetarian tacos. They are drizzled with a delicious creamy Lime Crema!
Ingredients
Sweet Potato and Black Bean Tacos
2 tablespoons coconut oil
1/2 large purple onion, sliced
1 cup diced sweet potatoes
1/2 teaspoon ground black pepper
1/2 teaspoon sea salt
2 tablespoons water
3 cloves garlic, minced
1/2 teaspoon cumin
1/2 teaspoon chili powder
1/2 teaspoon oregano
1/2 teaspoon crushed coriander seeds
3/4 cup cooked black beans
Tacos and Toppings
4 6 inch soft taco shells
1/4 cup chopped purple cabbage
1/4 small jalapeños, diced (about 1 1/2 teaspoons)
1/2 ripe avocado, cubed
2 tablespoons chopped cilantro
2 limes
Lime Crema
1/4 cup greek yogurt
2 teaspoons lime juice
1/2 tsp finely minced garlic
1 tablespoon water, optional
1/2 teaspoon sea salt
1/2 teaspoon ground black pepper
Instructions
Lime Crema
In a bowl, mix all the ingredients together. Add a tablespoon or two of water to thin out the lime crema for drizzling if you so desire. Season with salt and pepper to taste. Place in a squeeze bottle and in the fridge until ready.
Tacos
In a skillet over medium heat, heat the coconut oil. Add the onion and sweet potatoes in the oil and coat. Sprinkle the ground black pepper and sea salt over the mixture to combine.

Add the water. Cover the pot and cook until potatoes are crispy on the outside but cooked through on the inside, about 8 minutes, stirring often so that the onions don't burn.

Add the garlic, cumin, chili powder, oregano and crushed coriander seeds and stir to combine with the sweet potato and onions.

Add the black beans. Lower heat to medium and cook for about 3-5 minutes. Stir once more.

Add salt and pepper to taste if necessary.
To Assemble Tacos
Heat 1 teaspoon olive oil in a skillet over medium heat (if possible, brush with a pastry brush).

Place a taco shell in the heat until golden brown spots appear and they are slightly puffy for a few seconds, then flip and cook the same. Set on a plate to assemble

Layer a 1/4 of cabbage, sweet potato mixture, avocados, jalapeños and cilantro over the soft taco shells.

Drizzle the taco shells with the lime crema.

Serve with limes. Enjoy!
Notes
To make this vegan, you can use vegan greek yogurt or make a [url:1]cashew crema. 2. To make this gluten free, ensure you use gluten free soft taco shells. 3. You can store the sweet potato and black bean mixture in a tupperware container by itself. Heat the taco shells when you're ready to serve, and cut the toppings fresh also. You can also store the lime crema in the fridge covered.
Reheat the sweet potato mixture in the microwave. These Sweet Potato and Black Bean Tacos are amazing homemade vegetarian tacos. They are drizzled with an amazing Lime Crema!
Calories: 236kcal, Carbohydrates: 28g, Protein: 6g, Fat: 13g, Saturated Fat: 7g, Cholesterol: 1mg, Sodium: 630mg, Potassium: 458mg, Fiber: 8g, Sugar: 4g, Vitamin A: 4920IU, Vitamin C: 20mg, Calcium: 64mg, Iron: 2mg
Disclaimer: Although jessicainthekitchen.com attempts to provide accurate nutritional information, kindly note that these are only estimates. Nutritional information may be affected based on the product type, the brand that was purchased, and in other unforeseeable ways. Jessicainthekitchen.com will not be held liable for any loss or damage resulting for your reliance on nutritional information. If you need to follow a specific caloric regimen, please consult your doctor first.