No Bake Chocolate Avocado Pudding
This No Bake Chocolate Avocado Pudding tastes just like your favourite childhood pudding! Thick and delectable, it takes only 10 minutes of prep!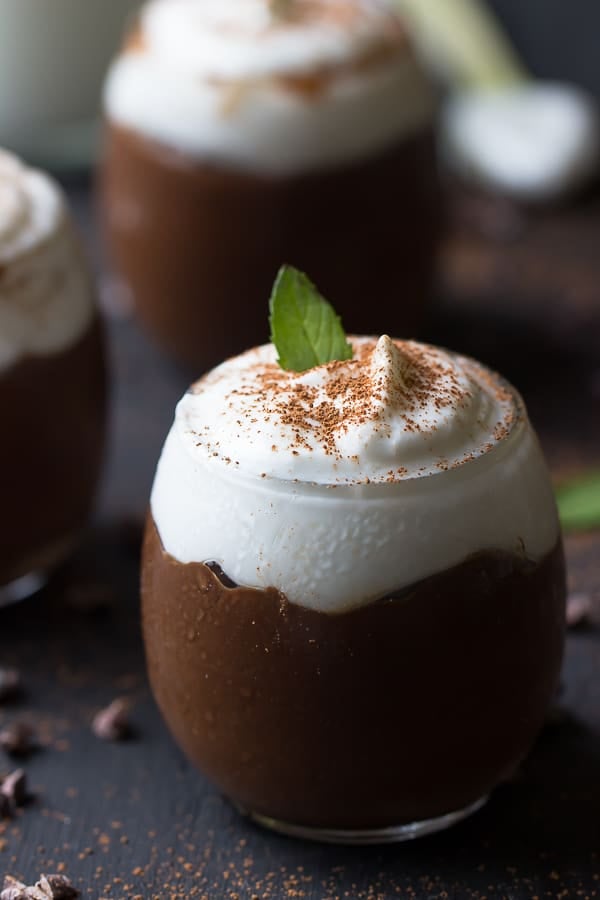 It's no surprise that I'm in love with avocados. They are one of the most flexible ingredients ever, great on their own, and even better mixed into something. Case in point? This creamy chocolate avocado pudding. I recently got an overhaul of avocados (because, obsession) and wanted to use it in every way I could possibly think of. Pairing it with chocolate just seemed like the best way to have this – I know, I know. If you've never tried chocolate and avocado mixed together you may be highly sceptical. Shun that scepticism far, far away my friends. This is possibly one of the world's best combos, and you're about to see why.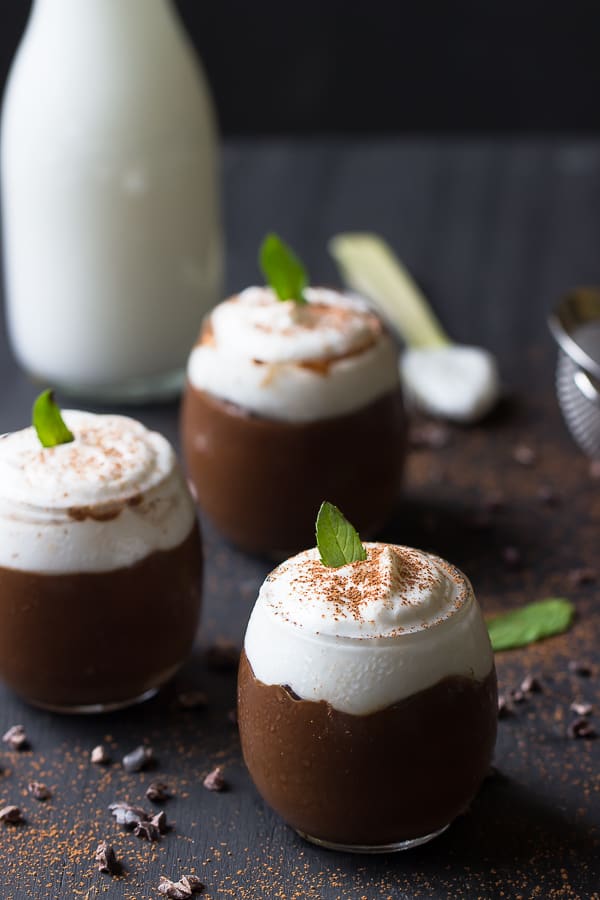 This isn't my first chocolate and avocado dance. My Chocolate Avocado Ice Cream remains in my top 5 most popular recipes and the comments, the last being "holy mother this is amazing", pretty much explain why. You can't taste the avocado one bit. In fact, all you taste is "why haven't I made this before" and "why did I tell my family I was making this I want to eat it all for myself".
Endless visions of happiness essentially.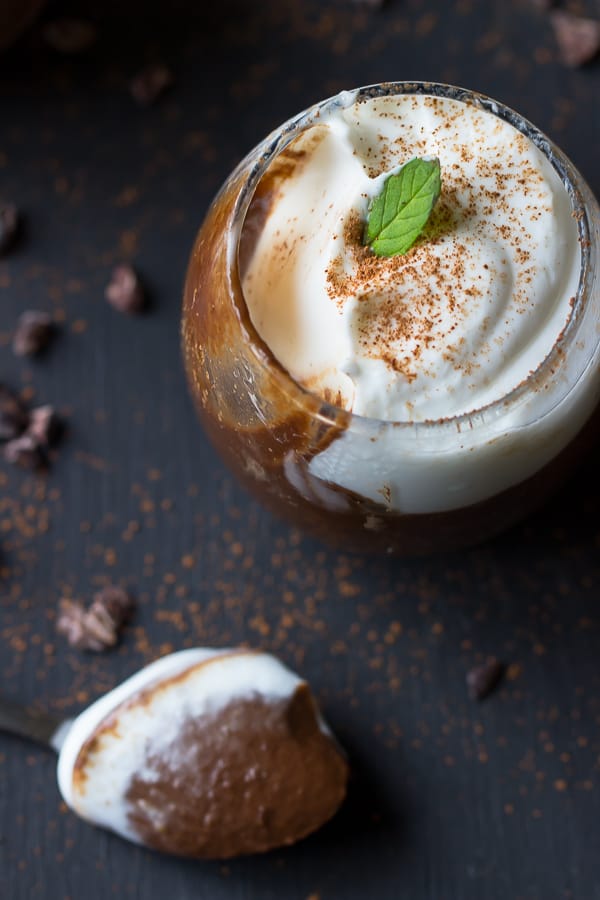 So what do we have? Avocado, cocoa powder, banana, coconut cream and optional chocolate chips/cacao nibs make up this creamy chocolate avocado pudding. These powerhouse ingredients also make this a really superfood dessert too – win, win. You can be confident knowing that not only does this taste absolutely amazing, creamy, and like your favourite chocolate pudding (am I the only one?!) but that you're doing great things to your body. Tons of fiber, tons of antioxidants, and tons of healthy fats. Use that when someone asks why you haven't eaten anything but this for 3 days. Don't let them judge you!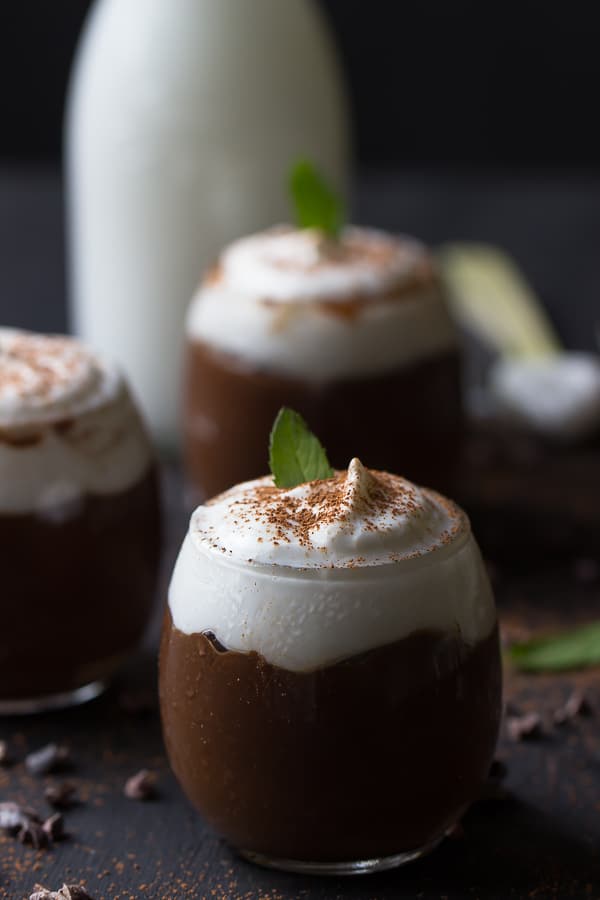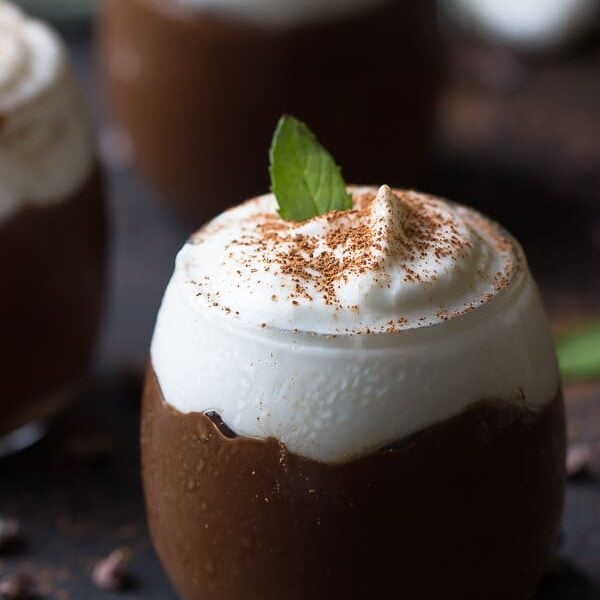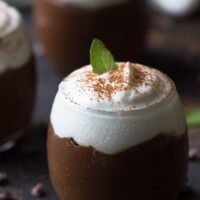 No Bake Chocolate Avocado Pudding
This No-Bake Chocolate Avocado Pudding tastes just like your favourite childhood pudding! Thick and delectable, it takes only 10 minutes of prep!
Ingredients
No Bake Chocolate Avocado Pudding
1 small ripe avocado, pitted and peeled (mine was 6.5 ounces unpeeled. 3.18 ounces peeled)
1/3 cup thick white coconut cream, (check notes for how to make this from coconut milk)
1/4 cup maple syrup or agave nectar
1 small banana, mashed
1/3 cup unsweetened cocoa/cacao powder
1 tablespoon cacao nibs, or chocolate chips (optional)
Instructions
No Bake Chocolate Avocado Pudding
Add the avocado and coconut cream to a food processor and pulse together until incorporated.

Add the maple syrup, banana and cocoa powder and blend until incorporated, about 15-30 seconds.

Add the cacao nibs if desired and blend again.

Scoop the pudding into one container or 3-4 mini containers. Cover the top with saran wrap, pressing until the pudding so that water doesn't condense in the pudding.

Place in your fridge for at least 3 hours to set.

Garnish with a mint leaf, coconut whipped cream and a sprinkling of cocoa powder.

Enjoy!
Notes
HOW TO MAKE COCONUT CREAM
You can buy coconut cream or make it from full fat coconut milk. Place a can of coconut milk in the fridge overnight. The cream will separate from the water. The next day, scoop out the thick coconut cream to equal 1/3 cup.
You can store the rest of the coconut cream in a container and use otherwise, and then pour out the liquid coconut water and drink it or use it in a smoothie.
If you try this No Bake Chocolate Avocado Pudding, please let me know in the comment section below, or tag me on instagram with the hashtag #jessicainthekitchen! For more exclusive recipes follow me on Instagram AND on Snapchat: jessinkitchen.
Calories: 338kcal, Carbohydrates: 41g, Protein: 5g, Fat: 22g, Saturated Fat: 11g, Sodium: 11mg, Potassium: 758mg, Fiber: 10g, Sugar: 22g, Vitamin A: 123IU, Vitamin C: 11mg, Calcium: 50mg, Iron: 2mg
Disclaimer: Although jessicainthekitchen.com attempts to provide accurate nutritional information, kindly note that these are only estimates. Nutritional information may be affected based on the product type, the brand that was purchased, and in other unforeseeable ways. Jessicainthekitchen.com will not be held liable for any loss or damage resulting for your reliance on nutritional information. If you need to follow a specific caloric regimen, please consult your doctor first.