Sweet Potato Tacos and Terra's Kitchen Review
These Vegan Sweet Potato Tacos make a quick and delicious Mexican weeknight dinner. They're done in just 25 minutes from prep to table thanks to Terra's Kitchen's outstanding meal delivery service!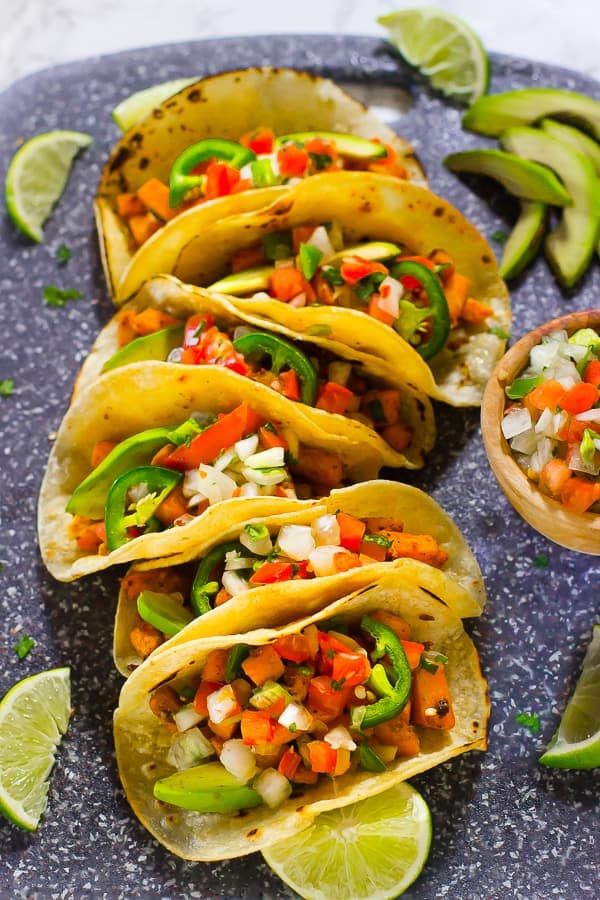 The Mr. and I have been travelling quite a lot this summer, for both business and vacation (hello first wedding anniversary!). It's kind of been difficult to find time in between to go to the supermarket, unpack ingredients, prep/cut them up, then cook them for dinner. So when Terra's Kitchen reached out to me give their unique meal delivery service a try, I wasn't just excited, I was RELIEVED! Let me tell you, this came at the best time ever and it was so worth it. Farm-to-table ingredients from stove to table in just 25 minutes? Yes, please.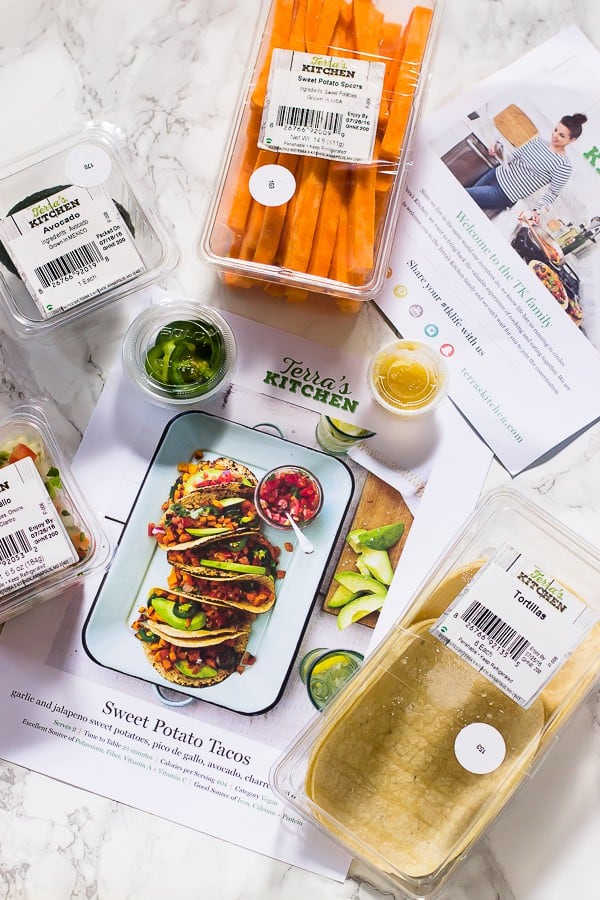 TERRA'S KITCHEN – MEANING & SERVICE
So, what is Terra's Kitchen? It's a meal delivery service delivering fresh and seasonal ingredients from the farm straight to your front door. The name comes from la terra, which means "the Earth". What makes this so convenient and beautifully unique is that everything is already prepped and pre-portioned out for you. Meaning, all the hard work is already done and all you need to do is cook the ingredients and serve them out.
All you have to do is log on to terraskitchen.com and sign up. I created an account easily, and selected the meals I wanted. I selected the Sweet Potato Tacos and the Vegetable Fried Rice plus some side salads. My meal arrived at 11 am on the scheduled date. It was an easy, peasy process and I dived right into the vessel about six seconds after the delivery guy left. Can you tell I was excited? Maybe, just maybe.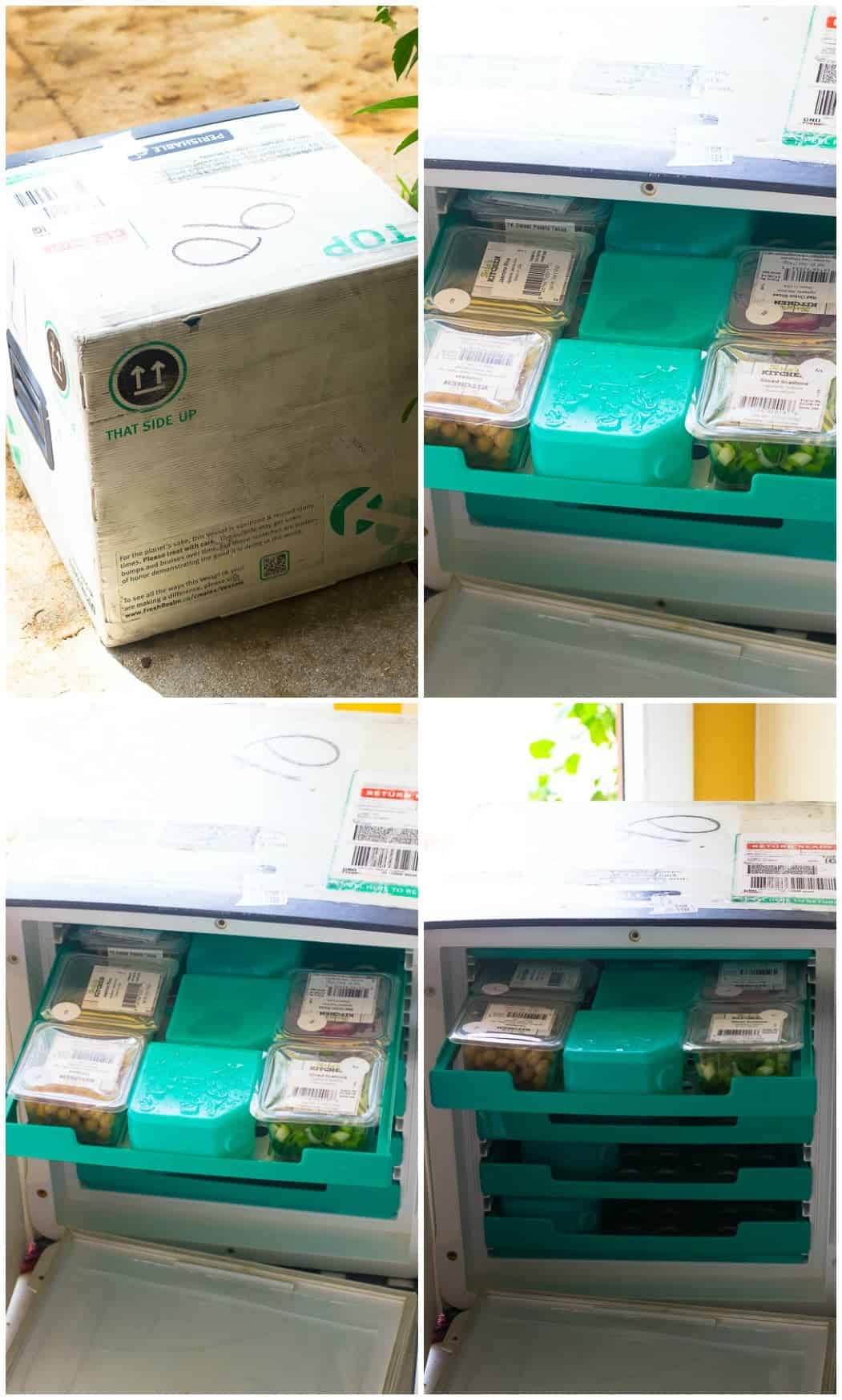 QUALITY/ECO-FRIENDLINESS
The ingredients come in little sealed containers in, yes, a re-usable, eco-friendly and sustainable refrigerated vessel. If it's delivered before you come home from work, everything is still cool, fresh and waiting on you. This was probably my most favourite part. Each vessel can be used up to 100 times, and after you've put all your ingredients in the fridge, you just leave it outside and it's picked back up the next day.
I'll admit, I wondered just how fresh these ingredients would taste but they really were cream of the crop. These plant strong natural ingredients come straight from local farms. You know how obsessed I am with farm fresh ingredients and eco-friendly products. If you follow me on Snapchat, you definitely heard me gushing like crazy over the vessel and the convenience. Needless to say, I was pretty impressed so far at Terra's Kitchen meal delivery service.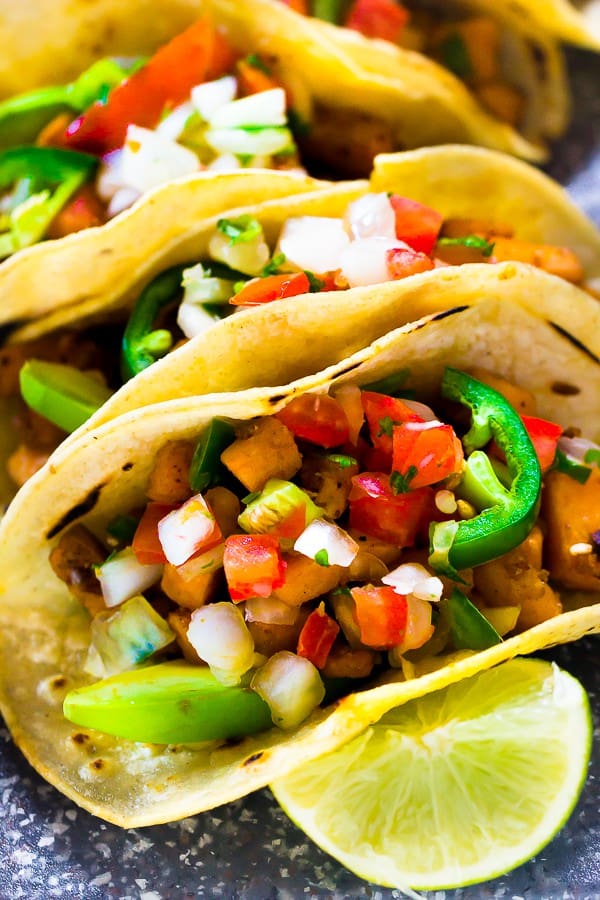 RECIPE/TASTE
So, Terra's Kitchen company message is great, the vessel is convenient and eco-friendly and the ingredients are fresh. How did the recipe and the pre-portioned ingredients taste?! AGAIN, I was pretty impressed. I have previously declared myself taco princess, and after a week in Tulum, Mexico, I'd like to change that title to taco queen.
The flavour combinations picked by Terra's Kitchen chefs worked so well with these sweet potato tacos. It was beautifully complemented by the pico de gallo and the corn tortillas. The recipes were also pretty great, down to charring the tortillas which I loved. They put a lot of thought and effort into everything. Of course, being a garlic addict, I added three more cloves. I also added in limes to squeeze over the tacos since, when is lime not great squeezed over a taco? This makes 2 servings (3 tacos each) but it ended up making 3 servings for us, so serving sizes are generous.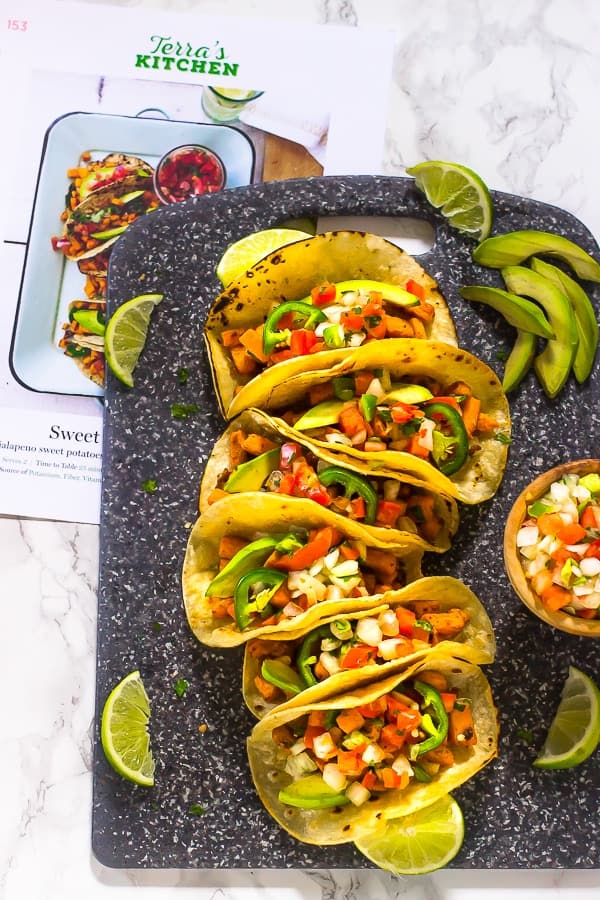 Without a doubt, I would recommend using Terra's Kitchen to everyone. Easy, quick, healthy meals delivered to you that you actually can cook in 30 minutes or less.
P.S. Give it a try, and you can use the coupon code JESSICA30 on terraskitchen.com to get up to $30 off your first delivery! Also, save me some tacos, okay?

If you try Terra's Kitchen and these sweet potato tacos, please let me know in the comment section below, or tag me on instagram with the hashtag #jessicainthekitchen! For more exclusive recipes follow me on Instagram AND on Snapchat: jessinkitchen.
This is a sponsored conversation written by me on behalf of Terra's Kitchen. The opinions and text are all mine. Thanks for supporting the companies that help to support Jessica in the Kitchen! #TerrasKitchen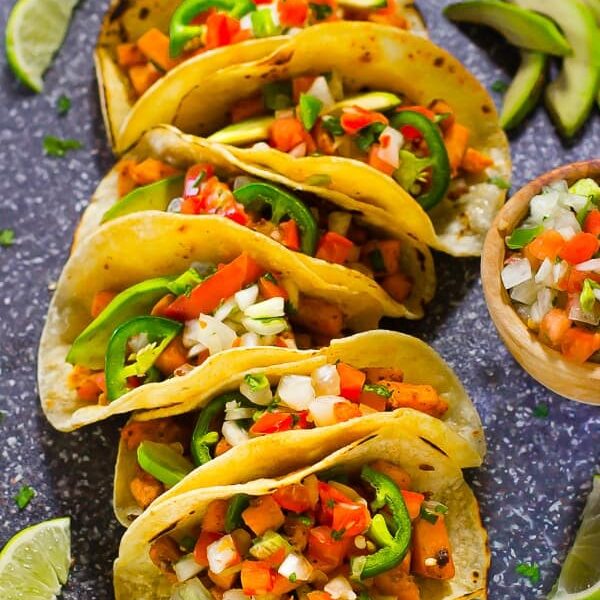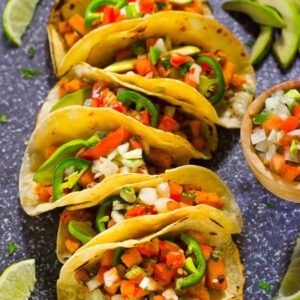 Sweet Potato Tacos and Terra's Kitchen Review
These Vegan Sweet Potato Tacos make a quick and delicious Mexican weeknight dinner.
Ingredients
From Your Pantry:
Kosher or flake sea salt
Coarsely ground black pepper
2 tbsp tablespoons canola oil
.25 tsp 1/4 teaspoon ground cumin, optional
Provided by Terrau0027s Kitchen:
14.5 ounces sweet potato spears
.7 pz ounce sliced jalapeño pepper
.3 oz ounce minced garlic, I added 3 minced garlic cloves
1 avocado
6 6, 5 1/2-inch corn tortillas
6.5 6.5 ounces prepared pico de gallo
Instructions
Roughly dice the sweet potato spears (about ¼ to ½-inch pieces).

In a large non-stick skillet over medium-high heat, add 2 tablespoons canola oil. When oil begins to shimmer add the sweet potatoes, ½ teaspoon of salt and ¼ teaspoon of pepper. Cook, stirring occasionally, until the potatoes begin to brown and are becoming tender, about 6-8 minutes. Remove from heat. Stir in garlic and jalapeno. Salt and pepper to taste and sprinkle lightly with cumin from your home pantry if desired. Set aside.


Cut the avocado in half, remove pit, scoop out the flesh and cut into 12 slices.

Heat tortillas by placing directly over a gas burner or under a broiler until lightly charred on both sides.
To Serve:
Top each tortilla with sweet potatoes, pico de gallo and 2 slices of avocado.
Notes
recipe by Terra's Kitchen
Calories: 223kcal, Carbohydrates: 32g, Protein: 3g, Fat: 10g, Saturated Fat: 1g, Sodium: 245mg, Potassium: 450mg, Fiber: 6g, Sugar: 5g, Vitamin A: 9900IU, Vitamin C: 11mg, Calcium: 48mg, Iron: 1mg
Disclaimer: Although jessicainthekitchen.com attempts to provide accurate nutritional information, kindly note that these are only estimates. Nutritional information may be affected based on the product type, the brand that was purchased, and in other unforeseeable ways. Jessicainthekitchen.com will not be held liable for any loss or damage resulting for your reliance on nutritional information. If you need to follow a specific caloric regimen, please consult your doctor first.