Greek Panzanella Salad
This vegan Greek panzanella salad is bursting with Mediterranean flavors like olives, cherry tomatoes, cucumbers, and feta cheese. It's super easy to make, very healthy, gluten-free, and sure to be a hit at your dinner table!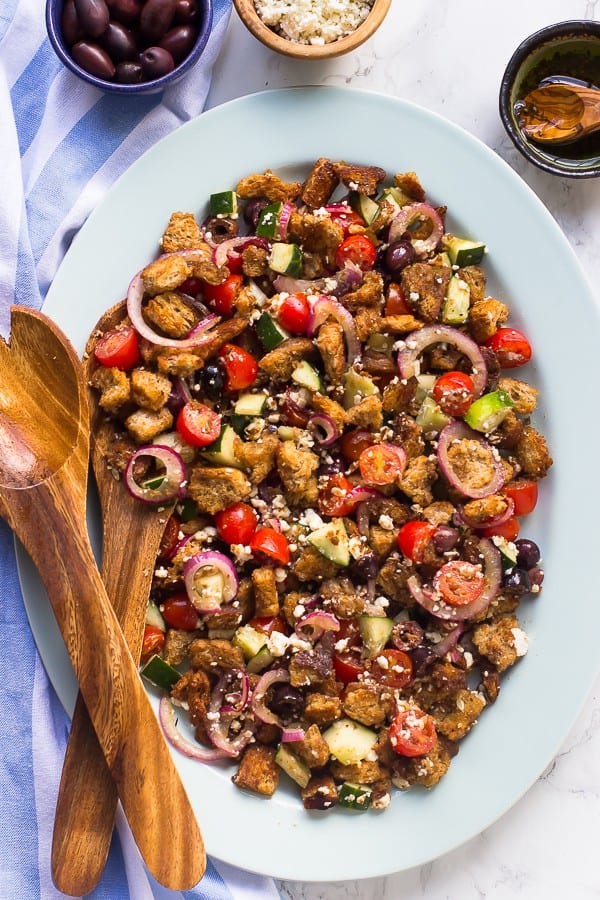 This recipe for a vegan Greek panzanella salad is one of my all-time favorites. The flavors of this dish work together so well. Briny olives and vegan feta cheese pair perfectly with the freshness of cherry tomatoes, cucumbers, and onion. The dijon and balsamic vinegar dressing is to die for, and chunks of crusty bread make the dish filling and complex.
But this salad doesn't just taste good. It's very healthy, with lots of fresh vegetables, healthy fats, and probiotics. It's vegan, gluten-free, and takes less than half an hour to make. If you're anything like me, you'll make this all the time.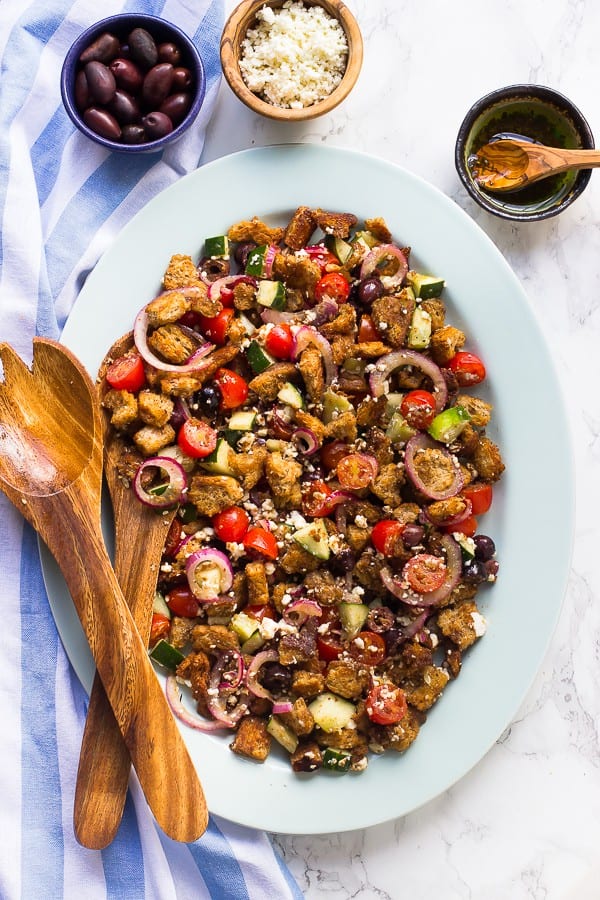 Notes on Ingredients
Here are all the ingredients that you need to make vegan, gluten-free Greek panzanella salad, with a citrusy vinaigrette. Scroll to the recipe card at the bottom of the page for the exact amounts of each ingredient.
For the Salad:
Gluten-free crusty bread – Try to use fresh bread if possible.
Extra virgin olive oil
Cherry tomatoes – If you don't have cherry tomatoes, you can use other small tomatoes.
Red onion
Cucumber – English cucumber is best for this recipe, but other types will work if they're all you have.
Olives – Kalamata olives are the traditional choice for Greek salad.
Vegan feta cheese
For the Vinaigrette:
Extra virgin olive oil
Balsamic vinegar
Lemon juice – For best results, use fresh-squeezed lemon juice.
Dijon mustard – Dijon will help the salad dressing emulsify.
Salt
Black pepper – You should use freshly-ground black pepper.
How to Make Greek Panzanella Salad
Here's how to make this super simple, fresh, and healthy salad. It only takes about 25 minutes!
Make the vinaigrette. Put all of the salad dressing ingredients in a bowl, and whisk to combine.
Heat the oven. Turn the oven on to 450F.
Prep the bread. Place the cubed gluten-free bread on a baking sheet that has a silicone mat, parchment paper, or aluminum foil on it.
Add oil. Drizzle the extra virgin olive on the bread, and toss until the pieces of bread are coated.
Toast. Put the bread in the oven and bake for 5 minutes, then remove from the oven and set aside until cool.
Mix the salad. Put the bread in a salad bowl or mixing bowl and add the tomatoes, onions, cucumber, and olives. Stir until everything is combined. Add the vegan feta cheese, then lightly stir to combine.
Add the vinaigrette. Pour the vinaigrette on top of the salad and toss to combine.
Rest. You can eat the salad now, but for best results put a lid on the bowl, and let it rest for 30 minutes to an hour so the flavors can meld together.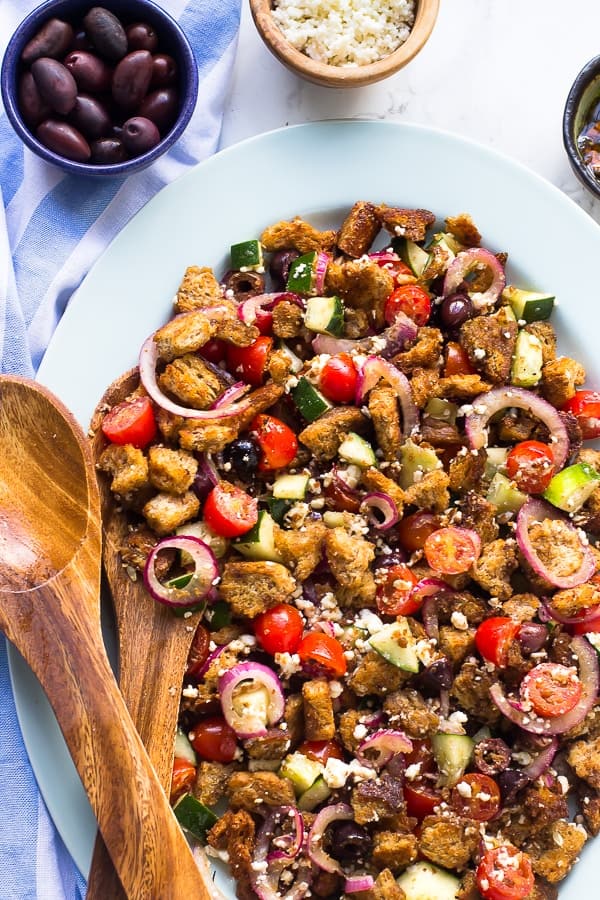 Tips for the Best Vegan Panzanella
Here are a few tricks for making this vegan, gluten-free dish.
Let the bread cool fully. Make sure the bread is fully cooled before adding it to the salad. If the bread is warm, it could start to cook the onions, tomatoes, and cucumber. It will also absorb the salad dressing if it's warm, and then it will become soft instead of staying crunchy.
Make sure the vinaigrette is emulsified. The mustard in the balsamic and lemon vinaigrette will make the salad dressing emulsify fairly easily. However, it can sometimes separate if it sits for a while. Before adding the vinaigrette to the salad, whisk it up a final time to make sure it's emulsified.
Use nice-quality bread. The star of this gluten-free and vegan Greek panzanella salad is the toasted bread. It might seem like you don't need to use good bread, since it gets toasted and mixed with a bunch of other ingredients. But in reality, there's a huge difference between making this recipe with low-quality bread and high-quality bread. Try to get a nice loaf of bread to use when making this salad.
Make your own vegan feta. If you want to make this recipe extra homemade, then try out my recipe for homemade vegan feta cheese!
Serving Suggestions
This salad is good enough and substantive enough that you can eat it by itself as a meal. But I like to serve it alongside a bigger entree. Here are a few of my favorite recipes to serve with vegan Greek panzanella salad.
How to Store This Recipe
You can store this salad in an airtight container in the fridge for 4 days. However, the longer you store the Greek panzanella salad, the more the bread will absorb the dressing and become soggy. So it's best to eat it on the first day if possible.
Can I Freeze Greek Panzanella Salad?
I do not recommend trying to freeze this salad, as the veggies and bread will take on a funny texture when you thaw them. If you want to try, though, store it in an airtight container for up to 3 months.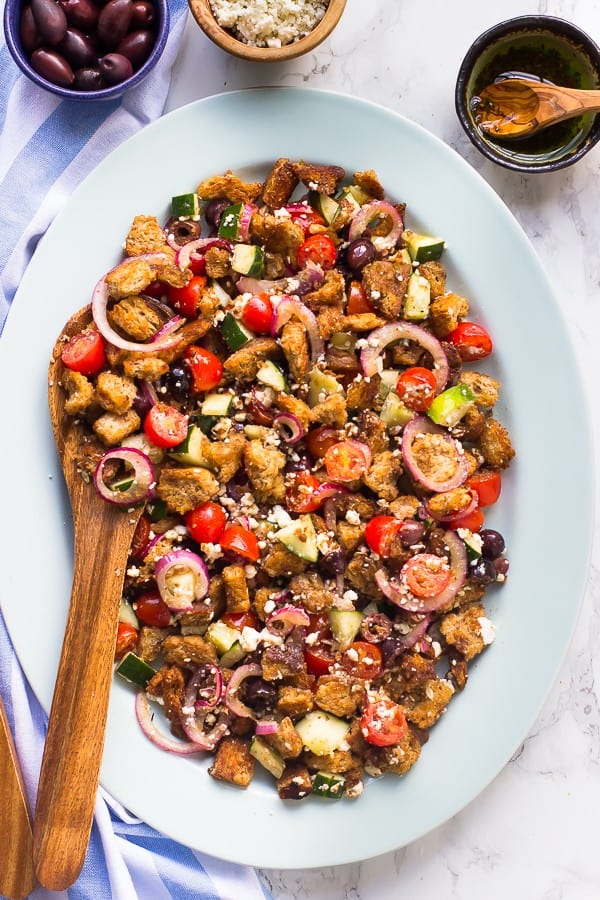 More Salads to Make
Here are a few more delicious salad recipes for you to make.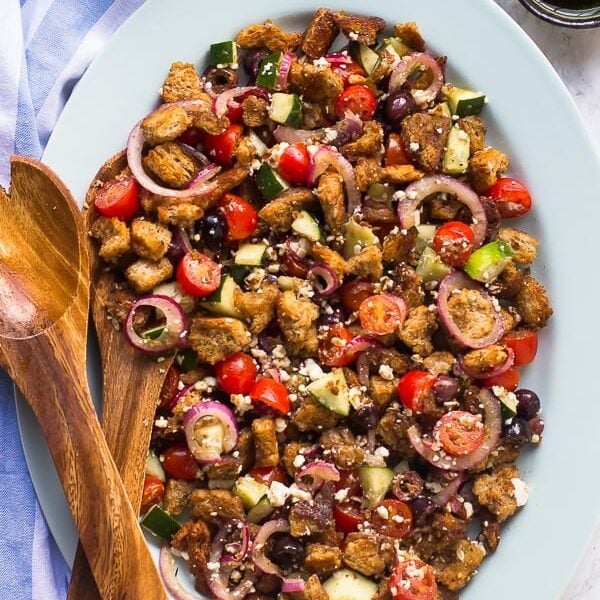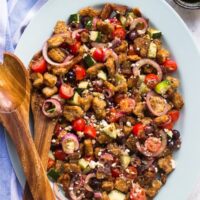 Greek Panzanella Salad
This vegan Greek panzanella salad recipe is full of authentic Greek flavors, an an amazing lemon and balsamic vinaigrette, and crunchy bread. It's super easy to make, incredibly healthy, and gluten-free!
Ingredients
For the Salad:
3 1/2 cups gluten-free crusty bread, chopped into 1-inch cubes
1-2 tablespoons extra virgin olive oil
1 cup halved cherry tomatoes
1/2 large red onion, sliced
1 cup cubed English cucumber
1/4 cup pitted halved olives
1/4 cup vegan feta cheese, crumbled
For the Mustard Balsamic Vinaigrette:
1/4 cup extra virgin olive oil
1/2 tablespoon balsamic vinegar
2 teaspoons lemon juice
1 teaspoon dijon mustard
pinch salt and ground black pepper
Instructions
Mix all the ingredients for the vinaigrette together.

Preheat oven to 450°F degrees.

Add the bread cubes to a silicone mat on a baking sheet or a baking sheet prepared with parchment paper or foil.

Drizzle the bread with the extra virgin olive oil and toss to ensure all the cubes are covered with oil.

Bake for 5 minutes. Remove from oven and set aside to cool.

In a large mixing bowl, add the toasted bread, the cherry tomatoes, red onions, cucumber cubes and olive halves. Toss until combined. Add the feta cheese and toss lightly to combine.

Pour the vinaigrette over the salad and toss again to combine.

Cover the salad and let sit for 30 minutes to up to an hour so that all the ingredients are completely soaked in and the flavours combined. Serve and enjoy!
Notes
Store the salad in an airtight container in the fridge for up to 4 days.
Calories: 339kcal, Carbohydrates: 29g, Protein: 6g, Fat: 22g, Saturated Fat: 3g, Polyunsaturated Fat: 3g, Monounsaturated Fat: 14g, Trans Fat: 0.01g, Sodium: 526mg, Potassium: 226mg, Fiber: 3g, Sugar: 5g, Vitamin A: 242IU, Vitamin C: 12mg, Calcium: 84mg, Iron: 2mg
Disclaimer: Although jessicainthekitchen.com attempts to provide accurate nutritional information, kindly note that these are only estimates. Nutritional information may be affected based on the product type, the brand that was purchased, and in other unforeseeable ways. Jessicainthekitchen.com will not be held liable for any loss or damage resulting for your reliance on nutritional information. If you need to follow a specific caloric regimen, please consult your doctor first.