Easy Greek Panzanella Salad (VIDEO)
This Easy Greek Panzanella Salad can be made in just 25 minutes! You only need 7 ingredients and an EASY vinaigrette to make this delicious summer salad!
WATCH THE VIDEO TO SEE HOW IT'S MADE: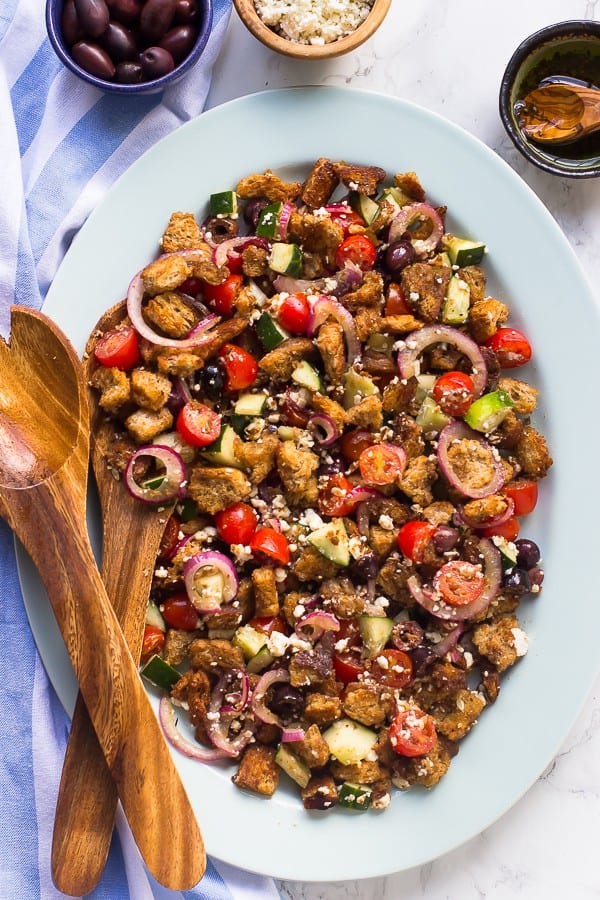 I want one word to define my summer: easy. Actually if I had to choose another I would say mojito, but let's go with easy for now. Summer should be a time where you can take a vacation. Whether that be a day, week or just an evening, to kick back, relax and just take it easy. To go along with easy living, should be a really easy, low stress, simple meal, like this Easy Greek Panzanella Salad aka Tuscan Tomato & Bread Salad. I think I can say without a doubt that this is not only one of my favourite summer creations, but definitely the Mr.'s too. Prepare to wow your family, friends, and your stomach.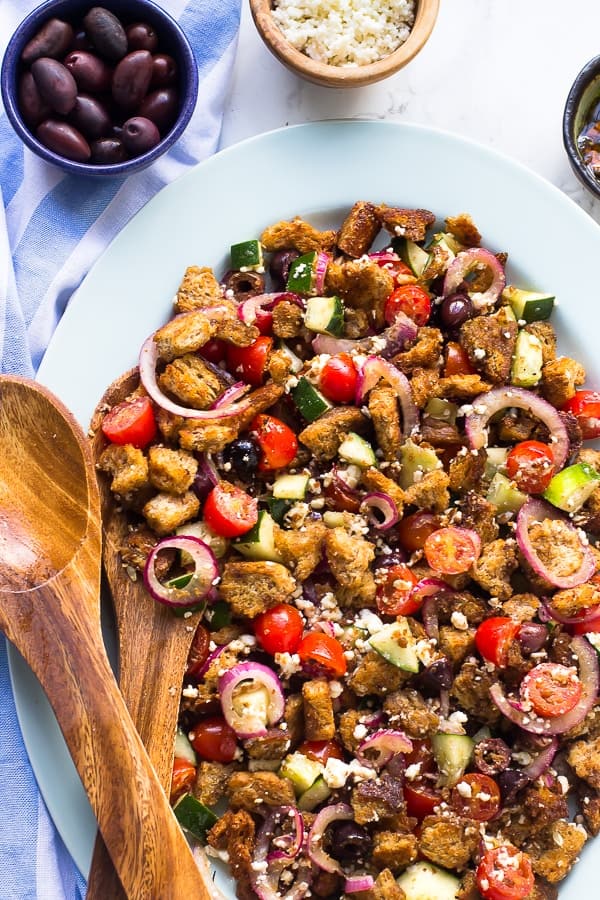 Oh my gosh, could a salad be any easier?! This Easy Greek Panzanella Salad honestly made it into our homes and never left. I made it 3 times in one week after the Mr. took one bite and kept asking for me for more. For me, knowing that a recipe I created is SO loved is ALL the reason I need to keep making it.
This salad is a combination of so many fresh summer veggies. Tomatoes, cucumbers, olives, red onions and feta cheese come together with deliciously crusty bread and a balsamic vinaigrette. I would like to say that I didn't "slip" and add more toasted bread, but I definitely did. I also may have "taste-tested" several times just to ensure everything was going all great in the recipe.
Don't judge me.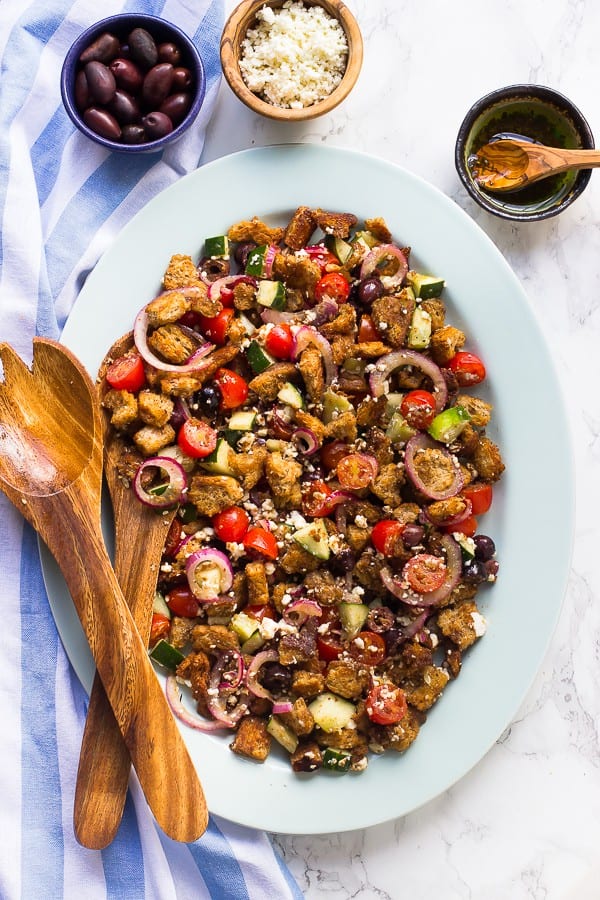 One bite and you will understand why. The flavours come together so perfectly in this salad to create a mix of sweet, brine-y, crunchy, salty and just general juicy flavours. It's also perfect for planning ahead because you can have all the veggies chopped in the fridge, and then just toss the bread when you're ready to make this salad. Win, win. Feel free to pair this with some juicy balsamic grilled veggies for a super balsamic summer BBQ party. Add in some fantastic Watermelon Mojitos and NOW it's a vacation.
Oh, and make sure you invite me. I'll bring extra salad!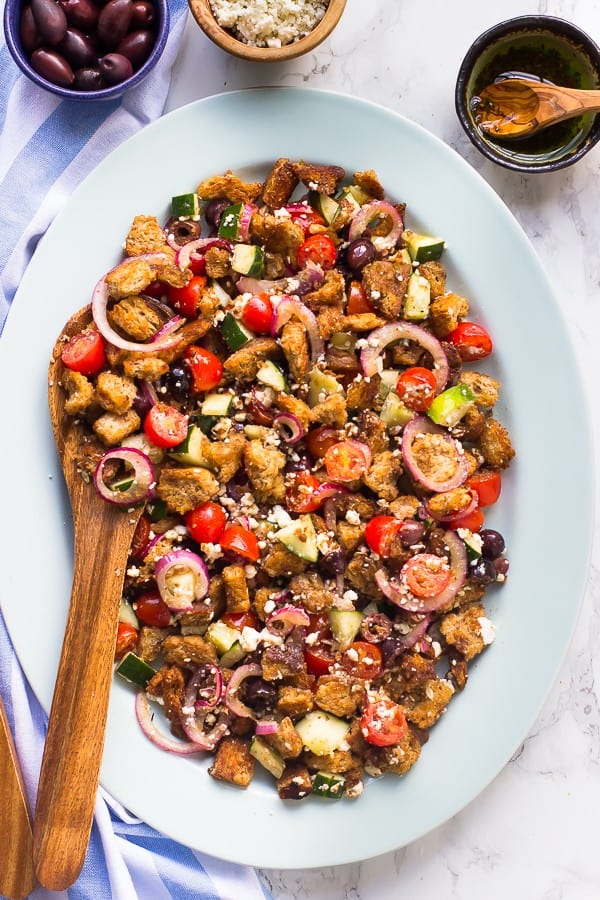 If you try this Easy Greek Panzanella Salad please let me know in the comments section below, or tag me on instagram with the hashtag #jessicainthekitchen! For more exclusive recipes follow me on Instagram AND on Snapchat: jessinkitchen.
RELATED RECIPES FOR A SUMMER BBQ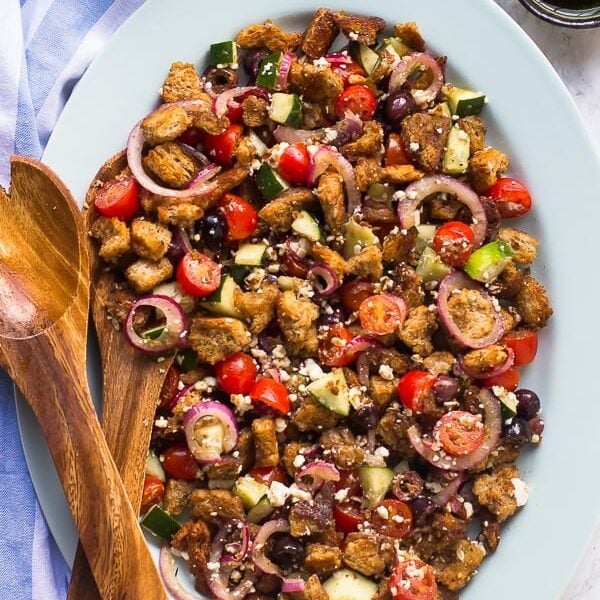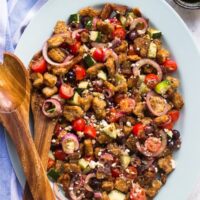 Vegan Greek Panzanella Salad
This vegan Greek panzanella salad recipe is full of authentic Greek flavors, an an amazing lemon and balsamic vinaigrette, and crunchy bread. It's super easy to make, incredibly healthy, and gluten-free!
Ingredients
For the Salad:
3 1/2 cups gluten-free crusty bread, chopped into 1-inch cubes
1-2 tablespoons extra virgin olive oil
1 cup halved cherry tomatoes
1/2 large red onion, sliced
1 cup cubed English cucumber
1/4 cup pitted halved olives
1/4 cup vegan feta cheese, crumbled
For the Mustard Balsamic Vinaigrette:
1/4 cup extra virgin olive oil
1/2 tablespoon balsamic vinegar
2 teaspoons lemon juice
1 teaspoon dijon mustard
pinch salt and ground black pepper
Instructions
Mix all the ingredients for the vinaigrette together.

Preheat oven to 450°F degrees.

Add the bread cubes to a silicone mat on a baking sheet or a baking sheet prepared with parchment paper or foil.

Drizzle the bread with the extra virgin olive oil and toss to ensure all the cubes are covered with oil.

Bake for 5 minutes. Remove from oven and set aside to cool.

In a large mixing bowl, add the toasted bread, the cherry tomatoes, red onions, cucumber cubes and olive halves. Toss until combined. Add the feta cheese and toss lightly to combine.

Pour the vinaigrette over the salad and toss again to combine.

Cover the salad and let sit for 30 minutes to up to an hour so that all the ingredients are completely soaked in and the flavours combined. Serve and enjoy!
Notes
Store the salad in an airtight container in the fridge for up to 4 days.
Calories: 339kcal, Carbohydrates: 29g, Protein: 6g, Fat: 22g, Saturated Fat: 3g, Polyunsaturated Fat: 3g, Monounsaturated Fat: 14g, Trans Fat: 0.01g, Sodium: 526mg, Potassium: 226mg, Fiber: 3g, Sugar: 5g, Vitamin A: 242IU, Vitamin C: 12mg, Calcium: 84mg, Iron: 2mg
Disclaimer: Although jessicainthekitchen.com attempts to provide accurate nutritional information, kindly note that these are only estimates. Nutritional information may be affected based on the product type, the brand that was purchased, and in other unforeseeable ways. Jessicainthekitchen.com will not be held liable for any loss or damage resulting for your reliance on nutritional information. If you need to follow a specific caloric regimen, please consult your doctor first.