Baked Eggplant Parmesan
This Baked Eggplant Parmesan will become your new favourite weeknight dish!! It's loaded with lots of fresh flavours and is so incredibly easy to whip up!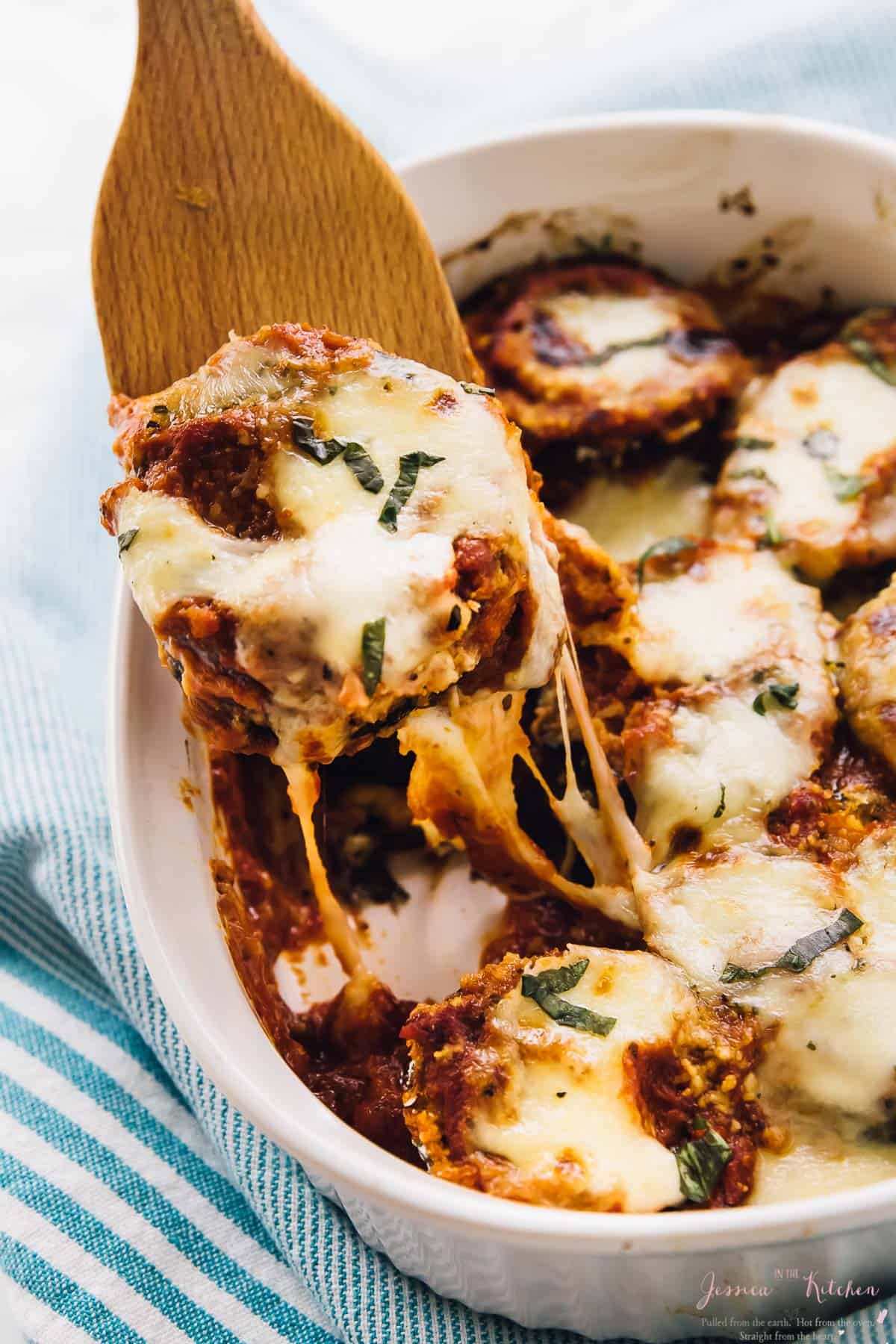 Happy Friday friends!! If you're prepping for Memorial Day weekend, then you're probably already planning out your BBQ, chilling, pool time, or just straight up relaxation time. Even if you're not, it's the weekend!! It's time to kick it back a bit, relax and grab a spring/summer cocktail. ? Here's a dish that'll not only be a total hit this weekend, but is one that I love making all year round: Baked Eggplant Parmesan. This is such an easy dish to whip up, and if you've ever been intimated of eggplants, this is the perfect place to start! Whether you're bringing a dish to a backyard bbq or having a sit down dinner with family and friends, Baked Eggplant Parmesan will wow and win your guests over, always.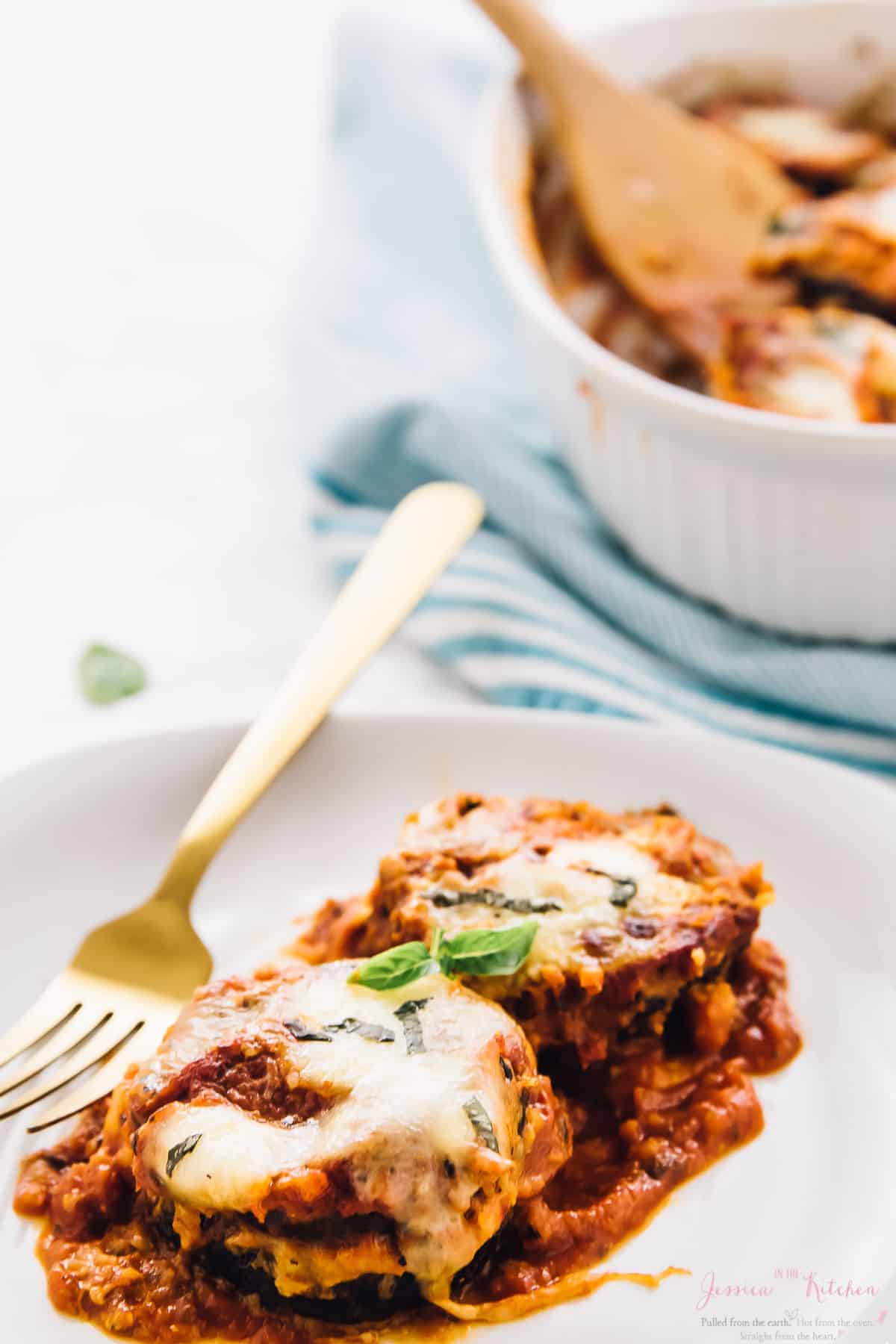 So I've had eggplant parmesan before, in all different versions. I've had the amazing, traditional version, and oh my gosh if you haven't, definitely go, order that, and watch your mind and tastebuds be absolutely amazed. The last time I had it though, was the time that convinced me to make it at home. I travel a whole lot, whether for work or for pleasure, and the last time happened to be for pleasure so the Mr. and I got to take a quick weekend trip away. On our way back, we got lunch at the American Express airport lounge and one of the dishes they were serving was amazing baked eggplant parmesan.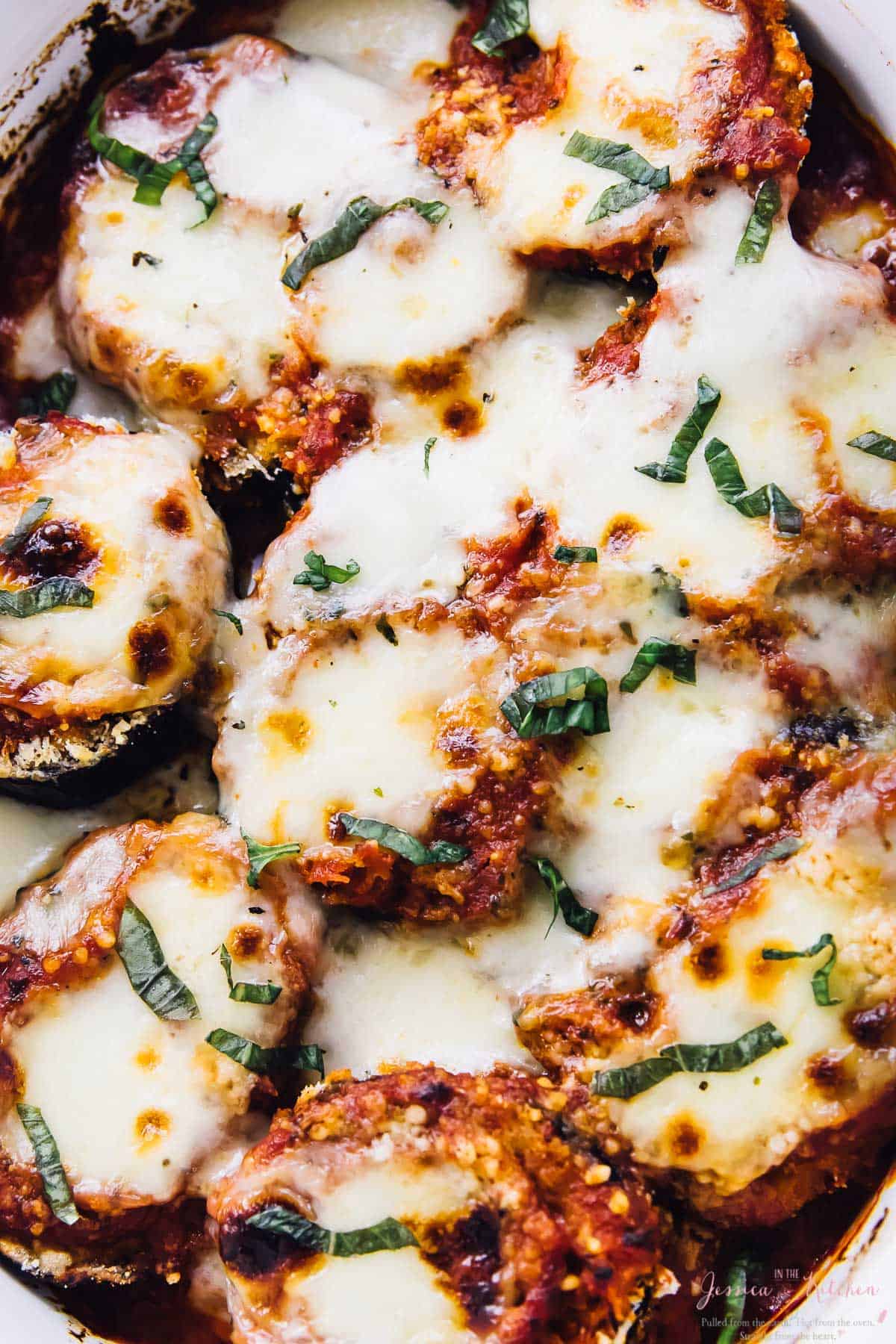 Friends, I honestly could've eaten that for the rest of my life and I would've been satisfied. So much flavour, and the eggplant was done SO perfectly!! I couldn't stop thinking about it, and knew that I could turn it into an easy, weeknight dish for you all. Fortunately, I was right, and after a lot of 'taste-testing', I was able to nail it down.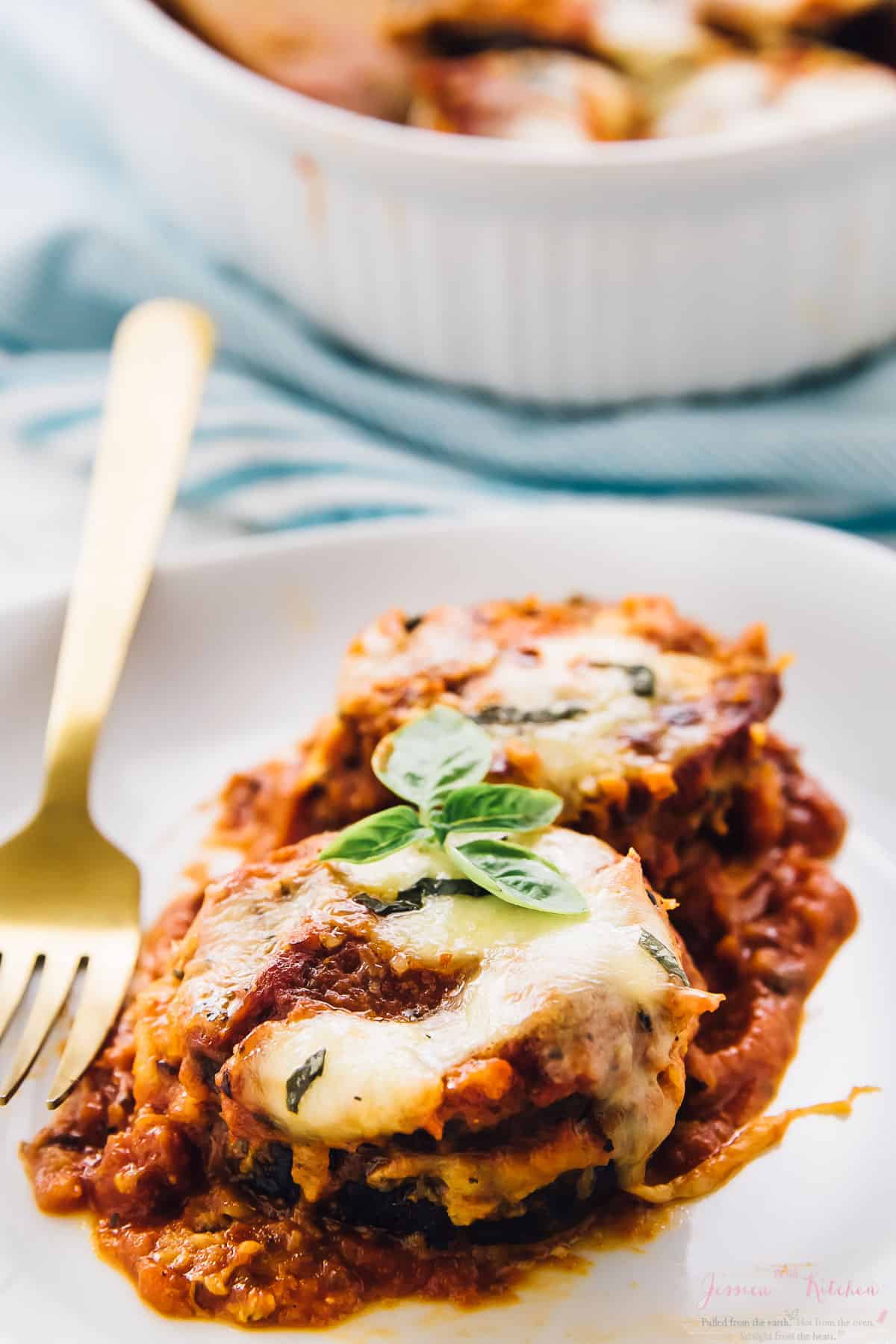 I wanted to make a version of this that catered to vegetarians, vegans, and if you were gluten free, so you'll see lots of great substitutions in the recipe. I made and tested them all of course, and loved ALL of them, so I know you'll love them too! One tip I would have of course is to sprinkle the basil before serving. Basil has a super strong flavour, but it doesn't hold up well to heat, and so in order to have that divine aroma and taste, serve it on right before bringing it to the table.
My other tip would be to, of course, use the freshest ingredients as usual. I used my homemade roasted garlic tomato sauce recipe for the tomato sauce, and it just took it 100% over the top. That, with fresh mozzarella balls instead of shredded, really make this dish so special. All the fresh ingredients shine through and bring the entire dish together.
Enjoy!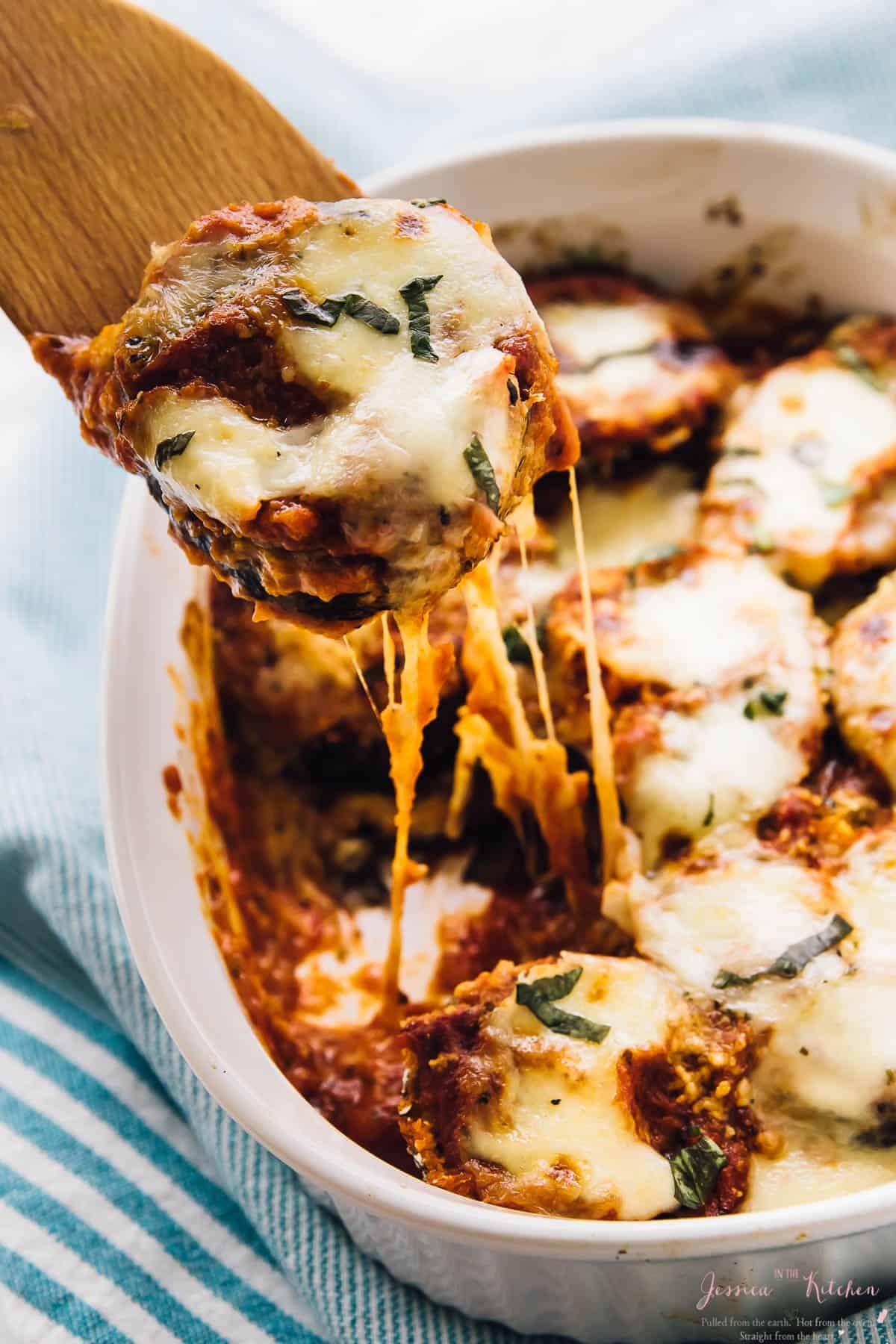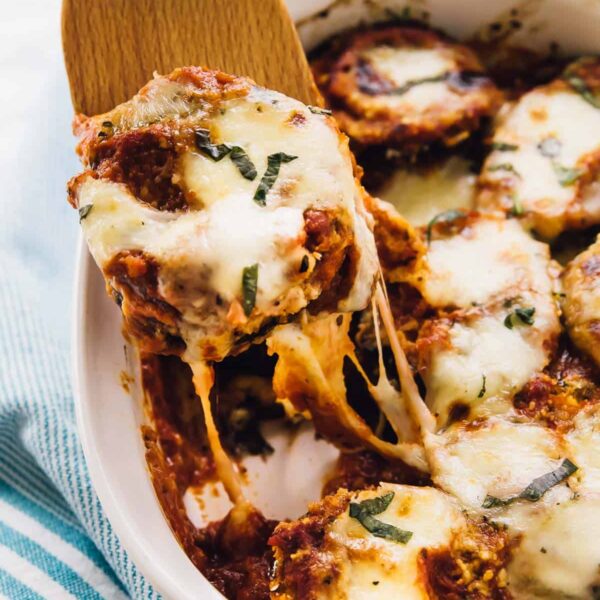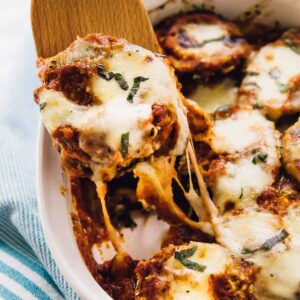 Baked Eggplant Parmesan
This Baked Eggplant Parmesan will become your new favourite weeknight dish! With tender eggplant and loads of melty vegan cheese, it's impossible to resist.
Ingredients
Baked Eggplant Parmesan
2 medium eggplants, about 13 ounces, sliced
1/2 cup gluten free flour
2 eggs, beaten, or 1/2 cup nut milk for vegan
3/4 teaspoon garlic powder
sea salt & ground black pepper to taste
1/2 cup breadcrumbs, gluten free if necessary
2 cups tomato sauce
8-12 ounces small fresh mozzarella balls, cut into as many round slices as your eggplant slices (regular or vegan slices)
handful vegetarian parmesan cheese
handful basil, chopped
Instructions
Baked Eggplant Parmesan
Preheat oven to 425 degrees F.

On a greased cookie sheet or a cookie sheet lined with a silicone mat, place the eggplant slices down and sprinkle with 1 teaspoon of salt. This well help to remove the moisture allow it to crisp up more while baking.

Allow to sit for 10 minutes, then wipe the salt and released moisture off.

Place the flour in a bowl, the eggs in a bowl, and the breadcrumbs in a bowl beside each other for a dredging station. Add in the garlic powder, sea salt and black pepper into the breadcrumbs and stir to combine.

Dip the eggplants into flour, then the egg mixture, shake off excess, and then coat both sides in the breadcrumbs mix, then place of cookie sheet.

Bake for 20 minutes, flipping once at the halfway mark.

Remove from oven. In a 9 x13, or 8 x 11 baking dish, spread ½ cup of the tomato sauce on the bottom of the dish. Cover the bottom of the dish with eggplant slices, then top each with some tomato sauce, and a small slice of mozzarella cheese on top until the entire bottom of the dish is covered.

Follow with another layer of eggplant, tomato sauce, and mozzarella. Sprinkle with some vegetarian parmesan cheese.

Bake for 10-15 minutes, then broil until cheese turns golden brown. Remove from oven and top with basil. Allow to cool slightly before serving. Enjoy!
Notes
This recipe is vegetarian and gluten free. Notes for making it easily vegan have been tested and added into the recipe. To store: Leftover Eggplant Parmesan can be stored in an airtight container in the refrigerator for up to 4 days. Reheat it in the oven at 350ºF or in the microwave until it's warmed through. To freeze: This dish can be frozen for up to 3 months in an airtight container. When ready to enjoy again, thaw it overnight in the fridge and bake according to the instructions above.
Calories: 300kcal, Carbohydrates: 33g, Protein: 17g, Fat: 13g, Saturated Fat: 4g, Cholesterol: 83mg, Sodium: 686mg, Potassium: 789mg, Fiber: 9g, Sugar: 12g, Vitamin A: 602IU, Vitamin C: 11mg, Calcium: 253mg, Iron: 3mg
Disclaimer: Although jessicainthekitchen.com attempts to provide accurate nutritional information, kindly note that these are only estimates. Nutritional information may be affected based on the product type, the brand that was purchased, and in other unforeseeable ways. Jessicainthekitchen.com will not be held liable for any loss or damage resulting for your reliance on nutritional information. If you need to follow a specific caloric regimen, please consult your doctor first.