Baba Ghanoush
Baba Ghanoush is a creamy Mediterranean dip that's smoky, tangy, and all-around irresistible. It's a staple at Middle Eastern restaurants, but I'll show you how to make it at home!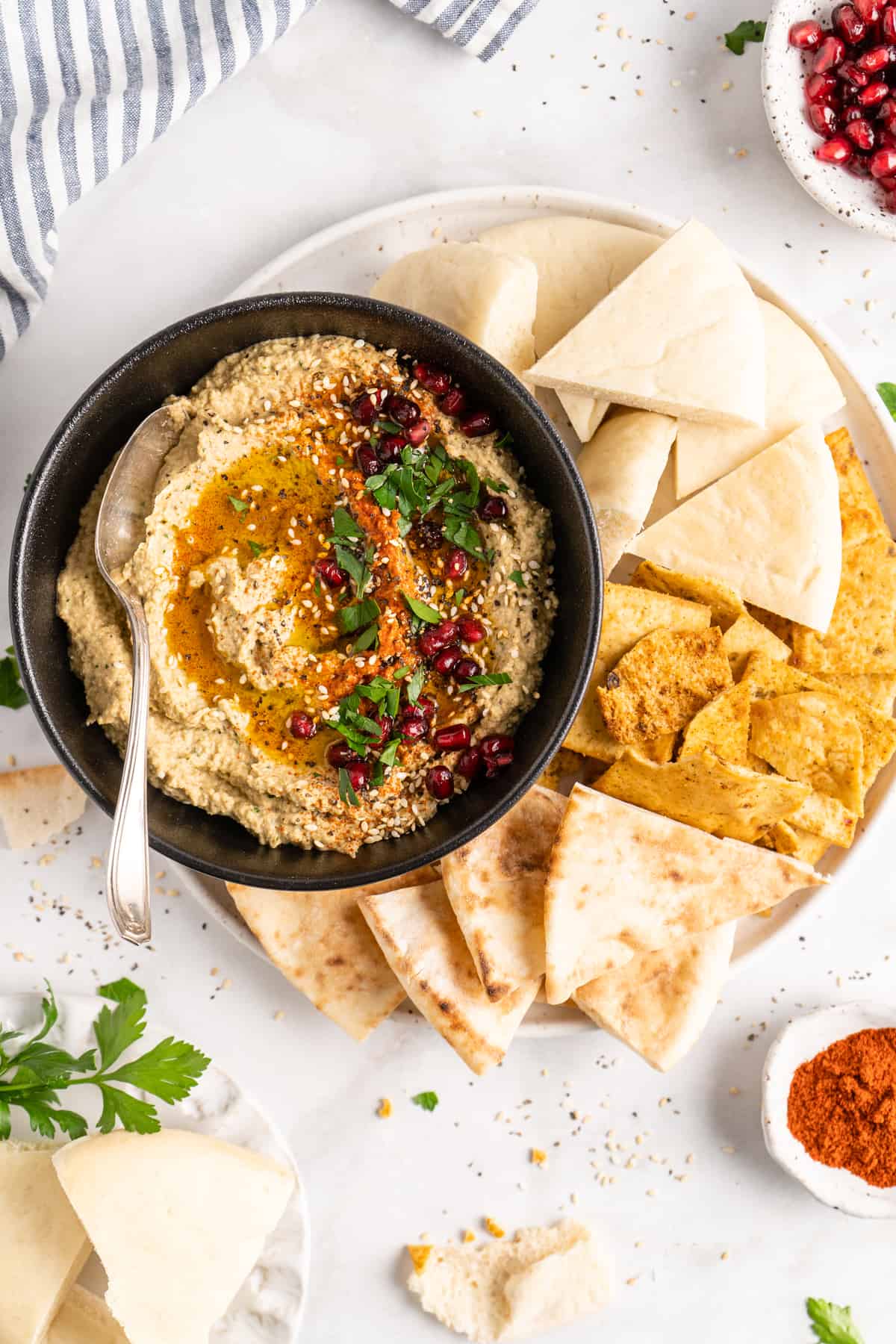 Any Middle Eastern restaurant worth its salt will offer hummus and baba ghanoush on their appetizer menu. Some people may prefer one or the other, but I always say: why not both?! Baba ghanoush has a uniquely smoky flavour, along with the brightness of lemon and the herbaceous addition of parsley. That smoky flavour comes from charring the eggplant over an open flame, but since we're making this at home, my workaround is using smoked paprika instead.
Like hummus, traditional baba ghanoush is often topped with ground sumac, which is an astringent spice made from dried berries. It's good stuff, but it's also pricy! If you happen to have it on hand, by all means, use it! But if not, I think topping this with a drizzle of high-quality olive oil is the perfect finishing touch.
While baba ghanoush is great for serving with veggies and pita chips for an appetizer, I also love making a Mediterranean-inspired meal by whipping up a batch of this, along with Vegan Beet Falafel and Mediterranean Chickpea Salad.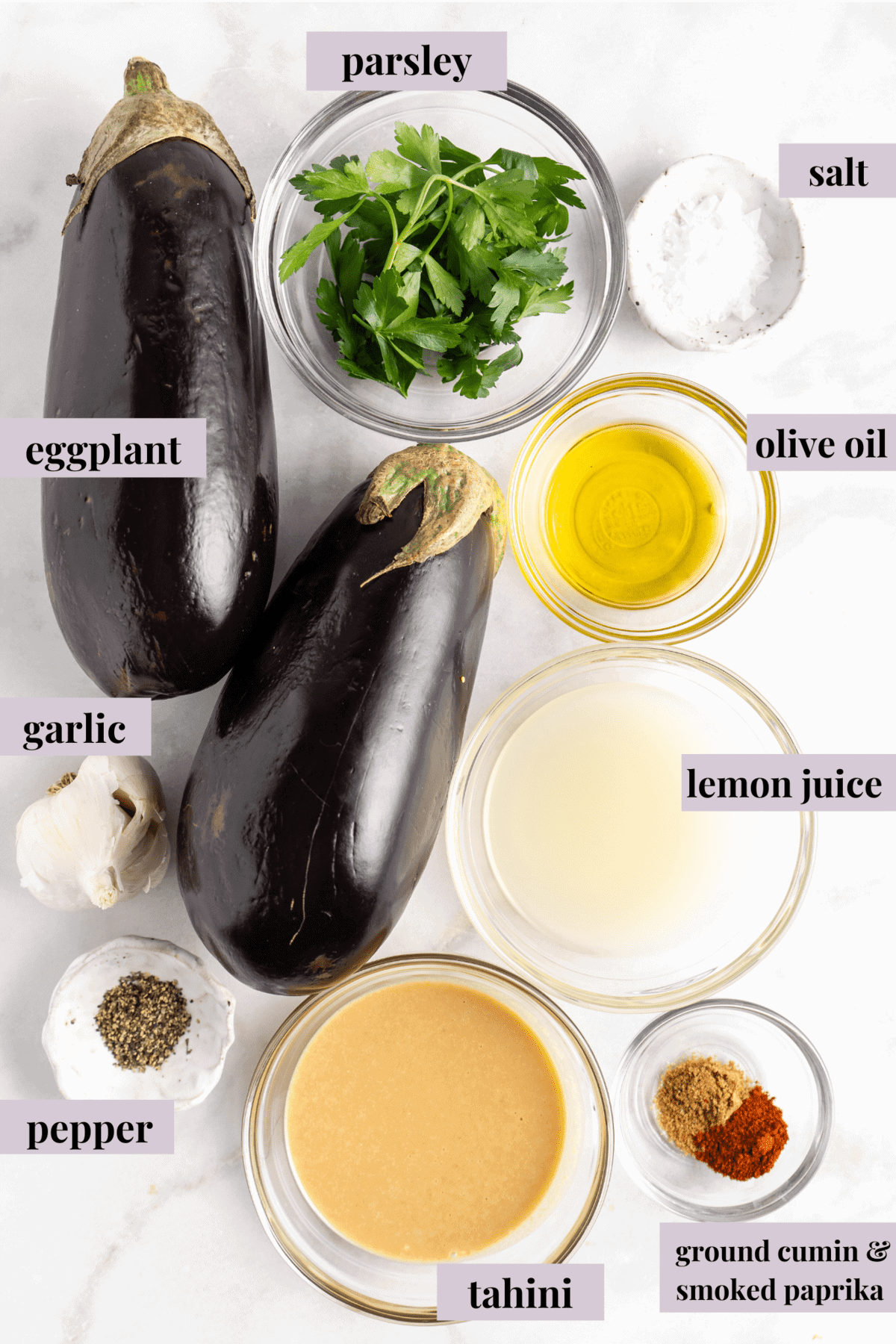 Notes on Ingredients
Please note that this is important information on the ingredients and instructions and the FULL recipe with amounts and details can be found DOWN BELOW (scroll to it) in the recipe card.
Eggplant – Chinese eggplants, globe eggplants or Italian eggplants work best.
Tahini – Here's how to make your own tahini.
Lemon juice
Garlic
Ground cumin
Salt
Olive oil
Parsley – You can use more if you like.
Smoked paprika
Tips for Choosing Eggplants
Eggplant isn't the most popular vegetable at the grocery store, which means sometimes it sits and sits and sits, and by the time you come along to purchase it, it's past its prime. An older eggplant can impart a bitter flavour, so it's important to buy one that's fresh. The skin should be shiny, rather than dull, and it should be firm all around, without any soft spots. It should feel heavy for its size, and the stem should be green, not brown and dry. Rather than buying one huge eggplant, it's always better to buy a few smaller ones, as these are less likely to be bitter.
How to Make Baba Ghanoush
Get your pita bread ready for dipping, because we're making baba ghanoush! Here's what you need to do.
Prepare. Preheat oven to 400°F/200°C.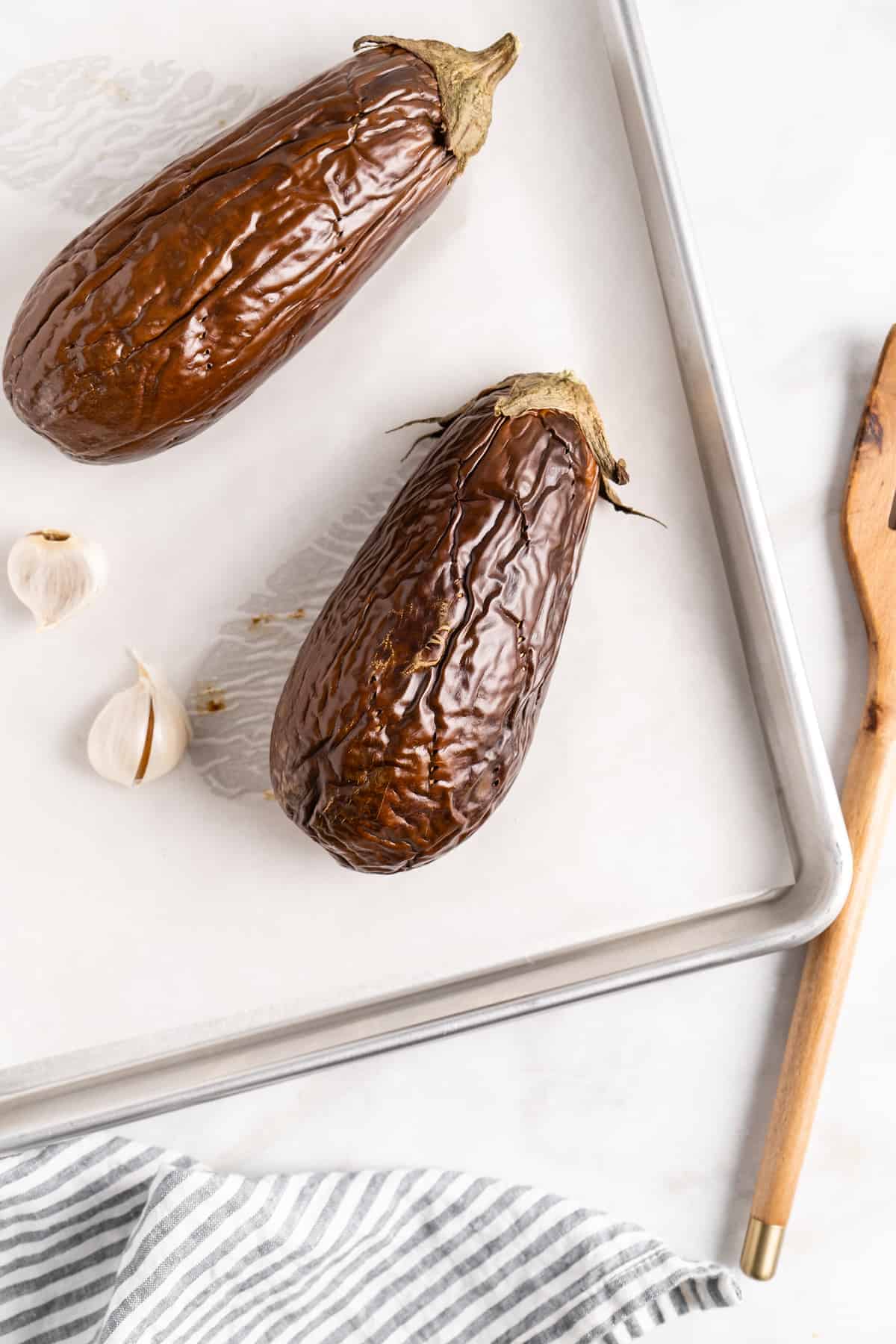 Roast the eggplants. Pierce the eggplants with a fork and place them on a baking sheet with the garlic. Roast for 30 to 40 minutes, or until the eggplants are tender and the skin is wrinkly.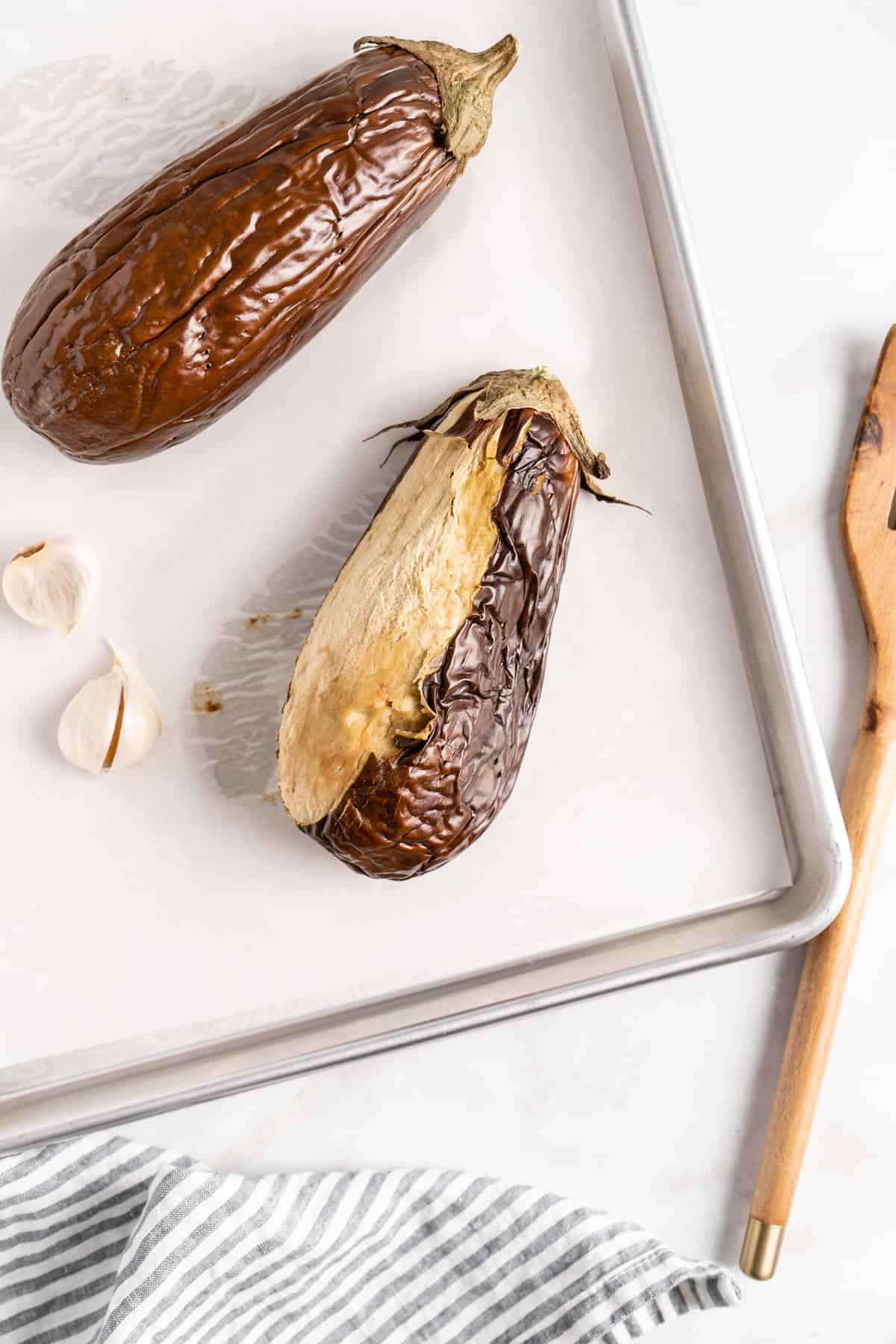 Cool and prepare the eggplant. Let the eggplants cool for 5 to 10 minutes, then peel off the skin and cut off the stem. Place the eggplant in a colander to let excess moisture drain off; after 5 minutes, use a wooden spoon or spatula to press the eggplant to remove any remaining liquid.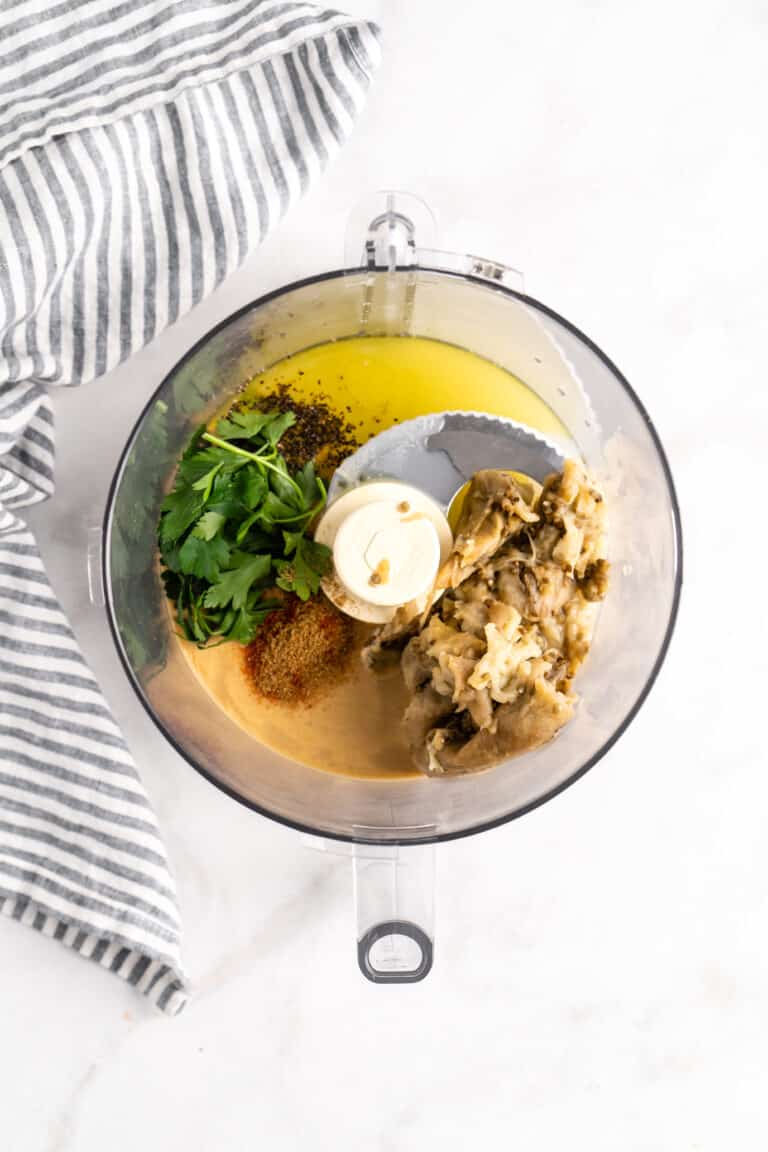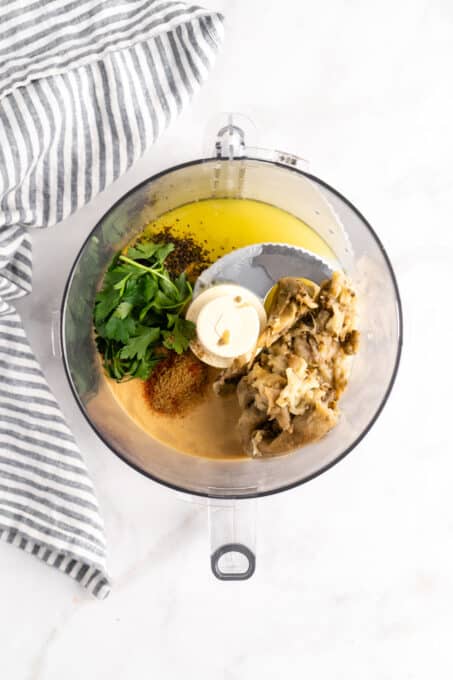 Puree. Place the eggplant, tahini, lemon juice, roasted garlic, cumin, sea salt, olive oil, parsley, and smoked paprika in a food processor and process until smooth. Taste and adjust the seasonings as desired.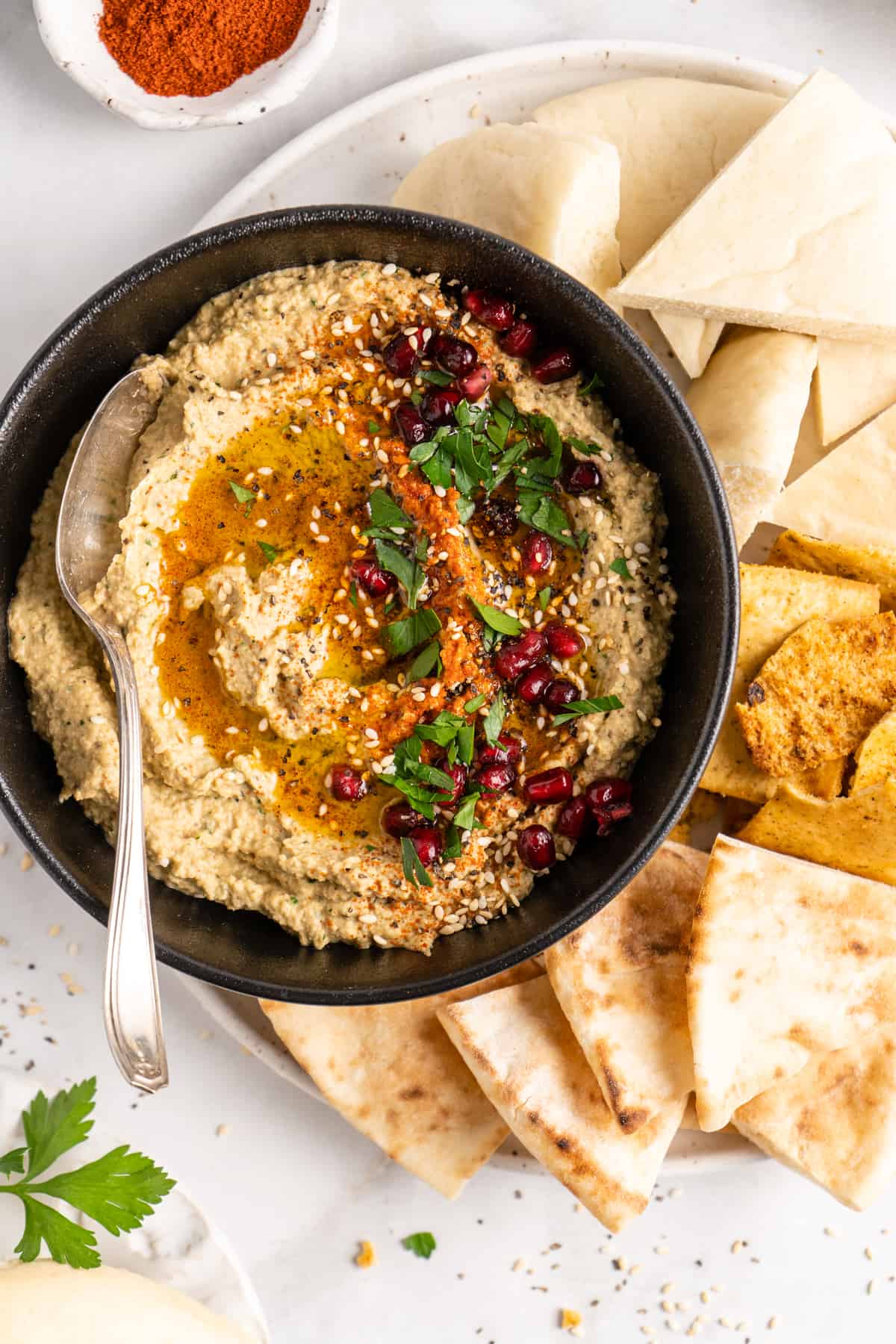 Serve. Scoop the finished baba ghanoush into a serving bowl and garnish with olive oil and chopped parsley. Serve with crudités, fresh pita bread, or pita chips.

Tips for Success
Here are some tips to help you make perfect baba ghanoush at home.
Dealing with a bitter eggplant. If you notice that your eggplant is bitter, you can offset this by adding a touch of maple syrup or blended dates.
Peeling the eggplants. Sometimes the eggplant doesn't peel after roasting. That's okay! Just cut the eggplants in half lengthwise, then scoop out the flesh.
Amping up the garlic flavour. You can skip roasting the garlic if you want a more pronounced garlic flavour in your dip.
How to Store
Baba ghanoush should be refrigerated in an airtight container and eaten within 3 to 4 days. It's eaten cold, so there's no need to reheat!
Can This Recipe Be Frozen?
Baba ghanoush is best enjoyed fresh, but you can freeze it if you'd like. Place it in a freezer bag or airtight container and freeze up to 3 months. Let it thaw in the refrigerator before serving.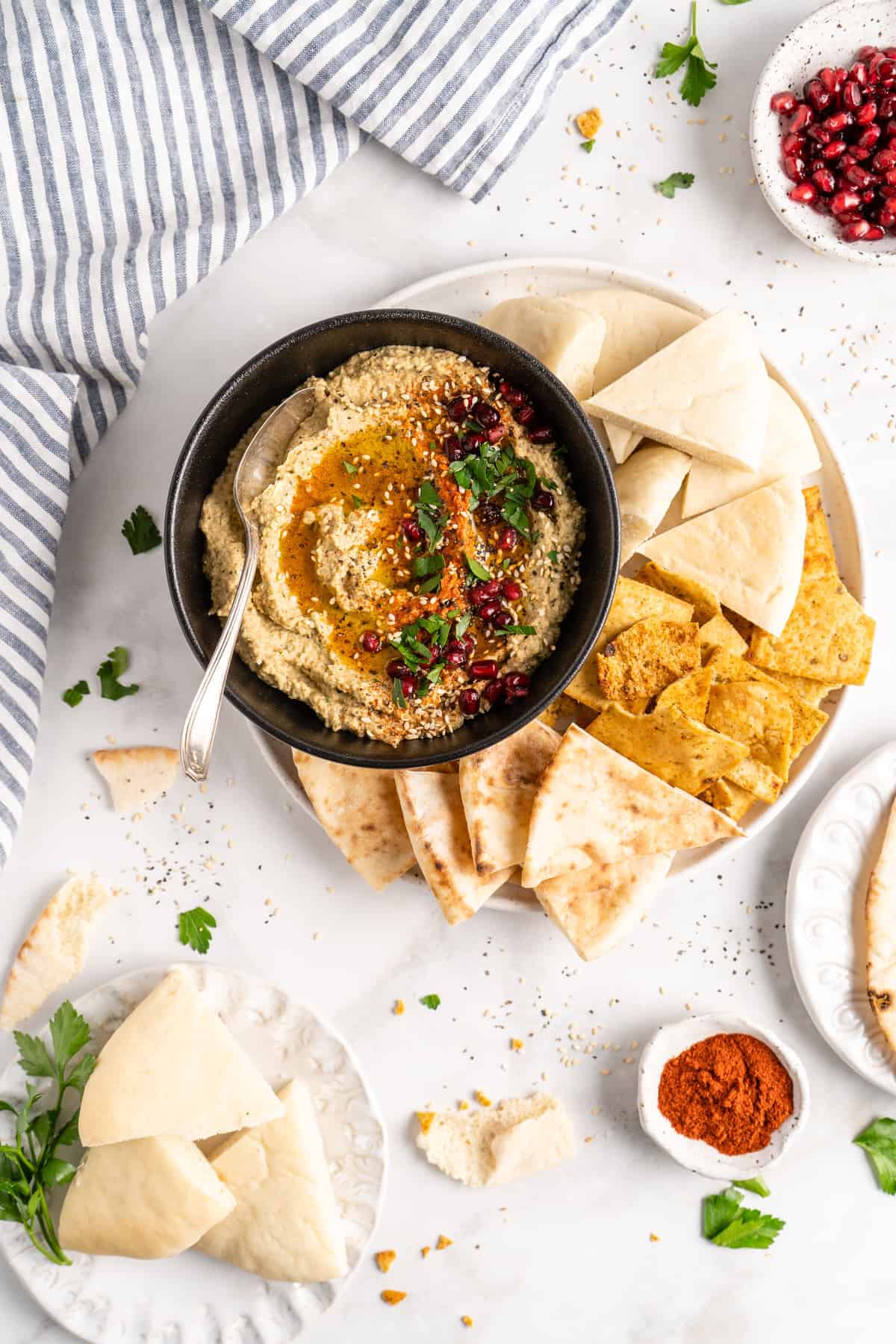 Enjoy friends! If you make this baba ghanoush recipe, please snap a photo and tag #jessicainthekitchen on Instagram! We'd also love it if you would leave a comment below, and give the recipe a rating! Thanks so much!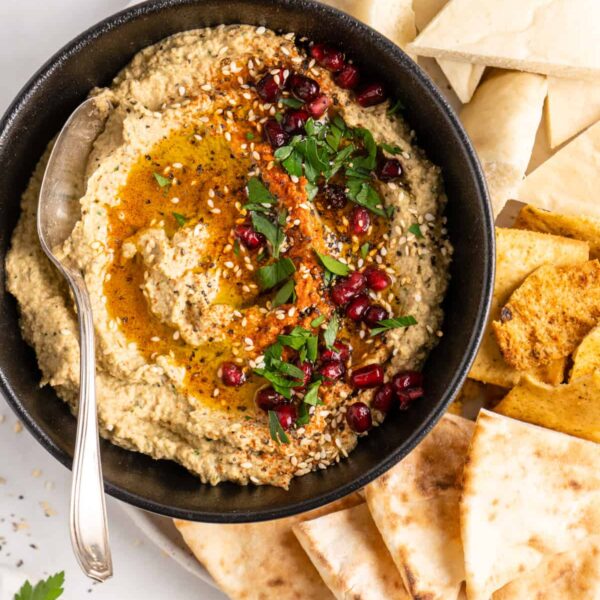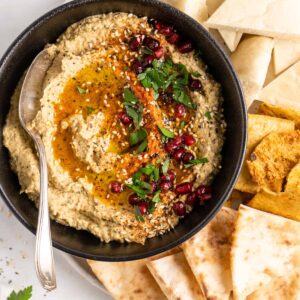 Baba Ghanoush
Baba Ghanoush is a creamy, smoky Mediterranean eggplant dip that's always a crowd-pleaser!
Ingredients
2 lbs eggplants, chinese eggplants, globe eggplants or italian eggplants work best – not overripe
¼ cup tahini
¼ cup lemon juice
3 cloves garlic
¼ teaspoon ground cumin
generous pinch of salt to taste
1 tablespoon olive oil
1 tablespoon parsley, chopped
⅛ teaspoon smoked paprika
Instructions
Preheat oven to 400°F/200°C.

Prick the eggplants a few times with a fork, place on a baking sheet along with the garlic cloves still in their skins. Bake for about 30-40 minutes. The skin should be wrinkly.

Remove from oven. When eggplants have cooled for about 5-10 minutes, peel off the skin (it should easily peel off), or cut into the eggplant along the skin, tear to the sides, and scoop out the flesh, leaving the skin behind.

Strain the eggplant over a mesh colander to remove any excess liquid and remove any extra bits of eggplant skin for about 5 minutes. Using a spoon or a spatula, press out that extra liquid and discard it.

In a food processor (or a bowl if you don't have a food processor), add the eggplant, tahini, lemon juice, roasted garlic, cumin, sea salt, olive oil, parsley and smoked paprika. Puree until smooth, or using your fork or whisk, whisk vigorously until smooth.

Taste to see if you need to adjust the seasonings. Serve garnished with olive oil, and chopped parsley.
Notes
How to store: Refrigerate baba ghanoush in an airtight container and eat within 3 to 4 days.  How to freeze: Place baba ghanoush in a freezer bag or airtight container and freeze up to 3 months. Let it thaw in the refrigerator before serving.
Calories: 123kcal, Carbohydrates: 12g, Protein: 3g, Fat: 8g, Saturated Fat: 1g, Polyunsaturated Fat: 3g, Monounsaturated Fat: 4g, Sodium: 7mg, Potassium: 415mg, Fiber: 5g, Sugar: 6g, Vitamin A: 120IU, Vitamin C: 9mg, Calcium: 33mg, Iron: 1mg
Disclaimer: Although jessicainthekitchen.com attempts to provide accurate nutritional information, kindly note that these are only estimates. Nutritional information may be affected based on the product type, the brand that was purchased, and in other unforeseeable ways. Jessicainthekitchen.com will not be held liable for any loss or damage resulting for your reliance on nutritional information. If you need to follow a specific caloric regimen, please consult your doctor first.