Vegan Alfredo Sauce + 5 Ways to Use it
This Vegan Alfredo Sauce is a creamy and divine dairy-free version of traditional Alfredo Sauce! It's made with a deliciously cheesy cashew cream sauce, and the sauce is made easily in your blender! There are actually so many ways to use this sauce beyond pasta – read on to find out more ways!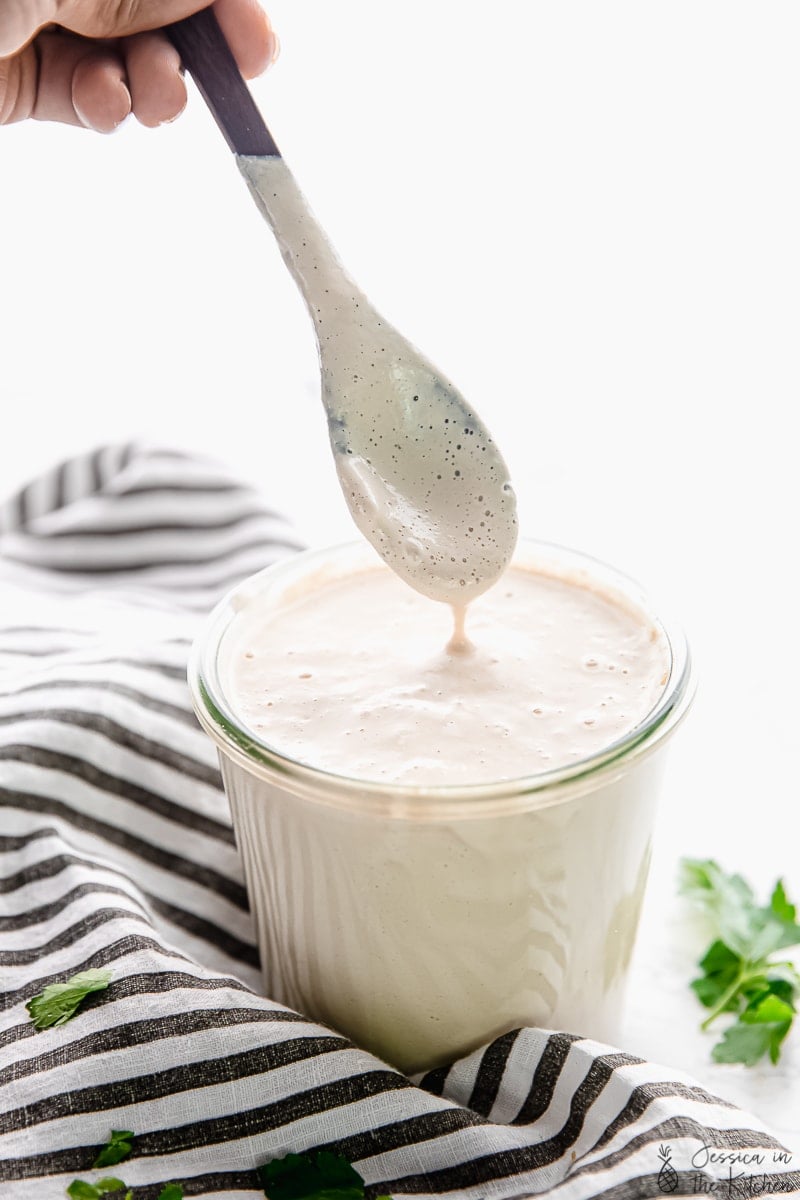 Can you imagine that at one point in my life (aka, up to last year) I thought that Alfredo Sauce was only for pasta?! Imagine my surprise (and satisfaction) when I realised all the different ways I could enjoy this rich and creamy decadent sauce. I wanted to do a post on just Alfredo Sauce – not attached specifically to a recipe – to show just how much of a staple this sauce is in your life. The best part – it's vegan, it's freezer-friendly (unlike regular alfredo sauce) and it's made EASILY in your blender. No tempering or boiling or anything. Just blend, heat, and enjoy.
What is Vegan Alfredo Sauce?
Long story short, vegan alfredo sauce is a dairy-free version of regular alfredo sauce. Traditionally, alfredo sauce is a creamy white sauce that's traditionally an Italian sauce and was one of my favourite things to order before going vegan. Vegan Alfredo Sauce surprisingly tastes like regular alfredo sauce, but with a whole host of different ingredients.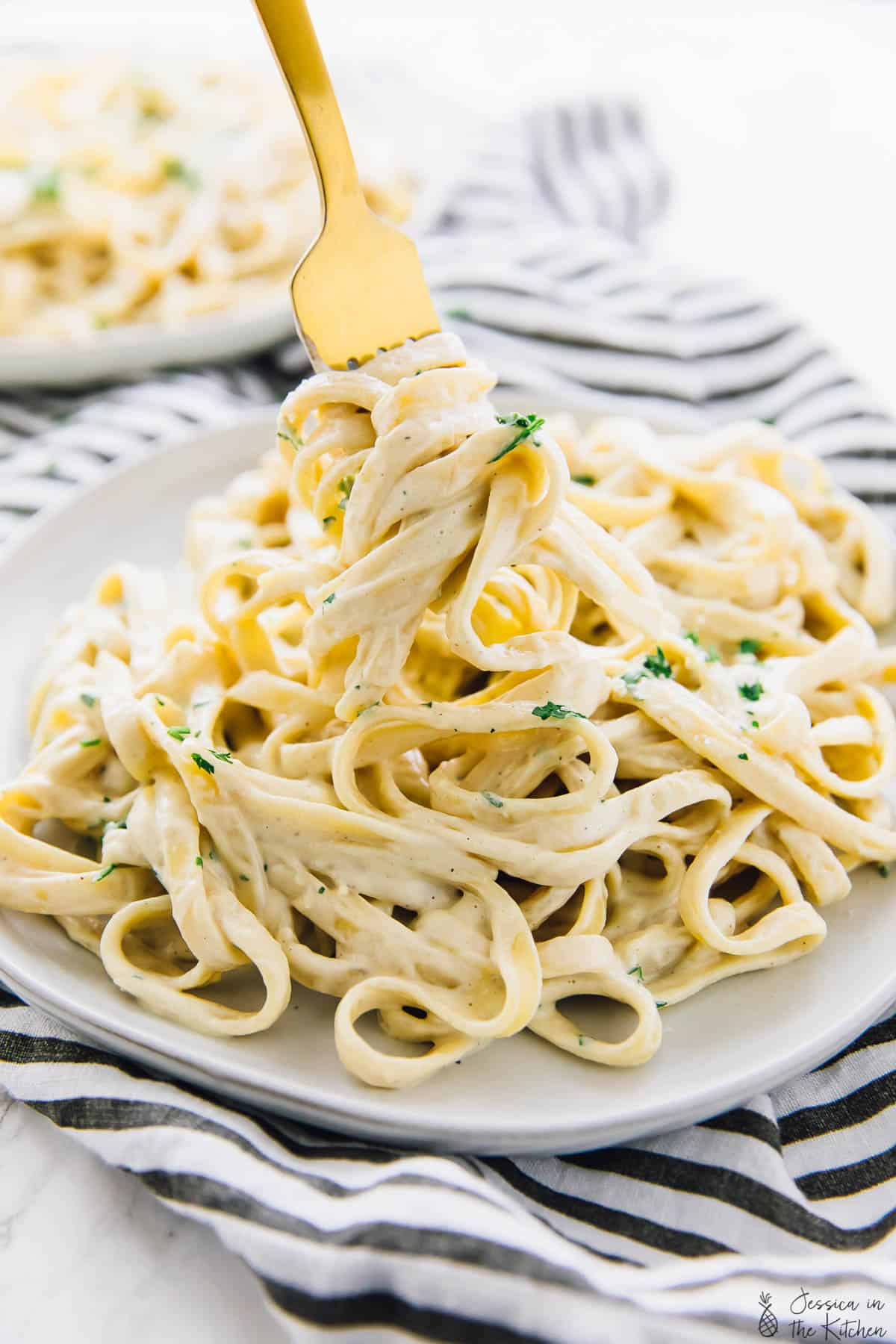 Ingredients to make Vegan Alfredo Sauce
Speaking of which, let's get right into the ingredients to make Vegan Alfredo Sauce
Cashews. Hmm – cashews are kind of the ultimate nut, aren't they? Cashews in this sauce are essentially the substitute for the creamy element thanks to their high-fat content. When cashews are soaked, they are very easy to blend, resulting in a rich and creamy sauce. Thanks to some other crucial ingredients, the sauce doesn't taste like cashews at all or even nutty. Just creamy, smooth and cheesy white sauce.
Roasted Garlic. I highly recommend roasting your garlic for this recipe! Roasted garlic (I know, I need to do a post on it), truly deepens all the flavours and gives this sauce. It gives the sauce an even more buttery flavour. It's a very hands-off process and you're going to have to wait on the cashews to soak anyway. It's SO worth it!
Nutritional Yeast. Nutritional yeast is probably in the top 10 vegan life staples. If you don't know what it is, I wrote about it here. I know sometimes people worry it'll give things a yeasty flavour but not at all. It's not an active yeast, and instead adds a delicious cheesiness as well as some protein and B12. All great things!
Vegan Parmesan Cheese. The vegan parmesan cheese really ups the cheesiness of this sauce to the traditional version. If you don't have any storebought, just make some! You already have raw cashews for the sauce and it tastes like 2 minutes to make with other ingredients you probably have in your pantry (Garlic powder and onion powder!).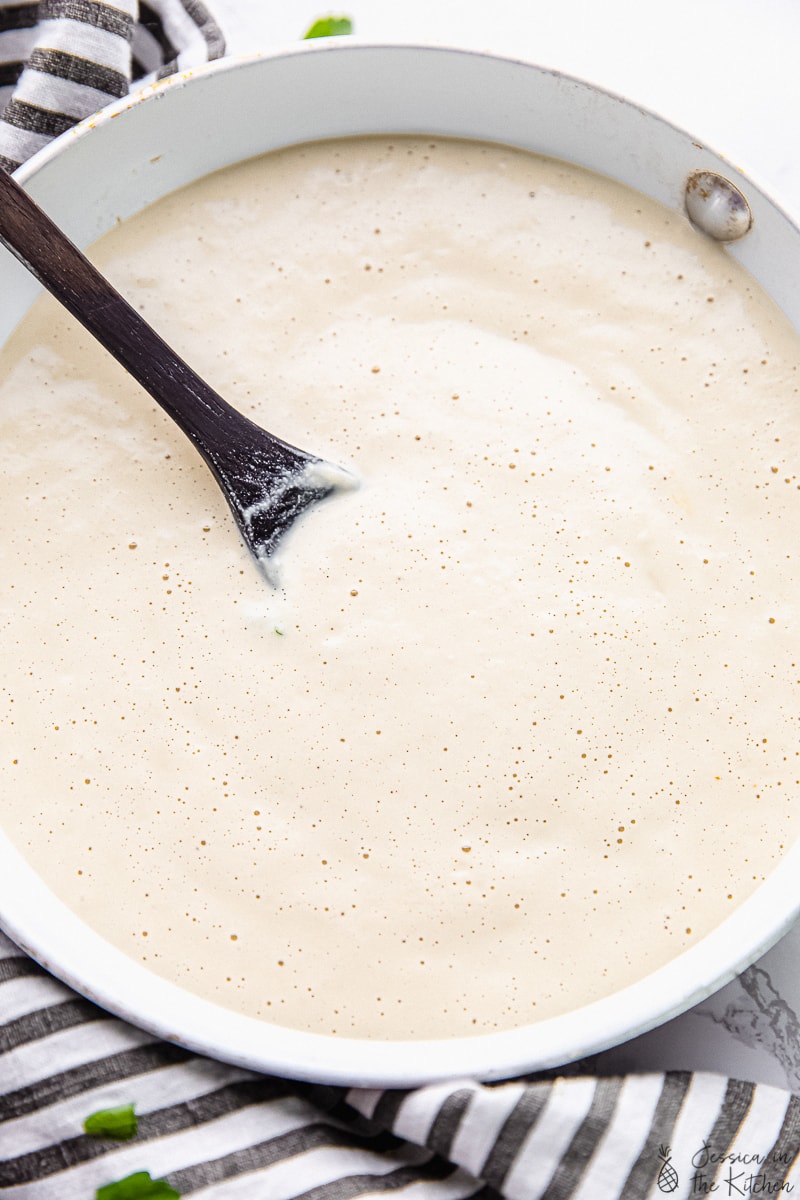 How to Make this Sauce
Here's the best thing about this sauce – it's made in your blender! First, cook down the onions to remove any sharp onion flavour (and to deepen the flavours), then you add it all into a blender. That. Is. It. It's that simple. Blend for 1 minute up to 4 minutes depending on your blender and ensure it's nice and creamy. Once your cashews are soaked, the sauce will come out beautifully smooth. This makes it perfect for whipping up for a weeknight meal, but of course, for special occasions too.
Ways to Use Alfredo Sauce
Now, like I mentioned I previously thought this was only for pasta! But here are 5 incredible ways to use this sauce:
Garlic Alfredo Pasta. I mean come on, this is the #1 use right? Let's not discount Vegan Garlic Alfredo Pasta by any means. It is PHENOMENAL. The sauce thickens once it's stirred into the pasta and is absolutely mouthwatering.
As a dip! This would be an incredible dip for veggies. Or even better, for like vegan buffalo meatballs! A nice cooling and creamy sauce to pair with it.
Pizza! I know, RIGHT?! This sauce is perfect for a white pizza! I can totally see me adding it to my homemade pizza dough (oh my gosh, this recipe is coming soon!), with some buffalo cauliflower on top, or even some soy curls cooked down in some chik'n vegan broth. I should TOTALLY make this a recipe!
On some roasted vegetables, with some baked potatoes on the side. I could totally see this drizzled over both the potato, regular or sweet, as well as on the vegetables. It would be perfect over some roasted asparagus or broccoli!
In a casserole. I could see this easily in a Broccoli Alfredo Casserole for a creamy and filling dish!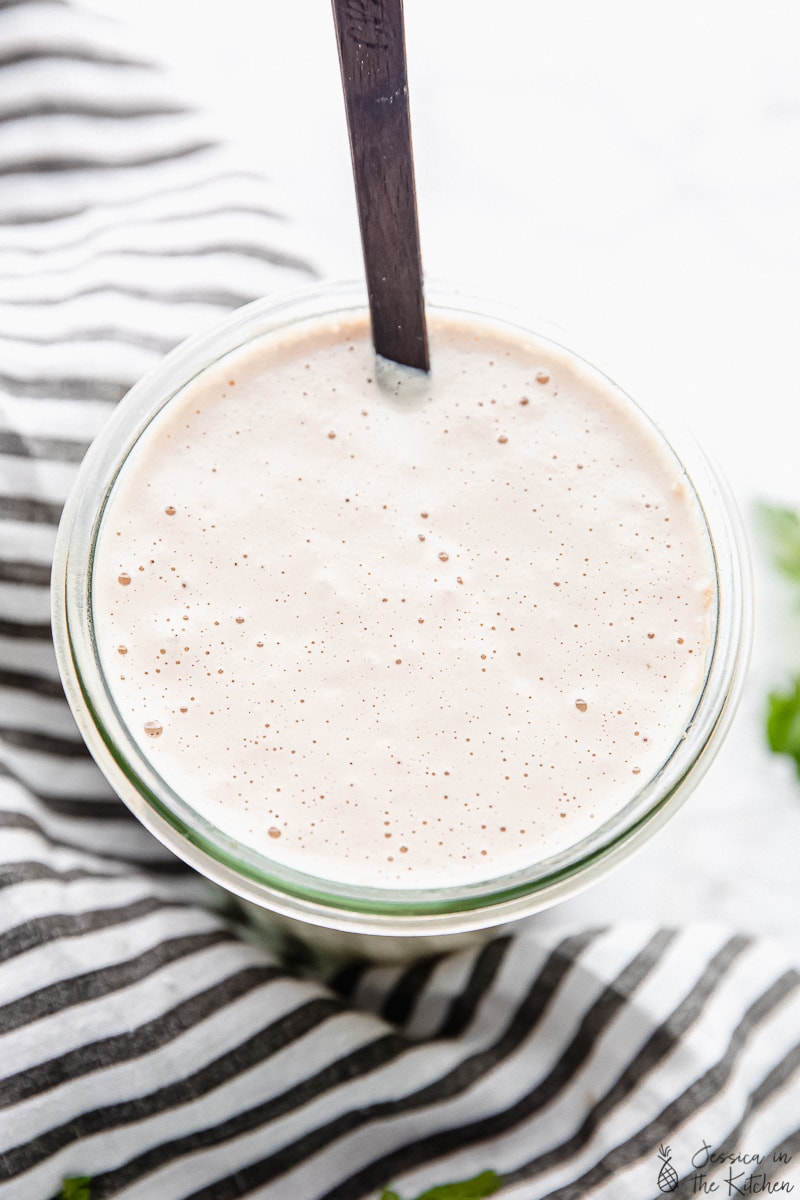 Tips for Making the Best Vegan Alfredo Sauce
My tips for this are pretty straight forward.
Be sure to use the best and freshest ingredients you can your hands on, always. This includes getting the best quality cashews you can.
Be sure to use unsweetened almond milk. If it's sweetened it'll definitely throw it off.
If you can use pasta water (like you're already making pasta), use it! Otherwise, filtered water is fine, but you may need to taste test and more salt.
Ensure you soak your cashews properly! If they're not properly soaked the sauce won't be rich and creamy.
Don't skip the lime! It helps to neutralise the cashew taste and really brings all the ingredients together.
Be sure to properly blend the sauce.
How to Store Alfredo Sauce
You can store this sauce in an airtight jar in your fridge for 4 days. If you want it to last up to a week, cook it on the stove for about 5 minutes over medium heat so that it's not "raw", but instead cooked.
One of my favourite things about this sauce is that unlike traditional alfredo sauce, it's freezer friendly! Freeze it in a freezer-safe jar in your freezer. When you're ready to use it, just thaw it overnight in your fridge, then stir the sauce together.
Enjoy friends! If you make this post about how to Vegan Alfredo Sauce, please snap a photo and tag #jessicainthekitchen on Instagram! We'd also love if you would leave a comment below, and give the recipe a rating! Thanks so much!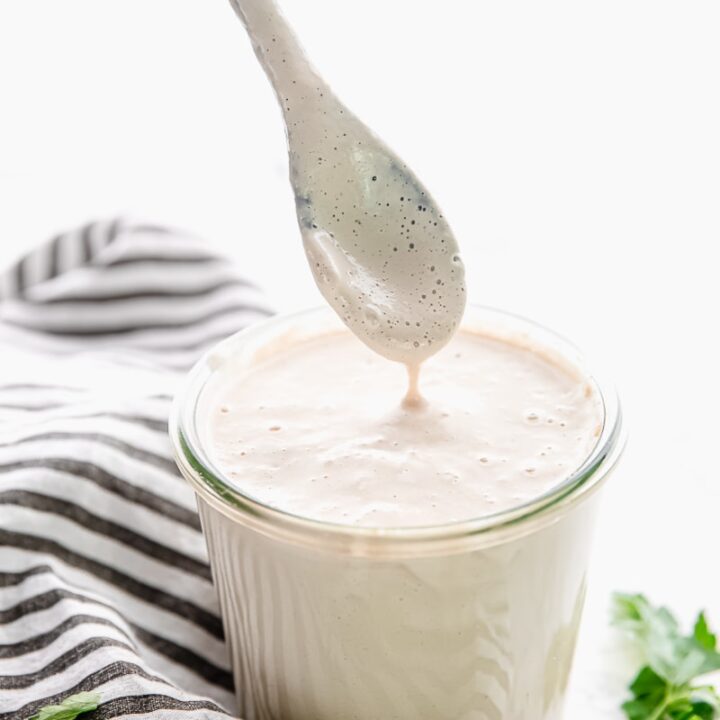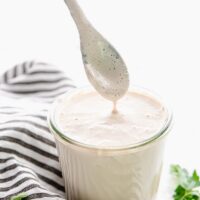 Vegan Alfredo Sauce + 5 Ways to Use it
This Vegan Alfredo Sauce is a creamy and divine dairy-free version of traditional Alfredo Sauce! It's made with a deliciously cheesy cashew cream sauce, and the sauce is made easily in your blender! There are actually so many ways to use this sauce beyond pasta - read on to find out more ways!

Ingredients
2 teaspoons vegan butter or olive oil
1/2 red onion, chopped
1 cup raw cashews, soaked overnight, or in hot water for one hour, drained
1/4 cup pasta water or filtered water
1 ½ cups unsweetened almond milk
4 cloves roasted garlic*
2 tablespoons nutritional yeast
½ teaspoon sea salt, or more to taste
2 tablespoons vegan parmesan cheese + extra for topping
1 tablespoon lime juice
Instructions
In a pan over medium-high heat, heat the vegan butter or olive oil. Add the onion, stir and let cook until translucent, about 5 minutes.

Remove the onions from the pan and add it to a blender. Add the rinsed off soaked cashews (without the water), the pasta water, the almond milk, the roasted garlic, the nutritional yeast, the sea salt, the vegan parmesan cheese and the lime juice.

Blend it all together until completely creamy. If you have a high powered blender this will happen quickly, about 1 minute, if not, just keep blending until completely smooth and creamy. Taste and add more salt or vegan parmesan cheese if necessary. Serve it with your desired dish or store in an airtight jar until you're ready to use it!
Notes
*YES roasted garlic takes about 40 minutes, but you'll need to wait for your cashews to soak for an hour at least anyway! Cut a bit of the top off of a whole head of garlic, put it in foil, drizzle olive oil on it, wrap the foil around it and cook it at 450 degrees F for 45 minutes in your oven until the cloves are soft and velvety! Allow it to cool, then push the cloves out. You can reheat this! Just reheat it in a stovetop over medium-high heat with a bit more almond milk to thin it out again until hot. Prep time doesn't include soaking the cashews overnight.
Calories: 198kcal, Carbohydrates: 12g, Protein: 7g, Fat: 15g, Saturated Fat: 2g, Sodium: 367mg, Potassium: 256mg, Fiber: 2g, Sugar: 2g, Vitamin C: 2mg, Calcium: 109mg, Iron: 2mg
Disclaimer: Although jessicainthekitchen.com attempts to provide accurate nutritional information, kindly note that these are only estimates. Nutritional information may be affected based on the product type, the brand that was purchased, and in other unforeseeable ways. Jessicainthekitchen.com will not be held liable for any loss or damage resulting for your reliance on nutritional information. If you need to follow a specific caloric regimen, please consult your doctor first.