Balsamic Grilled Vegetables
These Balsamic Grilled Vegetables are marinated in the most flavourful balsamic dressing and come out so juicy and delicious! They are the best veggies for the grill.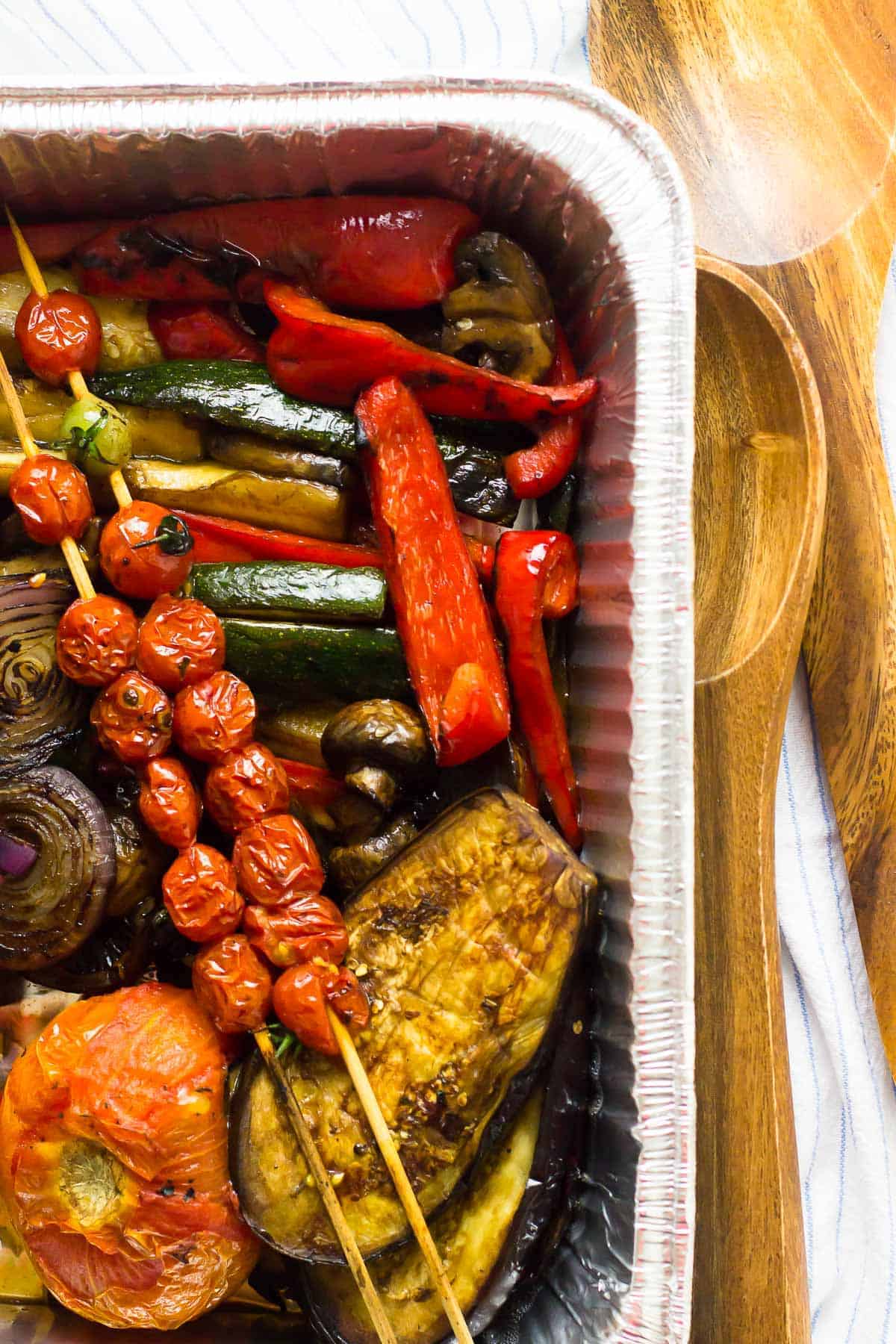 This post was previously written on May 30, 2016 and has since been slightly updated and brought forward on July 17, 2020.
Without a doubt, my favourite part of the summer is grilling. While May was the Official Grilling Month, we're finally getting into it now. I was so excited for us to fire up the grill and boy, it did not disappoint us one bit. We've been grilling veggies for a while now, but this formula for these balsamic grilled vegetables is most definitely my most favourite way to date. I had to push this tray of veggies away (wow, who says that? I do.) from me because they were that good.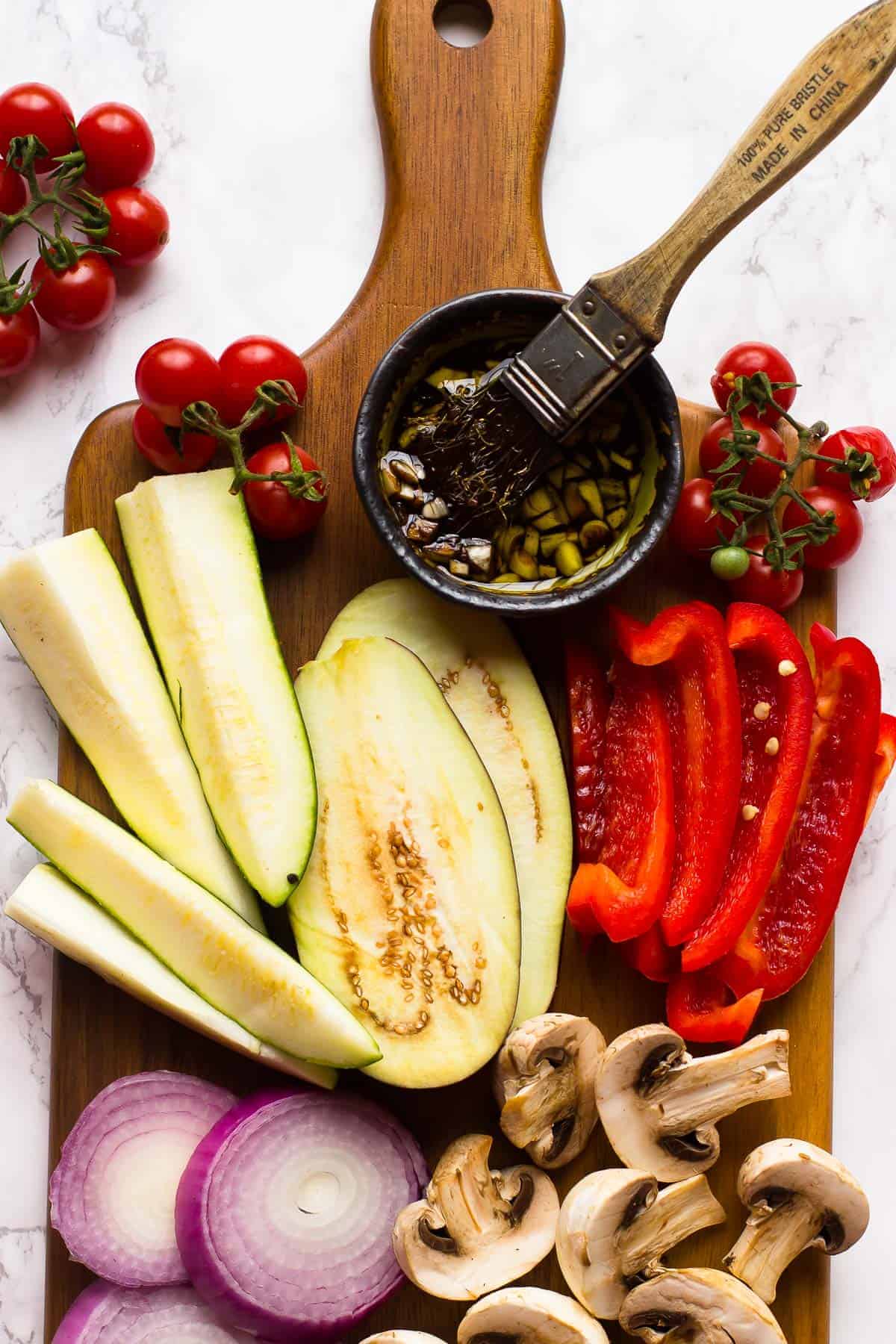 What I love the most about grilling, as opposed to pushing veggies into an oven to roast them, is that there's always a story somewhere. It takes a group effort to grill, and there is so much purpose behind it that it turns cooking into a great memory. When we first made this, we grilled basically in honour of one of my best friends Kellie, who was not only super helpful in the kitchen but she also managed my Snapchat (jessinkitchen) and was my assistant throughout three shoots in ONE day. Looking back on fond memories is one of my favourite pastimes, and I remember it like it was yesterday. We sat around our dining room table after prepping Watermelon Mojitos and veggies and ate while watching Chef's Table. She's like family to us, and that was a lovely way to celebrate for us all.
Speaking of stories, while I'm known for my veggies, my husband is known in my family and among our friends as the ultimate grill master. So much so that every time he fires up the grill, I kind of cancel all plans for that day to just soak in the amazing-ness that is about to happen, both in food and technique. This time, he went completely old school and got some hand-chopped (yes) coal and pimento leaves as a smoking agent. This was all worth the trail of charcoal stains on the floor throughout our living room right to the back patio once I took one bite. Needless to say, get the best quality smoking agent and coal that you can when grilling. Of course, the veggies on their own with the marinade will taste amazing, but we are grilling here, not roasting, and we want some of that grilling flavour in the veggies! Okay, I'm coming down from my soapbox, but seriously, it made such a unique difference that this is definitely something we'll be using each time.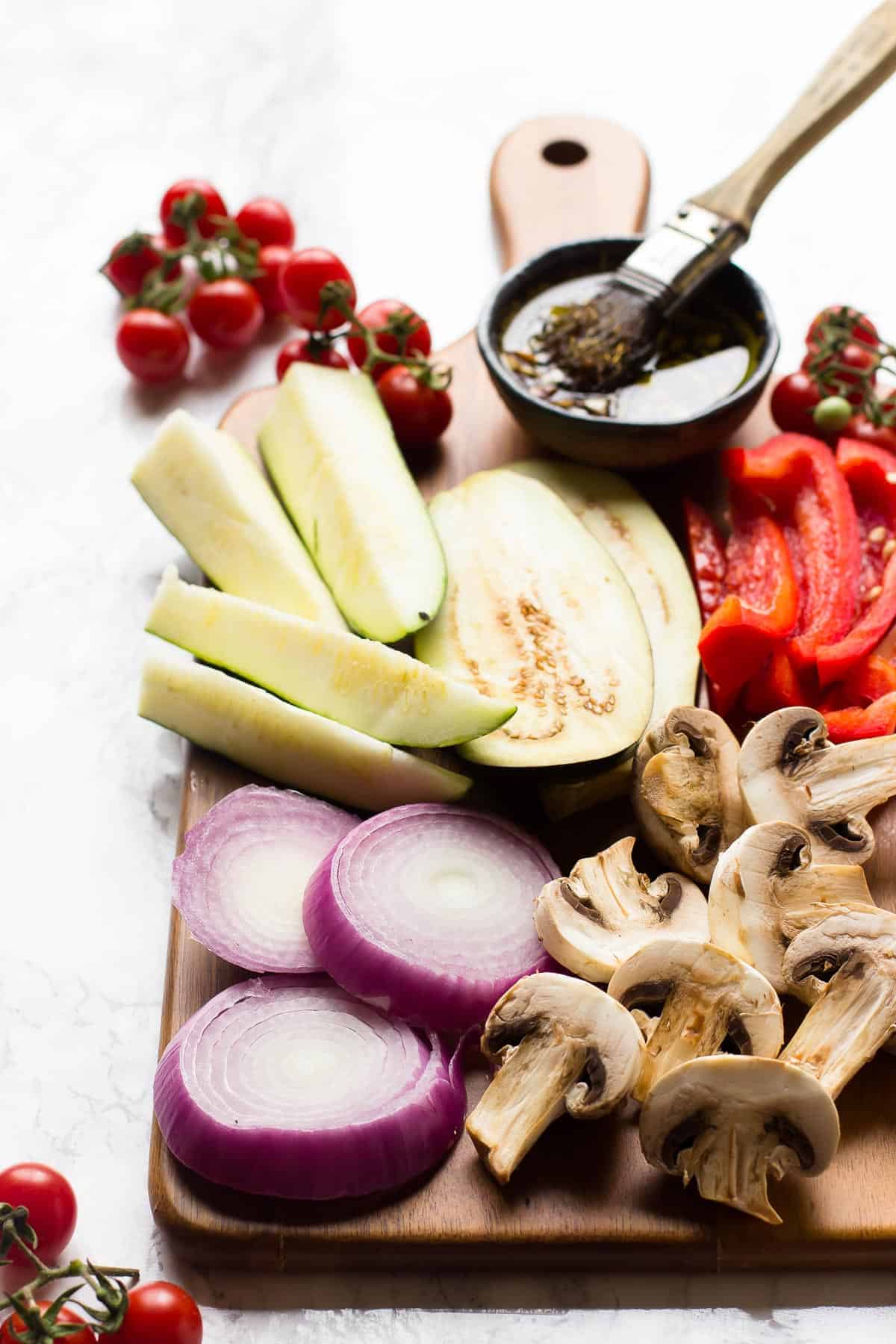 Now to the balsamic grilled vegetables. These are the best veggies to grill since they absorb flavour really well and don't have a very long cook time. I keep trying to pick a favourite, but I honestly can't choose. How can you choose between juicy tomatoes, caramelised onions, plump mushrooms, and flavourful zucchini and eggplants? Impossible really, so just eat them all. This marinade idea came from making balsamic vinaigrette for salads for years and turning it into a juicy soak for these veggies. Friends, this won't disappoint. Your veggies will be thanking you and you'll be giving yourself a pat on the back.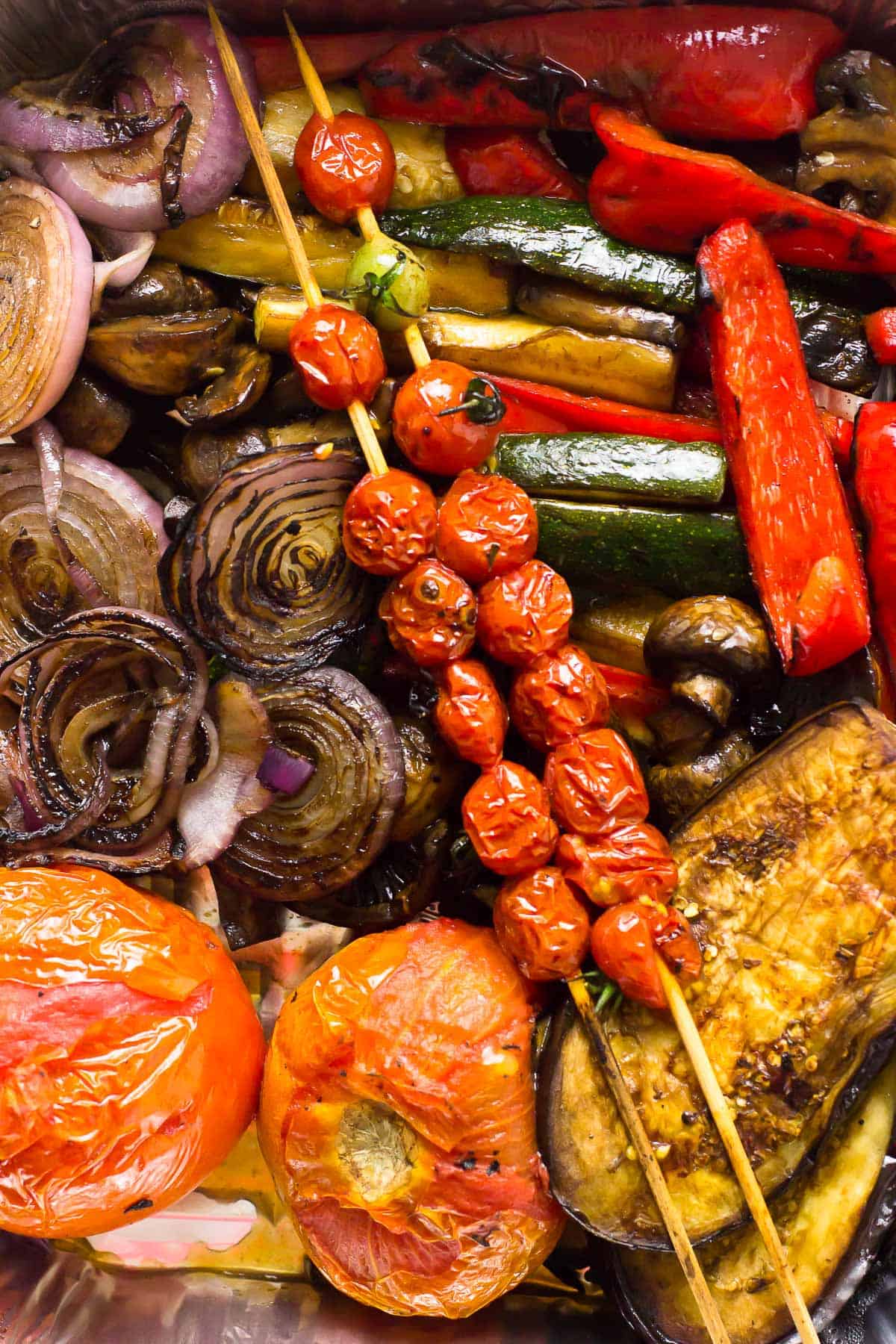 | SHOP THE POST // CLICK THE LEFT & RIGHT ARROWS TO SCROLL |



If you try these Balsamic Grilled Vegetables please let me know in the comment section below, or tag me on instagram with the hashtag #jessicainthekitchen! For more exclusive recipes follow me on Instagram AND on Snapchat: jessinkitchen.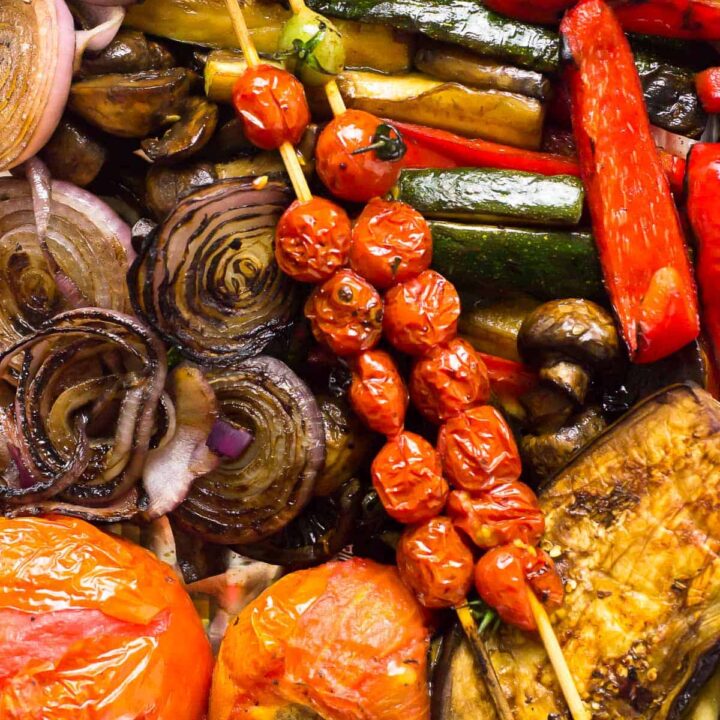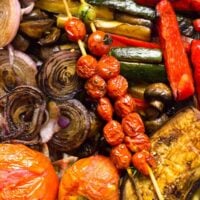 Balsamic Grilled Vegetables
These Balsamic Grilled Vegetables are marinated in the most flavourful balsamic dressing and come out so juicy and delicious! They are the best veggies for the grill.
Ingredients
1 large zucchini, chopped
1 Eggplant, sliced
8 ounces crimini mushrooms, sliced
1 Bell pepper, chopped
1 large red onions, sliced
2 beef tomatoes
A dozen cherry tomatoes on skewers
Balsamic Marinade
1/3 cup balsamic vinegar
1/4 cup olive oil
5 cloves garlic, finely diced
Juice of one lime
1/2 teaspoon sea salt
1/2 teaspoon freshly ground black pepper
Instructions
In a small bowl, mix the Balsamic Marinade ingredients together.

Divide all the veggies between two large ziplock bags and add in, except the beef tomatoes, cherry tomatoes and the onions. Pour the marinade into both bags, leaving a few tablespoons behind. Toss the bags to distribute the marinade. Allow the veggies to marinate for at least 30 minutes but up to a day.

Heat and prepare your grill while the veggies are marinating. When ready, add the veggies to the grill at high heat, either directly to the grill for larger veggies, or to a grill sheet or foil for all the other veggies.

Add the red onion slices, beef tomatoes and cherry tomatoes onto the grill too, and brush with the remaining balsamic glaze. Brush all the other veggies with any remaining glaze too.

Grill the veggies until tender. The timing will vary slightly; about 5-6 minutes for the cherry tomatoes mushrooms, eggplants and zucchini and about 10-15 minutes for the bell peppers, red onions and beef tomatoes. the straight grill for larger veggies.

Remove from the grill into an aluminium foil container, and lightly season with salt and pepper over the top. Serve and enjoy!
Notes
This recipe is naturally vegan and gluten free. The cooking time may vary based on your grill so keep an eye on the vegetables to ensure they aren't either overcooked or undercooked. The quality of your coal will also affect the smokiness of the vegetables, so get the best quality coal and/or wood chips that you can find.
HOW TO STORE VEGGIES You can keep the veggies in the foil container, covered in the fridge, or transfer to an air tight tupperware container for around 4 to 5 days in the fridge.
Calories: 207kcal, Carbohydrates: 24g, Protein: 5g, Fat: 12g, Saturated Fat: 2g, Sodium: 258mg, Potassium: 1054mg, Fiber: 7g, Sugar: 14g, Vitamin A: 2177IU, Vitamin C: 74mg, Calcium: 60mg, Iron: 2mg
Disclaimer: Although jessicainthekitchen.com attempts to provide accurate nutritional information, kindly note that these are only estimates. Nutritional information may be affected based on the product type, the brand that was purchased, and in other unforeseeable ways. Jessicainthekitchen.com will not be held liable for any loss or damage resulting for your reliance on nutritional information. If you need to follow a specific caloric regimen, please consult your doctor first.